10 thoughts from opening weekend of new Premier League season
The Premier League is back! theScore examines the most important developments and discusses the biggest talking points from an eventful opening weekend in England's top flight.
Tough road ahead for Ten Hag
If Erik ten Hag wasn't already bald, he would've pulled all his hair out by halftime of his first official match as Manchester United manager.
The Dutchman's Premier League debut, a dispiriting 2-1 home defeat to Brighton & Hove Albion on Sunday, laid bare just how gargantuan a task he's undertaken in trying to return the Red Devils to the upper echelons.
The issues, particularly in the first half, were glaring. They were also painfully familiar.
David De Gea's lack of comfort on the ball severely limits the team's ability to play out from the back, especially against an opponent that presses high up the pitch like Brighton did so effectively at times on Sunday.
Fred and Scott McTominay are (still) not the answer in midfield; their energy and willingness to cover ground is admirable, but they're both too limited technically to be first-choice midfielders for United, who can't build attacks or sustain possession with two untidy passers in such a vital area of the field. The drawback of Fred's aggressiveness was on display, too, when he got pulled out of position unnecessarily in the buildup to Brighton's second goal. It was no coincidence that United improved drastically in the second half when Christian Eriksen, who had been playing higher up the pitch in the first half, dropped deeper to quarterback play when Fred was taken off for Cristiano Ronaldo early in the second stanza.
For all of the tactical headaches Ronaldo creates, his absence in attack was felt on the occasions - admittedly rather rare - that United did get into the final third in the opening 45 minutes. With the Portuguese star providing a focal point after his introduction, United at least had more structure.
Some of Sunday's issues were personnel problems, and some were simply the growing pains you have to accept when a new manager tries to make significant changes. A single preseason isn't nearly enough time for Ten Hag to successfully overhaul the team's entire system. There's work to do.
Caicedo's star keeps rising
We singled out the Ecuadorian midfielder as one of the Premier League's breakout stars to watch this season, and the 20-year-old didn't disappoint, following up his strong finish to the previous campaign with a dominant display at Old Trafford.
Caicedo, who'll be a permanent fixture of Graham Potter's midfield in the wake of Yves Bissouma's move to Tottenham, was everywhere on Sunday, easily outclassing McTominay and Fred. Caicedo, ironically, would drastically improve Manchester United's squad.
The youngster played a key role in both Brighton goals.
He showed off his tenacious tackling when he won the ball back before Pascal Gross' opening tally, and then displayed his decisiveness in the other direction when he sprung the counterattack leading to the Seagulls' second marker with a quick little pass to bypass the aforementioned Fred.
Brighton recently fetched a club-record fee when they sold Marc Cucurella. If Caicedo continues to develop, he could, and perhaps should, eventually exceed the potential £63 million Chelsea paid for the Spaniard.
A future England midfielder
Kiernan Dewsbury-Hall had to bide his time at Leicester City. He impressed for the Foxes' Under-18 team and Development Squad, but it was only when he shone during loan spells with Blackpool and Luton Town that he proved he was worth a place in Brendan Rodgers' senior ranks.
He made his Premier League debut last August - shortly before his 23rd birthday - before firmly establishing himself in the side over the second half of the 2021-22 campaign. His importance to the team was highlighted when he was named the club's Player of the Season by his teammates and also collected Leicester's Young Player of the Season award.
And judging from the evidence of Sunday's 2-2 draw against Brentford, Dewsbury-Hall could be pushing for a place in Gareth Southgate's England squad after the World Cup.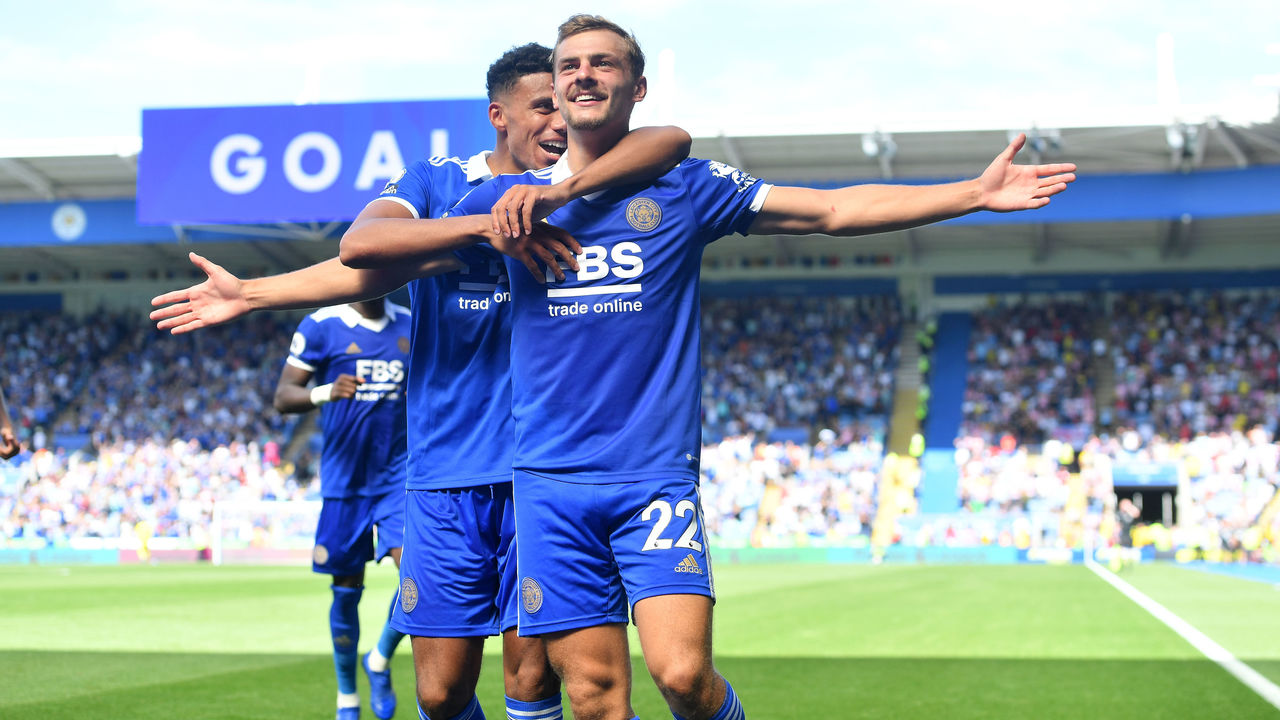 He was sublime through 72 minutes, running Leicester's midfield by constantly receiving the ball on the half-turn and either driving into space or pushing the ball to the attackers' feet. Normally, a midfielder who tries to expand the play and create chances will lose possession quite often - even Kevin De Bruyne was unsuccessful with almost a fifth of his passes last term - but Dewsbury-Hall completed over 90% of his passes and was accurate with each of his five long balls.
His goal was magnificent - a low, long-distance bullet that went in off the post - and it's hard to imagine Josh Dasilva would've been afforded the same amount of space before scoring his equalizer had Dewsbury-Hall still been on the pitch. Patson Daka replacing Dewsbury-Hall soon after Brentford reduced the deficit to one goal was a peculiar decision by Rodgers.
Haaland's adaptation only half of it
Shortly after Erling Haaland scored his first Premier League goal from the penalty spot, Manchester City were doing what they're known for: Kneading the ball under their studs, nonchalantly rolling it to one another, and patiently waiting for a slight crack to emerge in West Ham United's formation.
Then Phil Foden picked the ball up near the halfway line, glanced over his shoulder, and lifted the ball down the right channel. There were at least two players nearby and available who would've allowed City to continue to build and take even more control, but Foden instead gambled on finding his side's new striker. It wasn't a move that you'd usually associate with a Pep Guardiola team.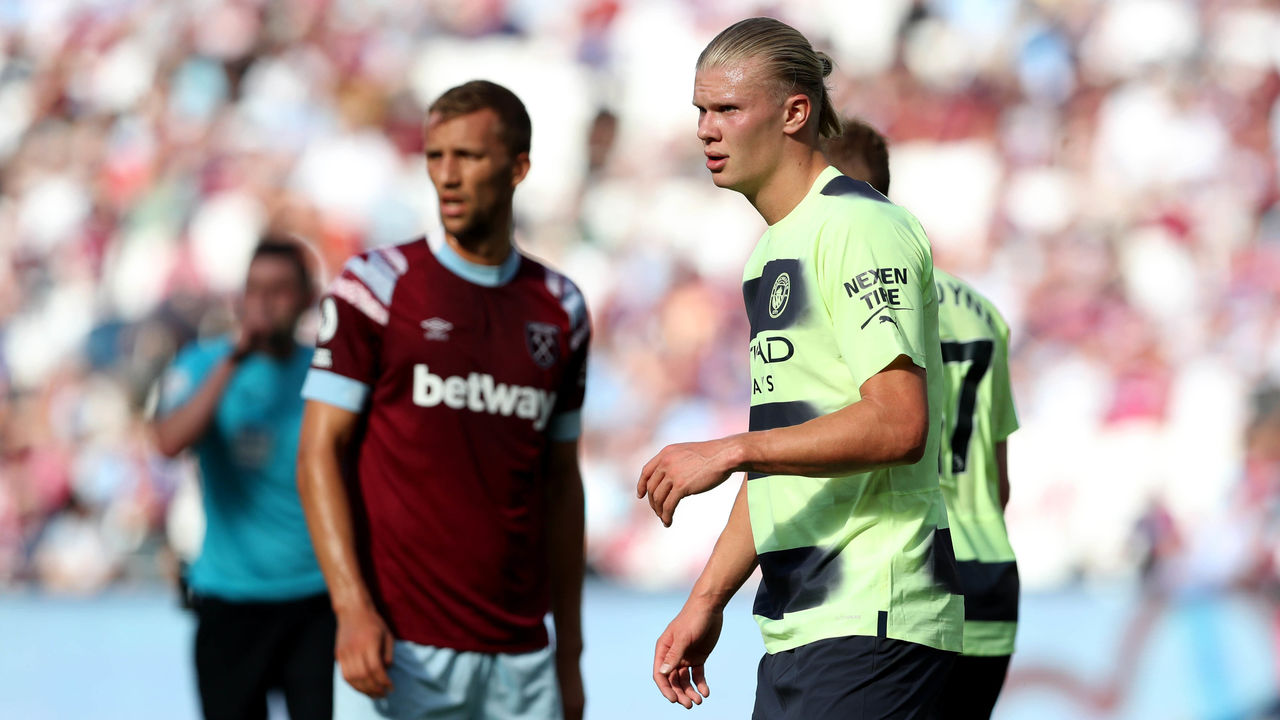 Following his disappointing performance in the Community Shield, a lot of post-match analysis revolved around how long it may take Haaland to adapt to City's way of playing. He will need to drop and create - he can't just be a poacher. But that's only half of it. Guardiola's men haven't regularly played with an out-and-out striker for at least two seasons and never with a player with such an abundance of power. Having a recognized goal-getter is a big change.
Foden's ball was a hint of what was to come in Sunday's 2-0 win at West Ham and, indeed, for the rest of the season. Twenty minutes into the second half, De Bruyne was looking for Haaland when he received the ball before the halfway line. In this instance, it was the obvious pass to make - Haaland's flawless off-the-ball movement made De Bruyne's decision for him. However, this is what his teammates are now looking for: The Norwegian star will make these runs behind the defense when the ball is anywhere on the pitch. City can be more direct and carve out openings from deeper in their lineup rather than primarily through intricate passes in and around the 18-yard box like they have the last few campaigns.
It's a frightening prospect for City's domestic and European rivals. Haaland adds a whole new dimension to an attack that was already thriving.
West Ham stuck in neutral
David Moyes' plan on Sunday was clear: Clog the middle of the pitch, defend in numbers, and control the damage. It seemed a peculiar choice for a team that nearly derailed City's titles hopes in last May's stunning 2-2 draw.
This time, things went differently. An hour into the eventual 2-0 loss to City, the fans at London Stadium clamored for a more ambitious approach. The Hammers replied with a brief push forward but ultimately conceded too much ground to mount a comeback.
West Ham strung together just 69 passes in the final third while City more than tripled the hosts' total. Michail Antonio, playing all alone up front, made fewer touches than backup goalkeeper Alphonse Areola, who replaced the injured Lukasz Fabianski midway through the first half. Even £35-million signing Gianluca Scamacca struggled to get involved, recording just six touches in over a half-hour of play. West Ham couldn't get anything going and left the pitch without putting up a fight.
Striking the right balance against the reigning Premier League champions is undoubtedly difficult. West Ham knew they'd risk leaving holes at the back if they ventured forward too often. But the alternative wasn't much better.
The east London side has the talent to play better than it did on this occasion. Pablo Fornals and Jarrod Bowen are coming off career seasons, and Scamacca is an explosive attacker with a cracking right foot. Moyes has the tools to build on last campaign's seventh-place finish - he just has to be willing to use them.
Here are the main talking points from Saturday's matches ...
Is there enough energy in Liverpool's midfield?
Fulham's attackers diligently tracked back while Harrison Reed and Joao Palhinha, positioned in front of the defense, frustrated Liverpool and kick-started attacks. Crowd favorite Tim Ream was committed at the back. It was a studied and industrious performance, one which suggested this iteration of the Cottagers is more assured and settled than other Fulham teams that reached the Premier League in recent years.
But this was more than an earned point for Fulham; there were some issues with Liverpool's midfield that led to a disappointing 2-2 draw to begin the Reds' title challenge.
True, Liverpool are currently short-handed. Alex Oxlade-Chamberlain, Curtis Jones, and Naby Keita were already dealing with injuries before Thiago Alcantara joined them after suffering a hamstring problem during the second half. However, even before these ailments, there were legitimate concerns over the fitness and consistency of Thiago, Jordan Henderson, and the rest who play in front of Fabinho in midfield.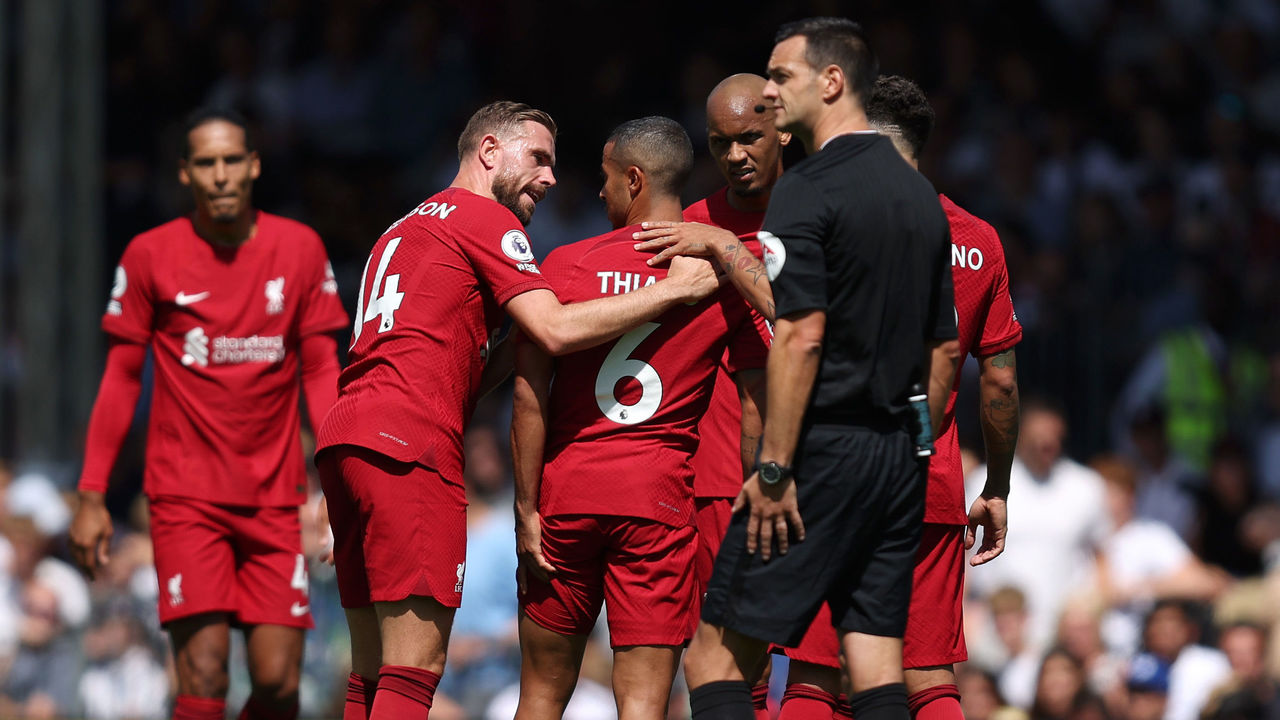 Before his 50th-minute substitution, Thiago was overrun and unable to orchestrate attacks in his usual unruffled fashion. He attempted just one through ball, and that failed. Meanwhile, Henderson was once brutally exposed by the excellent Aleksandar Mitrovic. He did almost pinch a win for Liverpool with a smash against the crossbar in injury time, but he was otherwise too frantic and didn't always appear in the right positions.
It was a game where Liverpool needed more energy. It was a game where they would've benefited from more midfield exuberance. It was a game where Harvey Elliott would've been more useful playing as a No. 8 from the start, rather than coming off the bench to team up with Mohamed Salah and Trent Alexander-Arnold down the right flank.
Major Leeds Soccer
There was a North American flavor to Leeds United's 2-1 victory over Wolverhampton Wanderers.
It was evident in Leeds' match-winning tally. Rayan Ait-Nouri's own goal in the 74th minute was a culmination of New York Red Bulls product Tyler Adams' involvement and pressure from ex-Philadelphia Union standout Brenden Aaronson. Former Montreal Impact and Red Bulls boss Jesse Marsch high-fived his coaching staff after the final whistle, while former New York City FC winger Jack Harrison lapped up Elland Road's applause on the pitch.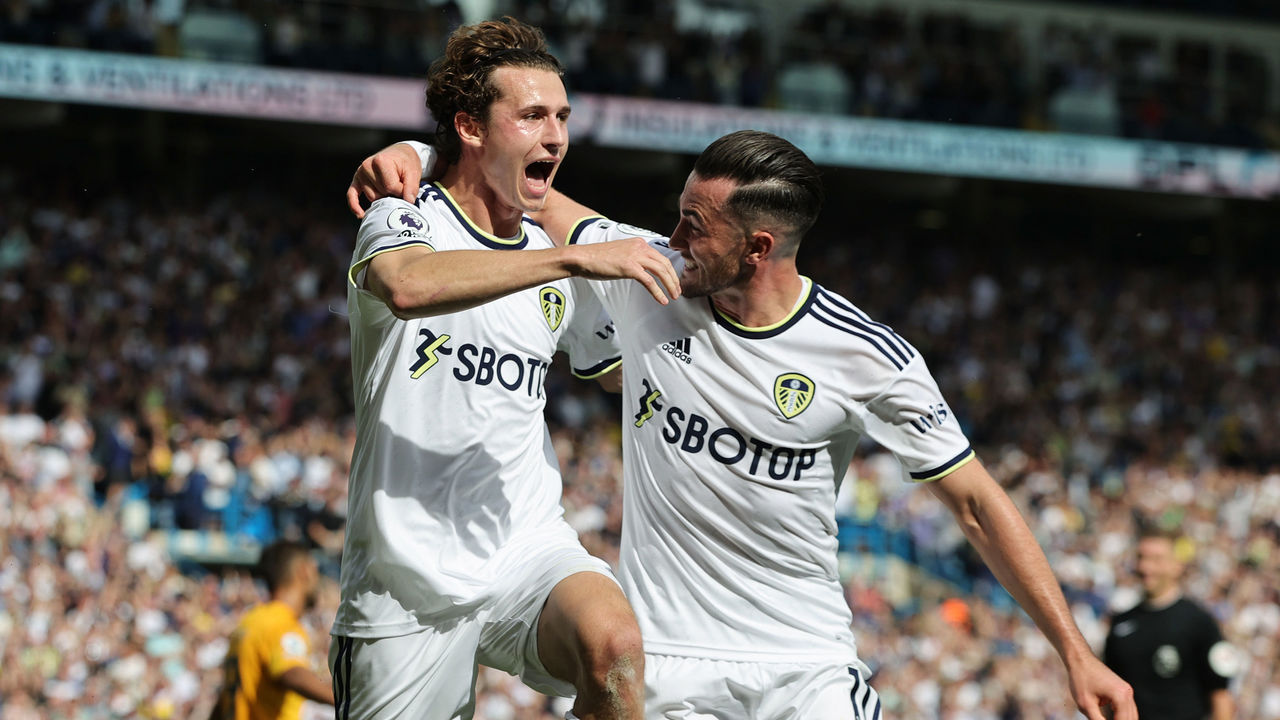 There no doubting it: Major League Soccer is an established breeding ground of top-end talent.
Aaronson and another summer arrival from Red Bull Salzburg, Rasmus Kristensen, were among Leeds' best performers. Aaronson faded a little in the second half, but that was understandable given his all-action performance. His pressing helped squeeze out the opportunity that resulted in Rodrigo's equalizer, he held up the ball well, and he was generally the most threatening attacker in Marsch's ensemble. It was no surprise Aaronson was breathing down Ait-Nouri's neck during the full-back's own goal.
It's doubtful that any current Leeds player will reach the high standards of Raphinha - who joined Barcelona this summer - but the ease in which Aaronson has slotted into Marsch's side is extremely promising. He's on course to earn himself a starting berth for the United States at the World Cup.
Kulusevski thriving in Conte's system
Southampton had no answer for Dejan Kulusevski. The 22-year-old posed a threat every time he collected the ball. Southampton's Moussa Djenepo tried his best to contain Kulusevski's runs on the right flank, dropping deeper every time his opponent picked up the ball. Every time, Kulusevski left Djenepo behind.
Tottenham Hotspur's 4-1 win Saturday offered ample evidence of Kulusevski's individual brilliance. He stretched play and switched gears to accelerate into open space, and he spotted teammates on the run by playing with his head up. His Premier League-leading ninth assist of the calendar year came off of a brilliant cross-field pass to Ryan Sessegnon in the first half, a bullet of a cross that met his opposite number as he ran into the box. Kulusevski then scored a goal of his own, opening up his body in the area before firing into the far corner.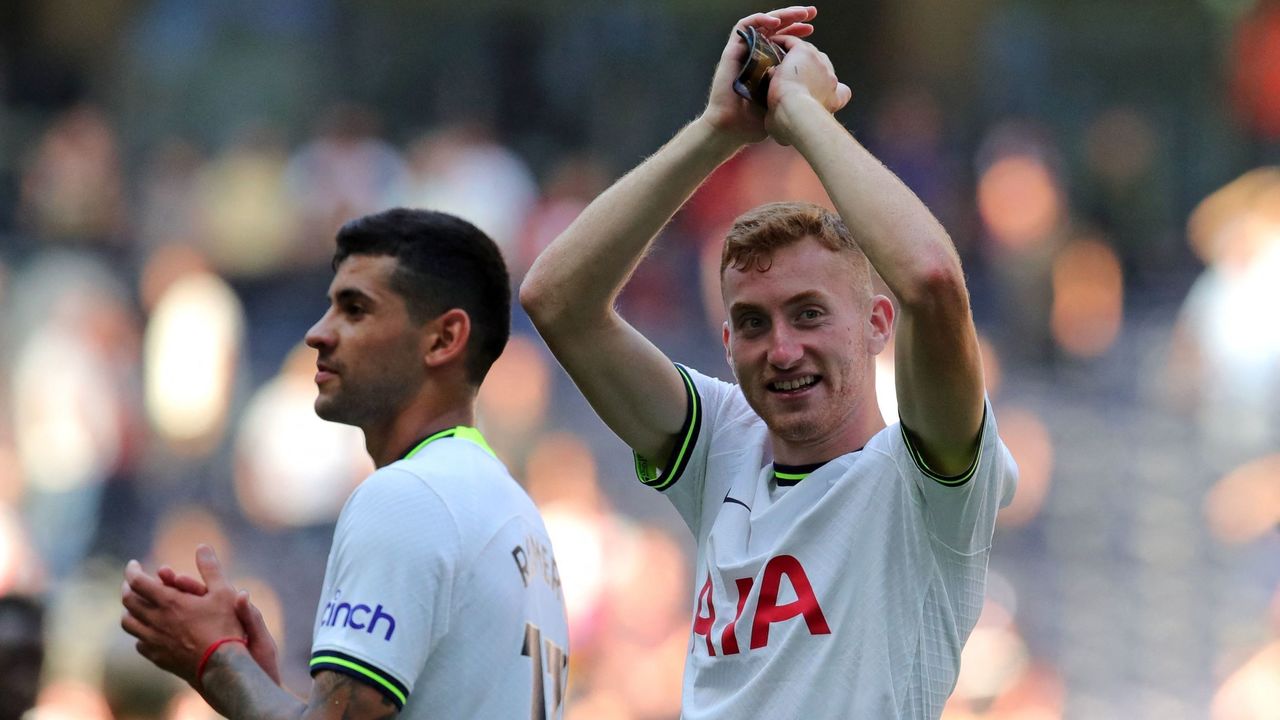 He was simply too much for Southampton. Because the visitors lacked the pace to handle Kulusevski's constant change of speed, they had no choice but to backpedal to cover the space behind them. Kulusevski accepted the trade-off, cutting inside to deliver balls with incredible pace and accuracy.
Antonio Conte's system allows Kulusevski to do all of the things he does well. With a wing-back to his side, the Swede can focus on making darting runs without worrying about tracking back. Not that he doesn't do the dirty work. Kulusevski attempted a team-high seven tackles, including five in the opponent's half.
"Dejan made a big impact (Saturday), but also last season," Conte told the BBC. "He and Rodrigo (Bentancur) integrated really good with the squad. Dejan has continued in this way, but he has to continue to work in this way with his behavior and ambition. He has a lot of ambition, he wants to become one of the best players in his role. I think this ambition is good, if he is humble and works ... he can do that."
Gerrard could soon feel the pressure
Steven Gerrard can't blame any of Aston Villa's failings on a lack of support from the boardroom. Following a January window that included a loan deal for Philippe Coutinho and moves for Lucas Digne and Calum Chambers, Gerrard welcomed Coutinho (this time permanently), Diego Carlos, Boubacar Kamara, and others to Villa Park this summer for over £45 million total.
But the Villans' 2-0 defeat at Bournemouth shows there's still a lot of work to do for Gerrard. The Cherries deserved their three points and gave Carlos and Kamara tough introductions to English football. Villa's big-name players were outclassed by Marcus Tavernier, the midfielder whose move to Bournemouth from Middlesbrough last week was lost amid the transfer chaos.
Gerrard had a strong six games to start his Aston Villa tenure, but his team finished the rest of the 2021-22 season with a worse record than relegated Burnley.
Now, his summer recruitment has significantly lifted exceptions. This is his squad, and an improvement on last season's 14th-placed finish is needed. Two-goal defeats to newly promoted teams shouldn't be part of the script.
It won't take long for fans to get on the Scouser's back if results don't improve. His recruitment drive has forced previously established - and largely popular - first-team players like Emiliano Buendia, Douglas Luiz, Tyrone Mings, and Ollie Watkins onto the bench. Some of those changes seemed unnecessary. The Coutinho signing was arguably a huge waste of resources given Buendia's ability to influence games with more consistency than the Brazilian. Mings often draws plenty of criticism, but is the impulsive Carlos really that much better?
If Gerrard's signings don't work out quickly, the fans will be on his back and, by extension, be questioning the work of chief executive Christian Purslow.
Everton limping from the get-go
Everton are already looking worse for wear just 90 minutes into the new season.
The Toffees took the pitch Saturday against Chelsea without Dominic Calvert-Lewin, their only recognized striker outside of Salomon Rondon, who's scored one goal for Everton in 20 Premier League appearances. They then lost defender Ben Godfrey and center-back Yerry Mina to potential long-term ankle injuries.
Manager Frank Lampard could now have a serious shortage of options in defense and attack. Everton don't even have the funds to go out and sign replacements. That doesn't bode well for a team many had regarded as relegation fodder before kickoff.
"When it rains," Lampard said afterward, "it pours."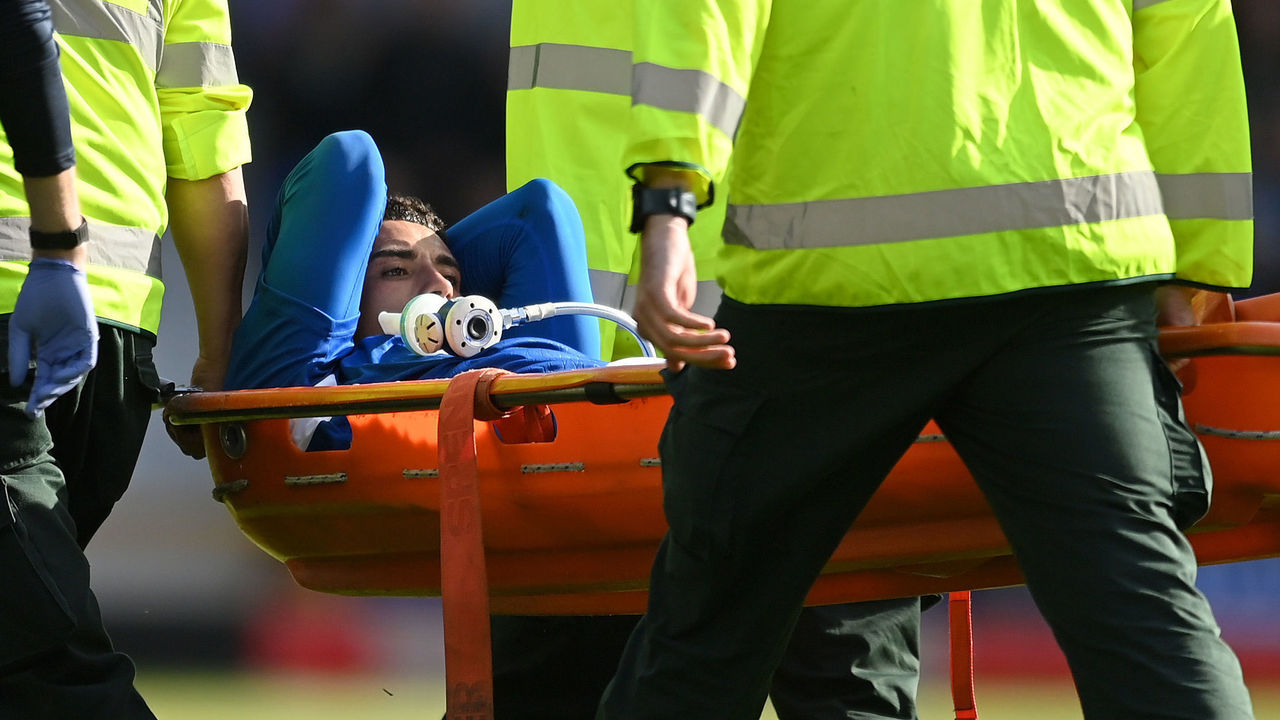 The players, however, don't seem as short on spirit. They hustled for possession all game and only lost because of a penalty kick midfielder Abdoulaye Doucoure conceded toward the end of the opening period. Anthony Gordon won tackles in his own half, and left-back Vitaliy Mykolenko made crucial blocks. Gordon, Demarai Gray, and summer signing Dwight McNeil ran nice passing sequences. The effort was there, and the game was for the taking. Everton were just missing a presence up front.
There's some irony here. Despite the obvious lack of depth, the club allowed Ellis Simms, one of the only other center-forwards in its ranks, to leave on loan. The 21-year-old, who's at Sunderland for the rest of the campaign, served up a timely reminder of his ability with a two-goal performance earlier Saturday.
Unfortunately, Lampard likely knows the deal by now. He's not going to get much help from majority owner Farhad Moshiri, who's shown no desire to reinvest the funds from Richarlison's £50-million transfer to Tottenham. Everton suffered pre-tax losses of £372 million over the last three years, severely handicapping what they can spend on the transfer market. Solutions will have to come from within.
Comments
✕
10 thoughts from opening weekend of new Premier League season
  Got something to say? Leave a comment below!