7 thoughts from 2nd legs of Champions League quarterfinals
The Champions League quarterfinals came to a thrilling conclusion this week. Below, we dissect the biggest talking points from the games in Europe's premier club competition.
Atletico throw tantrum at worst time
Before losing their cool, Atletico Madrid were playing some of their best football of the quarterfinal. They finally emerged from their shell, launching forward with intent. Circumstance, of course, forced Atletico's hand: Trailing Manchester City 1-0 on aggregate, they needed a goal to stay alive in the Champions League.
Substitute Matheus Cunha tried to bundle home. Stefan Savic nearly tucked the ball inside the near post. Rodrigo De Paul missed chances. With better finishing, Atletico could've - and perhaps should've - won the tie in the final 20 minutes of regular time.
But Atletico killed the momentum they'd built with the kind of petulant behavior that's made them so antagonizing in this competition. Felipe saw red after following up his otherwise clean tackle on Phil Foden with a petty swipe at his legs. Savic then rushed over to give his adversary another push. His extracurricular activity sparked a brouhaha on the sidelines, and the Montenegrin defender only seemed to relish the fight, going head-to-head with Raheem Sterling before pulling Jack Grealish's hair in a face-to-face encounter with the unused substitute.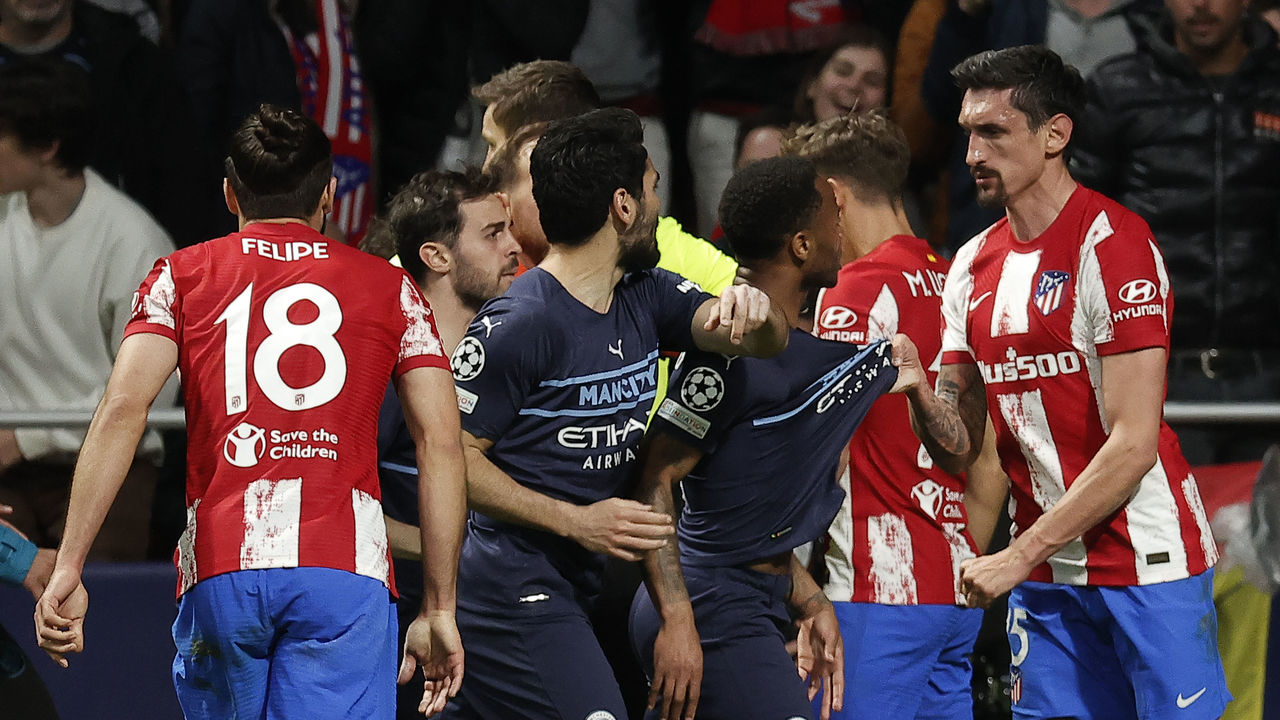 When play resumed, Atletico seemed more interested in retribution than scoring. Cunha chopped down Fernandinho, Diego Simeone jawed at the referee when City's battered regiment fell to the ground, and De Paul remonstrated with Pep Guardiola. The irony wasn't lost here: Atletico were complaining about the very things they do so well. They were just on the receiving end of it.
As the clocked ticked into the 100th minute, they pushed one more time. Angel Correa fell to the floor in search of a penalty before firing a shot at Ederson, and that was it. Atletico weren't outplayed, but they couldn't maintain their composure when they needed it most.
Atletico couldn't even exit the competition with dignity. While the crowd at the Wanda Metropolitano stood and applauded the effort, Savic sparred with Grealish in the tunnel. Sime Vrsaljko also threw something at Aymeric Laporte before appearing to spit in Kyle Walker's direction.
When asked whether Atletico's behavior crossed the line, Guardiola replied, "No comment."
A blemish on City's hard-earned victory
Foden headed down the tunnel, adjusting the bandage that was wrapped around his head following an aerial assault from Felipe. He must've wondered what kind of onslaught awaited him after the interval.
Atletico Madrid attacked in the first half, but not necessarily toward Manchester City's goal. Foden was targeted. In addition to Felipe arriving late for a header and charging his shoulder into the 21-year-old's skull, Savic needlessly nudged Foden into the advertising hoardings as the ball rolled out of play.
This is, after all, how Atletico Madrid operate.
Overall, Guardiola would've been pleased. City are methodical and intricate - they aren't equipped for full-on warfare in front of the Wanda Metropolitano's baying crowd. But, as the visitors neared the end of normal time, they'd played almost 175 minutes against Simeone's goading gaggle with just two yellow cards - one apiece for Ederson and Gabriel Jesus in the first leg - and a one-goal lead still intact.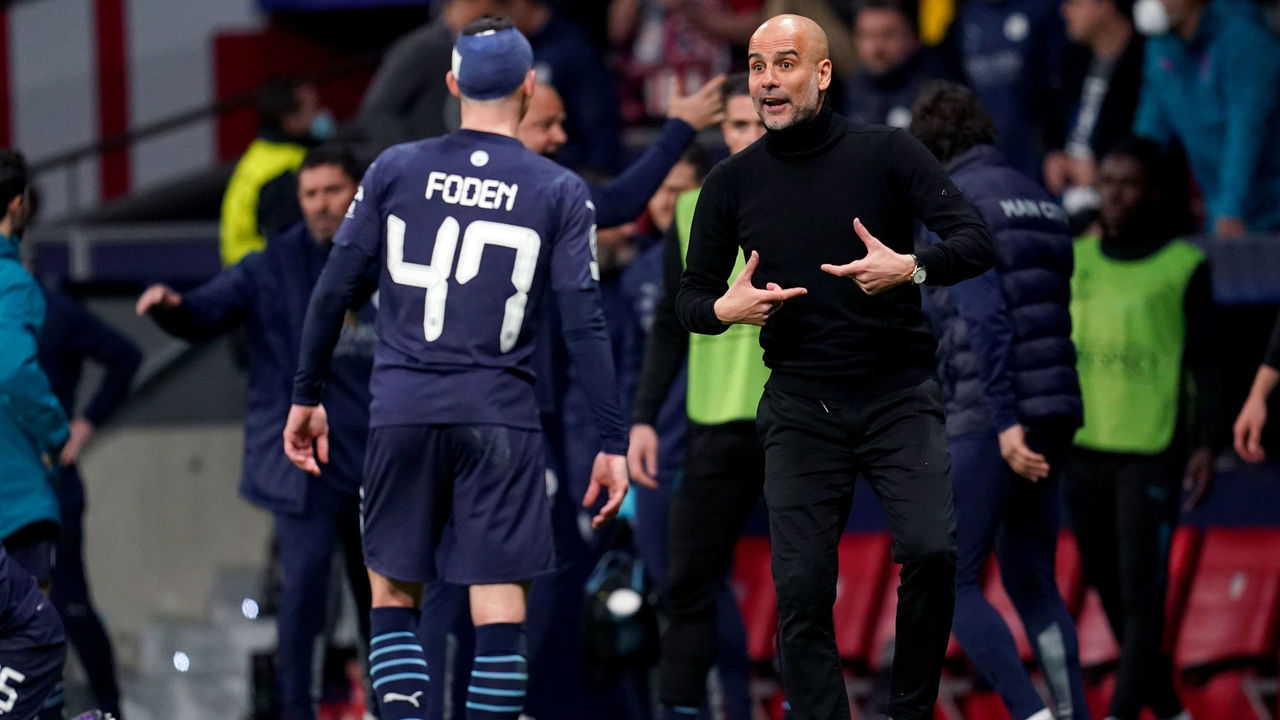 Then, City's discipline frayed. The injury-enforced departures of Kevin De Bruyne and Walker - the latter of whom was City's most effective defender - undoubtedly hampered their organization and contributed to the reigning English champions' increasingly desperate play. Balls were punted upfield and Stones pumped his fists like Giorgio Chiellini when he made a fortunate block. Atleti were wearing City down.
It could've easily gone into extra time.
Joao Cancelo was among five City players shown a yellow card from the 85th minute onward following a tired foul on the edge of his own box. City didn't lose their cool - at least, not like Atleti did - but Cancelo missing the first leg of the semifinal against Real Madrid through suspension will rankle Guardiola. Foden was also booked after showing impressive restraint over the 95 grueling minutes that preceded his foul on De Paul.
City were so close to a near-perfect evening and Guardiola knew how badly his side needed the final whistle.
"It is the champion of Spain and they played with energy, and in second half were better than us and we were lucky we didn't concede," Guardiola said post-match. "In the first half we had chances. Overall, we are in the semifinals - it is well deserved."
The game itself might not be the most difficult part of City's season. Instead, it will be picking up the pieces from the battle in Madrid and reassembling them for a final push for silverware in the Premier League, FA Cup, and Champions League.
The benefit of squad rotation
In the buildup to Wednesday's 3-3 draw with Benfica, Liverpool manager Jurgen Klopp insisted his side's daunting schedule, particularly an FA Cup semifinal against Manchester City this coming weekend, would have no bearing on his lineup selection for the second leg at Anfield.
Good one, Jurgen.
The German tactician, understandably, did indeed rotate his squad. Quite heavily, too, especially in defense, where Joe Gomez, Ibrahima Konate, and Kostas Tsimikas all started. The Reds, sitting on a comfortable 6-2 aggregate advantage at one point, took their foot off the gas and allowed Benfica to nab late consolation goals.
"The situation was the defense had never played together," Klopp said after the match of the makeshift backline. Not ideal, but not costly.
Taking care of business early has its benefits.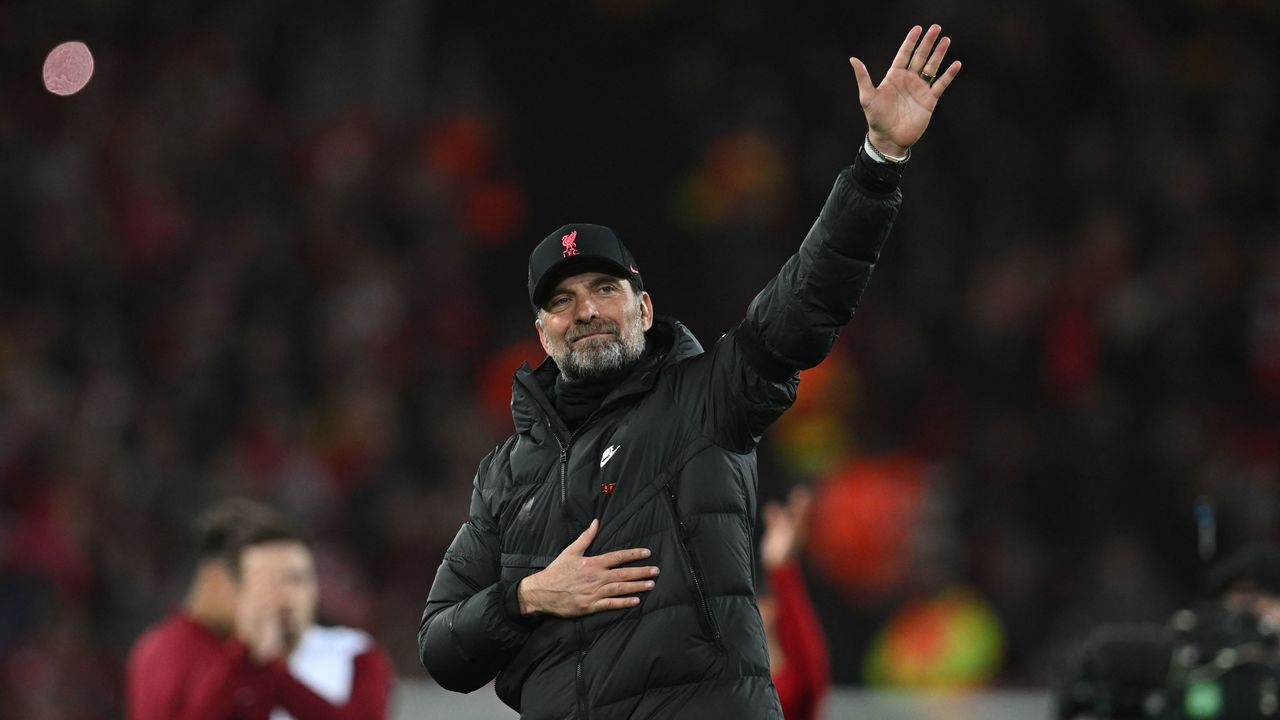 Klopp, by virtue of his side's comfortable first-leg victory, was able to rest some essential players. Any chance to get a little breather in for ever-present stars, and avoid potential injuries, has to be taken ahead of a fixture list that Klopp described as "super tough."
Prior to the first leg of their Champions League semifinal against Villarreal on April 27, Liverpool, still aiming to complete a quadruple, have to play Manchester City, Manchester United, and hated city rivals Everton. The likes of Virgil van Dijk, Trent Alexander-Arnold, and Andrew Robertson were able to kick their feet up on Wednesday, a stark contrast to what City's key players endured in their ill-tempered scrap with Atletico Madrid.
Every little edge counts right now, and Klopp, no matter what he says, is acutely aware of it.
Here are the main talking points from Tuesday's matches ...
Madrid always make it hard for themselves
Carlo Ancelotti's conservative tactics nearly backfired in the round of 16 against Paris Saint-Germain, and with a 3-1 lead to protect on Tuesday, Real Madrid nearly blew it again.
Ancelotti's side lined up at the Santiago Bernabeu with the sole intention of seeing out a boring draw against Chelsea. Even a narrow loss would've suited Madrid just fine. They showed little ambition - until the visiting Blues forced them to change their minds. Chelsea scored once and then twice, and when Timo Werner made it 3-0 on the night - and crucially, 4-3 on aggregate - Madrid suddenly found themselves in need of a goal. Ancelotti threw on Brazilian winger Rodrygo for defensive midfielder Casemiro, and with minutes remaining, the 21-year-old sent the match to extra time, firing home from Luka Modric's beautiful searching ball.
Karim Benzema scored in extra time to kill off Chelsea once and for all, keeping Madrid in the competition by the narrowest of margins. Benzema did the same against PSG, scoring a hat trick in 17 minutes to overturn a 2-0 deficit. It's just what he does.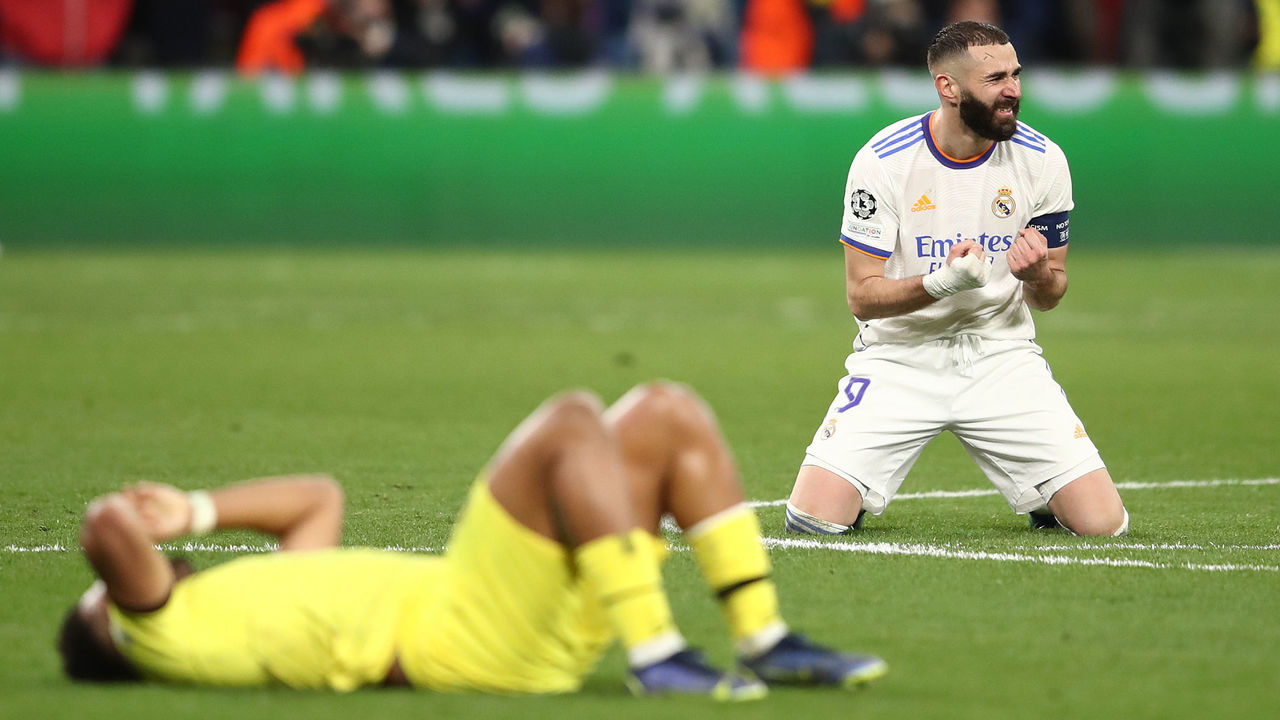 And this is what Madrid do: They save their best football for the most desperate of situations. They wait until they're facing elimination to come alive. They're in the Champions League semifinals because of individual heroics, not a sound and consistent game plan. Critics have skewered Ancelotti for his conservative tactics all season, and they have more ammunition after Tuesday's near-collapse.
Madrid can quite clearly feast on teams when they choose to go on the attack, which makes Ancelotti's tactical decisions all the more confusing. He's undoubtedly a brilliant manager, and his substitutions Tuesday swung the course of the tie back in Madrid's favor, but he wouldn't have to take these kinds of corrective measures if he had prepared his side to win in the first place.
Maybe he knows his players will find a way to progress. Maybe he knows his team will find the answers if his game plan goes awry. After all, his players can always fall back on their attacking instincts. He doesn't need to coach that.
"I have a squad who knows these types of games very well, knows what has happened, and knows what can happen," Ancelotti said before kickoff.
All of it happened. And in the end, Madrid advanced.
Chelsea respond to Tuchel's call to action
Thomas Tuchel laid into his players during a closed-door meeting last week, challenging them to take accountability for a pair of losses against Brentford and Madrid. Chelsea responded with a 6-0 drubbing at Southampton on the weekend, and his players showed similar composure in the second leg on Tuesday.
The Blues didn't get "hammered" at Bernabeu as Tuchel had predicted. They even made the impossible look possible. There's no shame in losing 5-4 on aggregate, especially after trailing the first leg 3-1. Tuchel knew it was "unlikely" his team would overturn the tie. But it was, as he added, "worth trying," and try they did, right to the end, winning, as it happened, 3-2 on Tuesday. Chelsea couldn't do much more.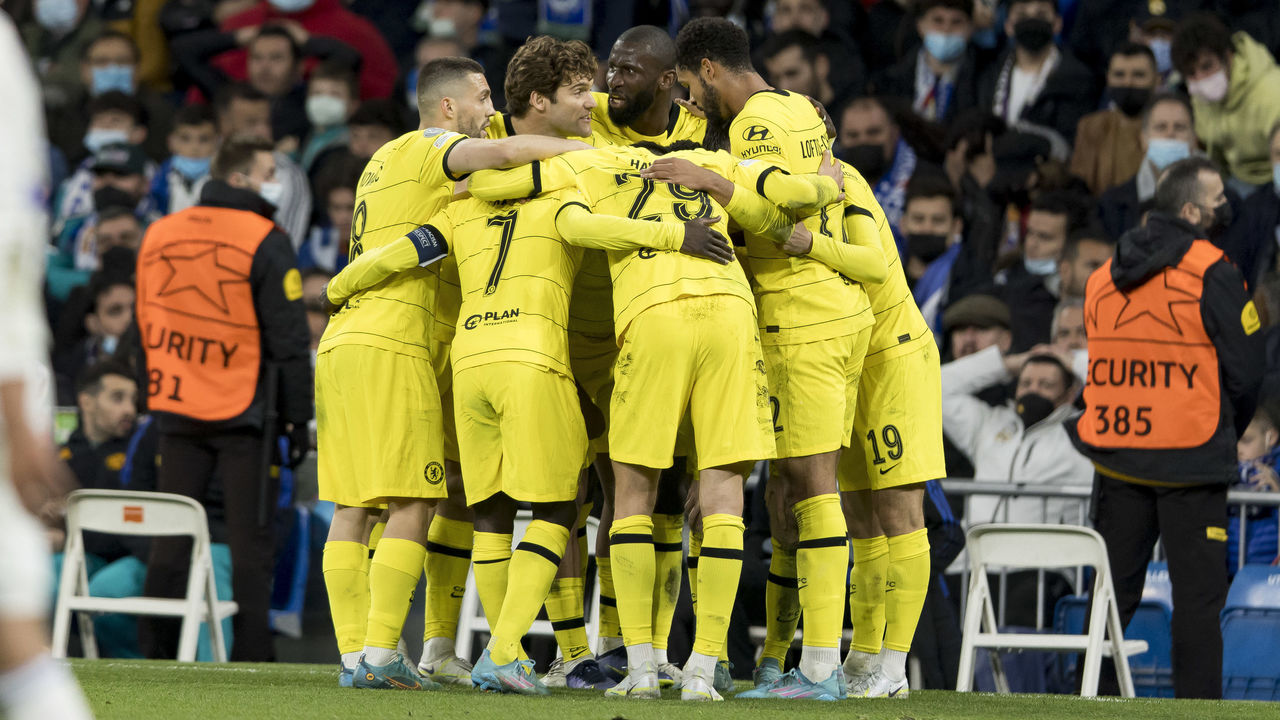 The damage was done in the first leg. Sometimes, a brutal giveaway can mean the end of a title defense. Those are the margins. Mistakes like that can and will happen. Tuchel can and will look at this quarterfinal not as proof his team is short of today's best teams but as evidence that Chelsea can bounce back from disappointment. He quite clearly has the players' confidence, no matter who's on the pitch.
Chelsea played exactly as Tuchel likes his teams to play: They pressed Madrid, hassled them out of possession, and maintained composure on the ball. The Blues took their time, waiting for opportunities to pass into space. There was little sign of panic from a team that had every reason to heave the ball forward in desperation.
Take the passage of play that resulted in Marco Alonso's disallowed goal: Kai Havertz nicked the ball off of the dawdling Ferland Mendy deep in Madrid's half, and his teammates worked it quickly to Alonso, who fired a bullet into the top corner. If he hadn't handled the ball ever so slightly, Chelsea would've sealed the comeback.
The margins worked against Tuchel's side, but the performance told him everything he needed to know about his team.
Albiol, Villarreal willing to 'suffer'
Thomas Muller was perplexed. The Allianz Arena was in a stupor. Bayern Munich, despite outshooting Villarreal 45-16 over two legs, saw their Champions League run come to an unexpected end at the hands of Unai Emery's Yellow Submarine on Tuesday. Villarreal had just two shots on target in 180 minutes of quarterfinal action. Both of them ended up in the net, with Samuel Chukwueze's 88th-minute strike on the counterattack proving to be the decisive blow in the club's latest high-profile upset.
"If you take just this game into account, without the first game, we should have gone through convincingly," Muller, still trying to wrap his head around the result, said. "It's difficult to accept this; I don't know what to say."
There's only one thing to say: Well done, Villarreal.
Nursing a 1-0 lead from the first leg last week, Emery knew that his team would be forced to defend for most - if not all - of Tuesday's encounter in Bavaria. Some sides would cower at that prospect. Most would deflate after conceding to Robert Lewandowski; the floodgates have opened many times before for Bayern and their Polish superstar under similar circumstances.
But not Villarreal. And certainly not Raul Albiol. The 36-year-old captain, a decorated defender at club and international level, steadied the ship after Lewandowski's second-half goal leveled the tie at one apiece. He ensured his teammates didn't shrink when it mattered most, marshaling the backline, winning tackles and aerial duels, and providing the type of calming presence needed in high-pressure situations. This isn't his first rodeo, after all. A predominantly counterattacking team, Villarreal were always going to weather a storm in Germany.
"We suffered against Juventus, we suffered against Bayern, but we are now in the semifinals," said the grizzled Albiol, who was named Player of the Match. "Now we can dream of going even further."
Should Liverpool finish the job against Benfica on Wednesday and advance to the semis, Villarreal will once again be heavy underdogs. They'll need to "suffer" to have any hope of reaching the final for the first time in club history. If their run has taught us anything so far, that's just the way they like it.
Super League-esque revamp faces fresh opposition
The division between UEFA and English fans widened during Tuesday's Champions League quarterfinals after Premier League supporters' groups slammed the body's controversial plans to revamp the competition.
"We are united in opposition to proposals to reform the Champions League that are a back door attempt at a return to the discredited idea of a European Super League," the Football Supporters' Association's Premier League Network statement read.
European football's governing body, backed by national associations, wants to allow four extra teams into the Champions League from the 2024-25 campaign and is set to ditch the current group format in favor of a 36-team league. Each participant will play five home and five away games, with the top eight moving on to the last 16 and the other half of that draw determined by two-legged playoffs between teams positioned ninth to 24th.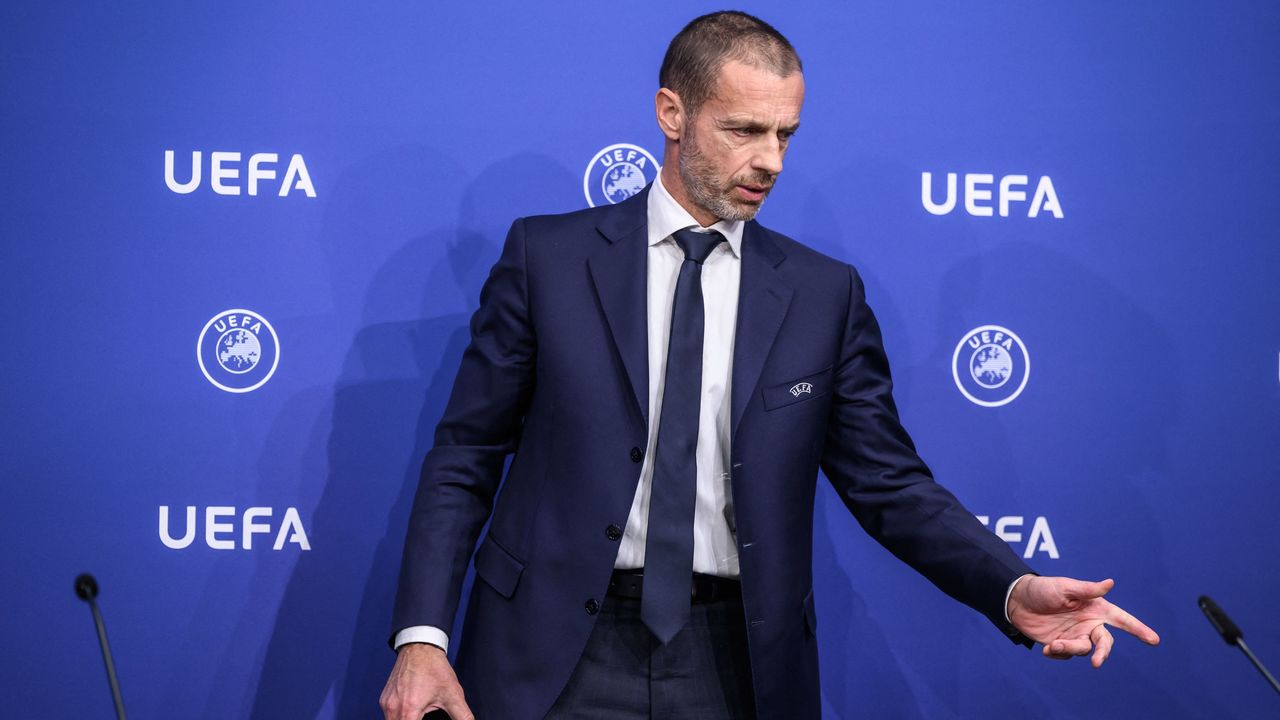 Perhaps most controversial of all, UEFA has vowed to reserve two qualification places for teams on historical merit rather than their performances in the previous season.
UEFA's executive committee will make a final decision on the plans on May 10, six days after the end of this campaign's Champions League semifinals. Expect the proposals to become a bigger talking point in the coming weeks as fans in England and on the continent urge UEFA to rethink.
"We've been in communication and (have explained) our position to UEFA, but obviously we are facing a powerful force in the world of football, and they have different interests to the ones of the fans," Ronan Evain, the executive director of Football Supporters Europe, told theScore.
"We hope that UEFA will make the right decision, which is to take into consideration the past mistakes that led to the Super League and (to consider) the demand from fans and society in general for a more balanced system of European club competitions," Evain added.
Comments
✕
7 thoughts from 2nd legs of Champions League quarterfinals
  Got something to say? Leave a comment below!