Unanswered questions: What if European football doesn't return?
The European football season is suspended due to the COVID-19 pandemic, and though the various leagues all hope to eventually resume and conclude the 2019-20 campaign, that's far from a foregone conclusion. Below, we're examining some big questions that will go unanswered if play doesn't resume in each of the top five domestic leagues.
Premier League
Will Liverpool's historic season go up in smoke?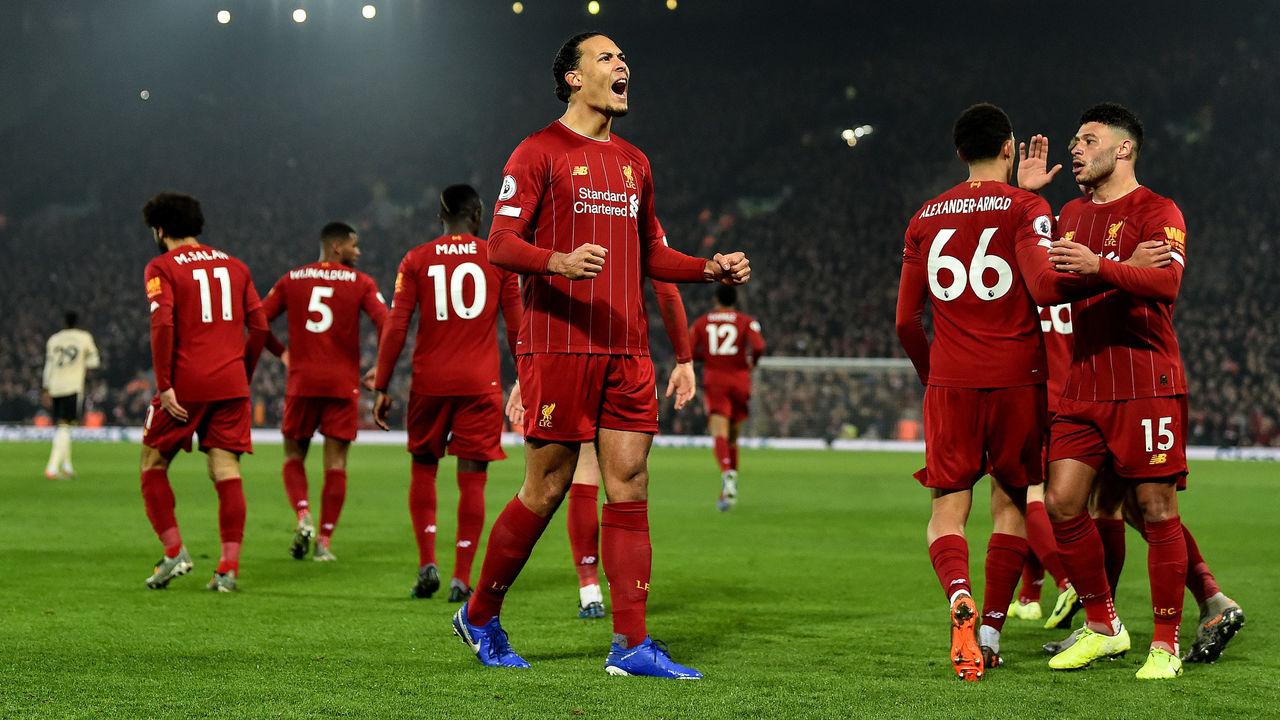 Such concerns are admittedly unimportant in the wider scheme of a global crisis - it's important to remember that when discussing any sporting-related issue right now - but arguably the largest ramification of a canceled football season, at least on an immediate level, would be the fate of the Premier League title.
Liverpool faltered in the weeks immediately preceding the sport's suspension. In the span of 12 days, the Reds waved goodbye to an undefeated campaign - and the immortality that comes with it - a potential FA Cup triumph, and a shot at retaining their Champions League title. There were signs that Jurgen Klopp's team was indeed beatable before that wretched run, but it was still a shock to see its perfect season come undone so quickly.
And yet, those setbacks shouldn't distract from the all-time great campaign Liverpool were putting together. They were on pace to smash Manchester City's record for the largest single-season point haul and, were it not for the stoppage, could have very well clinched the title before the calendar flipped to April. That's absurd. It would be terribly unfortunate if the season was declared null and void. But even if we reach that point and the record books never officially reflect it, Liverpool were undeniably the best team in England this year and fully deserved to win their first league crown in 30 years.
Bonus: No resolution to the wacky Champions League race?
Can Chelsea hold on? Will Manchester United's Bruno Fernandes-inspired revival be enough? Could Wolverhampton Wanderers or, more surprisingly, Sheffield United upset the apple cart? What about beleaguered stalwarts Arsenal and Tottenham?
In a year when fifth place could be good enough for a Champions League spot thanks to Manchester City's financial misdeeds, several clubs were in the mix, yet none of them seemed capable of solidifying a claim for a coveted place in Europe's premier competition.
La Liga
Will seesaw battle between Barcelona, Real Madrid go undecided?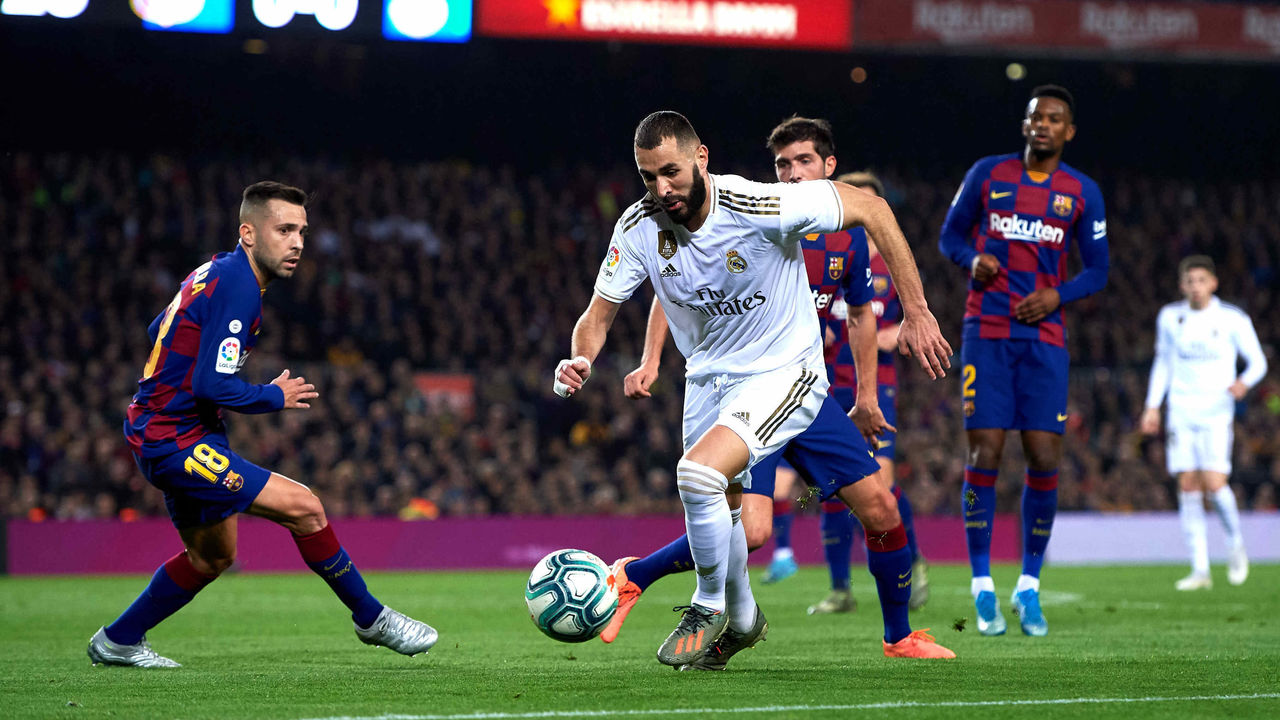 In what was billed as a critical match in the title race, Real Madrid kicked March off with a 2-0 win over Barcelona at the Bernabeu. It felt like a watershed moment in a season riddled with false dawns for Spain's two biggest sides. Zidane and Co. had leapfrogged their bitter rivals for top spot in the table and finally controlled their own destiny.
Then they threw it away one week later. A harrowing loss to Real Betis allowed Barca to regain first place, and the seesaw tilted in favor of the Catalans once more. In a season when the bar has been drastically lowered, neither Real nor Barca have seemed capable of taking control. It's been strange to watch each side struggle in its own way at various points of the campaign; Madrid have been superb defensively but found it weirdly difficult to generate offense, while Barca, who have already fired their manager and weathered several storms, have been downright turgid to watch at times.
Worst of all, no other side in Spain has been capable of taking advantage of down seasons from the perennial powers. If La Liga returns - a big "if," considering how hard the nation has been hit by the COVID-19 crisis - one of these two teams is going to fall ass-backward to a title.
Bonus: Could Atletico really miss out on the top four?
Unless they go on and win the competition - which, in fairness, looked a real possibility after they sent Liverpool packing - Atletico Madrid have a fight on their hands just to reach next season's Champions League.
Atleti's frightening inability to find the net had them sitting sixth when play halted, one point behind Getafe and Real Sociedad. If the league resumes, they should have enough quality to make a late surge, but all bets are obviously off right now.
Serie A
Are Lazio the ones to finally dethrone Juventus?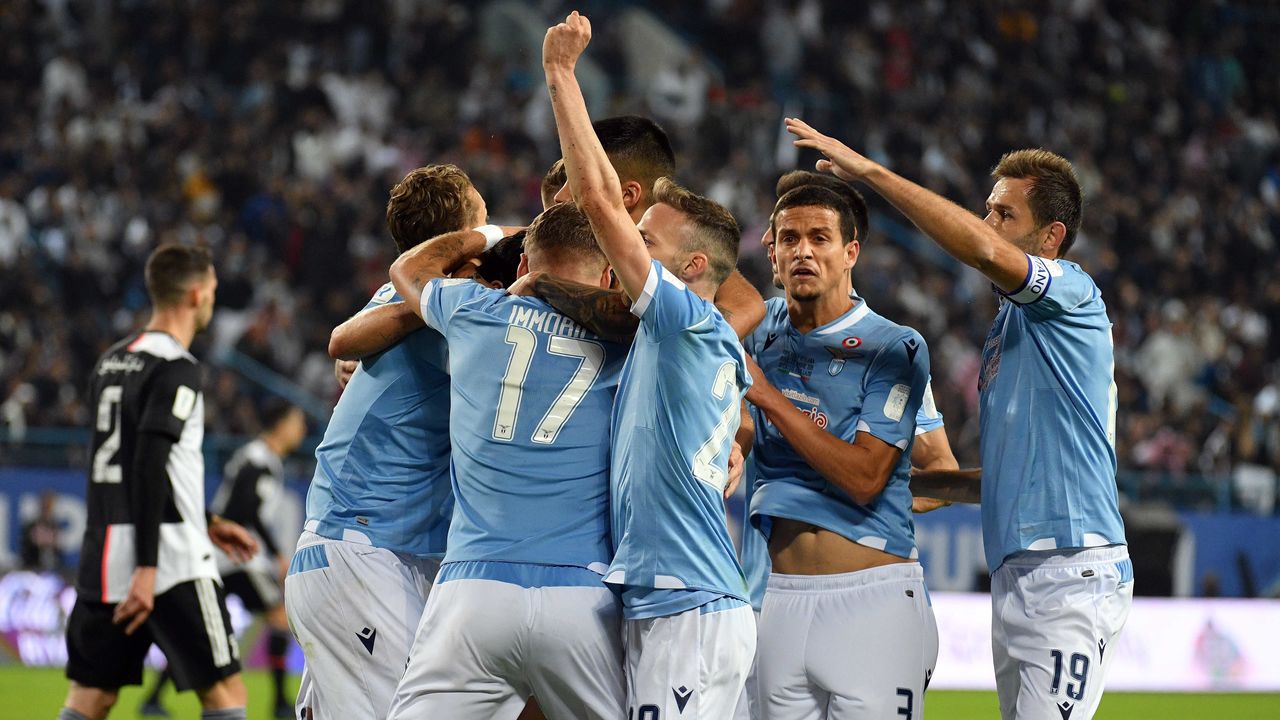 The top of the Serie A table looked familiar when the Italian season was officially put on hold, with Juventus holding a one-point lead for first place. But unlike so many previous campaigns during their eight-year reign, it felt like Juve were vulnerable this year. Lazio, sitting in second, harbored very real title hopes.
Since winning their second-ever Scudetto in 2000, Lazio have rarely made a dent in the title race; the capital club hasn't finished better than third - which its done three times - since that memorable triumph 20 years ago. But this season's title bid was, in a word, astonishing. Led by Europe's top scorer in Ciro Immobile, the creative genius of Luis Alberto, and the insatiable hunger of rising managerial star Simone Inzaghi, Lazio were in the midst of a 21-match unbeaten run in the league. Seventeen of those were wins.
Though they were running hot - their plus-37 goal difference enormously exceeded their more modest expected goal difference of 19.7 - Inzaghi's men looked destined to take the fight right down to the wire.
Bonus: What to make of the two Milan clubs?
Inter Milan were supposed to be legitimate title challengers this season with Antonio Conte on the touchline. Through December, that seemed to be the case; the backline was stingy and Romelu Lukaku was on fire up front. Then the calendar flipped, and the Nerazzurri seemed to run out of gas, enduring a wobbly run that culminated in a loss to Juventus behind closed doors.
Their city rivals, meanwhile, were trying to rescue what once threatened to be a complete disaster of a campaign. AC Milan, still reeling from ownership and managerial upheaval, steadied the ship somewhat after Zlatan Ibrahimovic arrived in late December, but another blip right before the stoppage had them sitting seventh in Serie A. Should both clubs already be shifting focus to next season, regardless of the current campaign's fate?
Bundesliga
Did Werner have time to chase down Lewandowski?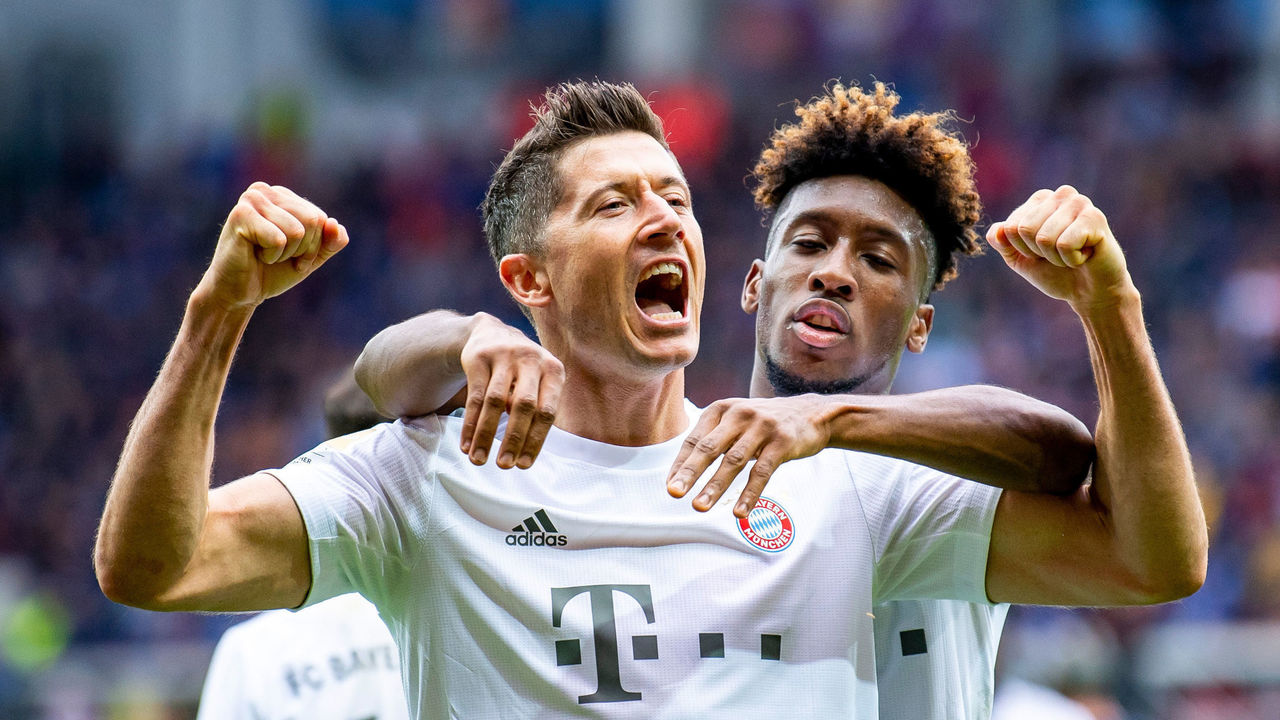 Before it was announced in late February that Robert Lewandowski required knee surgery, the prolific Pole was in the midst of yet another standout season. He led the Bundesliga with 25 goals in just 23 matches, and his scoring exploits had helped Bayern Munich build a four-point lead over Borussia Dortmund for top spot in the league.
Another title was on the horizon in Bavaria, it seemed. Dortmund - whom we'll get to shortly - looked intent on keeping things interesting with their breakneck style, but the more intriguing race could be found at the top of the scoring charts rather than the standings.
Though RB Leipzig - Bayern's primary competition for much of the season - had started to falter domestically, star striker Timo Werner was very much alive in the race for the Torjagerkanone, the delightfully named cannon-shaped trophy handed to the Bundesliga's top scorer. Were it not for Lewandowski's sustained excellence, Werner, still only 24 and seemingly on the verge of an enormously expensive transfer in the near future, would be the talk of the town in Germany thanks to his 21-goal campaign.
Bonus: Just how high would Haaland lift Borussia Dortmund?
Erling Braut Haaland, the breakout star of the 2019-20 season, was in the midst of an unconscionable campaign. He broke several records at Red Bull Salzburg before making a late December switch to Dortmund, where he proceeded to score nine goals in just 512 minutes of Bundesliga action - a rate of one goal every 57 minutes. It was obscene.
Together with fellow prodigy Jadon Sancho, the hulking Norwegian teenager helped Dortmund leap back into the title mix. BVB won seven of eight league matches after Haaland's arrival and trailed Bayern by just four points before play was halted in Germany. Could he have been - and could he still be - the catalyst to end Bayern Munich's run of dominance?
Ligue 1
Which rising star would generate the most transfer buzz?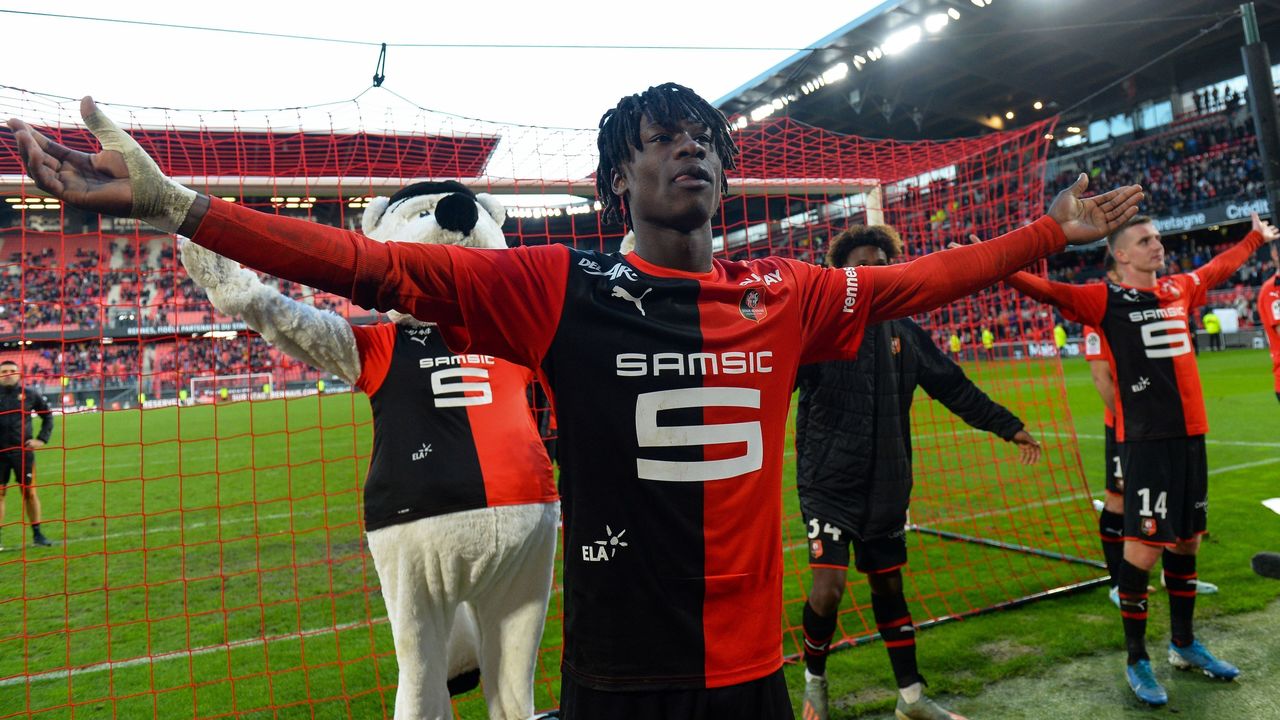 Ligue 1 has long been home to the proverbial "next wave" of talent that eventually goes on to dominate Europe's other, more high-profile domestic competitions. France's top flight is a breeding ground for rising stars and a favorite destination of scouts everywhere. This season was no different.
Among several other young studs flourishing at Lyon's talent factory, Houssem Aouar was dazzling onlookers with his saucy array of skills. Victor Osimhen and Boubakary Soumare, meanwhile, had Lille in a European position, and precocious defenders Malang Sarr and Benoit Badiashile were turning heads at Nice and Monaco, respectively.
But nobody was rocketing to prominence quite like 17-year-old Eduardo Camavinga, the Angolan-born Frenchman who became a household name when he ran circles around Paris Saint-Germain during a spectacular early-season win for Rennes. A do-everything midfielder, the sinewy teen is excellent with the ball at his feet and dogged when trying to win it back. That combination of technical quality and physical prowess has made him one of the most sought-after names in the game. Before Camavinga moves on to greener pastures, it would be nice to see him finish his breakthrough campaign in style.
Bonus: Lyon finishing on a high note?
Battered by significant injuries to key players - Memphis Depay's ruptured ACL chief among them - Lyon were mired in a seemingly lost season until they stunned Juventus in the first leg of their last-16 Champions League tie. Though that didn't immediately incite a dramatic turnaround on the home front, it was a sign that, for all of its struggles, this team still boasts plenty of talent.
Even if the Ligue 1 campaign was going sideways, a knockout of one of the perceived Champions League favorites would've been a damn fine scalp to claim. Will Lyon ever get the chance to complete the job?