Now that some of the dust has settled, we examine the winners and losers from Cristiano Ronaldo's remarkable €100-million move to Juventus.
Winners: Real Madrid, Juventus
For the two clubs directly involved, the deal looks like a win-win.
Juventus, already the kingpin in Serie A and looking to take the next step and attain global superpower status, gets arguably the best, most marketable player on earth. He leaves Real Madrid after scoring 451 goals in 438 matches; he never recorded fewer than 26 La Liga tallies in his nine seasons with the Spanish juggernaut. He continues to produce at an elite level and should help lessen the attacking burden on Paulo Dybala and Douglas Costa.
Related: 5 ways Juventus can line up with Ronaldo
There's also the small matter of Ronaldo being synonymous with Champions League success; he scored 105 goals in the competition for Madrid, hoisting the big-eared trophy four times in the process.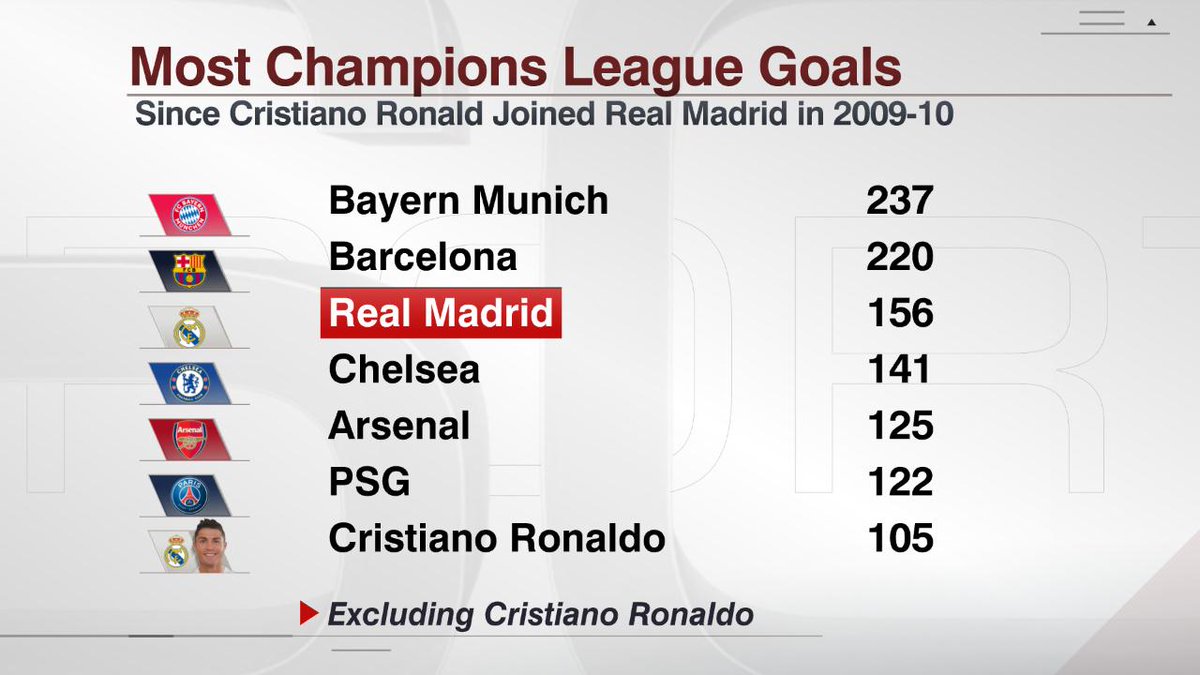 (Courtesy: ESPN Stats and Info)
Amid all the recent success domestically, the Champions League crown is the one piece missing from Juventus' crowded mantle; not since 1996 has the club lifted the coveted trophy, losing in the final on five occasions since the defeat of Ajax on penalties over two decades ago.
Ronaldo makes the Old Lady better on the pitch right now, and far more attractive off it from a financial perspective - which we'll explore shortly.
It's a gamble to invest so heavily in a 33-year-old, but in this very specific case, it's one that is absolutely worth taking.
Real Madrid, meanwhile, cashes in huge and thus gets the opportunity to rebuild an aging squad around the likes of Isco, Marco Asensio, and whichever superstar is inevitably plucked from the transfer market.
It's rare, perhaps, but it seems like both sides will be happy with this deal.
Loser: Gonzalo Higuain
For Juventus' purposes, Gonzalo Higuain was Cristiano Ronaldo before Cristiano Ronaldo became available. Not in terms of on-pitch performance, of course - there's no direct comparison for the Portuguese - but rather, in terms of the statement that his signing was intended to make.
Juve smashed its transfer record by spending €90 million on the Argentine striker in 2016, and the intention was clear: win the Champions League and end the Old Lady's two-decade-long streak of futility and heartbreak in Europe's marquee club competition. It almost worked, too. Higuain scored 29 goals between Serie A and the Champions League after his move from Napoli, but Juventus, for the second time in three years, fell in the continental final. Ironically, it was a Ronaldo brace that sunk the Italian side in Cardiff.
Higuain wasn't quite as prolific in 2017-18, scoring just 21 goals between the two aforementioned competitions - some of that was a change in role, where he was asked to contribute more to the team's buildup play - but there's no denying that Father Time started to creep into the discussion last season.
At 33, Ronaldo has all but completed his shift from dynamic winger, to hybrid attacker, to the game's most lethal pure striker. His presence means Higuain immediately becomes surplus to requirements at the Allianz Stadium. There almost certainly isn't room for both of them, either from an on-field perspective, or, more crucially, a financial one.
Juve will need to sell - Chelsea is reportedly interested in a reunion should Maurizio Sarri finally take over - and the aging striker not named Ronaldo is the most obvious candidate to be shipped off.
Winner: Cristiano Ronaldo
Get the enormous contract you wanted? Check.
Recapture the feeling that you are beloved by your club after you sensed, rightly or wrongly, that Real Madrid no longer valued you like it once did? Check.
Open up fresh marketing opportunities in a new country? Check. (He'll be starring in a FIAT commercial in no time).
Get the chance to dominate in a different country, and continue to showcase your talents in the Champions League, thus keeping your hopes of capturing yet another Ballon d'Or alive? Check.
Yeah, Ronaldo made out alright here.
Losers: Chelsea, PSG, Tottenham
Florentino Perez has cash to burn after agreeing to let Ronaldo leave the Spanish capital, and if his track record has taught us anything, it won't be sitting in his pocket for very long.
Related: How does Real Madrid fill the massive void left by Ronaldo's departure?
Ronaldo, in short, needs to be replaced, both in terms of sporting reasons and, equally crucial to Perez, financial ones. Real Madrid is more than just a wildly successful football club, it's a money-making behemoth of a brand, and it just lost its poster boy.
The candidates to fill Ronaldo's prolific boots are well-known by now: the flirtation with Belgian dribbling savant Eden Hazard has been longstanding, while PSG duo Neymar and Kylian Mbappe are reportedly objects of desire for Perez. The Brazilian, a marketing machine in his own right, would go a long way to filling the void left by CR7's departure.
And then there's Harry Kane, who, from a purely tactical point of view, offers the most direct replacement for the current iteration of Ronaldo. The latter was always a great shot generator, but he has become an absolute monster as he continues to transform into a pure striker. Juventus' shiny new star racked up an absurd seven shots per 90 minutes last season, easily leading Europe's top leagues - nobody else even topped six.
His closest competitor in that category was Lionel Messi (5.9 shots). He's not going anywhere ... even if he did, Real Madrid sure as hell wouldn't be the destination. Next on the list? Kane. The Englishman recorded 5.4 attempts per 90 minutes in the Premier League last season with Tottenham, en route to scoring 30 goals.
While it's in the realm of possibility that Perez tries to replace Ronaldo with multiple players in a bid to usher in a new Galacticos era, if he wants the closest thing to a like-for-like replacement today, Kane's his guy.
Winner: Serie A
Not since Inter Milan's signing of the other Ronaldo in 1997 - the original, Brazilian one - can Serie A legitimately claim to be bringing aboard a player in the conversation as the world's best.
Once regarded as the pinnacle of European football, the Italian top flight is slowly trying to re-establish itself after an extended period of being an unsuccessful afterthought, and being able to market itself as the league where (Cristiano) Ronaldo plies his trade will undoubtedly be a massive boon.
It may only further solidify Juventus' march toward an eighth consecutive Scudetto, but it should push the other 19 sides to do better, both in the board room and on the pitch.
Loser: Inter Milan
It's possible that Juventus would have clinched Tuesday's staggering signing regardless, but on the surface, it looks as though the reigning seven-time Serie A champion got a helping hand from an unlikely - and unintended - source.
Joao Cancelo impressed while on loan at Inter last season, and Luciano Spalletti made no secret of his desire to sign the versatile 24-year-old on a permanent basis. But the capital-based club, cognizant of the need to abide by Financial Fair Play (FFP) regulations, was unable to part with the €35 million Valencia was asking for the Portuguese right-back.
That opened the door for Juventus, who worked closely with super-agent Jorge Mendes to ink the marauding full-back. Mendes, of course, counts Ronaldo at the top of his massive Rolodex of clients.
Did the Cancelo deal grease the wheels, and put Ronaldo's eventual move to Turin into motion?
Winners: Andrea Agnelli, Beppe Marotta, Fabio Paratici
If you gave Juventus supporters the option, they would begin work on a statue right now to honour the front-office triumvirate of Andrea Agnelli (chairman), Beppe Marotta (general manager), and Fabio Paratici (sporting director).
The masterminds behind the Ronaldo deal, the trio has been instrumental in helping bring the Bianconeri back from the ashes in the wake of the 2006 Calciopoli scandal and subsequent relegation to Serie B. Marotta, in particular, has exercised prudence and been a master of finding market inefficiencies in building the squad over the years.
Yes, there are legitimate questions about the long-term feasibility of spending over €350 million in fees, wages, and taxes on a 33-year-old who will have no resale value by the time his four-year contract expires. But given Marotta's track record, one would think this is something the club is in a position to handle without running afoul of FFP or becoming financially unstable.
Opening a privately owned stadium in 2011, and supplementing that with a new training centre, school, and hotel complex, all speaks to the methodical way in which the club's front office has gone about organically growing revenue and bringing the team back to the pinnacle of Italian football.
In addition to winning the Champions League, Juventus clearly longs to be discussed among the likes of Real Madrid, Barcelona, Manchester United, and Bayern Munich as one of the sport's marquee brands - things like the recent logo change and Netflix series speak to that, too.
Aside from the boatload of goals, that's part of what you get with Ronaldo, whose signing has seen the Old Lady's stock price skyrocket in recent days.
Loser: Florentino Perez
As outlined above, the move is a no-brainer for Real Madrid. When you get the opportunity to sell a 33-year-old for €100 million - even if it's Cristiano Ronaldo - you do it. The previous transfer record for a footballer that age belonged to goalkeeper Claudio Bravo, who joined Manchester City for £15.3 million.
Basic team-building principles mean clubs simply shouldn't back up the Brinks truck for players who, in theory, are approaching the twilight of their career. Madrid had to let Ronaldo go at that price - which, incredibly, signaled a profit after he cost Los Blancos a reported €94 million nine years ago.
Related: 7 Ronaldo scoring records that will never be touched at Real Madrid
That said, Florentino Perez will always be the Real Madrid president that sold Ronaldo - even if the club tried to make it clear that it was the player's decision to leave. If things go belly-up this season, Perez will come under immense scrutiny.
Winner: Zinedine Zidane
Maybe he knew all along.
Zinedine Zidane's shocking decision to step aside as Real Madrid bench boss in the wake of leading Los Blancos to a third consecutive Champions League title looked like a wise decision at the time. After monopolising the trophy that has always meant more than any other at the Santiago Bernabeu, there was only one direction things could go from there; anything less than a fourth straight European title would be viewed as a failure.
The squad was beginning to age in key areas, and some upheaval was on the horizon in the coming seasons. And none of that even took into consideration the idea that Ronaldo wouldn't be scoring goals for the club in 2018-19.
Following Tuesday's earth-shaking deal, Zidane's swift exit looks like even more of a masterstroke.
(Photos courtesy: Getty Images)