A new man: Pjanic blossoming as Juventus' deep-lying playmaker
Giorgio Perottino / Reuters
The gradual transformation of Mario Mandzukic into a left-winger, paired with Dani Alves' recent liberation from defence, remain two of the biggest success stories in a potentially historic season for Juventus. Manager Massimiliano Allegri has had his pick of world-class players, but he's re-positioned them according to their best qualities.
The most important and least heralded of Allegri's changes, however, is Miralem Pjanic's season-long adaptation to a new deep-lying role.
The Bosnian has helped Juventus reach a second Champions League final in three years, his excellent range of passing allowing the Bianconeri to turn sterile possession into enterprising play.
Related - Still dominant: Dani Alves continues to leave Barcelona full of regret
It just took months of trial and error for Pjanic to feel comfortable in his new position.
Unlike Mandzukic and Alves, the former Roma midfielder, who joined Juventus in a €32-million transfer last summer, made the tactical switch from the beginning of the campaign. Allegri believed back in August that Pjanic could become "one of the best in the world" in a deeper position, and used him there in preseason matches.
Pjanic was exposed immediately following his high-profile move from the Italian capital. Allegri deployed one of his two star signings in front of the defence in a 3-5-2 formation, but holes in his master plan began to show in September's shocking loss to Inter at the San Siro. Under pressure from Inter players, Pjanic was unable to do much on his own. He was restricted access to his other teammates.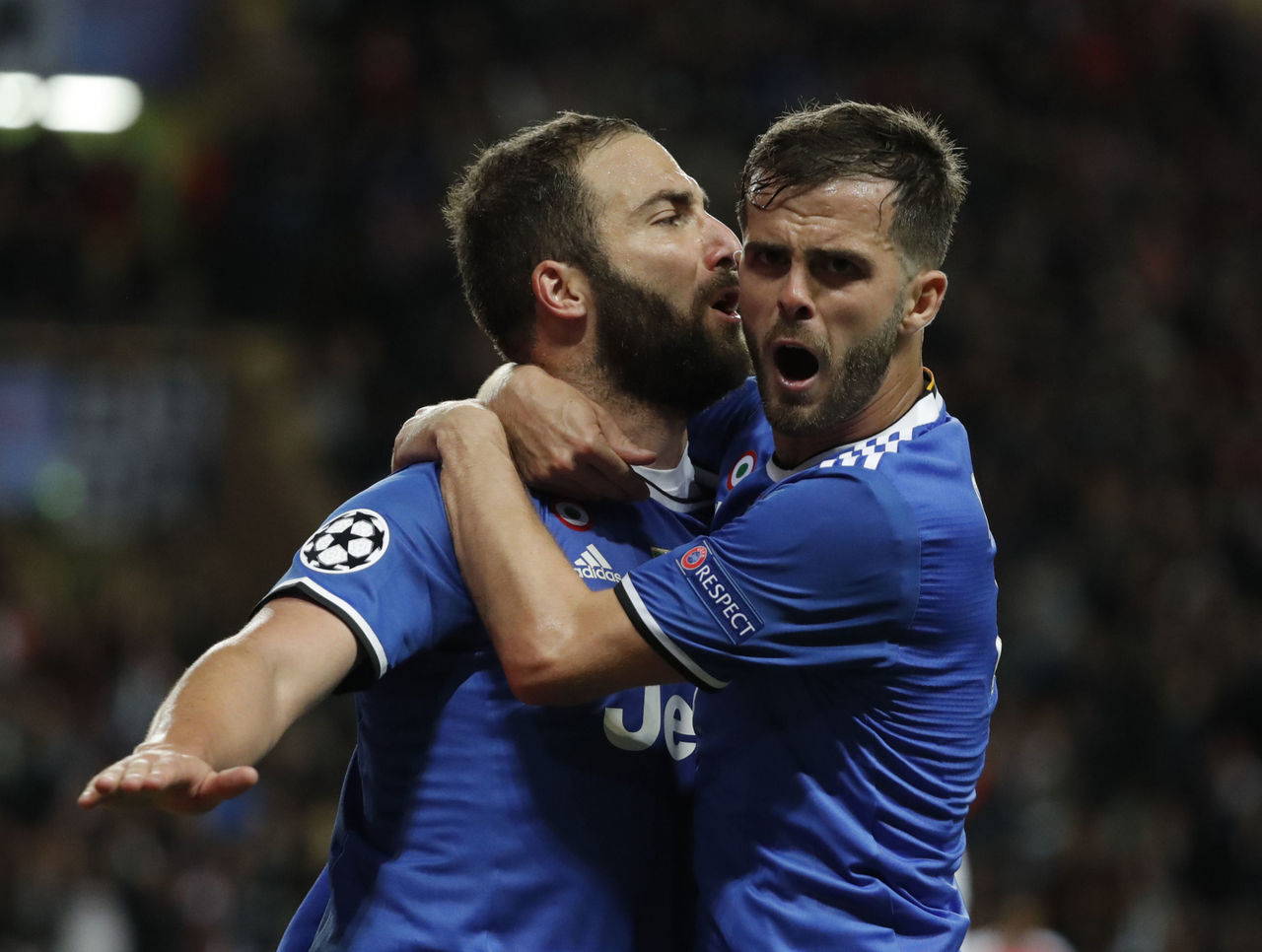 (Courtesy: Action Images)
His fortune changed once Allegri opted for a 4-2-3-1 schematic. With more robust midfielders Sami Khedira and Claudio Marchisio as options beside him in a double pivot, Pjanic suddenly had more space and time on the ball. He wasn't so isolated anymore.
But his own understanding of the position also improved. In a disciplined performance against Barcelona at the Camp Nou that ensured Juve's progression to the semi-finals, Pjanic committed a game-high eight tackles and five interceptions.
In other words, Allegri's patience began to pay dividends.
Pjanic admitted in an interview with Bild that he had studied Andrea Pirlo's movements, and even though he'd rather not field comparisons to the great Italian maestro, some striking similarities have developed.
Both excel at set pieces, and both can launch accurate long balls. Neither could count speed as one of their greatest attributes, but their spatial awareness has more than compensated for any lead feet.
Pjanic sprayed the ball about the pitch in the first leg in Monaco, and in a brief appearance as a substitute in last weekend's derby against Torino, the 27-year-old provided a sharp ball for Gonzalo Higuain's late winner. Whether Pjanic is lifting the ball over defenders or identifying teammates on the wing, he's constantly probing for openings and releasing his forwards into dangerous areas:
Allegri urged Pjanic to stay calm especially when things don't work out. The Italian manager spotted his player reacting with anger to some of his misplaced passes against Monaco, and again reiterated his belief in Pjanic's abilities.
"I am very angry with Pjanic, because he can become one of the three best midfielders in the world, but every now and then when he gets a wrong pass, he acts like it's the end of the world," Allegri said last week. "He needs to stay calm and relax, because his potential is only partially expressed. The lads are having a great season, in order to make it extraordinary we need to be calm and focused."
In many ways, Pjanic has also made fans of the five-time defending Serie A champion forget about Paul Pogba. During his days in Turin, the Frenchman had a tendency to carry the ball up the pitch, but Pjanic has been more economical in possession, picking his moments to loft a ball into enemy territory. He doesn't have the same box-to-box presence as Pogba, although in a 4-2-3-1 - or on Tuesday, a 3-4-2-1 - that features the omnipresent Paulo Dybala, Pjanic never has to be all that athletic.
It has taken about nine months to realise, but with little fanfare, the Bosnian has blossomed into one of the game's leading playmakers. And he's off to Cardiff for one of the biggest games of his life.
Comments
✕
A new man: Pjanic blossoming as Juventus' deep-lying playmaker
  Got something to say? Leave a comment below!