10 thoughts from Matchday 1 in the Champions League
The Champions League returned with a bang this week. Below, we dissect the biggest talking points from Matchday 1 in Europe's premier club competition.
Rangers dealt reality check
Rangers' first Champions League campaign in 12 years couldn't have started any worse. Giovanni van Bronckhorst's side, still stinging from the weekend's 4-0 loss to Scottish rivals Celtic, capitulated in Amsterdam, conceding goals and ground to Ajax in a chastening opening 45 minutes. The Dutch champions outpassed, outwitted, and outworked their counterparts, pouncing on the errors they forced to run away with another 4-0 result that somehow still flattered their guests.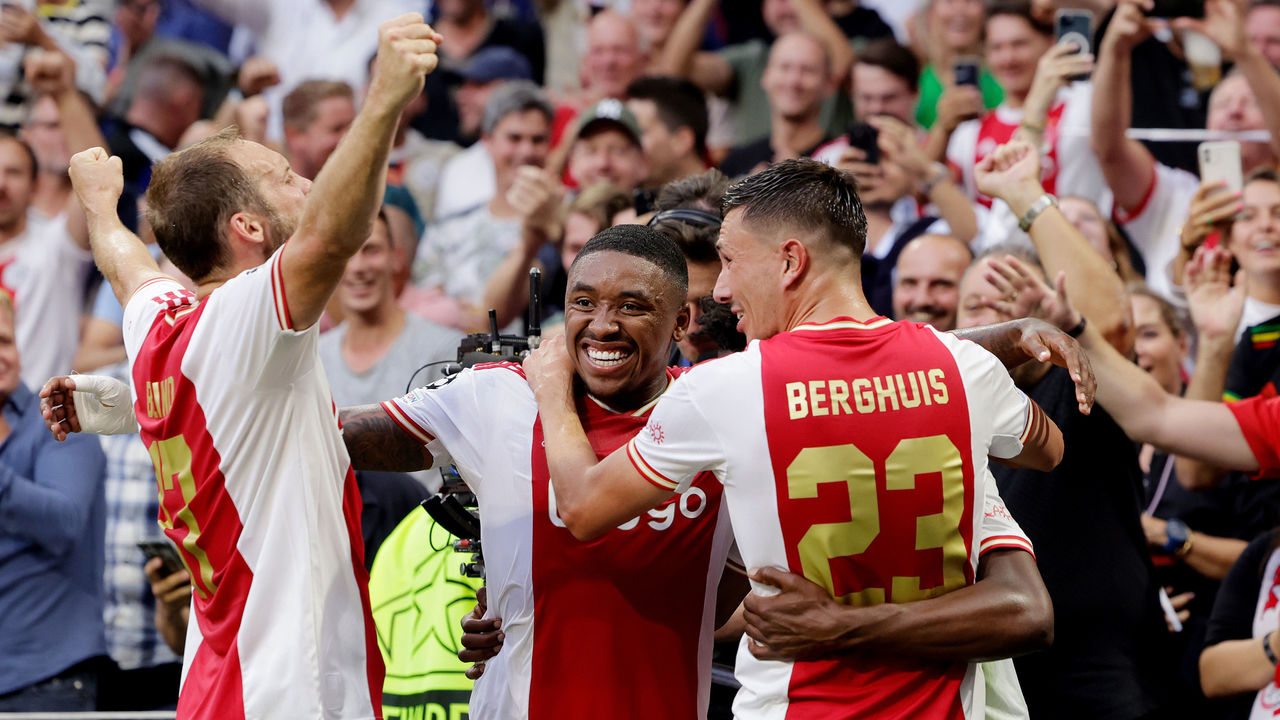 Rangers were always going to have a tough time in the Champions League, especially with Ajax, Napoli, and Liverpool in their midst. Most of Van Bronckhorst's starters hadn't even played in the group stage before. Not even a successful run to the Europa League final could prepare them for the task at hand.
As Rangers continue their revival from near-bankruptcy, the step up in weight class threatens to embarrass them on the continental stage. They're already on pace to tie the record for the most goals allowed in a single group stage, which Bate Borisov and Legia Warszawa currently share at 24.
Rangers should take their remaining Champions League fixtures for what they are: a chance to learn from some of the best teams in Europe and come back stronger.
VVD no longer all-conquering force
What's up with Virgil van Dijk?
The Dutch stalwart, an imperious force for virtually his entire Liverpool tenure, is enduring a troubling start to the new season. For the first time since joining the Reds, he looks ... human. Never was that more obvious than Wednesday, when Victor Osimhen and the dizzying Napoli attack had the usually assured defender running in circles during the Italian club's frenetic 4-1 victory.
Van Dijk looked lost at times, particularly as he stood still and watched dispiritingly as Giovanni Simeone snuck in behind him to score the home team's third goal of a manic opening half. The cracks, which have become more prominent this season, began to show earlier, though.
His innate ability to read the game is still unmatched, but Van Dijk, now 31, isn't quite as mobile as he once was. Whether it's a result of lingering long-term effects from his 2020 ACL injury - perhaps unlikely at this point - or the impact of aging that comes for every footballer, Van Dijk has seemed just a half-second slower than in previous years. At this level, that makes all the difference.
He knew where Osimhen wanted to go when he tracked him into the penalty area, for instance, but the Nigerian striker quickly flicked the ball by him. Van Dijk's reaction was a fraction late, resulting in a foul and penalty. His body couldn't keep up with his mind.
That, combined with a clearly diminishing midfield in front of him, means Van Dijk will be exposed more often this season.
Early entry for this season's breakout star
It's been quite the rise for Khvicha Kvaratskhelia. In just 105 days, the winger has gone from playing in Georgia's Erovnuli Liga to schooling Liverpool's defense in the Champions League.
The confident youngster tormented Joe Gomez in particular, pinching possession from the Englishman in the buildup to Andre-Frank Zambo Anguissa's finish, and then he outmuscled Gomez before his assist for Napoli's third goal. Kvaratskhelia buzzed around the park with his chest out, making it hard to believe he's the same person head coach Luciano Spalletti described as "really sweet" and "so timid" only this week.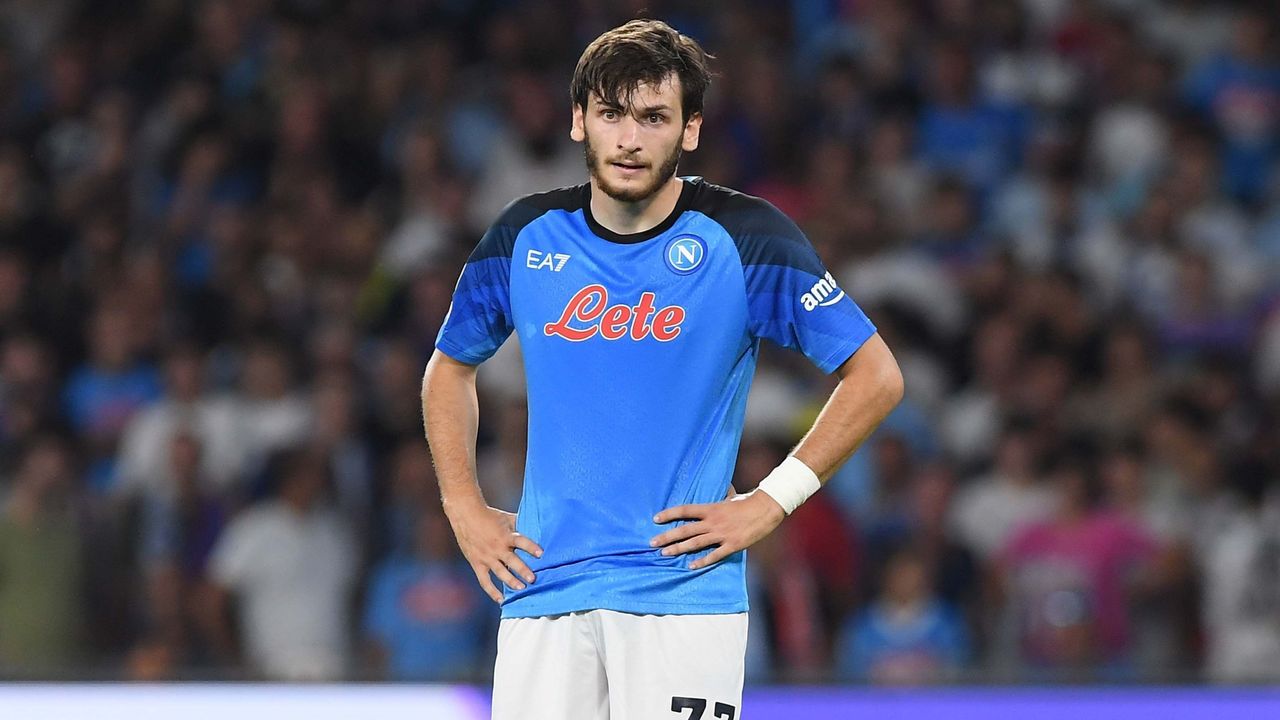 It's early, but Kvaratskhelia appears to be the most technically gifted Georgian player since Georgi Kinkladze. But what differentiates the 21-year-old from the Manchester City icon was summed up in the 20th minute when he shoved and surged his way through four challenges in the center circle. Instead of floating in and out of games like the mercurial Kinkladze, he bumps and barges his way into the action. He demands to be part of everything.
His nickname - "Kvaradona," a reference to Napoli's greatest-ever player, Diego Maradona - is perhaps a touch too kind, but his trickery and ability to cope with the physical side of the game are reminiscent of the late Argentine. It was disappointing when he was substituted in the 56th minute after three shots, three key passes, and four completed dribbles, but that's all the time he needed to begin building a reputation as one of the most entertaining players in the Champions League.
Richarlison's grittiness is invaluable
Jose Mourinho often complained the players he inherited at Tottenham Hotspur were too nice. He would've benefited from a player like Richarlison.
The Brazilian attacker can be worth the price of admission with his windup antics and trickery, but it's his passion and work ethic that regularly lift those around him. Spurs boss Antonio Conte, a combative midfielder in his playing days, knows more than most how much chasing down a lost cause or snapping into a tackle can contribute in ways that are impossible to quantify.
Richarlison's new teammates certainly appreciate him.
"Fantastic boy, fantastic mindset," Pierre-Emile Hojbjerg told Spurs' N17 Review Show after Saturday's 2-1 Premier League win over Fulham. "Crazy, but in a good way. He really deserves what comes his way."
"I put a long, long ball down in the corner, and he got a throw-in," Hojbjerg continued. "I know this is small details, and in the end, (it) doesn't make a great or a small player. But these are things where he's going to chase whatever's coming his way."
What the game means to Richarlison is infectious. If Tottenham's supporters weren't convinced by their summer arrival yet, the midweek visit of Marseille should've done the trick. He rose to score both of Spurs' late goals with his head and then cried when he embraced his father after the final whistle.
Tottenham were in a rough spot as they struggled to break down 10-man Marseille. In the past, they would've relied on Harry Kane to glean a result. But Richarlison, who helped haul Everton out of relegation trouble last season, has the potential to be another leader and savior for Conte's side.
Lewandowski-less Bayern are still elite
Bayern Munich entered Wednesday's contest against Inter Milan unbeaten in 28 group-stage matches. They'd also won each of their opening Champions League games since 2002. The performance that followed at the Stadio Giuseppe Meazza explained exactly why.
As ever, Bayern showed their superiority in all areas, swarming their opponents with a high press that yielded turnovers in the attacking third. By the half-hour mark, the German champions had seven shots on goal and an early lead. Aside from a couple of isolated incidents in the second half, Inter never seemed likely to mount a comeback.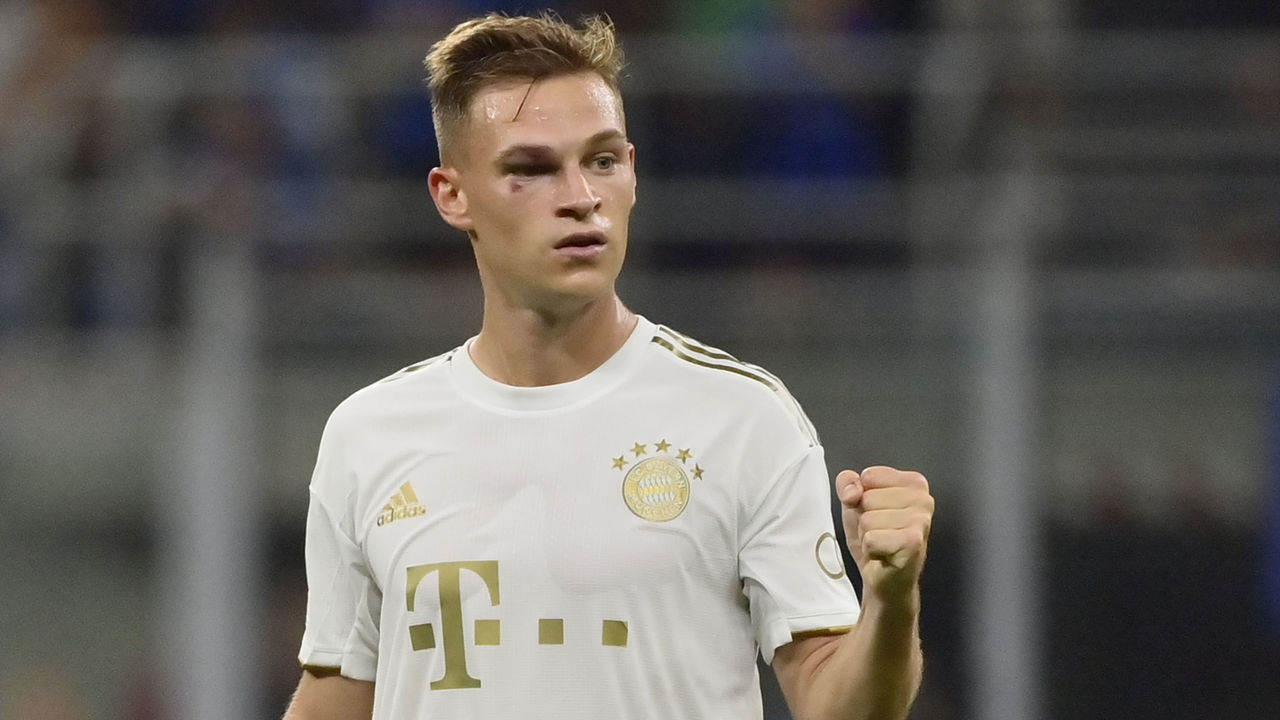 Robert Lewandowski's departure has had no tangible impact on Julian Nagelsmann's side or the way it plays. That's because Lewandowski was part of a greater system that relied on key contributions in midfield. Joshua Kimmich, Leon Goretzka, and Thomas Muller have always made Bayern tick, while wingers Kingsley Coman, Leroy Sane, and Serge Gnabry have always cut inside with devastating effect. But Kimmich stood out most Wednesday, winning duels in transition and battles with Lautaro Martinez, Inter's tenacious striker and disturber-in-chief.
Sane and Coman also led the line with conviction. The two exchanged passes in quick succession before forcing an own goal in the second half, and while Sadio Mane lacked the same precision, his mere presence kept Inter's defenders occupied. The hosts had neither the clarity of mind nor the personnel to deal with what Bayern threw at them. They could've lost by more than two goals.
Here are the main talking points from Tuesday's matches ...
The jinxed jersey
Thomas Tuchel hasn't tried to lessen the weight of Chelsea's No. 9 shirt. In fact, it's quite the opposite. The head coach has repeatedly branded the digit a "curse" at Stamford Bridge.
Jimmy Floyd Hasselbaink, Hernan Crespo, and Tammy Abraham are the club's most successful No. 9s this century, but Crespo and Abraham's fruitful spells were only brief. Fernando Torres, Radamel Falcao, Alvaro Morata, and Gonzalo Higuain are among the players who've disappointed while donning the number, which is traditionally reserved for goalscorers.
"We demand a lot from our strikers in terms of defending. We want to be a physical and hard-working group, one that's not shy to make it a physical game and not only a skillful game. That maybe plays a part," Tuchel offered in February of how Chelsea's traditional playing style could contribute to Romelu Lukaku's struggles.
But deadline-day arrival Pierre-Emerick Aubameyang had no problem with inheriting Lukaku's shirt. If the 33-year-old is to break the curse, he'll have to do better than he did in Tuesday's 1-0 loss at Dinamo Zagreb.
Aubameyang struggled to make a positive impact in his debut, showing none of the conviction that Chelsea so desperately need in the center-forward position. Instead, he strayed offside three times and failed to fire a single shot on target. Armando Broja replaced Aubameyang after 60 largely frustrating minutes.
There are mitigating factors. After sustaining injuries during a violent break-in attempt at his home near Barcelona, Aubameyang will likely need time to regain his confidence. Tuchel was also one of the main reasons the former Gabonese international decided to join the club, and now that he's gone, Aubameyang will need even more time to adapt to his surroundings. In short, he has a long way to go to become the reference point Chelsea need up front.
New season, same PSG?
Now more than ever, there are no illusions about Paris Saint-Germain's aspirations. It's Champions League title or bust.
And, not for the first time, some of the early signs were enormously promising. PSG toyed with Juventus for much of their 2-1 win Tuesday in the French capital. Kylian Mbappe, Neymar, and Lionel Messi seemed to be playing a different sport at times, connecting with intricate tricks and flicks and making a mockery of the Juve backline. Neymar's scooped pass for Mbappe's early goal, and the Frenchman's thunderous volley itself, belong in the Louvre.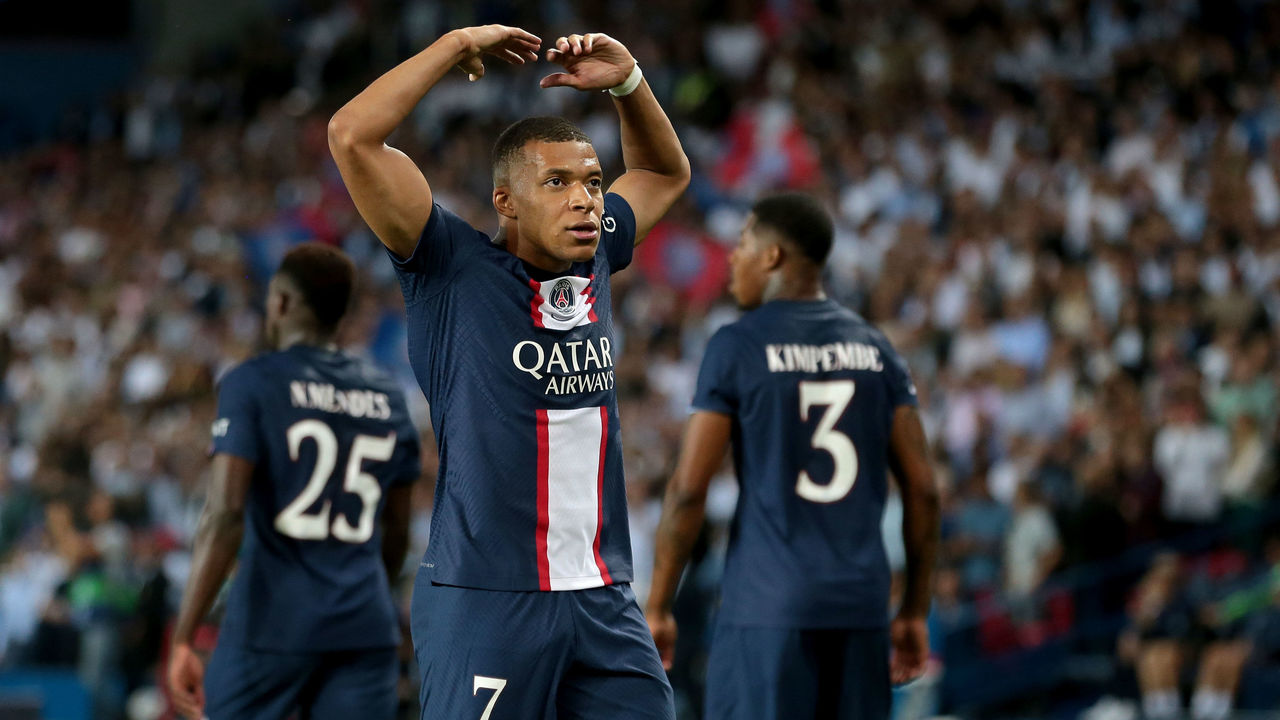 Leading 2-0 after just 22 minutes and in complete control, PSG should've gone for the jugular. They could've blown Juve away and made a huge statement of intent, even if beating this version of the Old Lady isn't quite the accomplishment of previous years. Still, a marker could have been laid down.
Instead, PSG became complacent after the interval. The smooth, slick, devastating unit from the opening 45 minutes disappeared and let Juventus back into the match. PSG were, and are, comfortably the better team, but after Weston McKennie halved the deficit, doubt started the creep in for the hosts. The defense, untested in the first half, looked nervous and susceptible whenever a cross was whipped into the penalty area.
The scenes were somewhat reminiscent of PSG's collapse against Real Madrid last season, only this time, Karim Benzema wasn't there to punish them. A relatively feeble Juventus side worried PSG when it played on the front foot. How will Christophe Galtier's men handle the pressure against better teams in the knockout stages? The question, yet again, lingers.
Allegri holding Juve back
Passive. Timid. Apathetic.
Juventus fans and pundits alike had their thesauruses out after the opening half of Tuesday's eventual defeat to PSG, with Massimiliano Allegri's team completely outclassed and overawed by the pace, skill, and intensity of Mbappe and his teammates. Juve, who have looked turgid in Serie A this season, struggled to string multiple passes together.
The knives were being sharpened for the Italian manager, whose monotonous tactics have come under heavy criticism of late.
Then, suddenly, McKennie's aforementioned goal in the 53rd minute seemed to flip a switch. Juve pressed forward, Leandro Paredes started to dictate the tempo and spray passes across the pitch, and the Italian side found pockets of space between the lines instead of playing repetitive, low-risk balls out wide and simply recycling possession over and over again.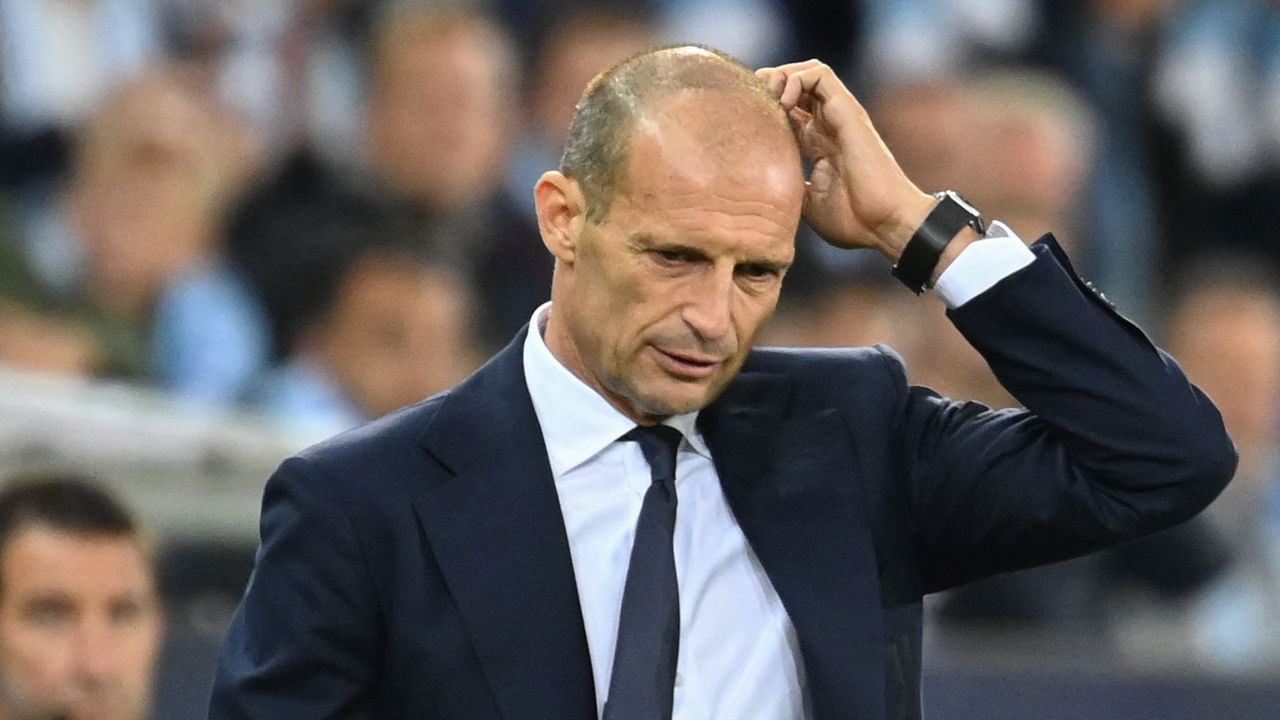 Ironically, that improvement is part of the issue. Juventus can play more aggressive, attractive football. The talent is there, even without the injured star trio of Federico Chiesa, Paul Pogba, and Angel Di Maria. Allegri can't wait for all three to return before he takes the handbrake off; the former pair likely won't be back in full force until January, at the earliest.
The players need to take some responsibility, of course, but Allegri is being paid very handsomely to put his team in a position to win. Being overly conservative, even if it will occasionally deliver results, isn't the right approach to get the best out of his team.
If things haven't changed by the time PSG visit Turin in the reverse fixture in early November, the Tuscan manager could be in trouble.
Is Akanji one of the top summer bargains?
You wouldn't have guessed it was Manuel Akanji's Manchester City debut. He didn't need to do much defensive work in his new side's 4-0 win at Sevilla, but he was unhurried when he had the ball, using both feet as he moved it along to his new teammates. He completed 71 passes, creating two chances along the way.
It all seemed very familiar to Akanji.
Pep Guardiola likes to rotate his lineup, but he prefers to have a set center-back duo for most of his team's matches. Ruben Dias and John Stones were his last regular pairing, but injuries and the occasional off-color performance from the latter have loosened that partnership's hold on two spots in the lineup.
Nathan Ake has improved following some unconvincing displays earlier in his City career, but he seems to get injured just when he's strung together a few starts. Meanwhile, Aymeric Laporte's increasingly common spells on the sidelines may be the main reason City swooped for Akanji on deadline day; the Spaniard might not be back until mid-October after knee surgery.
So, Akanji could be very busy in his first few weeks in Manchester, and, based on his debut display, that's no bad thing. He has the intelligence, awareness, and selflessness that should set him up well for Guardiola football, and at around £17 million, he could prove to be the bargain of the summer.
Well, that's if Erling Haaland - who already has 12 City goals after his double against Sevilla - didn't cost just £60 million.
Salzburg no pushovers in Group E
AC Milan learned Tuesday night that Red Bull Salzburg are a serious threat in Group E.
Salzburg, after all, are playing in the Champions League group stage for the fourth consecutive season. They routinely develop some of the world's most promising talent, most notably Haaland, and press as relentlessly as the very best teams in Europe. It should come as no surprise they held Milan to a 1-1 draw - they managed to do the same against Bayern Munich last season.
Given Chelsea's early struggles, Salzburg can envision a path into the round of 16, especially with Swiss forward Noah Okafor developing into a fine scorer and dribbler and 19-year-old forward Benjamin Sesko showing promise in advance of his move to sister club RB Leipzig.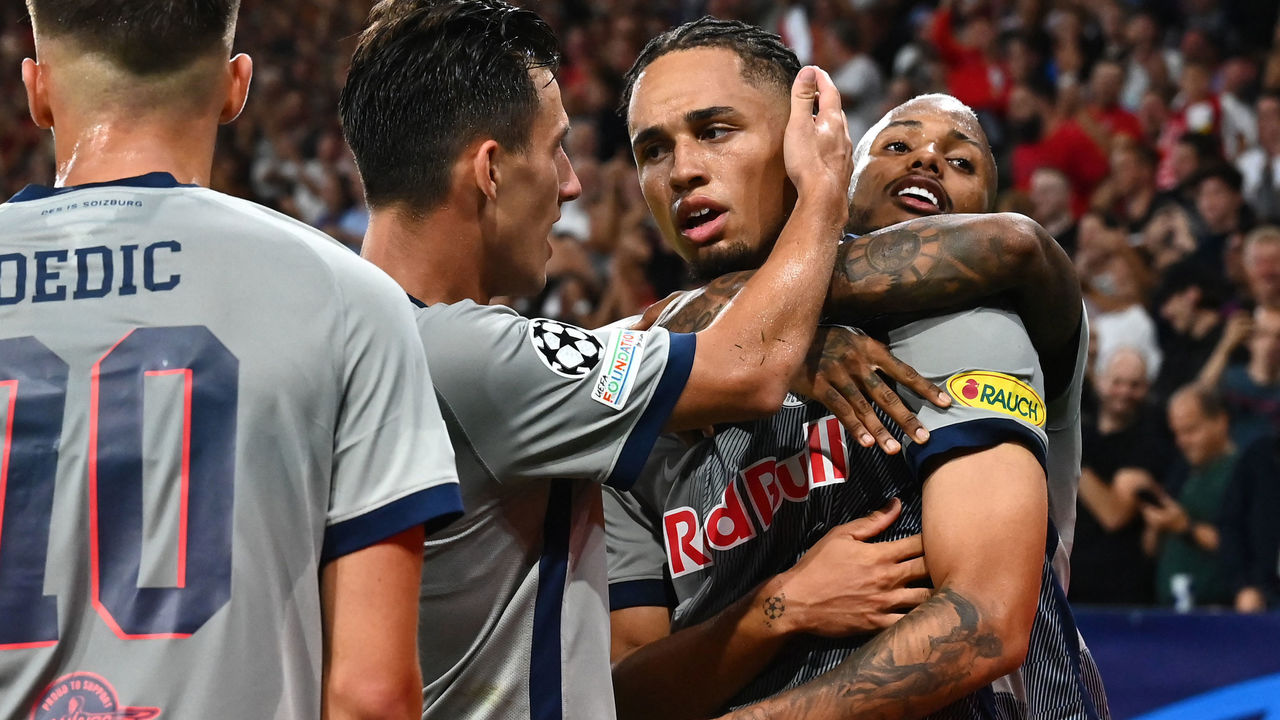 Salzburg took the game to Milan early in the first half, pressing the Rossoneri and limiting their time on the ball. The hosts had a goal and nine shots by the half-hour mark despite only having 35% possession. It was a devastating display that set the tone for the rest of the game. Salzburg's defenders double-marked Rafael Leao, knowing they had to cut off an artery of Milan's attack to stand a chance against the Italian champions. Though the Portuguese winger assisted the equalizer, he could've done a lot more damage.
By the end of the night, Salzburg's players covered an average of 11.09 kilometers, trumping Milan's 10.8 kilometers per outfielder. Even after starting the game so aggressively, the Austrian side sustained itself throughout the 90 minutes, doing the majority of its work off the ball.
Comments
✕
10 thoughts from Matchday 1 in the Champions League
  Got something to say? Leave a comment below!