Book excerpt: 'DeRo: My Life' - On a night of tears in Panama
GEOFF ROBINS / AFP / Getty
Ahead of Canada's World Cup 2022 qualifier vs. Aruba on Saturday, we're publishing an excerpt from the biography of Canadian and MLS legend Dwayne De Rosario: "DeRo: My Life," by De Rosario and (theScore alumni) Brendan Dunlop, published by ECW Press.
The 2014 World Cup was the last chance for a special generation of Canadian players to play in the world's biggest event. We put ourselves in a great position to reach CONCACAF's final stage of World Cup Qualifying after beating Panama 1-0 in Toronto, thanks to my match-winning goal. Four days later we were down in Panama City, looking to pull off the double, which would've all but guaranteed us a place in The Hex.
There was a lot of emotion on that trip. We could taste how close we were. The focus was as sharp as I'd seen in years. The day before the match, I tried to relax a bit at training. Physically, I was in a great place. And mentally, I was strong and ready for the task at hand. At the end of the session, there was a crowd of fans waiting near the team bus. There will always be autograph hunters, even in a hostile environment. I shook hands with a fan as I walked past him and got a strange vibe when we connected. He had a strange look on his face, almost sinister. When I stepped on the bus, I noticed something on my hand. It looked like dirt, so I wiped my hand on my pants. I distinctly remember thinking how weird that was.
We got back to the hotel and settled in for the night. The Panamanian fans were raging outside. They had the bikes revving and the fireworks going. They were making noise all night long. Some guys take sleeping pills. I liked to fall asleep to music when all that was happening outside. Or meditate. I liked to be in a visualization state of mind the night before a game. But this night, I couldn't.
My mind wasn't at ease. I couldn't stop thinking about that fan and the mark left on my hand. When I got out of bed, my legs felt heavy and I felt lethargic. It was the worst sleep. At breakfast, I was angry at myself for not getting the rest I wanted. But it was game day, so I blocked everything out and focused on the task at hand.
I really felt we had a team to compete. It was our time to do it. Making the final round of World Cup Qualifying had always been such a hurdle. Just getting there would open a new world of possibilities.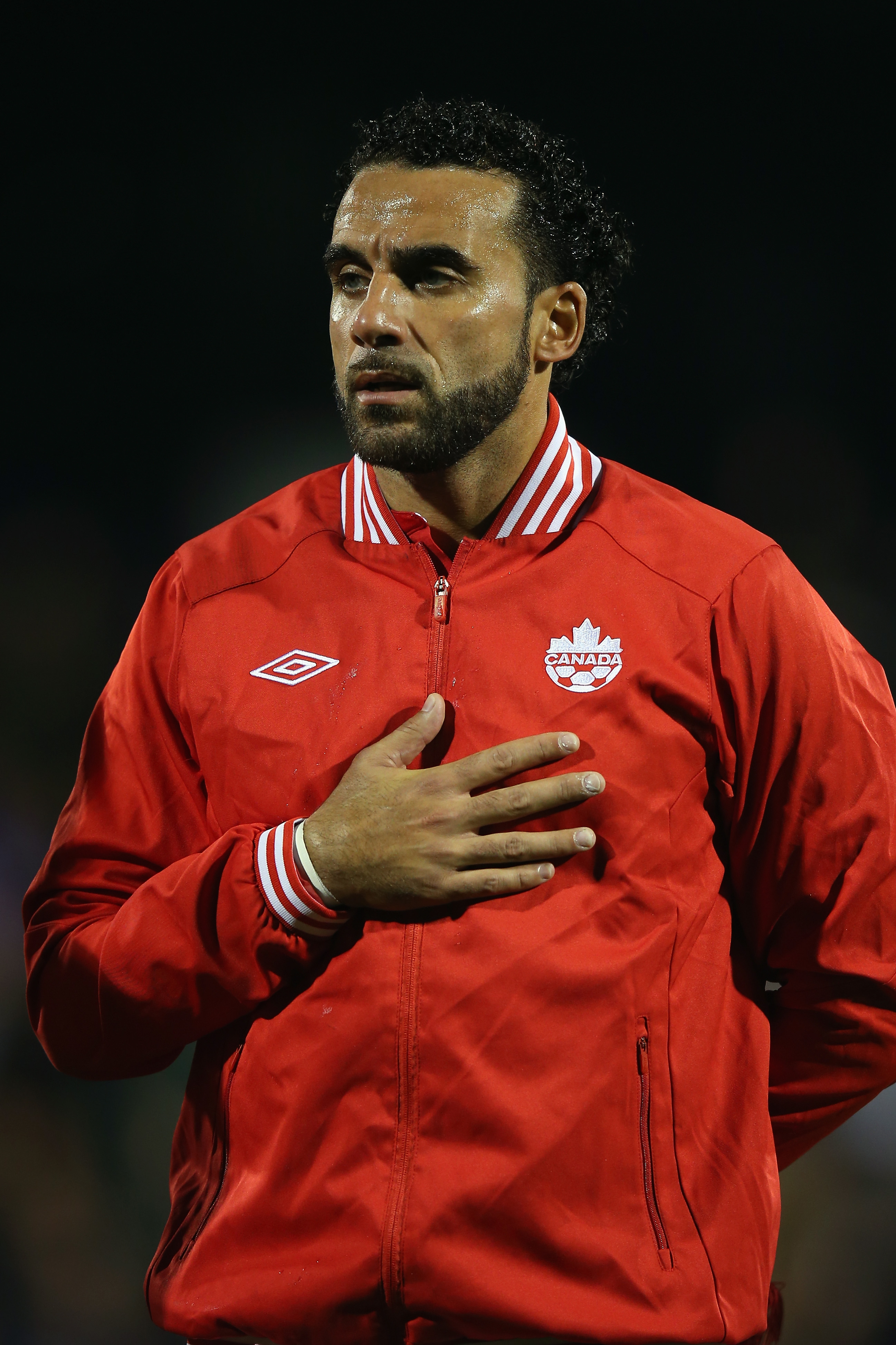 The stadium sounded full when the team bus rolled in. Most of Central America does a great job making those grounds feel as intimidating as possible for the visiting teams. From turning off the hot water, or cranking up the heat, or removing the insulation from the walls so you can feel everything and fear the roof might cave in. But we had a real confidence that night. In my mind, this was the game I was going to carry everyone through. I was so hungry that game. I knew we were going to win.
We started all right, unfazed by the crowd and how hyped up the Panama players were. Five minutes into the game, I got the ball in the corner, and just as I turned, the defender stepped down hard on my foot. I went down and knew something didn't feel right. When I stood up, I was in trouble. Then the stadium lights went out. The game stopped. I got to the halfway line and I said to head coach Stephen Hart, "I think I'm done. My leg is messed up. Tape it and let me try." You could see in his eyes, he didn't want to believe it.
The trainer taped me up so I could try to run on it. The lights were still off. I don't know if the Panamanian team or the crowd had any idea of how much pain I was in. When I ran, my leg felt all wobbly, like it wasn't attached to my body. Nearly 15 minutes had passed. As soon as I sat down, admitting defeat to myself and knowing it was too serious to continue, the lights came back on. I was subbed out of the game.
I can still see the faces of the training staff that night. They knew it was bad. There was so much motion when they moved my ankle and knee around. The trainer looked up at me and said, "I'm sorry, I don't know what it is, but it could be a serious knee injury." Hearing that was worse than if it had just been a broken leg. Then at least I would know what was coming.
When I was injured, I was helpless. I tried to stay positive and cheer the guys on from the bench. But I was crushed. I couldn't believe this was how I was going to go out. We lost 2–0, which meant reaching The Hex would come down to our last game, in Honduras. I knew I wouldn't be able to play in that game - I didn't even know if I'd ever be able to play again!
I didn't want to be sitting at home watching that game on my computer. If we were going to crash out and not qualify, I wanted to be there with them. I wanted to be there on the field with my team, my soldiers. That's all I could think about on the bus. I got to the hotel and just sat in my room and cried. I didn't talk to anyone; I didn't want to see anyone - not even my wife or my dad. I couldn't talk to anyone. I just lay there on the bed, crying. I'd occasionally get up and put some Bob Marley on, but then a wave would come over me, and I'd just start crying again. All night. I felt like I let the country down. I let myself down. The trip back to Toronto was just a painful journey, physically and emotionally. It was the worst flight of my life.
Excerpted from "DeRo: My Life" by Dwayne De Rosario and Brendan Dunlop © by Dwayne De Rosario and Brendan Dunlop 2020. Published by ECW Press Ltd. www.ecwpress.com
Comments
✕
Book excerpt: 'DeRo: My Life' - On a night of tears in Panama
  Got something to say? Leave a comment below!