A hockey pioneer's latest challenge: Launch an expansion team with sports halted
Somewhere, Digit Murphy still has the ski pants she was given at Nagano in 1998, a keepsake from women's hockey's groundbreaking entrance to the Winter Olympics - and her on-the-fly introduction to analyzing games on national TV. She was 36 and established as an elite college coach at Brown University when TNT hired her to work the tournament with Doc Emrick and Joe Micheletti, old broadcasting hands who were by her side as the stress of the stage set in.
"For people who know me, they're like, 'Dij, I can't even believe you would even think that it was nerve-racking.' But you're sitting there in the chair going, 'Oh, my God.' There's millions of people thinking about you," Murphy told theScore. "I was young. Now, I'd be all over it, but back then, it was the first time I'd ever even been on television."
If there really is a first time for everything, Murphy's hockey resume might serve as sufficient proof. Over 22 seasons at Brown from 1989-2011, she became the NCAA's first Division I women's coach to reach 300 wins. Upon joining the Boston Blades in 2012, Murphy led the now-defunct Canadian Women's Hockey League club to a breakthrough pair of championships. She returned to the title game in 2018 with Kunlun Red Star, the CWHL expansion squad she coached for a year in Shenzhen as China sought to elevate its floundering national program ahead of the 2022 Olympics in Beijing.
Now comes the latest great challenge of Murphy's globe-trot through the game: spearheading the creation of a pro team at what can generously be described as an inconvenient time.
Murphy, now 58, is the president of the National Women's Hockey League's Toronto Six franchise, the construction of which before and since its launch in April has been complicated by circumstance. Murphy has been building the team - conducting head coach and general manager searches; signing half of her potential 2020-21 lineup - not from Toronto, but from her home in Providence, Rhode Island. It's a necessary concession to the physical distancing protocols that have grounded sports and so much else.
The NWHL is expanding to Toronto, its sixth city, at a unique moment for women's hockey specifically, one in which the sport's most recognizable players - the Americans and Canadians who line up on either side of that splendid international rivalry - continue to spurn their continent's lone pro option. Under the banner of the Professional Women's Hockey Players Association, stars from Hilary Knight to Marie-Philip Poulin to Kendall Coyne Schofield spent the 2019-20 season headlining the Dream Gap Tour, a traveling series of privately sponsored exhibition games intended to magnify their call for a new league.
"Our mission … has not changed and we are still moving forward with next season - in full force," the PWHPA wrote in a statement the day the NWHL announced its Toronto expansion. "Simply put, the opportunities that the NWHL will provide may be good for some players, but it's not the opportunities that we want for our players or for future generations of young girls who will play the game at the highest level."
Into this chasm - the gulf between opposing ideas of how to safeguard and grow the game's pro prospects - steps Murphy, the pioneering figure with ideas of her own. In September, the Boston Pride became the NWHL's first privately (rather than centrally) owned team. Toronto is the second, nudging the league in the direction Murphy thinks it needs to go: toward independent owners making long-term plays for the support of their chosen markets, focusing all the while on empowering women on and away from the ice.
"The vision that I see is: women owning the sport themselves, playing the sport, driving the sport not only from a player perspective, (but) from an ownership perspective, from GMs, coaches all being female," Murphy said. "Now, we can collectively own the space where women can actually watch it, play it, and thrive in it."
Murphy was fundraising for a startup to connect women athletes and business leaders when the onset of the coronavirus shutdown stalled her momentum. She wound up instead taking charge of this unusual expansion team - the rare pro club to come into being with sports paused.
Murphy had been in regular contact with Johanna Neilson Boynton, a former Harvard hockey captain who liked to pick Murphy's brain about her years in the game. Boynton, the CEO of a home construction company in Massachusetts, is also the Toronto Six's lead investor. Soon enough, she convinced Murphy to join her and team chairman Tyler Tumminia in senior management.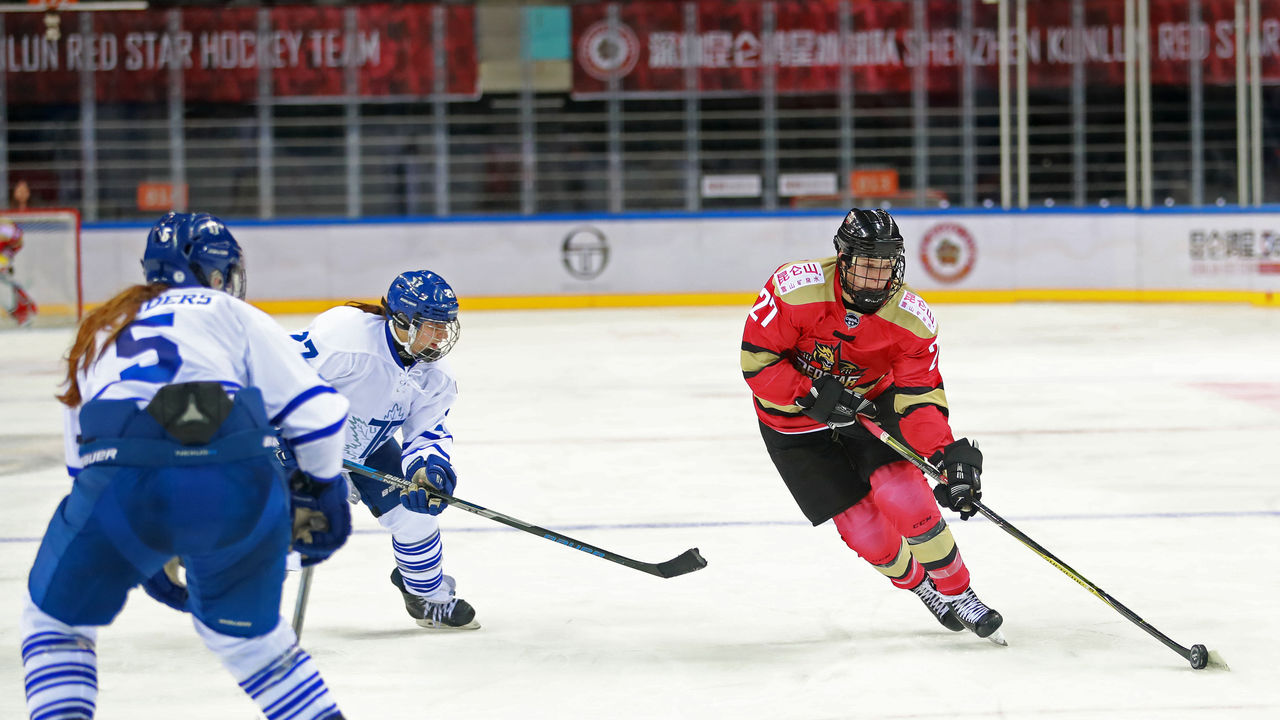 Their roster is taking shape. The franchise hired a GM last week - Mandy Cronin, a retired goalie who helped found the CWHL back in 2007 - and participated in the NWHL's five-round online player draft last month. Murphy has so far signed 13 players; seven of them, including former U.S. national team winger Shiann Darkangelo, took part in last season's Dream Gap Tour following the demise of the CWHL in spring 2019.
"She's very for the players, making sure that we're taken care of," Darkangelo said of Murphy, whose Kunlun team she played for in 2017-18. "She's a big visionary and doer and dreamer. That's what she's best at, I think: painting the picture for the future of women's hockey and getting people to buy in."
Even when set against hundreds of wins and an Olympic sojourn, Murphy's year in Shenzhen - her most recent stint behind the bench, during which she also coached China's women's team in the third division of the world championships - rates as memorable. Buoyed by the brilliance of Finnish goalie Noora Raty, whose .944 save percentage led the CWHL, Murphy guided Kunlun to a 21-6-1 record and an overtime loss in the 2018 Clarkson Cup title game.
Despite the gap in quality between the national programs of the U.S. and Canada and those of every other country, the resources afforded to Murphy abroad far exceeded those of women's pro franchises in North America. Coaching in China was phenomenal, she said, thanks in part to the professionalization of the experience: the first-class flights, the televised games, the big banners featuring likenesses of the players - with costs funded by deep-pocketed team ownership.
"It was legit," Murphy said. She added: "It's interesting that when you go outside of the U.S., you think about it as less gender equity because they don't have Title IX (a federal civil rights law passed in 1972)."
Instead, Murphy said, "the (women's) sports programs, some of them, are more elevated."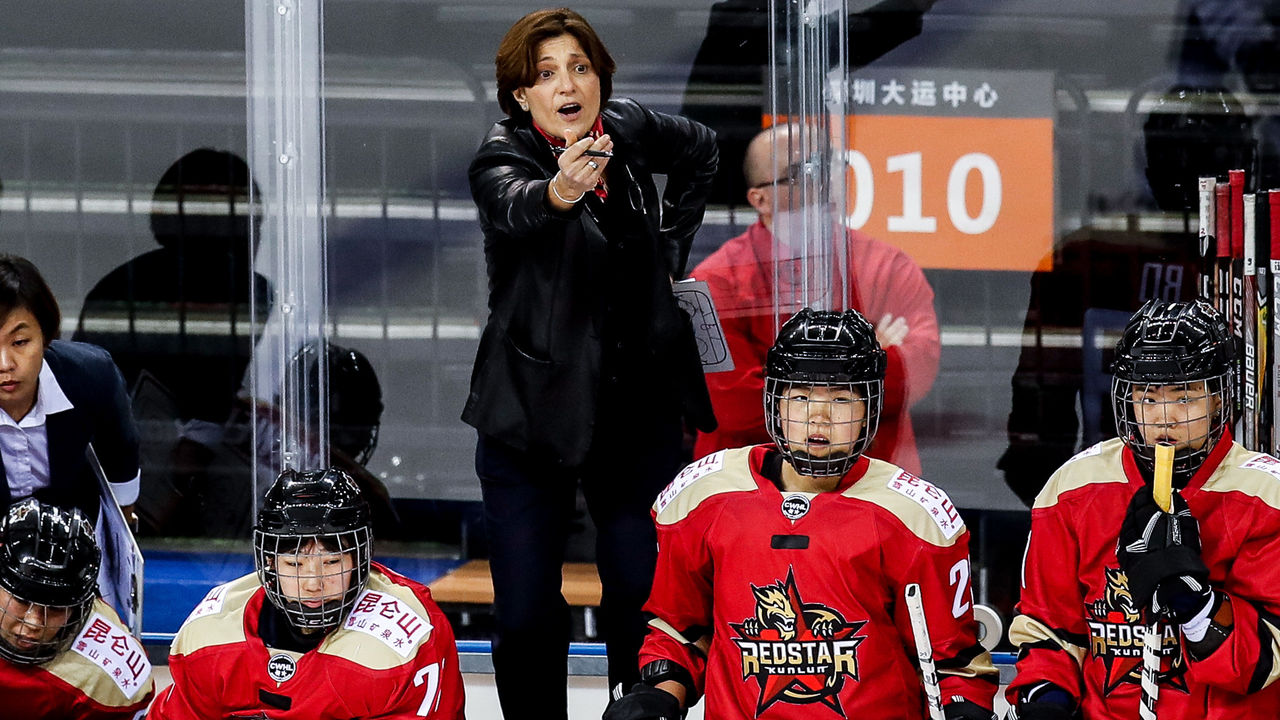 Securing what its members consider to be fair compensation and working conditions was the animating purpose behind the PWHPA. Throughout last season, the Olympians at the fore of the Dream Gap Tour expressed their desire for a new league in which all players are supported by training and game-day staff; can play, practice at reasonable hours, and store their equipment in one all-purpose facility; and, crucially, earn a living wage. In the NWHL in 2019-20, some players earned up to $15,000 under the league's $150,000 salary cap, and every player received a further 26% raise through a split of sponsorship and media revenues.
Murphy, who said she respects the PWHPA and supports its ideals, doesn't believe its presence is antithetical to the NWHL's. Competing women's hockey organizations can coexist, she said, though she figures all parties would be stronger if aligned - ideally with the NHL involved in a top league as a partner, not as an owner or operator. In that vein, she's convinced a prevailing future business model shouldn't mirror that of the NCAA, wherein women's teams don't have to be sustained through supply and demand.
"That's where the players, now, have to step up and be part of this new leadership model that grows professional sports," Murphy said. "They can't just think that money's going to (fall) from the sky or someone else is going to take care of them. They need to be part of this growth mindset."
Katey Stone, the head coach of Harvard's women's hockey team since 1994, shared a story about the tight-knit nature of the world she and Murphy occupy. Despite a rivalry pitting Harvard against Brown numerous times each season - including three conference playoff games in one four-year span - Stone and Murphy used to occasionally hit the road together for joint recruiting trips, an arrangement between friends to maximize the reach of their respective budgets.
Those excursions and fiery matchups attuned Stone to her coaching counterpart's relentlessness and competitive bent. It's those traits, Stone said, that make Murphy optimally suited to navigating the complications of her Toronto assignment.
"I call her 'The Tornado' for a reason. That's the kind of energy she has," said Stone, who for a while supplanted Murphy as the winningest coach in Division I history. "She's going to do what she can to make the NWHL Toronto franchise the best it can be. She'll create energy and enthusiasm that people are going to want to be a part of.
"They're going to want to play there, they're going to want to work there, and they're going to want to go see those games when they can."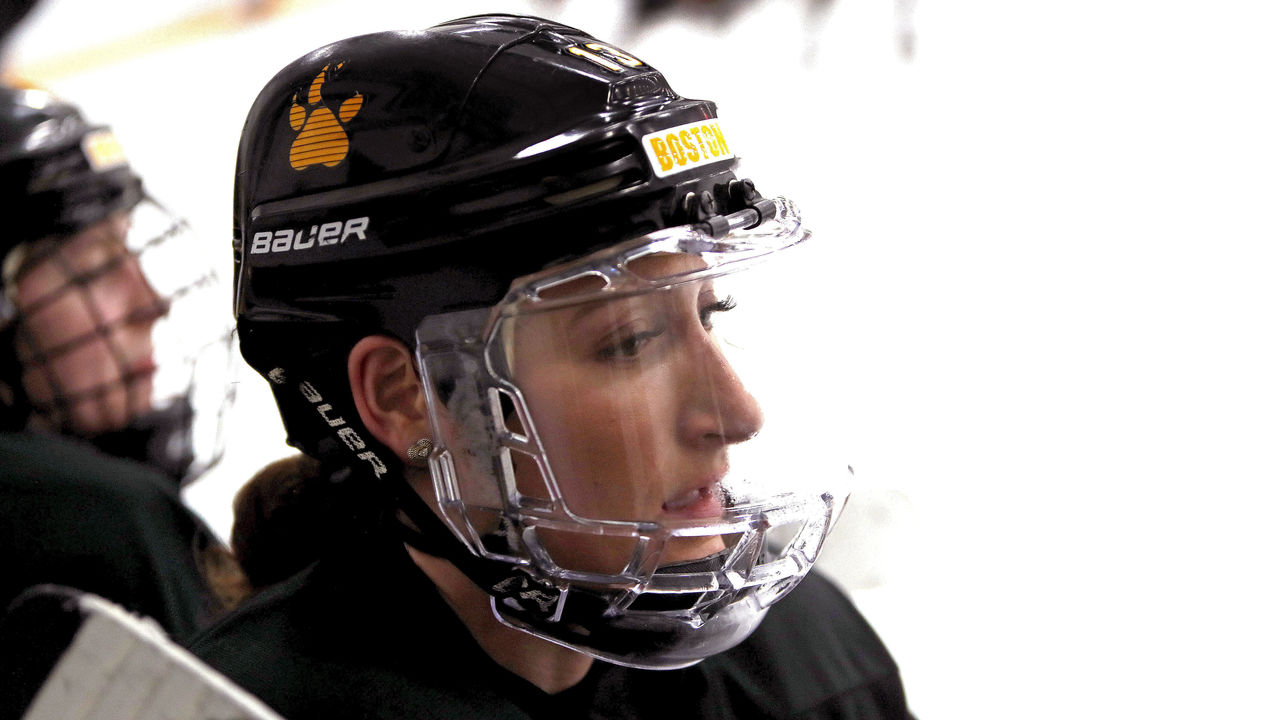 Whether the 2020-21 season begins in November, as the NWHL hopes, or at some later time due to public-health guidelines, Toronto's expansion lineup will have to take aim at the Pride, the league's new standard-setter. In lead investor Miles Arnone's first year at the helm, Boston topped the league standings at 23-1-0 with a plus-77 goal differential - only to miss out on a title shot in mid-March when the Isobel Cup championship game was called off the day before puck drop.
There are key personnel and logistical matters left to settle - Toronto's head coach and home arena remain undetermined - but Murphy said contending for the Isobel Cup will be an immediate expectation. In that pursuit, she can lean on precedent, and not just the titles she won with Boston's old CWHL team. As part of a committee of college coaches, Murphy helped select the U.S. Olympic players whose gold-medal victory she analyzed next to Emrick and Micheletti in Nagano.
Though Murphy's club won't exclusively hire women off the ice, she thinks it essential that the NWHL promote their candidacy for major jobs that usually go to men: "The more women in (hockey) ops, in game ops, in coaching that we can employ, I think the better for our model."
As for the importance of thinking local, the other key in her blueprint for advancing the game, Toronto has a high number of registered women's players fortifying the ranks of the latest hockey-loving population she's out to court.
This squad isn't Toronto's first women's pro team. The CWHL-owned Furies won a title by beating Murphy's Blades in the 2014 Clarkson Cup. The Markham Thunder, operating out of a Toronto suburb, edged Murphy's Kunlun club in the 2018 final. Both folded along with the rest of the league.
If it seems daunting to try to prosper in their stead - at this demanding time in a place where so many pro sports are already entrenched - Murphy isn't stressed.
"We're not going to, off the bat probably, sell 5,000 (tickets), but maybe we could in one game. You never know," she said. "And if we can consistently sell out a 1,000-1,500-seat arena, good, let's do that - and then step it up and build a loyal fan base."
Note: This story has been edited to reflect the name of the franchise, which was revealed on Tuesday.
Nick Faris is a features writer at theScore.