WNBA teams don't go back-to-back. It just doesn't happen - at least, not since 2002 when the Los Angeles Sparks captured their second title in as many years.
And yet the retooled Seattle Storm, champions in 2018 and 2020, enter the 2021 season as the Vegas favorites to win it all once again.
The headlining trio of perennial MVP candidate Breanna Stewart and star guards Sue Bird and Jewell Loyd returns, but gone are defensive linchpins Natasha Howard - the 2019 Defensive Player of the Year - and Alysha Clark. The Storm will now look to second-year player Ezi Magbegor and a pair of newcomers in seven-time All-Star Candice Dupree and 2019's No. 4 pick, Katie Lou Samuelson, to complement the superstar core.
"It's exciting to have some new pieces, to have some different perspectives come in," Stewart said after Tuesday's practice, adding, "I know everybody looks at the roster and how different it is from last year and years past, but different doesn't mean bad. We're excited with what we have ... it's going to be a different type of challenge."
Aces look to clear last hurdle
While the betting market is optimistic about the Storm's chances to repeat, the league's front offices have been decidedly less so.
In an anonymous survey of the WNBA's 12 general managers, seven pointed to the Las Vegas Aces - last year's runners-up - as most likely to claim the title in 2021. Also receiving votes - the Chicago Sky, Washington Mystics, and Sparks; not a peep for Seattle. And those picks came while two-thirds of the respondents still expect Stewart to win her second league MVP trophy.
It's not hard to see why the Aces have emerged as a preseason favorite. While they missed a number of key contributors in 2020, third-year power forward A'ja Wilson continued her trajectory toward superstardom and carried Las Vegas to the Finals and being named MVP for the first time.
Wilson's towering 6-foot-8 frontcourt mate, Liz Cambage, will be back after sitting out 2020. Ditto for Kelsey Plum, who scored 14 points off the bench in the Aces' final preseason scrimmage less than a year after tearing her left Achilles tendon. Throw in two-time reigning Sixth Woman of the Year Dearica Hamby as well as offseason signings Chelsea Gray and Riquna Williams, and Aces head coach Bill Laimbeer has the makings of a physically imposing, offensively versatile superteam.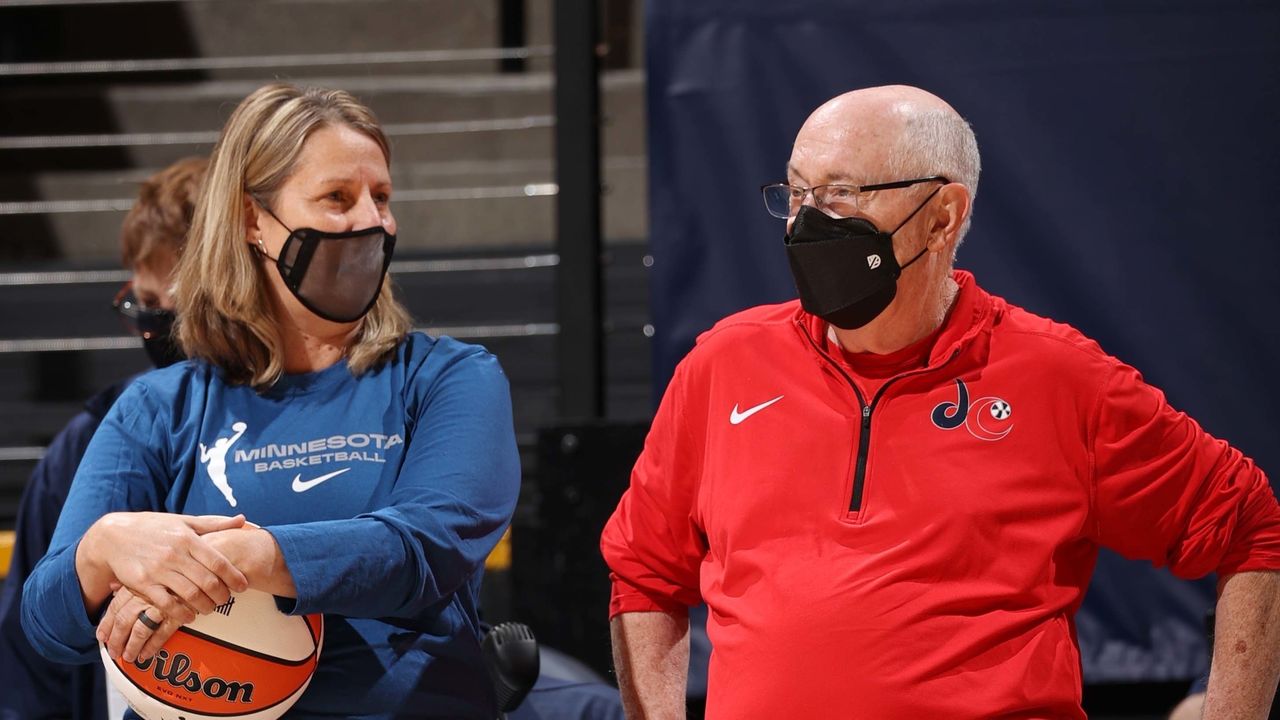 Competition remains fierce
Then again, which teams haven't improved from last season?
The Sky executed arguably the biggest signing in league history when they pried Candace Parker from the Sparks. They'll pair the reigning Defensive Player of the Year with the vaunted VanderQuigs duo of Courtney Vandersloot, the best passer in the league, and Allie Quigley, Vandersloot's sharpshooting backcourt mate (and wife).
Having been deprived of an honest chance to defend their 2019 title win, the Mystics will finally see their star frontcourt duo of Elena Delle Donne and Tina Charles in action after the pair of former MVPs both sat out last year for medical reasons.
The Minnesota Lynx, who ran roughshod over the league while claiming four titles in six Finals appearances between 2011 and 2017, bolstered an already strong roster. Already featuring 2017 MVP Sylvia Fowles and the two most recent Rookies of the Year in Napheesa Collier and Crystal Dangerfield, they added a trio of impact roleplayers in Kayla McBride, Aerial Powers, and Natalie Achonwa. Bet against future Hall of Fame coach Cheryl Reeve if you dare.
And certainly, the Sparks, Phoenix Mercury, and Connecticut Sun all boast the pedigree for a deep playoff run. The only teams that are seemingly still a year or two from contention are the rebuilding New York Liberty, Dallas Wings, Atlanta Dream, and Indiana Fever - but even then, the lowest playoff seed must only navigate two knockout rounds and a pair of best-of-five series to win a championship.
"(The competitiveness) ebbs and flows every year in this league. It goes in cycles," Laimbeer, the former Detroit Pistons enforcer turned three-time title-winning WNBA head coach, said during the Aces' media day. "That's the nature of the beast.
"But I think this year there's probably a good six teams that we can say have the chance to win if things go their way."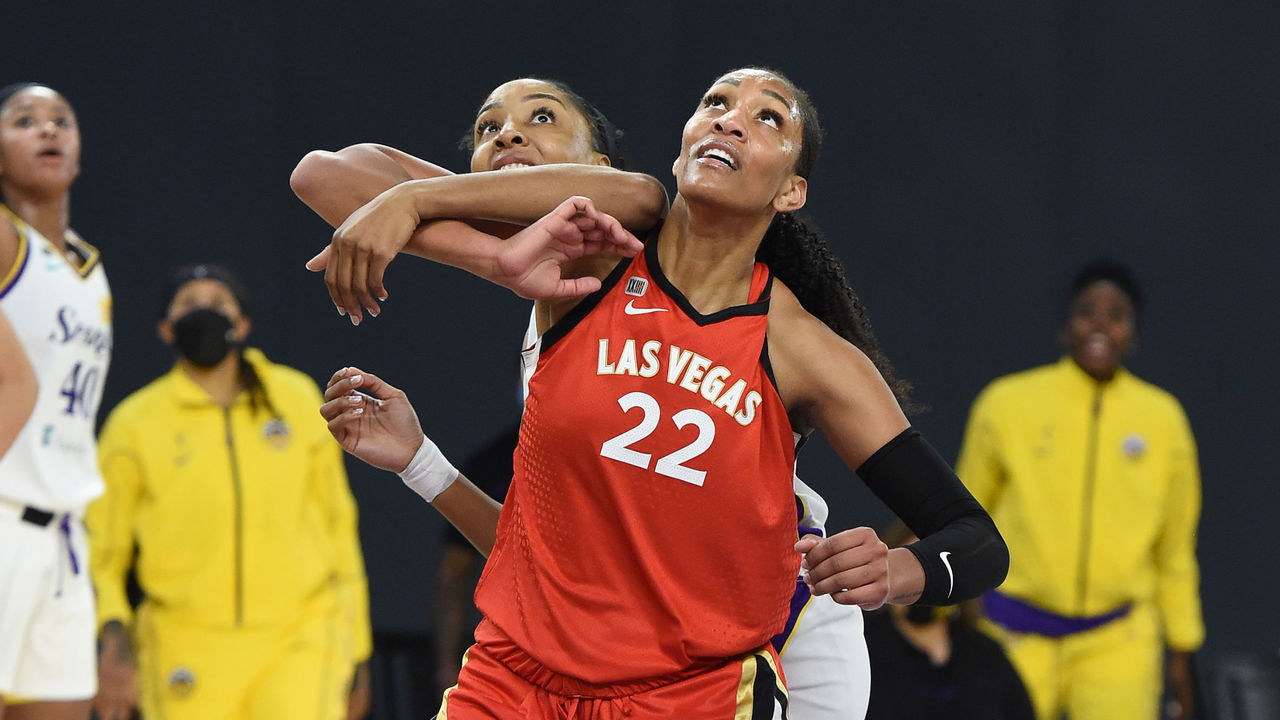 The talent level in women's basketball has never been higher. Just take a look at the caliber of players listed on the WNBA's transactions page; there's been no shortage of recent first-round picks (Kristine Anigwe, Kalani Brown, Kitija Laksa) or even second-rounders from April's draft (Natasha Mack, Unique Thompson, N'Dea Jones) who simply couldn't land a roster spot heading into the new season.
That's what happens when there's a maximum of just 144 contracts up for grabs - 12 roster spots for each of the 12 clubs. And owing to the league's salary-cap mechanics, a handful of teams will be forced to only carry 11 players throughout the campaign. Those recently waived players will join the chorus of fans in non-WNBA markets praying for league expansion.
Progressing on all fronts
Of course, the WNBA's ever-improving on-court product remains just part of the equation. As the league is set to begin its 25th season Thursday, the venture's off-court economics continue to scale upward as well.
An expanded buffet of nationally televised broadcasts across ESPN's channels and new agreements with CBS Sports Network, Facebook, and Twitter resulted in game viewership rising 68% in 2020. The past two drafts represent the most-watched editions since George W. Bush's first term as president.
Much to the chagrin of the anonymous commentariat (who almost certainly will not have read this far before descending to the comment section), people do, in fact, care. And when you make the games accessible, people will watch.
The league's visual elements are coming along as well. Since the WNBA unveiled its new logo in 2019, nearly every team has gone through various degrees of aesthetic fine-tuning. Nothing major - a splash of color here, a new primary logo there - but everything has a sense of freshness.
Nike pulled out all the stops this offseason too. The WNBA has finally broken out of the monotony of its formulaic, single-color uniform templates. This season will see wholly original designs for all 12 teams, like the Fever's "Stranger Things"-inspired alternate and the Sky's black pinstriped look.
Eye-catching creative elements are something NBA watchers take for granted. For the WNBA's long-patient fans, it's like Dorothy experiencing the technicolor world of Oz for the first time.
These are all hallmarks of an enterprise that the rest of the basketball business ecosystem evidently believes is worth investing in.
Players strengthening political voice
What else has the WNBA been up to in the lead-up to the 2021 season?
Oh, right; the league - specifically, members of the 2020 Dream - seemingly played a nontrivial role in flipping the U.S. Senate blue, thus shaping the immediate future of American politics.
Democrat Rev. Raphael Warnock had long odds to win a long-red seat in Georgia before Atlanta's players rallied to his cause, positioning themselves in stark opposition to his incumbent opponent: Dream co-owner Kelly Loeffler.
Warnock fared well enough in November's first round to force a special election runoff in January, where he ultimately won with just over 51% of the vote.
Within weeks of her defeat - and after steadfastly rejecting calls from WNBA fans to divest from the league - Loeffler and co-owner Mary Brock sold their stakes to an ownership group featuring Renee Montgomery, the recently retired Dream player who sat out the 2020 season to focus on social justice initiatives.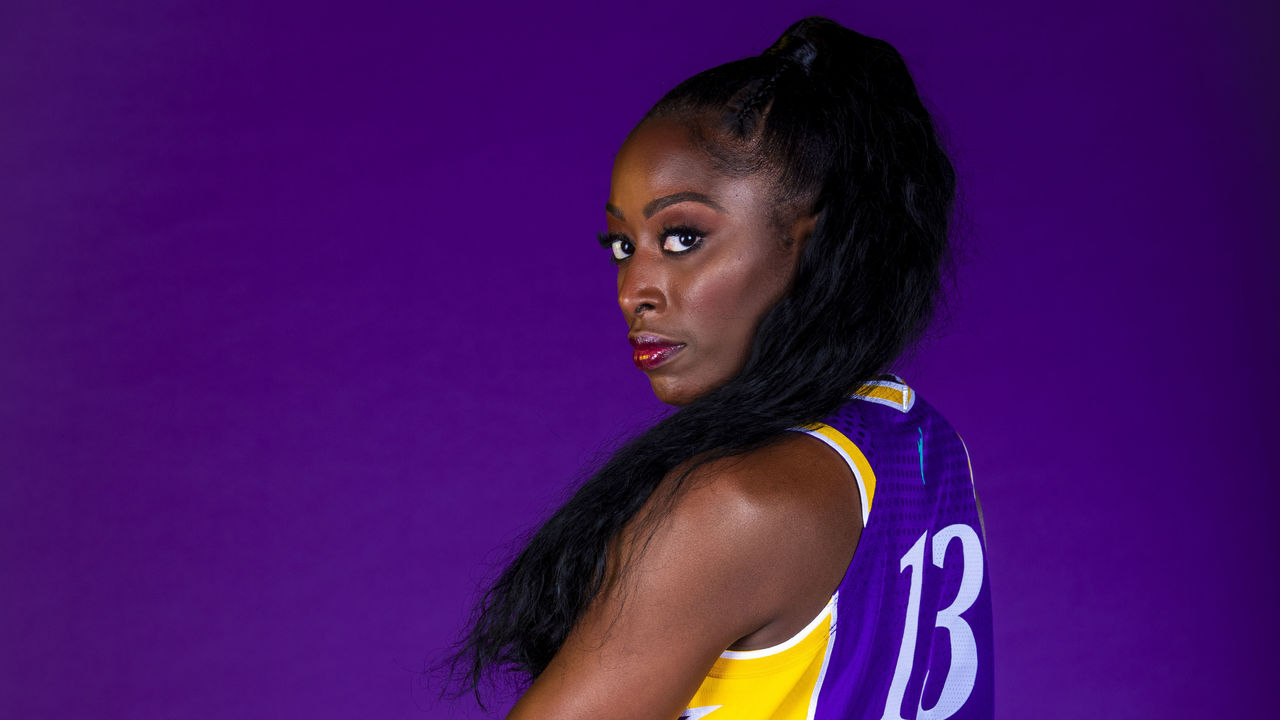 But no one experienced the 2020 campaign quite like Sparks forward Chiney Ogwumike.
Though she opted out of playing - given her previous injuries, there simply wasn't enough time to work with doctors to get her body right in time, Ogwumike told theScore during the preseason - the 29-year-old ended up being omnipresent in the "Wubble."
As executive producer of "ESPN Films Presents: 144," an intimate behind-the-scenes documentary that debuted Thursday, Ogwumike was in constant contact with her three-person crew in Bradenton, Florida - all while continuing to work as a full-time analyst for ESPN.
Though social justice advocacy wasn't behind her decision to sit out, it quickly became clear to Ogwumike that her platform would allow her to amplify the WNBA players' messages to the rest of the sporting world.
"We had so much amazing work being done in the bubble, and I was uniquely positioned as someone with a microphone to explain why that matters," she said. "Not just for the WNBA, but for the NBA.
"So think about it: I'm on "SportsCenter," "The Jump," "First Take" after Jacob Blake (was shot by police in August), after the postponement of games, explaining why these athletes are doing what they're doing."
Despite relatively little financial security, WNBA players have long been the vanguard in regards to protest and demonstration. Months before the act of kneeling during the U.S. anthem thrust then-NFL quarterback Colin Kaepernick to the forefront of athlete-led protests in 2016, members of the Lynx wore "Black Lives Matter" T-shirts before a game.
So even while one of their team's owners was actively campaigning for office in opposition to that social justice movement, it was of little surprise when the league itself signed off on featuring the words "Black Lives Matter" on its courts last summer.
Nor was it a shock when the league welcomed Aces forward Angel McCoughtry's suggestion to feature "Breonna Taylor" - the Louisville woman slain by police during the execution of a no-knock search warrant - in big letters on the back of every WNBA jersey.
For her part, Ogwumike doesn't think WNBA players will be less willing to engage in advocacy as the league's economics continue to improve. There's simply too much at stake for the players of a predominantly Black league to shut up and dribble right as virtually everything appears to be gathering positive momentum.
"We're leveraging our power in a way that is positive. People may not be comfortable because it's about change," Ogwumike said. "But the change is constructive. And the change is necessary. There's too much at stake because our success is the exception, not the norm."