The Mid-Week Take: Canada needs a goaltending summit
Minas Panagiotakis / Getty Images Sport / Getty
What's the deal with goaltending in Canada?
With all due respect to Carter Hart and Connor Ingram, who, remember, are children playing in a world juniors tournament the north takes a little bit too seriously, they've been hilariously bad for Canada over the past week and change.
We've looked at Hart's and Ingram's individual numbers. It's when you look at them combined - Canada's goaltending numbers overall - that you realize how bad they've been.
The pair has allowed 11 goals in five games. On the surface, based on simple arithmetic, not bad. But those 11 goals have come on 87 shots. That's an .873 save percentage. Only Latvia's goaltending has been worse. (Latvia!)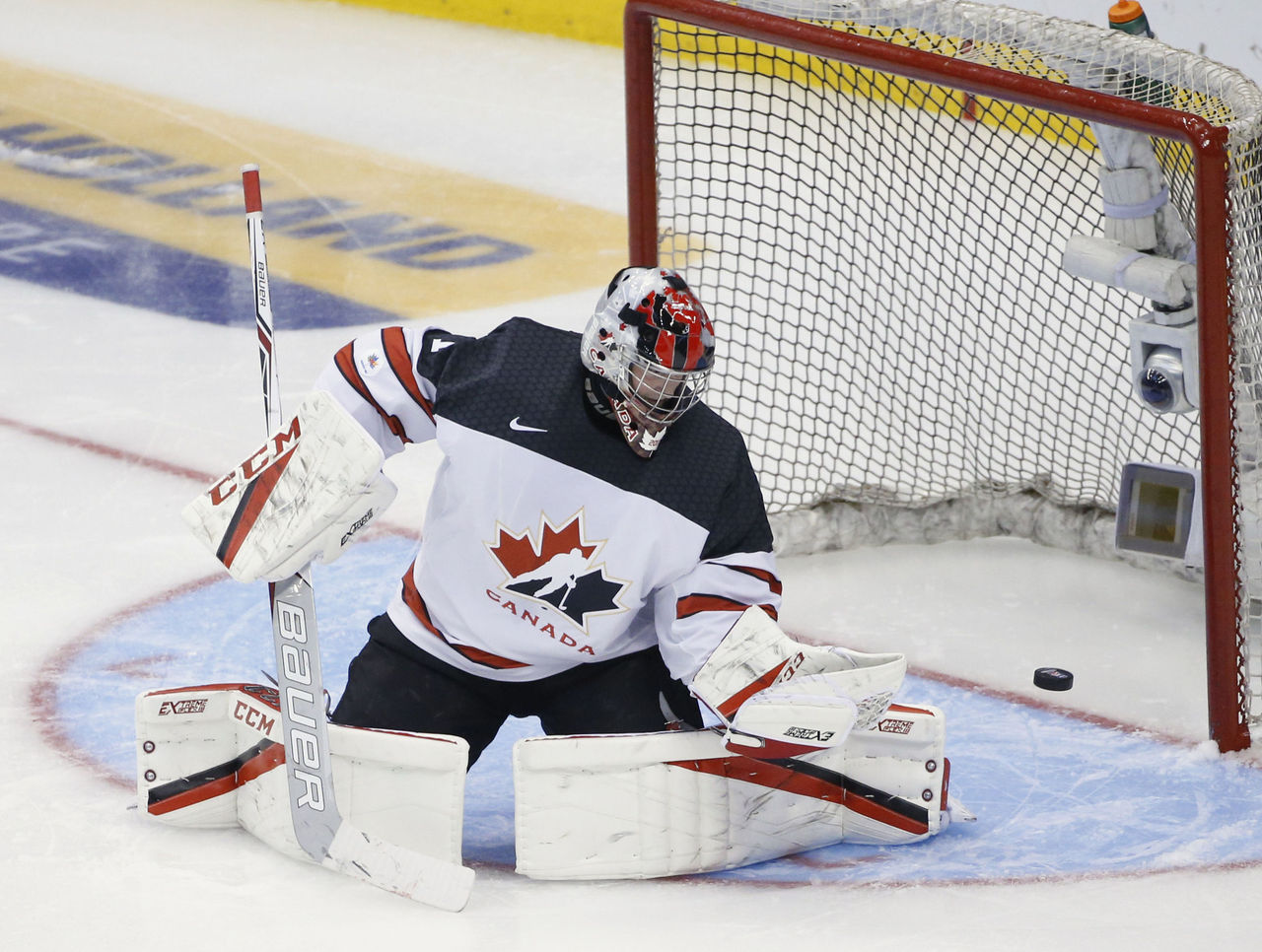 And yet, Canada's 4-1 and will play for a spot in the finals Wednesday. Ingram will be in goal, and he must be better.
Yes, the reality is the country's teenagers are really good, always have the puck, and can get by with below-replacement goaltending, but Canada's issues in the crease - never more apparent than this year - are hurting the team at the world juniors.
Math don't lie
From 2002 through 2011, Canada's kids won five golds and five silvers. Dominant. And that's not really surprising, based on the talent Hockey Canada's had to work with over the years - talent that includes some of the best in the NHL, and boasts Olympic gold medals and a World Cup title. You can call them "best-on-best" tournaments if you like, but it's Canada vs. the world - and Canada's coming out on top.
But back to the kids. Fact is, Canada's been winning in spite of its goaltending for a while. In 2009, the last of Canada's five gold-medal finishes in a row, starter Dustin Tokarski had a .906 save percentage - fourth among starters. Tokarski, in other words, has Cody Hodgson, John Tavares, and Jordan Eberle - the tourney's top three scorers - to thank for his hardware.
The medals have dried up, though. Canada has one gold (2015) and one bronze (2012) to show for its last five world juniors. And while that's going to happen when the country isn't sending its best players (Connor McDavid) to the tournament every year, it means goaltending matters that much more.
The numbers from the crease, though, over the past 10 years - and especially the last five - are for the most part downright unCanadian:
| Year | SV% | Rank |
| --- | --- | --- |
| 2017 | .8736 | 9th |
| 2016 | .8595 | 9th |
| 2015 | .9375 | 1st (Gold) |
| 2014 | .8857 | 6th |
| 2013 | .8956 | 6th |
| 2012 | .9312 | 2nd (Bronze) |
| 2011 | .9010 | 8th (Silver) |
| 2010 | .9058 | 4th (Silver) |
| 2009 | .9149 | 2nd (Gold) |
| 2008 | .9497 | 1st (Gold) |
Even the strong numbers, most recently from 2015 and 2012, are deceiving.
In 2015, it was the dynamic duo of Zachary Fucale and Eric Comrie in the crease. Fucale never posted a save percentage higher than .907 in junior, and is now in the ECHL. Comrie can't crack .910 in the AHL.
In 2012, Mark Visentin and Scott Wedgewood split the duties. Vistentin got into one NHL game and is in the ECHL today, while Wedgewood has played five games outside of the AHL (four in the NHL and one in the ECHL) in the past four years.
Visentin and Olivier Roy were on duty in 2011, when Russia stunned Canada in the gold-medal game 5-3 after being down 3-0. Visentin stopped 22-of-27 shots in the final. Roy plays in Austria.
Make Canadian goalies great again
While goaltenders certainly - and rightfully - take a lot longer to marinate, you have to go back a ways to find a Canadian world juniors goaltender who is now a legitimate No. 1, or has spent time as one in the NHL:
Jake Allen (2010)
Martin Jones (2010)
Jonathan Bernier (2008)
Steve Mason (2008)
Carey Price (2007)
Devan Dubnyk (2006)
Marc-Andre Fleury (2003, 2004)
Roberto Luongo (1999)
That's not bad, from 2003 through 2008. Even through 2010. Especially considering, again, what an inexact science finding a good goalie is. But you'd think Canada would be better.
Hilariously enough, Dubnyk didn't see any world juniors ice in 2006. He was Justin Pogge's backup, as Pogge finished with a .952 save percentage and a gold medal. Pogge's a .900 goaltender in the KHL today, while Dubnyk is a Vezina Trophy contender. Goalies are the weirdest.
Mason's the last Canadian to be named best goalie at a world juniors tournament, in 2008. On that year's team were: Drew Doughty, Luke Schenn, P.K. Subban, Claude Giroux, Brad Marchand, Wayne Simmonds, Steven Stamkos, John Tavares, and Kyle Turris.
Going back all the way to 1999, we're not looking at an overly impressive number of Canadian goalies who have gone on to big things in the NHL. Hell, Dubnyk backed up Pogge.
Yes, the ones who made it big have very much made it big. Price and Luongo are Hall of Famers, Fleury's got rings, and Allen and Jones have proven themselves. But based on the talent Canada produces on defense and up front, its goalies have been left behind.
Goalies matter more than ever
It's getting harder and harder to score. The players - even the teenagers at the world juniors - are bigger, stronger, and faster. Think about it: McDavid, Patrik Laine, and Auston Matthews are all eligible to play in this year's tournament. Goalies are already of utmost importance, and are only going to become more important. Canada needs to make better ones.
The Maple Leaf remains the world's utmost hockey power. The 2010 and 2014 Olympics and the World Cup proved that. No age restrictions, and Canada will destroy all comers. But there's a reason why the under-20 squads have fewer medals to show for their annual year-end tournament, and it leads back to the crease.
When it comes to goalies, the world's not only caught up, it's surpassed Canada. See you at the summit.
Comments
✕
The Mid-Week Take: Canada needs a goaltending summit
  Got something to say? Leave a comment below!