How to save a life: Recent heart episodes put AEDs in the spotlight
From Damar Hamlin to Bronny James and, most recently, one of Alabama's most promising high school basketball stars, the sports world has had many recent reminders that cardiac arrests are a legitimate risk for even the healthiest and youngest athletes.
When every second counts, preparedness is essential to saving lives. The world's top athletes can rely on trainers to perform life-saving measures, but most - from high school gyms to community hockey arenas - must rely on bystanders. They rely on you. Do enough of us know what to do in the event of a sports-related cardiac arrest?
"I always give credit to those five individuals that went on and off of my chest, performing CPR for 11 minutes, for saving my life," Breanna Sudano says. Back in 2011, while playing for Perry Hall (Maryland) High School's junior varsity field hockey team, Sudano had just scored a go-ahead goal when she collapsed. Her heart and breathing stopped. At the age of 13, she was in cardiac arrest.
Because there was no automated external defibrillator (AED) present on the field, a bystander had to run into the school to locate it, which caused a delay in restarting Sudano's heart. Those 11 minutes could have had profound neurological consequences had it not been for Sudano's luck that day - three cardiac nurses were at the game and immediately began hands-only CPR.
"It didn't cause any brain or organ damage because of how perfectly they executed it," she says. Other athletes might not be so lucky; that's where trained bystanders and functional AEDs come into play.
​​"I think it's an individual's responsibility to have a basic understanding of CPR, and the use of an AED and how they might intervene in an event of an emergency. I think that's a life skill," says Andrew Lotto, senior manager of business development and engagement at the Heart and Stroke Foundation of Canada.
"Cardiac arrest is not discriminatory to age - it can happen to young kids in sports, it can happen to young adults playing sports, it can happen to the elderly. I think it's really important that sports and athletic facilities be equipped with AEDs and that individuals at those facilities know how to use them," he said.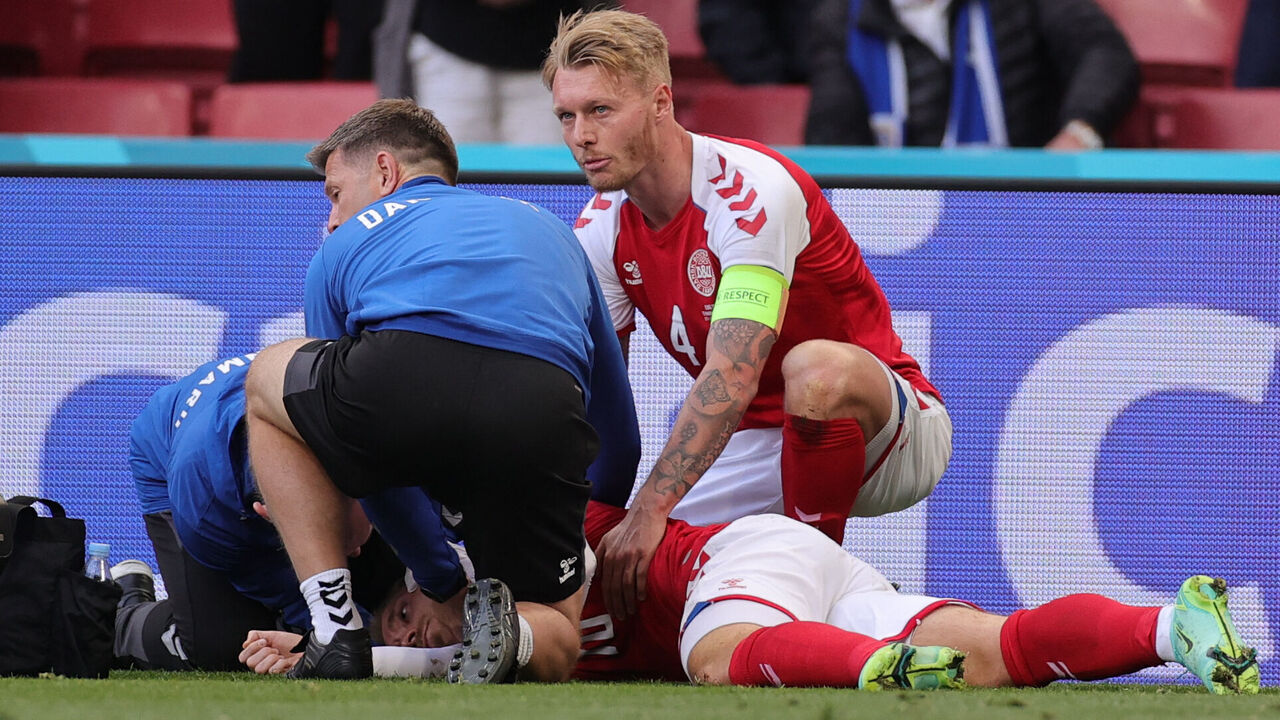 In professional sports, and in most college sports scenarios, trained medical staff are on hand with the proper equipment to respond in a cardiac emergency. That's what helped Danish soccer star Christian Eriksen when he collapsed on the pitch during a Euro 2020 match. Swift medical intervention saved his life.
But even the professionals can't always make a miracle happen.
Hank Gathers led the NCAA in scoring and rebounding as a junior for Loyola Marymount during the 1988-89 basketball season. But early in his senior season, he collapsed on the court due to a mysterious heart condition. Without fully diagnosing Gathers, doctors cleared him to return to play. He later fatally collapsed on the court during a West Coast Conference tournament game. Even though a defibrillator was courtside, Gathers didn't receive a shock until he was taken off the court. Despite attempts to resuscitate him, Gathers' death underscored the need for improved medical protocols and screenings in sports.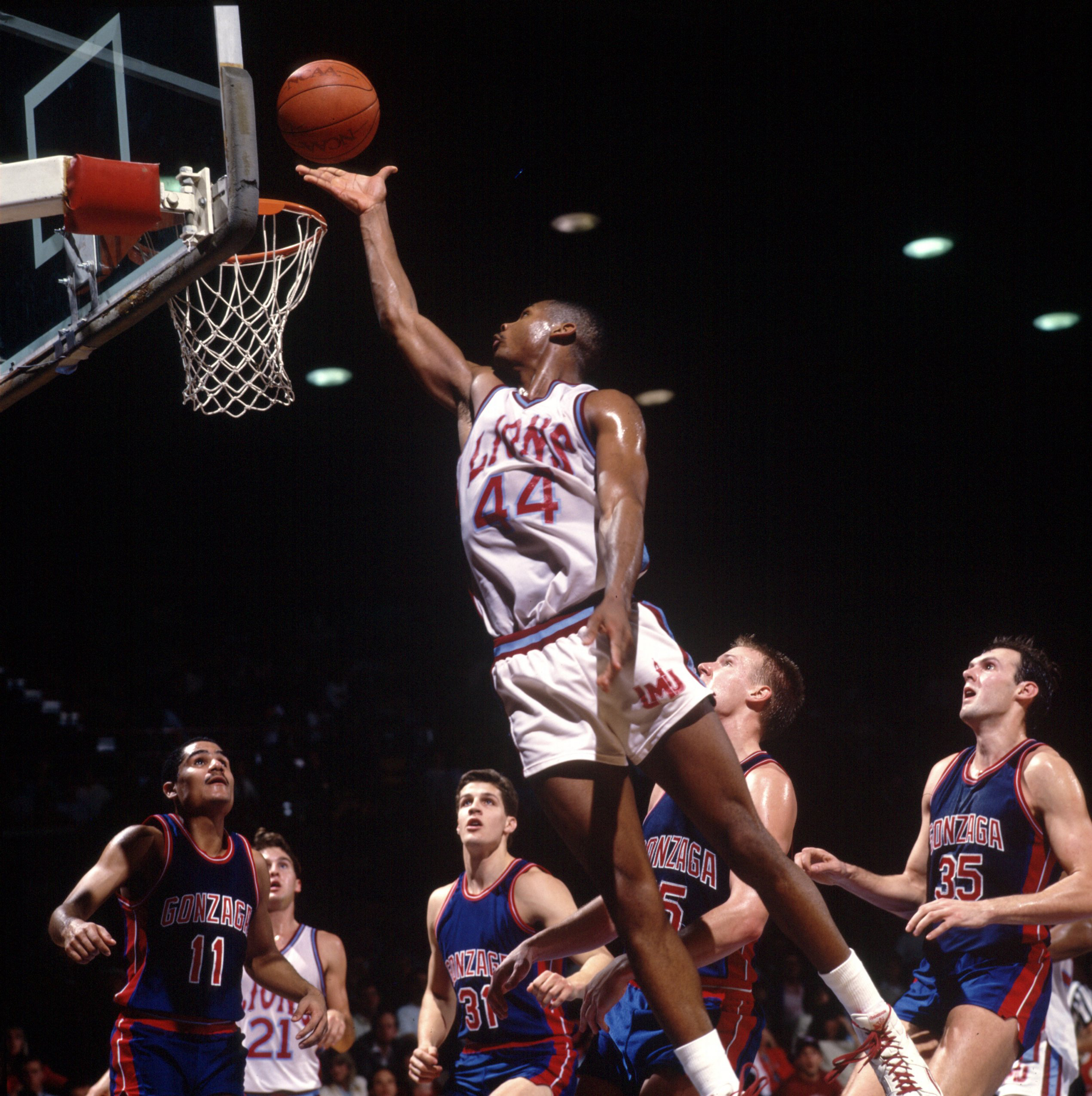 Today, the NCAA is still advocating for improved medical standards, not just within their own colleges but for high school athletes too. "Prompt recognition and treatment of cardiac arrest with CPR and AED placement in student-athletes leads to survival rates approaching 90%," NCAA chief medical officer Dr. Brian Hainline said via email. "Studies demonstrate that survival rate decreases for every minute that AED is not utilized. The low-hanging fruit of mitigating death from cardiac arrest is widespread certification of CPR/AED for student-athletes and athletics personnel coupled with strategic locations of AEDs."
Lotto has already done a lot of work in Canada to ensure every athlete has access to these lifesaving tools. His organization worked with the Canadian federal government to place 3,234 AEDs in any athletic facility that requested one across the country.
"What Heart and Stroke had intended to do was make sure that defibrillators were as commonplace as fire extinguishers," Lotto says.
In the United States, the NFL has led a similar initiative in the aftermath of Hamlin's cardiac arrest. In collaboration with the NBA, MLB, MLS, the NHL, and the NCAA, the league has advocated for better adoption of emergency best practices in high schools and clearly marked AEDs at each athletic venue where high school practices or competitions are held. Plus, they're pushing for CPR and AED education for coaches. Just a few months into the coalition's work, they've seen some meaningful progress.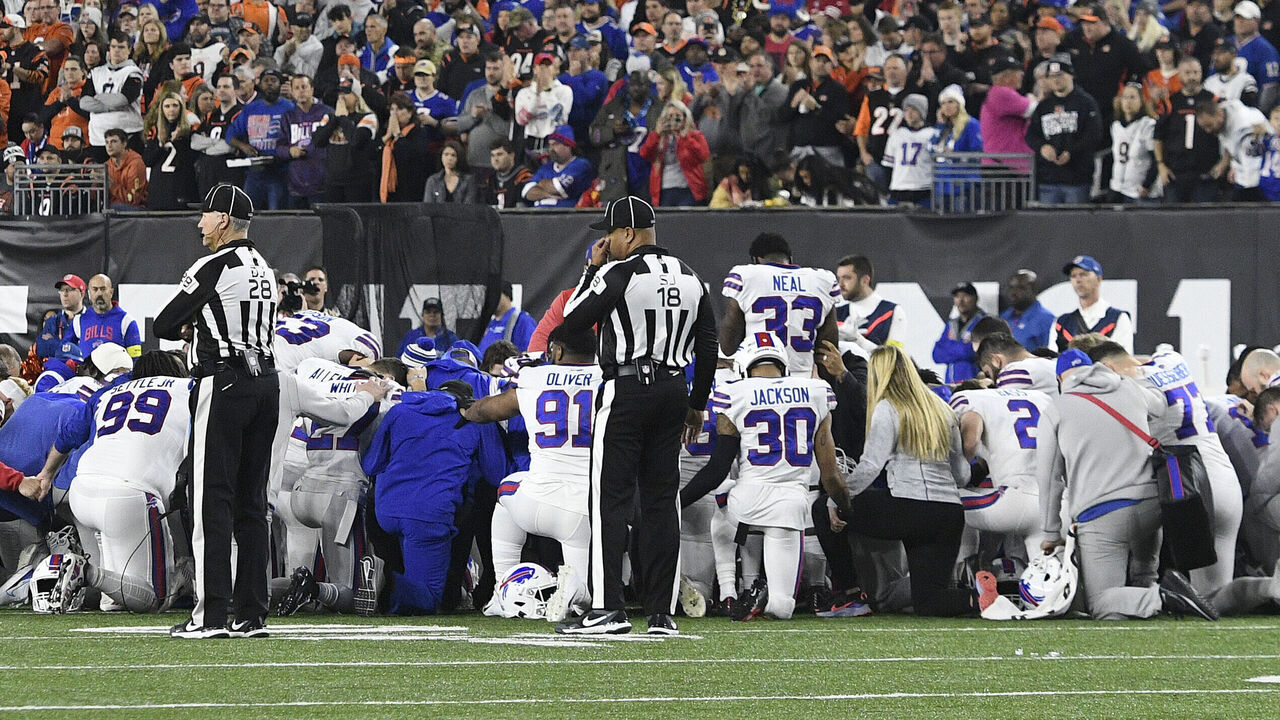 "Since the launch in March, the Smart Heart Sports Coalition has grown in members and momentum," Jeff Miller, NFL executive vice president of communications, public affairs, and policy said via email. "During the past several months, we've seen policymakers in states such as New Mexico, Indiana, and Kentucky take action and we'll continue our advocacy in the months and years ahead until every state in the country adopts these life-saving measures."
Specifically, in April, New Mexico Governor Michelle Lujan Grisham signed SB 450 into law, mandating that all licensed coaches employed by school districts obtain CPR certification with knowledge of AED use. Indiana passed legislation that emphasizes the presence of AEDs where students face a heightened risk of sudden cardiac arrest.
But while this momentum might catalyze action, the success of these efforts comes down to maintenance. "It's one thing to get the AEDs on the ground, it's an entirely different thing to keep them up to date," Lotto says. "The maintenance is really important - that can't be perpetually funded by the government and Heart and Stroke. Local facilities need to make a commitment."
Not only do AED batteries need to be changed regularly - every two to five years depending on the model - but the pads that are placed on a patient in an emergency also need upkeep. The adhesive gel dries up, so they need to be replaced every two years. An AED's location should also be indicated with good signage and registered with emergency services so bystanders can be directed to the nearest one in a lifesaving situation. There are currently no federal regulations in Canada or the United States that mandate the upkeep of AEDs.
And even a nearby and well-maintained AED is useless without someone who knows how to use it. Often, that life-saving task comes down to onlookers. That's where you come in. Recently, a group of recreational basketball players in South Brunswick, New Jersey saved one of their teammates with CPR and AED knowledge and quick action.
"If somebody collapses, your best bet is to call 911 and shout for a defibrillator," Lotto says.
"In the meantime, push hard and fast in the center of the chest. As soon as the AED arrives, put it on the person. It coaches you through voice prompts, it will tell you what to do. They are foolproof. The average citizen needs to know what to do and what actions to take. And they're as simple as those three steps."
Jolene Latimer is a video producer and feature writer at theScore.