LEAGUES News
British GP takeaways: Sainz breaks through, Hamilton's back, halo plays hero
Following each race weekend this season, theScore's editors will offer their takeaways. We continue with a thrilling British GP:
Sainz finally gets P1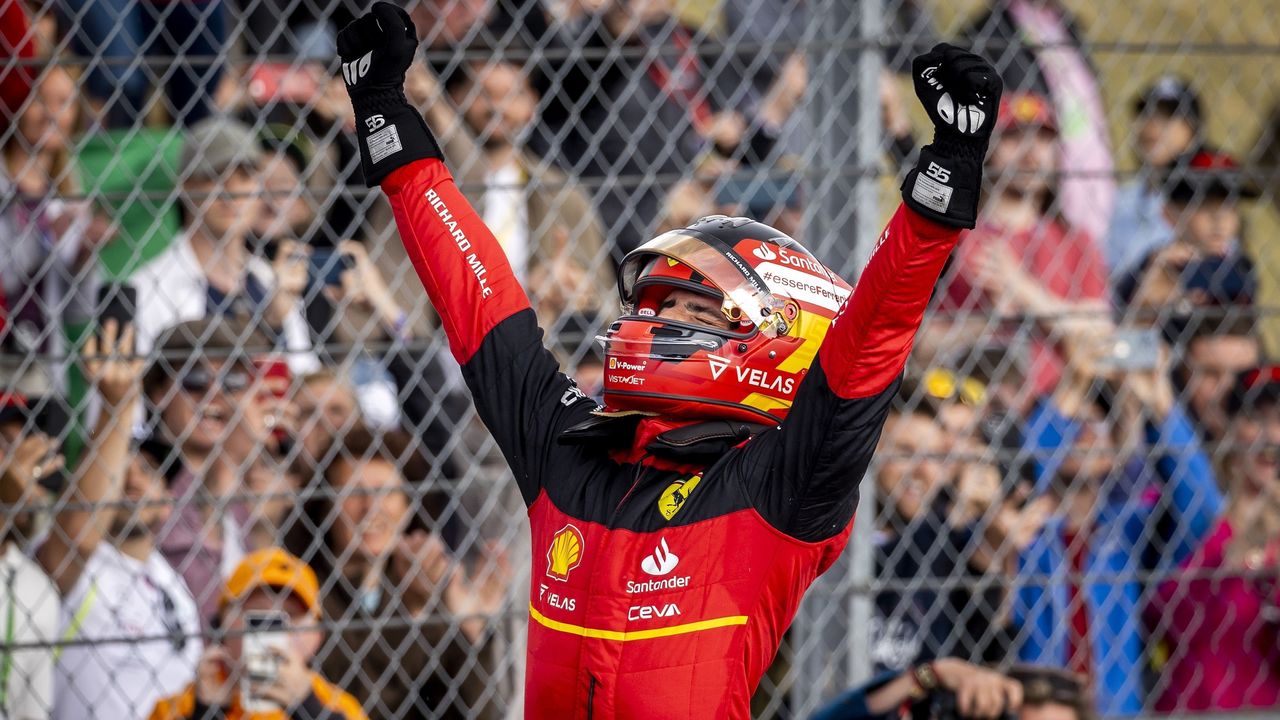 Carlos Sainz reached the top of the summit.
The Ferrari driver had five runner-up finishes for his career (three this season) and endured the second-longest wait for a win in F1 history before finally tasting victory Sunday at Silverstone.
"It's amazing," Sainz said. "First race win, 150 races later, with Ferrari at Silverstone, I cannot ask for more. It's a very special day - a day I'll never forget. A very special weekend in general."
Sainz, now the second Spanish-born driver to win an F1 race, secured his first pole Saturday and benefited from a few good breaks Sunday after running into his fair share of bad luck this season.
The 27-year-old certainly had to work for it, and his win comes at the disappointment of teammate Charles Leclerc. Credit goes to Ferrari for letting its drivers race each other early on before instructing Sainz to let Leclerc through as he was lapping faster.
However, the safety car is when everything changed. After not bringing Leclerc in to change tires (more on this below), Sainz benefited from his pit stop and cruised to the win on fresher tires.
"I struggled with the balance, it was not easy," Sainz said. "But I stayed believing it could still happen. I needed to stay in the race, and the safety car came in, and we did it. I had nerves during the safety car restart. I needed to get it done."
Sainz is an incredibly popular driver among fans and in the paddock, so his win is a boost for the sport. He's the fourth different driver to win this season and eighth over the last two years.
"I'm happy for Carlos, he deserves it. He beat me to it, but I should hope so. He's in a car a second-a-lap quicker than me," Lando Norris joked.
It'll be interesting to see where Sainz goes from here. He's now claimed at least a top-two finish in three of his last four races and leapfrogged George Russell for fourth place in the drivers' championship while also closing the gap with Leclerc to 11 points. - Brandon Wile
Ferrari blunder cushions Verstappen's tough day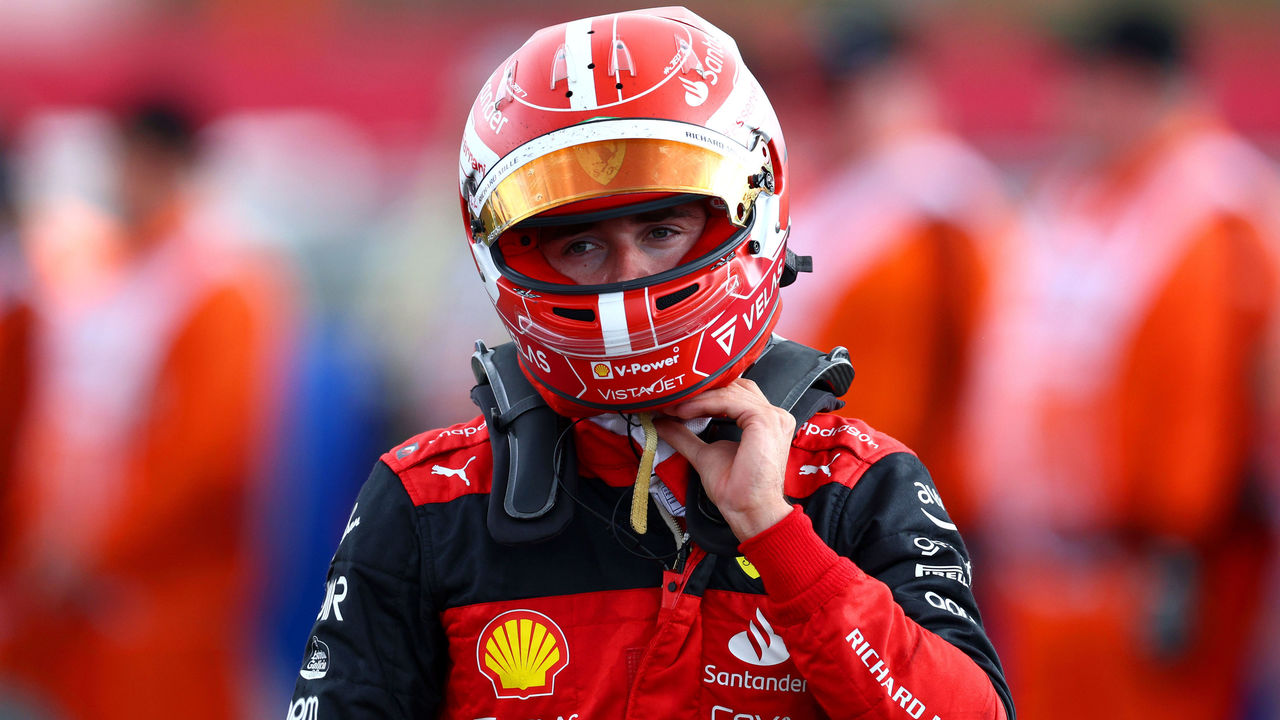 Leclerc seemed primed to take a big chunk out of Max Verstappen's championship lead until Ferrari proved to have other plans.
Ferrari made the costly decision to bypass a potential double stack and leave a leading Leclerc out on his old, hard tires while the rest of the front-runners came in for fresh, soft tires during a late safety-car period. The consequences came swiftly as the Monegasque driver watched Sainz, Sergio Perez, and Lewis Hamilton pass him and the win slip from his grasp.
Team principal Mattia Binotto argued after the race that the team did not believe there was time for a double stack, though the bigger question might be why Leclerc wasn't called in first, to begin with. Binotto cited track position while admitting the opposition's soft tires didn't degrade as the team hoped, but he described Leclerc's race as "unlucky," according to Luke Smith of Motorsport.com.
"If we would have stopped, maybe the other ones may have stayed out, and they would have maybe been fourth on soft tires with other cars ahead of him," Binotto said. "Would he have recovered the positions? I'm not sure. I think with the hindsight, it's always easy to say we could have done differently."
Sunday marked the latest instance of a recurring problem in which Leclerc was handed an inferior strategy option despite him being the side's biggest championship contender.
Earlier in the race, the Prancing Horse pit wall juggled letting Leclerc move past teammate Sainz for first despite the former having more speed and a red-hot Hamilton closing from third. The swap was finally executed on Lap 31, but it was too little, too late. The hesitation was the first blow to Leclerc's chances, as an earlier switch assumedly would have left enough time for the 24-year-old to build a healthy gap to maintain position in the event of pitting under a safety car.
Leclerc remained diplomatic after the race but admitted he couldn't hide his "disappointment." Cameras captured Binotto speaking to the driver, but the team principal explained he was complimenting Leclerc's race and that there was "nothing to sort out internally."
Leclerc's fourth-place finish worked to Verstappen's advantage. The Red Bull driver was clinging on to a points-place finish due to floor damage, which caused "close to half" of the RB18's downforce to disappear, according to team principal Christian Horner. But, by managing to hold on to seventh place, Verstappen only lost six points to Leclerc, a tremendous silver lining considering the difference would have been 20-plus points if Leclerc took the victory.
Silverstone continued to be a nightmare for Leclerc, who has been absent from the podium in six of the last seven races, though the majority have been no fault of his own. If Ferrari is to position Leclerc against Verstappen in a title bid, it will have to learn to get out of its own way. Whether that's possible or not remains to be seen. - Daniel Valente
'Back in the fight'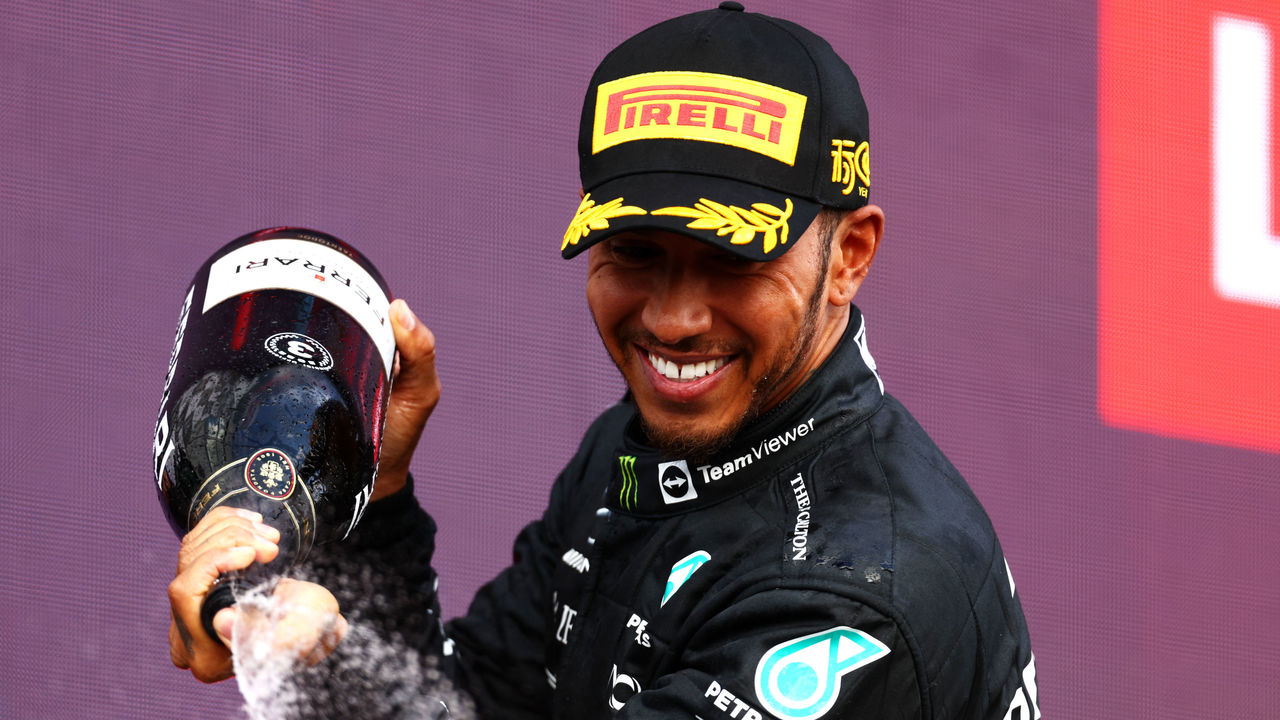 In classic form, Hamilton insisted post-race that Mercedes still has "work to do," but the team was an early Russell crash away from perhaps looking like the most dominant car on the circuit at Silverstone.
Hamilton earned his third podium of the season, going back-to-back after a strong showing in Montreal. If Russell continued his remarkable streak of finishing top five in every race since joining the team at the beginning of the season, one could've easily argued that Toto Wolff's Death Star was back to fully operational.
"It's great to be back in the fight," Hamilton said.
But it's not just about Mercedes having pace nearing the halfway mark of the schedule. It's about Hamilton looking, once again, like he's in seven-time world champ form. He even led the race at one point - the first time he's been at the front of the pack since last year's Abu Dhabi GP.
An astoundingly great start off the line had the British driver quickly pass Perez and Leclerc, shooting from fifth to third before the first turn. Unfortunately for Hamilton, the crash involving Russell and Zhou Guanyu nullified that, and he had to restart from fifth.
Wolff even noted that the porpoising issue was gone and boldly stated that "without the safety car, we would have won the race." The late flurry of overtakes between Hamilton, Perez, and Leclerc is a great sign the team that dominated the past decade has made the necessary midseason adjustments and has the experience to keep it together through the end of the year.
"We have just today, for the first time, started to flirt a bit with the car," Wolff said. "Where will it end? If we win, what will that mean?" - Michael Bradburn
Thank goodness for the halo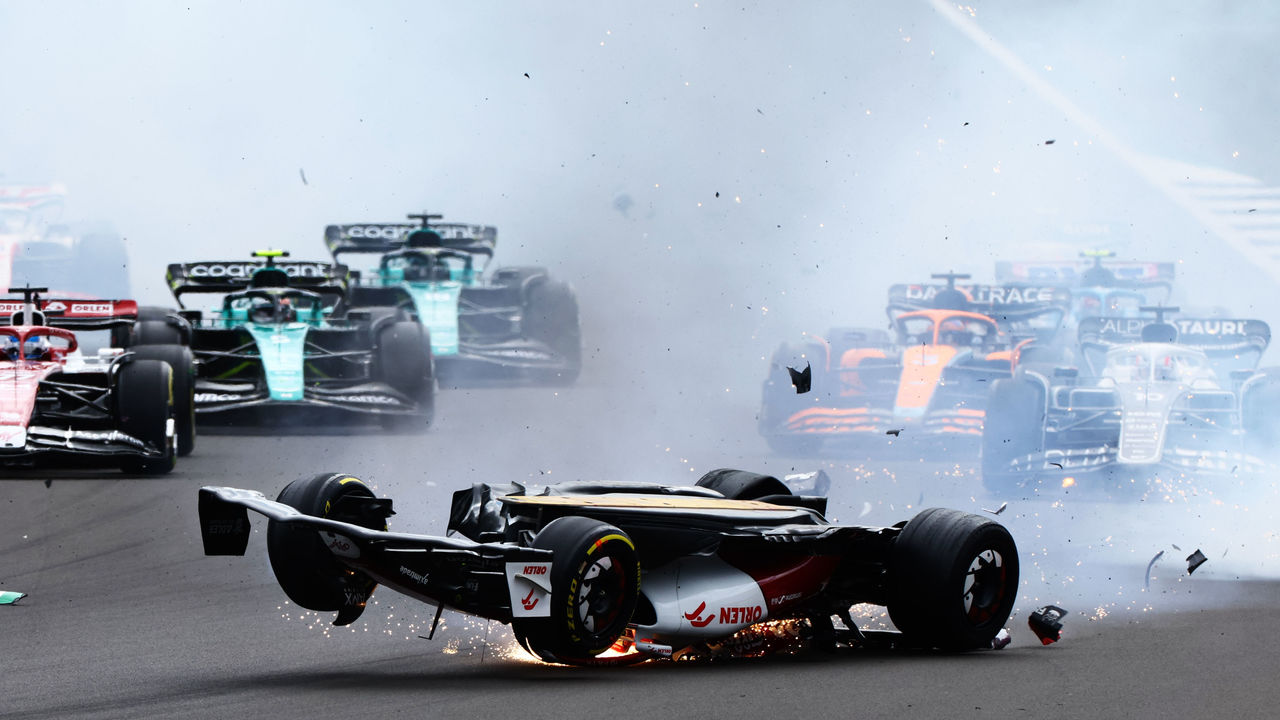 As much as Sainz's maiden F1 victory will - and should - be celebrated, the most uplifting scene Sunday had nothing to do with the Ferrari star.
The best moment at Silverstone came when Zhou was spotted walking around the paddock under his own power, showing no ill effects after one of the most harrowing crashes in recent memory. The F1 rookie was at the center of a high-speed collision on Lap 1 that flipped his Alfa Romeo upside down, sent it skidding across the gravel, and, in exceedingly rare circumstances, caused it to leap over the tire barrier and into the fence in front of the grandstand at the very first corner of the circuit.
The agonizing wait for an update on Zhou's status felt like it lasted an eternity. Russell, who careened into Zhou after himself getting entangled ever so slightly with Pierre Gasly off the line, quickly hopped out of his car and sprinted over to check on the status of his peer; the reaction of other drivers is always the clearest indicator of the severity of a crash.
Thankfully, Zhou was extracted from his mangled vehicle, which had become wedged between the protective wall of tires and the fence.
That the 23-year-old remained conscious and emerged largely unscathed was further confirmation that the halo is easily Formula 1's most critical recent innovation. It's chilling to consider what the outcome could have been for the young Chinese driver were it not for that protective piece of titanium shielding the cockpit.
"I'm OK, all clear. Halo saved me today," Zhou said on Twitter.
And to think there were widespread complaints about visibility and design - not least from the drivers themselves - upon the halo's introduction in 2018.
The halo also played a pivotal role during the Formula 2 feature race earlier Sunday, protecting Roy Nissany when Dennis Hauger's car landed directly on top of him. That incident was eerily reminiscent of a crash involving Verstappen and Hamilton last season, in which the former's Red Bull - weighing roughly 2,000 pounds - came down on Hamilton's head in Monza. Just as it did then, the halo made all the difference on Sunday at Silverstone.
"You see the crash in F2 this morning and what happened with the halo, today they saved probably two lives," Sainz correctly pointed out after the race. - Gianluca Nesci
Where did Checo come from?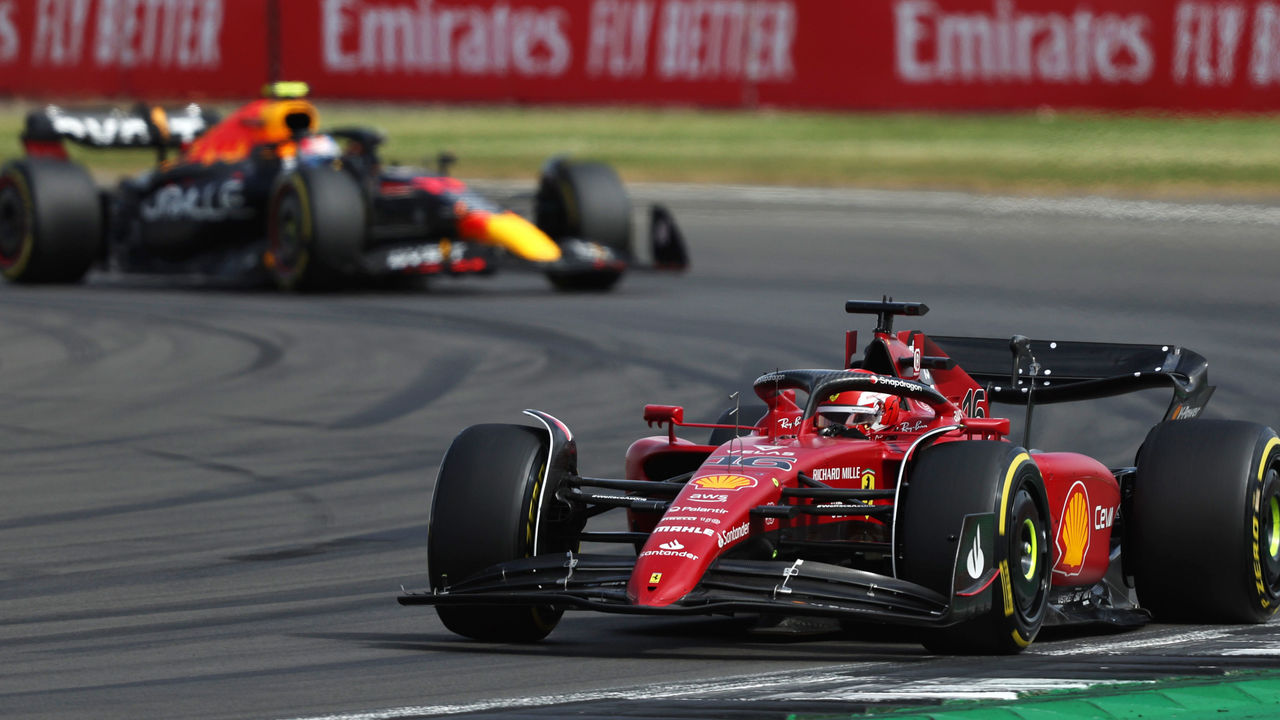 Lost among all the chaos was Perez sneaking his way to the second step of the podium.
Perez was all but forgotten about after coming out of the pit in 17th on Lap 6 due to front-wing damage. But the veteran driver embarked on a sensational climb back up the grid.
The Mexican, who is no stranger to going from last to the top of the field, began his trot with what he does best: tire management. After effectively nursing a 30-plus-stint on medium tires, Perez not only provided himself a free pit stop from fourth place when Esteban Ocon triggered a late safety car, but he also put himself back in position for a potential win.
From there, the gloves came off as Perez proved why he's held in high regard when it comes to wheel-to-wheel racing. He didn't come away with the victory but emerged in second place after not giving an inch to Hamilton and Leclerc in a three-way duel for the ages.
"He was incredible today," Horner said. "The recovery drive from close to half a lap down to second place was a phenomenal performance by him today."
Silverstone was a much-needed showing for Perez after a pointless weekend in Montreal. It may not have resulted in a win, but the Red Bull pilot can take pride in maintaining his second-place position in the drivers' standings after a masterclass comeback drive. - Valente
Mick's momentous day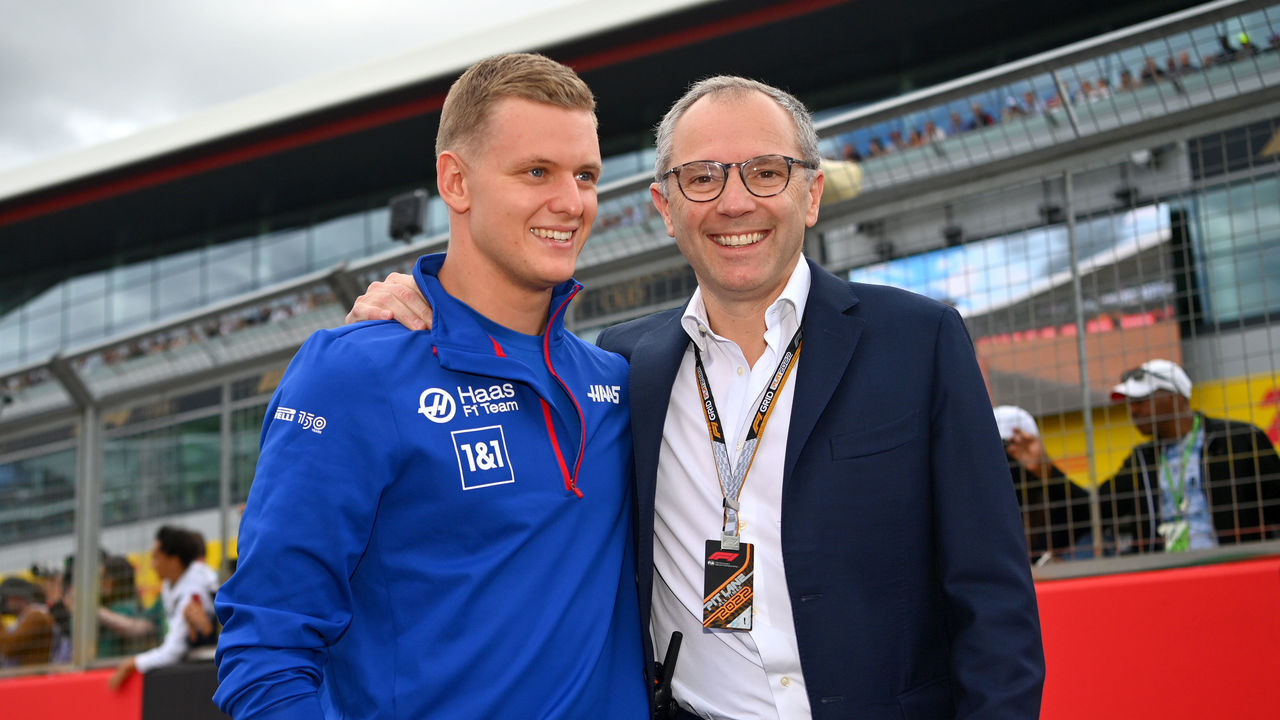 Points, at last, for Mick Schumacher.
After some near misses and, more recently, high-profile mistakes that resulted in expensive repair bills for Haas, Schumacher finally got the monkey off his back. Following a stellar drive to finish P8 after starting 19th on the grid, he brushed aside conjecture about his F1 status after crashes in Monaco and Saudi Arabia.
"For me, I think it's great to just get those questions from the media away and focus on what's really important," Schumacher said, according to The Guardian's Ramon Antonio Vargas. "And that's the racing and the driving."
He nearly overtook reigning champion Verstappen on the final lap, too.
Aside from Schumacher himself and team principal Guenther Steiner, nobody in the paddock enjoyed the young German's achievement more than Sebastian Vettel. The four-time world champion, who idolized Mick's iconic father Michael, has adopted something of a big brother role this season, acting as both a mentor and friend to his compatriot.
"I was actually screaming inside the car like, 'Go Mick - go get him!'" said Vettel, who finished ninth and could see the Verstappen-Schumacher tussle unfolding in front of him. "I'm very happy for him - I think it's been a long time that he deserves the result, and it's great to get it."
The bromance, which hit a tiny snag earlier in the season when the pair collided in Miami, is back on course. - Nesci
Comments
✕
British GP takeaways: Sainz breaks through, Hamilton's back, halo plays hero
  Got something to say? Leave a comment below!