Profiling Team Europe at the Ryder Cup
Lee Smith / Action Images
The 2014 Ryder Cup kicks off Friday morning from the Centenary Course at Gleneagles in Perthshire, Scotland. Paul McGinley will lead a heavily favoured European side against Tom Watson and Team USA.
Europe has enjoyed a very successful run in the Ryder Cup in recent years, winning five of the last six events and the last four at home. With Rory McIlroy, Sergio Garcia, Henrik Stenson, and Justin Rose, McGinley has four of the top six on his side according to the Official World Golf Rankings, along with Ryder Cup aces like Ian Poulter, Graeme McDowell, and Lee Westwood.
Below is each player who will suit up for Team Europe, along with their record in the Ryder Cup, how they made the team, and their individual strengths and weaknesses.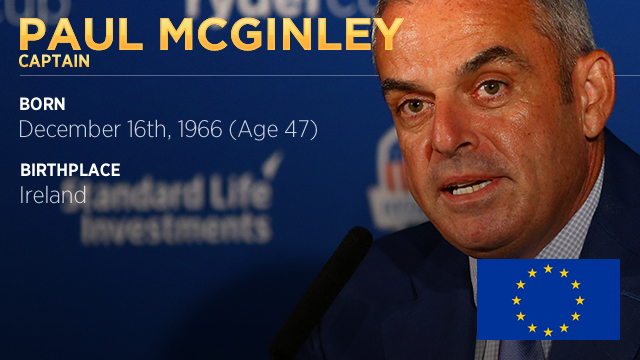 McGinley doesn't have the resume or reputation of American captain Watson, but he was a very popular pick as captain among the players after serving as an assistant captain to both Colin Montgomerie in 2010 and Jose Maria Olazabal in 2012. McGinley participated in the Ryder Cup as a player on three occasions and still plays a partial schedule in Europe, where he's won four times in his career.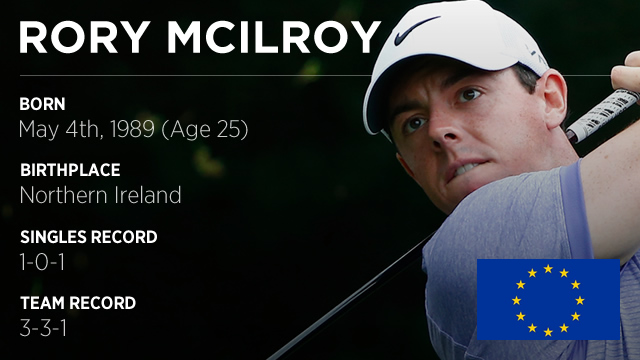 How He Made It: McIlroy's run during the qualification period has been absolutely incredible. In 26 events worldwide since last October, McIlroy has finished outside the top 25 in two tournaments, posting 18 top-10 finishes and five wins. Three of those five wins came in consecutive weeks at massive tournaments: the British Open, the WGC-Bridgestone, and the PGA Championship. After a subpar season in 2013, McIlroy returned to the very top of the game in 2014, and qualified first on both European points lists.
Strengths and Weaknesses: Despite his relatively small frame, McIlroy hits the ball as long as anyone on either side, save for Bubba Watson. But he's not just a bomber, as his iron play is absolutely stunning and, because he hits it so long, he rarely has longer clubs into the green, even on par 5s. If you want to nitpick a little bit, he does get wayward with the driver at times, which could lead to more trouble than usual with how tight some of the holes play at Gleneagles, and the putter can sometimes leave him, but instances of both are few and far between.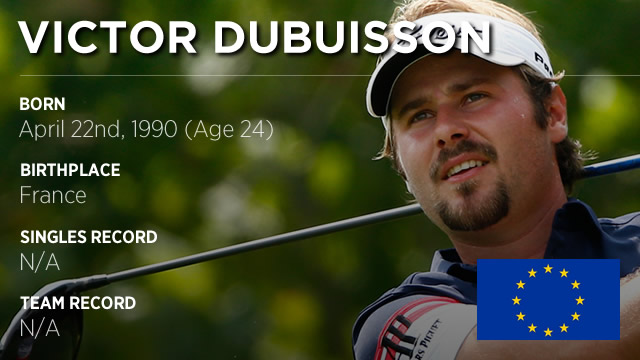 How He Made It: Dubuisson first made waves in the golf community last November, when he won his first professional tournament in Turkey against a field that included Tiger Woods, Justin Rose, Martin Kaymer, Stenson and others. Good and decent finishes followed until he got to the WGC-Match Play in February, where he lost to Jason Day in the finals, which vaulted him into a guaranteed spot at Gleneagles.
Strengths and Weaknesses: When he went up against Day in February, it was his first professional match play event and he hit two of the most ridiculous recovery shots to extend the match before eventually losing on the 23rd hole. That ability to get out of trouble is very valuable in match play, and considering that he's not the straightest hitter out there, it's a nice skill to have.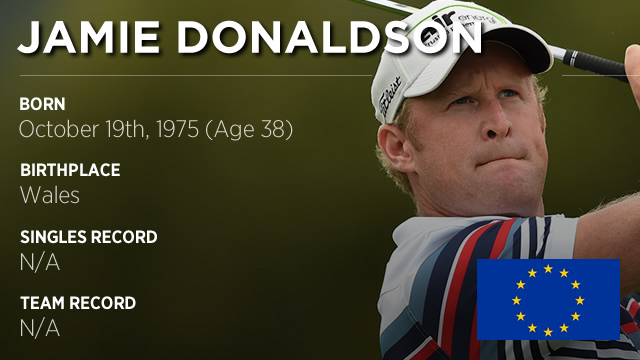 How He Made It: Donaldson has won three times on the European Tour in the last three years, most recently in August at the Czech Masters, but he has also been incredibly consistent with only four missed cuts in the last 12 months. That level of play has allowed him to stay inside the top 30 in the Official World Golf Rankings for much of the last two years.
Strengths and Weaknesses: At 38, Donaldson is a late bloomer, but a lot of that can be attributed to a very serious back injury that caused him to lose his European Tour card for several years. If you're looking for an American counterpart, think about Matt Kuchar, in the sense that he doesn't really do anything that stands out on the course, but is solid in all areas. He's one of three Ryder Cup rookies for Europe, but he has extensive match play experience in other events, holding a 5-2-2 record in team play, while going winless in seven career singles matches.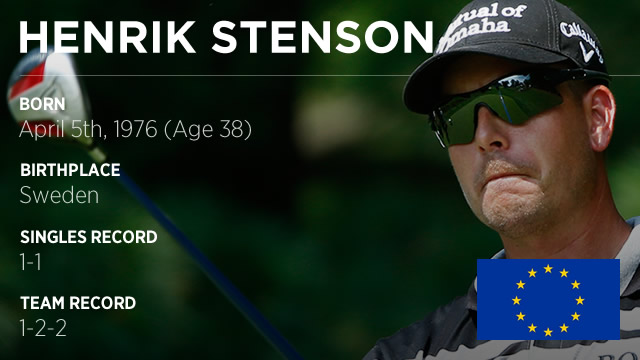 How He Made It: The second half of 2013 saw Stenson re-emerge as one of the best players in golf. In 15 starts, Stenson cracked the top 10 11 times, with three wins, leading to him capturing both the FedEx Cup on the PGA Tour and the Race to Dubai in Europe. Things haven't gone as well in 2014, but with only two missed cuts all year and none since early March, Stenson has remained inside the top four in the Official World Golf Rankings all season.
Strengths and Weaknesses: The big reason why Stenson has returned to the top of the game after years of struggling is because of his ball striking. There are very few players who are better than Stenson from tee to green, as he ranked 11th on the PGA Tour this season in strokes gained, but the putter is an issue from nearly every distance, to the point where Stenson actually lost strokes to the field this season, ranking 135th of 177.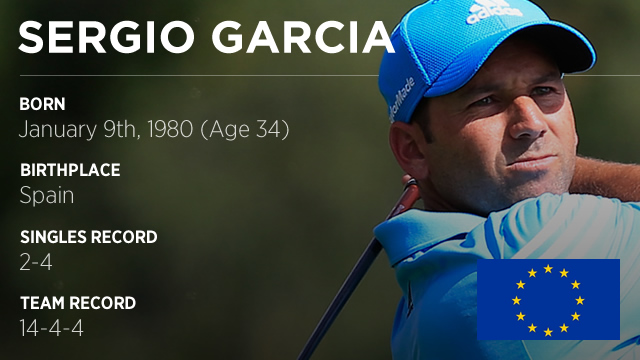 How He Made It: While he didn't fall as far as Stenson, Garcia spent a great deal of time playing nowhere near his potential a few years ago, but he has regained his form and has jumped back up to third in the Official World Golf Rankings. In 19 events this season, he has finished inside the top 10 on 10 occasions, picking up one win and three runner-up finishes.
Strengths and Weaknesses: Garcia has been known as one of the best ball strikers in the world from the moment that he turned pro, but the putter has frequently gotten in the way of him having more success. Fortunately for him, he's managed to turn his putting into a strength without sacrificing anything in the ball striking area, and at the age of 34 he's one of the most decorated Ryder Cup players in the history of the event. His weakness? He still gets in his own way far too often instead of letting his natural talent take over, which we saw most recently at Cherry Hills a few weeks ago.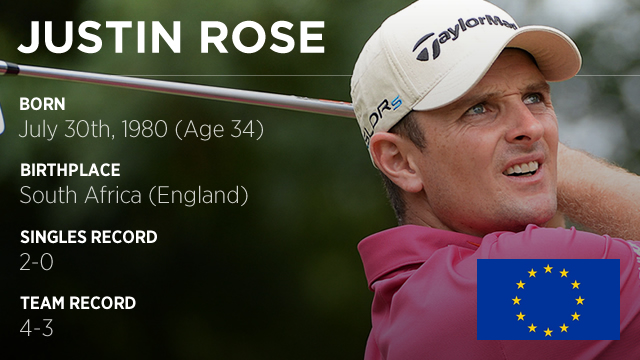 How He Made It: After winning the U.S. Open last year at Merion, it was unlikely that Rose was going to be left off of this team and he showed why with high finishes in just about every event to end the 2013 season. He started slow in 2014, thanks in large part to a shoulder injury, but when the Masters came around in April, his game was back in form. Rose won in back-to-back weeks at Congressional and the Scottish Open on the European Tour to pretty much secure his spot on the team months in advance.
Strengths and Weaknesses: Much like Garcia and Stenson, Rose is a great ball striker and is consistently referred to as the best tee to green player in the world. Statistically, he ranked fourth in that category on the PGA Tour in 2014, but his well documented troubles on the greens continued, and, much like Stenson, he actually lost strokes to the field this season.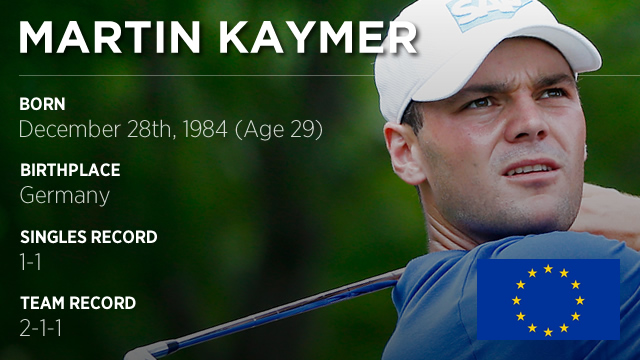 How He Made It: When Kaymer made the European team back in 2012, he was considered the weak link. Olazabal only played him in one of the four team matches in the opening two days, but he sank the final putt against Steve Stricker in Sunday singles to secure the win. Swing changes, injuries, and other factors caused an even further drop in play for the 2010 PGA Championship winner, but he figured it out this year by winning both the Players Championship and the U.S. Open in dominating fashion to earn his spot.
Strengths and Weaknesses: Kaymer's performance at both the Players and U.S. Open showed that when he's on, he can be an absolutely dominant player, especially from tee to green, but that guy doesn't show up very often. Since those two wins, he's been anywhere from bad to merely average and it's anyone's guess as to which Kaymer we're going to see this week at Gleneagles.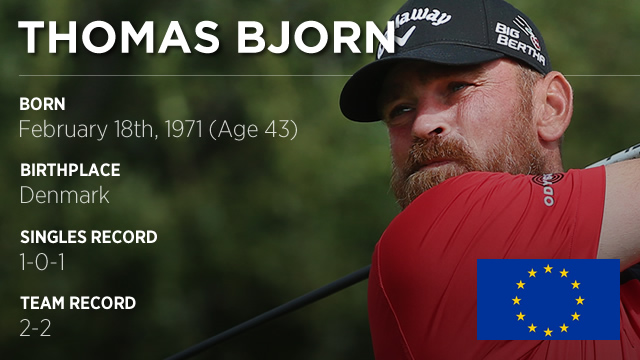 How He Made It: Right at the beginning of the qualifying period last year, Bjorn picked up two wins and two other top-five finishes in eight starts. Since then, he's seemed to alternate between top 10s and events where he's simply never a factor. In recent years, Bjorn has been an assistant captain, but this will be his third appearance in the Ryder Cup as a player and his first since he was a member of Sam Torrance's winning side in 2002 at the Belfry.
Strengths and Weaknesses: Bjorn's biggest strength throughout his career has always been on the greens, as he's consistently ranked as one of the game's better putters, but the inconsistency mentioned above is something to be worried about. In recent years, he's been looked at as an elder statesman of the European Tour, and even though this is a relatively experienced European side, he'll be looked at to provide stability and leadership.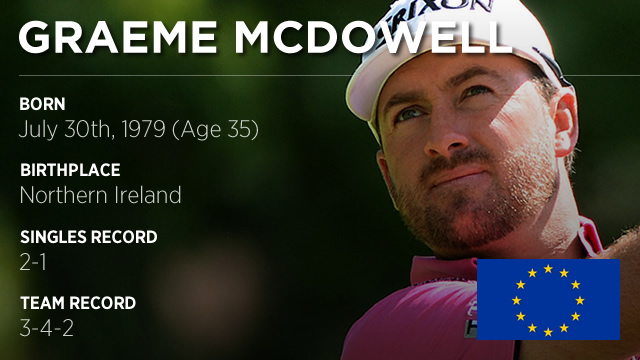 How He Made It: For the majority of the qualifying period, McDowell was actually on the outside looking in, with Luke Donald occupying the final spot, but strong showings at the Canadian Open and the Bridgestone moved McDowell up the list and he was able to secure his spot at the PGA Championship. Considering his friendship with McGinley, McDowell was likely to be on the team unless he showed dreadful form, but playing his way on was definitely the way McDowell wanted to make the team.
Strengths and Weaknesses: With the exception of maybe Zach Johnson, you won't find a shorter hitter among the 24 players this week at Gleneagles than McDowell, but he usually makes up for it with solid iron play and great putting. He also seems to love the match play format. In addition to the records you see in the above image, he's managed to put together a record of 28-12 in singles play and 11-6-3 record in team play across all match play events.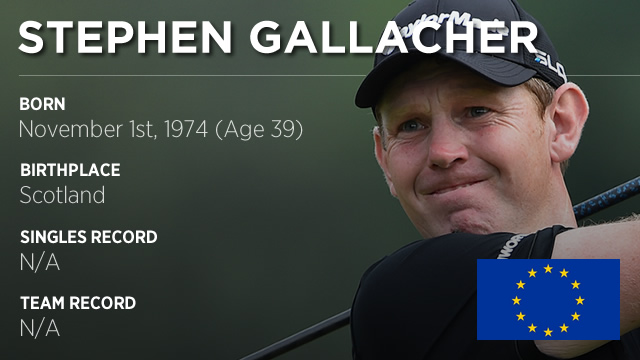 How He Made It: Gallacher is one of McGinley's three captain's picks, and while he might be the most unknown member of either side to be playing this week, he basically forced McGinley to take him over known quantities like Luke Donald with his play over the last few months. Much like Bjorn, the good performances came with some ugly missed cuts as well, but seven top-10 finishes worldwide - including a win in Dubai and a solo third in Italy in the last event before teams were submitted - were enough to give the 39-year old Scot his first Ryder Cup appearance.
Strengths and Weaknesses: Gallacher made a point of saying at the beginning of the year that he wanted nothing more than to be playing in this event on home soil, so this clearly means a lot, but the one thing you hear from every Ryder Cup player is that their first appearance is a nerve-racking experience. It's impossible to tell how Gallacher is going to react, but in general, at an average of 296 yards from the tee, Gallacher is in the middle of the pack these days, relying on his irons and putter to score.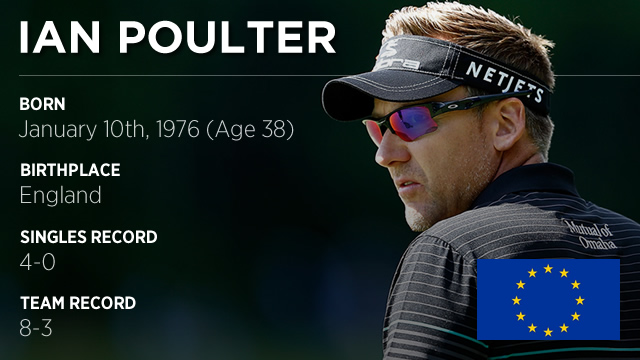 How He Made It: So far in 2014, Poulter has more missed cuts than top-10 finishes thanks to a combination of injuries and poor play, but with his record in this event, the only way he wasn't going to be on the European team was if he was physically unable. Almost any other player with Poulter's form right now would not even be in the conversation, but this pick is based purely on reputation and justifiably so.
Strengths and Weaknesses: For whatever reason, Poulter seems to get up for match play events far more than regular stroke play tournaments. His record in the Ryder Cup is listed above and it's ridiculously impressive, but it doesn't end there. In total, he's 34-14-4 in career singles match play and 15-7-1 when paired up. On the course, the putter is his biggest strength and his wedges are usually solid as well, while he is only average everywhere else. He's also crazy.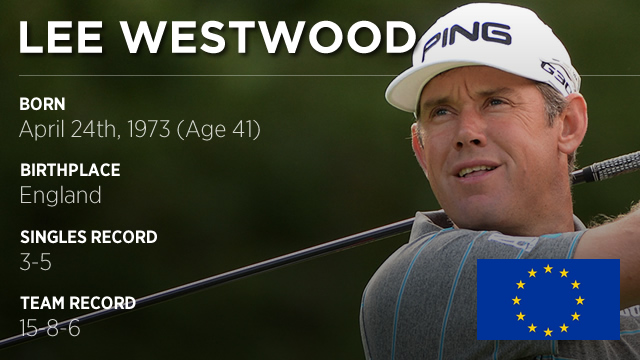 How He Made It: Much like Poulter, Westwood's form hasn't been great in 2014, including a streak in June and July of four consecutive missed cuts. The general consensus, though, is that the final pick for McGinley came down to Westwood and Donald, and Westwood's decent play at Bridgestone and the PGA Championship gave him the edge. Westwood's record in this event didn't hurt either, as he has played in every Ryder Cup since 1997.
Strengths and Weaknesses: Westwood has had the same strengths and weaknesses since he turned pro. He's indisputably one of the best ball strikers in the world, which led him to being the number-one ranked player in the world four years ago, but his short game can be horrifyingly bad and is the main reason why he hasn't won a major championship to this point in his illustrious career.
Comments
✕
Profiling Team Europe at the Ryder Cup
  Got something to say? Leave a comment below!