Ryder Cup Day 3 Recap: Europe wins 16 1/2-11 1/2 at Gleneagles
Lee Smith / Action Images
Presented by

After the first two days of action at Gleneagles, it appeared to be just a matter of time before Team Europe came away victorious and that's exactly what happened as Team USA couldn't make a comeback, falling 16 1/2-11 1/2 as Europe won their third consecutive Ryder Cup.
Scores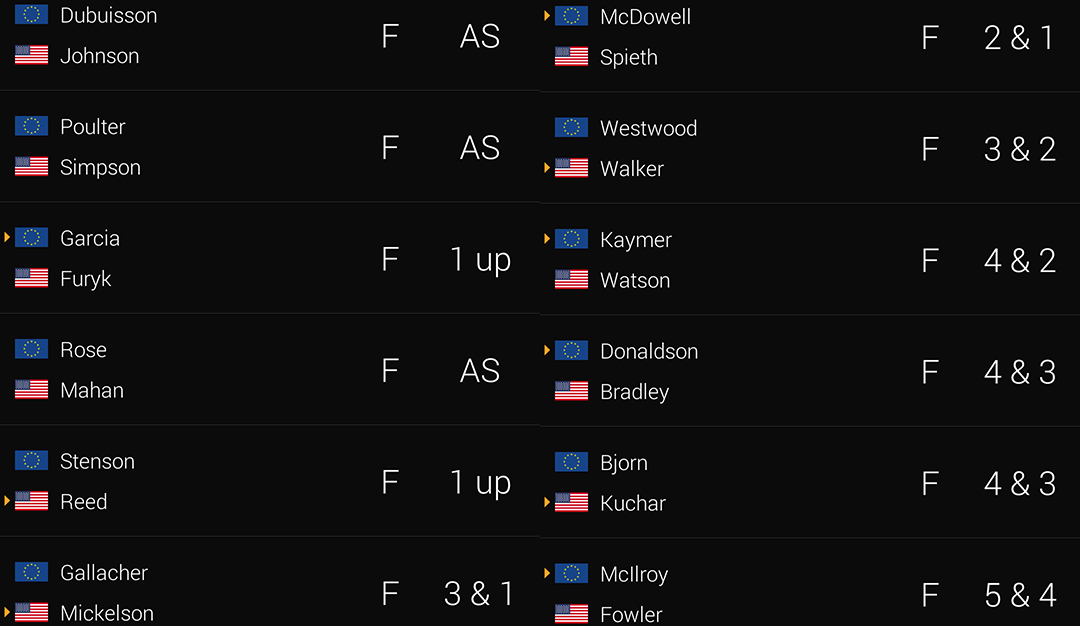 Best and Worst of Sunday
Best players: Rory McIlroy and Patrick Reed
Worst players: Thomas Bjorn and Keegan Bradley
Best shot: Jamie Donaldson clinching the win on 16
Worst shot: Ian Poulter going about 60 yards right on 14
How Europe won the Ryder Cup
Before the tournament started, Europe was listed as the heavy favourite thanks in large part to a string of injuries and suspensions to star players who would have played for Team USA. European captain Paul McGinley didn't have any such issues and came into the event with four of the top six players in the Official World Golf Rankings. Europe was actually down after the opening session, but dominated in both foursome sessions, grabbing seven of a possible eight points and giving them a near insurmountable 10-6 lead going into Sunday. The singles matches started decently enough for the U.S., but Europe took over again to eventually win by five.
They had better players who performed better and were better prepared by McGinley. It's as simple as that.
What happened to the U.S.?
The injuries didn't help at all obviously, but outside of that initial morning session on Friday, the American players were simply outclassed by the Europeans. Even though it's match play, the final scores ended up being that Europe finished at 110-under par compared to 78-under par for the United States, which is obviously not even remotely close.
Tom Watson's decisions have been harshly criticized all week, from his captain's picks to the way that he sent players out in their matches, and it spilled over after the event was over as well to his own team. Phil Mickelson went out of his way to mention that he didn't understand why they didn't go back to the gameplan that Paul Azinger put together back in 2008 and in the process, seemed to throw current captain Watson right under the bus. Watson fought back a little bit and said that the players needed to play better and that maybe they weren't in the best shape to compete.

There's going to be a lot of discussion over the next little while about what went wrong and how they can fix it, but ultimately, outside of the younger players like Patrick Reed and Jordan Spieth, the American side simply didn't perform. It wouldn't have mattered what Watson's pairings were when you combine the poor play of the Americans and perhaps more importantly, the incredible work done by Europe.
Mickelson's comments
Mickelson's comments aren't all that shocking, but the fact that he was so open about them in public both after his match and in the press conference is a huge surprise. These are the types of things that get kept in house often, and we actually saw an example of that earlier in the week with the European team.
After former European captain Nick Faldo appeared to take a shot at Sergio Garcia for his play in the 2008 Ryder Cup when Faldo was at the helm, his teammates, most notably Graeme McDowell and Lee Westwood, stood up for Garcia and suggested that Faldo wasn't the best either. It's always been thought that Faldo wasn't overly liked as European captain, but it hasn't come out until now, and probably wouldn't have came out at all if Faldo hadn't said that Garcia was useless to the team six years ago.
Obviously every decision is up for debate and Watson shouldn't be exempt from that at all, but the better way to do it would have been behind closed doors instead of throwing Watson directly under the bus. Mickelson's going to be a captain of this team at some point in the future, but until then, he's a player just like everyone else and this should have been handled better.
Other notes
Justin Rose was definitely the best player for Europe all week, going 3-0-2 to grab the most points for either side. It actually got to the point where you expected Rose to sink every putt that he hit.
Patrick Reed was probably that guy for the United States in his Ryder Cup debut, which made it all the more confusing that he didn't play in all five sessions. His attitude makes him a perfect fit for the Ryder Cup and you have to think that he's going to be a member of this team for a long time going forward.
In addition to winning the last three, Europe has picked up eight of the last ten Ryder Cups.
Billy Horschel sure would have looked good on this U.S. team, right?
Who's ready for the start of the new PGA Tour season? There's a one week break and then we're back at it with the Frys.com Open.
The next Ryder Cup is set for Hazeltine in 2016.