Ryder Cup Day 2 Recap: Europe leads 10-6 after dominant Saturday afternoon
Paul Childs / Action Images
Presented by

What started out as a promising day for the United States at Gleneagles ended in disaster, as Team Europe once again dominated the afternoon alternate-shot session and carry a 10-6 advantage heading into Sunday singles at the 2014 Ryder Cup.
Scores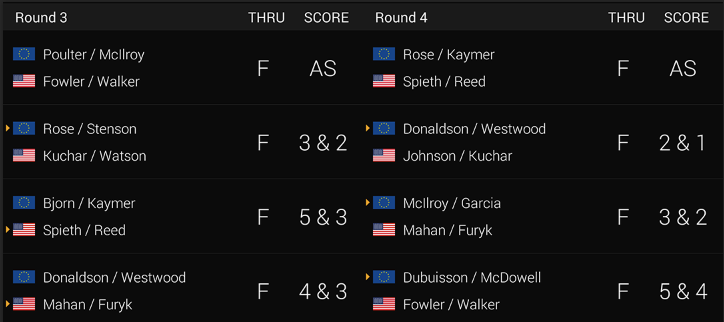 Best and Worst
Best players: Justin Rose and Patrick Reed
Worst players: Martin Kaymer and Rickie Fowler
Best shot: Pick any of Justin Rose's putts from the morning session
Worst shot: Hunter Mahan sending his tee shot on the drivable par-4 14th about 45 yards right.
Justin Rose's early performance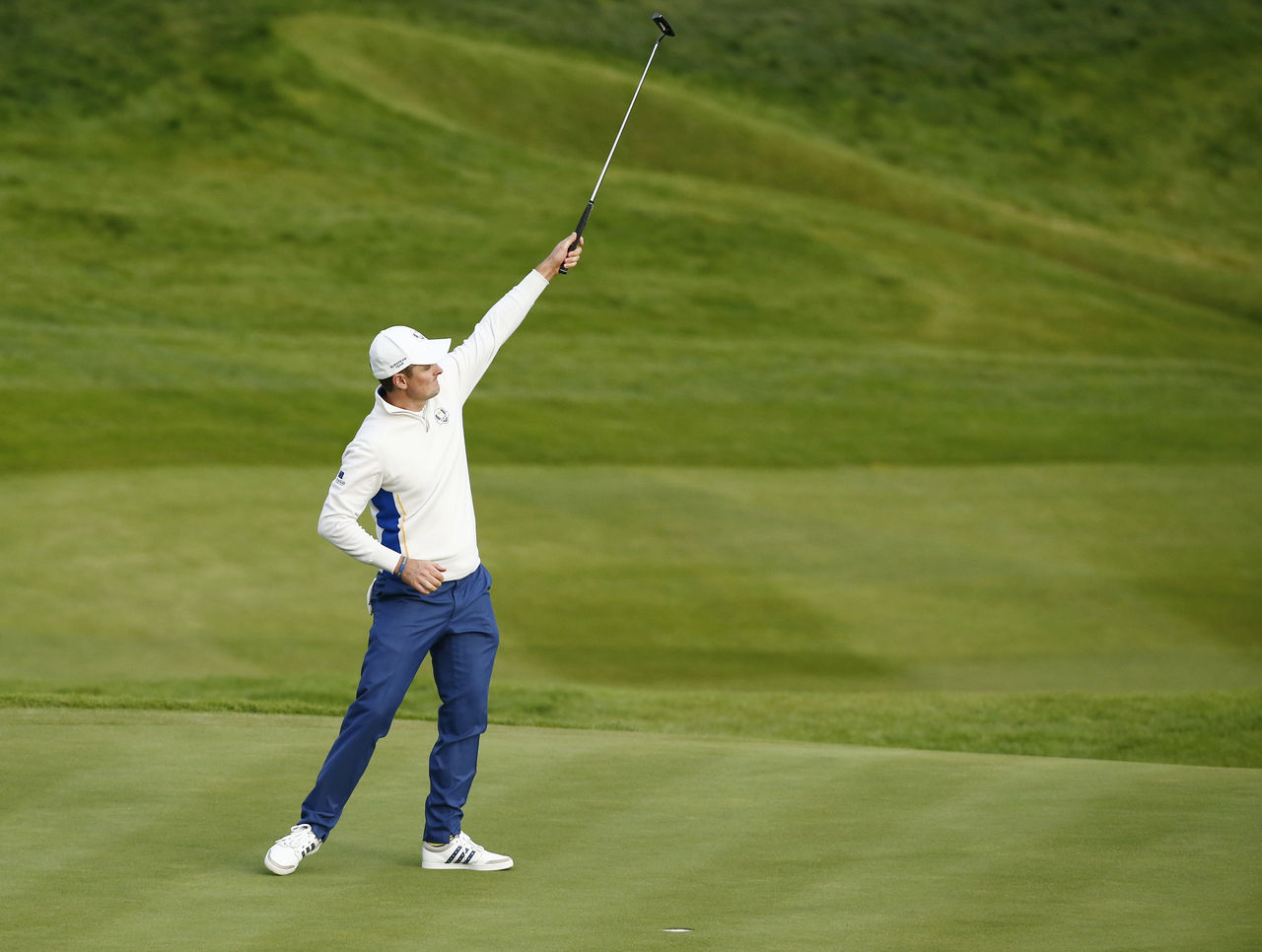 Everyone remembers the run Ian Poulter went on in 2012 at Medinah, and we saw some of that from Poulter towards the end of his morning match Saturday. But the performance Justin Rose put on alongside Henrik Stenson against Matt Kuchar and Bubba Watson was every bit as good. Kuchar and Watson posted nine birdies and ended up losing 3-down because Rose was knocking everything in on the greens, and when he wasn't, Stenson was there to back him up with 10 consecutive birdies to end the match.
Kuchar and Watson said Rose and Stenson were unbeatable in their interview after the match, and they were right. You couldn't ask for any more from the American duo, who birdied nine of 16 holes. Overall, it was one of the best matches in recent Ryder Cup history and an all-time great performance from Justin Rose.
Foursomes play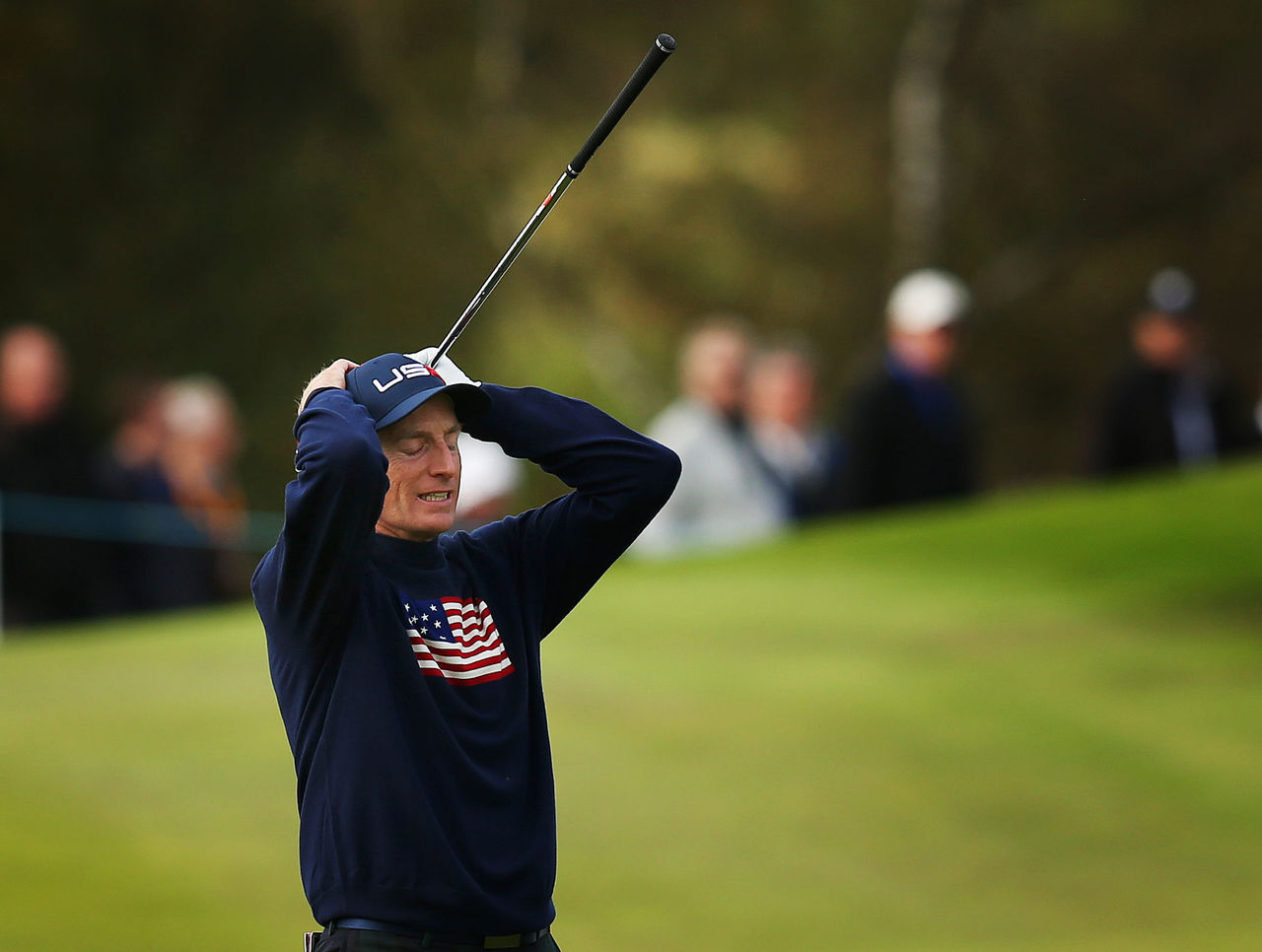 Man, this has been ugly. Europe has picked up seven of a possible eight points in the afternoon alternate-shot format, with the U.S. only scraping together a pair of halves. Things were definitely looking up for Tom Watson's crew after winning the morning session Saturday and cutting the overall lead to one point, but then it all came crashing down. Part of that is due to the randomness of match play, but the Americans' play in foursomes is the big reason why the score is so lopsided, and it's very difficult to envision a scenario in which Team USA is able to come back and win its first Ryder Cup since 2008.
Yes, 10-6 was the score at Medinah in 2012, when Europe stormed back on Sunday, and 10-6 was the score when the U.S. shocked Europe in 1999 at Brookline, but this feels different. As it stands, who can Watson throw out at the top of his lineup Sunday, who he can trust to win a point against Rose, Rory McIlroy, or Sergio Garcia? Even guys that were question marks for Europe coming into the event, like Victor Dubuisson and Jamie Donaldson, are playing out of their minds right now. With Europe only needing four points to retain the trophy, it seems incredibly unlikely that there's enough firepower on the American roster to pull off a comeback.
Decisions, decisions
There was a lot of talk on Twitter about the decision made by Watson to sit Phil Mickelson and Keegan Bradley for both the morning and afternoon sessions Saturday, marking the first time that Mickelson had ever gone a full day without action in the Ryder Cup. Most thought it was a horrible idea even before we knew the results, but the real problem came not in benching them twice, but in playing them Friday afternoon. By doing that, in a format that theoretically doesn't suit their play style, it all but ruled them out entirely for the Saturday morning fourball, where they would have been in a better position to succeed, and even excel. If Watson was planning on only playing them twice, it should have been in both morning sessions. Even still, Bradley should have been able to go out with someone else in the afternoon and play if Mickelson still needed the break, even though that didn't appear to be the case:
Not playing Bubba Watson after he played so well against Rose and Stenson in the morning was a bit of a headscratcher, too, especially after so much was made about form mattering in the lead up to the event. Jimmy Walker and Fowler looked gassed in their fourth match together and probably could have used a breather at some point over the last 48 hours, as well.
Sunday singles
Watson appears to have made the right decisions with his singles lineup, sending out his most in-form players early to try and win some points, in Spieth, Reed, Fowler, and Mahan, but Team Europe captain Paul McGinley knew that was going to happen, and he stacked the top of his order as well. It's going to take something special from the Americans on Sunday.
Other notes
Getting up at 2:30 ET in the morning over the last few days hasn't been easy, but the morning sessions have produced some incredible golf, especially Saturday, where we had arguably the best stretch of play all season, save for the PGA Championship's Sunday round. The afternoon sessions have fallen a little flat, though.
Much better job by NBC on Saturday with their broadcast, as there were noticeably fewer commercial breaks and no instances of only seeing two or three shots before going away again.
It's been good to see NBC periodically use Colin Montgomerie and Darren Clarke in the booth over the past two days, as well. Both have added to the broadcast by giving a more European angle to the typically pro-American side of things with Johnny Miller and the rest of the NBC crew.
Interesting to see the European players stick up for Sergio Garcia on Friday night after word got around that Nick Faldo had criticized Garcia on the broadcast for his performance in the 2008 Ryder Cup, when Faldo was captain. The players on that team have always been rumored to have some ill feelings towards Faldo for the way he handled things as captain, but out of respect, nothing was ever really made public. Lee Westwood and Graeme McDowell, in particular, came to Garcia's defense, and Faldo's since backed off his comments slightly.
McIlroy finally won a match and actually looked pretty good doing so. The driver concerns from Friday were almost non-existent Saturday.
Reed and Jordan Spieth continue to be the best players on Team USA, and them sitting out Friday afternoon still boggles the mind.
In case you were wondering, Ian Poulter is still crazy.