Ryder Cup Day 1 Recap: Europe uses late charge to take lead at Gleneagles
Presented by

Team Europe picked up 3 1/2 of a possible four points in the afternoon session Friday at Gleneagles to take a 5-3 lead over Team USA heading into Saturday at the 2014 Ryder Cup.
Scores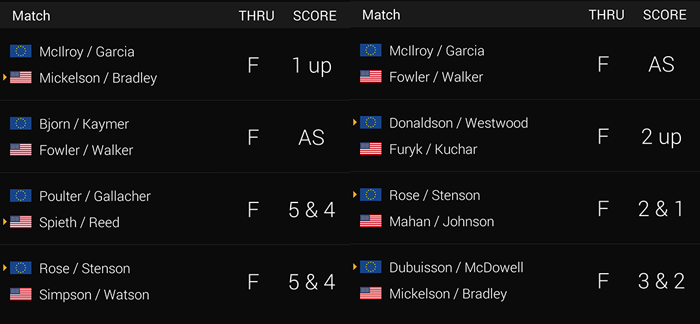 Best and Worst
Best players: Jimmy Walker and Justin Rose
Worst players: Webb Simpson and Stephen Gallacher
Best shot: Rickie Fowler's approach on 16 (GIF)
Worst shot: Sergio Garcia's duck hook on five (GIF)
The Rookies
One of the big stories coming into the event this year was that each team had three rookies, only one of whom (Gallacher) needed to rely on a captain's pick. There's always a lot of talk about how much experience matters at the Ryder Cup, and rightfully so when it comes to the first few holes, where nerves can really come into play, but outside of Gallacher, all of the rookies performed very well.
Patrick Reed and Jordan Spieth were especially impressive, dominating Gallacher and Ian Poulter 5 and 4 before being left out of the afternoon matches. Jamie Donaldson, Victor Dubuisson, and Jimmy Walker went a combined 2-0-2 in their matches as well.
Poulter's run halted
Poulter, before losing in the morning session alongside Gallacher, had won seven matches in a row at the Ryder Cup, including an undefeated 4-0 run in 2012 at Medinah. Neither Poulter or Gallacher went out in the afternoon session, and even though Poulter's record of 12-3 in this event prior to Friday is ridiculously good, people really shouldn't be surprised that this happened.
Spieth and Reed were incredible without question, but as Colin Montgomerie pointed out on the broadcast, the Poulter and Gallacher pairing was a curious one. Poulter's alternated between injured and inconsistent all year with his play, and Gallacher talked so much about how important this event was to him, so he was bound to be a little nervous in his first Ryder Cup, and it showed. Between the two of them, there were very few good shots all day and it seemed like there were more comfortable pairings that could have been made for both players. Poulter will definitely be back out there Saturday, at least once, but Gallacher sitting until Sunday is a definite possibility.
The afternoon pairings
As the morning session was coming to an end, word started to leak out about who would be playing for both sides in the afternoon. There weren't any real surprises from European captain Paul McGinley, who got the rest of his team into action and decided to sit Poulter, Gallacher, Martin Kaymer, and Thomas Bjorn. 
Tom Watson, however, told Reed and Spieth to take a seat for the afternoon, even after they were far and away the best American pairing in the morning matches.
We see this happen all the time; captains have ideas going in they don't usually like to deviate from, but Doug Ferguson of the Associated Press added a wrinkle to the story when he approached Spieth after his match:
This isn't a good look for Watson and his staff, who suggested to the team that form in the morning session mattered, if Spieth is to be believed. It's easy to say now that we know the Phil Mickelson and Keegan Bradley pairing lost in the afternoon to Dubuisson and Graeme McDowell, but it certainly seems like Mickelson and Bradley should have been sitting after playing a combined 3-over par. 
Gleneagles is an intense walk for any of the players because of how much distance there is between holes, but especially for a 44-year old Mickelson, who hasn't exactly been in form all year. Mickelson already said he will not be playing Saturday morning because he needs to rest, and a lot of that probably has to do with how difficult it is to walk the course this week.
Rory McIlroy looked bad
There were moments of brilliance today from McIlroy, as there always are, but for the most part, his pairing with Sergio Garcia didn't work as McGinley intended. They played decently against Bradley and Mickelson in the morning, but in the afternoon session against Rickie Fowler and Jimmy Walker, it was pretty ugly and most of it came from McIlroy, who put Garcia in some of the worst positions possible in the alternate shot format.
McIlroy bizarrely decided to put a new driver in the bag before the event started, despite being arguably the most prolific driver in the modern game. He definitely tested it prior to using it on the course, but for the most part, it honestly looked like he had never even seen the thing before. He smoked a drive down the middle of the fairway on the first hole in the morning session, but outside of that, he didn't hit it well all day. He bailed himself out by hitting a 40 footer to extend his afternoon match on 17, and Garcia saved him on the last hole with a crazy hybrid out of the rough that somehow stayed on the back portion of the green.
McIlroy said that the half point they received in their afternoon match felt like a win, but he's going to need to be better from the tee, especially on the longer holes that play into the wind, if he's going to put up some more points for Europe.
Other notes
The weather was unpredictable on Friday, as is the case frequently in Scotland, especially the wind. McGinley wanted to have the greens run slow this week, but with the wind that came in Friday, they were actually running slower than even he wanted. It was also rather cold and the ball wasn't flying as far as usual as a result. Even after seeing it happen a few times, the players weren't adjusting nearly as much as they should have been.
Some of the coverage from Golf Channel and NBC was downright terrible. Obviously the Ryder Cup has become like any other sports event in 2014, in that it's been sold to whoever is willing to pay, but there were points on the broadcast where two or three shots would be shown before heading off to another break. With so much live action happening on the course, they need to be better over the weekend. Also, they need to get Steve Sands a working microphone.
McIlroy didn't do much from the tee, but Mickelson and Bradley were horrible too, with Johnny Miller suggesting that they would need a guide dog for the afternoon session.
The newly slim Lee Westwood was actually hitting putts Friday. If he's going to be rolling it like that, he's a massive threat and will make it seem like he shouldn't have needed a captain's pick.
Tom Watson needs to find someone to play with Bubba Watson, and it looks like he's going to try Matt Kuchar. If Simpson is going to play like he did Friday, he can't be put back out there and expect to gain points, but they'll need Bubba's explosiveness to be inside the ropes and not outside.
Comments
✕
Ryder Cup Day 1 Recap: Europe uses late charge to take lead at Gleneagles
  Got something to say? Leave a comment below!