Comparing unexpected major victories by Tiger and Phil
Harry How / Getty Images Sport / Getty
Tiger Woods will always have the upper hand over Phil Mickelson in terms of career accomplishments.
Eighty-two wins and 15 major victories put Woods in rarified air only Jack Nicklaus can relate to.
Unfortunately for Mickelson, he's been compared to him throughout his career and will be seen as second best. In fact, barring some drastic return to elite form, Mickelson will end his career without ever reaching No. 1 in the world.
But now, thanks to his unexpected sixth major win at Kiawah Island, where he beat the fifth-strongest field in golf since 1986 to become the oldest major champion ever, Lefty finally has a crowning achievement that can be placed side by side with his longtime rival's fifth Masters title in 2019.
Both victories are incredible in their own right, and comparing the two isn't intended to determine which performance is ultimately more impressive.
Rather, discussing the historic accomplishments of Tiger and Phil simply highlights how great both players are, and how lucky fans are who got to witness them go toe-to-toe for decades.
Let's start with the differences.
Woods won the Masters, a tournament he had dominated for years. If there was a major Tiger could win during his comeback, it was most certainly at Augusta.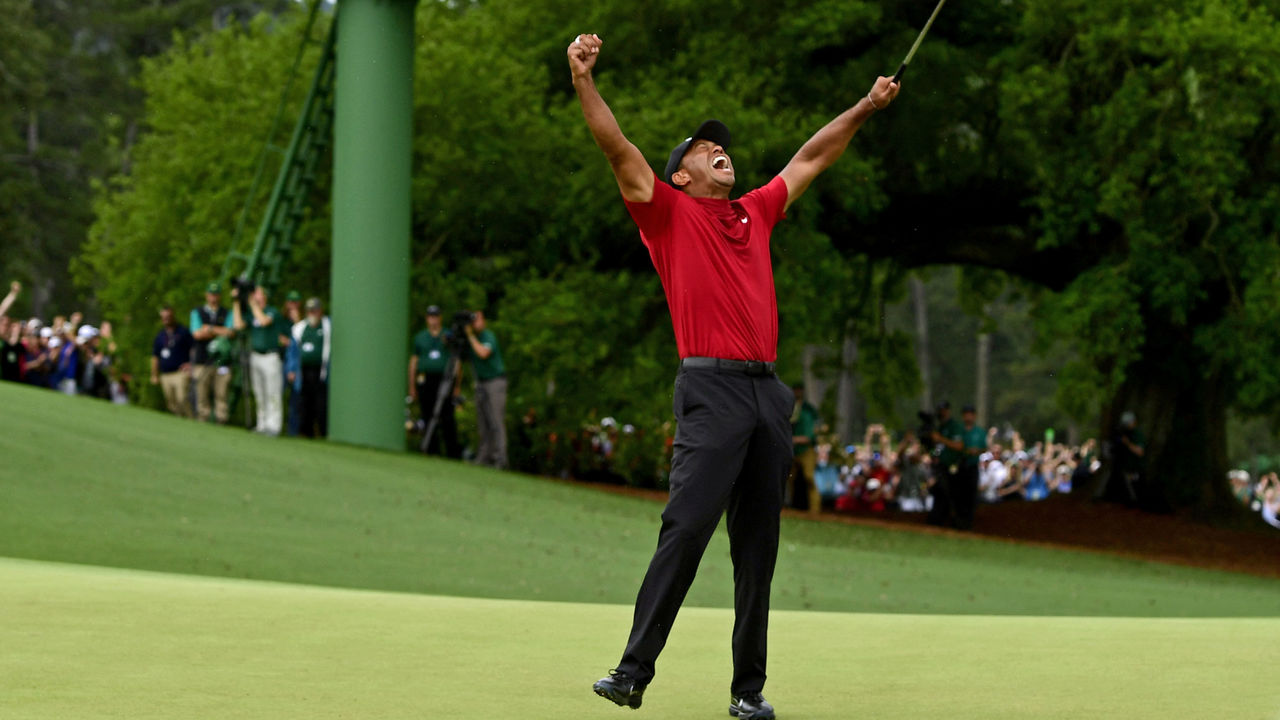 Mickelson, on the other hand, won on the longest major championship venue ever, a course he had only competed at once before and finished in a tie for 36th in 2012. Yes, Lefty gained a lot of distance off the tee over the past few years and began hitting "bombs," but no one would have expected the two-time winner on the senior circuit to keep up with the PGA TOUR's young stars for four days at Kiawah Island.
There's also a stark contrast in each Hall of Famer's form prior to their wins.
Going into Masters week of 2019, Tiger was ranked 12th in the world and oddsmakers had him at +1400 to win. He had recently contended at the WGC-Match Play and was only six starts removed from his 2018 Tour Championship victory, which marked his first win since 2013.
Before the PGA Championship, Mickelson was No. 115 in the world and a 200-1 long shot on the betting board. He recently had to accept a special exemption into the U.S. Open because he had not yet qualified and showed no signs of life other than an opening-round 64 two weeks ago at Quail Hollow before finishing 69th. Mickelson hadn't finished inside the top 20 on the PGA TOUR in nearly a year, and his most recent win was at the 2019 Pebble Beach Pro-Am.
When zooming out and looking at both player's recent major championship results, Tiger's win at the Masters starts to look like the more likely of the two.
Woods was the runner-up at the 2018 PGA Championship - his last major start before winning at Augusta. He also held a share of the lead at the 2018 Open Championship on Sunday. It was clear Woods was more than ready to contend and win again on golf's biggest stage.
Mickelson's appearances at majors over the past few years were far from competitive. His last top-10 was at the 2016 Open when he lost to Henrik Stenson in an epic duel. Since then, Phil missed five cuts and had zero top-20 results. Father Time appeared to have taken its toll.
As for the similarities, both Tiger and Phil opened their winning weeks with a 2-under 70. Woods was four back and Mickelson was three after Day 1, and both stuck to the old adage that you cannot win a tournament on Thursday but you can certainly lose it.
As the week went on, it became more apparent both Tiger and Phil were serious contenders. The main difference was that Mickelson co-led after 36 holes and held the outright lead going into the final round, whereas it took Tiger a little longer to move into the top spot.
On Masters Sunday, Tiger stalked his competitors and watched as they all wilted away. Brooks Koepka, Tony Finau, and Franceso Molinari all went into the water on No. 12 to hand Tiger the solo lead, which he never relinquished.
Mickelson also found himself in a battle with Koepka, and the two exchanged blows back and forth on the front nine until Koepka began to move backward, just as he did with Tiger in 2019.
When both events were all said and done, Koepka was sitting tied for second looking up at Tiger and Phil on the leaderboard. Two of the game's greats outdueled a four-time major winner in his prime for their unexpected victories.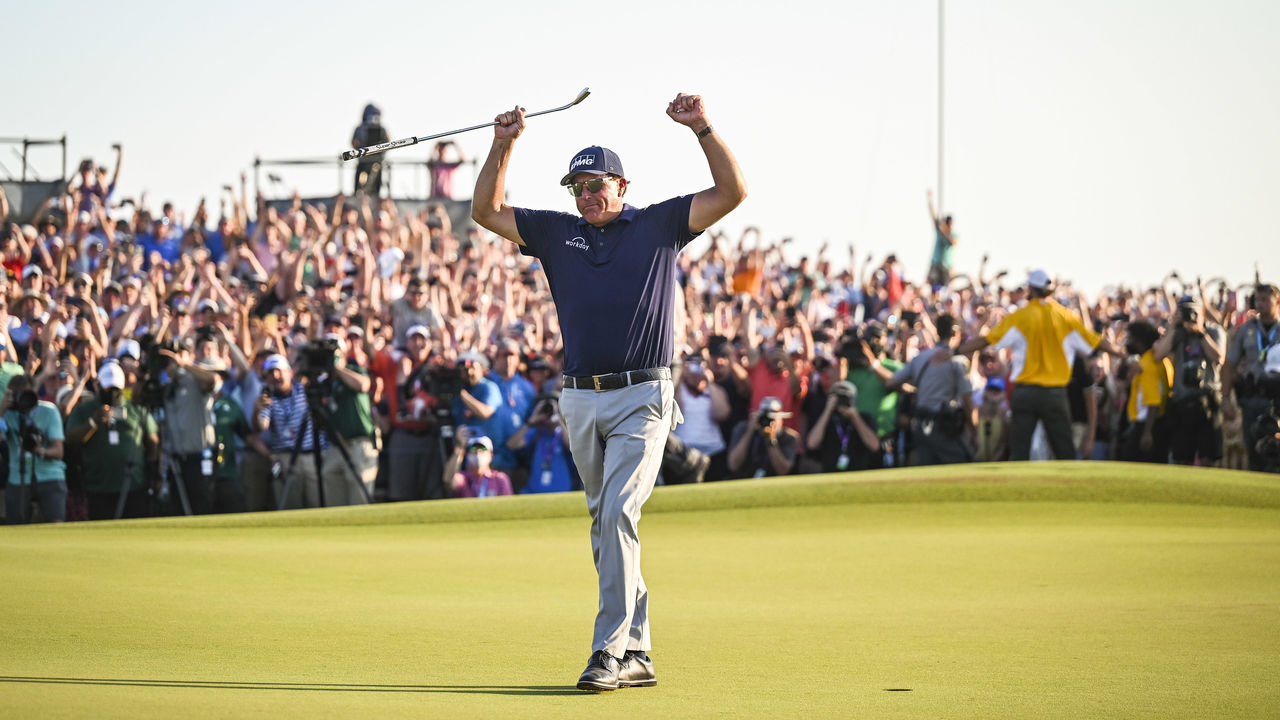 Then, there's each golfer's long layoff between major championship titles. It took Tiger nearly 11 years to add No. 15 to his resume. It didn't take quite as long for Phil to earn his sixth major, but his 2013 Open Championship at Muirfield certainly felt like it would be his last by the time Lefty decided to retire.
And of course - age is a huge factor in both feats. Tiger won at 43 to become the second oldest Masters winner behind only Jack Nicklaus. Mickelson broke a record that stood for 53 years to become the oldest to ever win a major. Julius Boros won the 1968 PGA Championship at the age of 48, two years before Mickelson was born.
There's also something to be said about the longevity of the two icons. Phil won his first major 17 years ago, and Tiger went 22 years between his first and most recent victory.
Mickelson also owns the outstanding stat of being the oldest major champion and the last player to win on the PGA TOUR as an amateur, doing so in 1991. He's now earned victories in four different decades, as well.
Finally, the scene on Sunday as Mickelson walked down the 18th fairway with a swarm of fans running to the green to capture the historic moment was eerily similar to the one his longtime rival generated at the 2018 Tour Championship.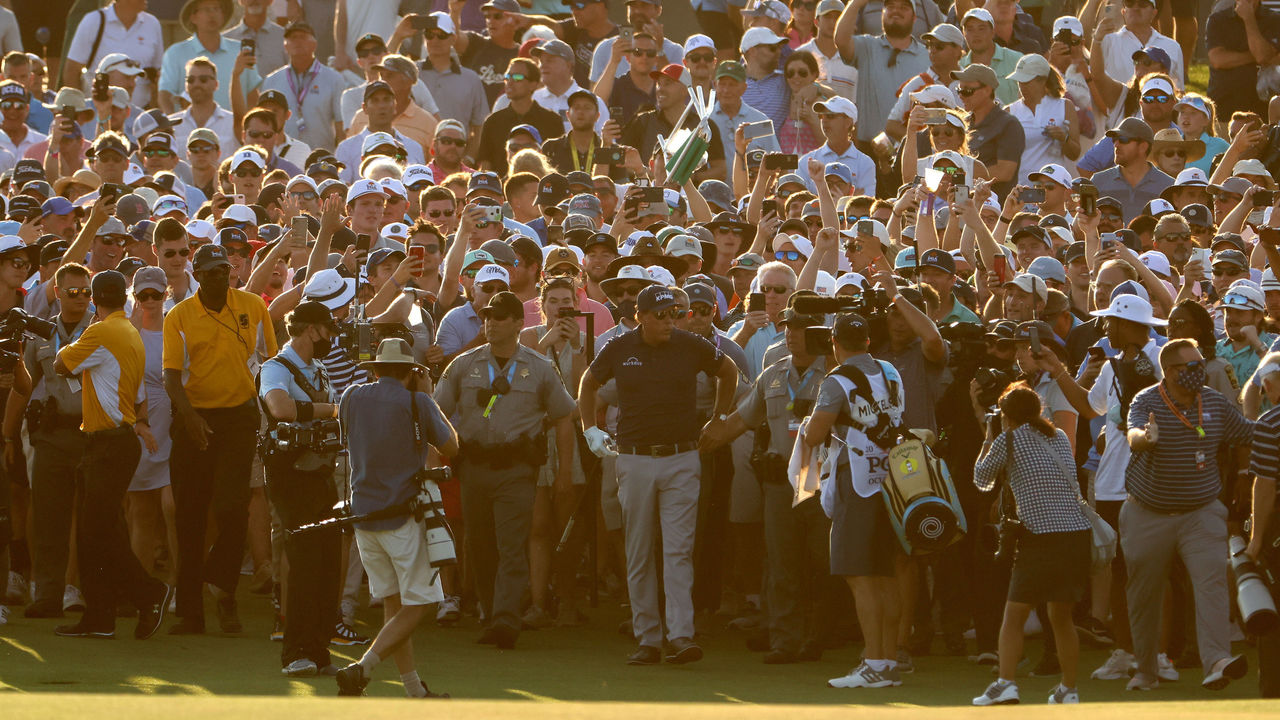 No, the chaos that surrounded Tiger wasn't at a major but, had Woods won his 15th anywhere but the strict Augusta National, you'd have to assume the sea of fans would have engulfed Tiger in a similar fashion.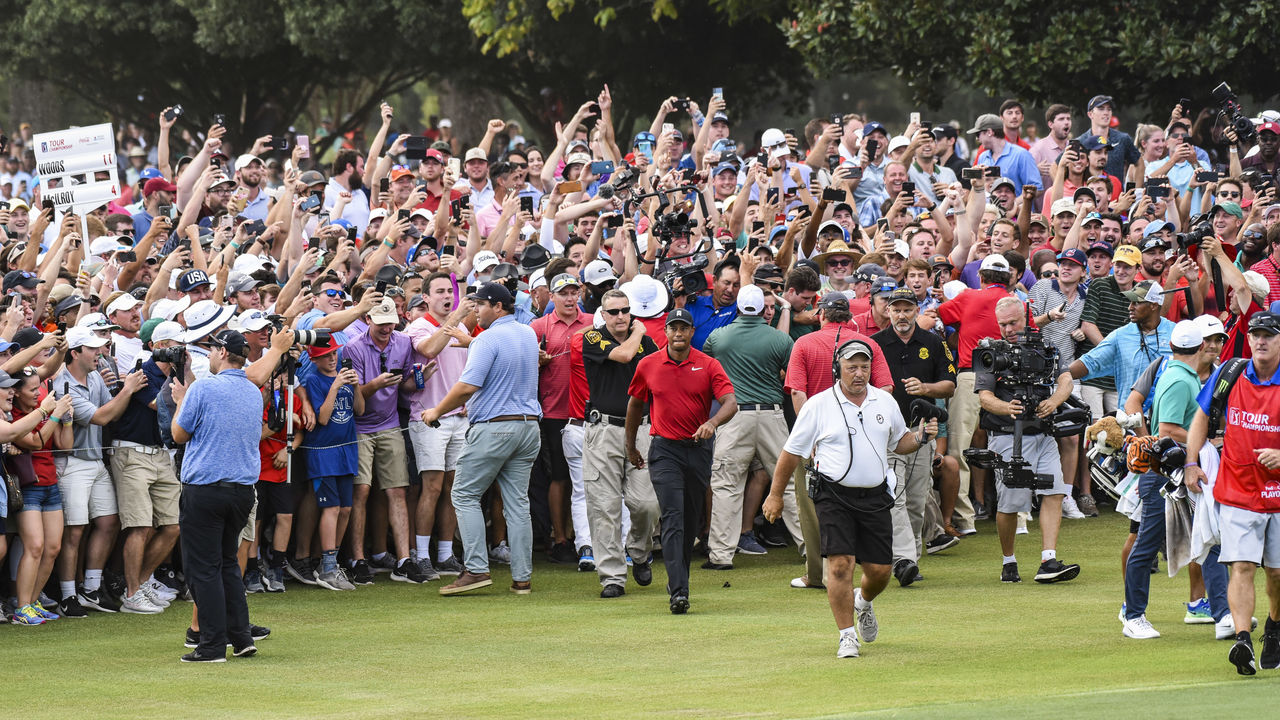 It's likely the debate between which major performance is more historic will rage on for years to come. Perhaps it's the closest debate between the two given how Woods is far and away ahead of Mickelson in terms of career accolades - not to take anything away from Lefty, who now has 45 wins and becomes the 14th player to amass at least six majors.
But it's also easy to recognize that each accomplishment is remarkable in its own unique way. And instead of going back and forth between whose iconic major victory was more unexpected, realize there is more than enough room at center stage for the two best golfers of the last 30 years.
Comments
✕
Comparing unexpected major victories by Tiger and Phil
  Got something to say? Leave a comment below!