U.S. Open: 120th edition
Where: Winged Foot Golf Club, Mamaroneck, New York
When: Sept. 17-20
How to watch
In the United States
| Date | Channel | Time (ET) |
| --- | --- | --- |
| Sept. 17 | GOLF | 7:30 a.m.-2 p.m. |
| | NBC | 2-5 p.m. |
| | Peacock | 5-7 p.m. |
| Sept. 18 | Peacock | 7:30-9:30 a.m. |
| | GOLF | 9:30 a.m.-4 p.m. |
| | NBC | 4-7 p.m. |
| Sept. 19 | Peacock | 9-11 a.m. |
| | NBC | 11 a.m.-7:30 p.m. |
| Sept. 20 | Peacock | 8-10 a.m. |
| | GOLF | 10 a.m.-12 p.m. |
| | NBC | 12-6 p.m. |
In Canada
| Date | Channel | Time (ET) |
| --- | --- | --- |
| Sept. 17 | TSN1/4/5 | 7:30 a.m.-7 p.m. |
| | NBC | 2-5 p.m. |
| | TSN3 | 3-7 p.m. |
| Sept. 18 | TSN4 | 7:30 a.m.-7 p.m. |
| | TSN1 | 8:30 a.m.-7 p.m. |
| | NBC | 4-7 p.m. |
| Sept. 19 | TSN1/4 | 9 a.m.-7:30 p.m. |
| | NBC | 11 a.m.-7:30 p.m. |
| Sept. 20 | TSN1/4 | 8 a.m.-6 p.m. |
| | NBC | 12-6 p.m. |
The field
What makes the U.S. Open a special major championship is that anyone has a chance to win thanks to the qualifying process. But there was no qualifying for the 2020 edition due to the COVID-19 pandemic, which means the field is actually stronger than it's been in previous years based on the Official World Golf Ranking.
Brooks Koepka, Scottie Scheffler, and Sam Horsfield are the only top-100 ranked players who will be absent from the U.S. Open. Koepka bowed out because of a knee injury, and the other two will skip the event after testing positive for COVID-19.
World No. 1 and reigning PGA Tour Player of the Year Dustin Johnson will be looking to win his second career U.S. Open title. He'll have to fend off Rory McIlroy, Justin Thomas, Jon Rahm, and the rest of the 144-man field in order to do so.
Featured groups (all times ET)
Group: Tiger Woods, Justin Thomas, Collin Morikawa
Thursday - 8:07 a.m.
Friday - 1:27 p.m.
Group: Rory McIlroy, Adam Scott, Justin Rose
Thursday - 8:07 a.m.
Friday - 1:27 p.m.
Group: Dustin Johnson, Bryson DeChambeau, Tony Finau
Thursday - 1:16 p.m.
Friday - 7:56 a.m.
Group: Phil Mickelson, Jon Rahm, Paul Casey
Thursday - 1:27 p.m.
Friday - 8:07 a.m.
More tee times and groups can be found here.
Odds to win
Dustin Johnson +850
Jon Rahm +900
Justin Thomas +1400
Xander Schauffele +1500
Collin Morikawa +1700
Rory McIlroy +1800
Webb Simpson +2500
Bryson DeChambeau +2800
Daniel Berger +3300
Jason Day +3300
Patrick Reed +3300
Patrick Cantlay +3500
Tommy Fleetwood +3500
Hideki Matsuyama +3500
Tony Finau +4000
Tyrrell Hatton +4000
Justin Rose +4500
Tiger Woods +4500
Adam Scott +5000
Preview content and news
• 'I'm such an idiot': Reliving Phil's meltdown at Winged Foot
• 7 storylines to follow for the 2020 U.S. Open
• Scheffler withdraws from U.S. Open after positive COVID-19 test
• Fatherhood shaping McIlroy's perspective ahead of U.S. Open
• Tiger places Winged Foot among most difficult major championship venues
The course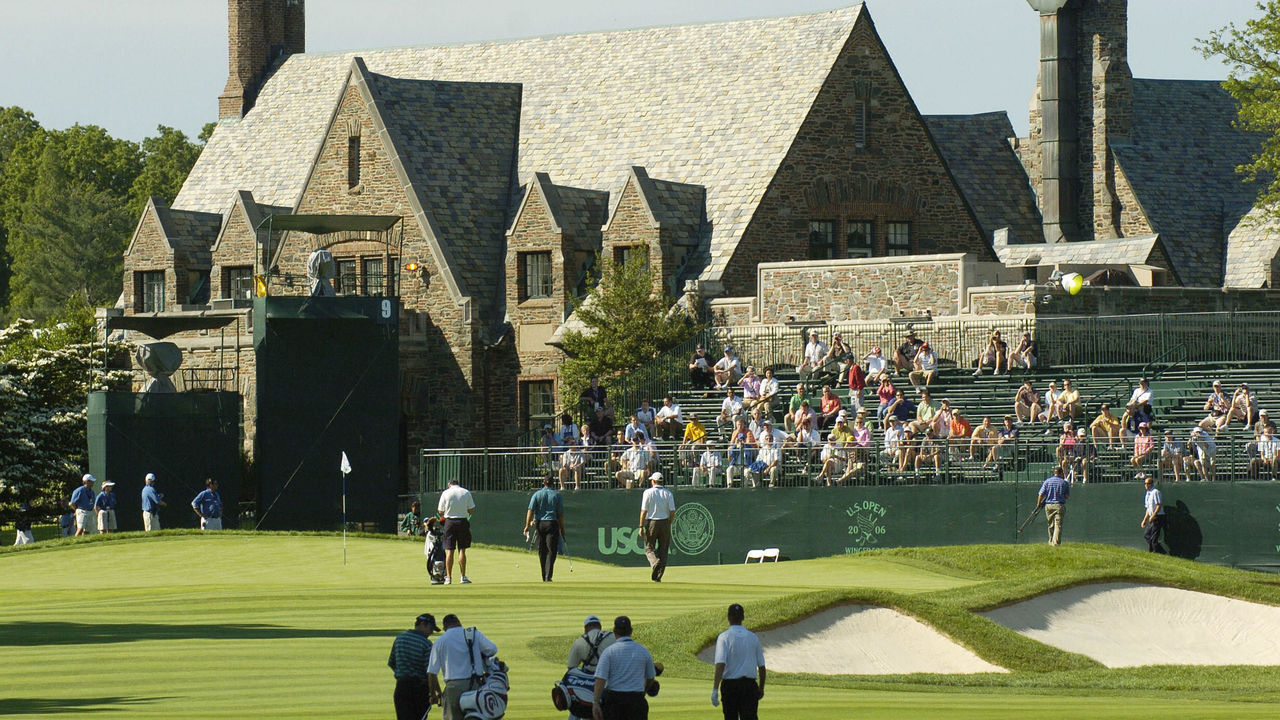 At 7,477 yards, Winged Foot is a beast. Players will have very few opportunities to make birdies, and scores in the 60s will be few and far between. Only three of the 12 par 4s are shorter than 450 yards, while No. 12 - one of two par 5s - is 633 yards in length.
The greens at Winged Foot set it apart from most other major championship venues. The wild undulations and severe slopes will repel balls away from the hole and create some embarrassing moments for the game's best. Jack Nicklaus, for example, famously four-putted the first hole in 1974.
Surrounding the greens at the A.W. Tillinghast course - which was renovated by Gil Hanse in 2015 - are deep bunkers and extremely thick rough. Distance will obviously be an advantage, but keeping the ball in the fairway will be crucial in order to hit greens in regulation and maximize birdie chances.
Previous champions
2019 - Gary Woodland (-13)
2018 - Brooks Koepka (+1)
2017 - Brooks Koepka (-16)
2016 - Dustin Johnson (-4)
2015 - Jordan Spieth (-5)
2014 - Martin Kaymer (-9)
2013 - Justin Rose (+1)
2012 - Webb Simpson (+1)
2011 - Rory McIlroy (-16)
2010 - Graeme McDowell (E)