'I'm such an idiot': Reliving Phil's meltdown at Winged Foot
Richard Heathcote / Getty Images Sport / Getty
With over $90 million in career earnings and 44 PGA Tour wins, Phil Mickelson is far from a weekend hacker at the local public track.
Except for that one time on the par-4 18th at Winged Foot in 2006.
For the first 71 holes of that U.S. Open, Mickelson was at his scrambling best, navigating a treacherous layout with his usual short-game brilliance to hold a one-shot lead heading into the final test. He would later tell Golf Digest he showcased his "single greatest short-game performance" in New York that week. However, that's not what people remember, as images of his struggles on the final hole still linger.
With the U.S. Open returning to Winged Foot this week, let's look back at a historically wild finish that resulted in one of the most memorable quotes in golf.
The buildup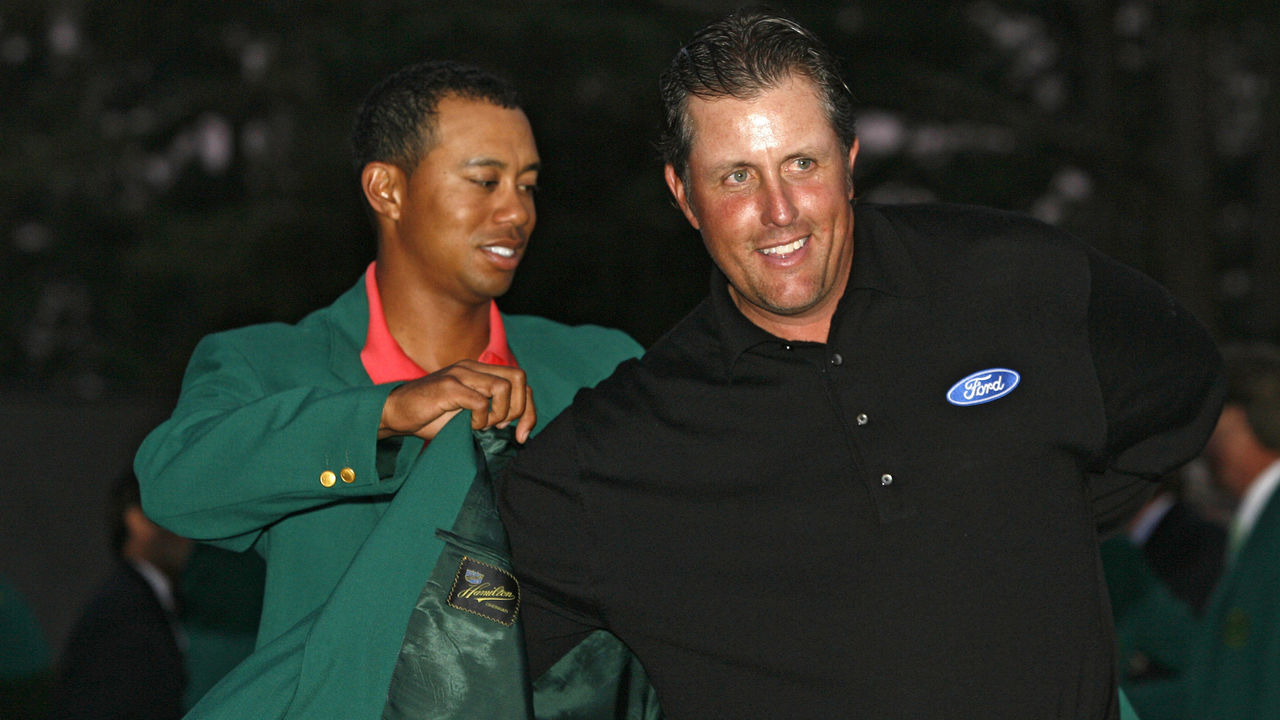 With victories in the PGA Championship - the final major of 2005 - and the 2006 Masters, Mickelson was the hottest golfer on the planet coming into Winged Foot. He immediately vaulted himself into contention for a third straight major title with a solid even-par 70 in Round 1 to sit one stroke behind Colin Montgomerie.
Mickelson would struggle around the challenging layout in Round 2, backing up with a three-over 73 to sit four shots off the lead heading into the weekend. He then put the pedal to the floor on moving day, shooting the low round on Saturday with a 1-under 69. That led to the California native flying up the leaderboard to hold a share of the 54-hole lead with Kenneth Ferrie.
Mickelson played 46 major championships before breaking through at the 2004 Masters. In his eight majors after slipping on his first green jacket, the former Arizona State star notched two more wins and six top-10 finishes. After that recent success, the final round at Winged Foot seemed like Mickelson's to lose.
The moment
With incredibly lush rough lining the fairways, the U.S. Open puts a premium on accuracy off the tee like no other tournament worldwide. Mickelson was doing his best to make that idea look silly, as he found just two fairways on Sunday but somehow held a one-shot lead on the 18th tee.
Knowing how loose he had been with the driver all day, NBC Sports analyst Johnny Miller was shocked when he saw Mickelson with a wood on the tee box, dropping his now-famous remark, "this better be a 4-wood."
Nope, it was the big stick, and Mickelson pushed his drive way left, with the ball rattling off a hospitality tent before settling in a trampled-down area. That looked like a lucky break, as the ball was sitting in a good lie instead of deep in thick rough. The swashbuckling lefty was given an opportunity to go for the hero shot over the prudent play, an approach that's the foundation of his career.
After utilizing the police on-site to clear a path through his throng of loyal supporters, Mickelson smacked a 3-iron shot from 210 yards out, which didn't get far before striking a tree and dropping to the ground 185 yards from the green. Par seemed nearly impossible now, and a bogey to force a playoff became the goal.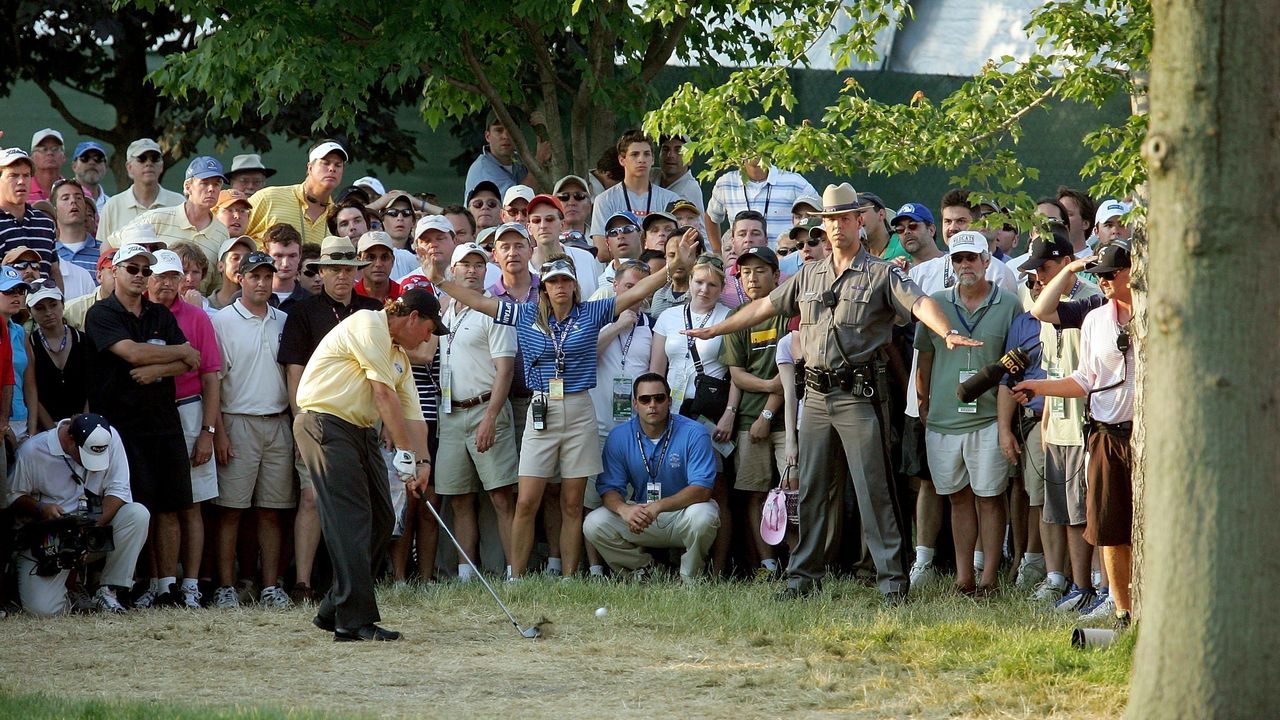 Mickelson's third shot cleared the trees obstructing his view, but it sailed into the greenside bunker, with the ball landing in a fried-egg lie. Miller gave a blunt assessment of the veteran's first three shots.
"This is a nightmare right here," he said. "Absolutely couldn't have worse decisions than he's had on this hole."
With the ball virtually buried, there was almost no chance of Mickelson's fourth shot staying on the green, and it rolled off the slick surface and into the deep rough. It would take the most timely short-game magic of his career to make a playoff.
But it wasn't meant to be, as his chip went past the hole, giving Geoff Ogilvy the title and adding the most painful chapter yet to Mickelson's U.S. Open woes.
Aftermath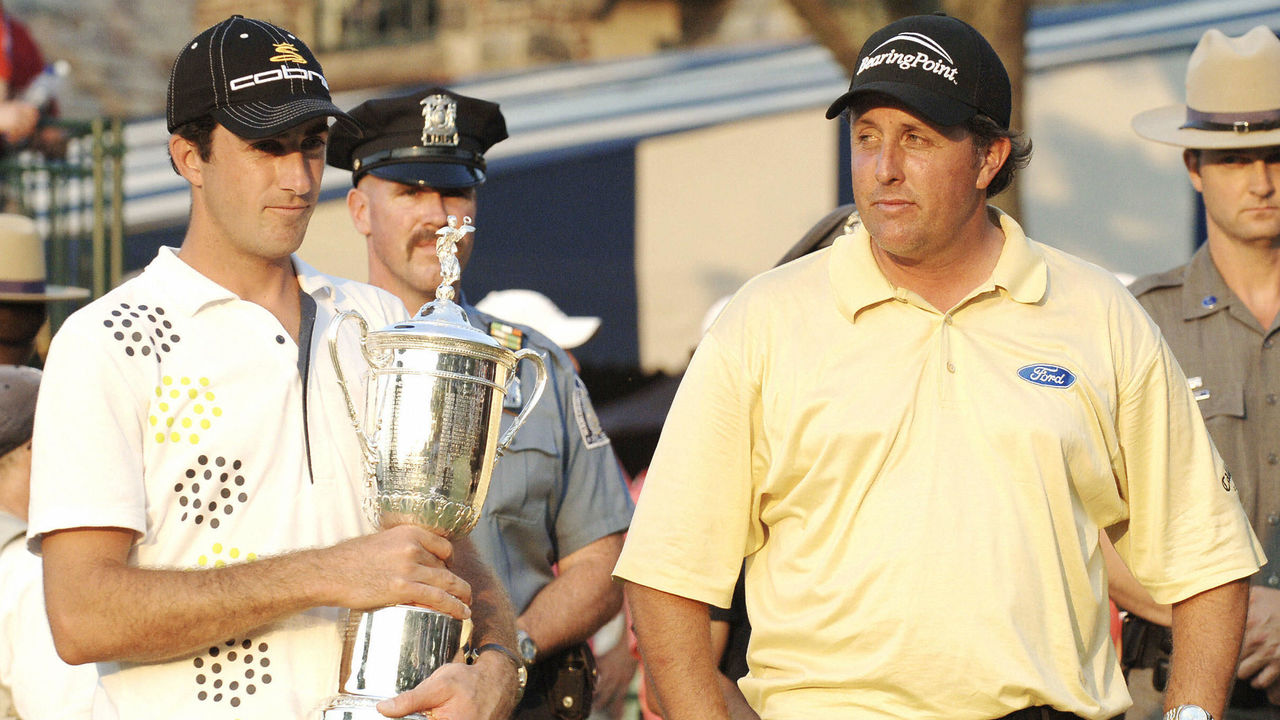 Never one to shy away from providing the media with gold, Mickelson immediately offered a stark review of his play on the 18th.
"I still am in shock that I did that," he said, building up to the now-iconic quote. "I just can't believe I did that. I'm such an idiot."
The second-place showing was the fourth time he claimed runner-up status in America's national championship. He's since added a fifth silver medal with a second-place finish in the 2013 event. After being successful in the majors leading up to Winged Foot, Mickelson's play in golf's biggest tournaments would drop off, as he would miss two cuts and post zero top-10 results over the next six majors.
He would eventually win the 2010 Masters and 2013 Open Championship, bringing his major tally to five. But he comes to Winged Foot this week still looking for his U.S. Open title to complete the career Grand Slam. If he can somehow carry a one-stroke lead into the 72nd hole this time, it's probably a safe bet Mickelson won't be hitting driver off the tee.
Comments
✕
'I'm such an idiot': Reliving Phil's meltdown at Winged Foot
  Got something to say? Leave a comment below!