When Collin Morikawa turned professional in summer 2019, he was largely overshadowed by highly touted amateurs Matthew Wolff and Viktor Hovland, both of whom were making the jump to the pros at the same time after racking up a number of accolades at Oklahoma State.
But Morikawa was far from an unknown at the University of California. When he left school, he was a former No. 1-ranked amateur who collected a handful of collegiate titles himself.
He also found early success against professionals. As a 19-year-old amateur, Morikawa was a runner-up at a Korn Ferry Tour event (formerly Web.com Tour) in 2016. But instead of pursuing a professional career at that point - or at any other moment during his time in college - he decided to earn a degree while letting his game mature.
The result of being patient? Three PGA Tour wins including a major championship, an impressive cuts-made streak, and the No. 5 slot in the world golf rankings - all at the age of 23.
And he's only getting started.
The arrival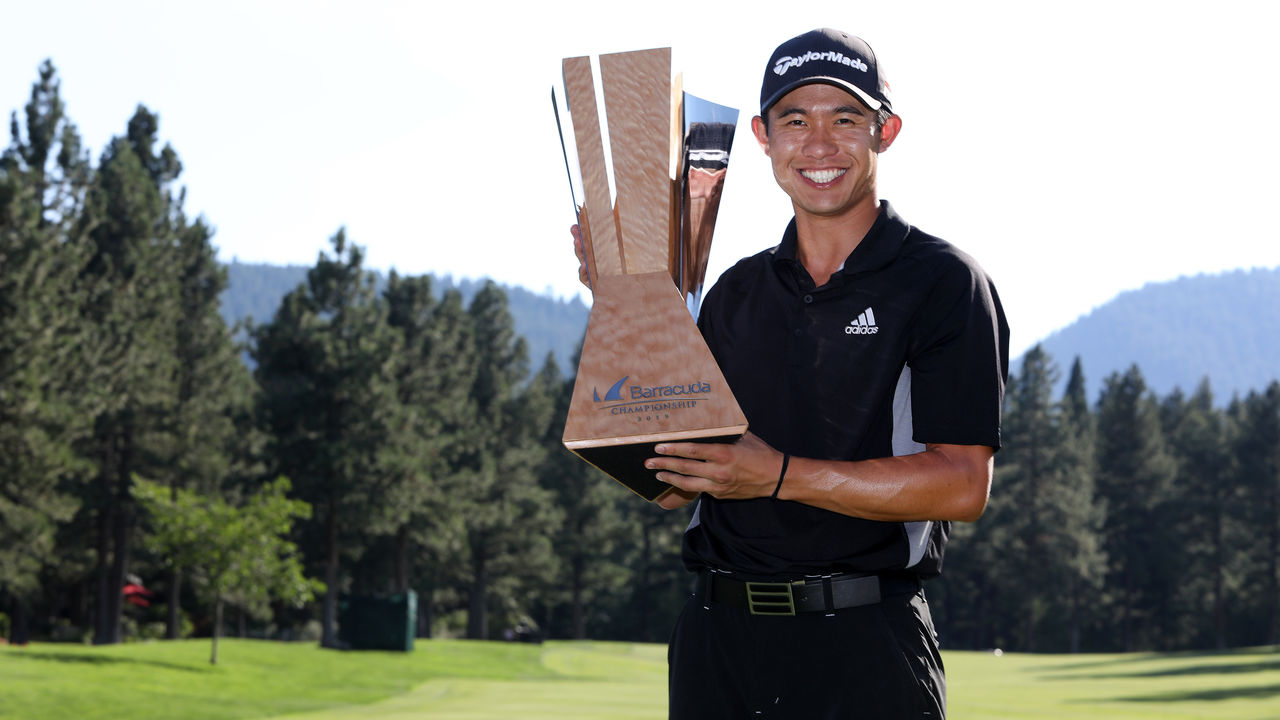 Morikawa's first professional start came at the 2019 Canadian Open and it didn't take long for him to get his feet wet on the PGA Tour. He placed in a tie for 14th, one shot better than defending champion Dustin Johnson, who he also edged for his first major.
It didn't take long for Morikawa to claim his first victory, either. He took down the Barracuda Championship in only his sixth start as a pro. However, the win was, once again, overshadowed by his peer. Two weeks prior, Wolff, in only his third start on Tour, clipped Morikawa by one shot to win the 3M Open. Additionally, Wolff's triumph came against a much stronger field whereas Morikawa's first win was in an alternate-field event.
The streak
But the one aspect of Morikawa's game that Wolff or Hovland had not yet mastered began to shine through: consistency.
The cut-making machine made the weekend in 22 consecutive PGA Tour events to begin his professional career. It was during this stretch Morikawa first began to draw comparisons - unfairly or not - to Tiger Woods, who opened his pro career with 25.
But Morikawa failed to match Tiger's record, suffering his first missed cut at the Travelers Championship in June.
"I'm going to learn a lot from this week," he said after his first missed cut. "I learned - I missed the cut as an (amateur) at the Safeway Open in 2016, and I learned more then in those two days than I did in a lot of my events so far as a pro. I'm going to learn a lot from this week and just move forward."
The close call
Two weeks before his missed cut at Travelers, Morikawa hit his first bump in the road that, in hindsight, certainly helped him hoist the Wanamaker Trophy. In the first event after the PGA Tour's three-month break, the 23-year-old found himself in a playoff versus Daniel Berger at Colonial Country Club, which he lost in heartbreaking fashion.
Consider the missed putt a necessary step backward in order to take giant strides forward.
The breakthroughs
Morikawa arrived at Muirfield Village for the Workday Charity Open following the worst showing of his career. The course - one historically dominated by Tiger - fit Morikawa to a tee.
He's far from the longest hitter on Tour, but due to his world-class ball-striking ability that bears a stark resemblance to the one Tiger relied on to win five times at Muirfield, the event felt like a spot Morikawa could break through.
After 72 grueling holes against one of the strongest fields golf had to offer, Morikawa strung together a late charge to find himself in yet another playoff, this time against future Hall of Famer Justin Thomas.
On the first extra hole, Thomas drained a 50-footer for birdie that forced Morikawa to sink his lengthy effort to extend the playoff. Remember, it wasn't too long ago Morikawa missed a routine putt that cost him his second title.
"I figured I just had to make it," he said about his putt. "(Thomas' putt) didn't really change much, other than if I missed, we're done. It's all over."
But Morikawa stepped up after a 12-time Tour winner applied pressure and nailed it. He went on to collect his second PGA Tour trophy, this one in a strong field that set the table for what came next.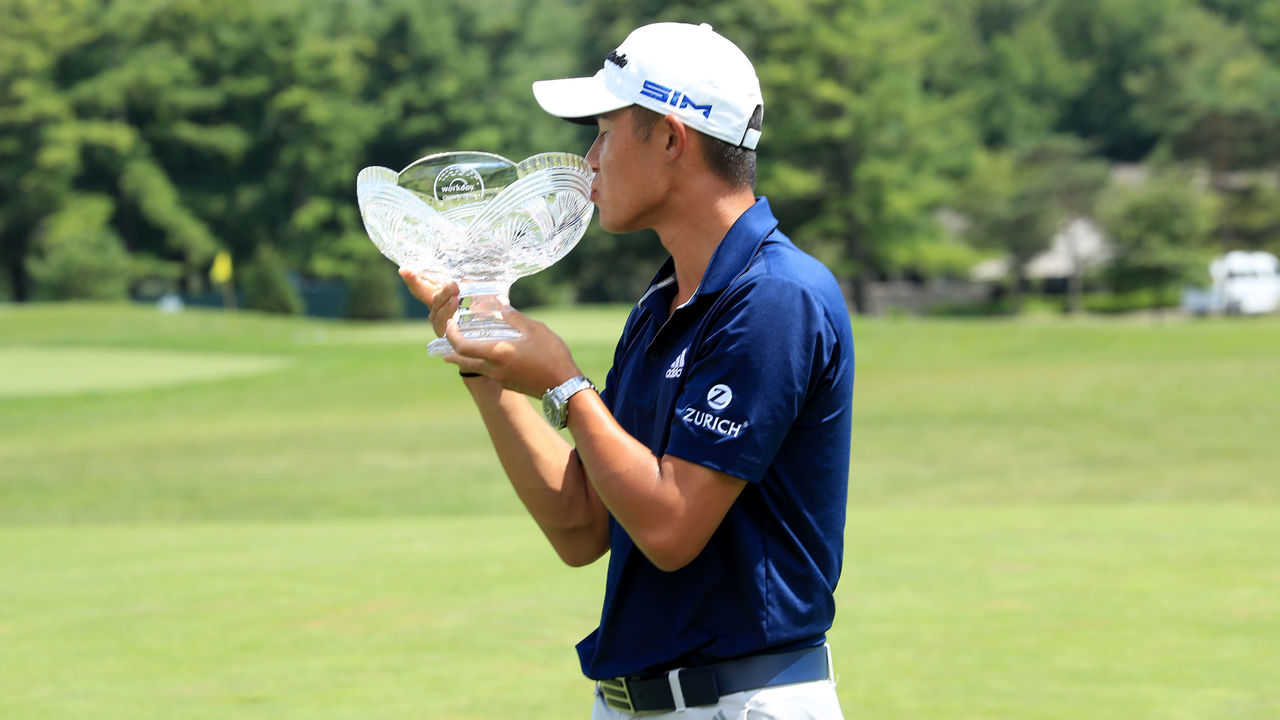 At TPC Harding Park, Morikawa turned in a weekend performance for the ages that can only be described with one word: flawless.
He followed a 65 on Saturday with a bogey-free 64 on Sunday for the lowest closing 36-hole total score by a champion in men's golf major history. Not too shabby.
And he did it by drawing on past experience.
After chipping in for birdie on No. 14, Morikawa stood on the tee at the driveable par-4 16th and remembered a very similar shot he hit at Muirfield a few weeks ago.
"I counted back from 14 at Muirfield," he recalled. "What's different from 14 at Muirfield and this shot, similar numbers, wind was a little left, kind of into me, but I knew I had to hit a good one."
Did he ever.
The eagle was the knockout blow to the rest of the field. It was also the shot that separated him from comparisons to Wolff and Hovland and inserted him into the conversation alongside other young elites - Thomas and Jon Rahm, specifically - who continue to jockey for the No. 1 position in the world rankings.
Morikawa also joined elite company by winning the PGA Championship at 23 years old. The others to accomplish this feat? Tiger, Jack Nicklaus, and Rory McIlroy.
The skills
Morikawa is on a short list of players who can be considered the best ball-strikers on the planet. He leads the Tour in strokes gained: approach over his last 50 rounds and sits second to Thomas over their last 100 rounds played.
It's a skill that's made him great for a while.
Get used to seeing this gorgeous swing for years to come:
His victory at Harding Park - a venue that was supposed to be set up for bombers - also proved he doesn't need chase distance off the tee. He hit nearly 70% of the narrow fairways at Harding Park to lead the field in driving accuracy while sitting slightly below field average in driving distance. Somewhere, Bryson DeChambeau is raging in anger.
But surprisingly, Morikawa didn't win the PGA Championship with his ball-striking. He did it with the club that's given him the most trouble in his young career and the one that let him down at Colonial - his putter.
Something clicked for Morikawa last week as he went on to gain over eight strokes on the greens for the best performance of his career. If he can turn things around with his flatstick, as well as continuing to improve his short game, the wins are going to start flooding in.
"He's not going anywhere anytime soon," Tony Finau said after the PGA Championship. "He's a heck of a player. He doesn't have a weakness in his game. He doesn't have a weakness mentally."
Finau added: "So when you're dealing with that type of talent, he's going to be somebody to beat in major championships for a lot of these things. This isn't a guy that's just going to pop up and disappear for the next five years."
Talk about high praise.
The mindset
Lastly, what places Morikawa into the upper echelon of talent in the golf world has nothing to do with physical skill.
Somehow, at only 23, Morikawa's mental approach might be his biggest strength. He's shown it time and time again, whether it's through his consistency or ability to bounce back and learn from adversity.
He also has the winning mentality that only the greatest to ever do it can relate to.
His youth, smile, demeanor, and insane talent give Morikawa all of the required ingredients to be golf's biggest superstar. But when you look at the resume he's built only 14 months on the PGA Tour, maybe he already is.