The 2019 Presidents Cup placed the perfect bow on competitive golf for the calendar year. The event at Royal Melbourne provided four days of incredible entertainment on a spectacular golf course and exceeded all expectations.
Tiger Woods' Americans edged out Ernie Els' Internationals by a score of 16-14 with a Sunday session for the record book. Prior to this year, no team trailing going into the singles matches had come back to win.
Now that the dust has settled, here are the biggest takeaways from what might be considered the best Presidents Cup ever:
Perfect playing captain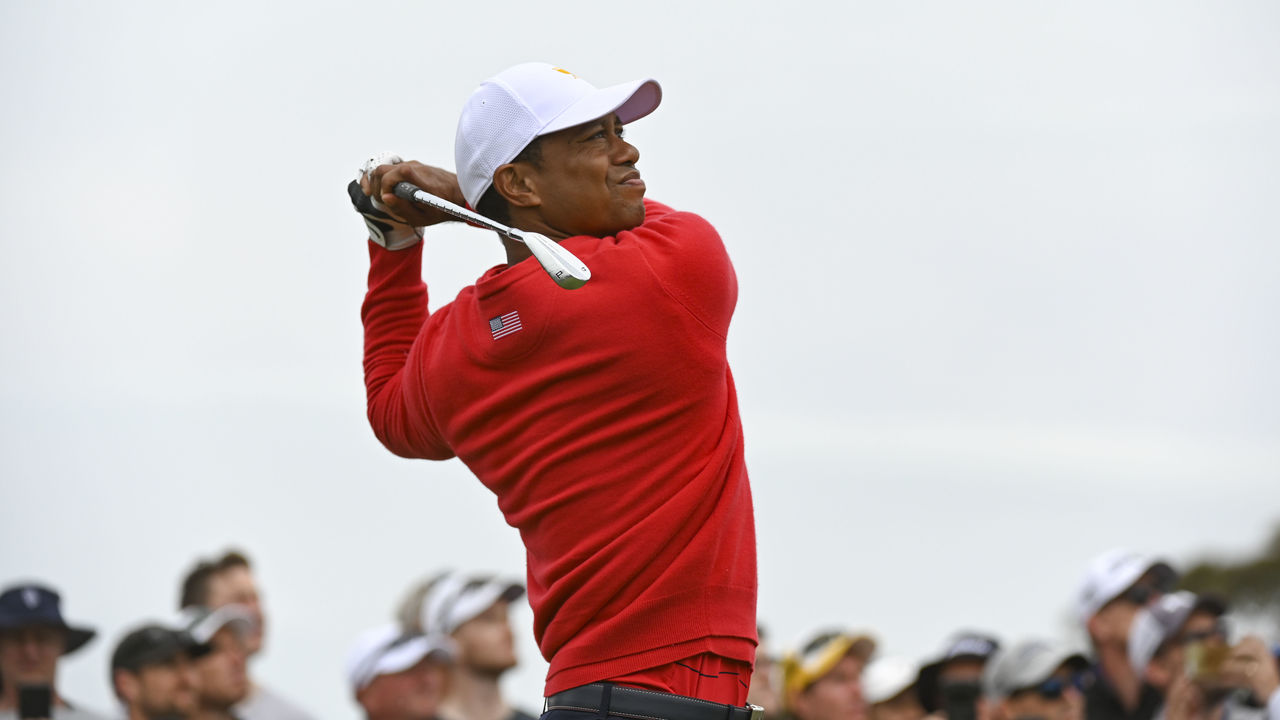 Tiger Woods turned in a near-flawless week as the United States playing captain. Aside from a few questionable pairing decisions - particularly the ones in which he benched himself - Woods could not have performed any better both on and off the course.
Tiger was surgical on the extremely difficult, but fair, Royal Melbourne. He picked the course apart similarly to how he tackled Augusta en route to his 15th major title. The soon-to-be 44-year-old looked strong, healthy, and in total control. Even on a team consisting of the world's best, he was the only American to win all of his matches, finishing with a 3-0 record. Woods also passed Phil Mickelson for the most Presidents Cup points earned with 27.
'Captain Obnoxious'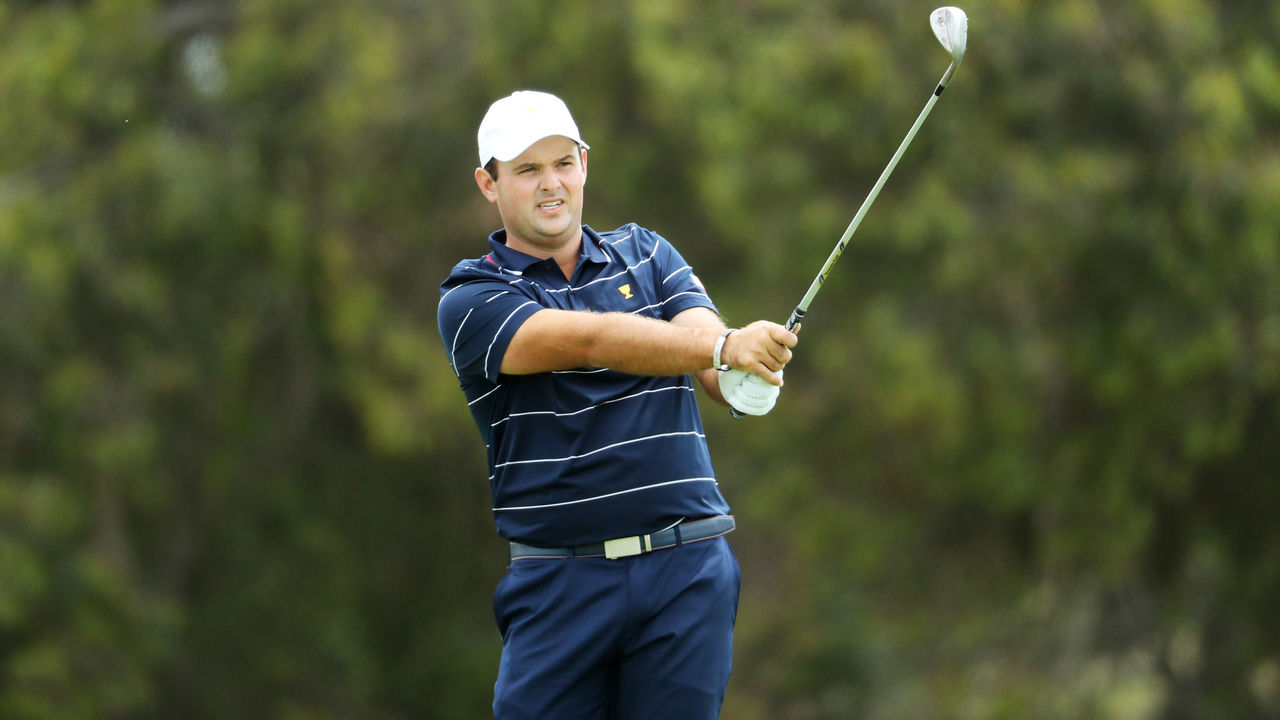 The 'Captain Obnoxious' nickname was given to Patrick Reed by outspoken broadcaster David Feherty, and after a week filled with controversy and distractions, it's certainly fitting.
Reed was the talk of the week in Australia for all the wrong reasons. His game was terrible for the first three sessions, going winless alongside Webb Simpson. He then reacted to a heckling fan by performing a shoveling motion while 2-down in a match, even though everyone else on the American Team had said they left his bunker scandal in the past.
The drama around Reed didn't stop there. After losing his third straight session, Reed's caddie and brother-in-law, Kessler Karain, was involved in an altercation with a fan and wasn't allowed on the bag for the final round.
It's impossible to imagine Reed garnering another captain's selection for team competitions moving forward. Sure, Reed won his singles match and played a role in the USA's comeback, but the cons of bringing him along clearly outweigh the pros, especially when considering he finished 1-3. If Reed wants to be a member of the 2020 Ryder Cup team, he's going to need to earn his spot through points.
Royal Melbourne delivers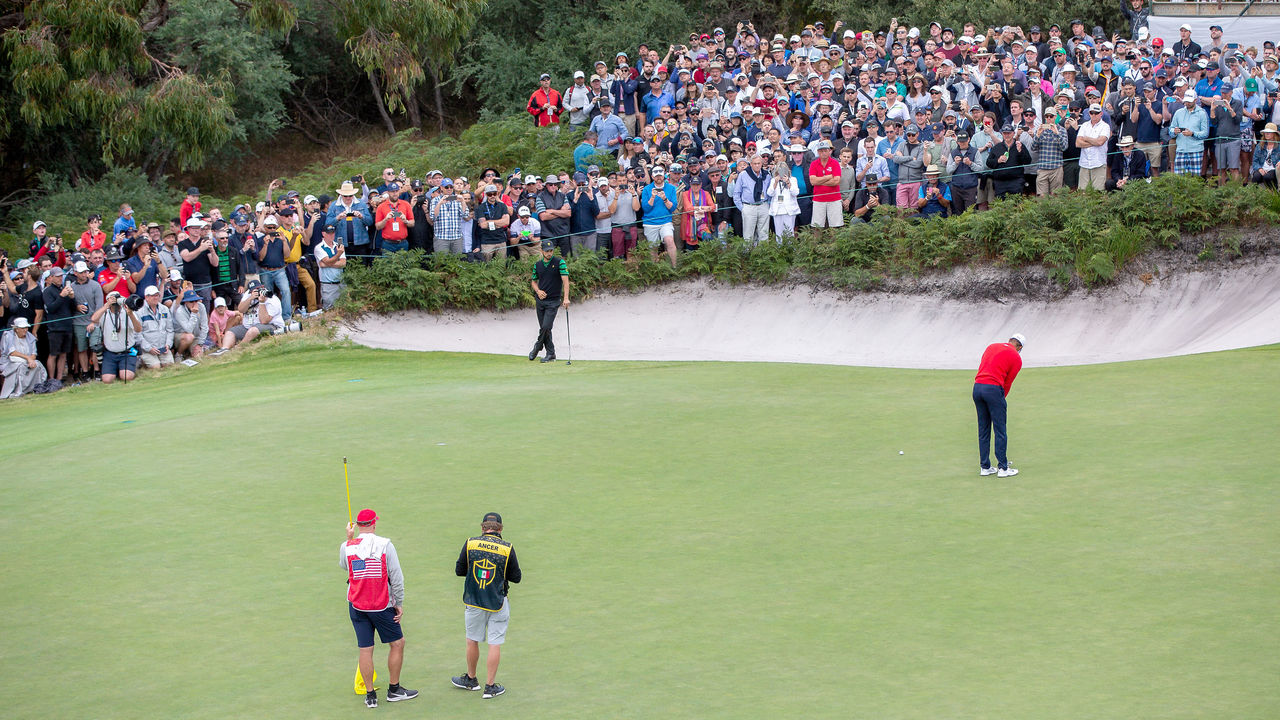 Not only were golf fans treated to a close competition filled with remarkable golf, but they witnessed it unfold on one of the world's best courses.
Much was made of Royal Melbourne before the tournament, and it delivered. It rewarded great shots and penalized poor ones, and not a single player had a bad word to say about it.
Tiger couldn't help himself from gushing about the venue.
"I think Royal Melbourne, it's a dream to be able to play," he said. "It's how a golf course should be set up. It should be set up this way: Hard, fast, difficult, but extremely fair, and that's what the Aussie Sandbelt golf courses have historically done, and I think what Royal Melbourne has displayed this entire week is beyond a dream."
Depth prevails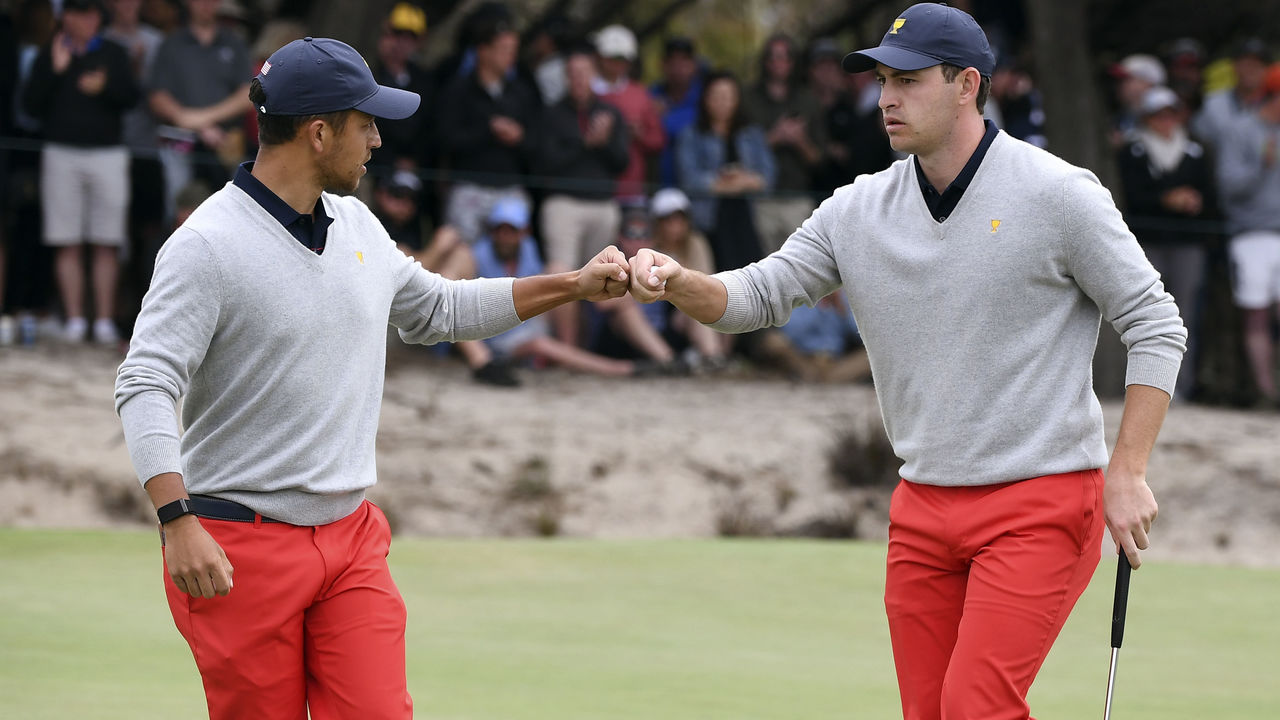 The biggest advantage the Americans had over the Internationals was depth. While it didn't show for the first three days, their plethora of talent pulled through during Sunday's singles.
It was easy to identify holes in the Internationals roster, which Els was able to hide during the team sessions. But hopes dwindled when Haotong Li and Joaquin Niemann had to go up against Dustin Johnson and Patrick Cantlay, respectively.
Xander Schauffele also played a significant role in the comeback, knocking off Adam Scott on the Aussie's home turf, which vice-captain Fred Couples referred to as a key moment. Tiger and Justin Thomas will take a lot of credit for the win, and deservedly so, but a number of players collected big points when their team needed it most.
International breakthroughs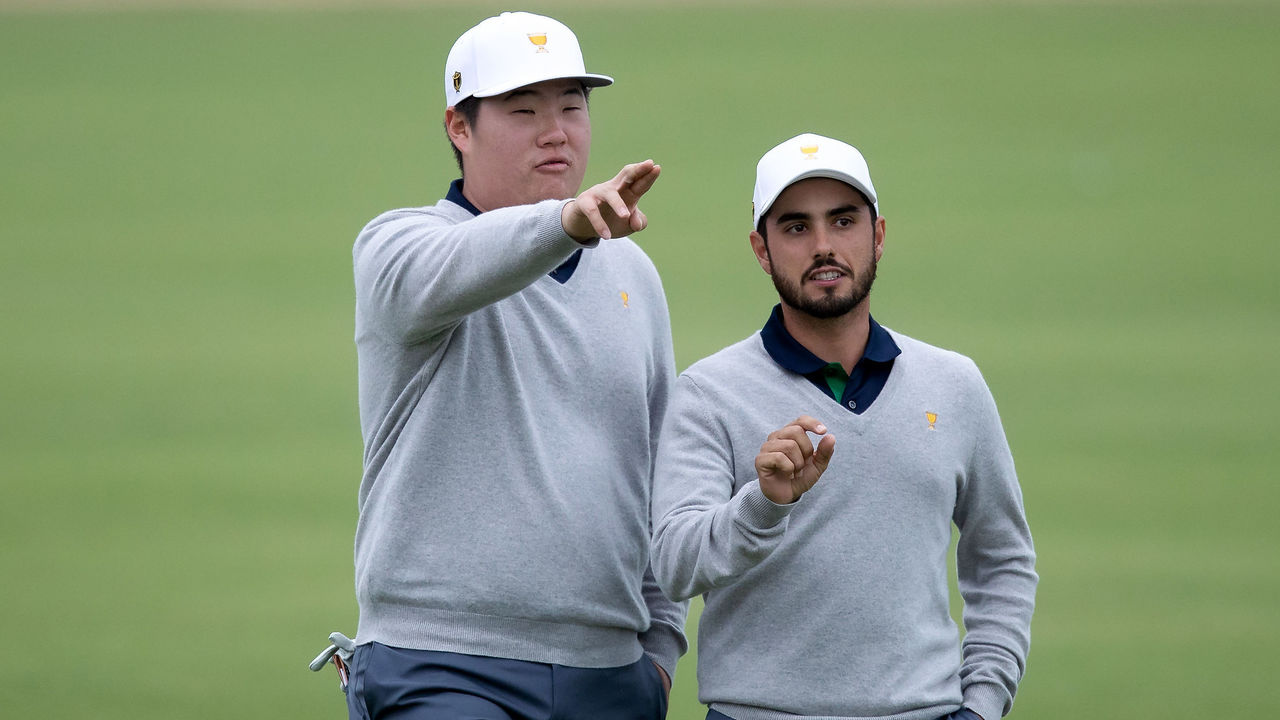 If Sungjae Im and Abraham Ancer were still going under the radar prior to the Presidents Cup, they certainly aren't anymore.
The two International rookies led their team in points with 3.5 apiece, played in all five sessions, and knocked off some big-time Americans along the way. Most notably, Im took down U.S. Open champion Gary Woodland in singles, and the duo teamed up to beat Schauffele and Cantlay in four-ball.
Neither has broken through with a victory on the PGA Tour yet, but that could change very soon as they both take experience and confidence from incredible showings in Australia.
Els rejuvenates Presidents Cup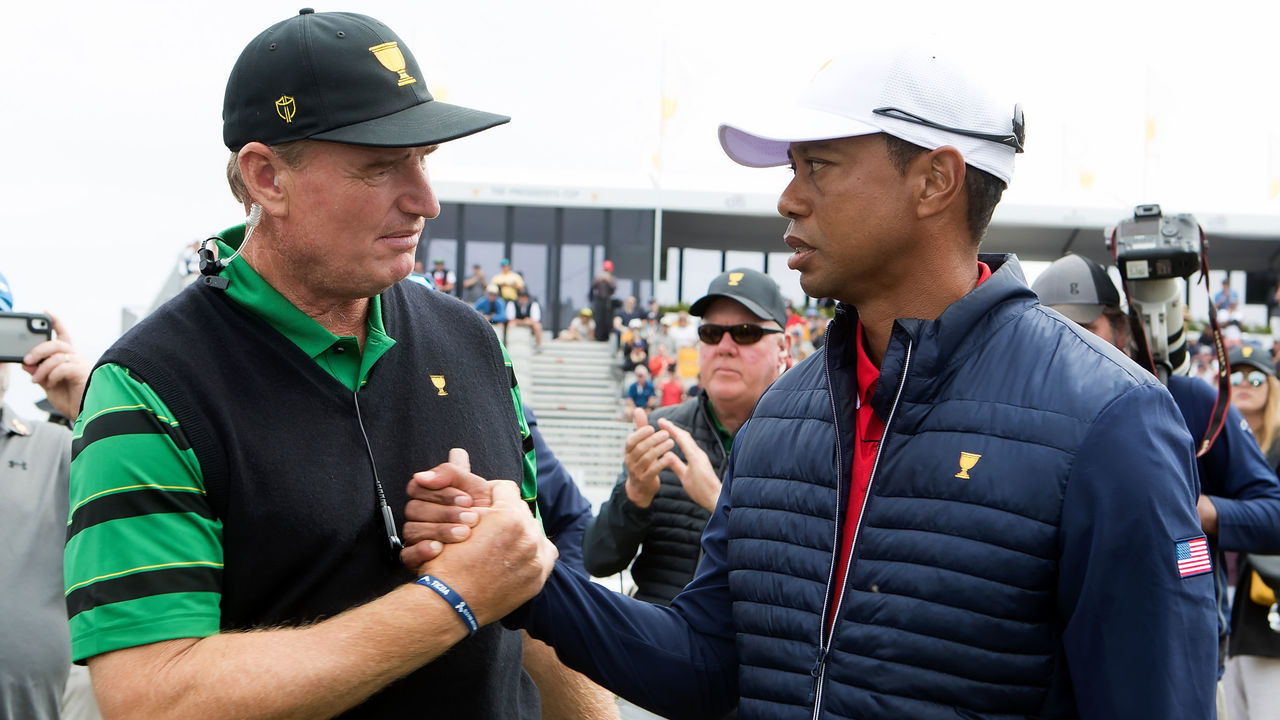 Els deserves a ton of credit for his team's performance at Royal Melbourne. The Internationals were big underdogs from the beginning, and even though they came up short for the 11th time in 13 competitions, the 2019 edition felt much different.
Perhaps it was the home-course advantage or the Americans' long flight that impacted how the tournament played out. Either way, Els' side bought into the system he laid out, and it managed to compete with the U.S. despite having seven rookies on the roster. He created a culture, a logo, and an identity for the Internationals that he hadn't managed to accomplish prior to this year.
The Presidents Cup heads to Quail Hollow in 2021, home of the PGA Tour's Wells Fargo Championship, where the Americans will be heavily favored once again. However, 2019 was proof that the new-look International Team isn't afraid to take on the United States. Hopefully, Els is up for the task of captaining the side again in two years.