The PGA Tour Player of the Year award is voted on by Tour members and is different from the PGA of America's honor.
For much of the 2018-19 season, Brooks Koepka appeared to have the PGA Tour Player of the Year award wrapped up due to his dominance at major championships - and perhaps he still does.
However, Rory McIlroy made things a lot more interesting with his run at the Tour Championship that led to a second career FedEx Cup trophy and also cast a light on how remarkably consistent the Northern Irishman was throughout the campaign.
At first glance, Koepka's win at the PGA Championship still trumps McIlroy's accomplishments, but a deeper look reveals that the PGA Tour Player of the Year race is closer than it appears.
Results
Stat
Rory McIlroy
Brooks Koepka
Tournaments played
19
21
Wins
Players Championship
Tour Championship
Canadian Open
PGA Championship
WGC-FedEx St. Jude Inv.
CJ Cup
Major wins
0
1
Top-10s
14
9
Made cuts
17
20
The case for Rory
McIlroy's season wasn't necessarily about the victories, but rather the consistency of churning out high finishes at a rate not seen in years. Rory placed inside the top 10 at 14 of his 19 events played - a 73.7 percent clip that only Luke Donald has matched since 2011.
His titles are no joke either. The Players Championship is easily the fifth-most prestigious tournament on the schedule. Meanwhile, the Tour Championship contains the 30 best players from the season, and even if every one of them had started at level par in the playoff finale, McIlroy still would have won by three.
Overall, winning is a rare occurrence and the difference between a top-10 finish and a victory can be very marginal. McIlroy put himself in contention more than anyone else this season, which has to be worth something.
The case for Brooks
When it comes to majors, Koepka has the advantage. He successfully defended his PGA Championship this year, while McIlroy was held without a major win for the fifth straight season.
Additionally, Koepka turned in a major-championship season that few have replicated in golf. His worst finish was a T-4 at the Open Championship, which went along with his win and two runner-up showings. Overall, he lost to a total of just five golfers in the four majors combined - a number only Tiger Woods, Jack Nicklaus, and Jordan Spieth can relate to.
Koepka's win at the WGC-FedEx St. Jude Classic can't be ignored either. The field strength in Memphis was higher than at the Tour Championship, according to the Official World Golf Rankings.
Statistics
| Stat | Rory McIlroy | Brooks Koepka |
| --- | --- | --- |
| SG:Total | 1st | 9th |
| SG:Tee to green | 1st | 12th |
| SG:Off the tee | 1st | 21st |
| SG:Approach | 12th | 11th |
| SG:Around the green | 19th | 92nd |
| SG:Putting | 48th | 24th |
| Scoring average | 69.057 | 69.395 |
The case for Rory
Is there a case against him? McIlroy dominated nearly every statistical category this season and led the Tour in scoring average. Sure, his putting was nothing special, but leading the next closest player in strokes gained: total by over half a shot per round is a remarkable feat. It's also proof that nobody else on Tour played as consistently well as McIlroy did this season.
The case for Brooks
What works against Koepka from a stats perspective is that strokes-gained data isn't recorded for major championships, which, as everyone knows, he dominated.
The 29-year-old was a combined 36-under in the four majors this season, the third-best cumulative score relative to par in the last 30 years, according to the 15th Club's Justin Ray. It's safe to say that Koepka gained the most strokes by far in the four truly important tournaments on the calendar.
Our vote: Koepka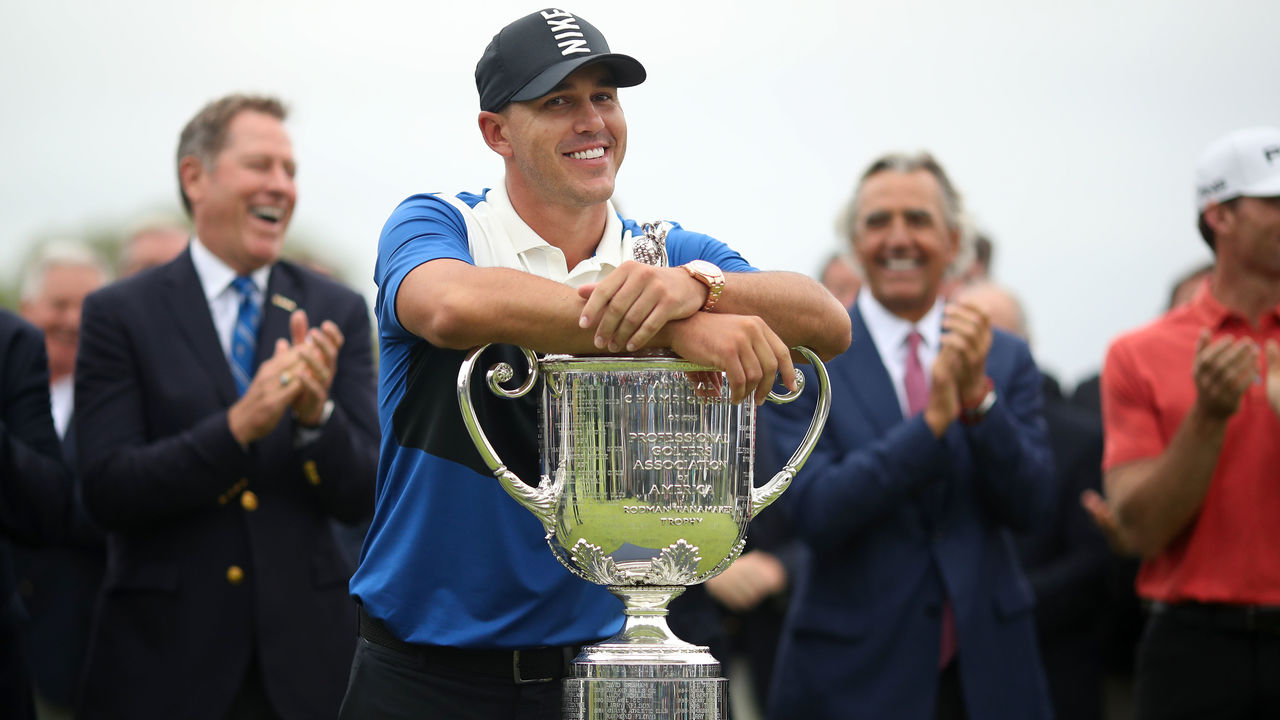 While Rory gave Brooks a solid run, the latter's accomplishments in major championships seal the deal. Quite simply, Koepka produced a season that may not be repeated for years. The PGA Tour will promote its Players Championship and the FedEx Cup as golf's two biggest prizes, but history shows major championships are the measuring stick to which all of the game's greats are compared, and no one performed better in the 2019 majors than Koepka.