CBD is here and companies have money to spend. Which sports are listening?
Photo illustration by Nick Roy / theScore
Last month, on Independence Day, the Portland Pickles hosted a one-off exhibition game dubbed Future of Baseball Night - a radical reimagining of the sport. Every bunt hit was ruled a double, and batters ran the bases clockwise during odd-numbered innings. If needed, a home run derby would have been staged to break a tie.
Of the 12 clubs that comprise the collegiate summer West Coast League, only the Pickles have ever thought to organize a D.B. Cooper Night. On a Sunday in June, fans were encouraged to arrive with theories about the fate of the skyjacker whose parachute escape has mystified U.S. authorities for the past five decades.
And on every game night at Portland's home park, Walker Stadium, players and spectators rise to their feet whenever the Pickles plate a run. Together they hoist their stools and lawn chairs toward the sky, an enduring nod to a relief pitcher who once surrendered to spontaneity and celebrated that way in the bullpen.
"If we score a lot of runs, it's a real workout," said Pickles owner Alan Miller. "It's really fun to watch people who haven't been there before look around, like, 'What is going on?'"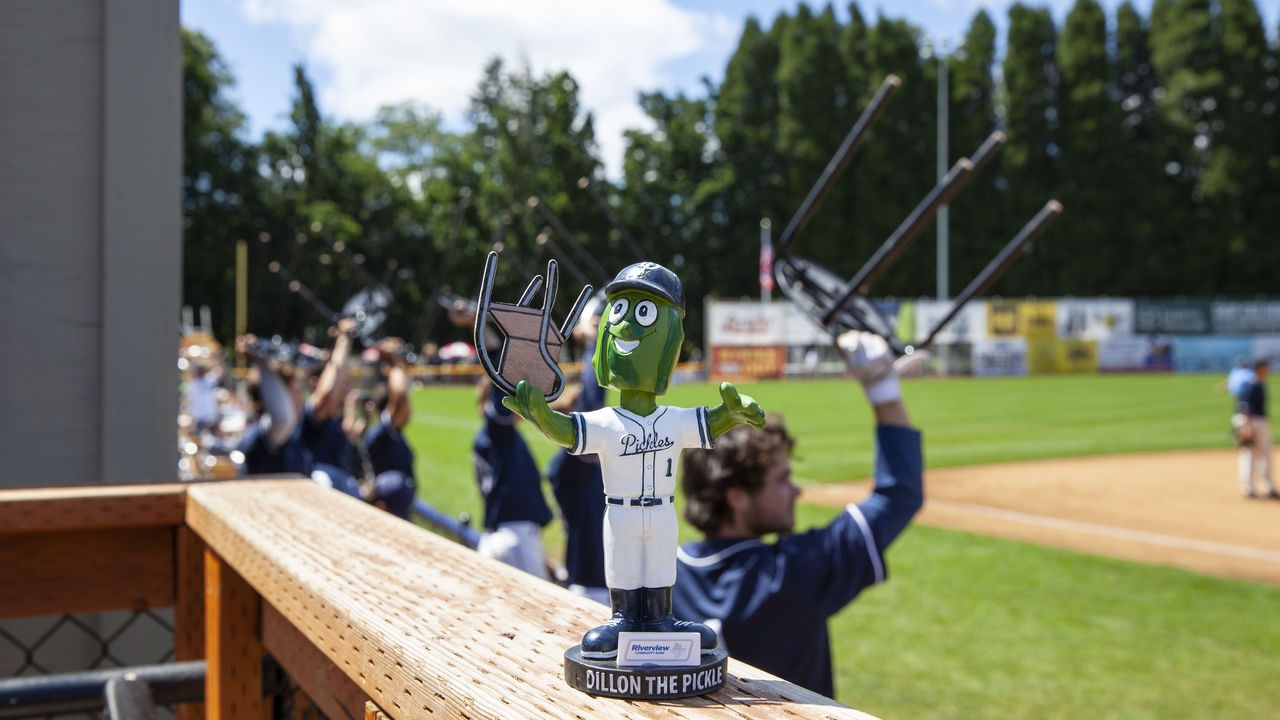 It's safe to say they do baseball differently in Portland, where an anthropomorphic vegetable mascot named Dillon the Pickle paces the sidelines with a perpetual smile, and where offbeat ideas tend to prevail.
Miller, 47, is a California-raised baseball obsessive who has spent most of his adult life working as an entertainment marketer. Along with his fellow Pickles owner, former NFL punter Jon Ryan, he's on a self-described "quest" to be transformative in a staid sport. Portland doesn't have another baseball team, and Miller is convinced that every Pickles homestand should double as "the best party in town."
Such are the conditions under which the Pickles recently distinguished themselves from the rest of North America's sports landscape. This season, they became the first team in baseball to strike a sponsorship deal with a CBD brand - a novel kind of partnership that, if attitudes change, could soon permeate the biggest leagues around.
A rapid-fire primer on CBD, or cannabidiol: It's the compound found in cannabis plants that doesn't get users high. (THC, or tetrahydrocannabinol, is the psychoactive component.) Anecdotal accounts and some clinical trials suggest that CBD oil extracted from hemp can help manage pain and other medical conditions without the deleterious effects of opioids. Consumer demand is skyrocketing.
The Brightfield Group, a Chicago research firm that studies cannabis markets, has predicted that the value of the hemp-derived CBD industry will balloon to $22 billion by 2022, up from a mere $591 million in 2018. In pure financial terms, it stands to reason that leagues that have long cozied up to beer companies might want a piece of that advertising money.
To date, though, interest in aligning with the CBD movement has mostly been limited to the fringes of American sports, such as the relatively obscure West Coast League. While 90 WCL alumni were selected in this year's MLB draft, including No. 1 overall pick Adley Rutschman, it isn't even the country's most prominent summer baseball competition. (That distinction belongs to the much older Cape Cod League.)
Yet even far removed from the shining lights of the majors, the Pickles' pact with Lazarus Naturals, a CBD manufacturer based in Seattle, marks a significant step.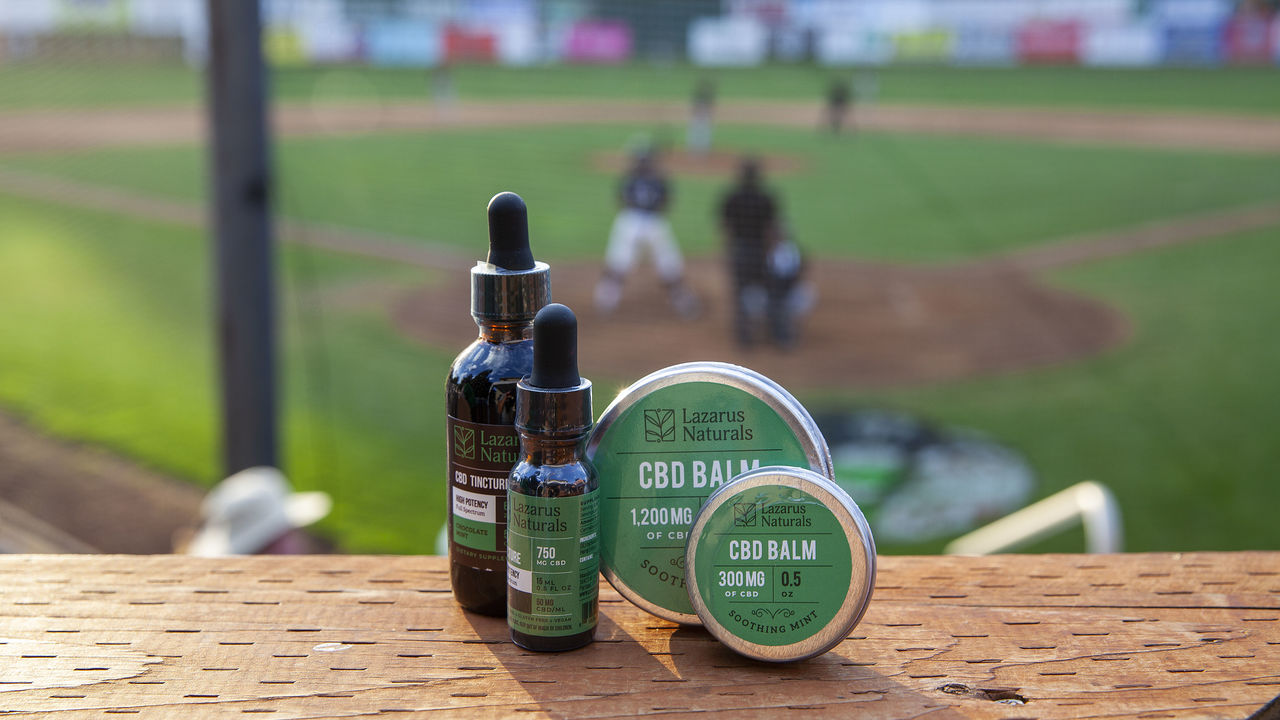 At every Pickles home game during the regular season, which concludes this weekend, Lazarus employees have positioned themselves in an area near right field to sell select company wares - such as CBD tinctures and balm - and to answer any questions about the substance. Banners bearing the Lazarus logo hang around the park. The team has invited military veterans to watch games from a Lazarus-branded box, situated in prime viewing territory between home plate and the opposing dugout.
Some fans have been apprehensive about Lazarus' presence at the park; others mistakenly thought the company's comparatively understated sales booth would resemble a head shop. Miller, though, has found the vast majority to be receptive - open either to purchasing a CBD product or, at least, to learning more about it.
"As a sports team, or as any business, I think we have an obligation to be progressive," Miller said. "There's a negative stigma around CBD because of the confusion with cannabis and how all the different elements work, and this is a hemp-derived product and some are not. But it was important to me to help open that door and make it a bit more accessible to people.
"At the end of the day," he continued, "this is a product that is helping people."
Increasingly, this conviction is gaining purchase across a number of sports, well beyond the snug confines of Walker Stadium.
Take auto racing's IndyCar Series, where James Hinchcliffe and Marcus Ericsson drive with the logo of a CBD-infused sports beverage, Defy, on their cars. Tennis player John Isner endorses Defy, which Pro Football Hall of Famer Terrell Davis helped create. PGA Tour veteran Bubba Watson is sponsored by cbdMD, a North Carolina-based brand that's also the official jersey patch provider of the BIG3 basketball league.
"Sports are really the perfect way to begin preaching and educating a diverse audience on how CBD, holistically, represents a more natural approach to wellness," said Ken Cohn, cbdMD's chief marketing officer. "With major partners like Bubba and the BIG3, we think we're getting the CBD brand and our story in front of millions of people in ways that otherwise we wouldn't be able to accomplish."
Jeff Kwatinetz, the entertainment executive who co-founded the BIG3 with Ice Cube in 2017, says his league's deal with cbdMD falls in line with its overarching desire to take care of players. The three-on-three basketball circuit, which barnstorms across U.S. cities on summer weekends, has become a landing spot for dozens of former NBAers at the tail end of their careers, from Gilbert Arenas to Amar'e Stoudemire to current per-game scoring leader Joe Johnson.
These players have subjected their bodies to a whole lot of pain over the years, which prompted the BIG3 to permit the use of CBD in 2018. Several companies subsequently approached the league about a partnership. As of this season, the cbdMD logo adorns every BIG3 uniform.
"For us to make the decision, I had to look at: What's the right messaging toward our fans?" Kwatinetz said. "I have a 20-month-old daughter. Would I would want her taking CBD or Oxycontin (someday) if she needed pain (relief)? The answer is simple. I would want to avoid opioids at all costs, seeing how they're ravaging society.
"Our world needs to be improved. Any way that we can help, we want to help. And certainly with athletes, we feel a responsibility to them," he added. "It's doing things we believe are better for society. CBD, frankly, was an easy one."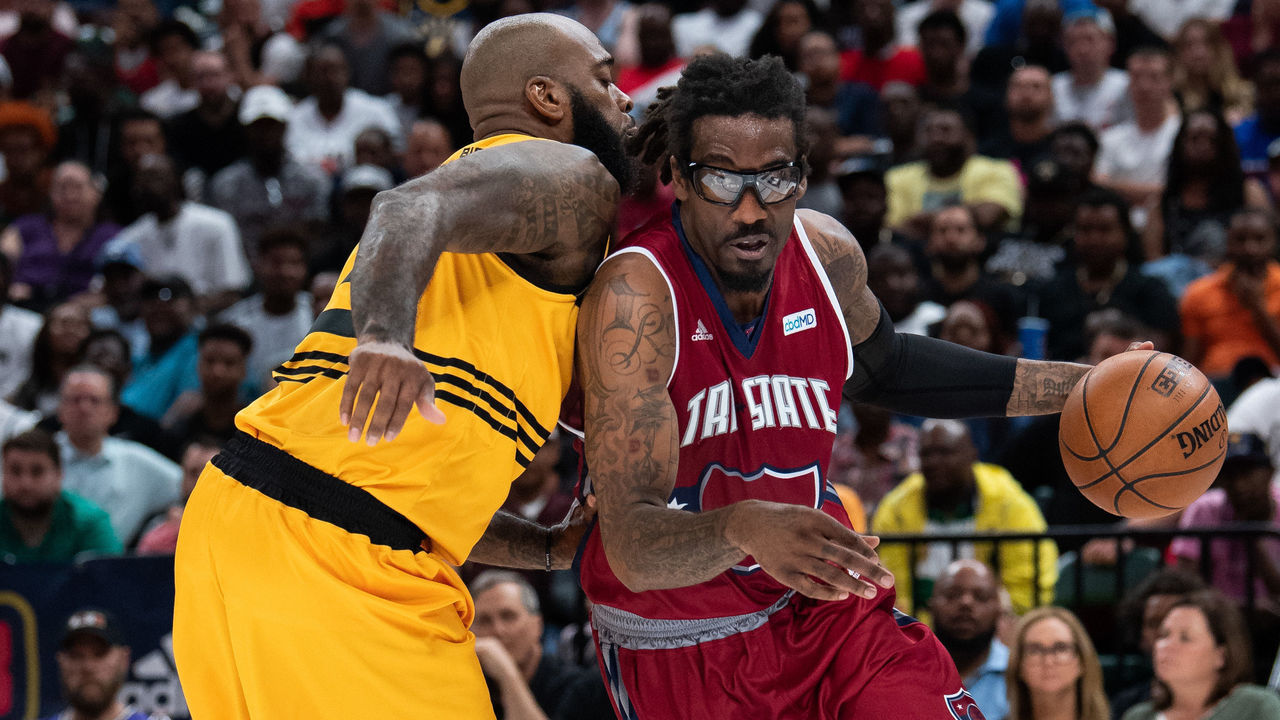 The tradition of athletes trumpeting the benefits of various pain remedies long predates CBD's ascent into the mainstream. Shaquille O'Neal made Icy Hot patches famous. Joe Namath used to shoot commercials for aloe vera gel. In May, Namath told Fox Business that he thinks athletes should be allowed to treat pain with marijuana, so long as they don't drive while high.
On the same day as Namath's comments were published, the UFC announced that it planned to partner with Aurora Cannabis to facilitate clinical research into the link between CBD and athlete wellness and recovery. The NHL Alumni Association has a similar arrangement in place with another cannabis producer, Canopy Growth, to test whether CBD could help treat post-concussion neurological diseases.
As these studies get underway, the advertising space represents another barometer with which pro sports' tolerance for CBD can be gauged. At the moment, all of the United States' four major leagues - the NBA, NFL, NHL, and MLB - prohibit their franchises from signing CBD companies as sponsors.
No discussion has taken place at the NFL about the possibility of partnering with CBD brands, Brian McCarthy, the league's vice president of communications, told theScore via email.
An NBA spokesperson said in an email that the league is discussing CBD with its teams and the players' association and is "continuing to stay abreast of the latest developments in the science and related legal and regulatory frameworks."
Meanwhile, the shape of CBD legalization across the U.S. is a hodgepodge. Laws governing its sale and possession vary by city and state. The cultivation and sale of hemp has been legal at the federal level since late 2018, but the national Food and Drug Administration has so far approved just one CBD product, a prescription drug that treats rare forms of epilepsy.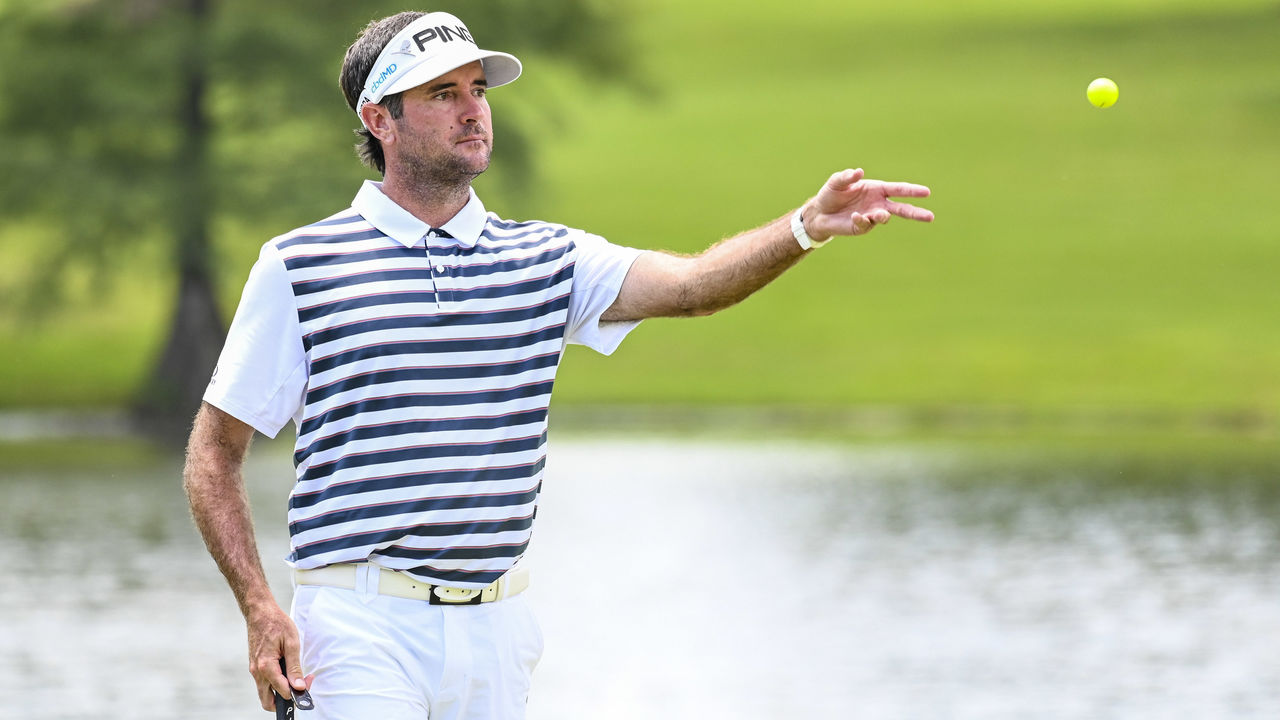 Timothy Dewhirst, a marketing professor at the University of Guelph in Ontario, Canada, said it's understandable that high-profile leagues may want to wait for the FDA to introduce comprehensive regulations before considering CBD brands as sponsors. Yet even if the biggest fish remain wary, the deals that already exist in Portland, the PGA Tour, and elsewhere could have a potent effect on public opinion.
"That kind of visibility (CBD companies) can gain by these partnerships, and especially a partnership with someone like Bubba Watson, a two-time Masters champion - if he's touting the great benefits of these products and their safety and so on, that can go a long way to making them deemed far more socially acceptable," Dewhirst said.
If the major leagues come to view CBD lines as appropriate partners, the inroads that the product makes into sports advertising circles could compare to those of the gambling industry, Syracuse University sports management professor Patrick Walsh suggested in an interview. The NBA, NFL, NHL, and MLB have all inked official casino or gaming partnerships within the past 13 months, a sea change made possible by the May 2018 U.S. Supreme Court ruling that allowed states to legalize sports betting.
Major League Soccer didn't respond to requests for comment about its stance on CBD partnerships, but it, too, has displayed a willingness to venture into markets once considered taboo. In June, three months after MLS struck its own gaming partnership with MGM Resorts, the league authorized its clubs to pursue stadium-naming and jersey-sponsorships deals with sports betting and liquor companies, a first in U.S. team sports.
"We want to be viewed as a progressive league," MLS senior vice president of business development Carter Ladd told Fortune at the time. "We don't want to be restrictive. We want to enable (our clubs) in a positive way, and that's why we're taking this action."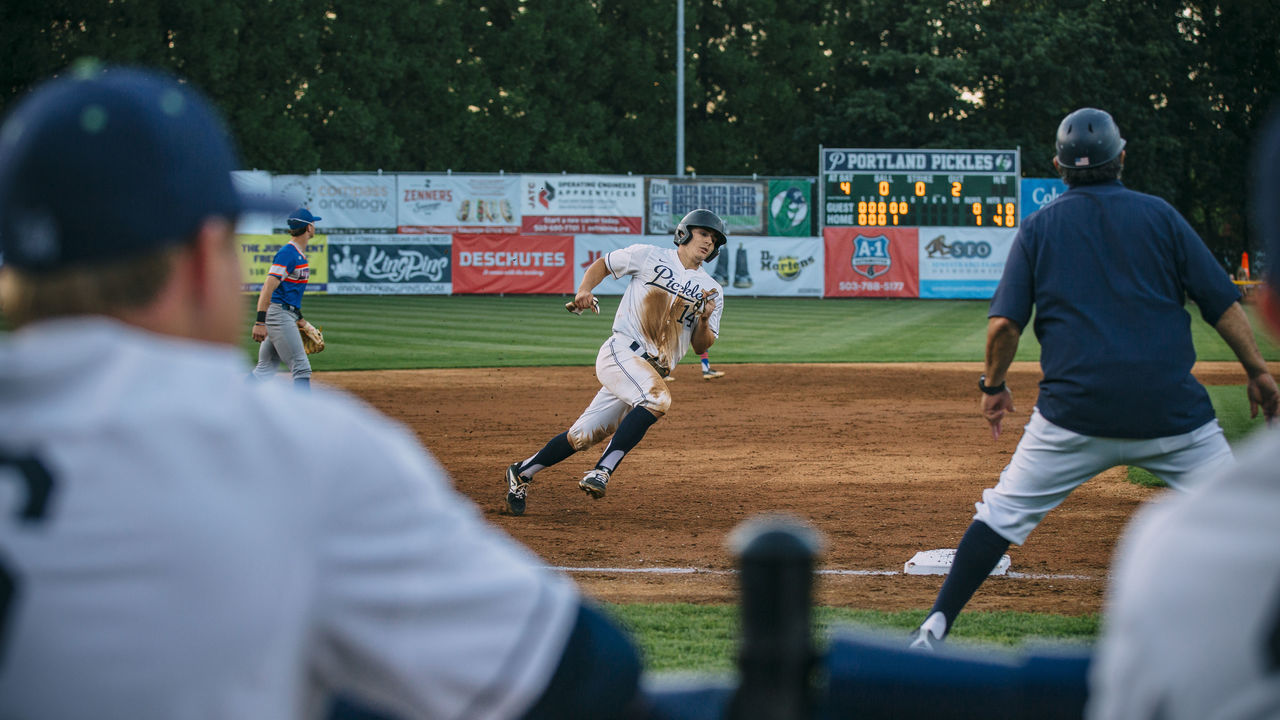 Miller, the Pickles owner, traces his desire to push the boundaries of baseball entertainment back to August 1994, when a players' strike halted the MLB season and later prompted the cancellation of the World Series.
At 22 years old, single, and living in Los Angeles, he set out with friends on idle days throughout the rest of that summer to discover nearby minor-league experiences, starting with the High-A Lake Elsinore Storm, where a bunny mascot bounded from the outfield wall to perform a little jig every time the home side scored a run.
"That was too good," Miller said.
Ahead of the advent of the internet, Miller knew little about the minor-league scene in different pockets of the U.S., but in the following years he journeyed to ballparks as far away as Staten Island and Durham, N.C., observing, appreciating, and memorizing the quirks and customs that made each place different. The promotions that stuck in his mind were those that seemed authentic, having amplified something cool about the team's city.
Before he recounted this personal history one recent afternoon, Miller mentioned that the Pickles were hours away from holding the franchise's first Tattoo Tuesday, where anyone aged 21 or older could have a mark of their fandom etched into their skin free of charge. It was, as he put it, just another day in Portland.
The deal with Lazarus Naturals is one more way in which Miller's merry band of chair-raisers stand apart from the pack - for now. The Pickles are committed to the partnership for the next couple of years, by which point, if more state legislatures begin to adopt Oregon's lenient approach, they could have plenty of company in the market.
To Miller, it's less a matter of if than when.
"In three-to-five years, it's just going to be like buying a beer or buying a hot dog at any other park," he said. "There's no way it isn't going to be, 'I have a Budweiser deal and I have this CBD company deal.'"
Nick Faris is a features writer at theScore.
Comments
✕
CBD is here and companies have money to spend. Which sports are listening?
  Got something to say? Leave a comment below!