Jon Rahm could not hold back when discussing his level of admiration for Tiger Woods after winning his idol's tournament in the Bahamas, especially when he described what defeating Woods at the Ryder Cup meant to him.
"That Sunday with Tiger is still the most emotional, most important moment of my golf career," Rahm said after winning the Hero World Challenge. "It means so much to play against Tiger. A couple months later, to win his event, it's really special."
The moment Rahm is referring to was clinching a 2&1 victory over Woods for a crucial European point. He was even brought to tears after his celebration.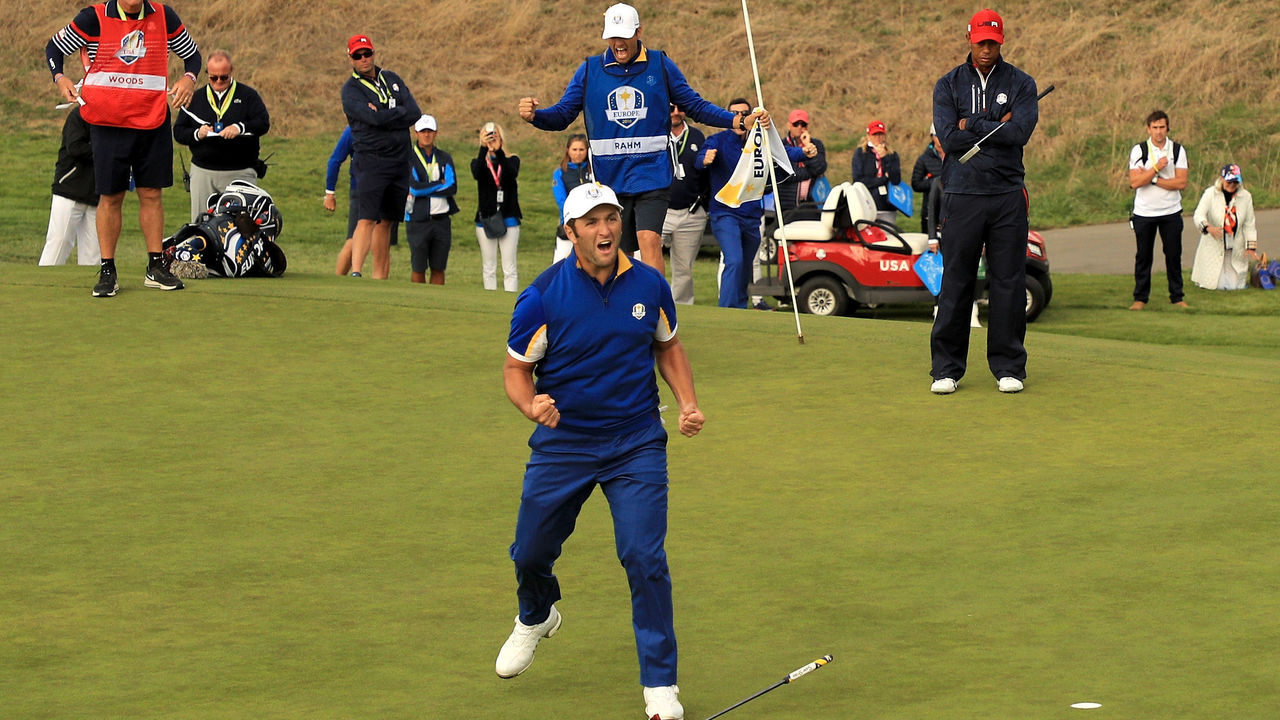 "Making that putt to beat Tiger Woods, my all-time hero, man it was hard. And then when I turned around I had to apologize and he came to me with a smile and said 'Man, don't even worry, you played great' and I started crying," he said during his press conference.
Rahm spent over four minutes and used 683 words to describe how much defeating Woods meant to him, according to Doug Ferguson of the Associated Press.
PGA Tour purses have skyrocketed since Tiger's landmark victory at The Masters in 1997, a few years after Rahm was born, and the 24-year-old Spaniard appreciates how fortunate he is to play on the modern-day PGA Tour which was largely shaped by Woods.
"We owe him, every golfer on the PGA Tour owes him a lot, because everything we play for is because of him," he said.
Rahm, who admitted he's watched Tiger's final round in the 2000 U.S. Open at Pebble Beach about 150 times, recalled a time he asked his idol for putting advice at the Tour Championship, an exchange that resurfaced on Sunday.
"We were in Atlanta he was putting next to me and I asked him 'Hey Tiger, can you please teach me how to putt on Bermuda?'" Rahm said beaming with a huge smile. "He kind of laughed and told me 'It's all about feel.'"
Months later, Tiger brought up his putting lesson when presenting Rahm with the Hero World Challenge trophy, saying, "That's a pretty good performance for someone who can't putt on Bermuda greens."