Hurricanes should consider a trade-and-sign with Staal
Kim Klement / USA TODAY Sports
What to do with Eric Staal?
The Carolina Hurricanes captain has made it clear that he would like to return to the only franchise he has represented in his career, but management and Staal's representatives continue to be stuck in a stalemate.
Both sides seem to be hesitant and for good reason. Staal has seen his production decline over the past few seasons and the Hurricanes themselves have remained absent from the playoffs the last six seasons.
The Hurricanes could attract a pretty penny for the 31-year-old and could help speed up their current rebuild if a deal could be reached.
Potentially benefiting both sides is Staal's impending unrestricted free agent status in July. In a perfect world the Hurricanes would do their best to trade Staal - likely to a contender - close to or at the trade deadline. A deadline deal could garner high assets and picks, which given the team's current spot in the standings could hold high value.
The team should be able to easily acquire a first-round pick and a decent prospect or two in return. The pick (or picks) would complement the club's up-and-comers, including Noah Hanifin, Elias Lindholm, and Justin Faulk.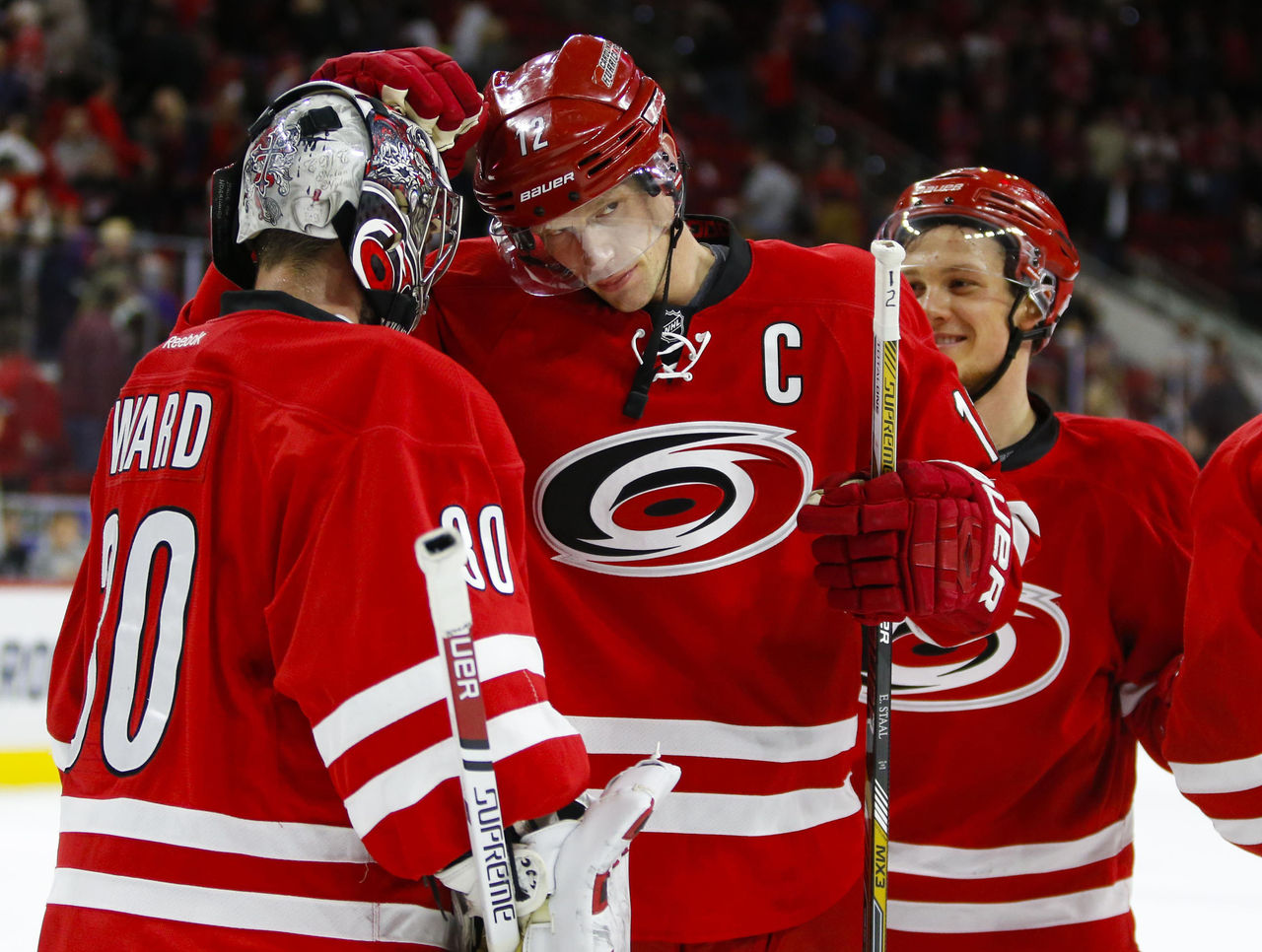 Now, things could get interesting if the Hurricanes find a way to re-sign Staal in the offseason after he becomes a UFA.
A similar deal was made by the Toronto Maple Leafs last season with forward Daniel Winnik who was dealt to the Pittsburgh Penguins for a pair of draft picks and forward Zach Sill, before being re-signed by the Maple Leafs in the offseason.
Though the player in question in that situation is not as marquee as Staal, it is proof that something similar could work.
Though Staal's points per game totals have fallen progressively over the last three seasons (1.1 in 2013, 0.77 in 2014, 0.7 last season, and 0.61 so far this season), he remains a solid two-way performer and could help to shepherd in the new crop of young talent through the organization.
What could ultimately decide Staal's fate with the franchise is his asking price. He is in the final year of a seven-year, $57.75-million contract and will take home $9.5 million this season.
It's hard to imagine a scenario in which Staal cashes in on a deal anyway near that term or dollar. So if he is willing to take a hometown discount, a deal could once again suit both parties.
In the end there will be many factors in play as this saga continues to play out, but if both Staal and general manager Ron Francis want to improve the Hurricanes this might be the best way for both to do so.
- Contract information courtesy: generalfanager.com
Comments
✕
Hurricanes should consider a trade-and-sign with Staal
  Got something to say? Leave a comment below!