Systems Analyst: Jooris succeeds in tough D coverage, Rangers still score winner
It used to be that playing wing in the D-zone was the equivalent of an on-ice nap. Your duty consisted of standing at the top of the zone beside a stationary defensman like a couple of silent sad sacks at the bus stop on a Monday morning.
And it was perfect.
You could basically rest your stick across your knees, catch your breath, and wait for your D-men and center to create a turnover, when you'd flip the switch back to "on" again.
Oh, those were the days for wingers. Unfortunately for them, some coaches took note of this, and pondered a kooky concept: "Maybe we'll defend better if we don't let two guys basically sit cross-legged and have tea every time we enter our own end?"
May-be. Just may-be.
Thanks to those brave pioneers, today's wingers have to make reads on changing shooting lanes and much more active defensemen, while providing layering help for their teammates in the slot and lower.
Below is an example of a tough defensive situation, where winger Josh Jooris does about a half-dozen things well before an unlucky break resulted in "his guy" scoring what would eventually be the Rangers' game-winner.
*****
First off, the puck has been driven into the corner of Calgary's zone by Dominic Moore, but the Flames are alright. They've got their first forward, Sam Bennett, back in the pile, as well as Dougie Hamilton in what's basically a jumbled 2-on-2 scenario down low.
No biggie.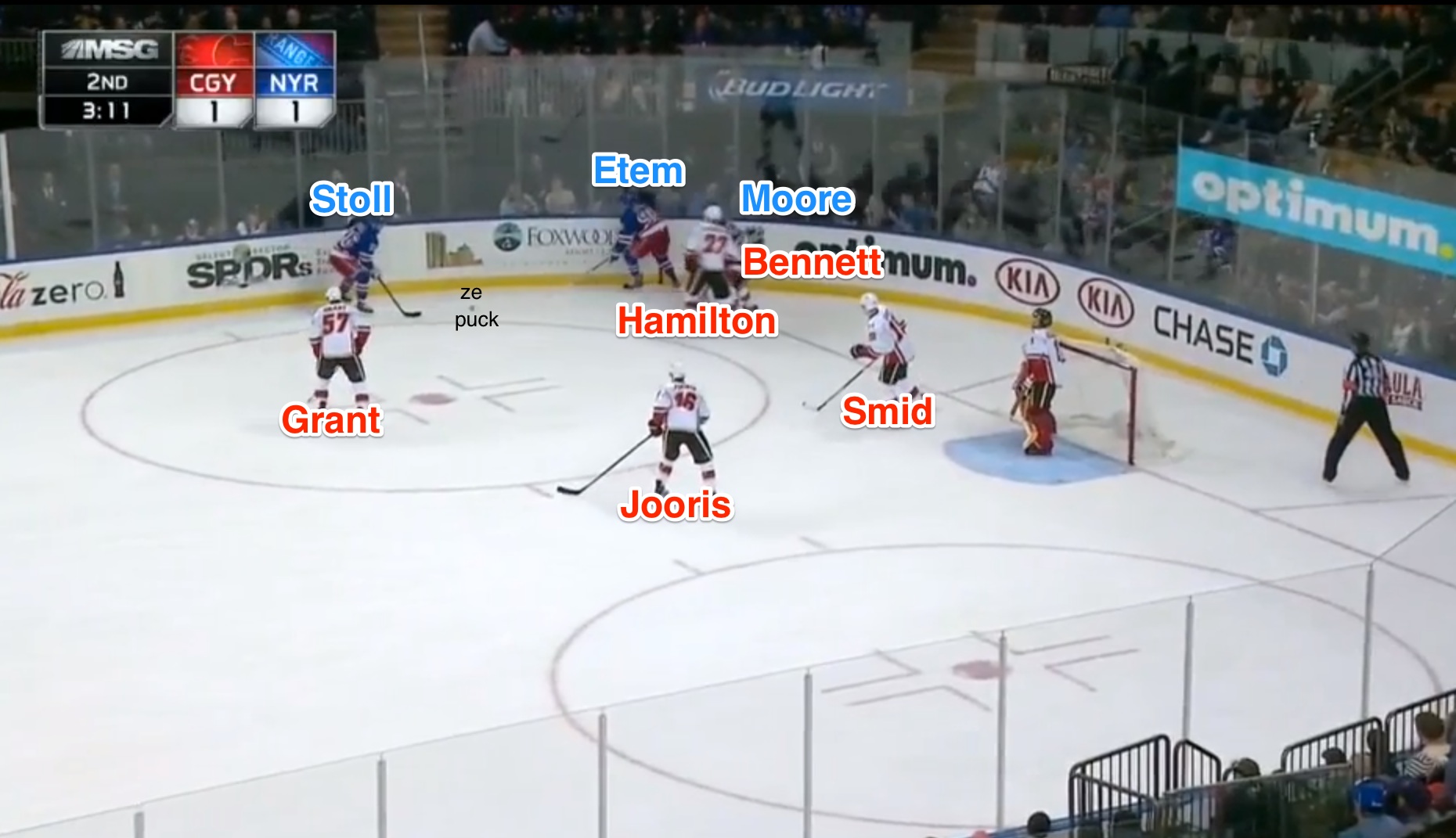 The puck squirts up to Jarret Stoll, the Rangers' third forward who's providing support, but that's fine too - he's on the outside yellow paint, and the Flames have five back. Zero defensive issues so far.
Half of D-zone coverage, if not more, is just figuring out who's got who. Chaos is the goal on offense, because it's never harder to defend than when trapped in the swirl. Players get lost, some get double covered, and someone inevitably ends up open.
The Flames take a second, but the swirl becomes better defined quickly, and they find their guys. Since two Rangers forwards are low and one is out high, the Flames' center, Bennett, will face up the high guy Stoll, and all will be well with two defensemen low.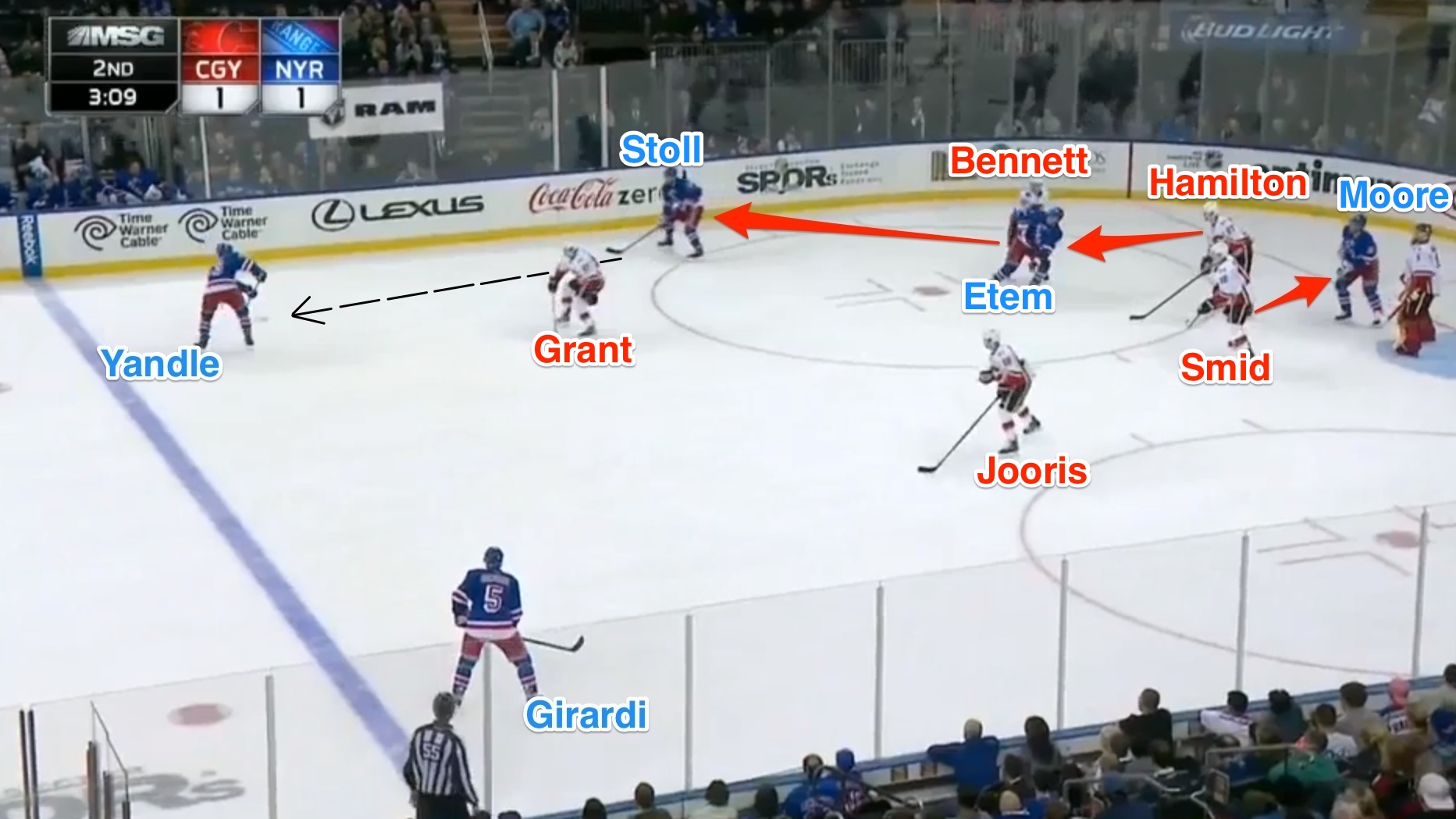 Keith Yandle receives the puck from Stoll above, and as you'll see in the next frame, Bennett moves out to front the Ranger on the wall. The D-men have grabbed their men too.
Now! It's winger time. (Derek Grant, in his first game with the Flames, makes his Systems Analyst debut. What an honor.)
It's likely the Flames would've liked to have seen the pass up to Yandle cut off by Grant. But, once the Rangers' D-man has it, Grant does well to stay in his shooting lane, forcing Yandle to move the puck back to Stoll on the wall.
But this post is really about Josh Jooris, who has an excellent defensive shift … until "his guy" scores and he takes a minus. Below, he's in the perfect position as weak side winger. One gold star awarded.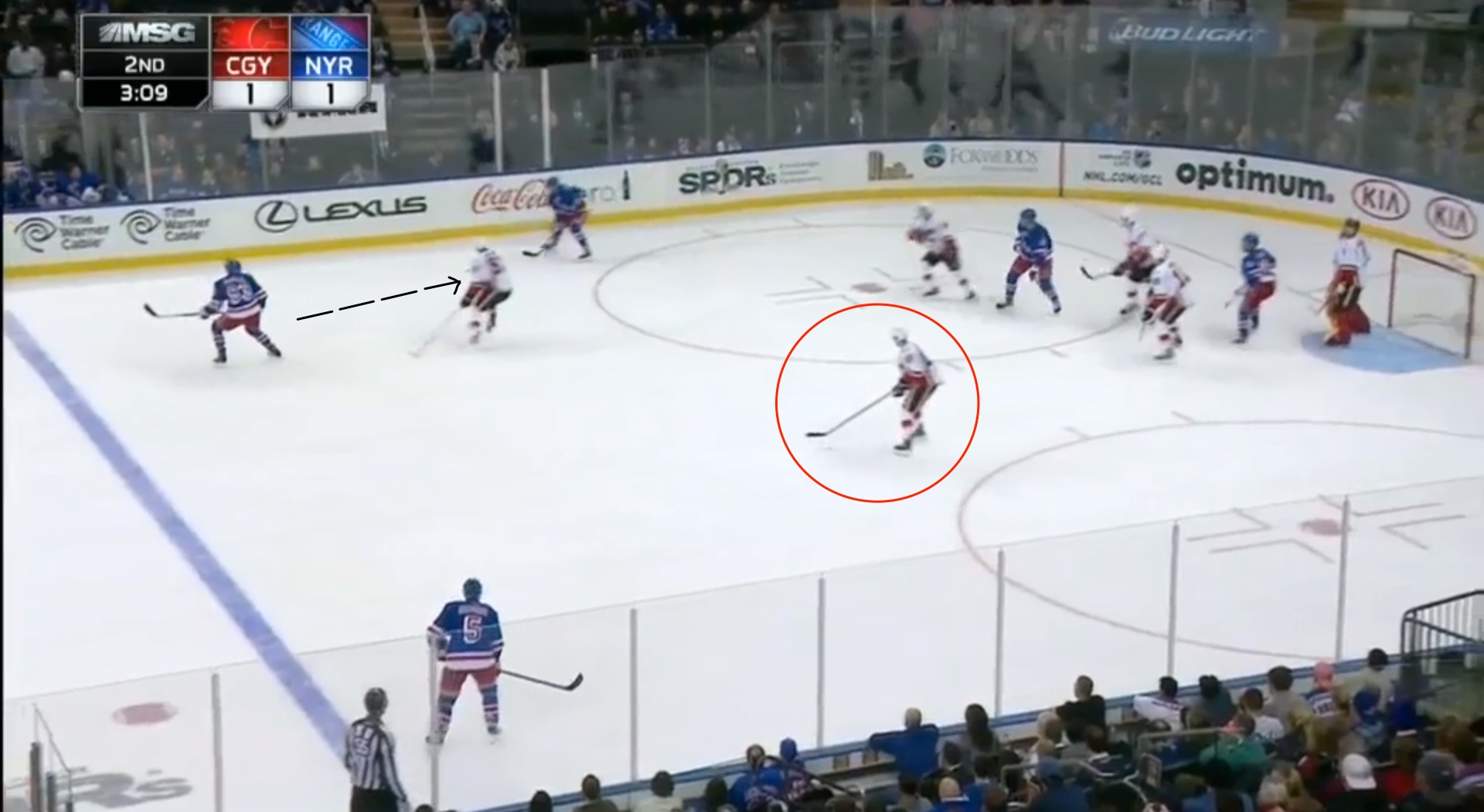 Middle of the ice, skates pointed up ice, an eye on Girardi, and if someone jumps into that hole to his right (a portion of what would be referred to as "the slot"), he can provide help.
Yandle has moved the puck back to Stoll, and here's where Grant makes a decision: He's going to take away the pass back to Yandle entirely, and drive Stoll back down the wall into traffic.
Coaches have different preferences here - maybe some would like to see Grant slide in Yandle's shooting lane and have Bennett force up into Stoll - but I'm okay with the decision made here, despite the result. Stoll has solid possession, making it difficult for Bennett to go after him, and Grant successfully cuts off the passing lane back to Yandle.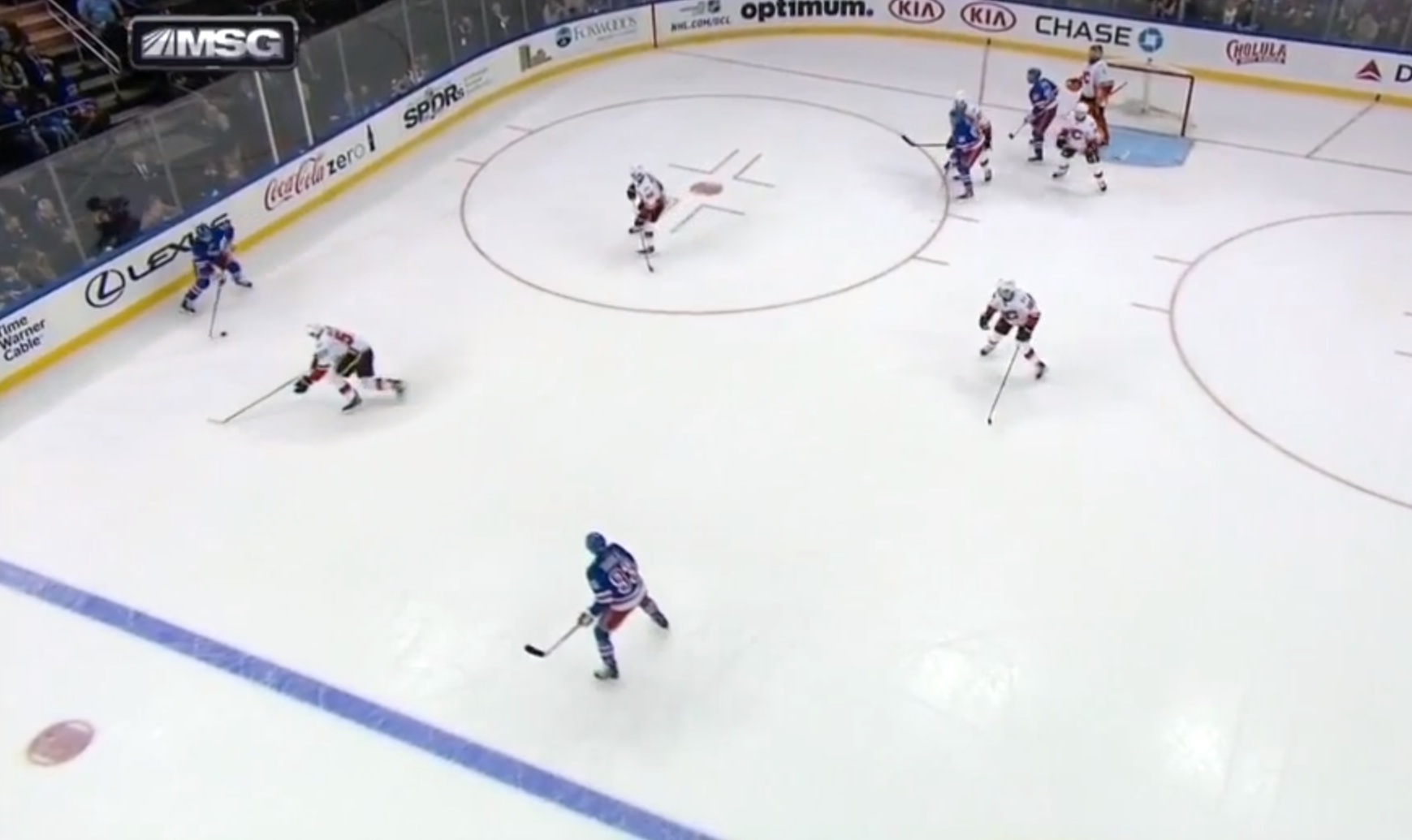 Being that high in the zone, a pass from Stoll to Yandle would be risky in the frame above.
So here's where Jooris has to make a read. He can't just stay out wide on Dan Girardi, who's moved wider and lower reading off Yandle's slide to the middle of the blue line. That would leave Yandle a clear lane down broadway, and New Yorkers like broadway. Hell, who doesn't?
So, now he has to triangulate. He has to front Yandle so there's no shooting lane (check, two gold stars), while taking away the pass to Girardi (check, three gold stars) ...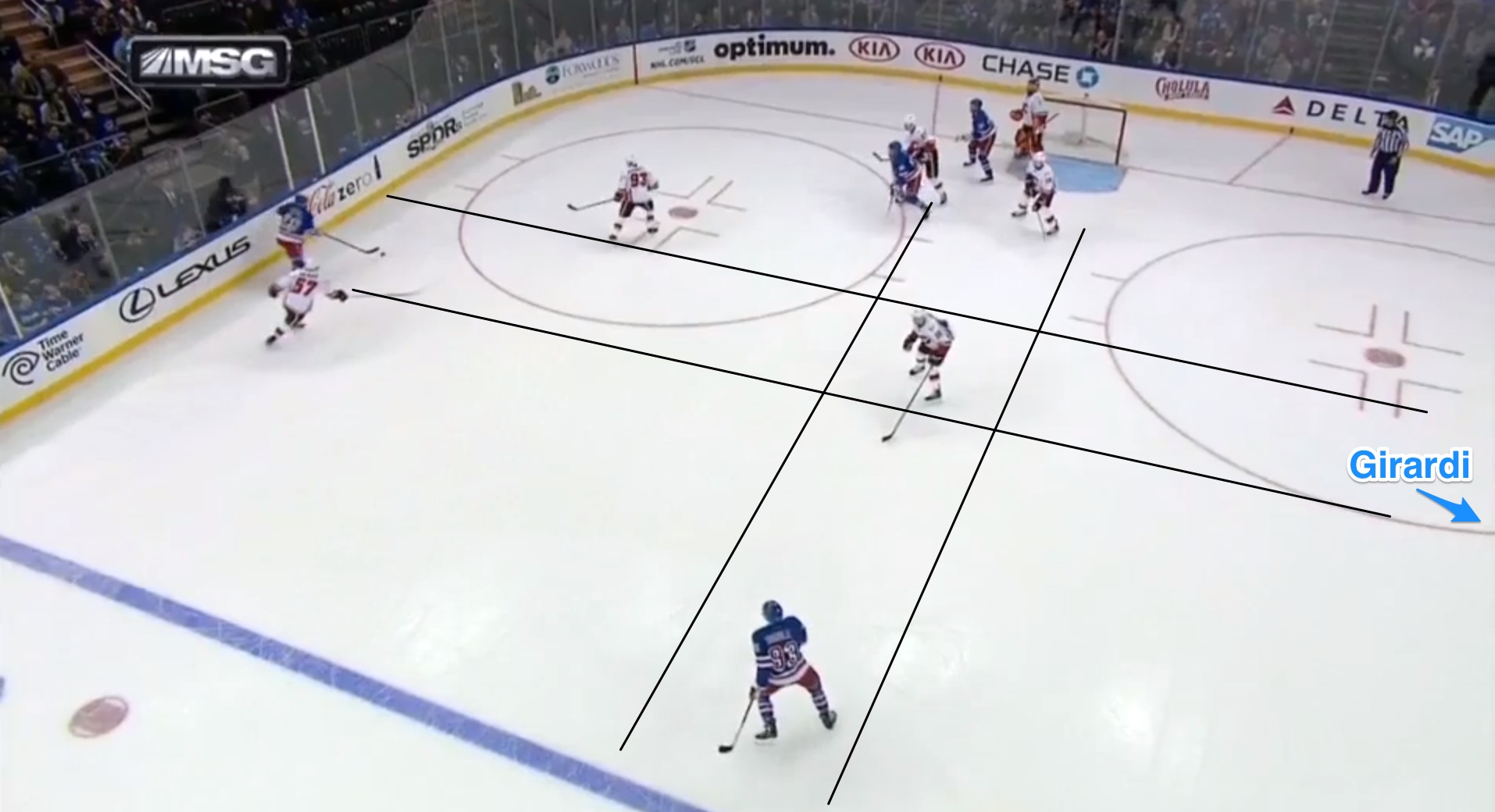 ... while providing help in the slot if one of the two Rangers in front pops out for a one-timer from the slot (we'll get there).
It's amazing, but true - sometimes playing wing in the D-zone CAN be hard.
As Emerson Etem makes his break for the soft spot in the slot, Hamilton will slide out to stay in his lane.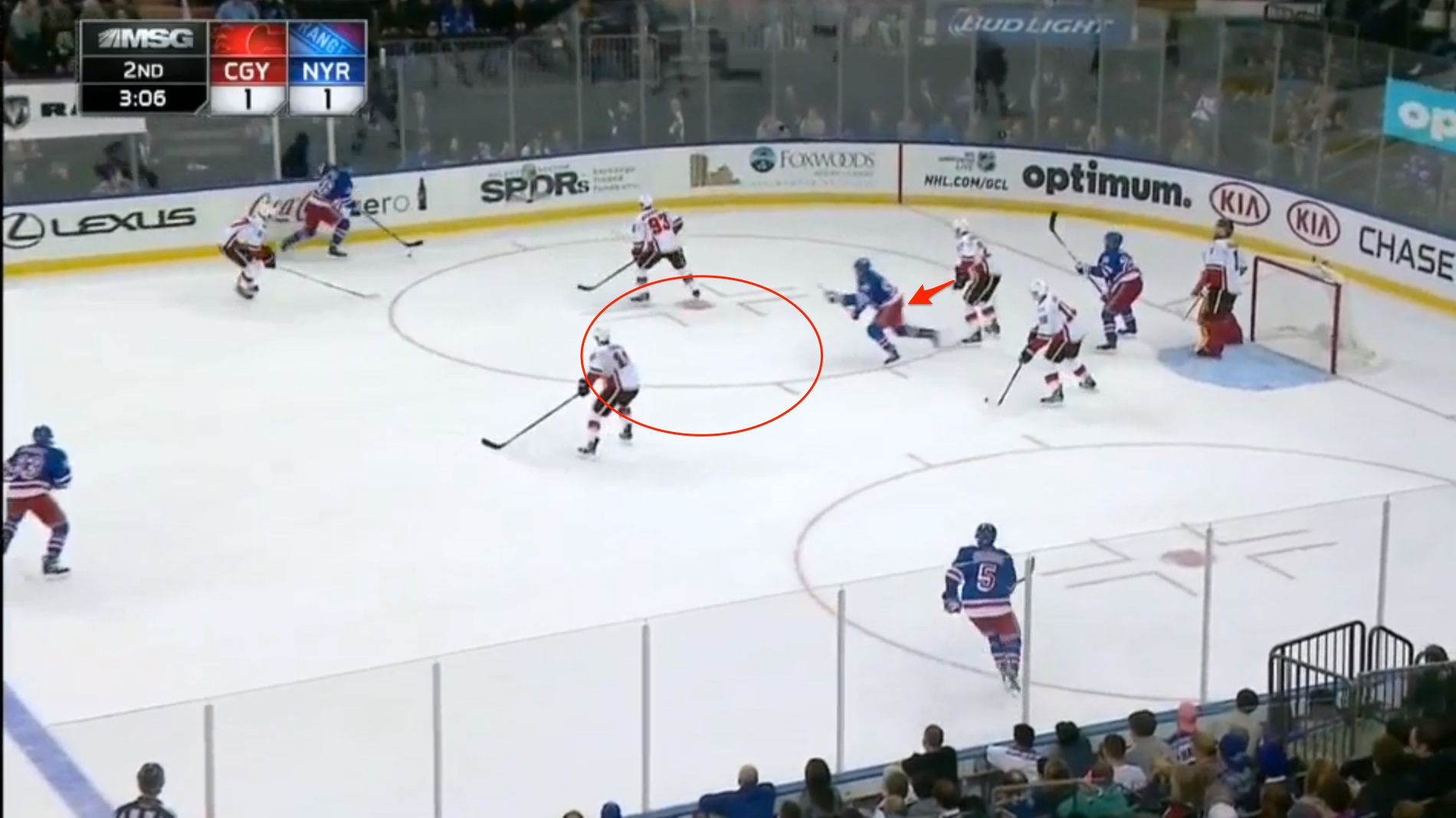 But coaches will ask weak side wingers, in this case Jooris, all the time - "Why just stand there beside a shooter in the slot and leave him because he's 'not your guy." I mean, geez. Help out while you're there.
So, as Stoll slides down and Etem slides up, the well-triangulated Jooris offers his help on a potential one-timer, and Jooris succeeds by getting Etem's blade off the ice. Four gold stars!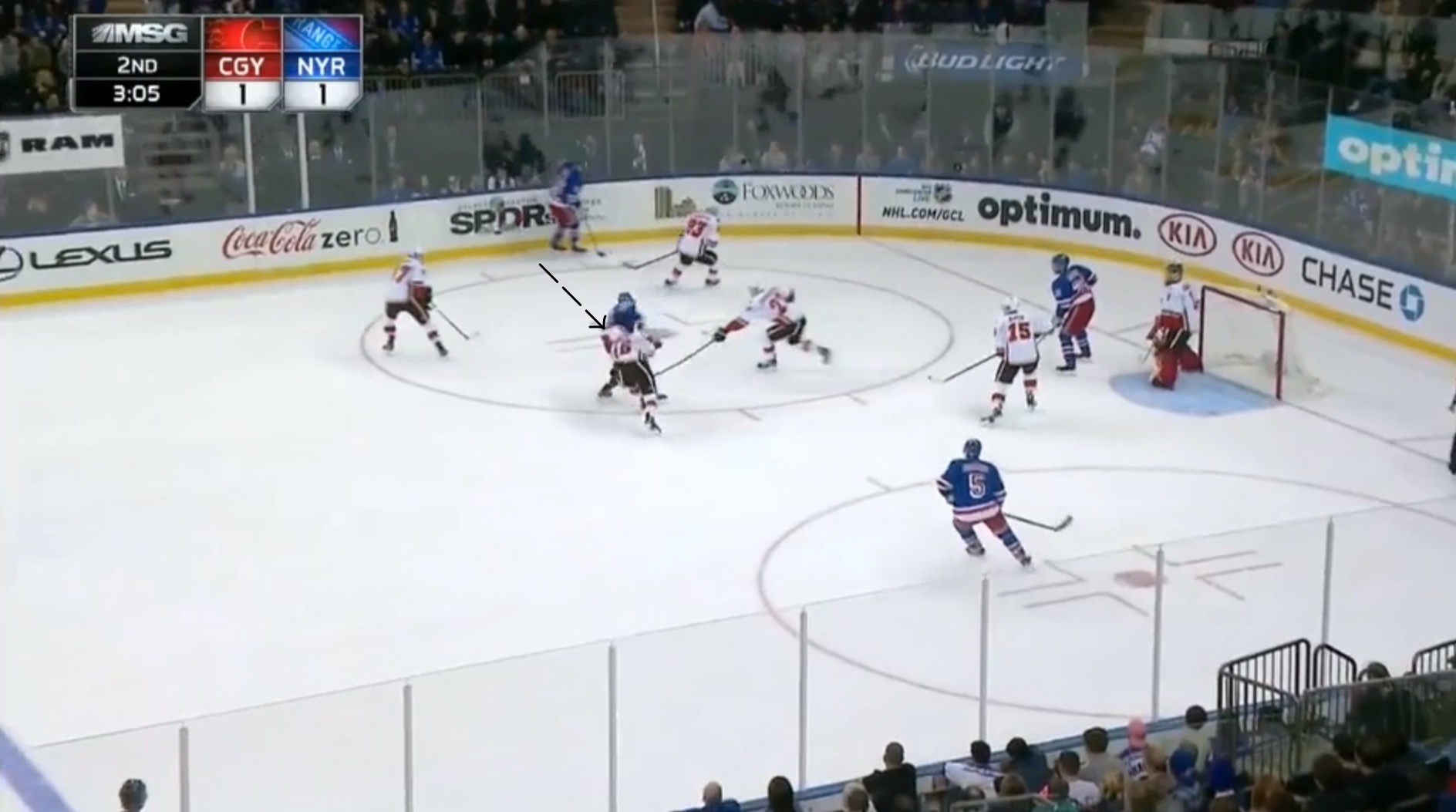 Man, that's some fine defense by a winger. Oh wait ... crap.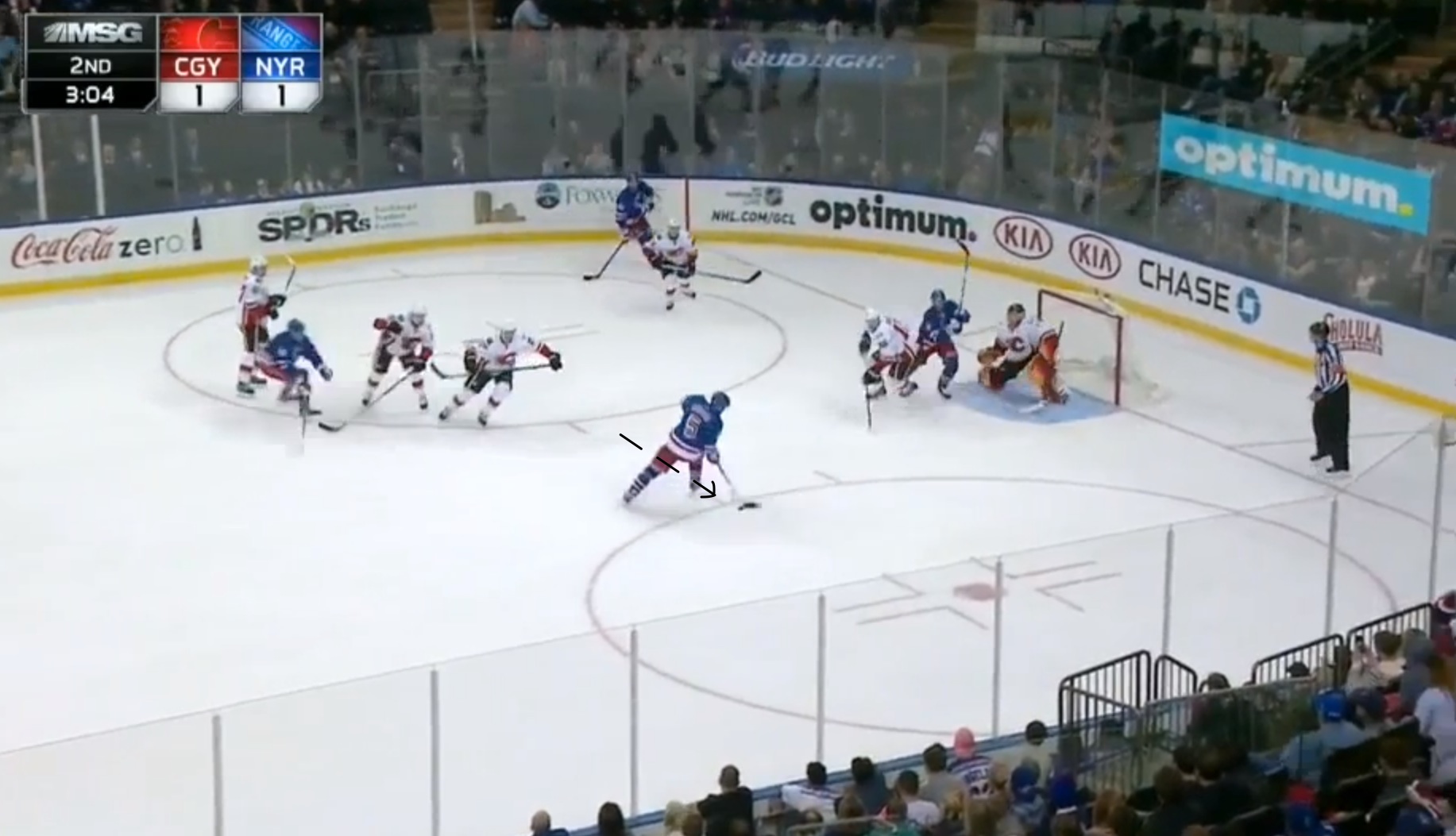 That's a tough break. He gets Etem's stick up, which allows the puck to drift right onto Girardi's tape in the slot.
Annnnd now Jonas Hiller is boned.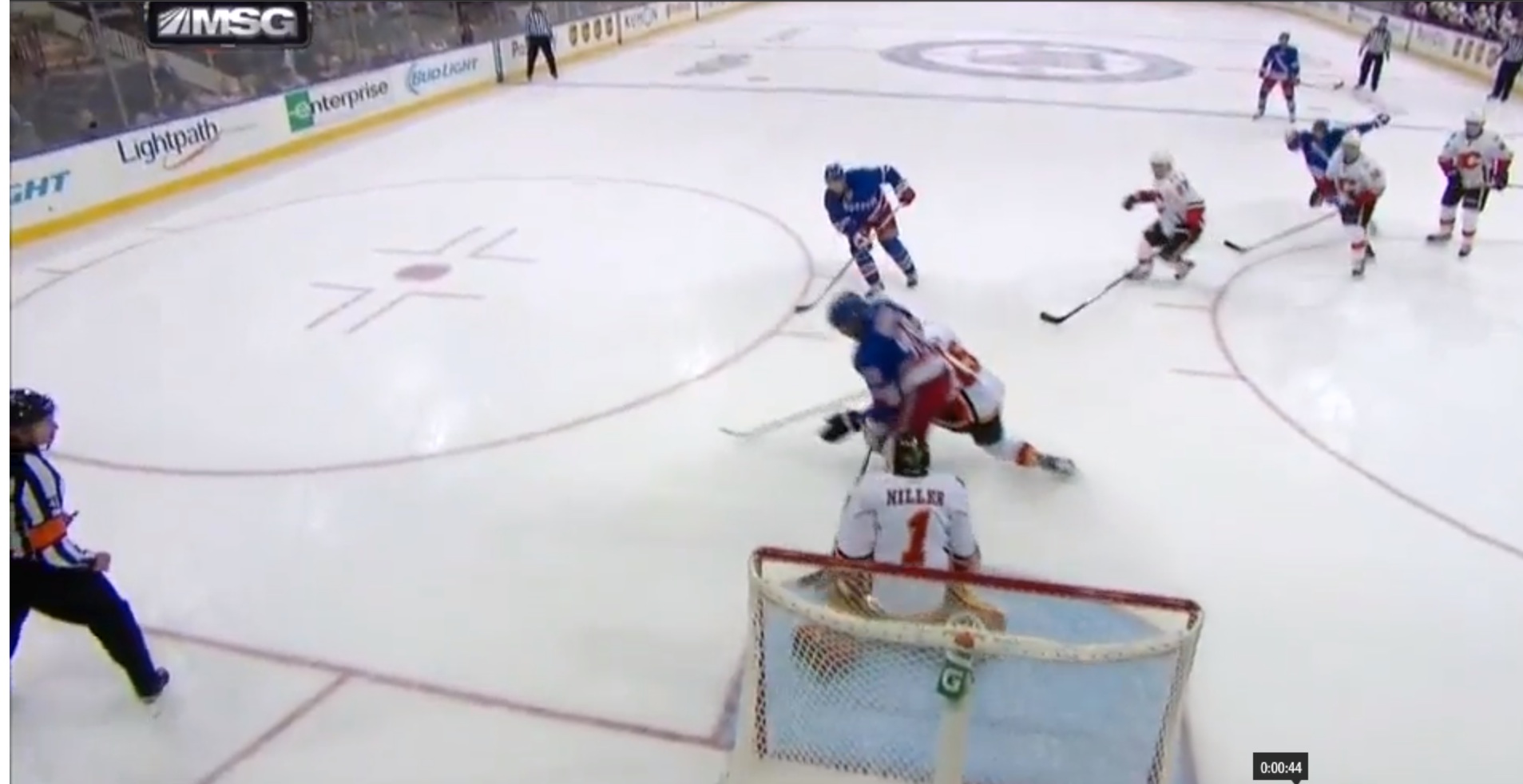 After Grant made the decision to eliminate a potential Stoll-to-Yandle second pass, Jooris was more or less flawless in his reads.
The Rangers got the puck in, got solid possession, and made the Flames defenders make some choices. From where I sit as a former winger, they defended pretty damn well. They just got some bad luck.
Comments
✕
Systems Analyst: Jooris succeeds in tough D coverage, Rangers still score winner
  Got something to say? Leave a comment below!