Systems Analyst: Eichel runs roughshod over Columbus with otherworldly goal
Bill Wippert / National Hockey League / Getty
Only five players from the 2015 NHL Entry Draft are still hanging around the league after the first weekend of the season: Connor McDavid, Jack Eichel, Noah Hanifin, Mikko Rantanen, and Daniel Sprong.
There's a wide range of reasons for that, but the biggest is the sheer lack of physical development among young players, making it nearly impossible for them to use the tools that helped them succeed at lower levels. Jonathan Drouin scored 41 times in one junior season; last year, his first in the NHL, he scored four goals in 70 games. The guy obviously knows how to beat goaltenders, it's just not as easy to get to those places to prove it in the NHL.
To compensate for your lack of physical development, you better be awfully good in other areas to justify periodically being made to look like a boy among men. David Pastrnak, 19, is an offensive dynamo, but you need to be when full-grown NHL players like Brian Boyle can swat your defensive efforts aside with mindless ease.
However, Buffalo Sabres rookie Eichel apparently skipped the boy and teen stages of development and went straight from baby to adult man. At 18, he's already 6-2, 200 pounds and leads the Sabres with two absolute highlight-reel goals through three NHL games. He's playing over 19 minutes a night, playing with 100 percent poise, and apparently zero nerves, putting the rest of the league on notice.
Below is his latest piece of artwork, with a frame-by-frame breakdown of him running into, through, and around the (so far) disappointing Blue Jackets.
It starts with a pass being fired off the boards to the left of Eichel, with Matt Moulson holding at the blue line before driving the net on a 2-on-2. Or, at least what the Blue Jackets' forwards believe is a 2-on-2.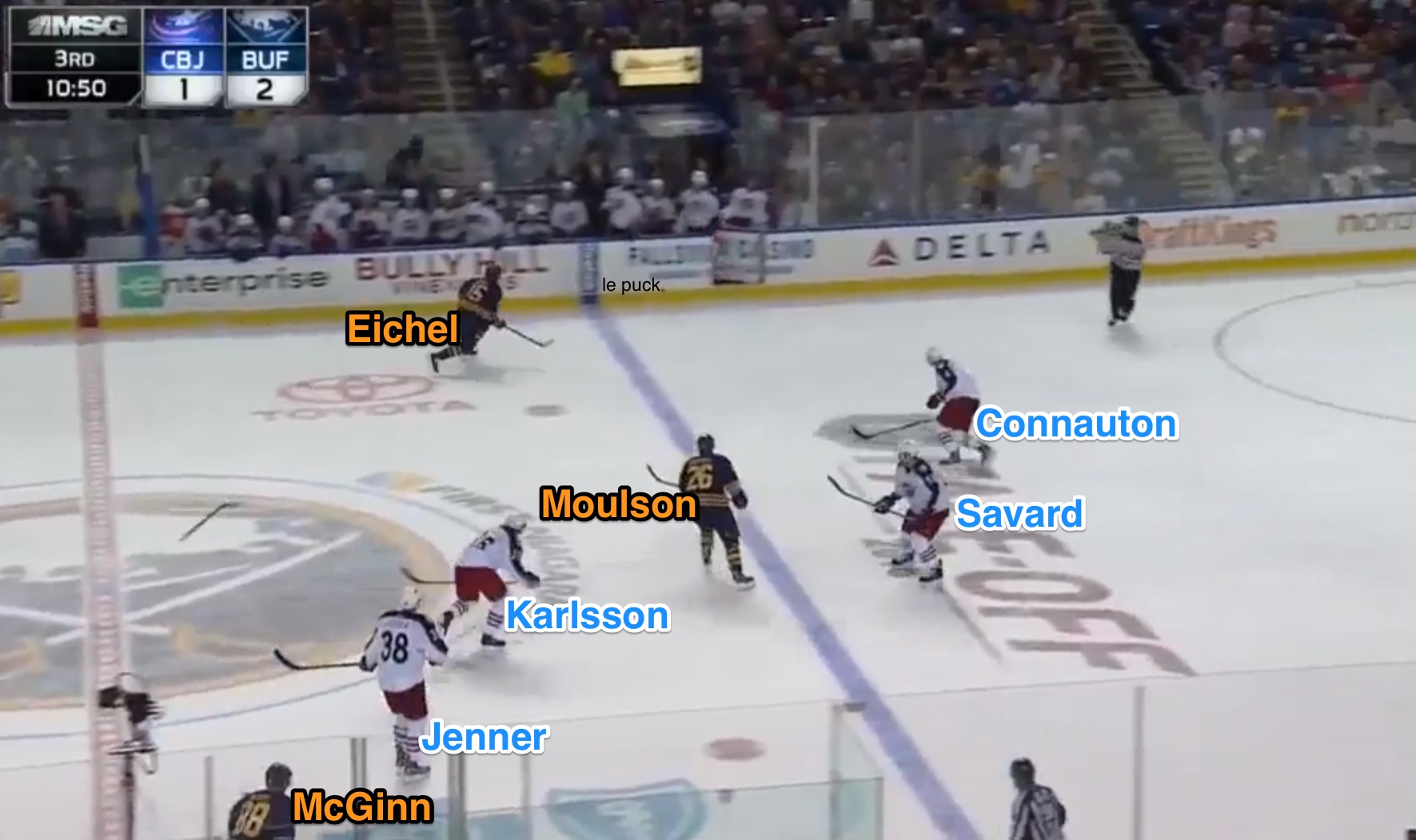 With the Blue Jackets having numbers, William Karlsson and Boone Jenner (who has straightened upright as if he just had some major life epiphany - Bruce Willis was dead the whole time?) both shirk their duties of finding the third forward and choose to puck watch, while Jamie McGinn skates into a lane where Eichel could possibly find him.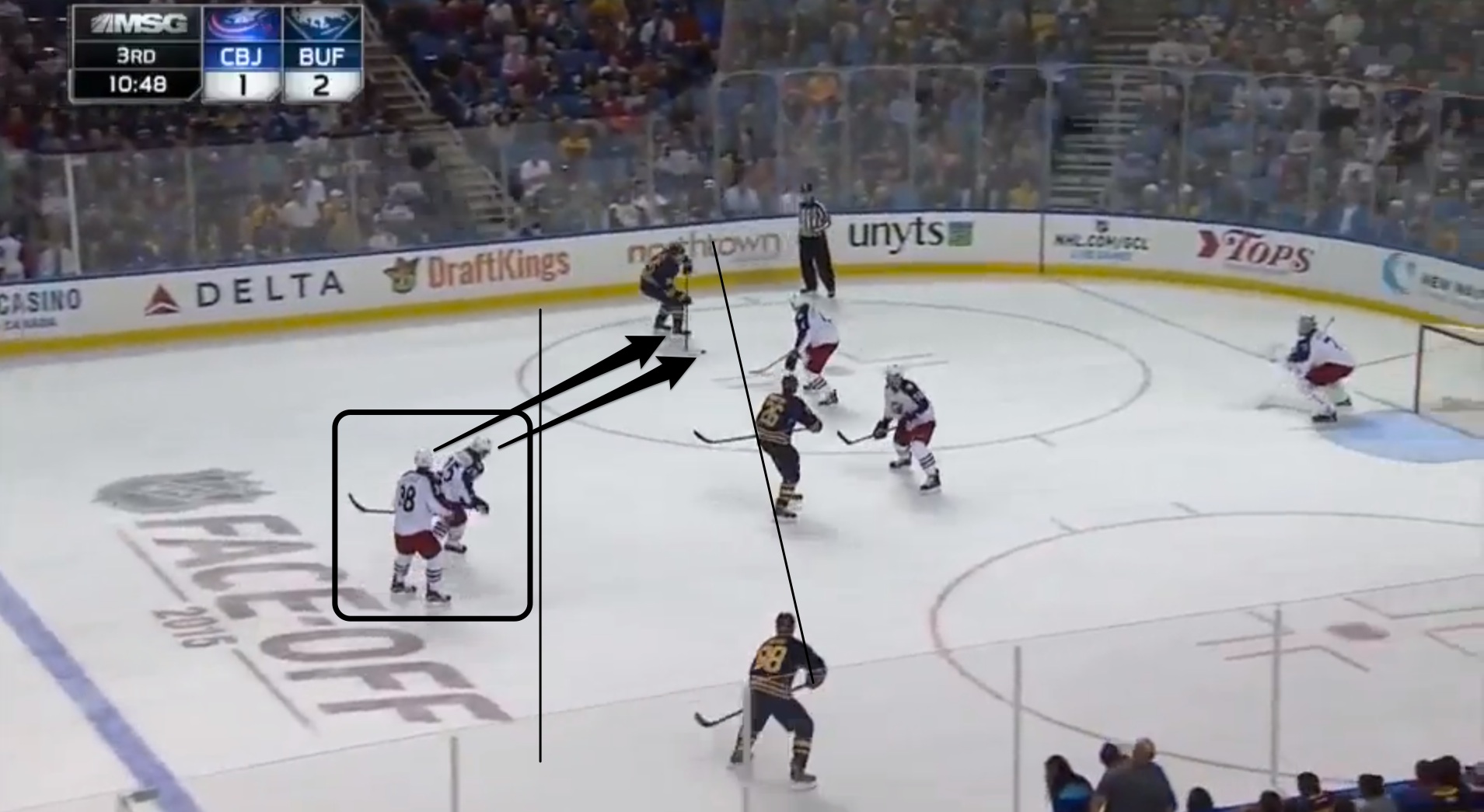 Interestingly enough - and I can't believe I'm actually gonna critique Eichel on this play, but here we are - he does make a poor decision. That's an awfully juicy passing lane to McGinn, and his defender, Kevin Connauton, does have him in check. You'd like to see that pass made, and the sooner the better.
It doesn't take Eichel long to see McGinn, but, by then, Karlsson has wised up and he's rushing back to grab the Sabres winger.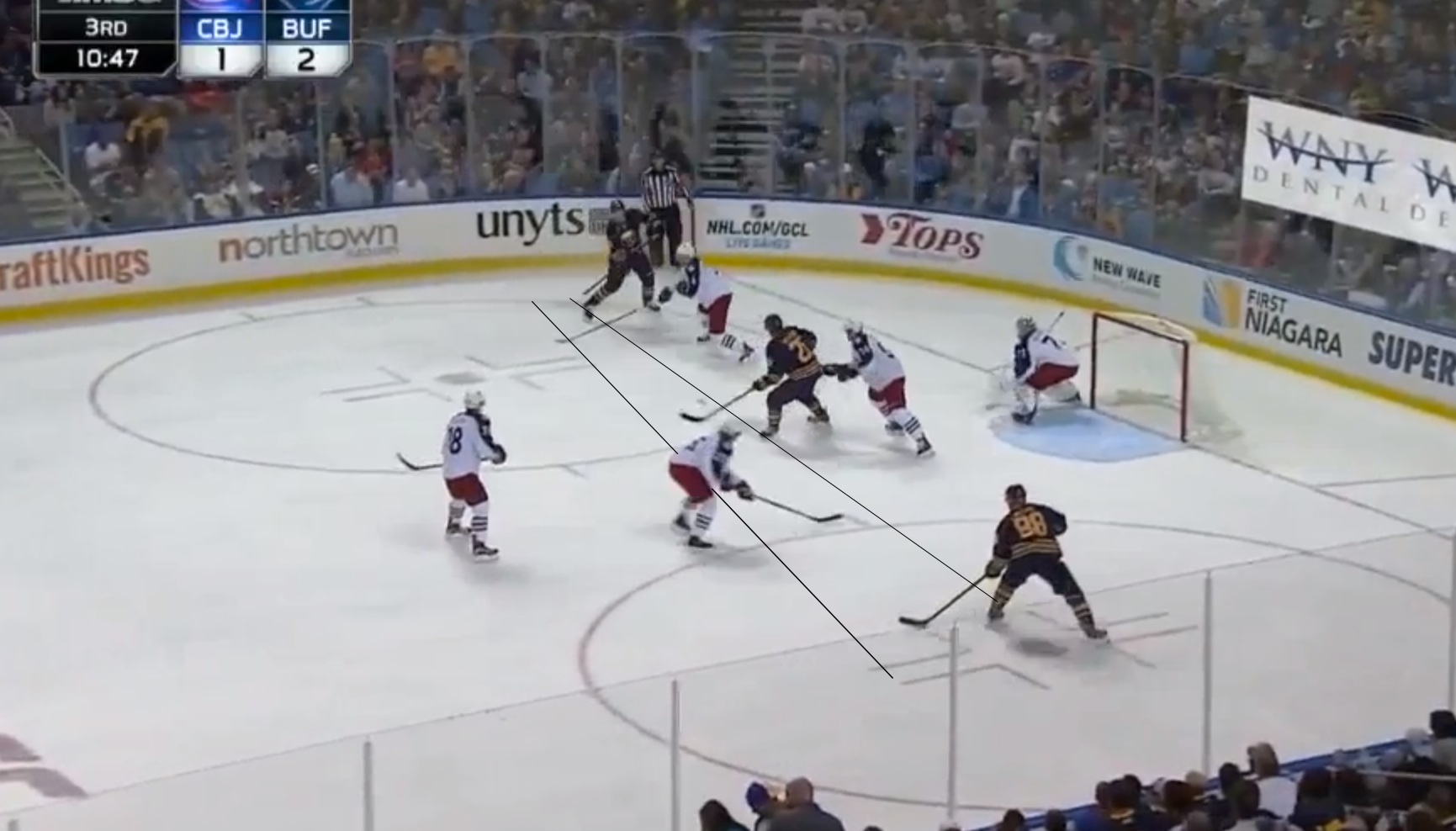 The pass doesn't get elevated enough, and Moulson, who wasn't really sure if the pass was for him or not, awkwardly bats it back high in the zone, which is still devoid of other players.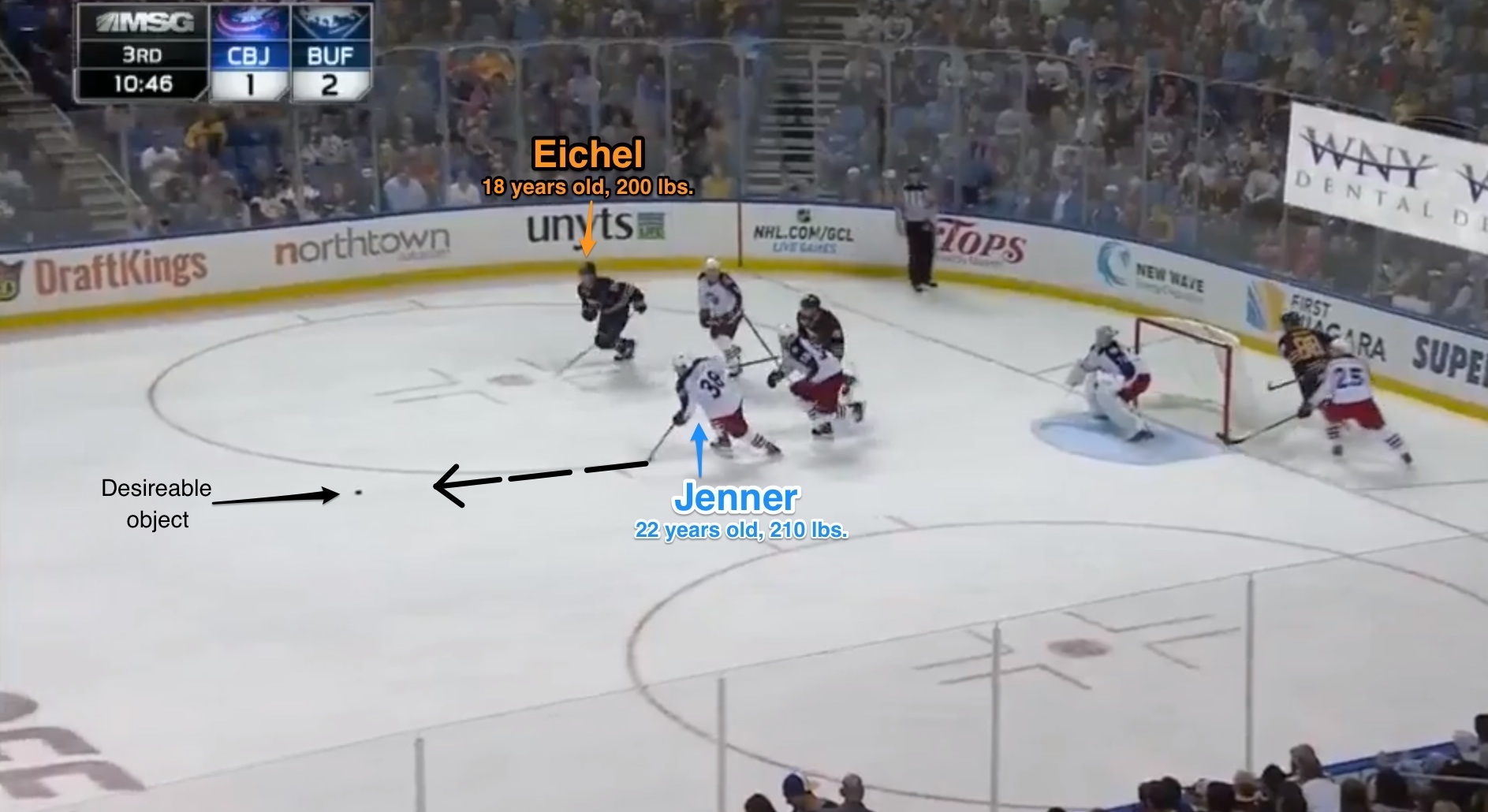 Now, here's where it gets special.
Eichel, having made a pretty mediocre offensive play, doesn't pout, slump his shoulders, and coast back. He doesn't bang his stick on the ice and look to the heavens. He gets on his damn horse and hustles back. Jenner was the closer player to the puck, and had a crossover to help him get his speed up, and is the larger man .... and he came out of this battle looking like Pastrnak after he got Boyle'd.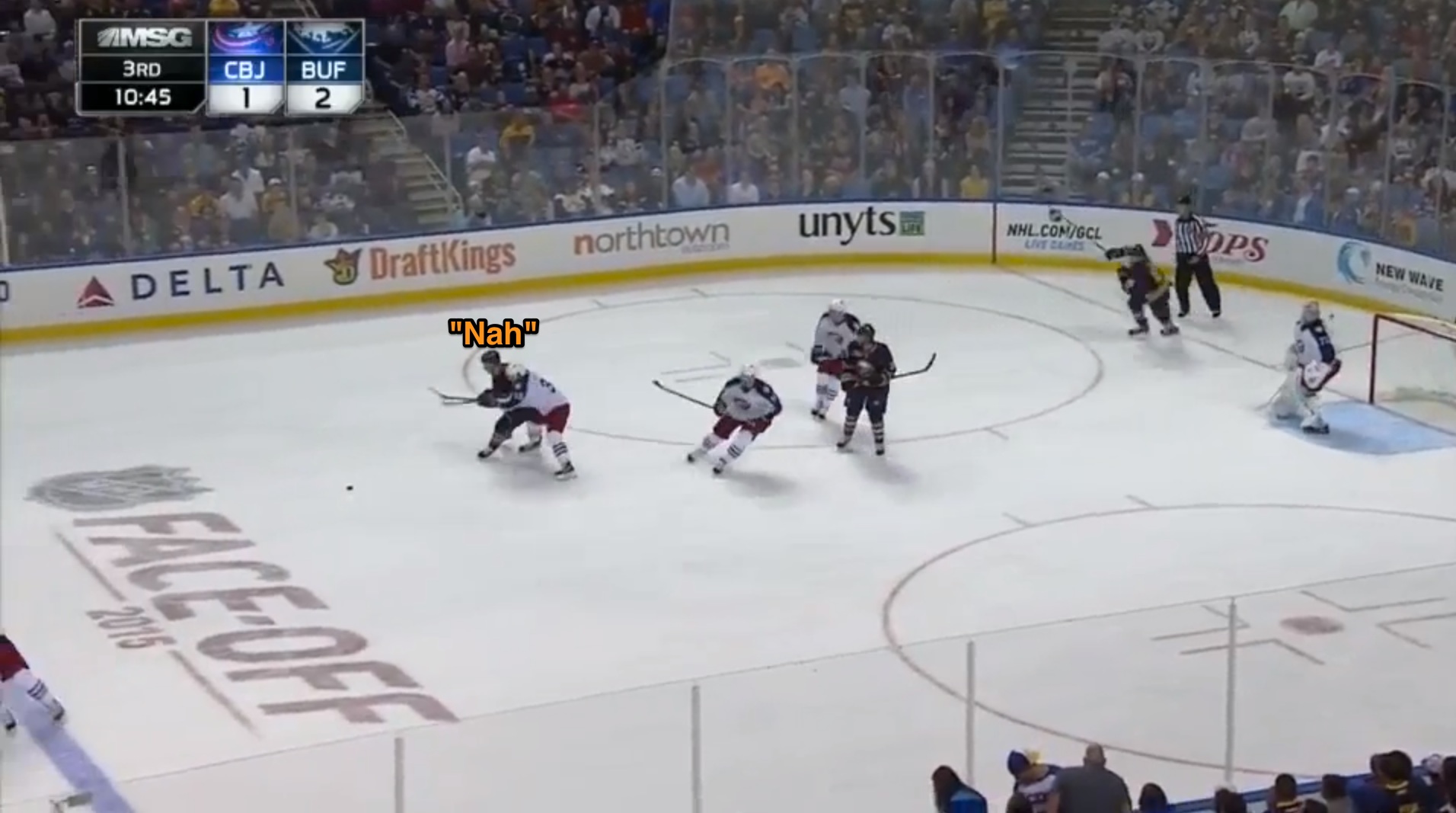 Eichel has a unique skating style: he looks like a bit of a wide-tracker who shouldn't be able to generate the speed he does, but my stars does he get it dropped into gear quickly.
You're allowed to jockey for position on your way into a puck battle, and look what Eichel does with his hip into Jenner's right leg after their initial contact.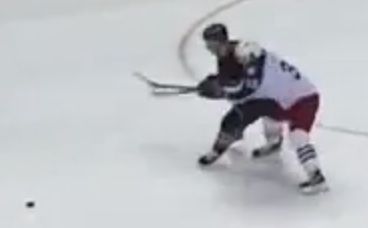 He throws a bump on Jenner, then uses his great edge-work to get his hip into him, and the battle is basically won at that point. Any push Jenner makes is just gonna propel Eichel farther.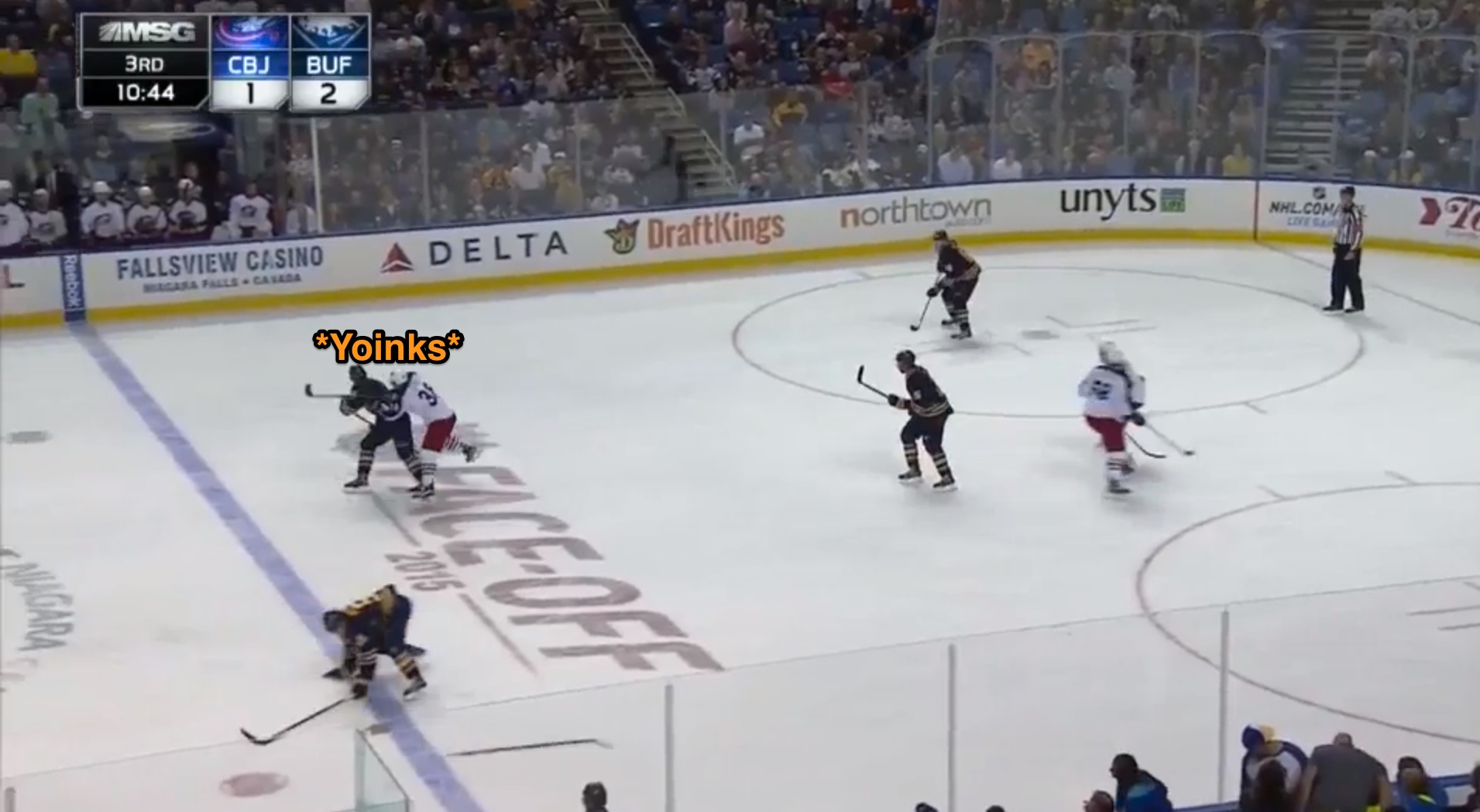 The best part might actually be how, at this point, Jenner seems to be off Eichel's mind completely. He's back to thinking about getting the biscuit in the basket. They engage in a brief stick-on-stick puck battle after the contact, but the Sabres rookie is hard enough on his Bauer to push the puck away, and early enough that he can keep it in the zone.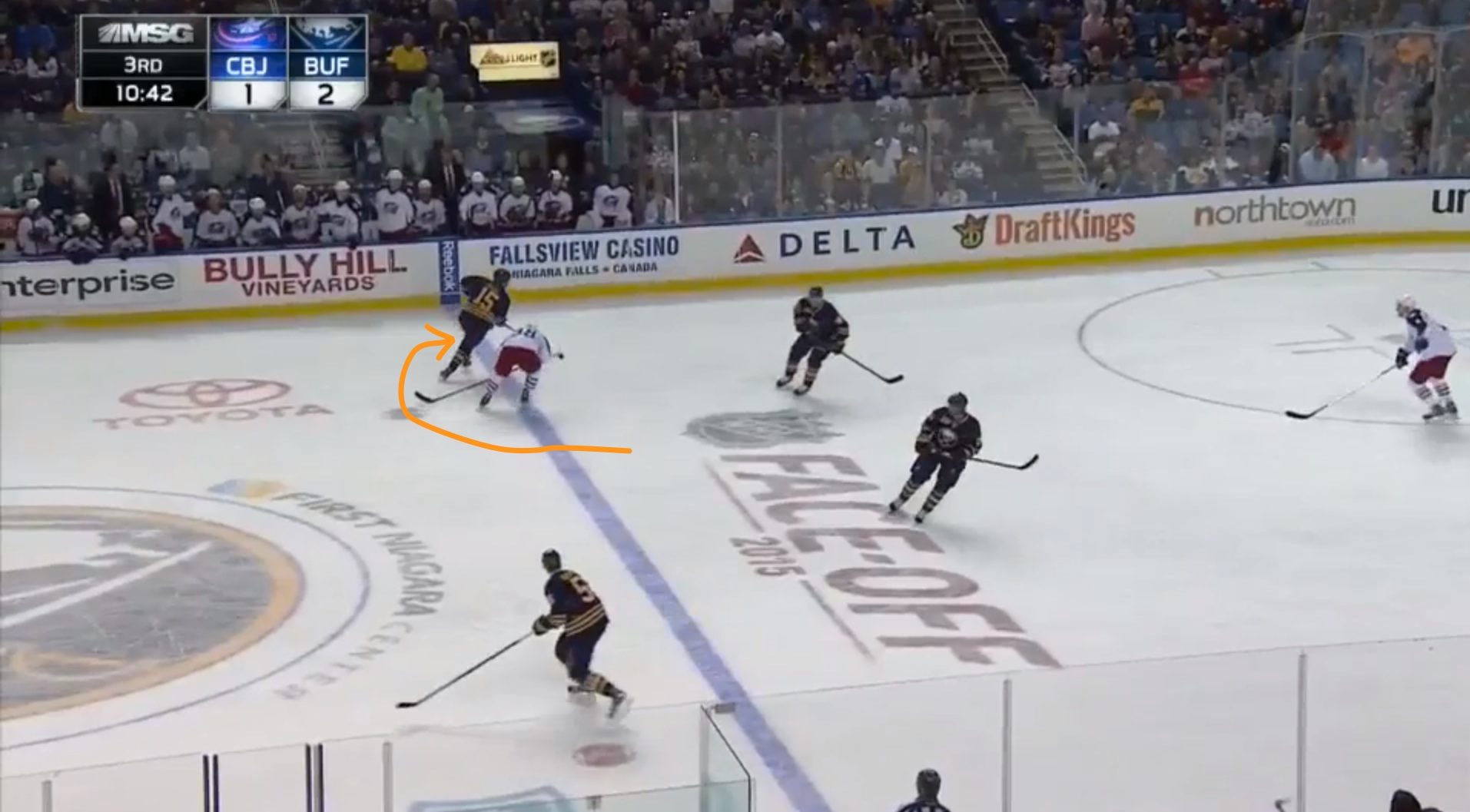 The other Sabres are having a "Wait, what was that? Can you do that?" moment after seeing nothing like it last season, and they turn to join Eichel on rush No. 2. (If I'm being a jerk, McGinn once again looks like he's in a pretty good spot to get a pass below. But I won't mention it this time, even though I just did.)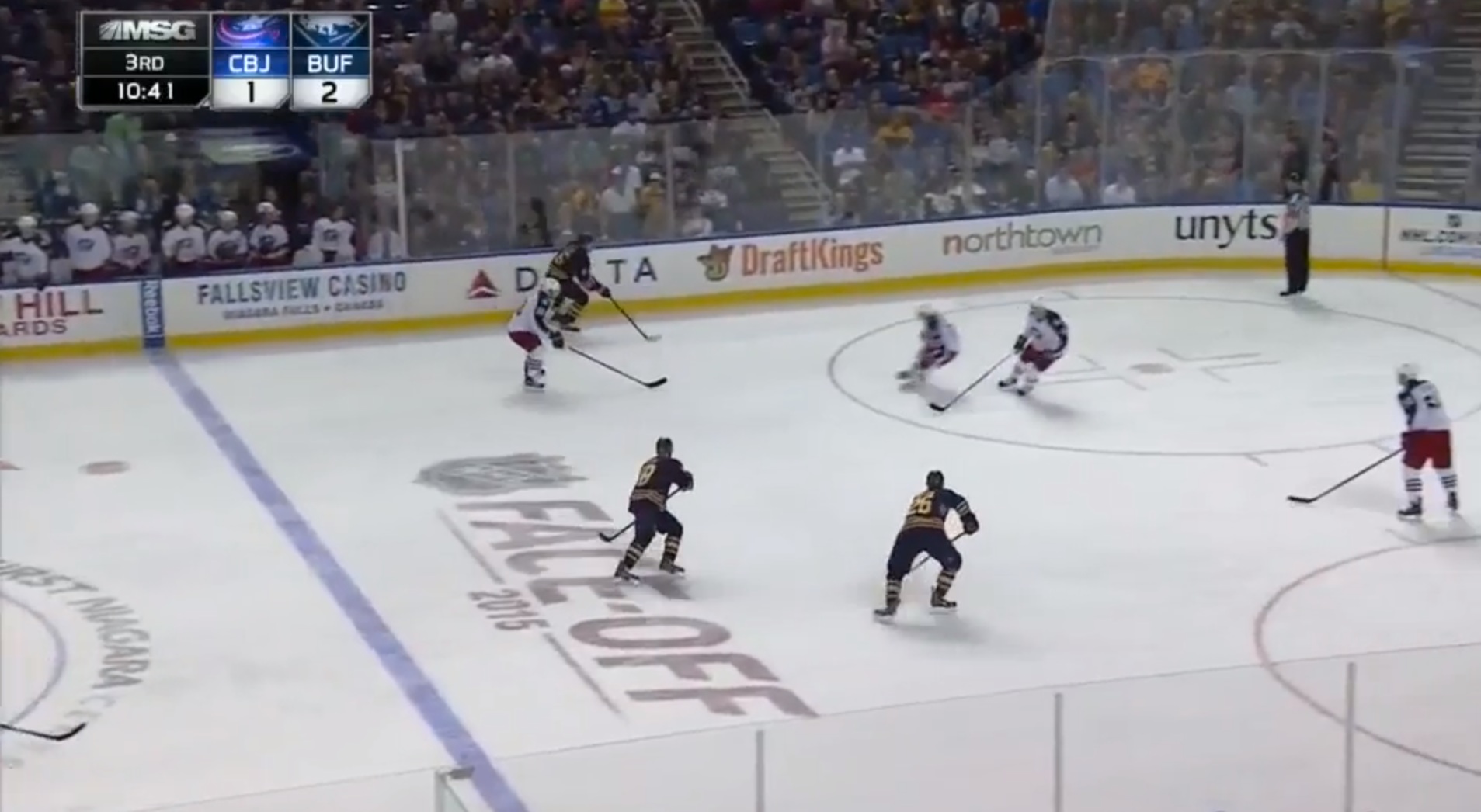 Here's where Jenner completes the hat trick of not-great plays (more like Boooooo-ne Jenner, amirite?) by letting up on Eichel, who's able to get separation thanks to a second stand-upright-and-watch defensive effort.
Columbus defenseman Connauton is in a tough spot now because, like a regroup drill in practice, he has to get far enough out to close the gap on the puck carrier, but also get going backwards quick enough to not get roasted by the speedy Eichel. I suspect he thinks Jenner is going to stay on him, and he ends up sort of stranded on an island.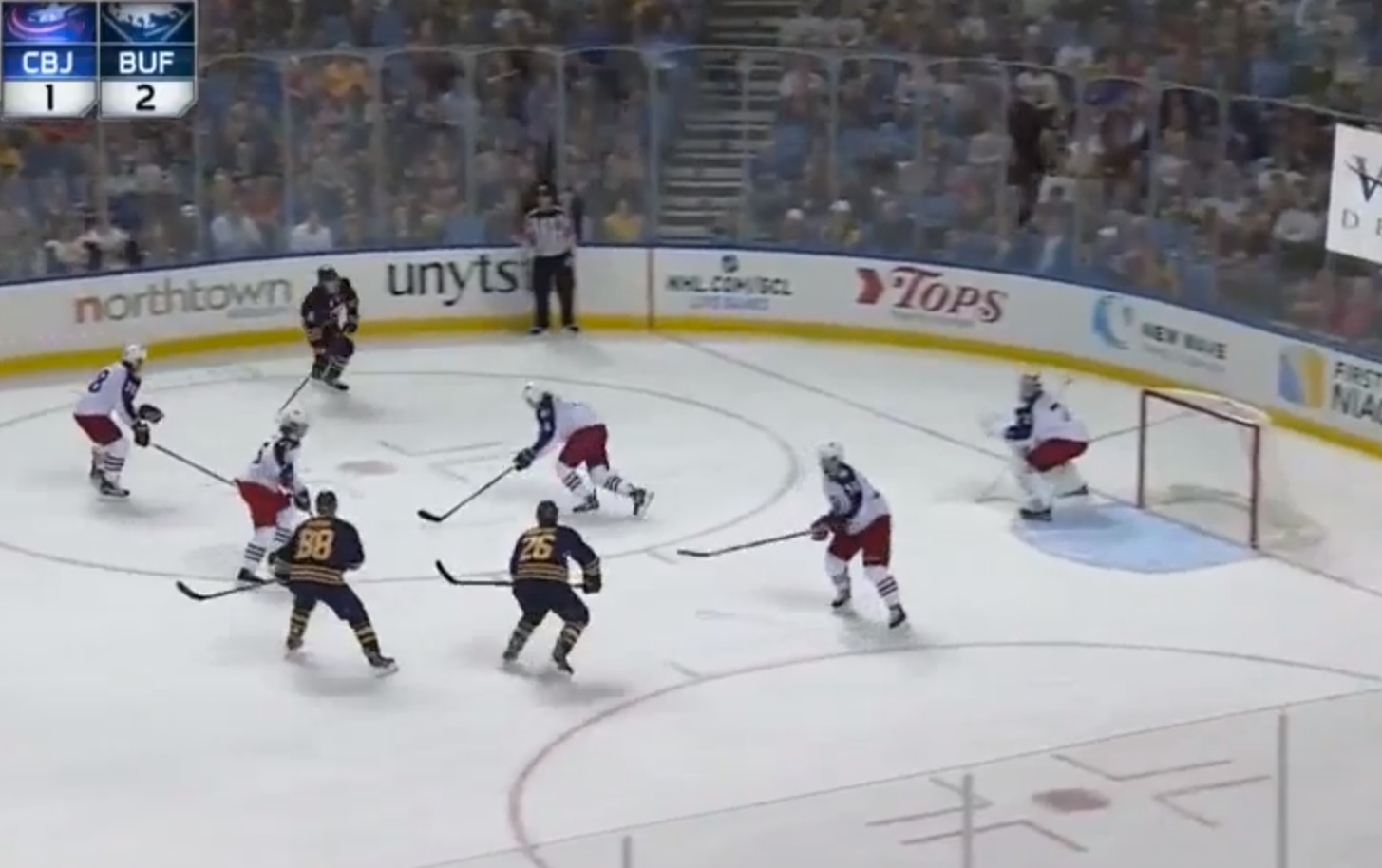 At this point, Eichel has created great separation, and Connauton realizes he's going to be the guy to have to get into Eichel.
There are a few seemingly good things for the defender: Eichel is at a tough angle, he looks like he's gonna take the shot from there, and he might be able to block it. Plus, c'mon, your goalie is stopping shots from there, yeah?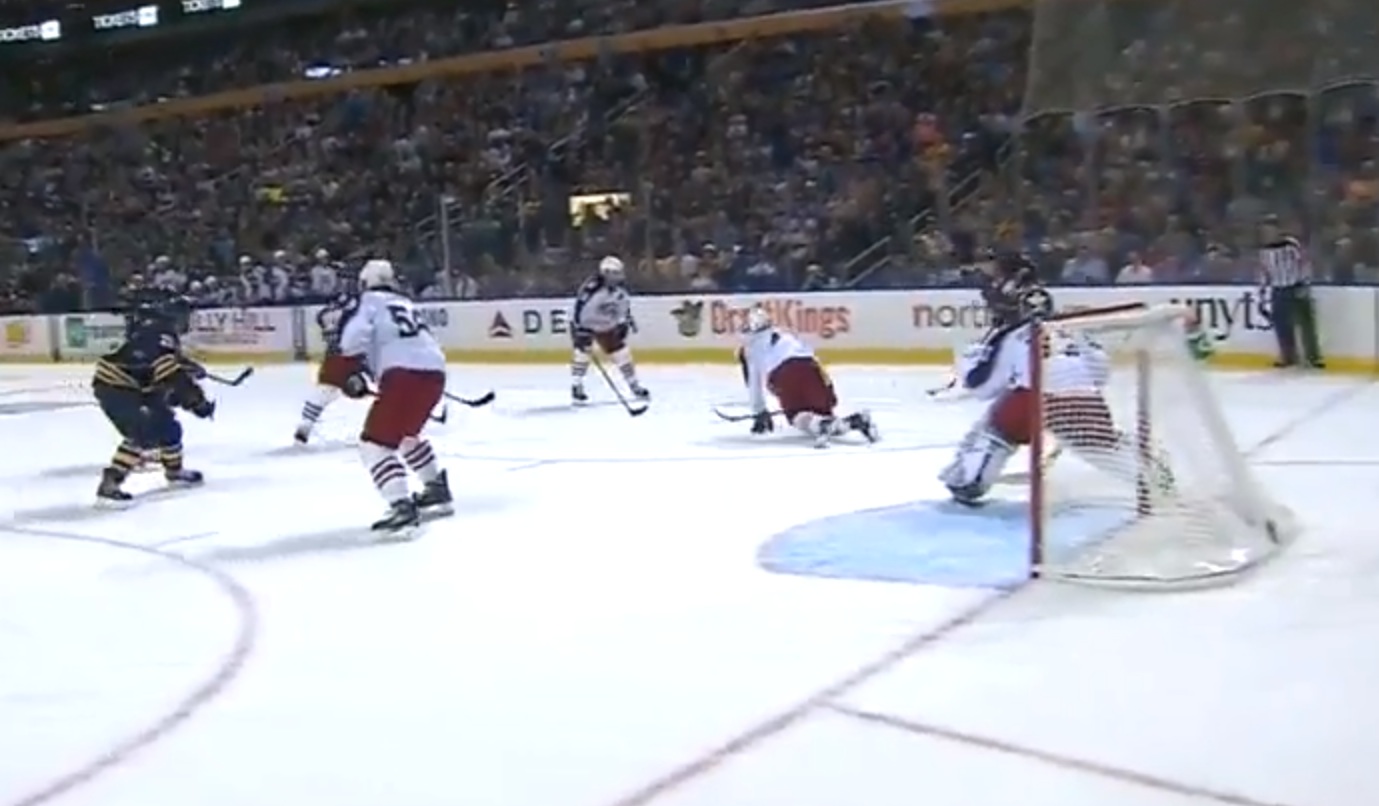 But this is the difference between good players and great players. Eichel has the special ability to not just put the puck in a good spot, but to shoot the puck through a mail slot in a door with baffling consistency.
Having your eyes up while shooting probably helps with that, I'd guess.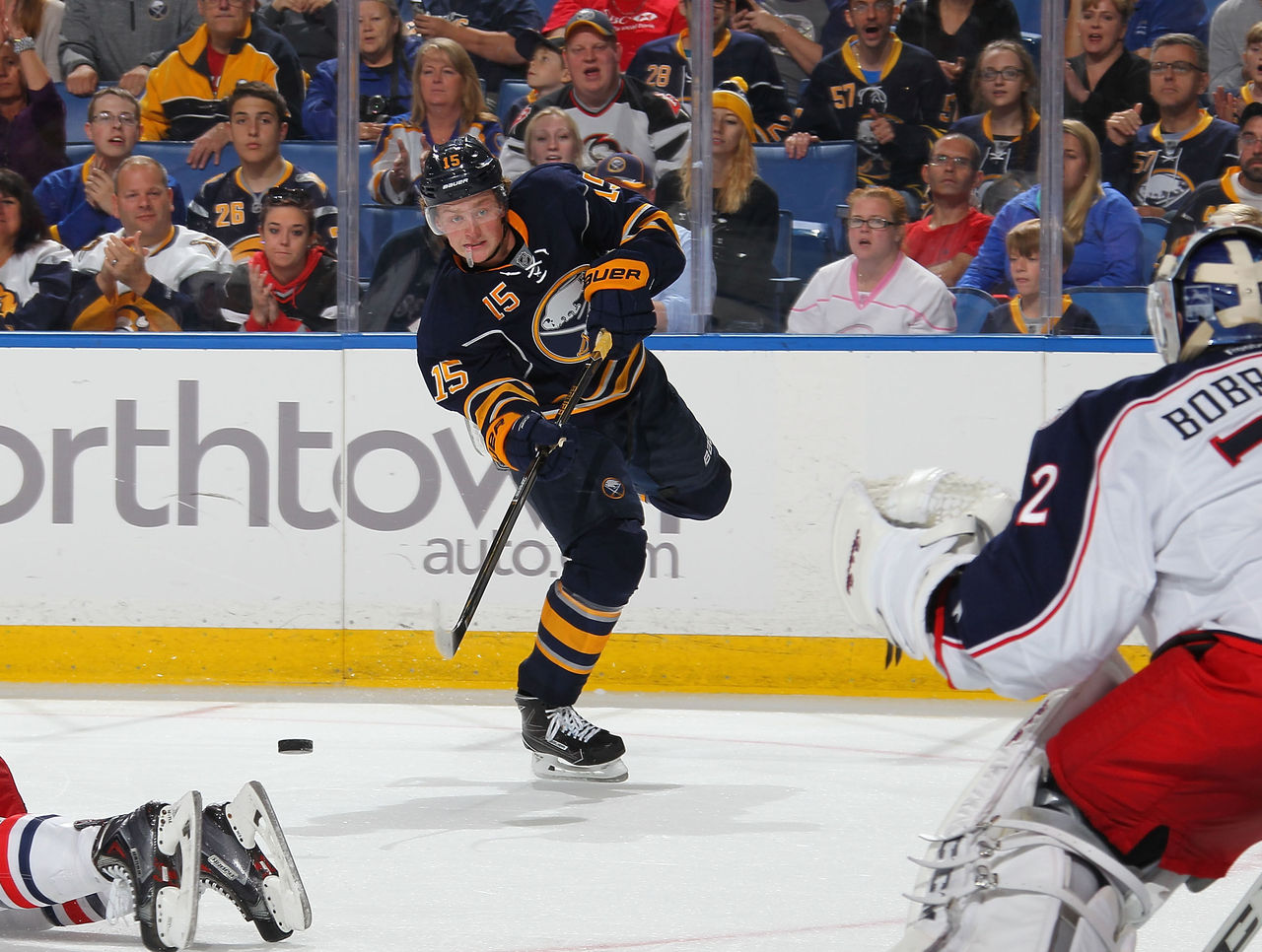 (Not sure what the mouthguard does dangling there, but I'm not second-guessing the guy.)
The young forward has an interesting release - it's a more classic wrister style than we see these days, reminiscent of Mats Sundin, not today's great shooters like Phil Kessel. He whips it, almost throwing it like an underhand lacrosse shot.
He flings the puck from here …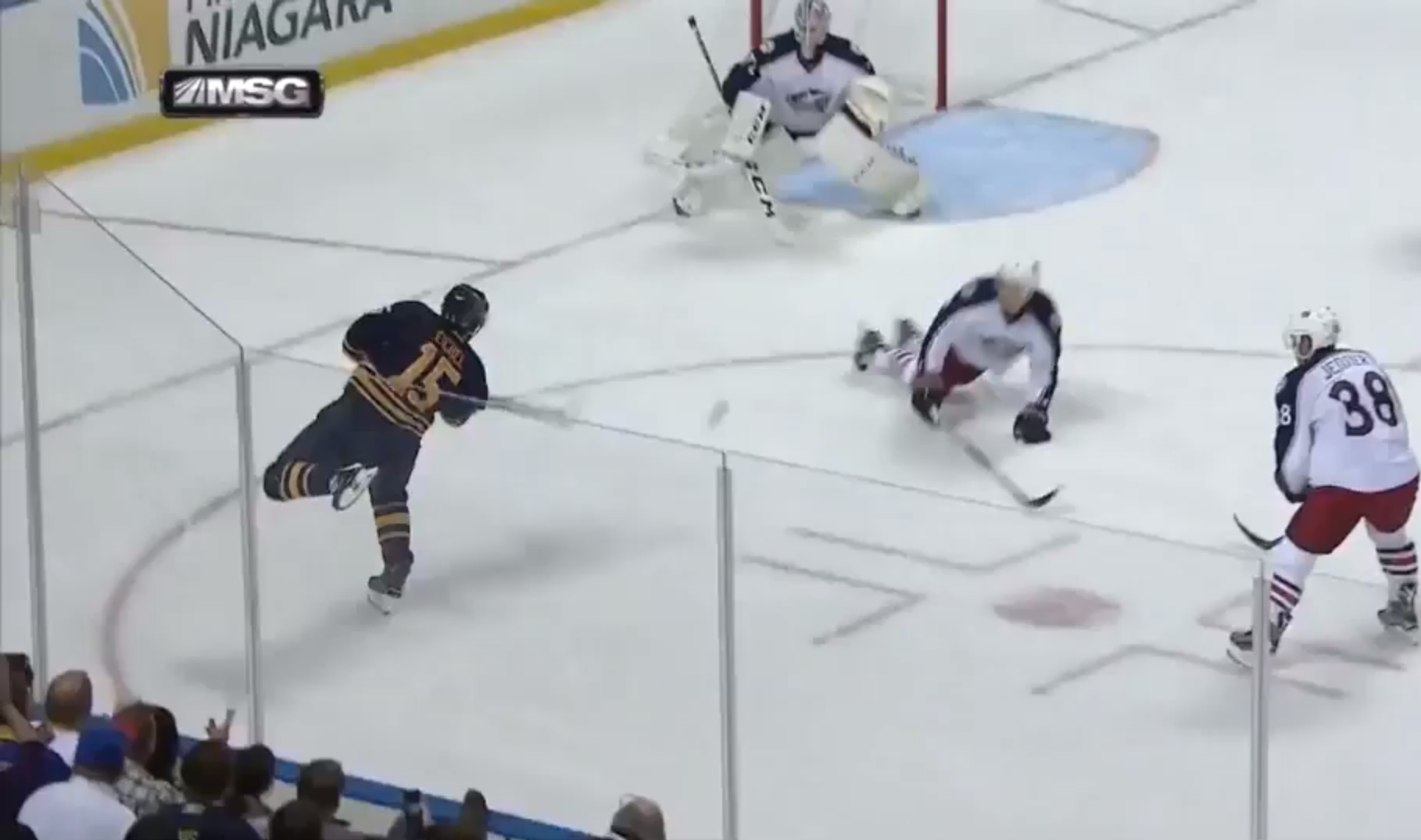 Connauton can't get over in time, and the puck basically kisses off the top-right elbow of the net (frustratingly, I just couldn't pause it while it was touching metal, and below was the best I could do. But trust me, it hit metal).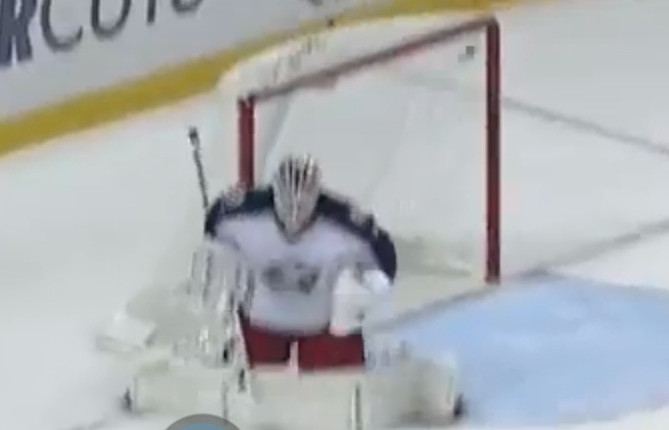 At Eichel's age, he's doing things that make you believe big numbers are possible right out of the gate, though, being on a team that likely won't be great might hinder that.
But all analysis aside, sometimes you just have to take a moment to appreciate true talent at work. This is one amazing goal from an amazing player, one that makes coaches and fans alike happy. So, please, turn your brain off for another few seconds and have one more wow at Eichel's second incredible goal.
(Videos courtesy: NHL.com)