Systems Analyst: Forwards playing defense in 3-on-3 OT is going to be hilarious
Jeff Vinnick / National Hockey League / Getty
I've previously written about 3-on-3 overtime, first as a staunch activist and now as a proud supporter. In sum, I had the chance to play it in junior. It's end-to-end exciting action, with tons of talent on display in the open ice ... and oh buddy, is it hilarious watching forwards try to play defense.
There are exceptions, but most skilled forwards - even if they can defend at their own positions - will be exposed when they're forced to drop in coverage, skate backwards, and try to figure out timing and gap control while playing against the game's most talented players.
Below is a quick look at an overtime winner last night, and an issue that's going to cost some teams some games. I love this goal.
*****
First, give it a watch. I recommend starting it around the 30-second mark to really soak the awkwardness in, but feel free to go with the whole thing.
(Courtesy: NHL.com)
The obvious thing to note here is that this came on a delayed penalty which makes the scenario a little different, but the screw up is still going to surface where it did on straight 3-on-3.
OK!
Today we're going to be watching Matt Nieto, a 5-foot-11, 22-year-old forward from Long Beach, Calif. He's coming off a 10-goal, 27-point season with the San Jose Sharks and enters this season with expectations that he'll exceed those totals fairly handily.
Below, Nieto knows his guy is Matt Bartkowski.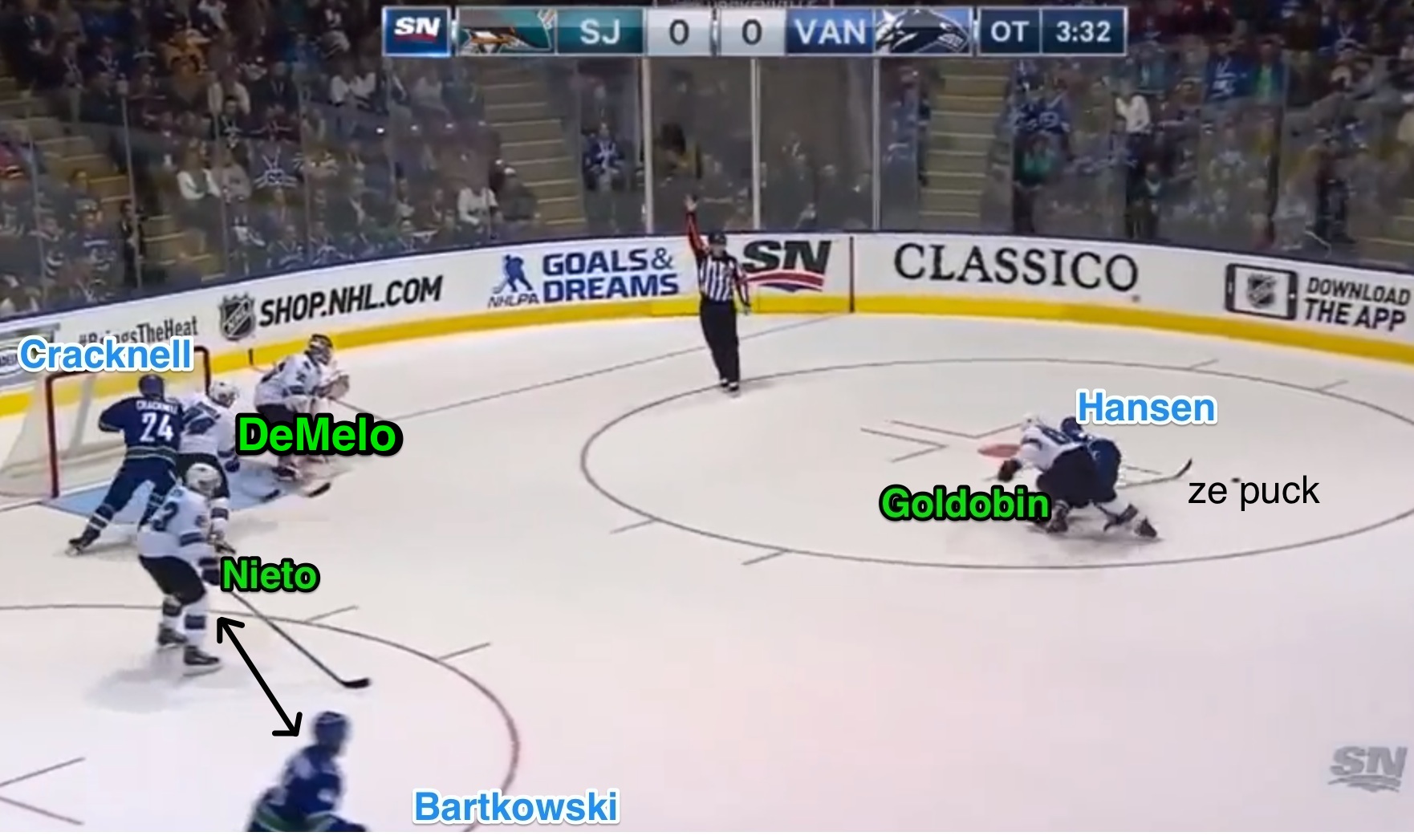 He's leaving Bartkowski a pretty sizeable gap here, which isn't great, but the reality is you can't stick too close to a guy in 3-on-3 or he'll jump by you, and suddenly he's tapping in a back-door feed. Nieto can close on him from here.
Nikolay Goldobin takes down Jannik Hansen, and is getting a penalty. He shouldn't have done that. Penalties, it turns out, are bad. From there, Hansen has the wherewithal to get up and stay on the puck, and he circles it back up top. Get ready for lots of this in overtime - guys ragging the puck looking for holes while their linemates offer support, and look for soft, dangerous areas of ice to exploit.
That Nieto gap, though … it's still pretty ugly. "But at least he's in front of me," I'm guessing he's thinking.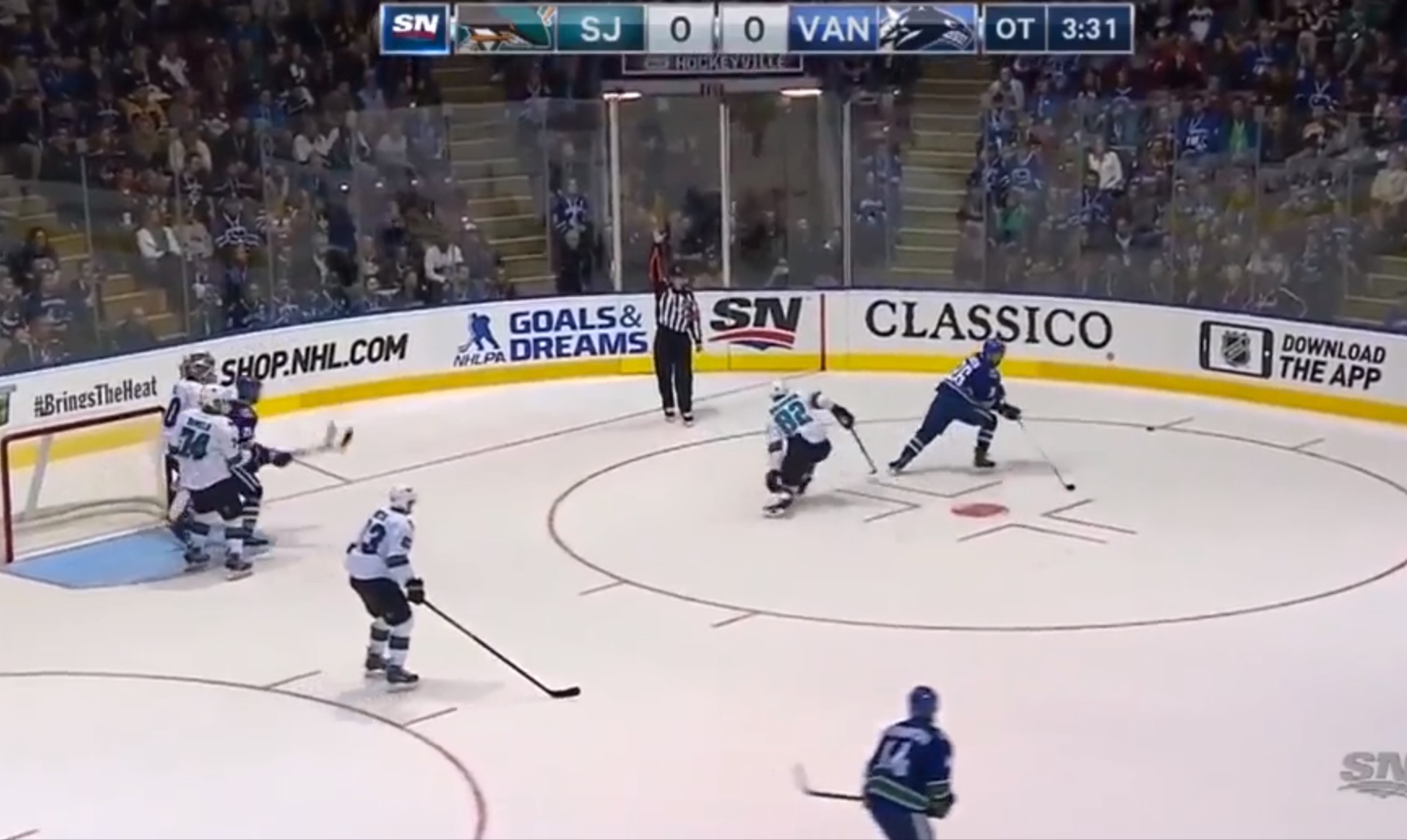 But as I mentioned, it's not catastrophic - if the Canucks D-man gets the puck he can rush out into him in his lane and prevent disasters, which in 3-on-3 is definitely a reasonable consideration - no major meltdowns (a policy that gets abandoned in like six seconds).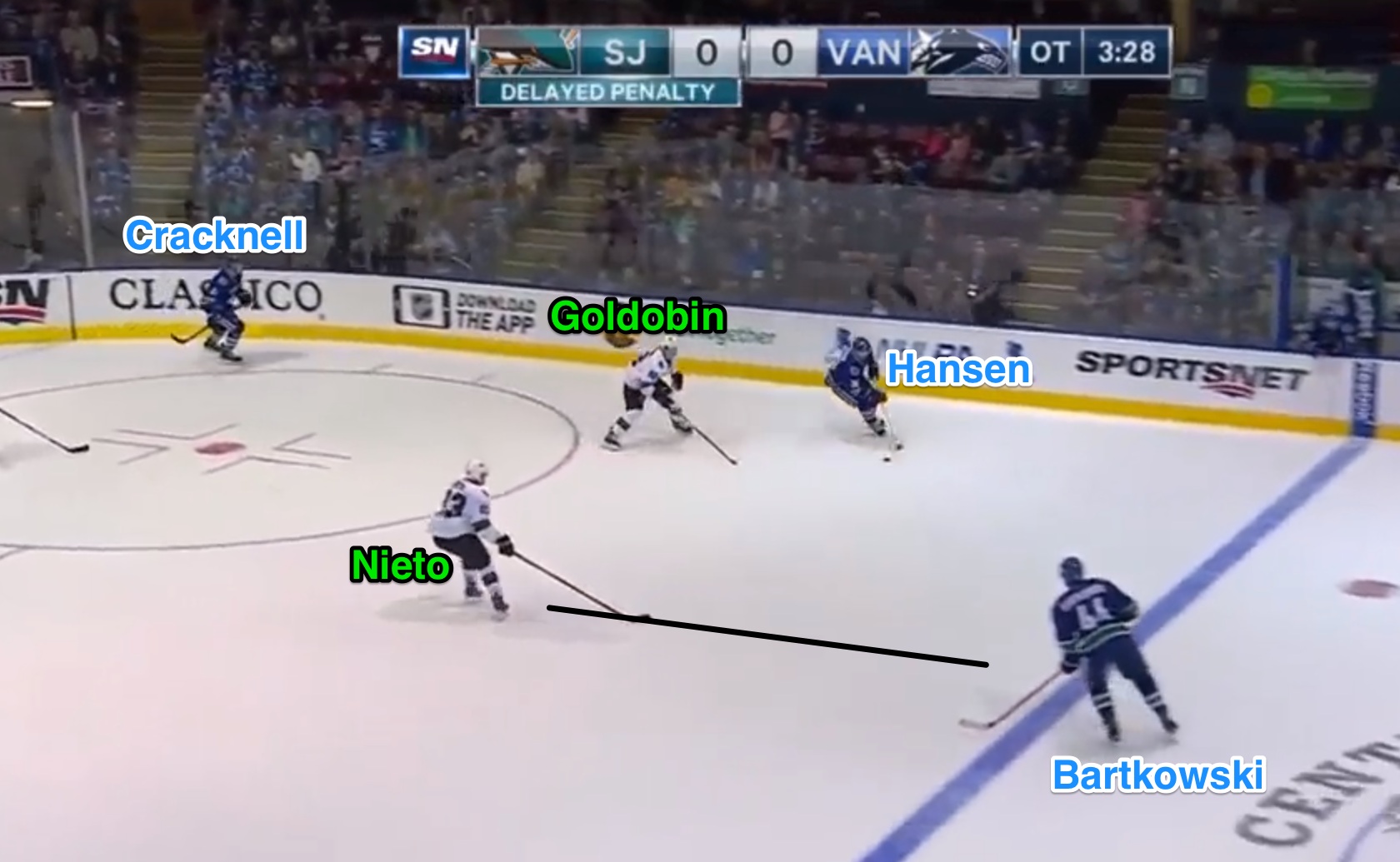 What is borderline disastrous, is the gap by Dylan DeMelo, who allows Adam Cracknell the room to skate up high without staying within range (their separation is just occurring above). More on this in a second.
The puck eventually goes from Hansen to Bartkowski, and with Goldobin following Hansen up that high, a switch with Nieto makes a ton of sense. Goldobin will (and should) move to Bartkowski because he's close enough to apply quick pressure on the puck and force the Canucks to make a play in a dangerous area.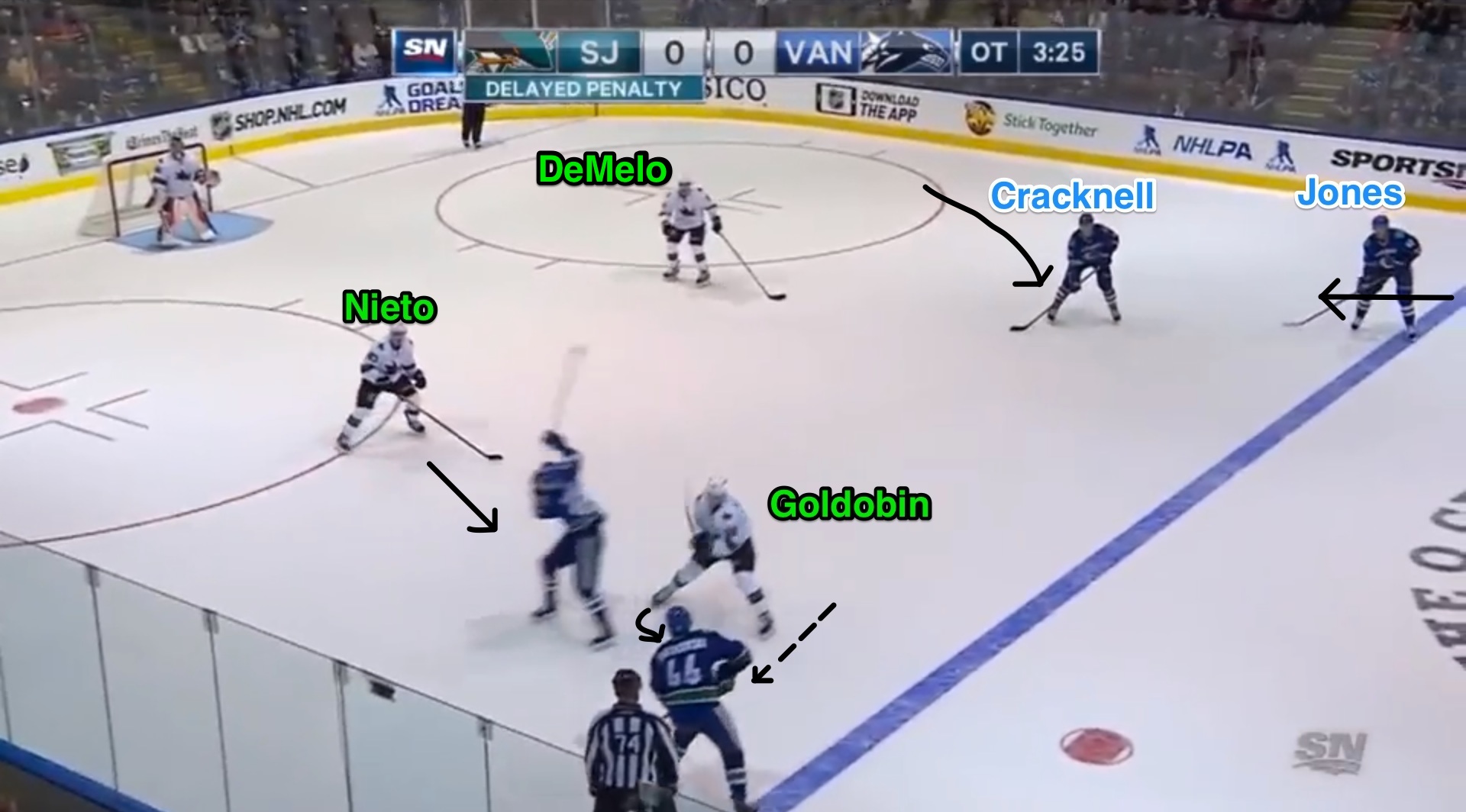 Bartkowski gets the pass by Goldobin, and the puck goes to Cracknell (rather oddly, actually - the lane to Blair Jones is safer).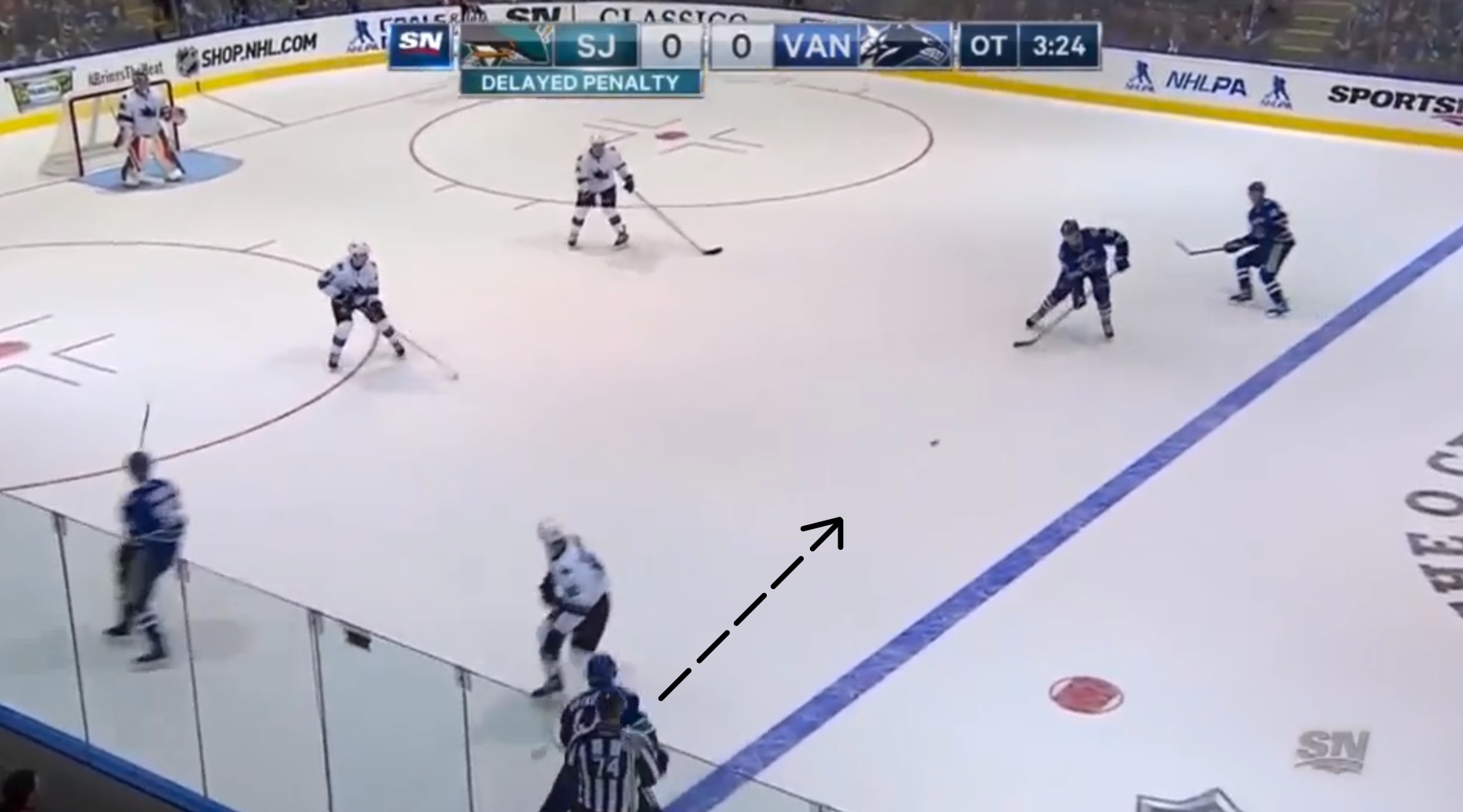 This play would've been a whole lot easier had DeMelo kept a tighter gap on Cracknell, regardless of whether the following situation were going to be a 1-on-1 or 2-on-1. Now he's flat-footed, and whoa, do the Canucks have oceans of time and space in hockey terms.
So OK, now what?
Well, in Nieto's simple forward mind (I mean forwards are simple, not Nieto), Hansen is his guy off the switch; had the fourth forward not jumped on the ice, that would probably be just fine. But he has, and with DeMelo leaving the slot area so untouched, Nieto needs to hit the big red panic button like a hanging curveball, and hit it hard.
This is now a 3-on-2 with DeMelo the guy who's left outnumbered (his own doing or not, it's time for Nieto to read and react). A defenseman would know what to do here.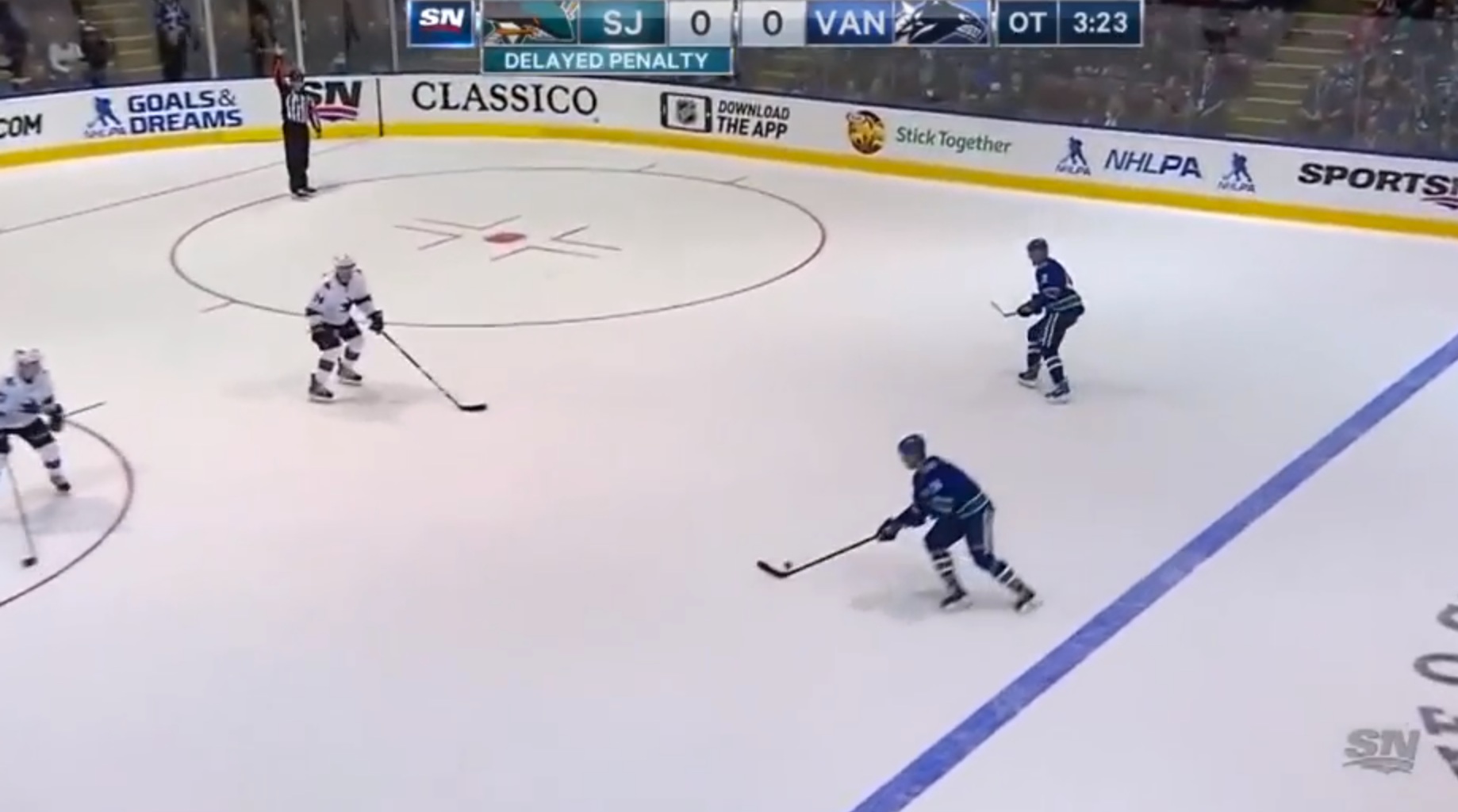 Quick sidebar: This was a common misconception of those arguing against 3-on-3 in the first place - that teams would just sag to the low-middle and it'd be boring. As you can see above, even if the fourth Canuck doesn't jump on the ice, the gap Cracknell is left with would still be a full-on panic party. Sagging creates major issues when you're three-up.
Forwards are going to have to defend similarly to the penalty kill - stops and starts, tons of effort, lots of help bailing each other out, and those with less agility will find themselves entirely out of the rotation before long.
Anyway, here's where it just gets funny.
DeMelo now can't run out at Cracknell, because he's looking at a 2-on-1. Getting aggresive and allowing a pass to Jones would mean conceding a breakaway. And Nieto is, well, a forward, which means that his defensive instincts lead him to the reflex of "Hope for a save, I guess?"
The two of them sagging back half-heartedly while Cracknell loads a shot up for what feels like 13 seconds legitimately made me do the fast-nose-exhale near-laugh thing the first time I saw it.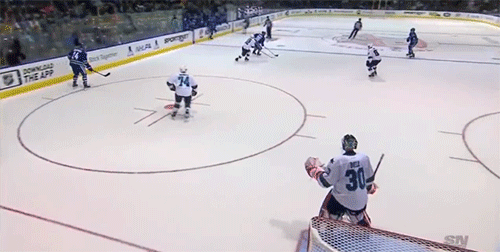 (Courtesy: NHL.com)
I mean look, Nieto is in a tough spot, and he certainly got no help from DeMelo. But there is no time - no time at all - where you let "But that's my guy over there!" override the chance to stop a clean shot from the slot. You at least rush out and make Cracknell make a pass to the goal line and make Hansen complete a perfect one-timer. That was one sleepy defensive effort.
(And frankly, he's not covering either guy.)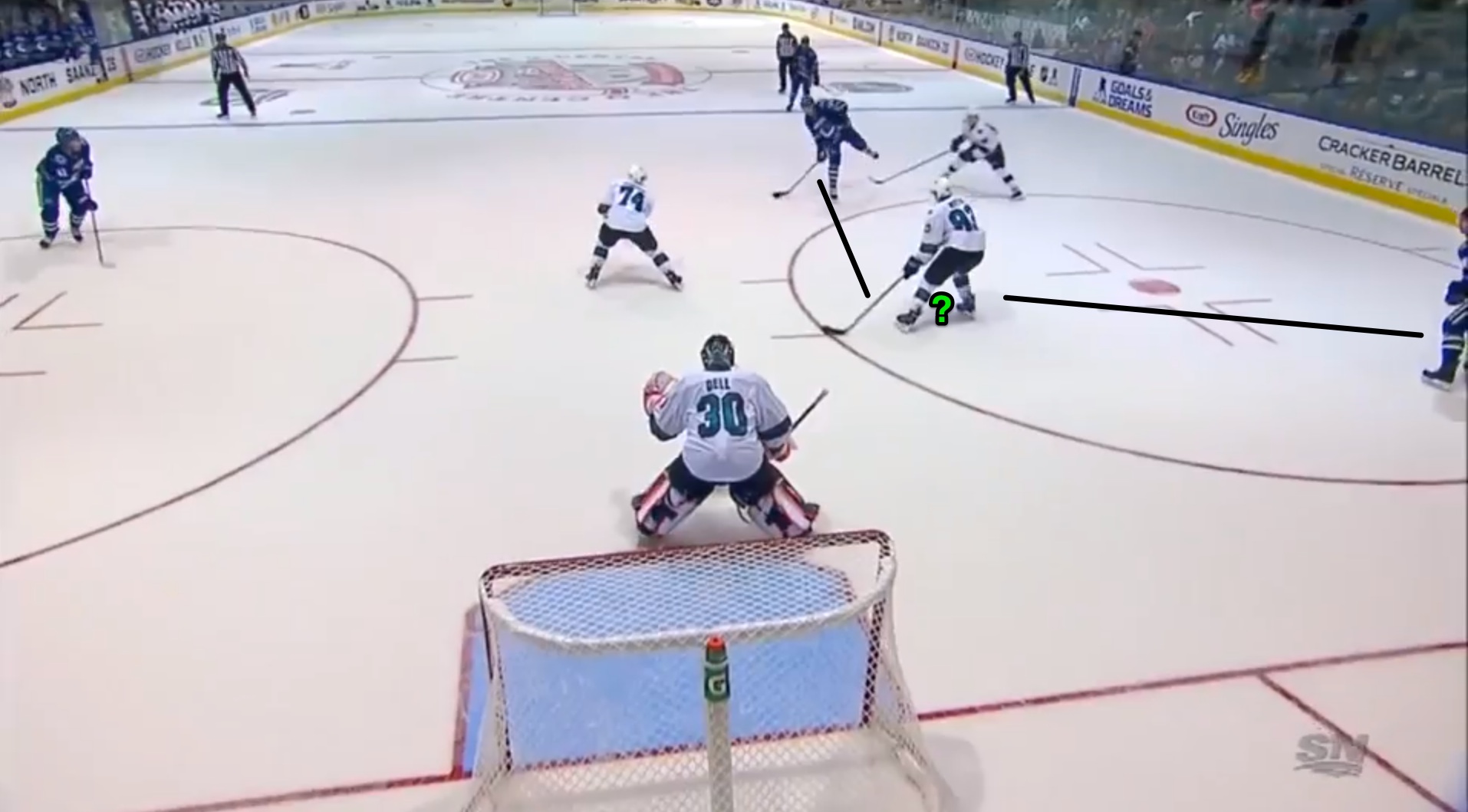 Systems in hockey are a set of loose rules and guidelines that take you to areas of the ice where you have the best chance to prevent things from happening like "unthreatened shots from between the hashmarks." (I actually think it's a little funny that, as the puck goes in, Nieto was turning to either cover Hansen better or get a rebound, as opposed to realizing what was happening and going at Cracknell.)
As the year goes on, expect to see a lot of this. Gap control and coverage can be brutally awkward for those unfamiliar with the nuances. I'm excited for a season's worth of forwards in positions where they have to think like defensemen, where they make a decision so far from correct it reminds you of a preseason game.