Red Wings Season Preview: Jeff Blashill takes the reins
Kim Klement-USA TODAY Sports
Presented by

When the Red Wings open their regular season Oct. 9 in Detroit, a familiar face will be behind the bench: Mike Babcock. Only he'll be on the visitor's side, coaching the Toronto Maple Leafs.
For the first time in 10 seasons, since the lockout erased the 2004-05 season, Babcock won't be coaching the Red Wings. In his place will be Jeff Blashill, groomed for the job in Grand Rapids, where he led Detroit's farm team to back-to-back-to-back 40-plus win seasons, and a Calder Cup in 2013. He's ready.
Detroit never missed the playoffs under Babcock, but this is a franchise that never misses the postseason, having made the dance in 24 straight campaigns. However, the last two seasons saw the Red Wings fade in the first round, and we're about to find out whether Blashill can motivate his squad in a way Babcock couldn't.
Also new in town are veterans Mike Green and Brad Richards, to complement superstars Pavel Datsyuk, somehow now 37; Henrik Zetterberg, who'll celebrate his 35th birthday the night Babcock returns; and Tomas Tatar and Gustav Nyquist, the Next Ones, who broke out in 2014-15.
The top six is deep, anything Johan Franzen contributes will be considered a bonus, teams would kill for a top-flight defenseman like Niklas Kronwall, and there are two solid goaltenders in Jimmy Howard and Petr Mrazek.
The Red Wings will be competitive, regardless of who's behind the bench. Some things never change.
Projected Depth Chart
| LW | C | RW |
| --- | --- | --- |
| Henrik Zetterberg | Pavel Datsyuk | Justin Abdelkader |
| Tomas Tatar | Brad Richards | Gustav Nyquist |
| Johan Franzen | Darren Helm | Tomas Jurco  |
| Drew Miller | Riley Sheahan | Teemu Pulkkinen |
| Luke Glendening | | Dan Cleary |
| LD | RD |
| --- | --- |
| Jonathan Ericsson | Niklas Kronwall |
| Danny DeKeyser | Mike Green |
| Brendan Smith | Kyle Quincy |
| Jakub Kindl | |
G
Jimmy Howard
Petr Mrazek
X-Factor
A compelling argument could be made that the Red Wings' X-Factor will be found in the crease, as the starting job is up for grabs, but let's take a minute to talk about Datsyuk, who was a point-per-game player last season, with 65 in 63 games.
First things first: the Russian isn't healthy. He's coming off ankle surgery, won't take part in camp, and is unlikely to suit up before November, which means Richards will likely be the team's number-one center in October. But when Datsyuk returns, his form will be scrutinized, as will his further health.
Datsyuk has hit the 70-game mark in a season only once in the last five years, in 2012, and missed 19 games last season, after playing only 45 in 2013-14. The Red Wings need him - when he's healthy, he remains one of the NHL's more dynamic players - but age is going to catch up to him eventually. If this is the season, Detroit's going to need even more from the Tatars, Nyquists, and Abdelkaders. The Red Wings will be their team soon.
Player to Watch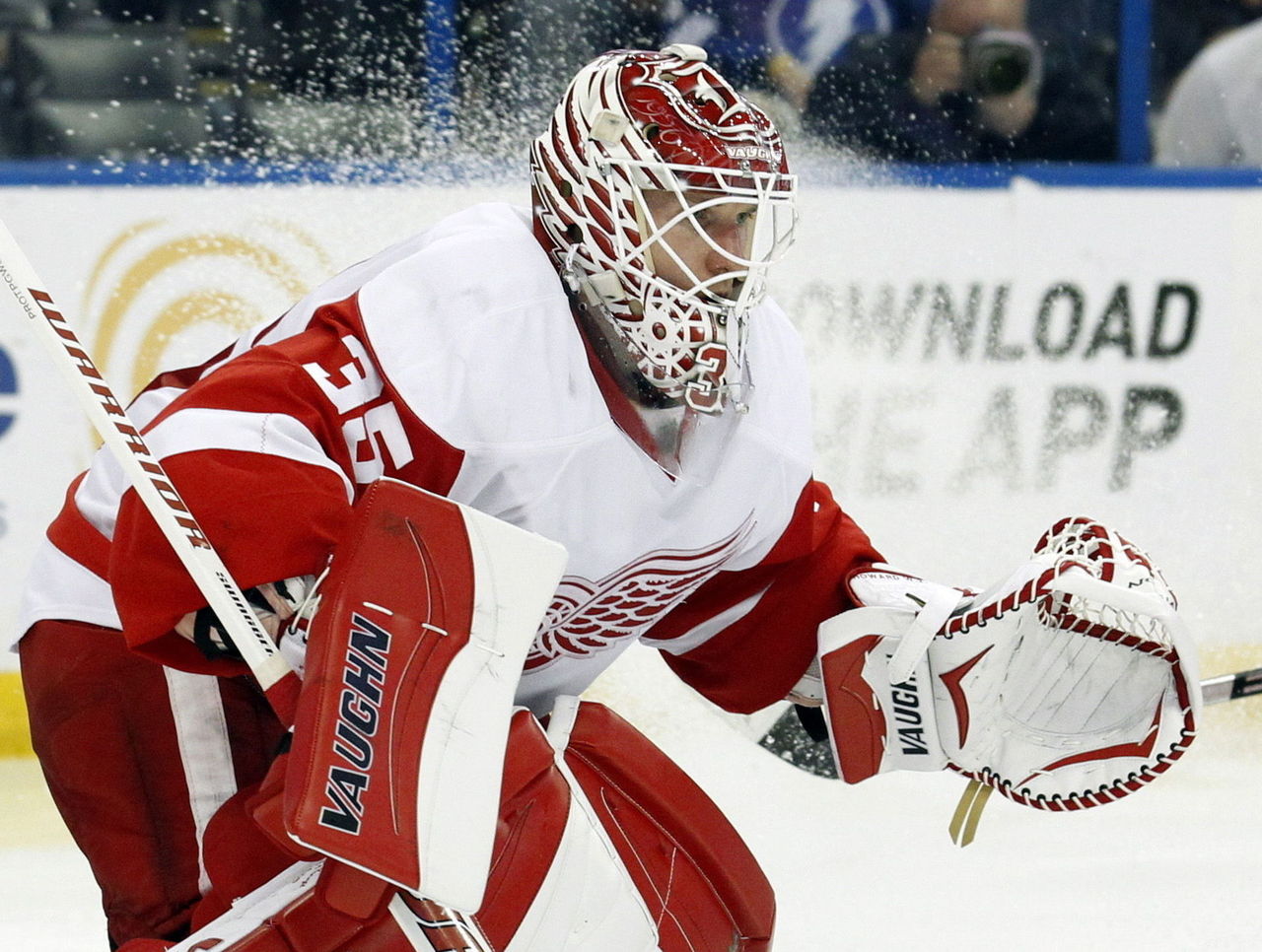 There are a lot of options: Will Tatar and Nyquist make the jump to elite status? Will concussions end Franzen's career?
But let's be real, all eyes will be on Howard, who watched the Red Wings be eliminated by the Tampa Bay Lightning along with the rest of us in the spring.
Howard lost his job to Mrazek after he wasn't able to regain his form following a groin injury, and Mrazek started all six Red Wings playoff games. Howard wants the crease back, though, and Detroit almost needs him to take it back, because the 31-year-old is signed through 2018-19 at a cap hit of over $5 million. That's not backup money. The opposite, in fact.
The Red Wings will make for interesting viewing, as always, and the talent's there - especially in the crease.
Comments
✕
Red Wings Season Preview: Jeff Blashill takes the reins
  Got something to say? Leave a comment below!