Blackhawks' Patrick Kane removed from 'NHL 16' cover amid investigation
Dennis Wierzbicki / USA Today
EA Sports will no longer use Chicago Blackhawks forward Patrick Kane to promote "NHL 16."
"In light of the ongoing investigation involving Patrick Kane, he will no longer be a spokesperson for the launch of EA Sports 'NHL 16,'" the video game company said in a statement Wednesday.
"He will not appear on the EA Sports 'NHL 16' cover nor participate in other EA Sports 'NHL 16' promotional activities."
Kane is being investigated by police in Hamburg, N.Y., over an alleged incident earlier this month that reportedly involves allegations of sexual assault.
The police department said last week it was gathering information and awaiting forensic test results.
Kane and teammate Jonathan Toews were announced as the game's cover athletes in June after winning their third Stanley Cup championship.
Other companies tied to Kane through endorsement deals, such as McDonald's and Bauer Hockey, are keeping an eye on the investigation, according to ESPN's Darren Rovell.
"We are obviously aware of the current investigation announced by Hamburg Police on Friday," said Steve Jones, a spokesman for Performance Sports Group, which owns Bauer. "We continue to closely monitor the situation."
McDonald's spokeswoman Heidi Barker said the company is aware of the investigation but declined to offer further comment.
The new "NHL 16" cover will now feature Toews exclusively: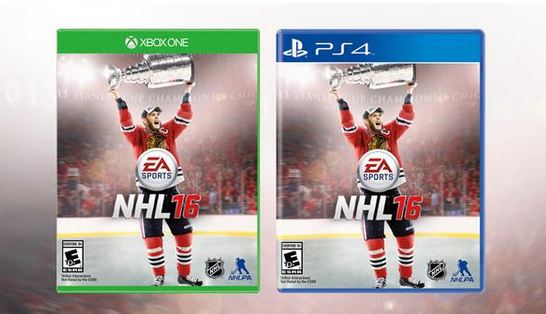 (Courtesy: EA Sports)
Comments
✕
Blackhawks' Patrick Kane removed from 'NHL 16' cover amid investigation
  Got something to say? Leave a comment below!