Talk amongst yourselves: Ben Bishop's injury, key players, and picking a winner
Presented by

When you have no dog in the Stanley Cup Final fight, it's easy to see how either team could emerge victorious. My flip-flopping on who will actually get the job done has left me with some weird split personality that alternates between all-in for Tampa, all-in for Chicago, then back to somewhere in the middle.
The perk of that split personality is I can use it to look at the major issues in the Final from all sides, and hopefully find myself a few reasonable conclusions.
So, let's give it a try. Introducing Hawks Fan Bourne, Bolts Fan Bourne, and Actual Bourne on the Cup Final.
***
Should Jon Cooper have started - and continue to start - Ben Bishop?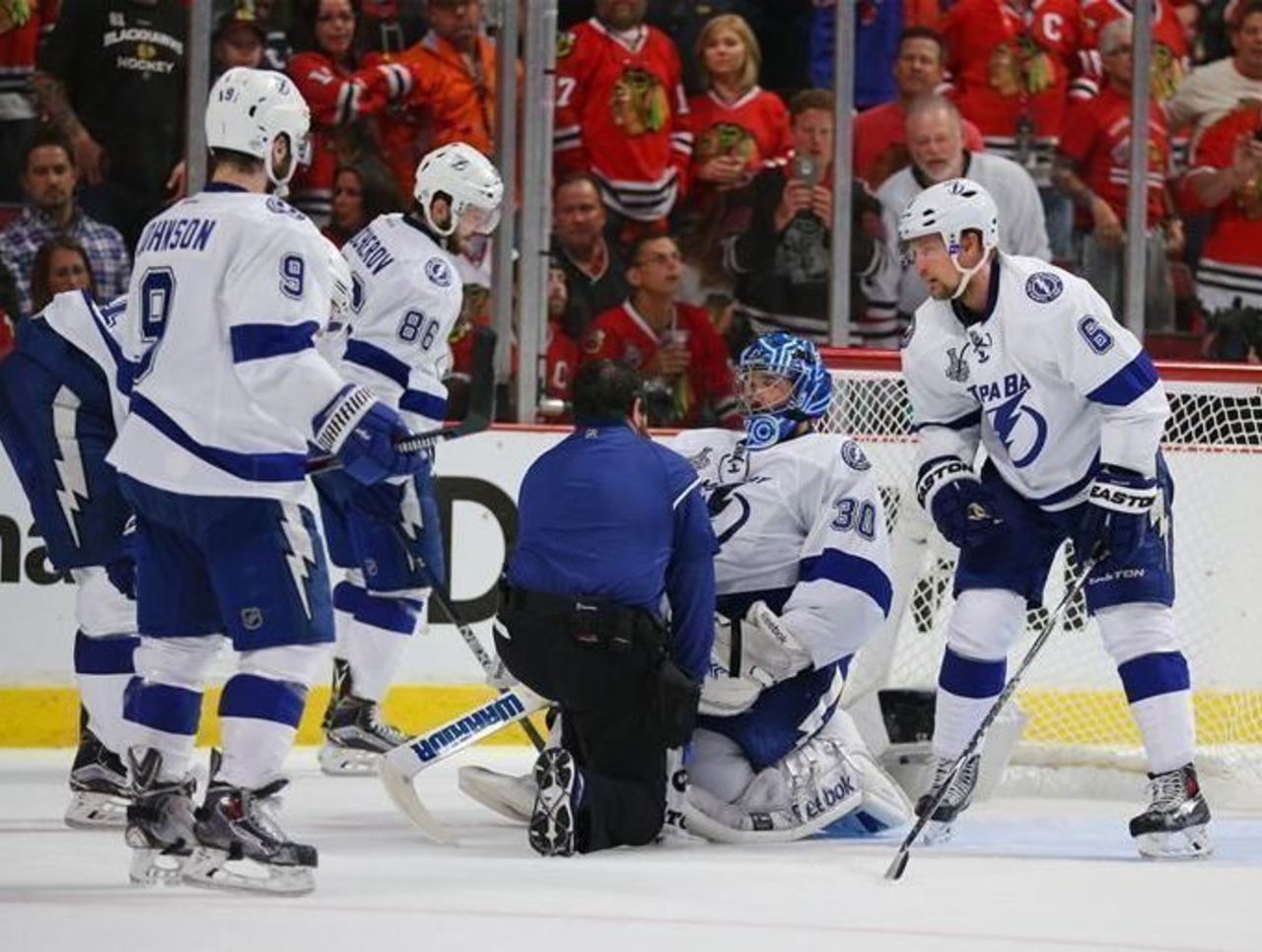 Bolts: Yes.
Hawks: Yes.
Bourne: Guys, come on.
Bolts: How is this even a discussion? He just proved the decision correct by making 36 saves and winning a close road game in Chicago. Oh god, his legs must be broken! How will he manage? The humanity!
Bourne: I bet you're fun to talk to at parties.
Hawks: Right, and - *creeping, knowing smile* - he looks totally fine, so it's not like he's going to suddenly be limited in movement and spot us an easy goal in one of the closest series of the past 40 years or anything. Might as well dance with the one who brought you, Tampa. Pretty obvious.
Bourne: Yes, obvious. The man is quite obviously hurt. You're both aware of that. I "get" the results argument - it worked in Game 3! - but listen, just because you can kill off a ton of penalties in a single game doesn't make playing a man down a good defensive strategy. He was extremely fortunate to get out of Game 3 with only two against; it could have been three times that.
Bolts: Obviously hurt? The man is tall. Like his coach said, it just takes someone his size longer to get up. 36 saves. Eat it.
Hawks: Yeah Bourne, eat it. Don't blow this for us. And by "us," I mean Chicago.
Bourne: Whatever. I say start Vasilevskiy if Bishop isn't in better shape than he was for Game 3. And it's a no-brainer if he's worse.
Who will be the most important player for Tampa Bay as the series plays out?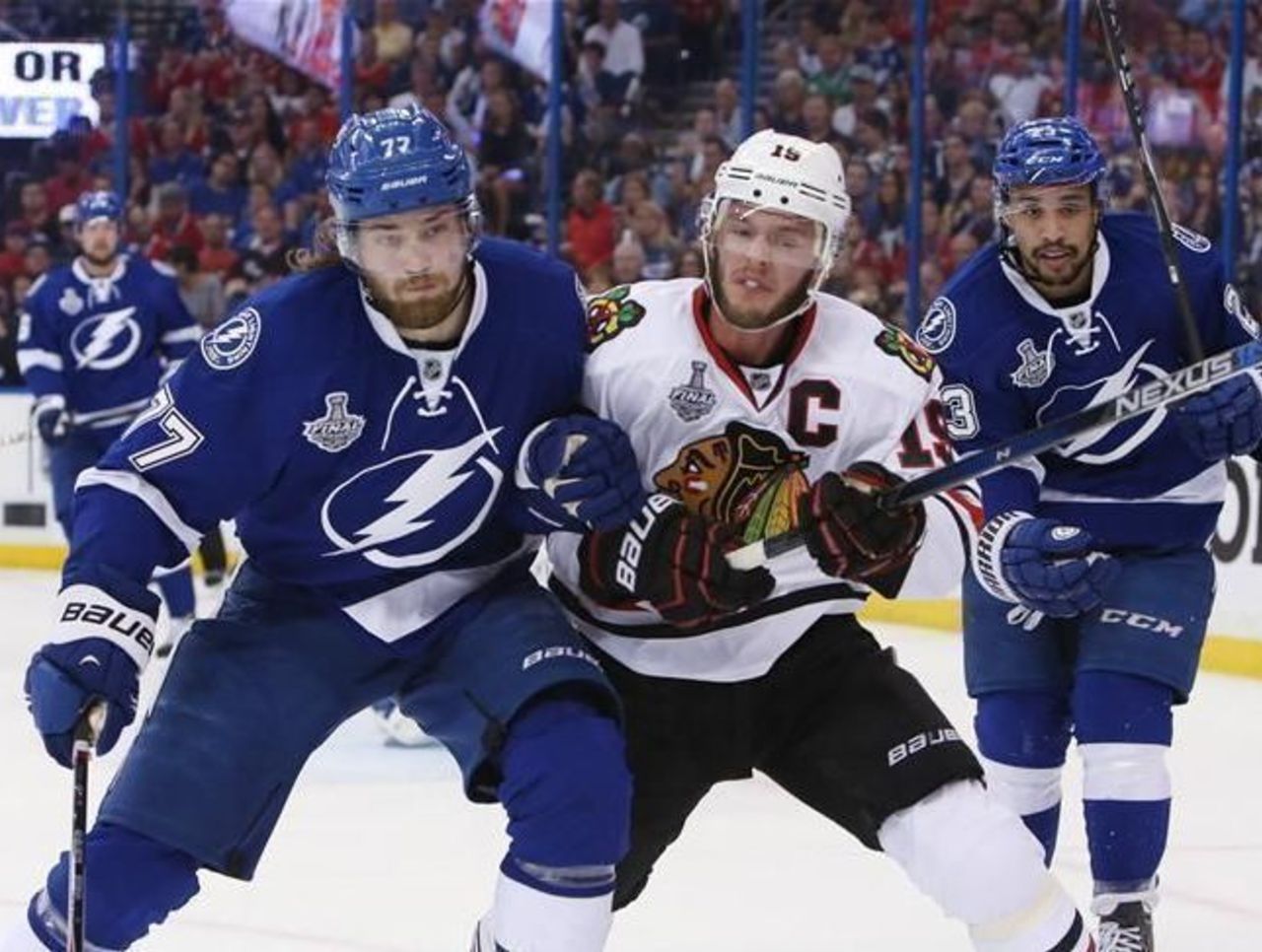 Bolts: It's gotta be Stamkos. Our "second" line (or should I say, "second first line") can only do so much, and with the reasonable impressive firepower Chicago has - I GUESS - we're gonna need to score some goals. He's been Steven "Damnklose," sure, but he's now been held pointless in five straight contests, including all three against Chicago. This game ain't horseshoes, nor is it handgrenades. We need more.
Hawks: Haha, "Damnklose."
Bolts: You like that, hey?
Hawks: I do. ...I think it's Ben Bishop if he continues to play, but we've talked about him, so let's go with Victor Hedman. He's getting over 30 shifts a game in the Final against top talent. Given how much of it our boys have got, if Hedman's not on, the Lightning are boned.
Bourne: Andrei Vasilevskiy?
...But seriously, those are all good picks. Let's move on.
Who will be the most important player for Chicago as the series plays out?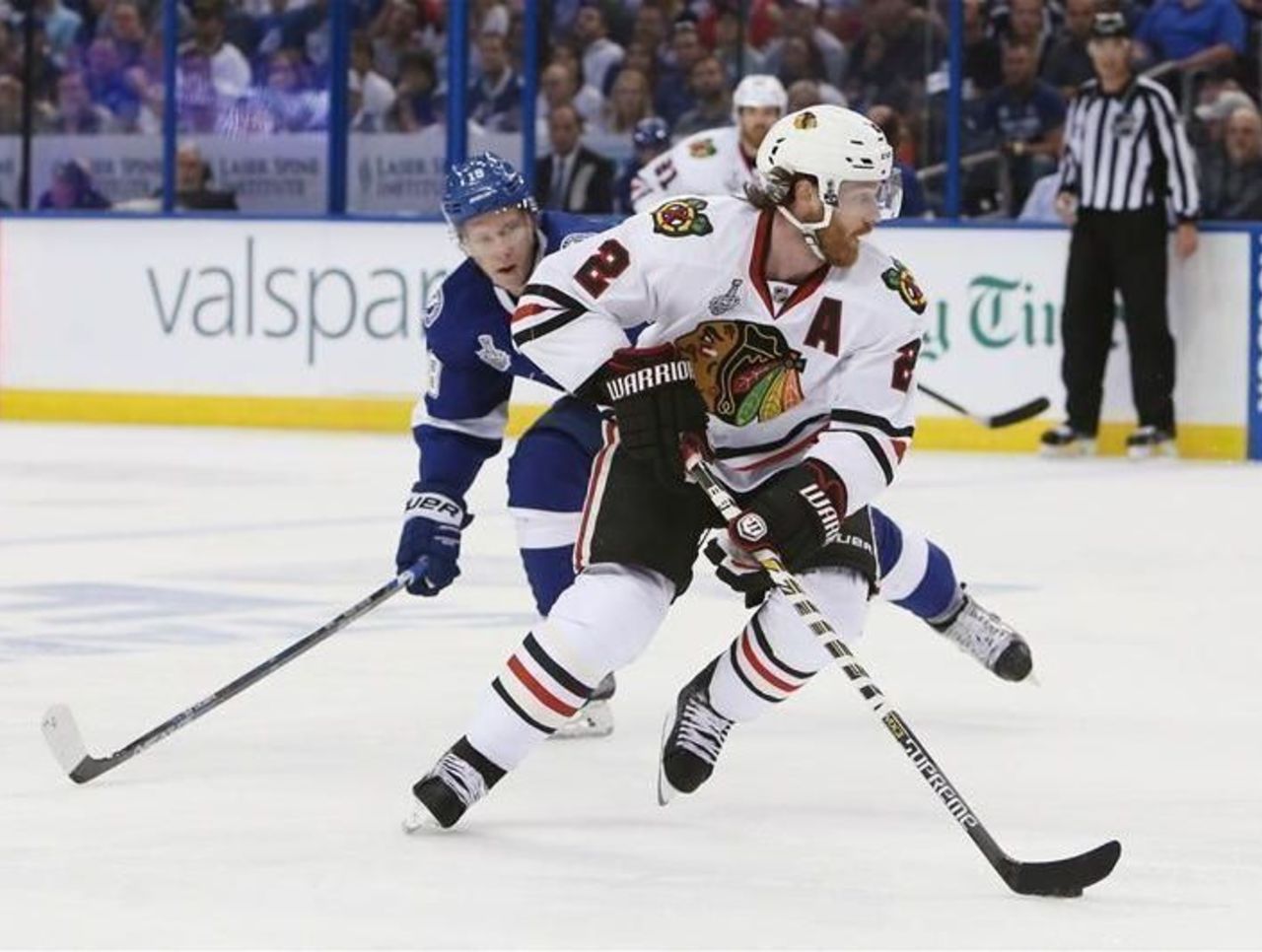 Bolts: One vote for the guy playing half the game for them, Duncan Keith. They rely crazy-heavy on their top four guys, and given the brutal minutes the man has logged and will log for them, it seems fairly important that he play well. I mean, there's no way he can keep this up, but if he could, it would help them tremendously.
Hawks: Yeah, no way he can keep this up, as proven by that time - wait, when was it again exactly, ohthat'sright never? - that he got worn out.
Bolts: Right, I'm sure he'll last forever at top form, history is littered with examples of humans who do that.
Bourne: GUYS. Back on track here.
Hawks: Fine. I say Patrick Kane, because we can't have proven big-game players like him register zeroes across the board in the Final and expect to win the Cup. And he is sitting with zeroes, while only averaging two shots a game. We need more from Sharp, too, but he only played 11 minutes last game (chicken and the egg on that, but still). Kane's donuts hurt more.
Bourne: I'm gonna go ahead and take the obvious pick here with Corey Crawford. The guy is, in my estimation, an average goaltender. If he steps up, Chicago will be near unbeatable. If he plays like dog meat, Tampa can close this thing out.
And finally, how does this series play out from here? Keep it short.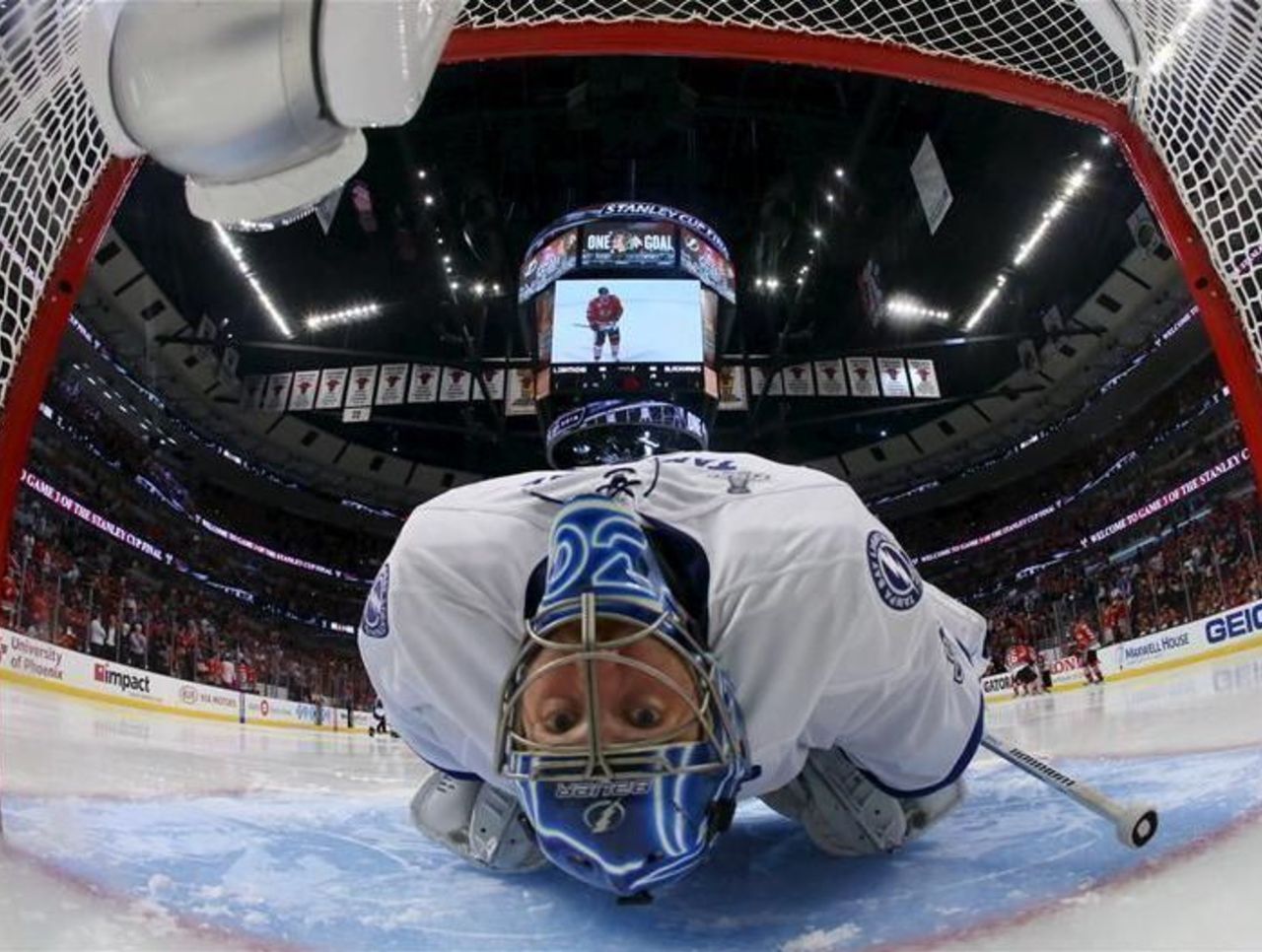 Bolts: You can't keep a good Stam down.
Hawks: Except, we have been.
Bolts: Shut it. My turn. He'll wake up and bomb a couple past Crawford. Chicago's D will wear out, and our young, fast team - anchored by our own solid D - will create chances for us and limit theirs. Bishop plays the whole series out and we close, on the road, in Game 6.
Hawks: I just spit water on my keyboard, you owe me a new one.
Bolts: ...Then Stamkos signs a contract extension on the side of the Cup before lifting it, and a statue is built to commemorate Bishop's 100 percent totally fine lower body, which takes takes a lot of bronze.
Hawks: Well, you had one part right - the whole "closing in Game 6" thing. Since you want to talk about players inevitably breaking out, Tampa can't keep Kane off the scoresheet.
Bolts: Wait, what was the line? "Except, we have been."
Hawks: Fun fact time: Duncan Keith is actually full of helium, and never wears out. Anyway, individuals aside, did everyone see how lucky Tampa got in Game 3? Did you see how many of our chances miraculously stayed out? Am I taking crazy pills? That simply won't continue to happen. Impossible. The games may be close, but the "Bolts" (what a stupid nickname, by the way) don't win again.
Bourne: Another fun fact, guys: I'm still here.
Tampa is going to be in most every game, most every night, against most every opponent. They're so, so good. The problem is, they still have to beat Chicago twice more, and when it comes to the experienced-but-not-old Blackhawks, that's a monumental chore. With a possible four games to go - two of which would be on home ice - and a completely stacked core that's relatively healthy, do you want to bet against the Hawks finishing out their season 3-1? I say it goes seven, with the Blackhawks winning their third Cup in six years.
Comments
✕
Talk amongst yourselves: Ben Bishop's injury, key players, and picking a winner
  Got something to say? Leave a comment below!