Systems Analyst: How the Habs lost focus late, and gave Game 3 to the Lightning
Presented by

The hardest part of playing in pressure-packed moments is keeping a clear mind.
That's understood in a sport like golf, where the course is really no harder on the back nine on Sunday than it is on Thursday - which is to say, the heightened difficulty is all between your ears, save for the odd pin placement - but in hockey, it's considerably different.
In the biggest moments on the ice the adrenaline is through the roof - players are hustling after every puck, reacting faster and leaning harder on their sticks than they are in the first period of a regular-season game. The crowd is louder, the defensive efforts more desperate … players are trying to think clearly amidst chaos, as opposed to torturous silence.
So staying zen out there … I mean, good luck.
When the Montreal Canadiens had the puck with 12 seconds left in the third period of a tied playoff game …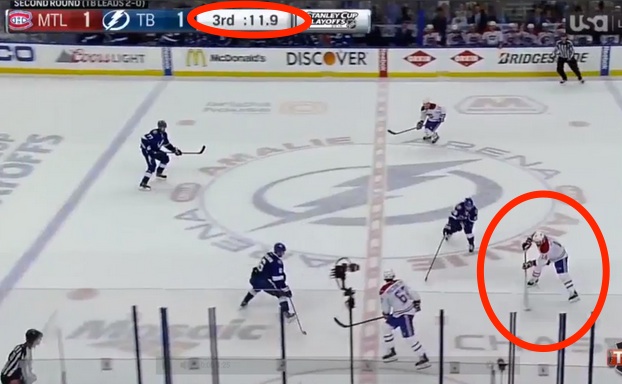 … skating towards the net of the Tampa Bay Lightning, they failed to stay zen. In the final 10 seconds, Max Pacioretty's brain was closer to a sack of high-end fireworks thrown into a wooden barrel and set on fire.
EVERYTHING WAS HAPPENING in there, to say the least.
Let's dive in.
***
Around that 12-second mark, Tomas Plekanec makes the smallest of mistakes, but it's at least partially dictated by Pacioretty. Nikita Kucherov is putting pressure on Plekanec, but not much - he could easily continue on to the red line and dump the puck in, which would mean, boom, the game is likely going to overtime.
But, Pacioretty is cruising up and past Anton Stralman, so a soft chip behind him means he'll be first on the puck, which would mean BOOM, the game is definitely going to overtime.
But, whoopsie, the Plekanec chip hits Pacioretty in the back of the leg.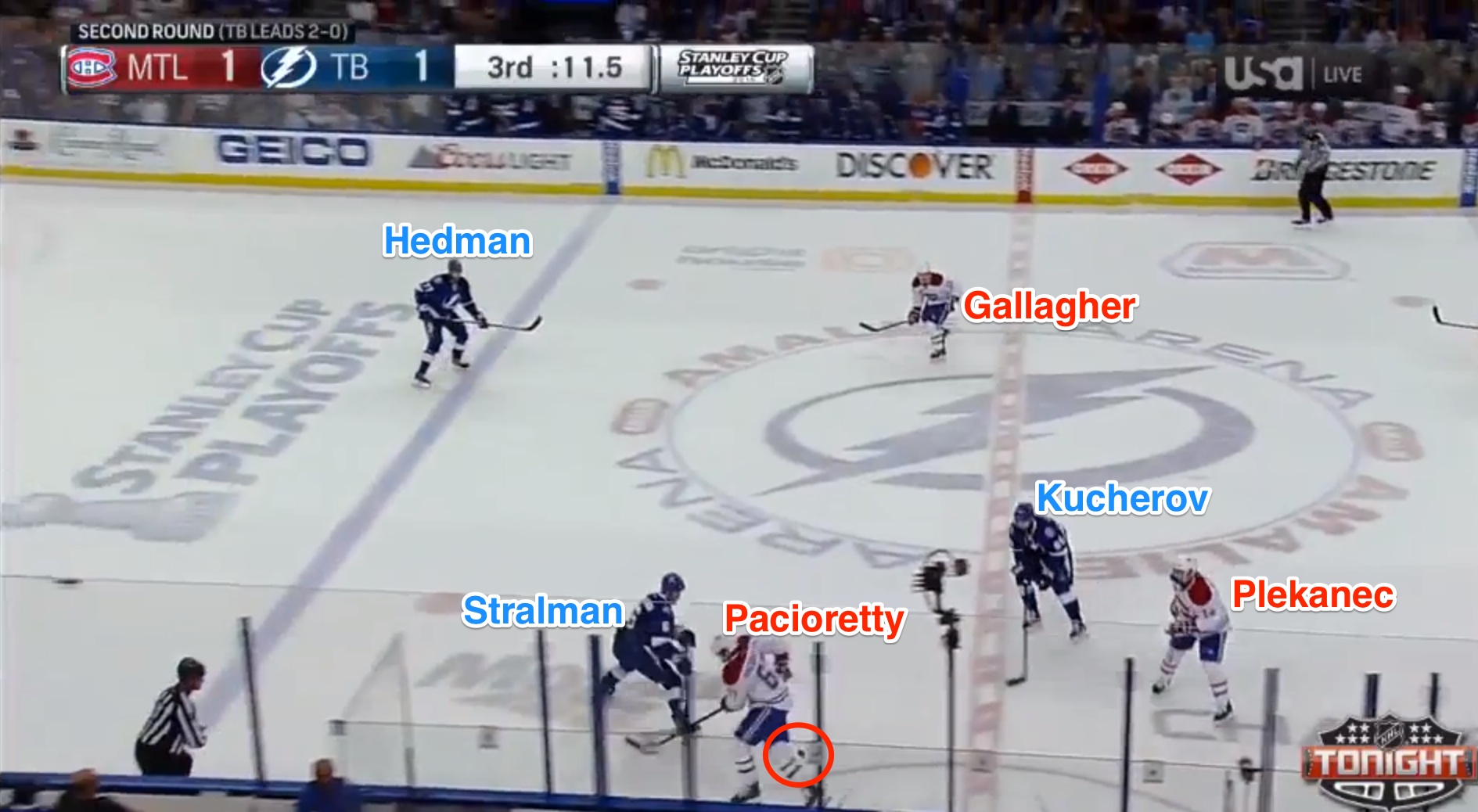 Kucherov is the next player on the puck, and he wisely gives it a little tap back to his D-man who's facing up-ice, where their team would like the puck to go.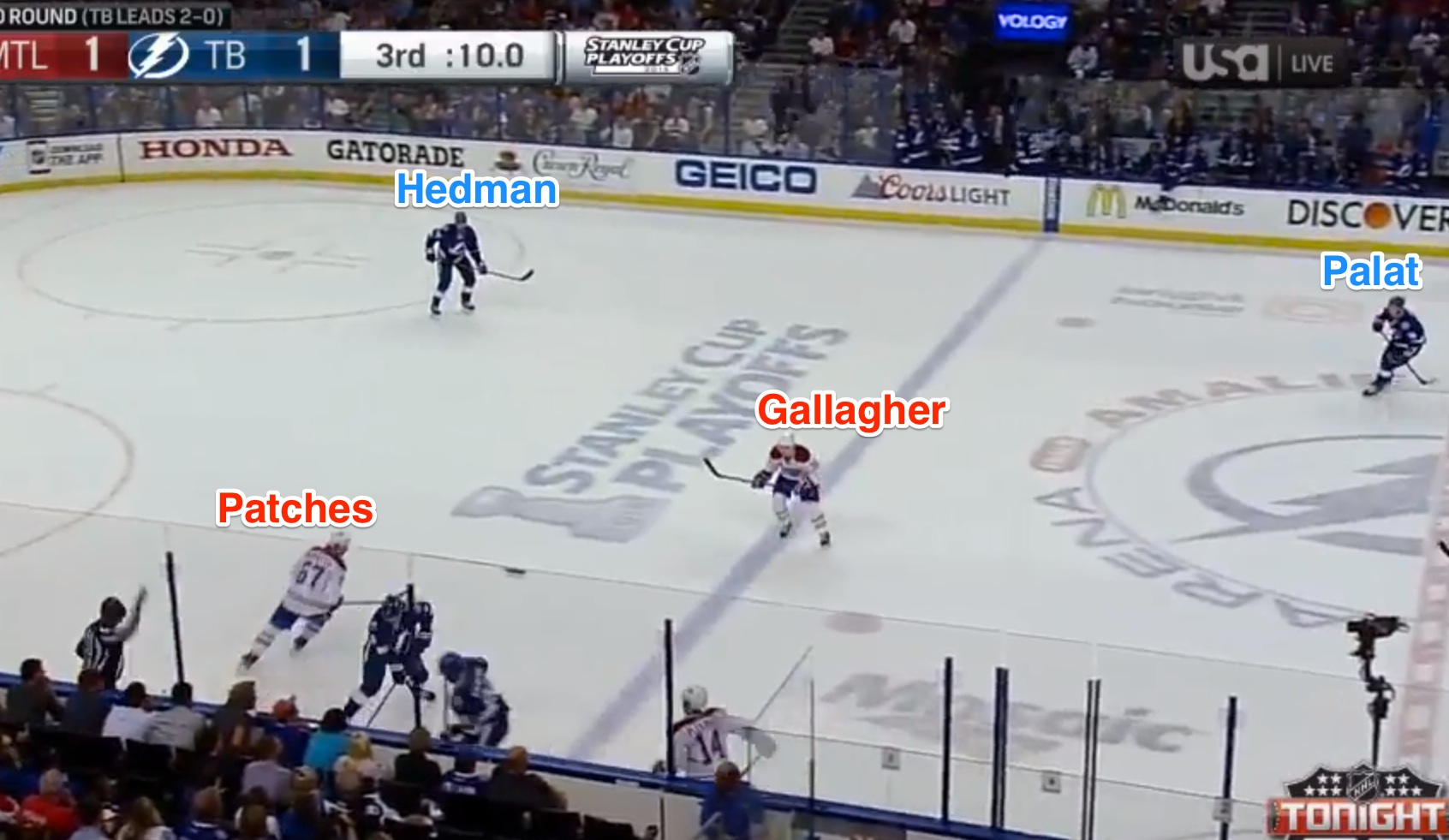 Now we really get into it, starting with what's easily the most underrated play of the whole sequence, and actually, maybe the best one.
Check out the patience by Stralman - you could call it "zen," if you were so inclined - who could easily just bang this off the glass (only 10 seconds left! Get it off my stick and out of our zone!) and get applause from coaches worldwide. He drifts back, stickhandling, head up, looking for a lane to go tape to tape.
And ZIP, does he ever find one. He whips it up, so crisply, to Ondrej Palat.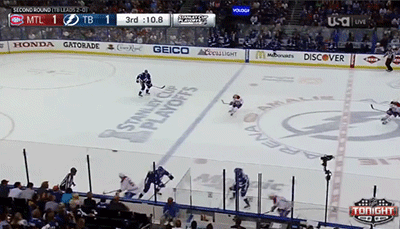 (Thanks to Josh Gold-Smith for the GIF)
Okay. Now, this next screencap is the most important of the whole sequence: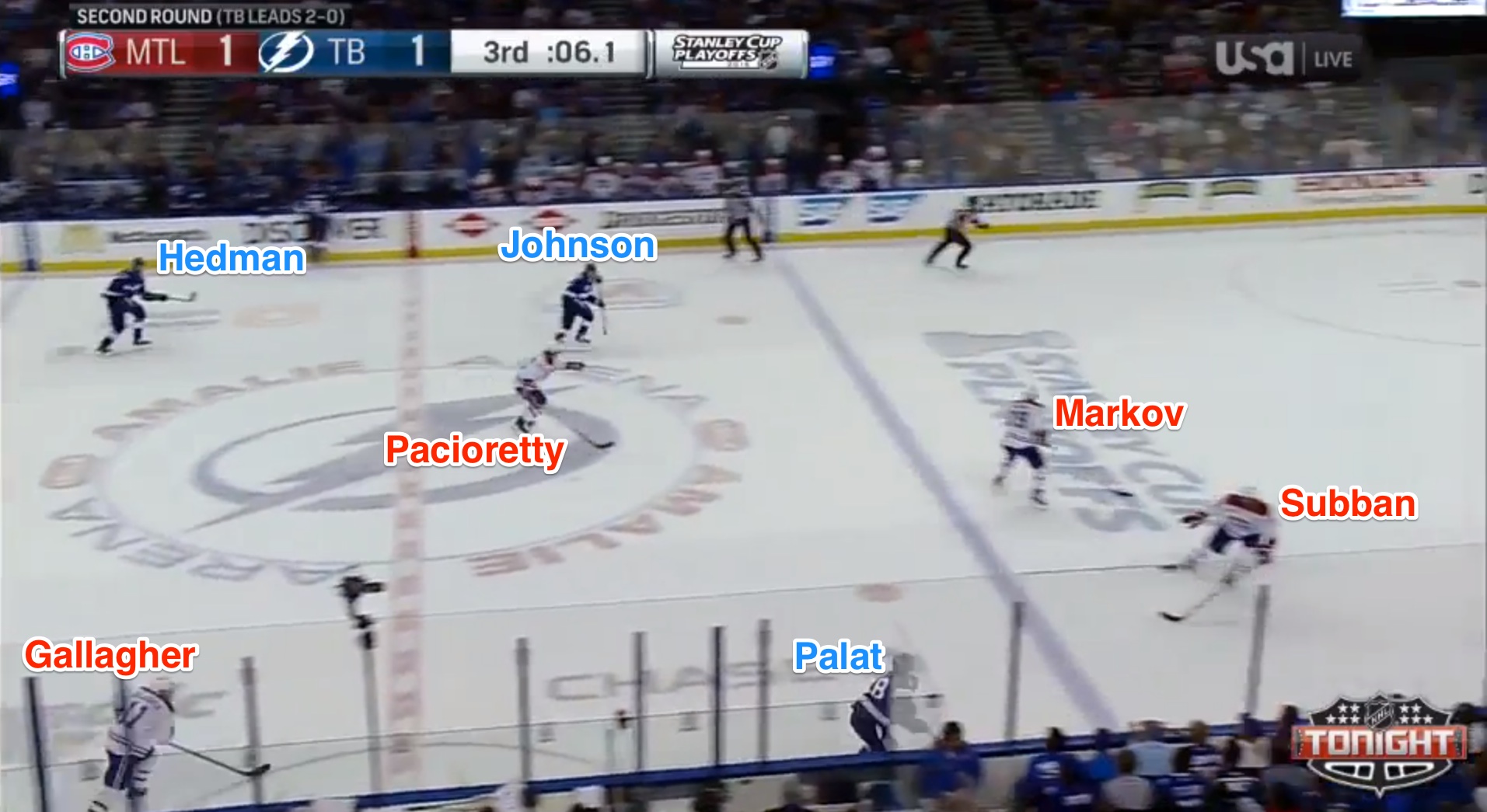 Andrei Markov and P.K. Subban make the first un-zen-like move. Given the time on the clock, they both scramble back harder than they normally would. You don't want to get roasted wide at this point, so just keep the rush in front of you, because, hey, Pricer will stop a long shot, right?
I don't believe the decision to scramble back hard, which leaves them with bad gap and allows Palat to move laterally once he gets inside the line, happens in the second period. So, that's no-no No. 2 after the failed chip.
But really, this whole thing comes down to Pacioretty.
As you can see (same image below), he's pointing at Tyler Johnson breaking in wide.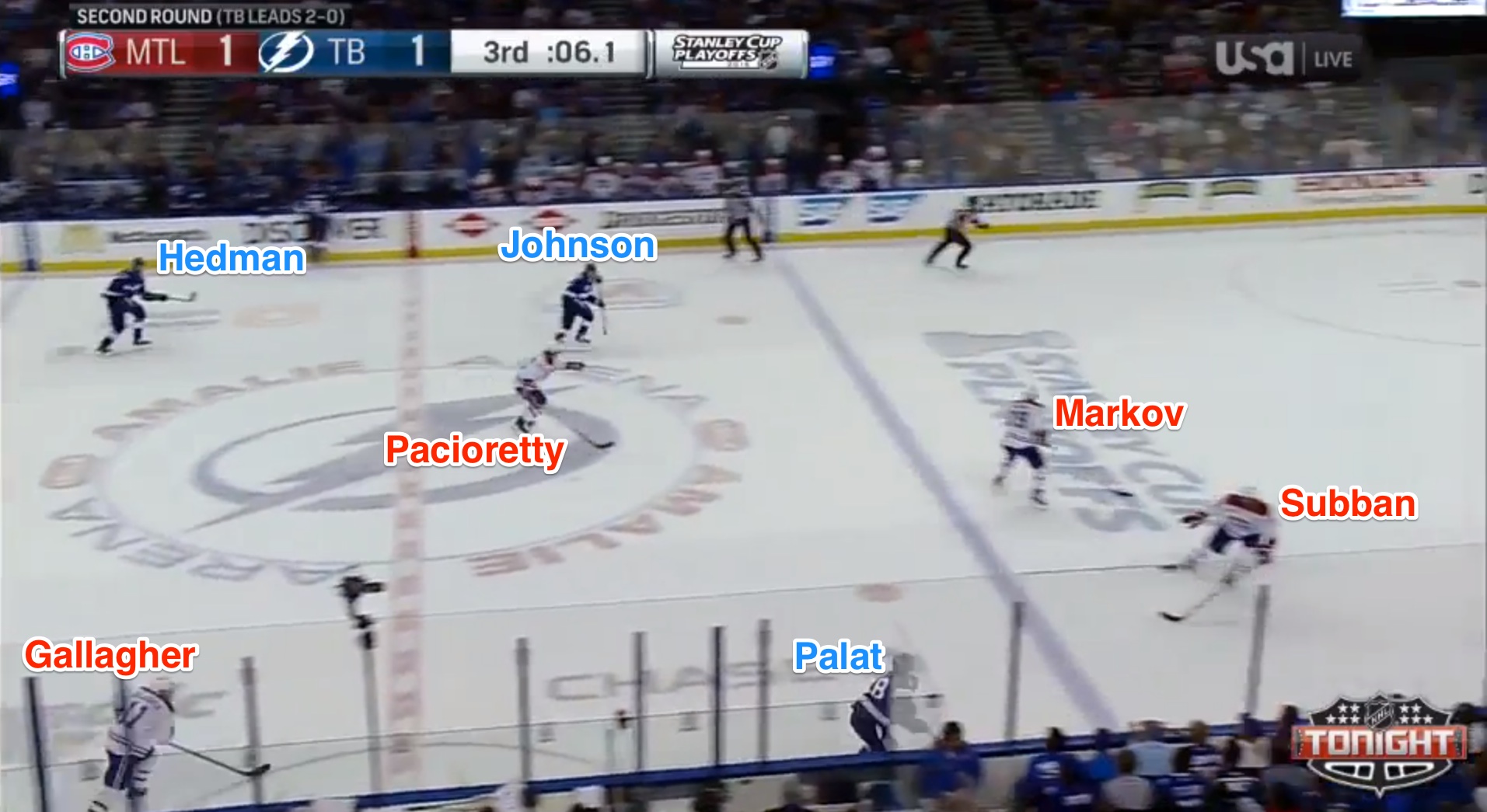 Now, I have mixed feelings on the value of pointing defensively. I guess if it's accompanied with vocal instructions it's not so bad, but to me, it seems a bit too much like the guy on the ice is watching the game as a fan would, rather than a player who's immersed in it.
There's trouble over here!
There is trouble over there, Max, but you need to take stock. If Subban has Palat, as he clearly does, and you're assigning Johnson to Markov, what should your next thought be?
Exactly.
Who have I got?
The way he turned to return on the backcheck left Victor Hedman in his blind spot, sure, but the first forward back on a 2-on-2 needs to shoulder check to see if there's a high guy coming, which will become his responsibility. Every time.
And, there is a high guy, but no shoulder check.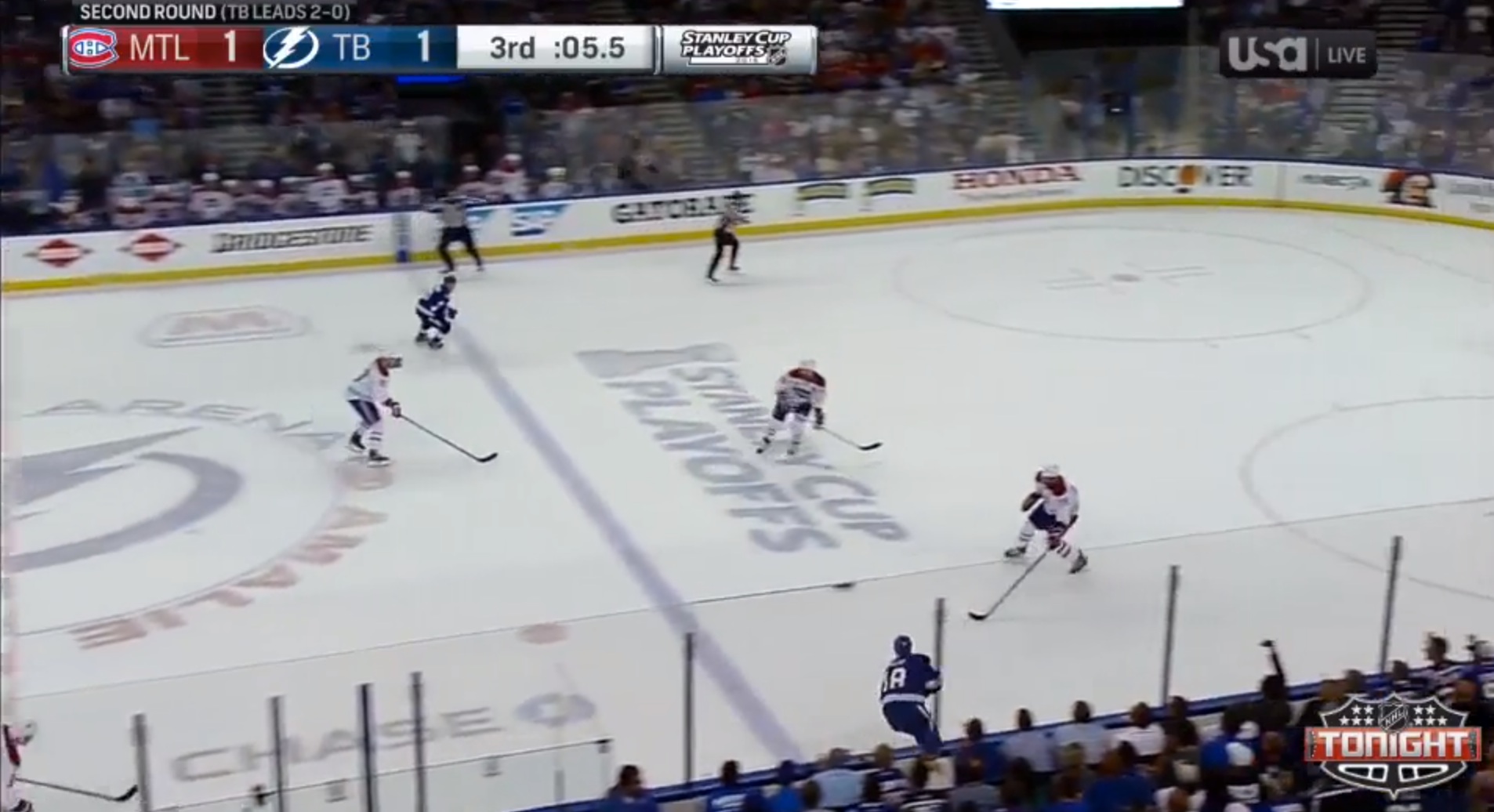 So, Palat cuts in, and things are still reasonably OK-ish below: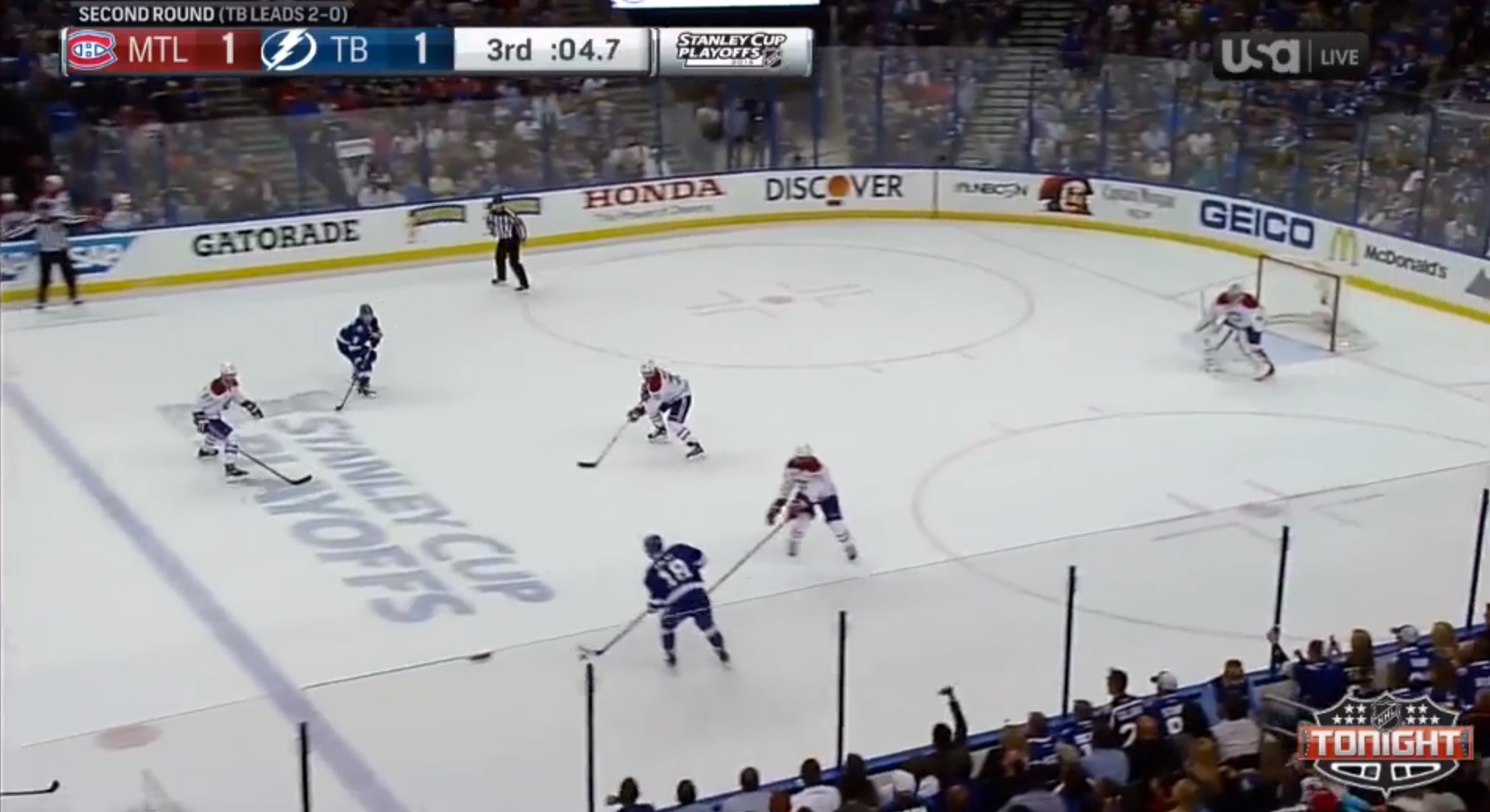 But in the next screenshot … everything is borked: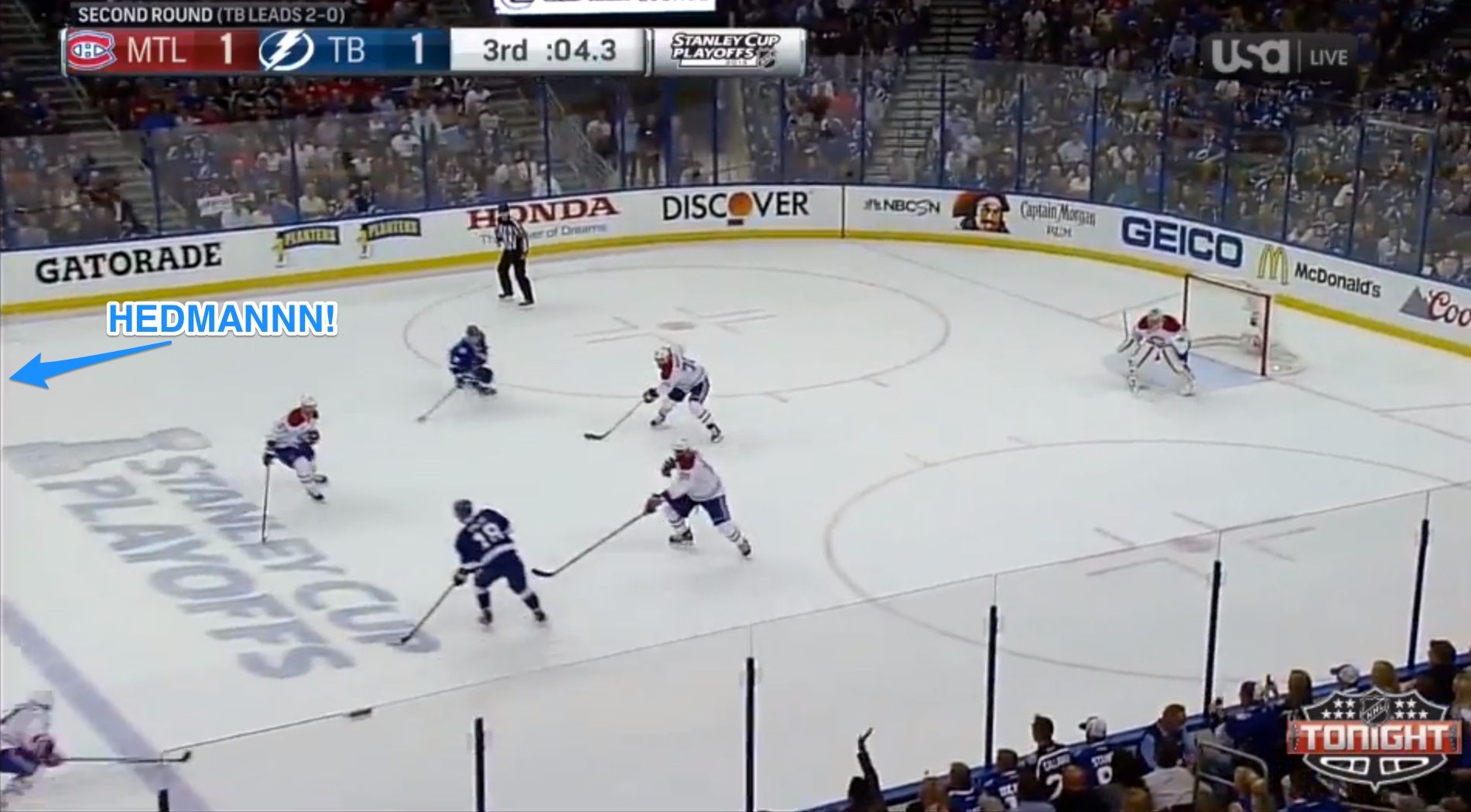 Pacioretty has no idea what's happening behind him, which is that Hedman has wisely jumped up in the rush considering ain't no chance there's time for the puck to go back the other way.
So:
Subban has Palat.
Markov has Johnson.
Pacioretty has … Pal … at? … OH GOD HEDMAN.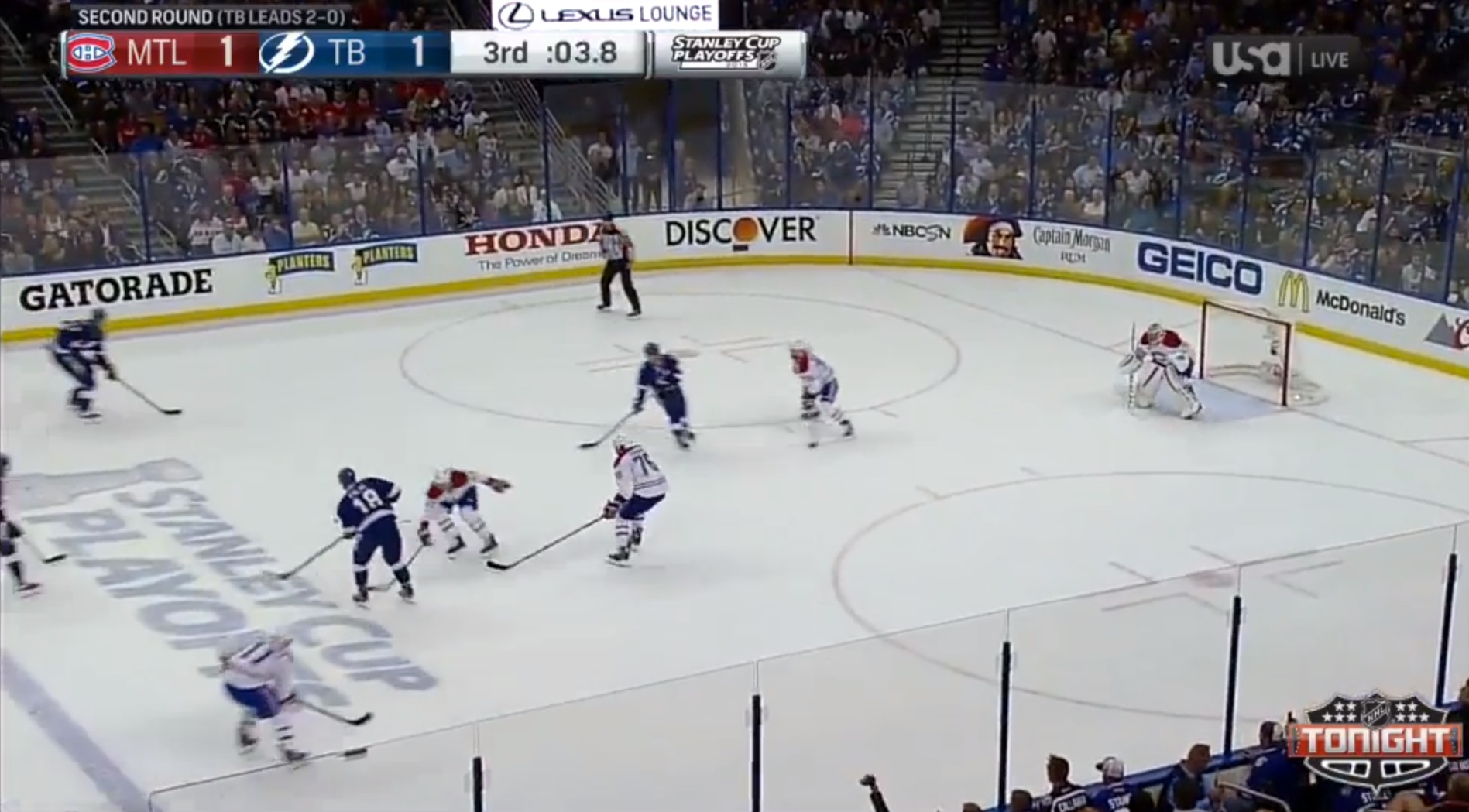 Now it's basically everybody in find-a-guy panic mode.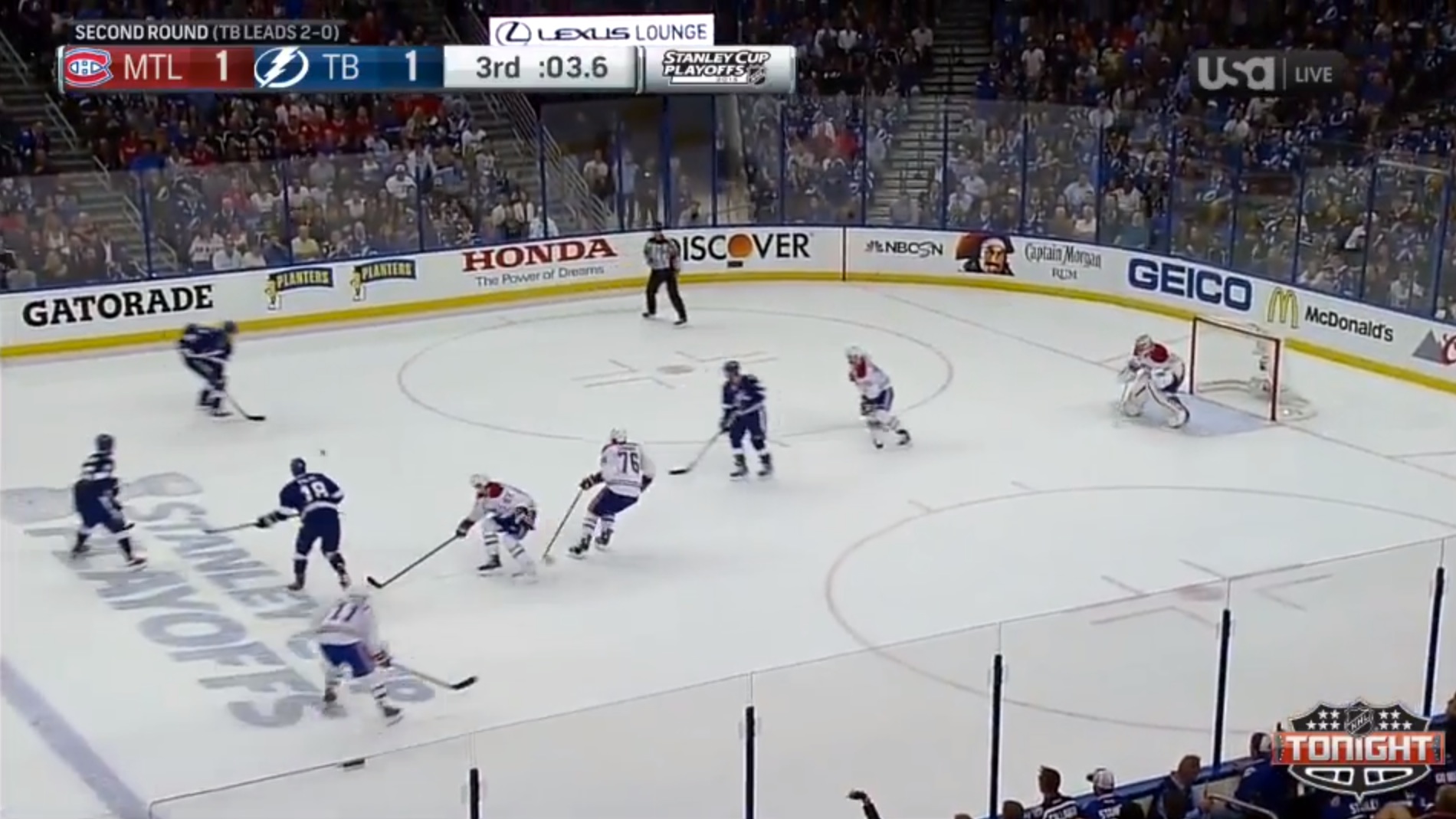 The play isn't a complete soup sandwich if Markov clearly separates from Johnson and takes on Hedman, which would signal a switch for Subban, who has time to bust back and take Johnson.
The thing is, they don't know they have that kind of time - Hedman could make the pass earlier, after all - so Markov decides to "play it" like a 2-on-1.
Pacioretty has left Subban in no-man's land now, which we'll talk about more in a second, but first, another note: check out Brendan Gallagher, who gets his skates on the tracks, and stops skating back. At this point in the game, you're gonna need all hands on deck back low. C'mon fella.
Anyway, now we're here: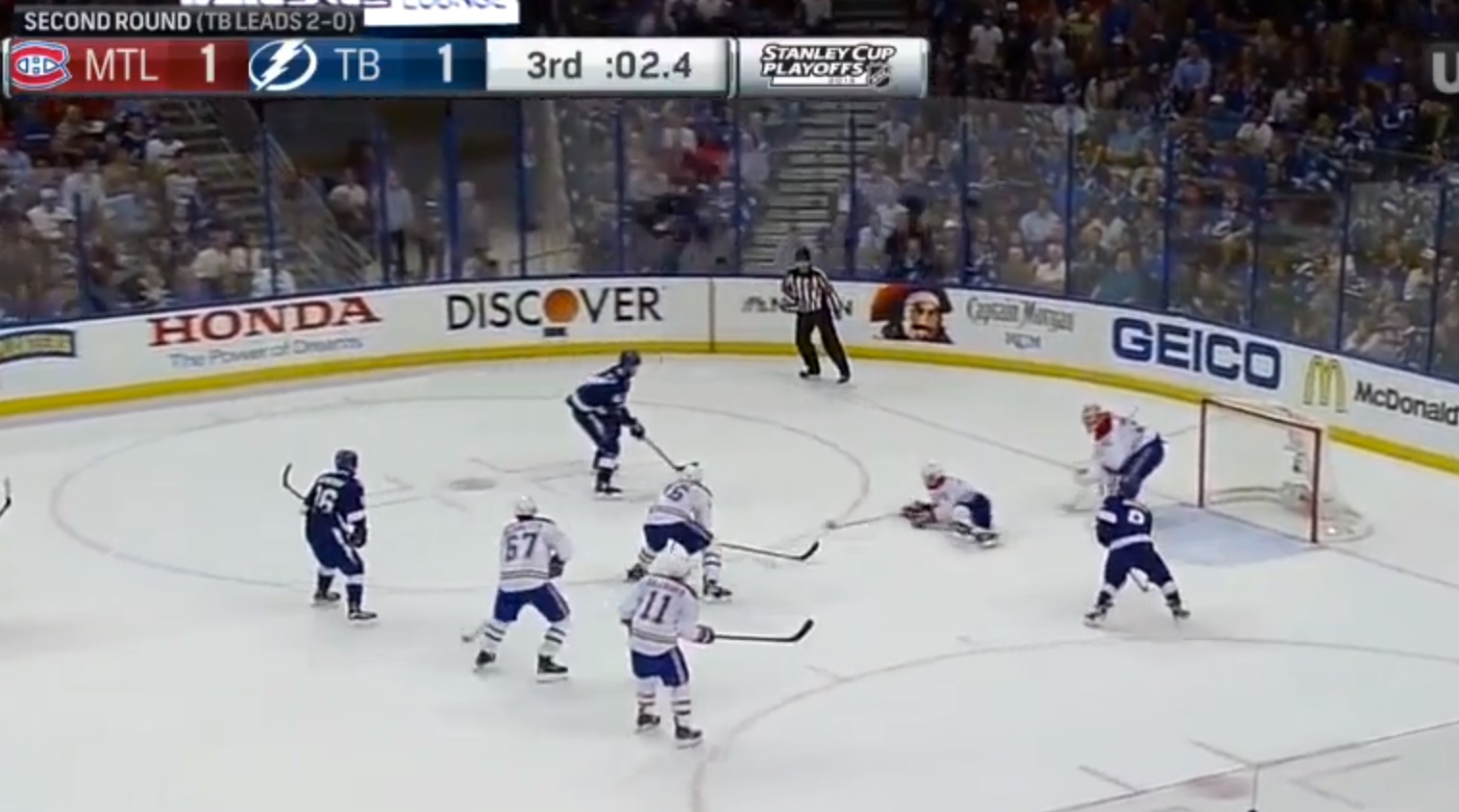 At this point, there's not really any technical hockey strategy, and unfortunately, both defenders decide they're best used trying to stop the cross-crease pass, and that's bad news. Also, Markov chooses to defend the pass by using the famed "obese sea lion" technique, which … I dunno, man. With two seconds left, you're just desperate to stop that pass, I get that, but … yeah. There has to be a better way.
Finally, Hedman makes the type of patient - one could say zen-like - play great players make. He outwaits Markov, slides 'er across, and Johnson puts 'er home.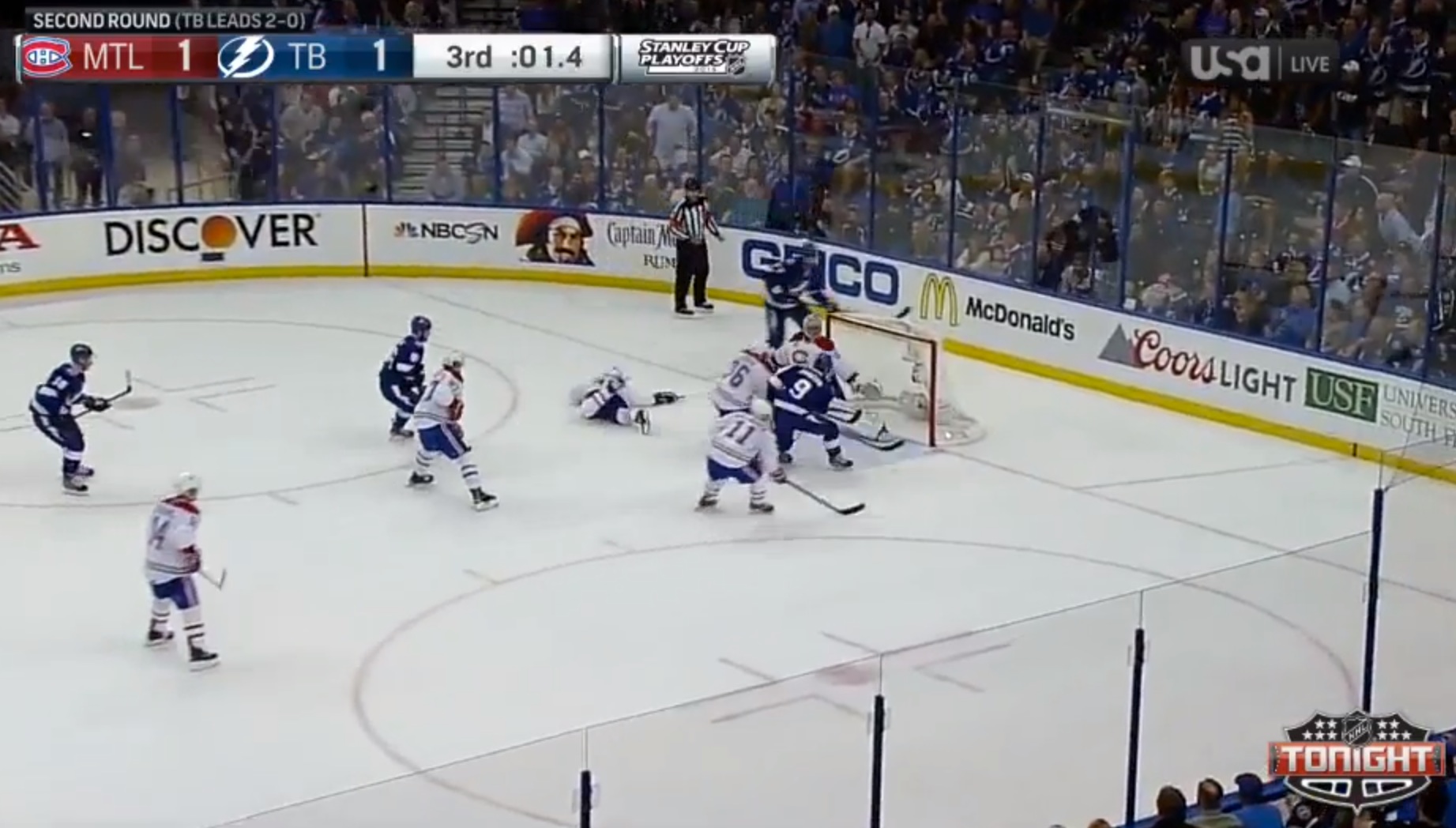 Subban eventually came around on grabbing Johnson and Gallagher was in the vicinity, but both were just a step too late.
As for Carey Price: he was definitely over soon enough to stop the shot, but the puck found his five hole, with Johnson shooting it back against the grain.
Here's what esteemed goalie writer Kevin Woodley had to say on Twitter:
In sum, there's a million places to assign blame before Price, but that shot is probably stoppable.
The Montreal Canadiens deserved to win that game, but they seemed to let the late-game panic affect their decision making. When the pressure starts to mount, it's hard to keep your mental cool.
Comments
✕
Systems Analyst: How the Habs lost focus late, and gave Game 3 to the Lightning
  Got something to say? Leave a comment below!