5 thoughts from Game 7 between the Capitals and Islanders
Presented by

I grabbed my wife's emery board with around 12 minutes left in the third period of Game 7 between the Islanders and Capitals, about five minutes before Washington took a 2-1 lead, and another seven before New York's season ended.
By the time the final buzzer sounded, I hadn't quite filed my fingers down to the point of bleeding, but damn, I gave it a good effort.
That nervous energy was felt by fanbases on both sides; the Isles hadn't won a playoff series since a couple of weeks before eventual dagger-inserter Evgeny Kuznetsov was born, while the Capitals have constantly bore the weight of unfulfilled expectations.
But, despite being a close result, the deciding game unfolded as justly as possible, with the Capitals advancing to face the New York Rangers in a matter of days.
Here are five reasons that happened:
The Islanders' top line was non-existent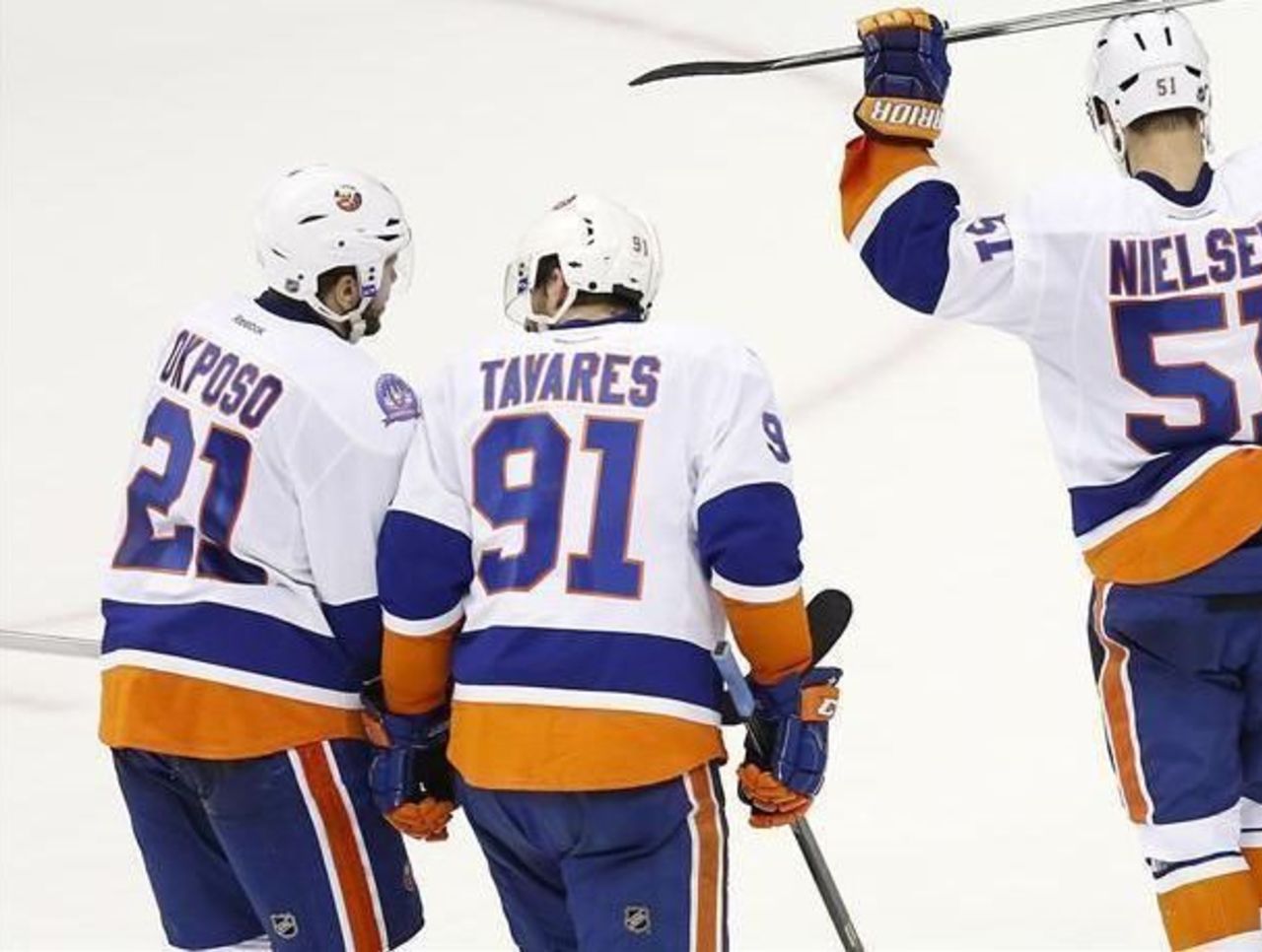 In fairness, there wasn't an Islanders forward who showed up to play in Game 7 - which is bizarre given their depth - but in big games like that, the judgmental eye turns to those with the highest expectations.
Kyle Okposo contributed one of the Isles' three - THREE! - total shots from forwards (the other two belonged to Frans Nielsen), meaning his top gun linemates contributed zero.
Back during LeBron James's first tenure with the Cleveland Cavaliers, James put on a baffling playoff performance against the Boston Celtics where he just failed to show up. As the game slipped out of reach, and every viewer from infants to the elderly expected him to grab the game and mount a charge … he simply didn't.
That was John Tavares in Game 7 for the Islanders.
He was played tough and hit at every opportunity, but he just didn't seem to have any pop in his legs. He seemed hesitant and unsure, as did his linemates, and that resulted in little sustained pressure, few touches coming out of the D-zone, and a game in which he was generally uninvolved.
I'm sure it was a good learning experience for a great player, but needless to say, he didn't have it Monday night.
The Capitals rose to the occasion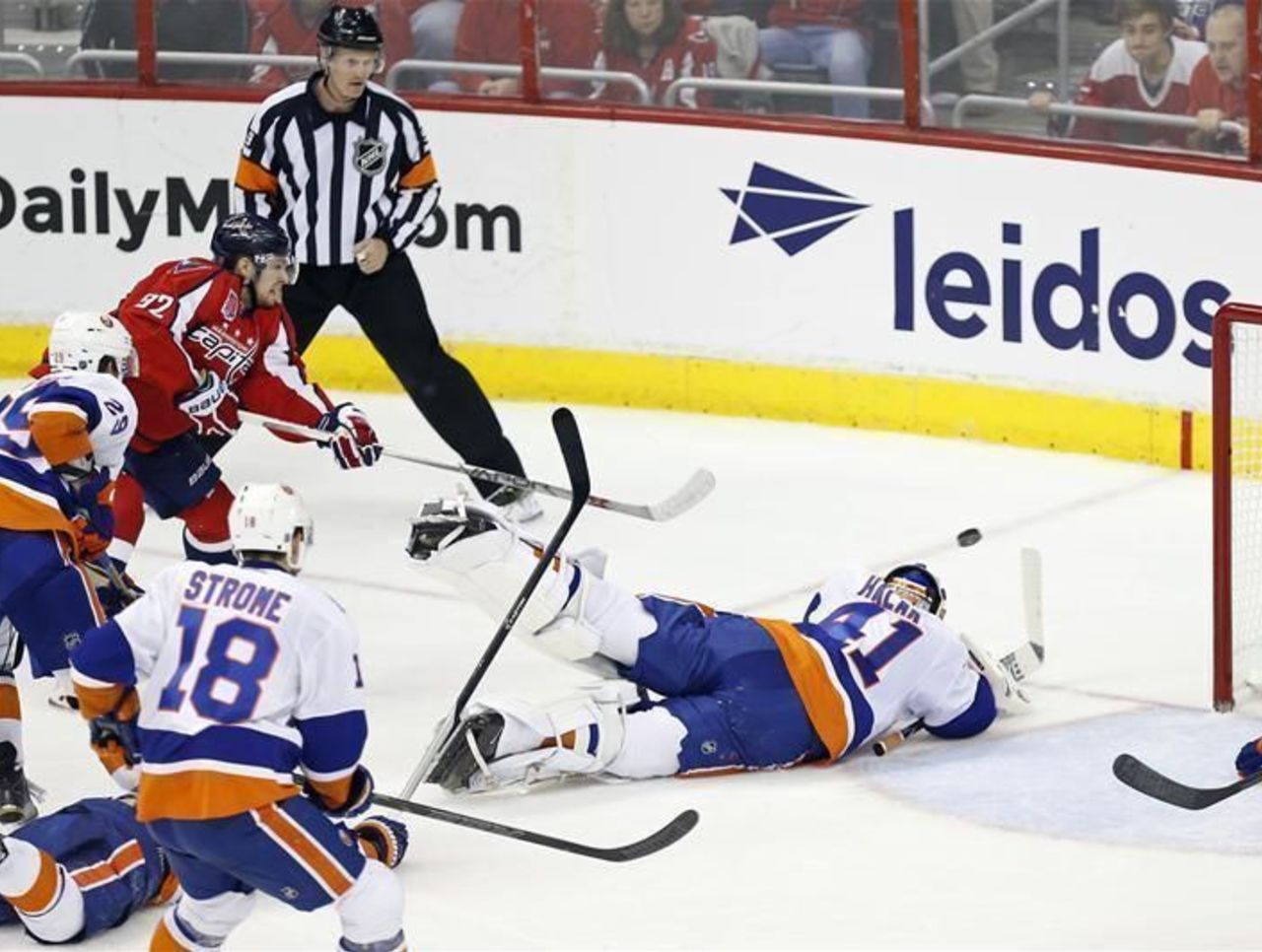 As a fan, it's easy to look at your own team after a loss and say, "they just didn't have it.: It's tougher to remember that the other team has the chance to "have it," too, and sometimes they do.
The Capitals brought it in Game 7.
Kuznetsov - the man who scored the beautiful winner by feeling where the pressure was on the wall, spinning off his check, and taking the puck to the house before exhibiting masterful patience - looked like the type of player who could make something like that happen every time he touched the puck. (It's impossible to watch this young talent and not think, "Boy, what if they hadn't traded Filip Forsberg for that broken skate sharpener?" … or whatever the return was.)
Mike Green seemed to have more touches in the offensive zone than any other player on the ice, and was constantly on the verge of putting the puck in the net.
And the Caps' fearless leader, Alex Ovechkin, had plenty of pep in his step, firing a game-high seven shots, destroying D-men on the forecheck, and setting up the game's opening tally.
When things aren't going well, Jack Capuano's specialty is not fixing them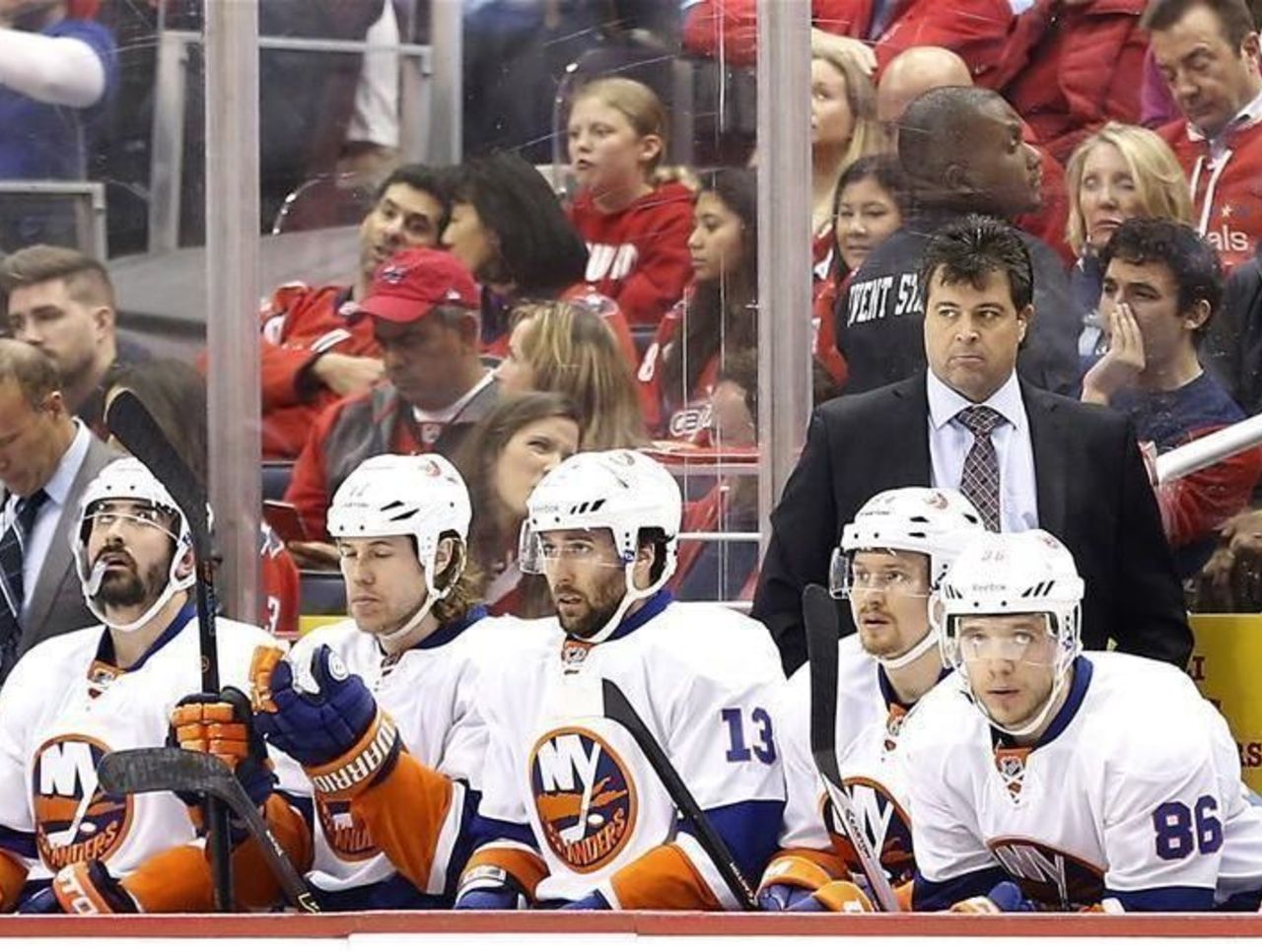 The default response for old-school coaches when their team is getting trampled is to shuffle the lines. Chemistry must be the issue; here, you random three humans, spill out over the boards, will ya?
It does occasionally work, which is why coaches do it, but for the most part "taking familiar players away from each other" when trying to create more offense isn't the savviest plan, at least not in a do-or-die contest.
There's also the "fan" issue. I really like the line of Matt Martin, Casey Cizikas and Cal Clutterbuck as much as the next guy, and there's no denying they bring valuable energy, physicality and puck retrieval skills. So to reiterate: I really like them. But Capuano seems to be a fan of them.
Down a goal with three minutes to go in Game 7, those guys should be staple gunned, duct taped and Gorilla Glued to the bench in favor of better offensive players. At most put one of them out there for puck retrieval or something - but the whole line, in that situation? C'mon, man. That's a fan move.
The Isles forgot to prioritize the puck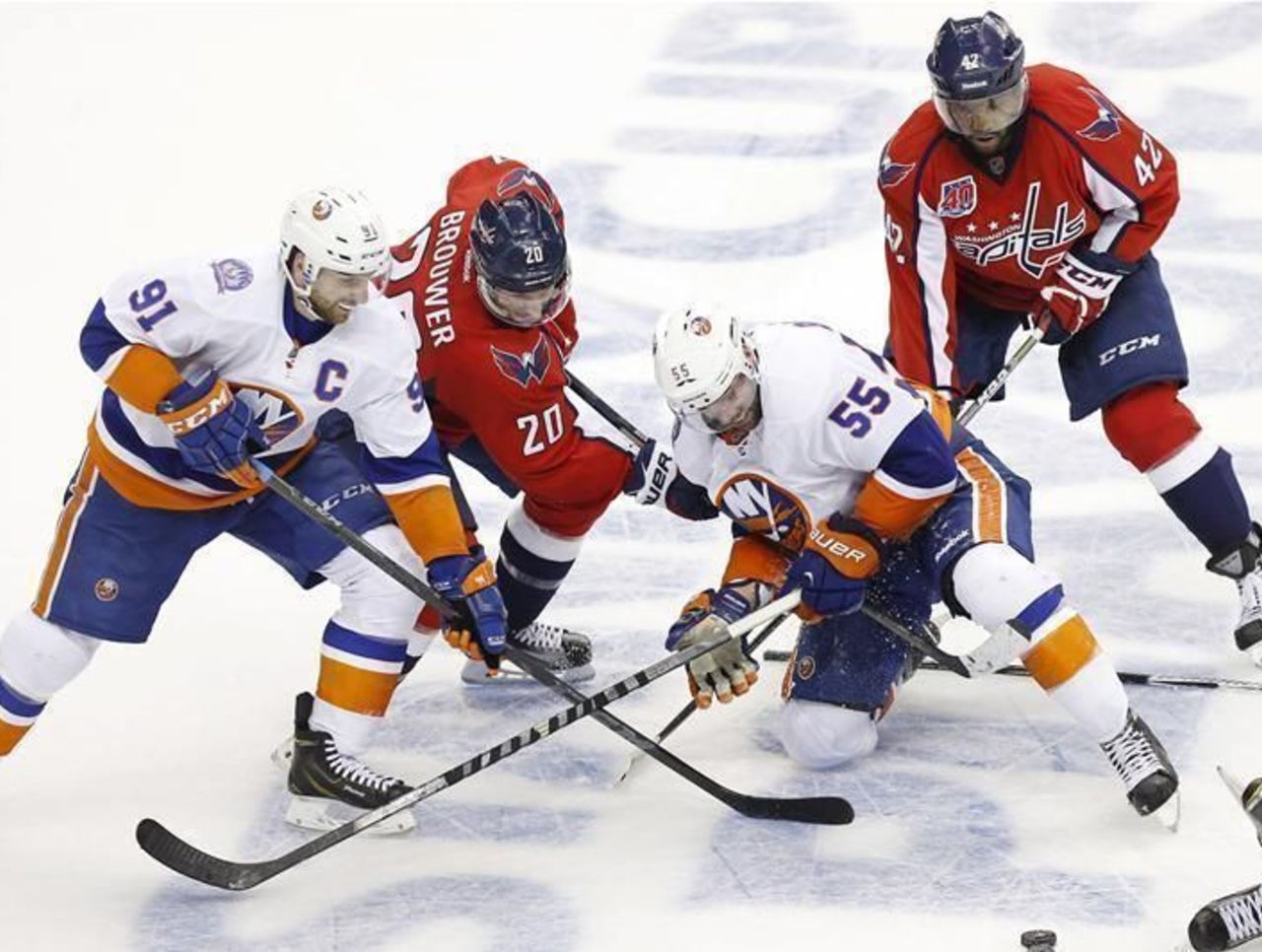 I didn't love Capuano's move to healthy scratch 25-goal-scorer Anders Lee for two-goal-scorer Colin McDonald before the game (being that it was based in superstitious "we won with him in last time" logic), and it irked me even more after.
McDonald is the more physical player, but man, in Game 7 all the hits that have "set the tone" in the series have … set the tone. It's set, we get it. Now the opposition knows you're coming hard, they know to move the puck quick, and they're as physically hurtin' as they're gonna be.
You want to take the damn puck in a pivotal game. The long game is over.
There were multiple times (one that really sticks in my craw early in the second) where McDonald could['ve made a play on the puck, got it deep, whatever, yet chose to make a meaningless bump on a guy (Ovechkin occasionally did this too, albeit to a lesser extent). You've gotta know the situation and play for the team, not for the way you selfishly come off looking like you "played your role" the best.
The pivotal shift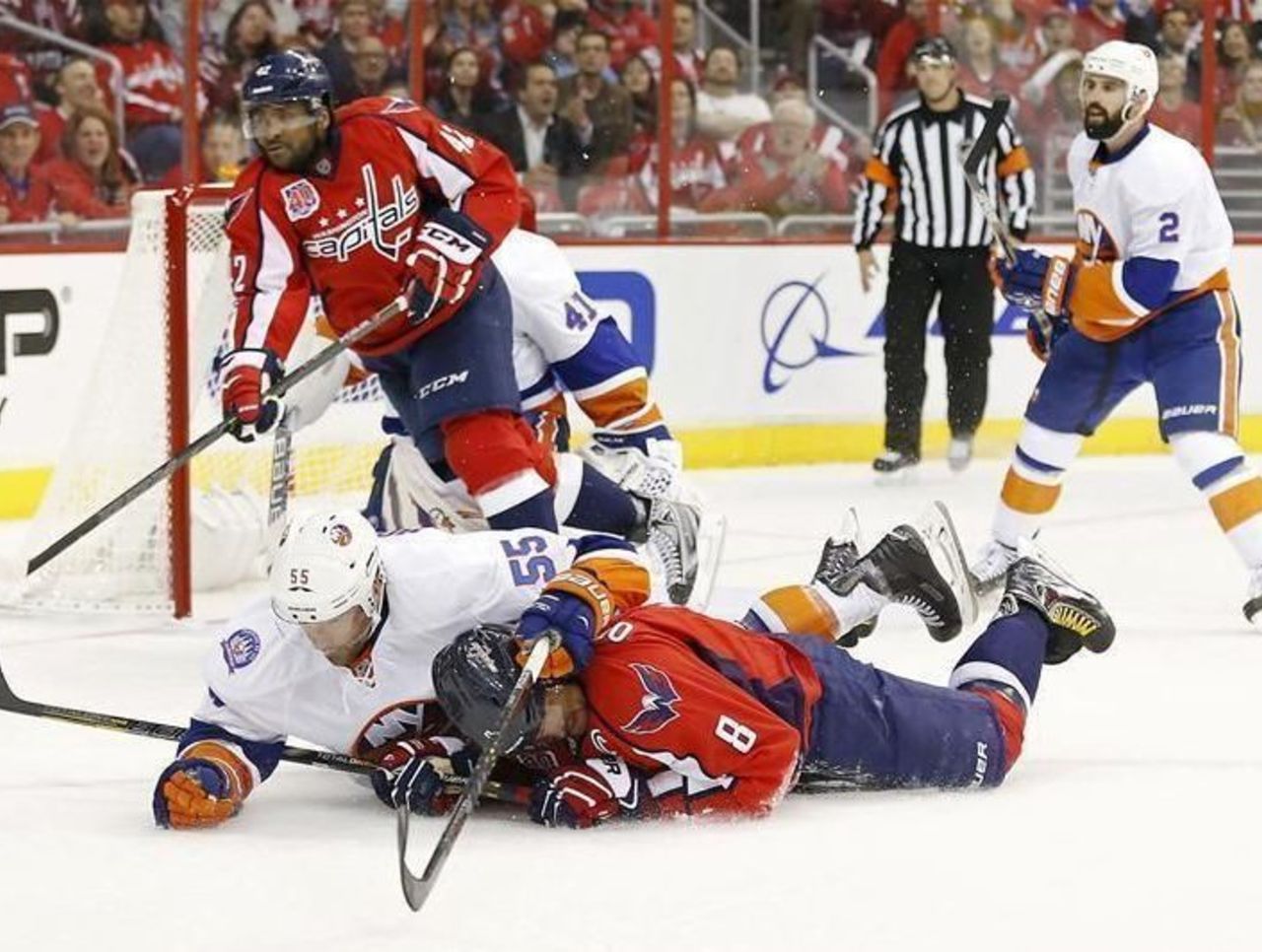 There was a shift in the Islanders' zone early in the second period where they had out their three biggest cogs in the machine: Tavares, Johnny Boychuk and Nick Leddy. Like in most every hockey game, sometimes you lose a shift, and the Isles lost that one, getting hemmed in for a good amount of time.
The real problem: they couldn't get off the ice. Those three players were out there for easily over two minutes - the toughest minutes, mind you, covering skilled offensive players low in their own zone - and they never really got it back on track. They faced three Capitals lines that shift.
Time-on-ice is a funny thing. The totals of Boychuk (25:57), Leddy (26:19) and Tavares (20:44) were all on the modest side of where they should have been in a Game 7, but it's not always about your raw minutes, it's what kind of minutes. And those burners, those times you absolutely ask it all of your legs in one long, painful sprint like that, can fully kill them for the night. You can lose them and not get them back.
I feel like that shift was where the Capitals truly won the game. They didn't score, but they weakened the Islanders' best players a significant amount with 35 minutes of the game yet to be played.
Quick Hits
Finally, a few quick-hitter thoughts: 
Jaroslav Halak outplayed Braden Holtby: Had you known that going into Game 7, you'd have predicted the Isles to win every time. That's how badly outplayed they were outside the crease.
The Isles had one legit scoring chance: One! You can probably run it up to three or so if you're being generous, but Brock Nelson walked the puck in front from the corner all alone on Holtby and took a pretty non-threatening wrister. That total is pathetic, as was their record-setting Game 7 low of 11 shots. Kudos to the Caps for that defensive performance.
Paul Pierce is the Devil: I'm a fan of the Toronto Raptors. They've lost in the post-season in the first round in consecutive years to Paul Pierce's teams, both times going down while he flapped his gums. When I saw him front row in Capitals gear banging on the glass chirping Isles players, I knew it was over.
Hell of a series. Congrats to the Capitals, who are in for another doozy against the Rangers before they know it.
Comments
✕
5 thoughts from Game 7 between the Capitals and Islanders
  Got something to say? Leave a comment below!