Part two: 5 of the NHL's most pub-worthy coaches
Presented by
In the past theScore has looked at hockey's most personable, outgoing people. The people you'd like to sit with at a pub for hours and just shoot the breeze. Naturally, that led us to NHL coaches, who have some of the most vibrant, educated voices in hockey, and once they turn off the coach-speak filter ... buddy, look out. 
This led us to names like Patrick Roy and Mike Babcock, Jack Capuano and Dave Cameron, Darryl Sutter and more. Unfortunately, we didn't realize the list needed to be so many names longer than five, so here we are - back with part two.
So, without further ado, here are an additional 5 names who were unjustly snubbed.
5. Craig Berube
A great place to start with a bar mate is "NHL enforcer." This is a guy who's traded punches with some of the NHL's all-time tough guys and has lived to tell about it. And boy, would we like to listen.
He also played in an era where off-ice stories still existed, and currently coaches an NHL team in a league we still have plenty of questions about. 
Where would you even start with Berube? 
Our number one might be: did you actually think you could handle a guy like Dustin Byfuglien in a fight?
4. Paul Maurice
Paul Maurice has that kind of wry, dry sense of humor that made him such an asset for TSN when he was between NHL head coaching jobs. You always kinda get the vibe that he's not actually saying everything he's thinking, which is why he seems like such a perfect fit for a little rum-and-coke afternoon (that bleeds into the evening).
Speaking of bleeding: you gotta like hanging out with a guy who can take a frozen puck to the forehead and laugh. Always good to have guys like that with you at the bar.
3. Lindy Ruff
Lindy Ruff is the type of "old school" that other old school coaches look at and go "Man, that guy is old school."
Lindy played in an era where you had to be tough, and he was ... 
... but he was also cerebral enough to become a head coach too. Gotta love a well-rounded guy.
Plus, I think you have to have respect for any coach who's never let that fire go. You can't tell me he wouldn't have a few stories from his multiple decades around the NHL.
2. Barry Trotz
It's a funny thing with coaches - they can never fully let down their guard as to maintain the aura of authority with a hockey team of rich, talented athletes. You have to separate yourself from them.
But Barry Trotz, for whatever reason, seems to be able to let down his guard now and again, and let people know that while he's serious about his job, he also likes to have a good time and a few chuckles.
The man has personality.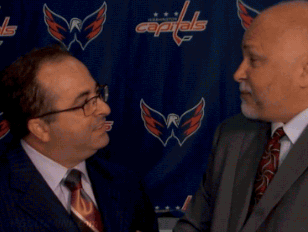 (Courtesy: Russian Machine Never Breaks)
(That's cold water they're in, BTW.)
1. Jon Cooper
Hearsay. That's all we can really say about Jon Cooper, but just ask anyone from inside the game: Jon Cooper is a great guy to go for a couple drinks with. Pure hearsay.
It helps that all he's done is win, win, win, no matter what. Up from the NAHL through the NHL, all the guy has done is win championships, so you know he has some interesting theories on how teams should play hockey. And hanging with someone smart for a few hours always makes a person smarter - who wouldn't enjoy receiving wisdom from a savvy, funny cat like Cooper?
Oh and also: here's a did you know - he was a defense attorney for five years before a judge asked him to coach his kid's high school hockey team. How's that for life experience?
Comments
✕
Part two: 5 of the NHL's most pub-worthy coaches
  Got something to say? Leave a comment below!