Systems Analyst: Pittsburgh blew a 3-goal lead to Ottawa, so ... who's to blame?
Andre Ringuette / National Hockey League / Getty
Presented by

You know what kind of sucks about hockey? Almost every time a goal is scored, it's someone's fault.
In some sports, say, basketball, some offensive plays are nearly unstoppable, like a Dirk Nowitzki step-back jumper. That's not a knock, it's a reality. Hockey just happens to be the opposite. Nearly everything should be stoppable since players and the puck have to go directly through humans.
Allowing a goal requires a breakdown, whether physical, mental or otherwise (I dunno, existential?). That means regardless how or why a goal was scored, we can almost always point the finger at someone.
So, for you starchy, prickly Pens fans after the collapse against the Sens, I thought I'd narrow the focus of the scorn blanket I know you've been laying over your team.
Here are the four goals the Senators scored last night en route to erasing a three-goal deficit in a game in which the Pens could've sealed their trip to the postseason.
Goal #1: Jean-Gabriel Pageau scores a shorty 14:41 into the 2nd
This one isn't going to be too illuminating - it's pretty clear what went wrong - so we'll keep it short.
Twenty-one-year-old defenseman Derrick Pouliot does a nice job keeping a wildly bouncing puck in at the blueline by smacking that belt-high knuckleball back into the zone. But there are no Pens there, so he retreats to play the coming 2-on-2.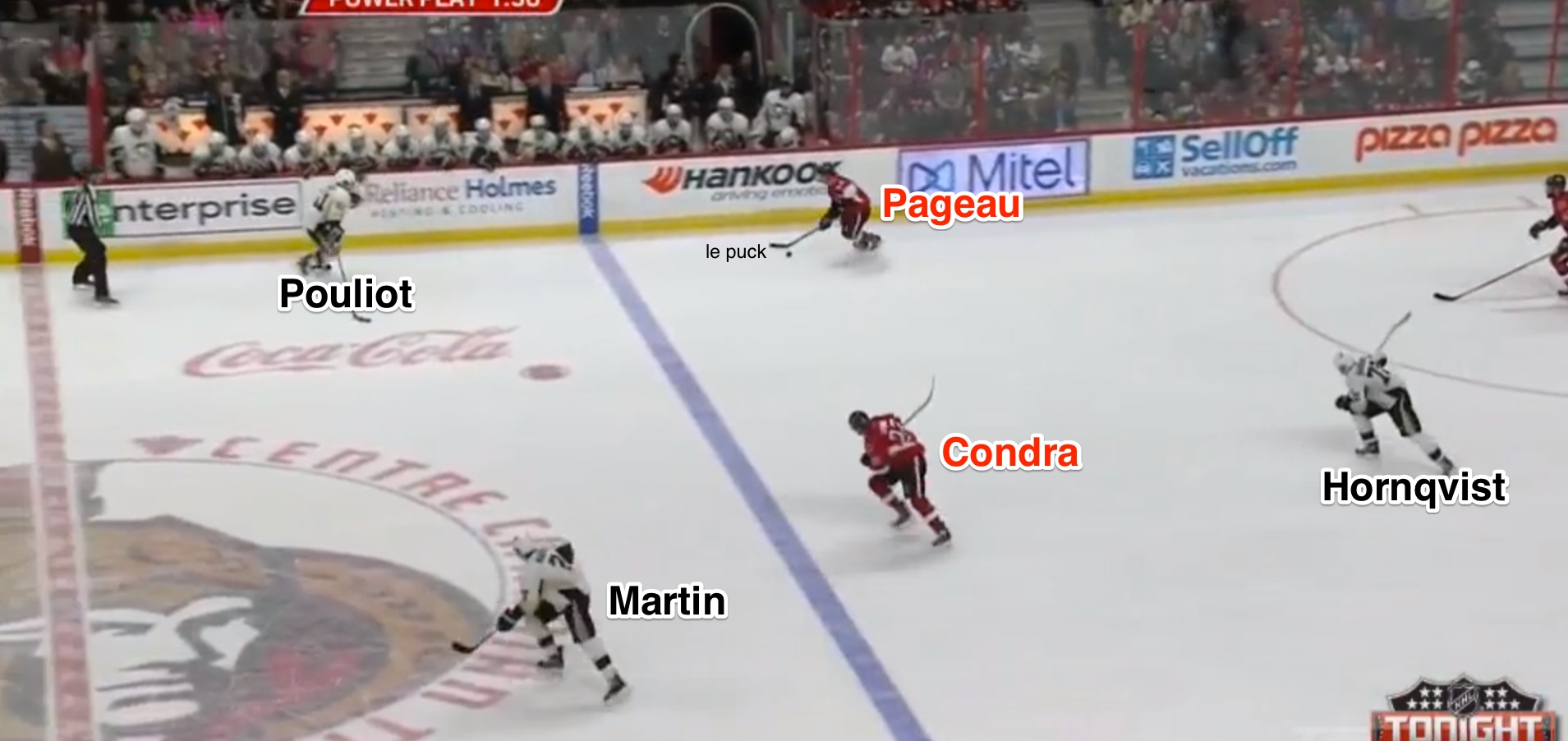 Smart man.
The four players set on their way with Patric Hornqvist backchecking admirably in a situation where his team has numbers. Pageau and Condra slow up and cross lanes, with Pageau maintaining possession.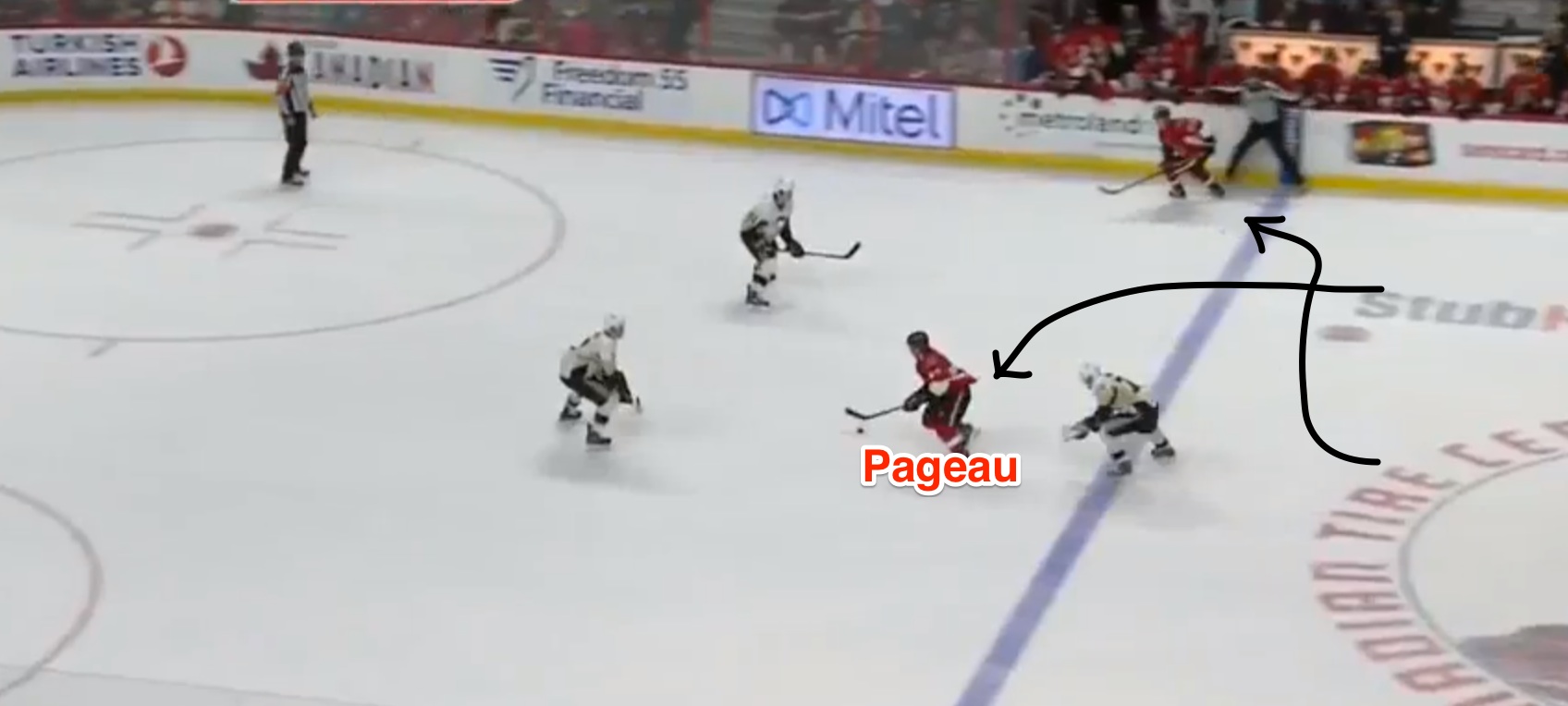 The gaps don't look great here, but they really weren't that bad given the Sens forwards crossed. Also, it would look a ton better if Martin weren't making his first mistake - he's carrying his stick to the middle, rather than applying it stick-on-puck. (Again - nice backcheck Hornqvist.)
Because of Martin's back stick position, Pageau is able to swing the puck outside.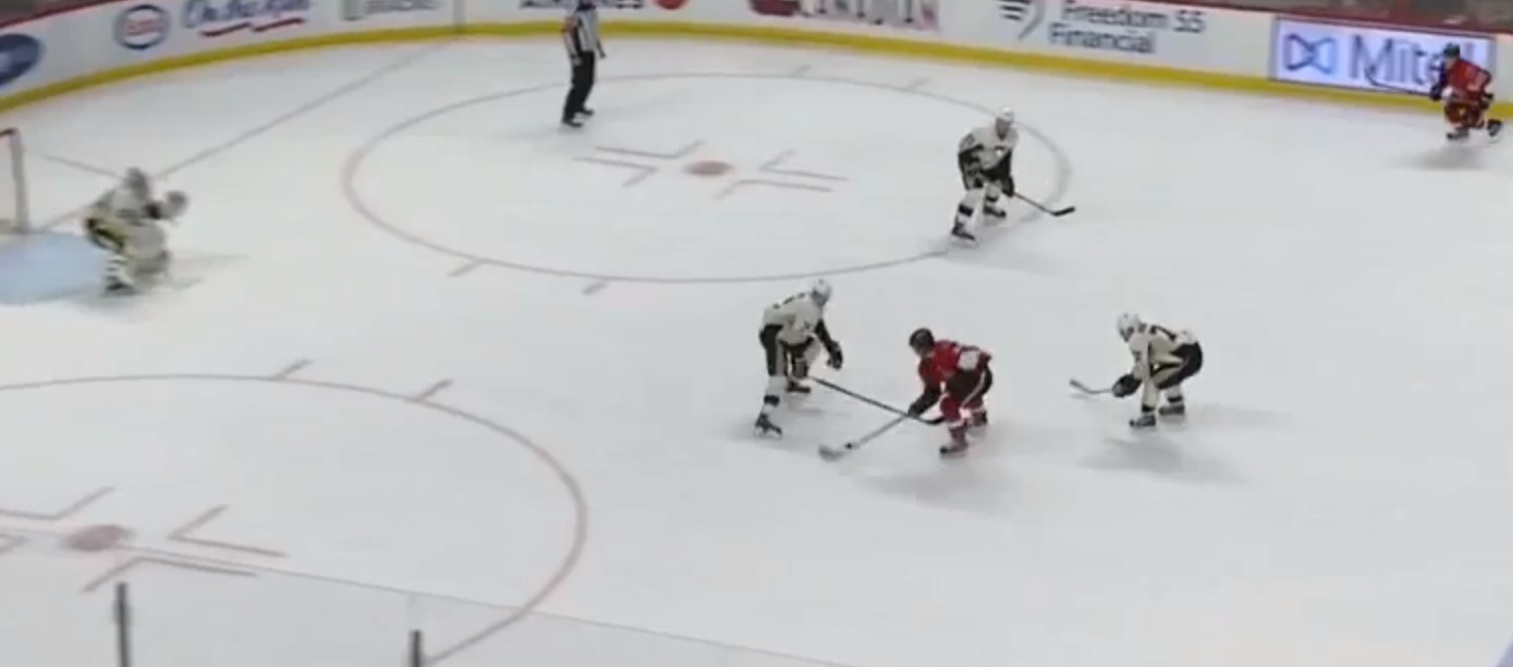 The Pens are fine - FINE - here. Martin's the only one who's made a mistake so far and he recovers okay by pushing Pageau wide. Really, what's the Sens forward gonna do from here?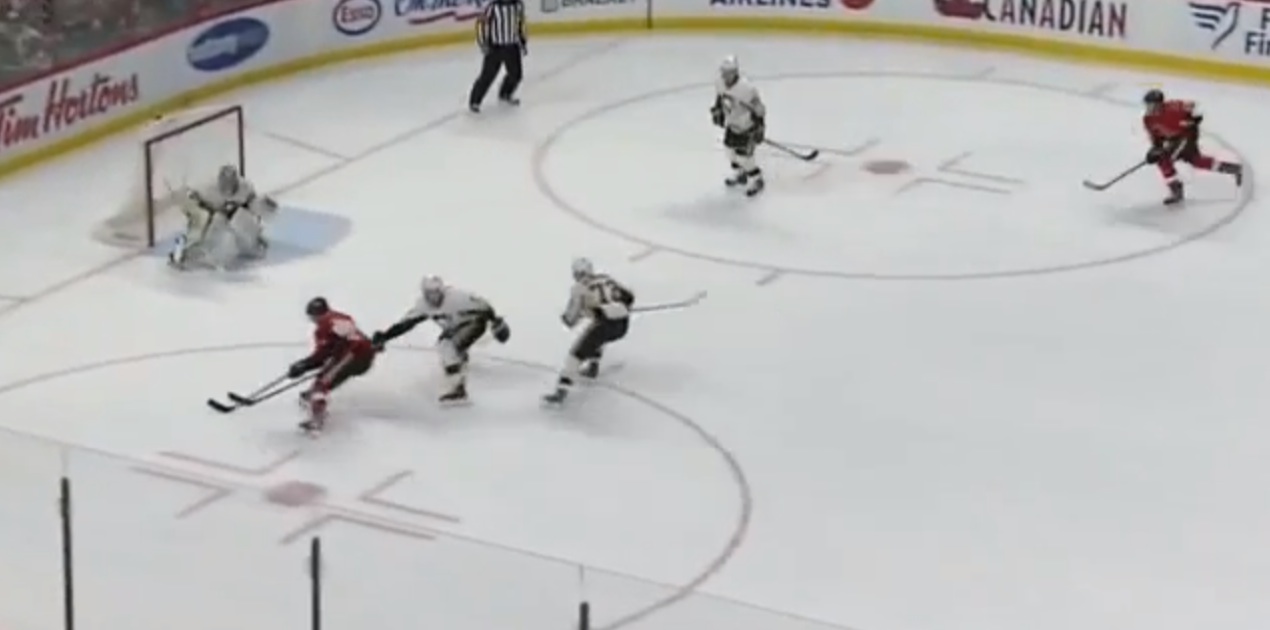 Unless he's got Crosby's backhand, all he can do is throw a weak one on net or throw a wild pass to nobody in front of the net and what's that gonna do hahahahahahahaha-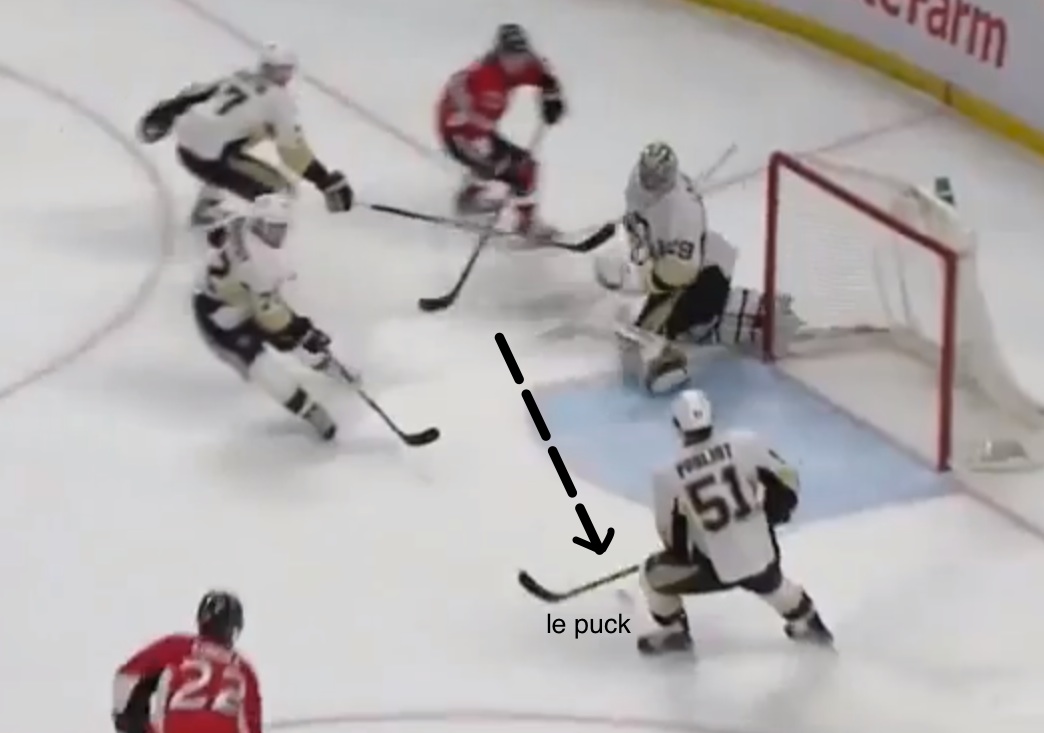 Oh. I see. 
He whips it off Pouliot's planted skate which directs it right into the net. You can't be too mad at anyone here. And hey - still a two goal cushion, right?
Goal #2: Mark Stone makes it a game just 34 seconds into the third period
This time we have a clear perpetrator, and lo, thine name is Winnik.
The Sens get the puck deep and Clarke MacArthur gets in on the forecheck hard. Ben Lovejoy gets first touch on the puck and is able to rim it around to the right wing.
Unfortunately for him, the Sens execute their forecheck beautifully and Kyle Turris stops the rim.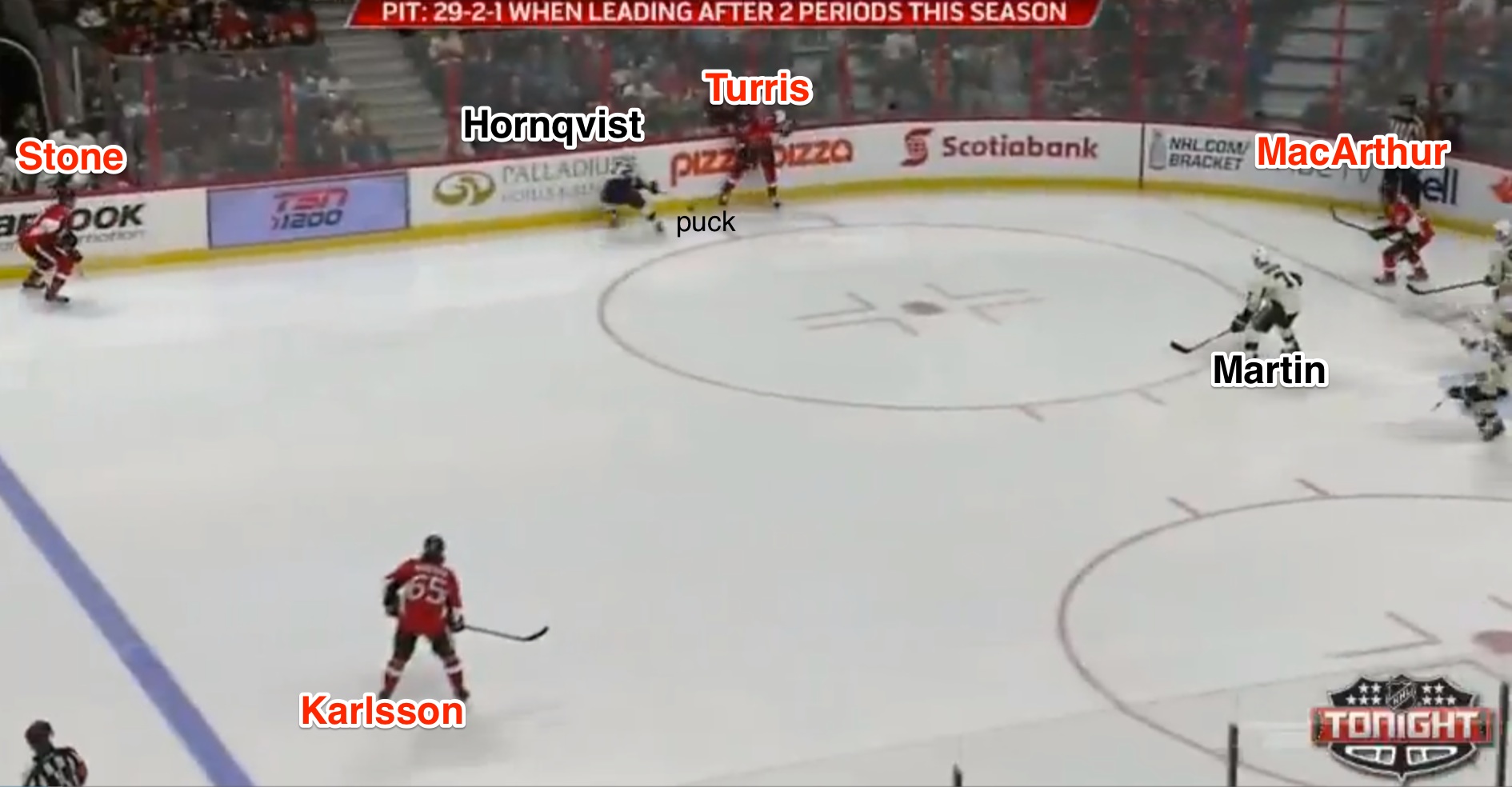 Hornqvist sees this and engages him in a puck battle. Ever the diligent players they are, Mark Stone and Sidney Crosby appropriately report to their respective defensive sides of the battle.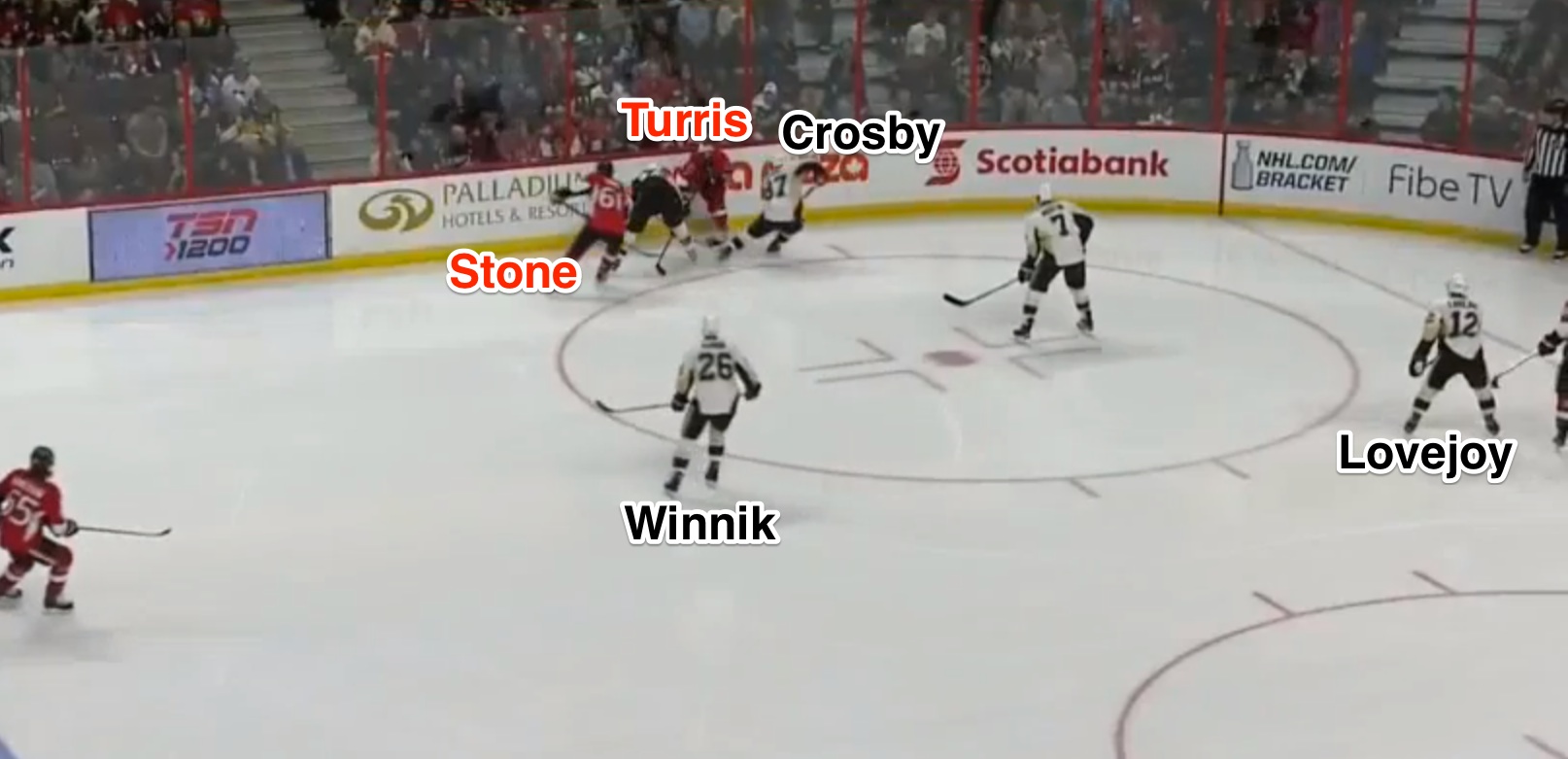 As you can see, the puck spits out of the rugby scrum to Crosby's side and he digs it out. 
NOW …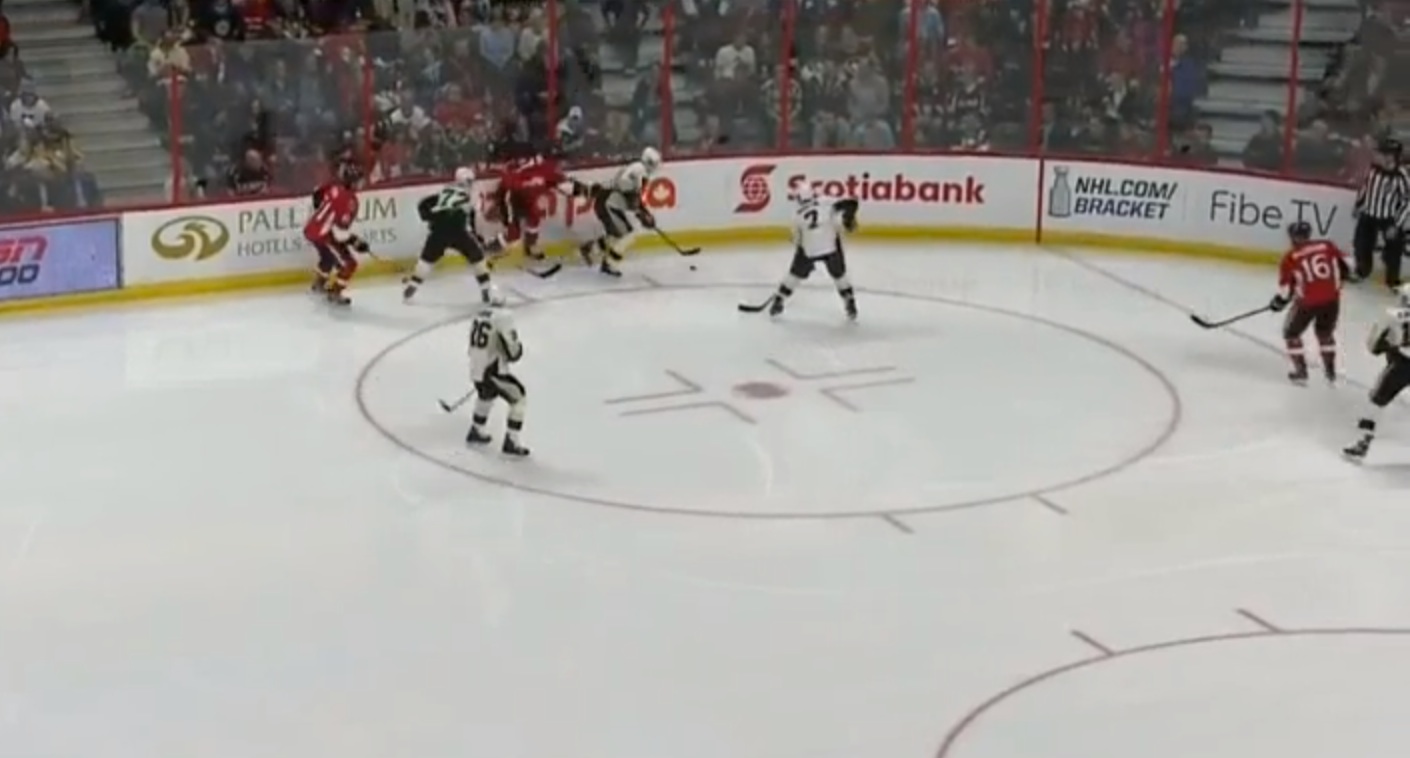 Hockey requires a lot of anticipating. Paul Martin has drifted towards the pile knowing his role defensively would be to take one of Turris/Stone - Crosby would have the other, and Hornqvist would drift up to the point. But, Sid gets the puck, so "defensively" doesn't matter at this point, and now he's too close to be an outlet.
The two players not in that battle - Lovejoy and Winnik - immediately move to become options. Lovejoy behind the net, Winnik a touch deeper in the slot.
In today's hockey, the slot is often the perfect soft spot to relieve pressure. In today's hockey, a player is responsible for corralling a pass. After all, in today's hockey, you can't give a good player a bad pass.
Sid goes to Winnik.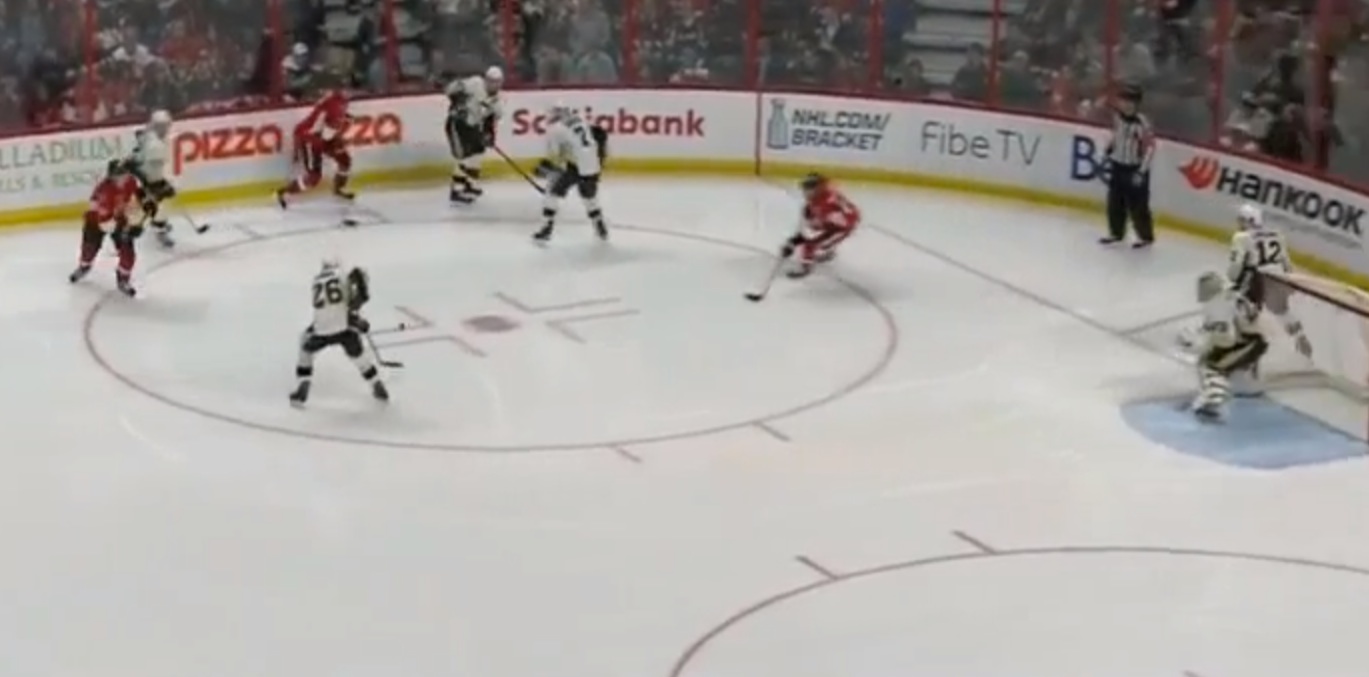 It jams him between the fore and backhand and chunks off the toe of his blade. MacArthur, seeing the Pens get possession, has started to head back defensively and stumbles right into the loose puck.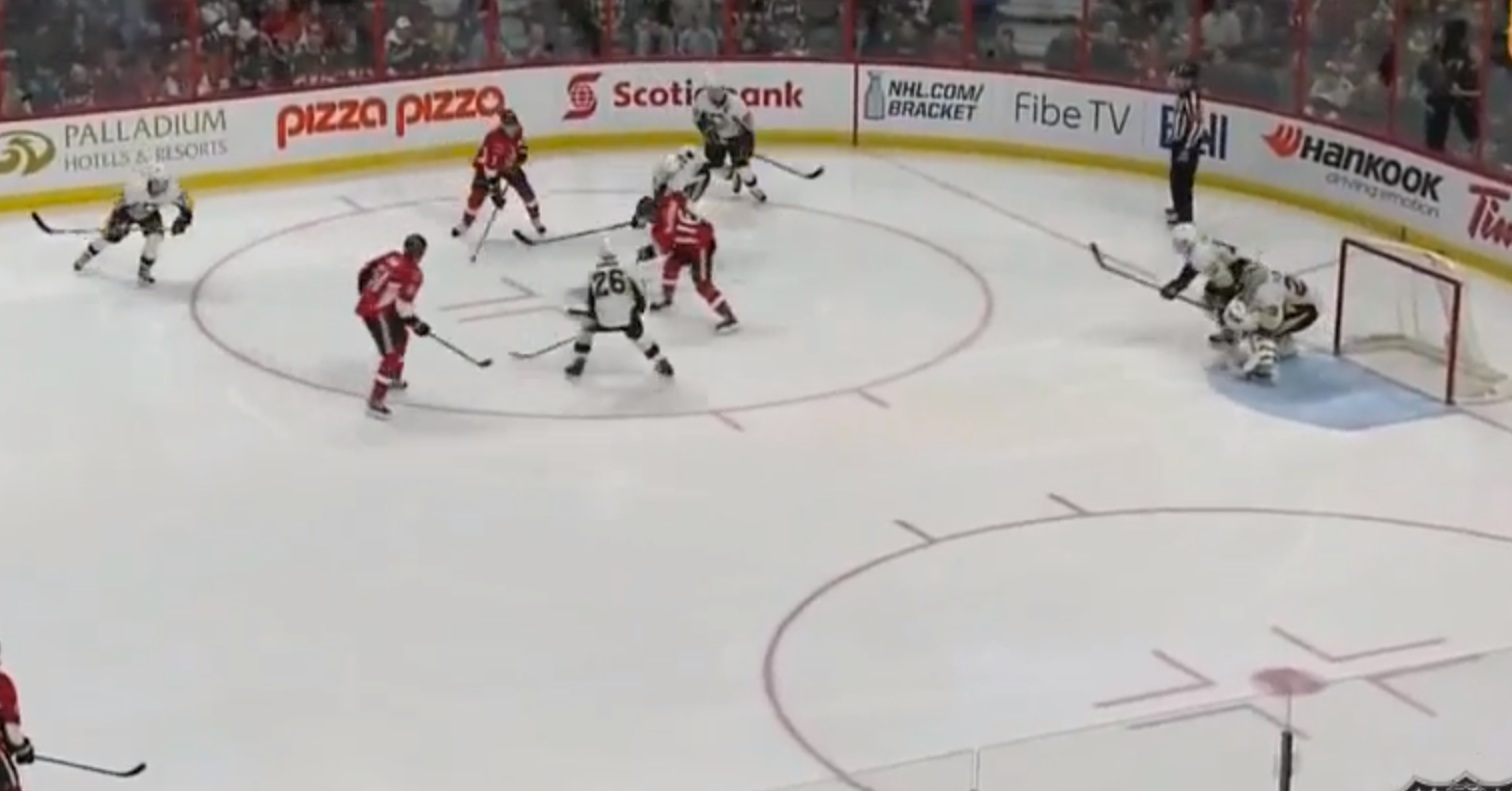 All the Penguins are suddenly coming from places that were meant to aid a breakout … but they don't have possession. That turnover leaves Lovejoy boned, stuck nearly behind the goal line, while MacArthur just has to get Stone the puck and he's got the slot all to himself.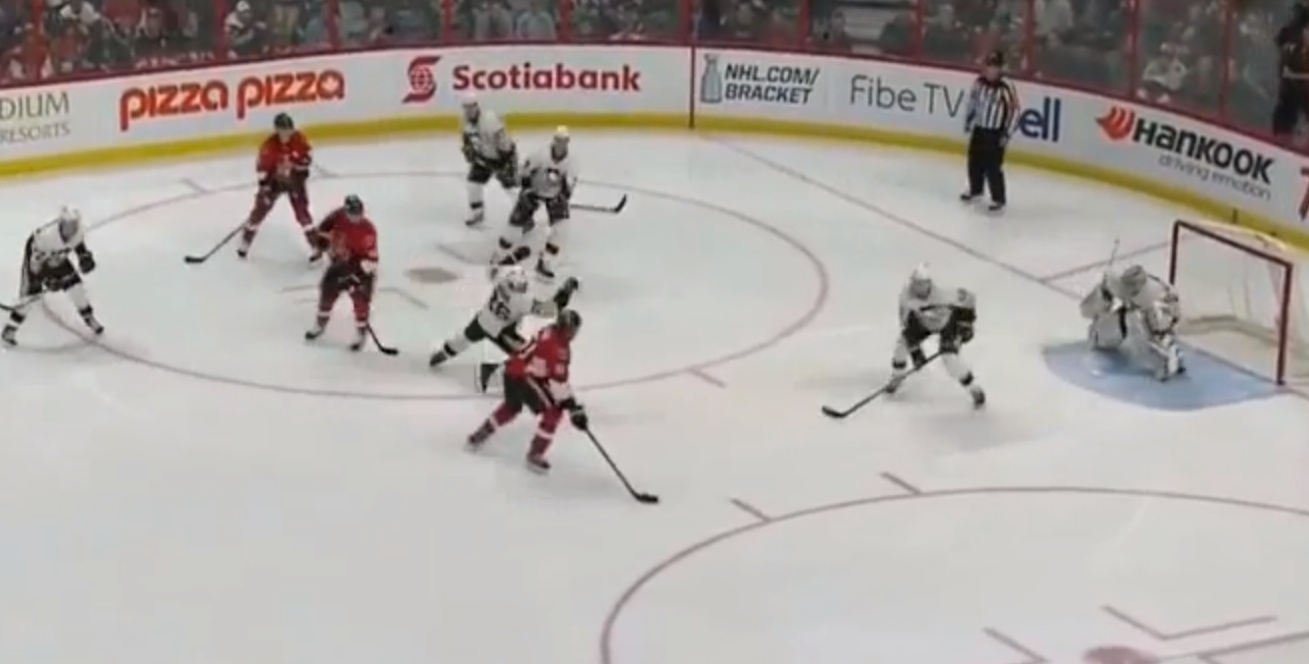 He goes wickets on Winnik to Stone and - to make matters worse - Lovejoy rushes out in desperation, screening Marc-Andre Fleury (remember that phrase).
With a release like Stone's, what happens next was all but a given. Lead down to one.
Goal #3: Mike Hoffman scores with 1:48 left in the third to tie the game with the goalie pulled
This goal involved zero egregious errors, but four small ones that compounded.
First, Brandon Sutter does a nice job of tying up the draw, but after the puck bounces, Turris wins the draw by kicking it back - excellent play. So, lost draw, our first bit of trouble.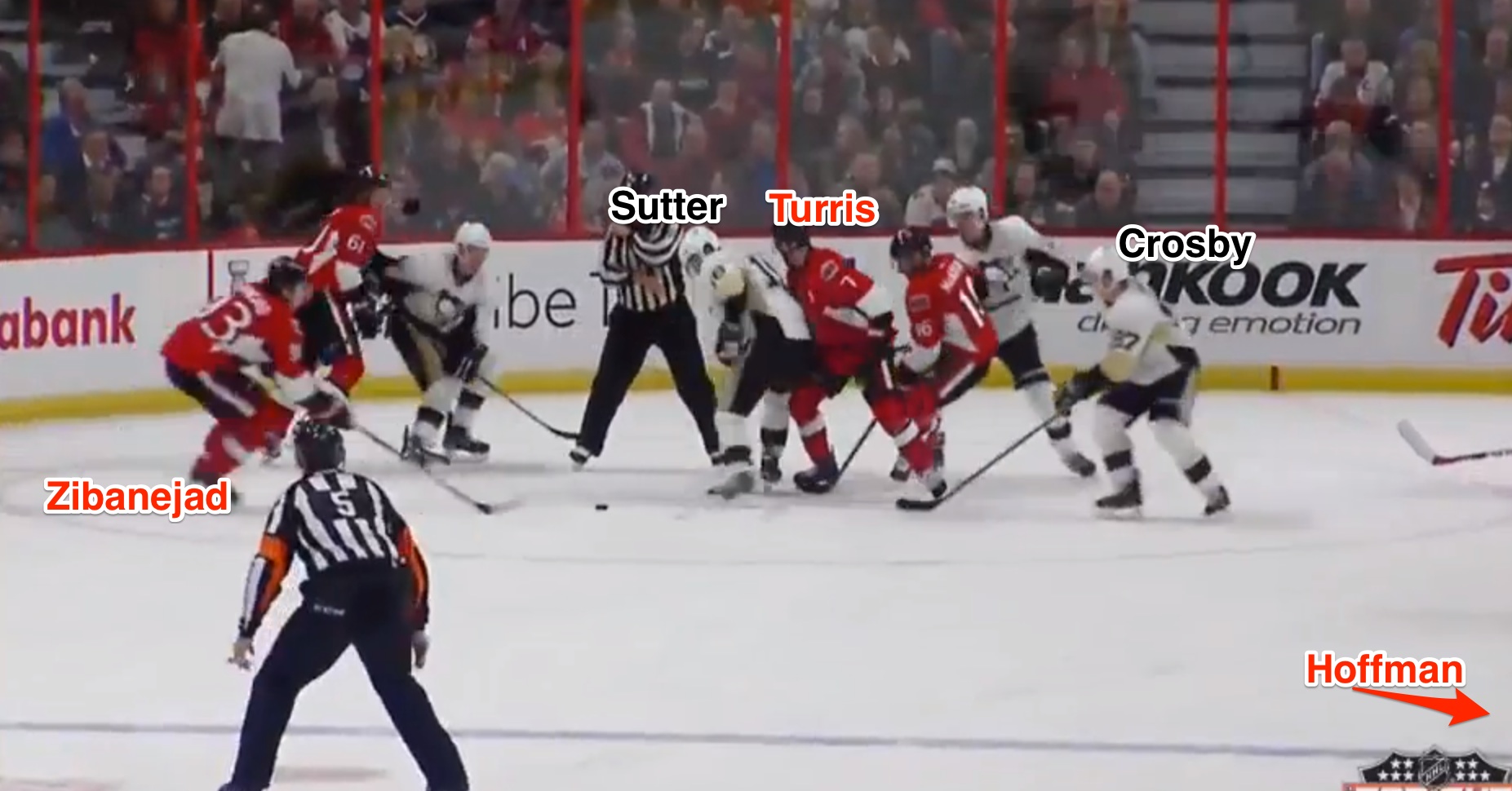 The Pens wanted two centers on the ice in case Sutter lost the draw, so Crosby's job as the winger here - first and foremost - is to deal with the trigger guy if the puck squirts out to him. Get in his lane, engage the puck battle.
Maybe Sid playing out of position on the wing hurt the Pens, because he carries on past Zibanejad at first, just a step, while heading to where wingers normally go - the point. That allows Zibanejad time to make a play.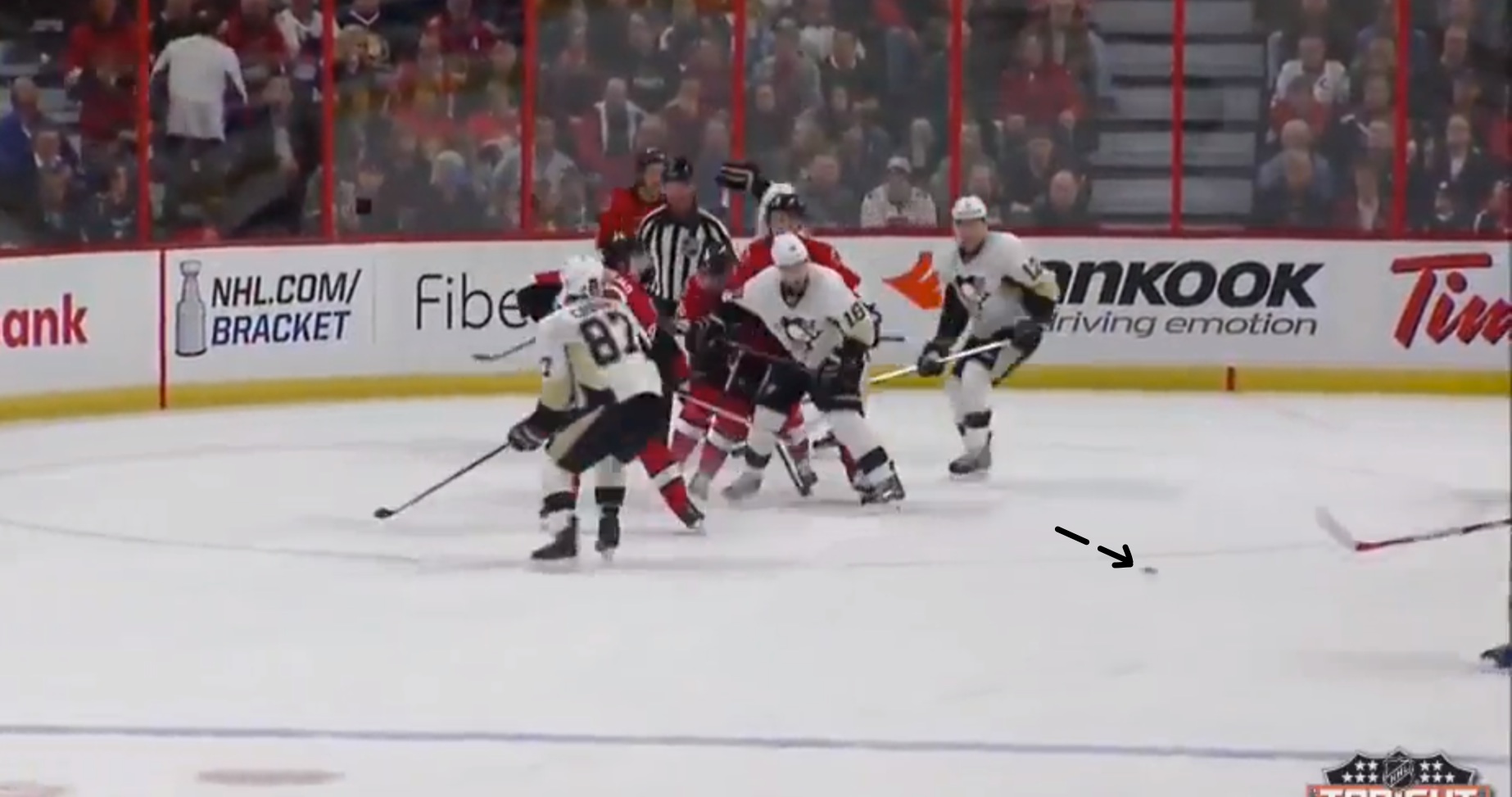 From there, Mike Hoffman and his terrific release have the tough job of getting the puck through to the net, or at least in deep. Which is gonna be tough, because Chris Kunitz is in his shooting lane.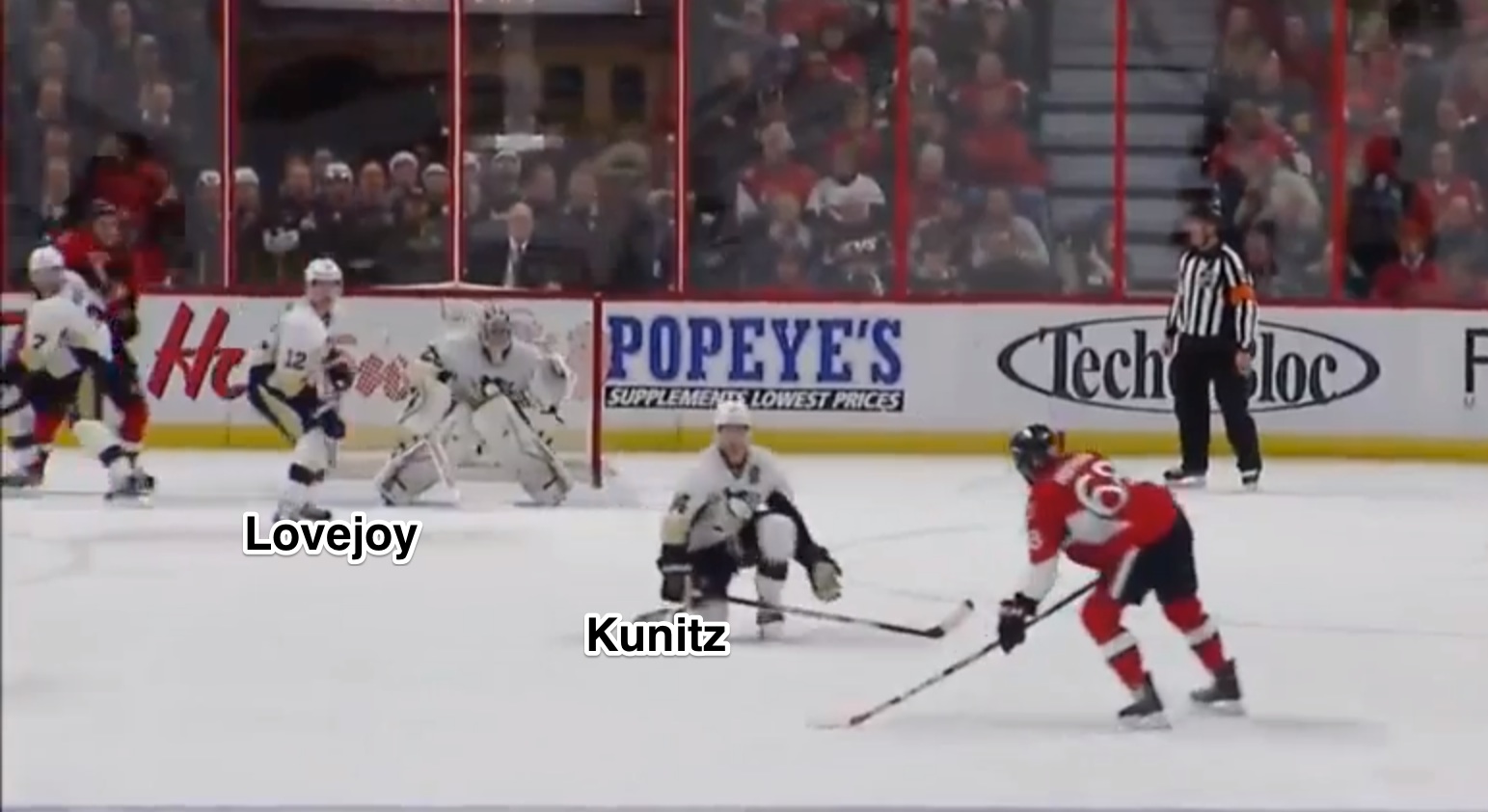 But, savvy offensive player that he is, Hoffman - while skating backwards - changes the angle of the shot by pulling the puck into his body, and oh so narrowly squeaks the puck by Kunitz.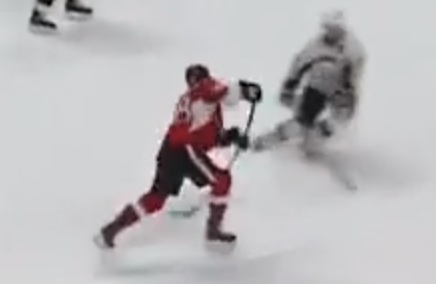 So we've got Sutter's oops, Sid's oops, Kunitz's sorta-oops and now, Ben Lovejoy, c'mon down, you're once again the next contestant on The Pens Are Effed.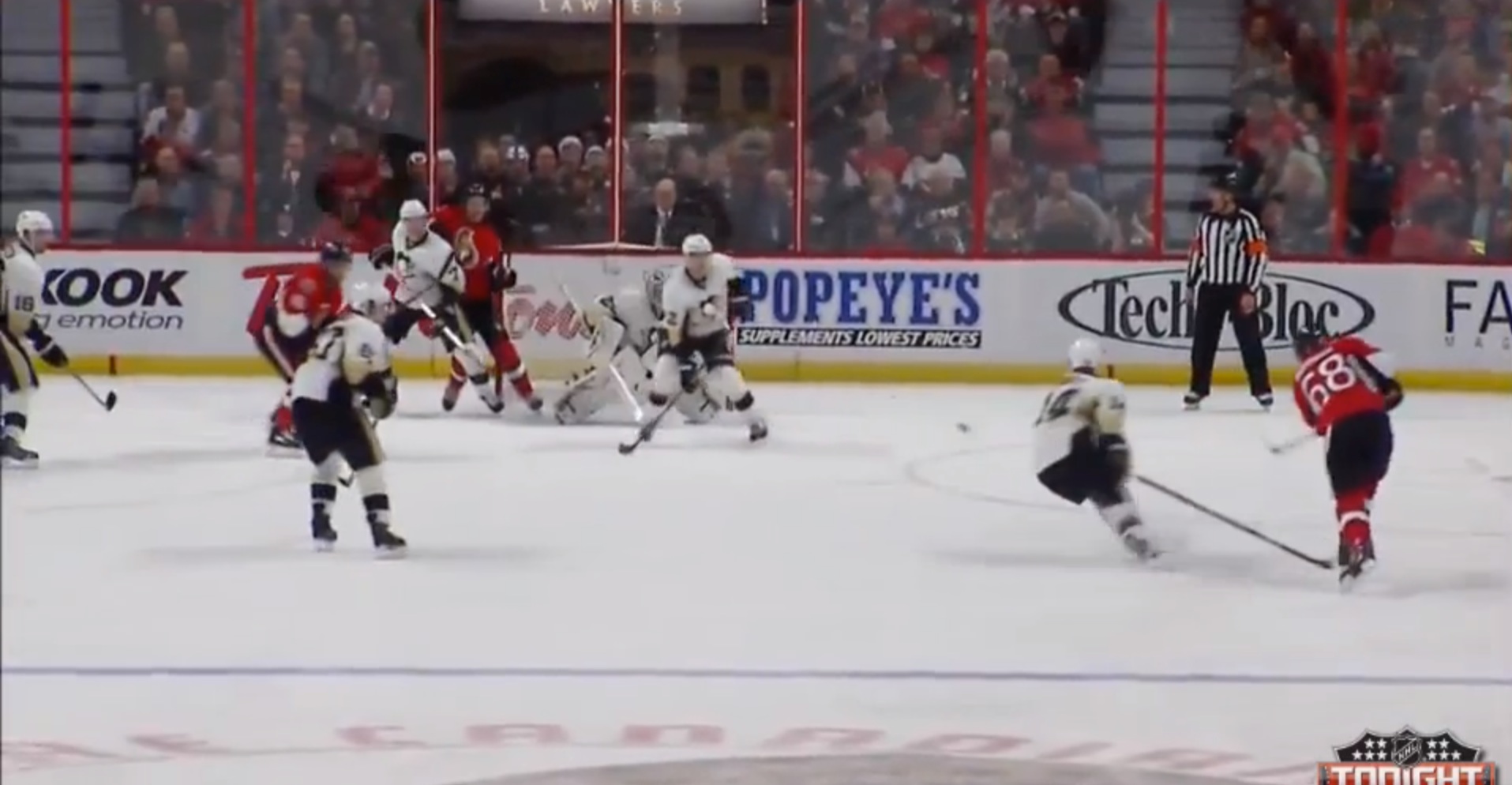 Lovejoy sets a screen all power forwards would be proud of (seriously, look at that beauty!) and Hoffman's perfect shot finds the top corner. We're going to overtime, folks.
Goal #4: Mark Stone goes Cheddar Bob on Fleury for the OT win
The Sens played some nice hockey to score the winner.
It starts with Pittsburgh getting the puck in deep, with Crosby on the forecheck against Marc Methot.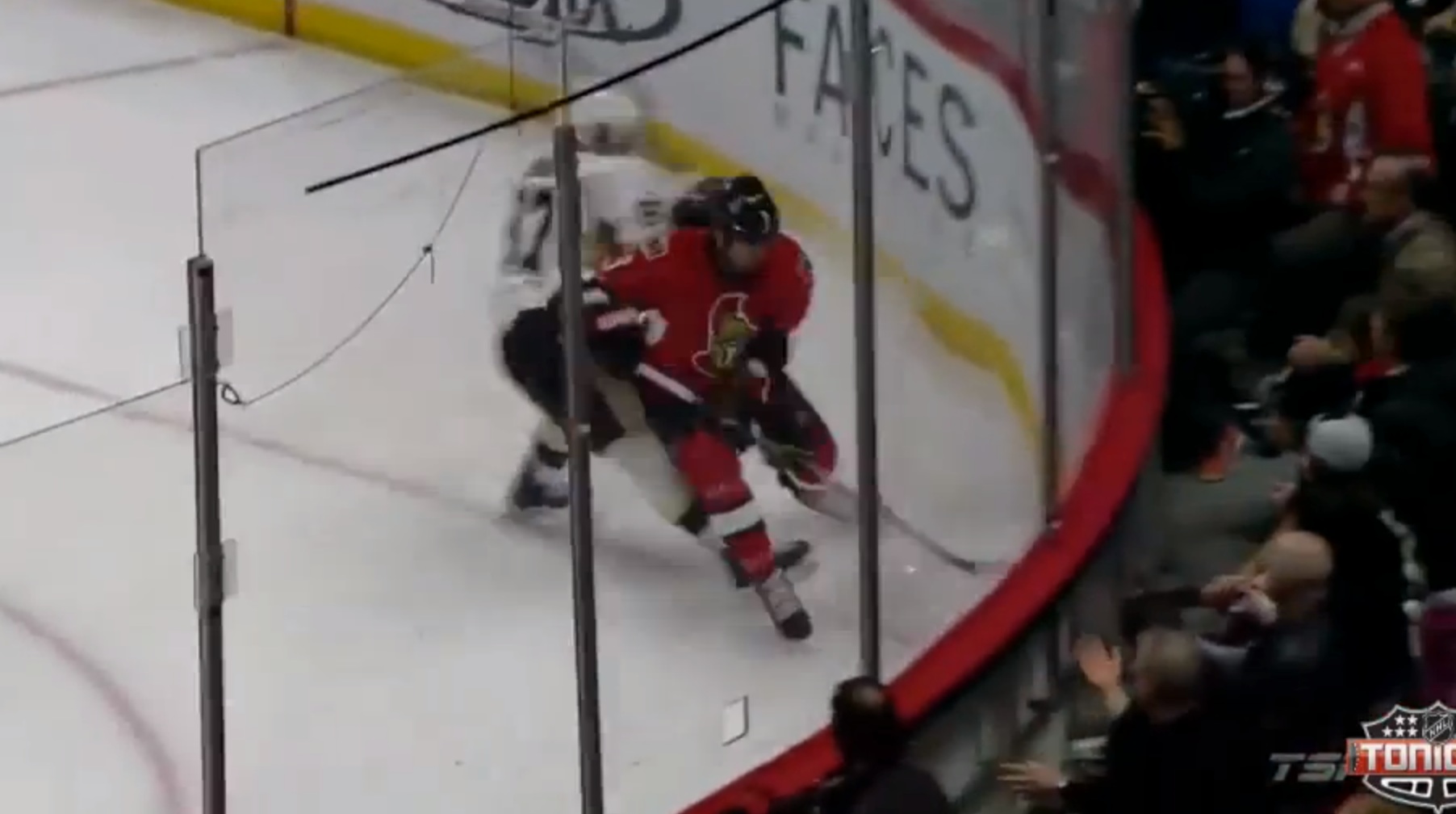 Sid tries to get his knee between Methot's legs for the hit-and-pin, but the big D-man holds him off using body position and turns the puck up offensively.
Seeing what he believed was going to be Crosby entering a puck battle, Hornqvist comes in to fish out the biscuit.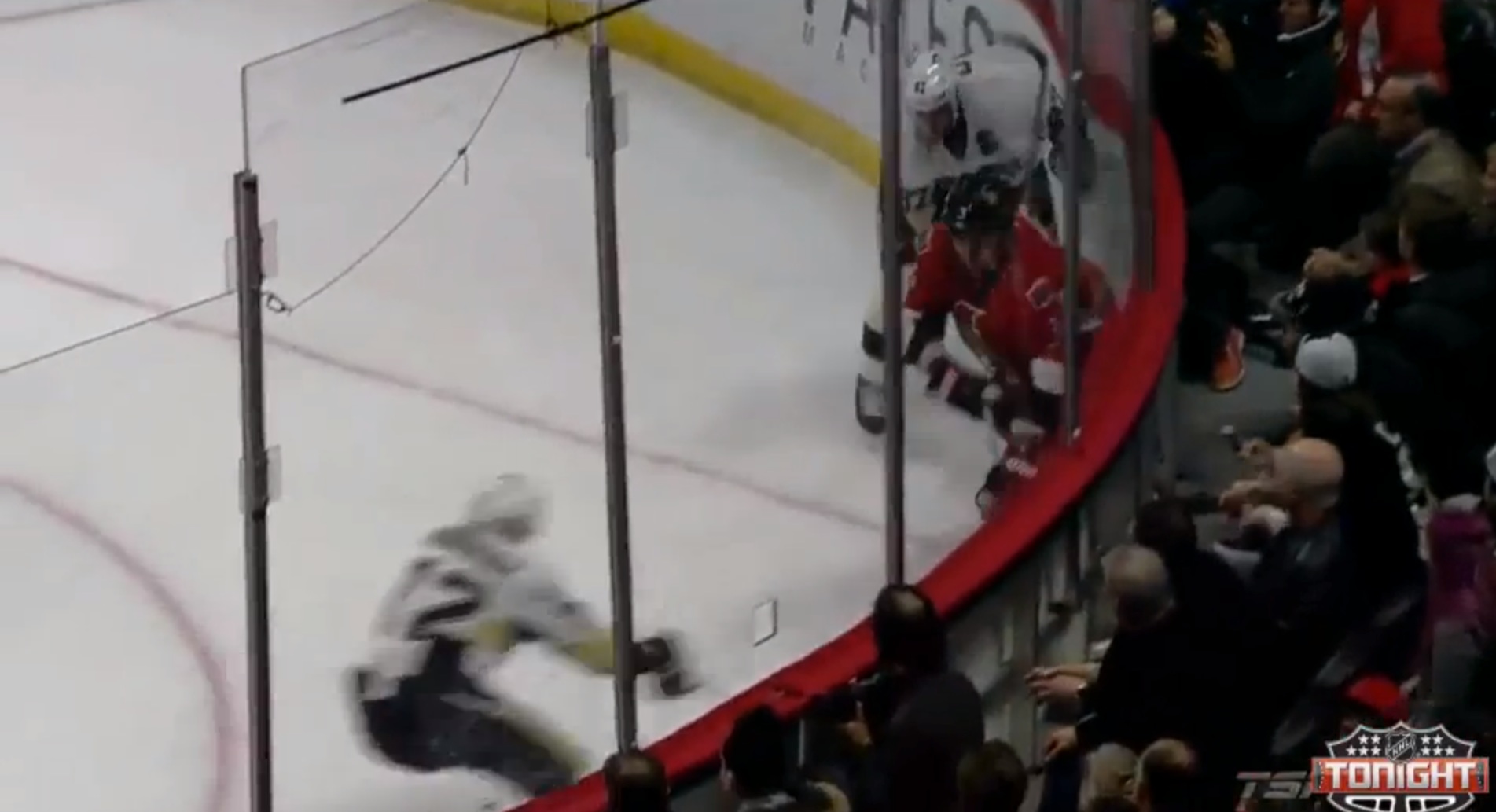 Methot gets it by him and boom: two Pens trapped. And here come the Sens on an overtime 3-on-2.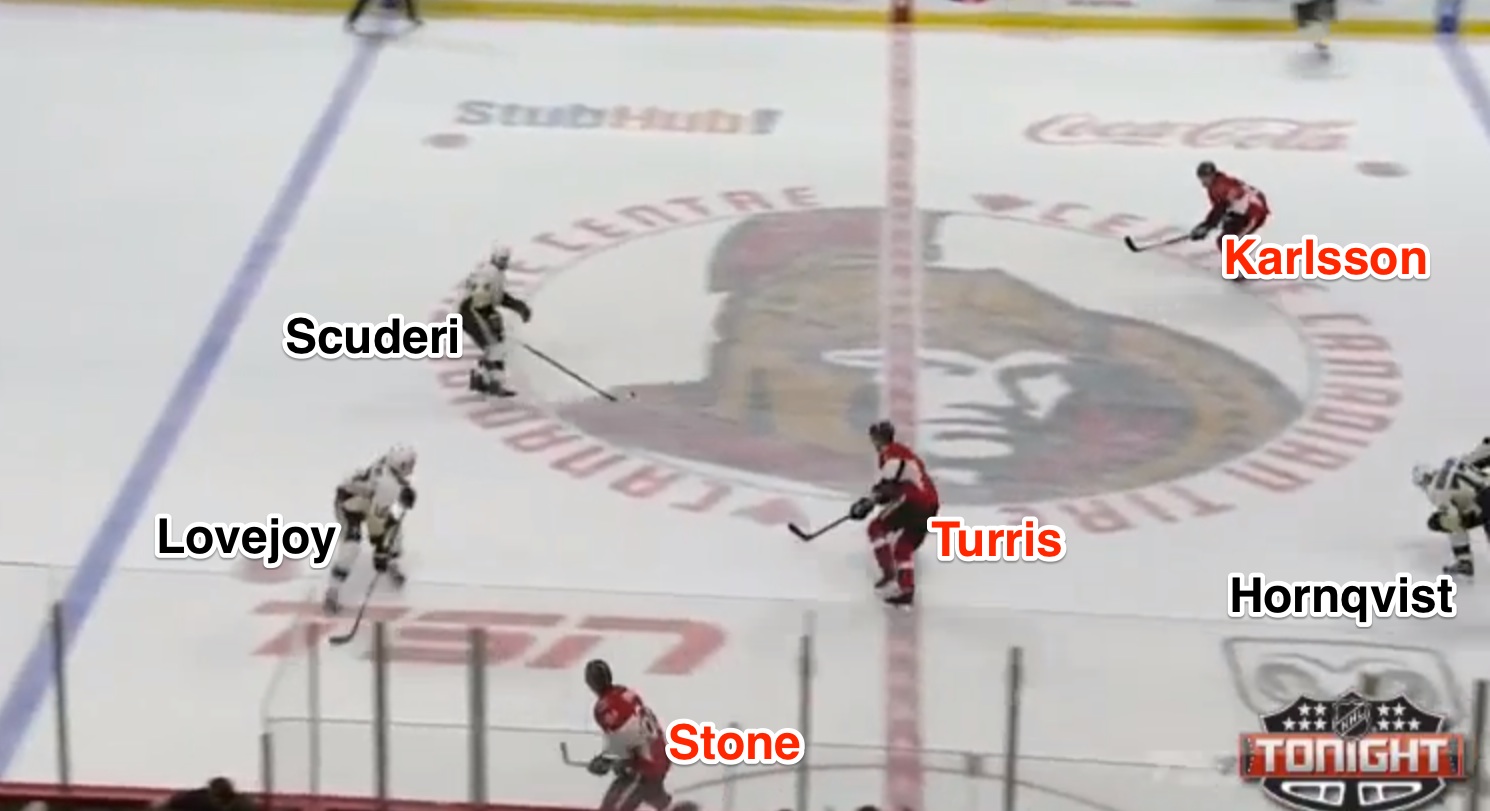 Turris carries the puck through the middle, while Scuderi and Lovejoy face down the rush. Hornqvist is booking-90 back to the D-zone.
As Turris gains the line - keep in mind, it's tough for Scuderi to force him not too, given 'ol Speedy McSwede barreling down the wing - he dishes it over to Karlsson.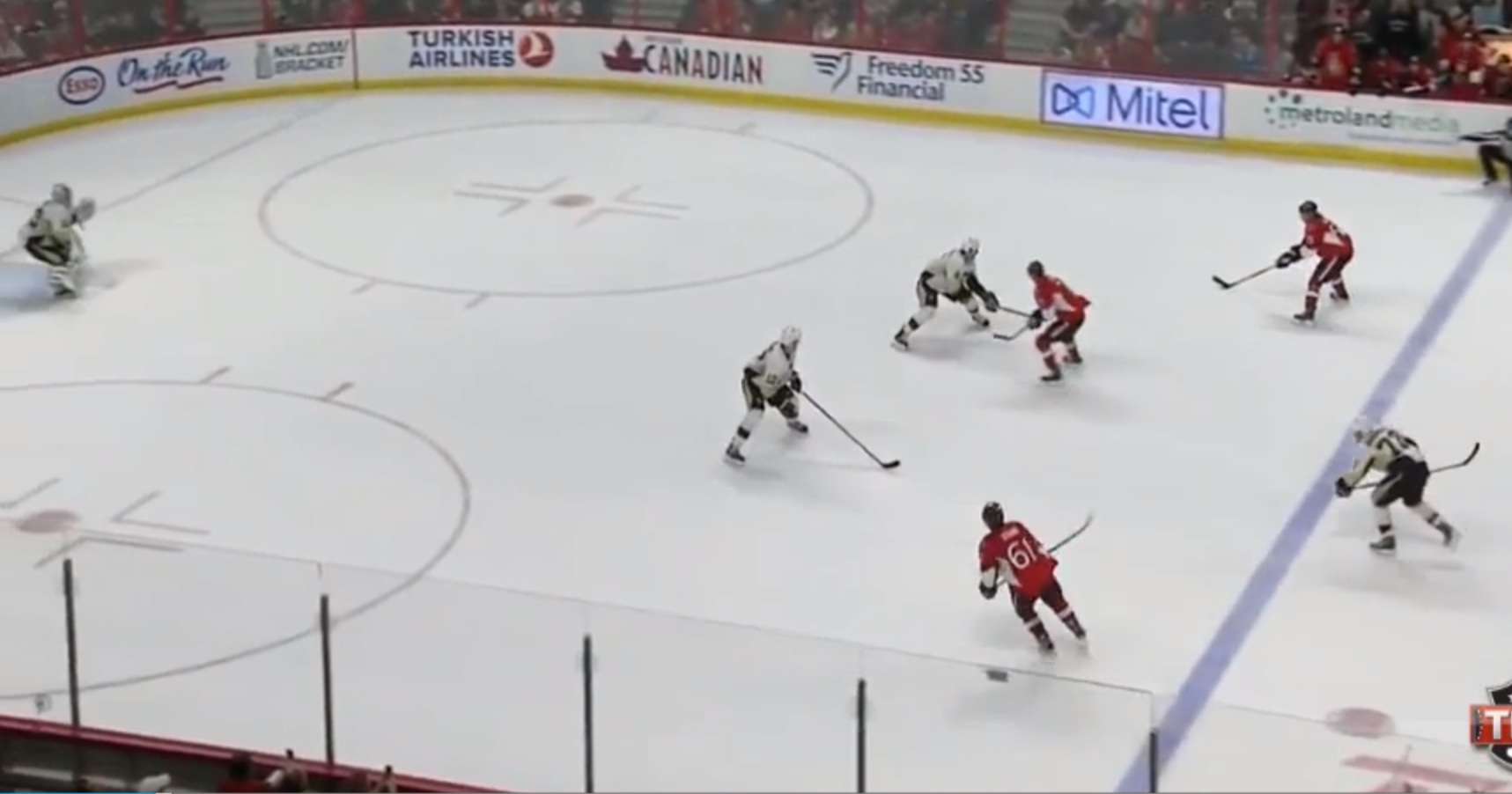 Now HERE'S where I thought Karlsson should've given it to Stone (the frame above), and frankly, I'm right. He waits too long and Hornqvist is able to get back. The trailing forward's job when backchecking is to take the wide, non-puck-carrying guy (Stone, in this case). Sensing he's got the speed to cut off the passing lane from Karlsson, Hornqvist relaxes a bit.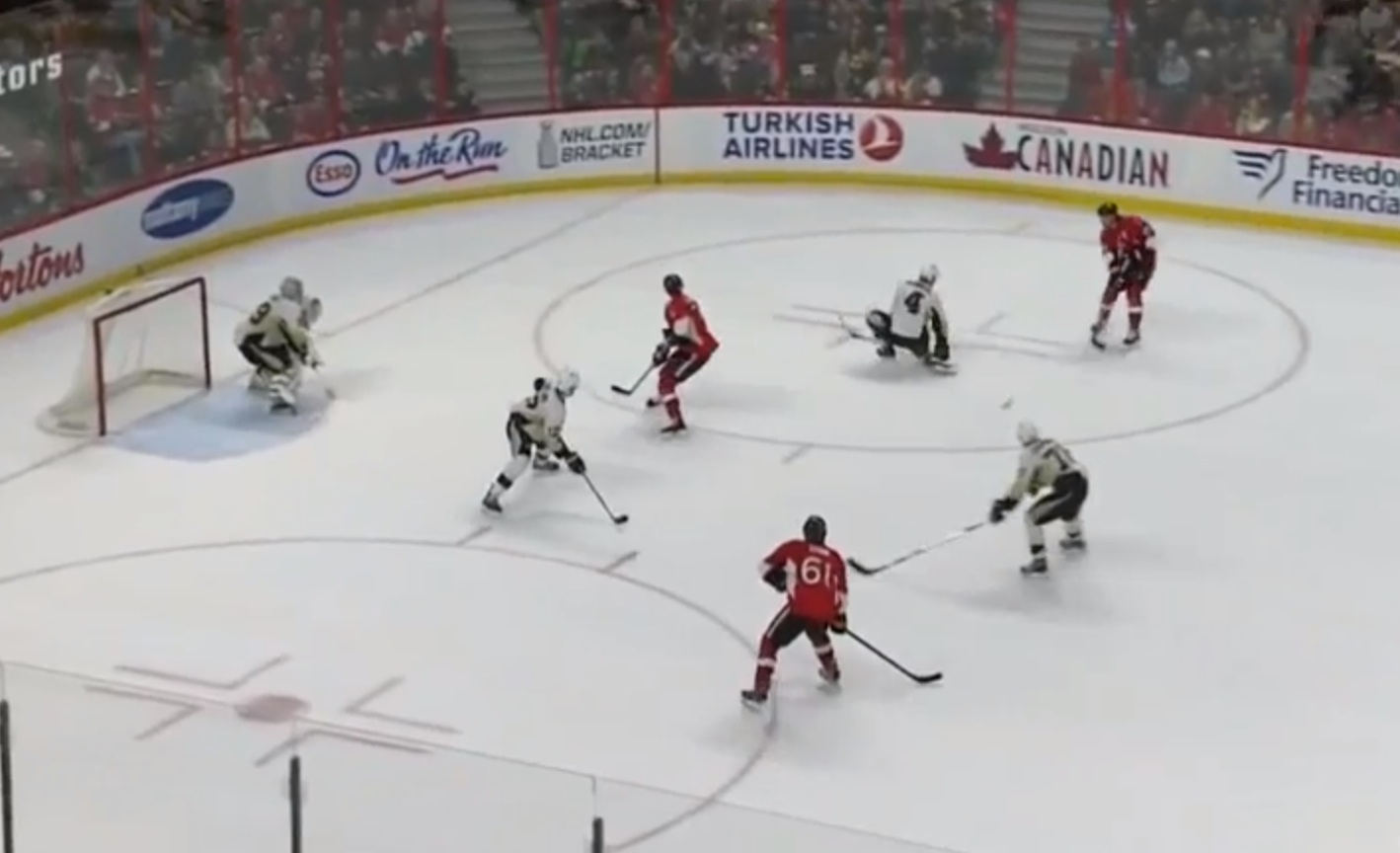 And that's fine, because … see what I mean? He's back in plenty of time to eliminate the passing lane and Karlsson throws what's really not a very good pass to Stone.
But much like on the Pouliot kick in, things happen fast. Hornqvist is back TOO soon for the puck to hit his blade and it goes under his triangle.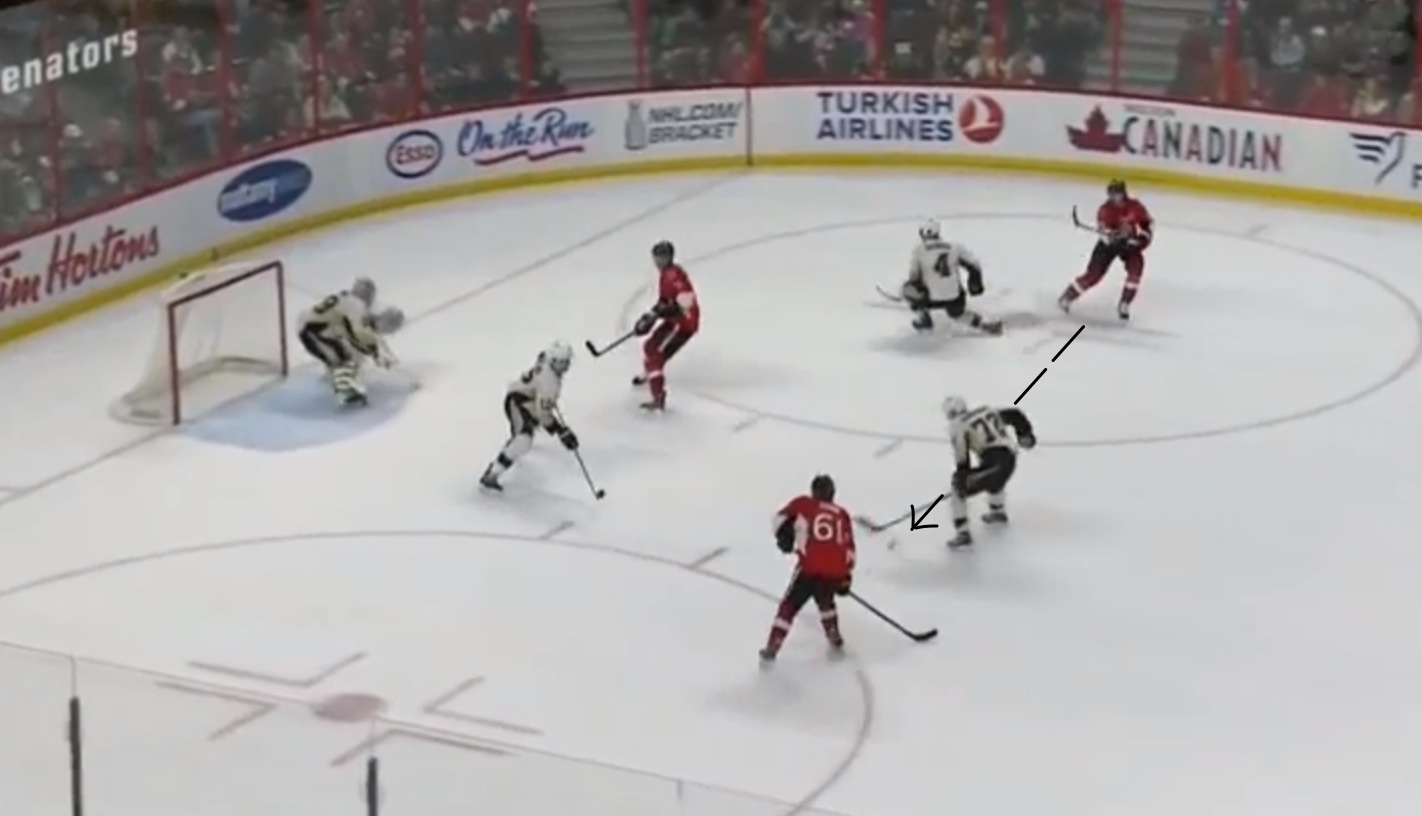 This play is all Mark Stone from here.
He picks it up with his left skate …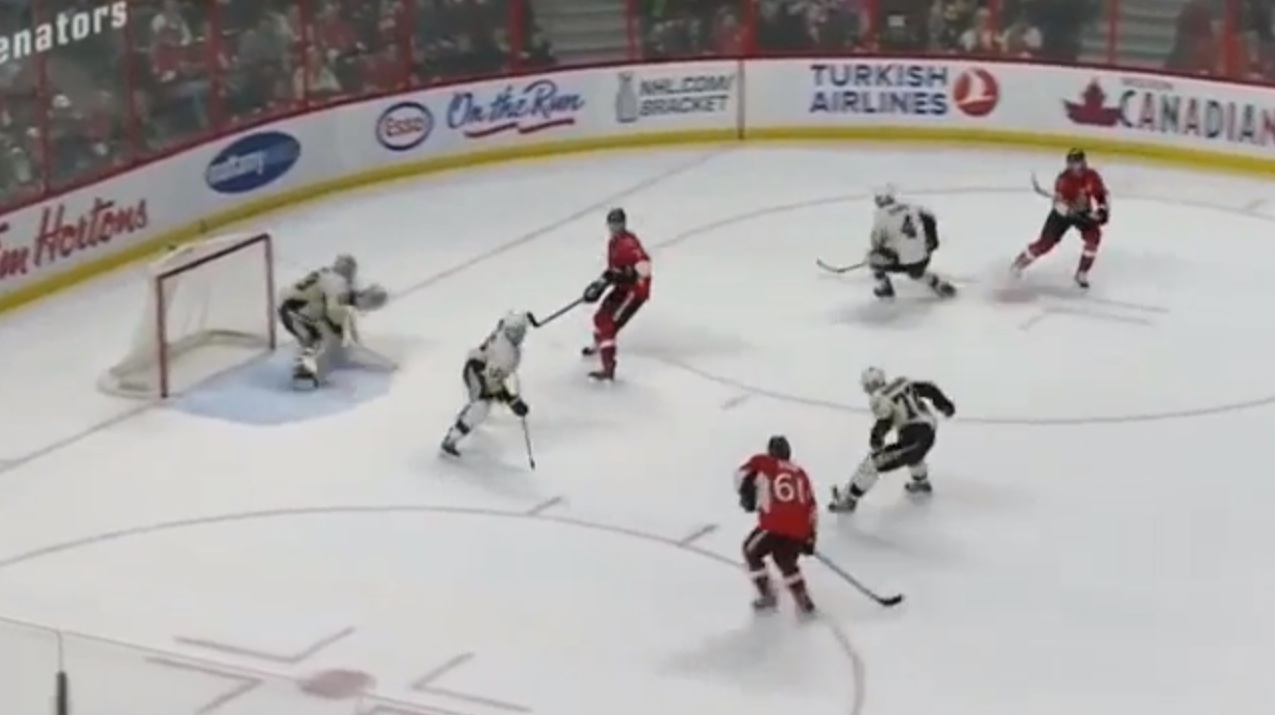 Kicks it over to his blade and, seeing where Hornqvist is coming from, he cuts to that now-open area of the ice. Remember where the open area was for him on the second Sens goal? Again, absolute effing broadway.
And man - YOU could probably score from this spot, so super-rookie Mark Stone certainly isn't gonna miss.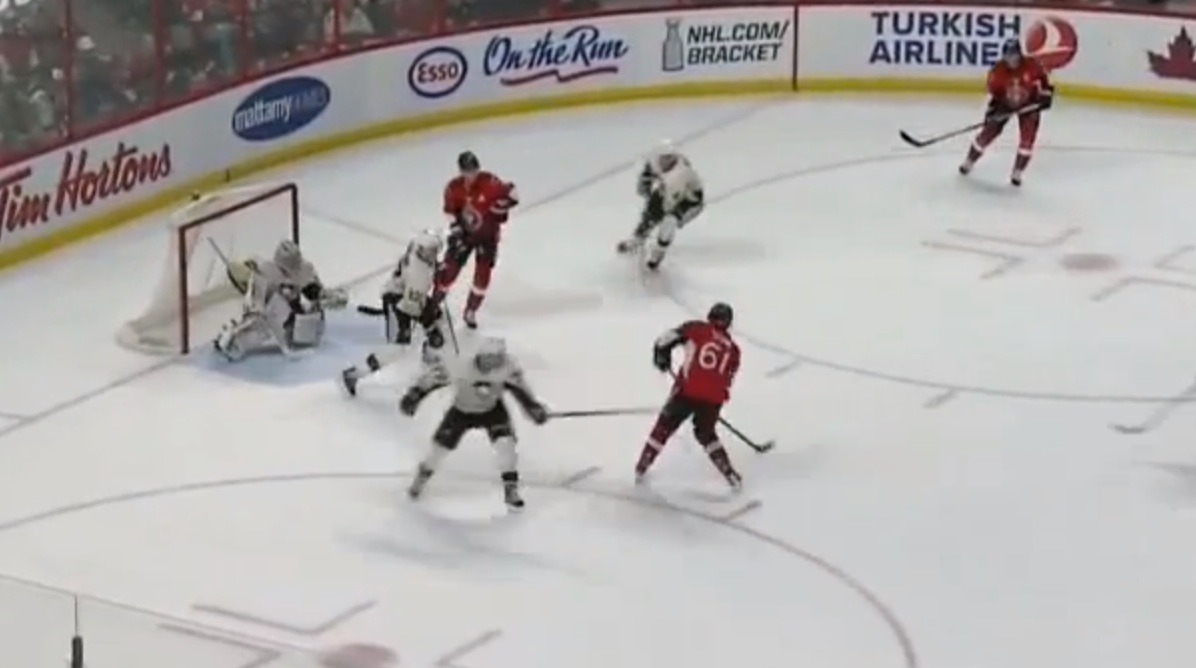 What's crazy is, Fleury may have been screened by Lovejoy again, which would be almost so frustrating it could be funny. Buuut, the Pens probably don't think it is.
Either way: Game. Over.
Comments
✕
Systems Analyst: Pittsburgh blew a 3-goal lead to Ottawa, so ... who's to blame?
  Got something to say? Leave a comment below!