Thoughts on Thoughts: "World Cup" failings, Leafs' breakouts, Zac Rinaldo and more
Presented by

"Thoughts on Thoughts" is a feature that looks at Elliotte Friedman's terrific weekly post, "30 Thoughts." Justin Bourne selects his 5 favourite tidbits, and elaborates.
***
Friedman's column, January 13th: Youth movement for 2016 World Cup
Friedman's opening this week focused on the potential 2016 "World Cup" the NHL wants to create, which allows all countries - scratch that, the six countries who've had the most international success in general - to compete against one another. The tournament would also include a "best of the rest" from Europe, and a … sigh … North American under-23 team.
Here's Elliotte:
What isn't 100 per cent clear is whether or not any North American under 23 automatically gets assigned to the junior varsity. The reason that's being debated is, let's say Nathan MacKinnon is selected for Canada, but ends up wearing an expensive suit to games. Does it make more sense for him to be bag-skating every morning, or being the backbone of a different team?
I'm not concerned about his development here. If I'm gonna be invested in this, and he's my country's 13th best forward, I expect to see him in a suit.
Undoubtedly, some of this is marketing. You want to promote the future faces of your game. The biggest concern the NHL and NHLPA should have is if this team will look bad, especially against deeper and more experienced countries. That won't help showcasing them.
In tribute to Joe Piscopo in Johnny Dangerously, I believe you should try everything… once.
This entire thing can head to Hades in a hand-held basket. The NHL wants to have control over something like the Olympics (and by "have control over" I mean "make money on"), which is so important to people because of its authenticity. You qualify on merit, you pick your country's best talent, and you go head-to-head with another country's best. The outcome reflects how your country develops players, and we all want to believe that our parents, and our country, got it right. Right?
Now they're going to attempt to create this Olympic substitute by adding gimmicks - the NHL likes its gimmicks, remember - like an Under-23 team? "Here we stand, united in pride that our parents all had relations around a similar date a couple decades ago."
Even if the team never competes, it robs from us the fun of tongue-in-cheek xenophobia. "Take that, you miserable … assortment of people with bright futures."
Worse still, as a Canadian, our youngest talent would commingle with … ugh … Americans?
Boo to this. Boo, I say.
3. My guess is Zac Rinaldo is in a lot more trouble than Dan Carcillo.
If suspended more than five games, you can appeal to Commissioner Gary Bettman, and, if still unsatisfied, to an independent arbitrator. For the arbitrator to reduce or overturn, he or she must disagree "the length of the suspension imposed (was) supported by substantial evidence." Unfortunately, you have to understand how a lawyer thinks.
In Carcillo's case, you don't see a history of crosschecks resulting in lengthy suspensions. Luke Schenn took a good whack at Sidney Crosby Tuesday night, and nothing. Crosby winced, swore and stayed in the game. There's not a ton of history for it. What Rinaldo did? Lots of history. Patrick Kaleta and Shawn Thornton did not appeal to the arbitrator for this very reason.
I'm not sure if I believe that Rinaldo believes what he said after the game - that he actually helped the Flyers by delivering that hit. My hunch is it was a joke, but either way, "joking" about the incident where you hurt that dude and you're almost certainly getting suspended just reaffirms what most of us already thought: Rinaldo may not be the sharpest skate on the pond.
Guys like that have to learn the hard way: by having lots of games and lots of dollars taken from them, and maybe even being sent to toil in the minors for a bit a la Patrick Kaleta.
Rinaldo's role isn't entirely useless, but "guy who skates fast and runs into things" is entirely replaceable. He keeps this up, I wouldn't be shocked to see that happen.
4. Don Cherry said Saturday night he saw confusion on the faces of Toronto's forwards, unsure of what they are supposed to do.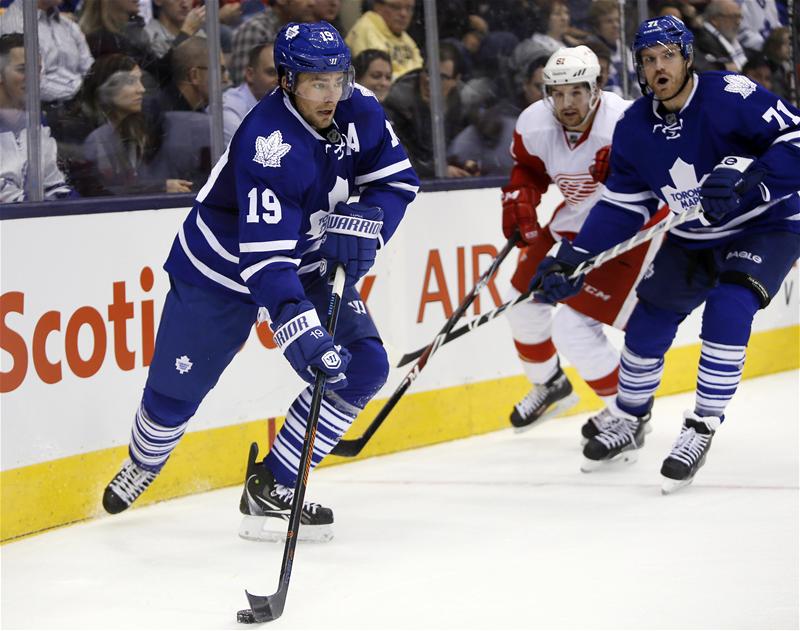 There's no doubt coach Peter Horachek is trying something new. "He wants us using the middle on breakouts," James van Riemsdyk said Monday. "Under (Randy Carlyle), we used the walls more. The weak-side winger could blow the zone early if the puck was sent around the opposite side." Not anymore.
Van Riemsdyk pointed out that the "5-5-5" system — the team travelling as a pack through all three zones — means Toronto's forwards, used to racing up ice as fast as possible, now are asked to wait, creating different options for the puck carriers. (Note: this was not a criticism, but an explanation.) It takes time to adapt, but as Horachek said after the loss to Carolina, they are not going back to previous methods. "I don't think any of the top teams play that way."
Yep, the pacing has been dialled back a bit for the Leafs so far. That's not to say it's going to stay slower, but as a player, it certainly feels bizarre going from a go-go-go style to a more patient game at first. It takes some getting used to.
A lot of generally good teams play this way. Think of the Bruins, who support extremely well in the defensive zone. Think of the Red Wings, who use the front of the net on breakouts. The thing about "low and slow" is that you have so many more options than just swinging for the fences or banging it off the wall.
It's almost like ultimate frisbee, for you khaki-wearing college kids with sweaters tied around your waists: short, completed passes will help you advance up the field more consistently than whipping the disc downfield. And even if it doesn't help you advance all the way, the shorter, completed passes at least help you gain some distance.
In hockey parlance, that means you're no longer hemmed in your own zone. Kinda sounds un-Leafy, doesn't it?
19. In a conversation last weekend, Blues GM Doug Armstrong said he would not discuss what will happen next with a certain goaltender. "He's Martin Brodeur," Armstrong said. "He's earned the right to talk to me before I talk to anyone else." They are expecting to converse during All-Star.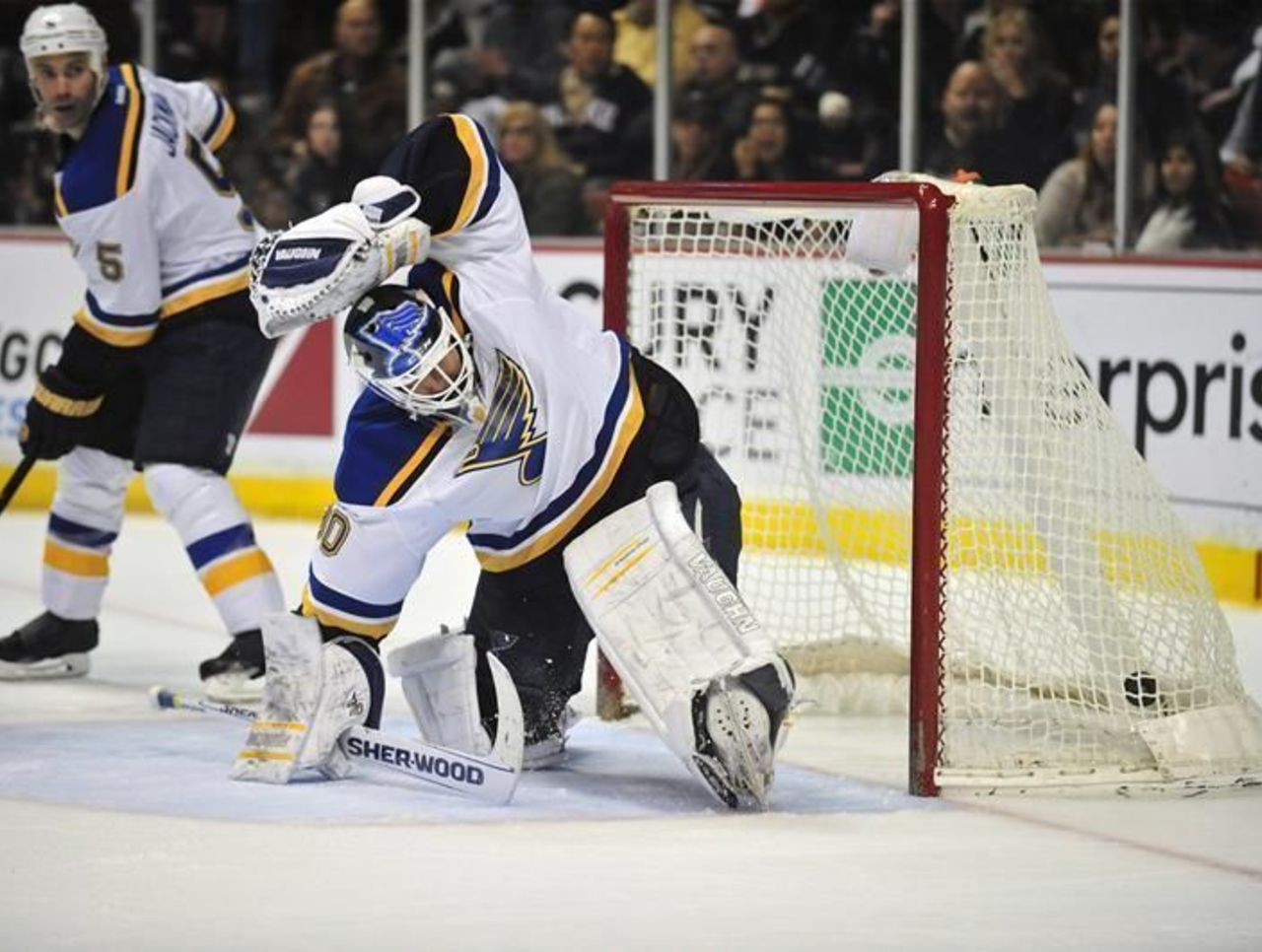 This continues to baffle me.
How is it possible, in an era with so much statistical information, and a GM who's widely respected, that Doug Armstrong is still so enamored with a goalie who is absolutely no better than a decent AHL starter right now? I have the utmost respect for everything Martin Brodeur has done, but the guy has simply lost his fastball. And there's no shame in that. I just can't fathom that any GM believes the magic from Brodeur's glory days is going to reappear. 
I'd love for that to happen, sure, but that's just not the smartest place for a Cup contender to drop their bet.
21. Does everyone now understand what the organization was trying to do? "Yes," he answered. "Ultimately, our players want to win. Look at quality of minutes over quantity of minutes. Ken Hitchcock believes in it and I do too. Don't worry about someone else, worry about what you get to do."
Few things help a team become cohesive like players who have the discipline to watch their own bobbers. It's like Bill Belichick always says about the New England Patriots: Do. Your. Job.
Don't worry about what the other guy is doing, don't worry about what the other guy is getting - if you take care of YOUR business, WE all benefit. Trust is important, so take care of what you're asked to do. Watch your own bobber. Do. Your. Job.
Comments
✕
Thoughts on Thoughts: "World Cup" failings, Leafs' breakouts, Zac Rinaldo and more
  Got something to say? Leave a comment below!