5 questions answered by 5 hockey humans on the NHL's 2nd half
Presented by

With the last teams crossing the NHL season's halfway point, it's time to chat with some of the smartest hockey humans out there about what to expect in the second half. 
Big thanks to James Mirtle of The Globe & Mail, Dallas Stars color man Daryl Reaugh, Jason Brough of NBC's Pro Hockey Talk and Corey Masisak of NHL.com for joining our conversation.
Do the Toronto Maple Leafs make the playoffs?
James Mirtle
No. Boston is going to have a better second half and with Washington and the Rangers playing better the pace is going to pick up. The Leafs have an outside shot, especially with Horachek improving things, but a narrow miss is more likely. 
Daryl Reaugh
I don't know, I surmise the analytics will dictate that, won't they? Truly, I don't have the foggiest, and also truthfully, I don't really care. 
Jason Brough
No. They'll finish sixth in the Atlantic, ahead of only Ottawa and Buffalo. Remember, even if they improve under Peter Horachek, they played 24 of their first 42 games at home, leaving 23 of their final 40 on the road. The hole they dug under Randy Carlyle is bigger than it looks in the standings.  
Corey Masisak
The early returns on the Peter Horacek era have been positive, both from the team's play on the ice and the entertainment value in watching the media coverage after a game like Monday night's, when the Leafs clearly played well but lost. The problem is even a solid step forward defensively and in puck possession might not bridge the gap between them and the other bubble teams in the East like Washington, Boston, Florida and the N.Y. Rangers. Also, Toronto has the fewest home games left in the conference, so the guess here is the Leafs are going to play better but miss out on the postseason by three points and finish in ninth or 10th place in the East. 
Justin Bourne
They're not a terrible team, but they're already sitting on the outside looking in, and are better than roughly zero teams ahead of them. So no.
That, of course, is the nightmare: too bad to make the playoffs, not bad enough to grab anyone meaningful at the draft. Being a Leafs fan sounds painful.
Who ends up with the Art Ross?
James Mirtle
Here's a vote for The Croz. His points per 60 at even strength is at 2.3 right now, a career low, which seems not right. He has looked decent with David Perron early on, too. May be the first year with a winner under 100 points in more than a decade, too. 
Daryl Reaugh
Seguin. The Stars' power play can only get better (it's languished in the bottom third) so factor in some more of those points in the second half, and his team loves them some offense now don't they? So, Seguin. 
Jason Brough
Tyler Seguin. Though not unless linemate Jamie Benn starts converting on a higher percentage of his shots. How many more assists could Seguin have if Benn were scoring like he did last season? The answer is: I don't know, but probably a few. Oh, and if not Seguin, I'm not counting out Sidney Crosby. He could easily get hot and win the race by 10 points. At his best, nobody's a more dangerous scorer.
Corey Masisak
This is probably the boring answer, but I'll go with Sidney Crosby. The team is going to (in theory) be healthier in the second half of the season. He's going to be further away from not being 100 percent because of the mumps. Having David Perron is going to help. Sid also has the second-lowest shooting percentage among the top 20 scorers, and that's not going to last. I think it is entirely possible that the top four scorers all end up being from the two Pennsylvania teams, but Crosby goes on like a 22 points-in-10 games tear at some point and ends up in the 105-108 range to edge out Claude Giroux for the Art Ross Trophy. 
Justin Bourne
I'd love to go off the map here and be like "TYLER JOHNSON" or something, but it's a two-horse race between Sid and Seg. Voracek has had an amazing year and probably finishes a close second to whichever of those two fellas stay healthy, but they just seem like a couple guys on a different tier.
Which team is currently the most out of place in the standings?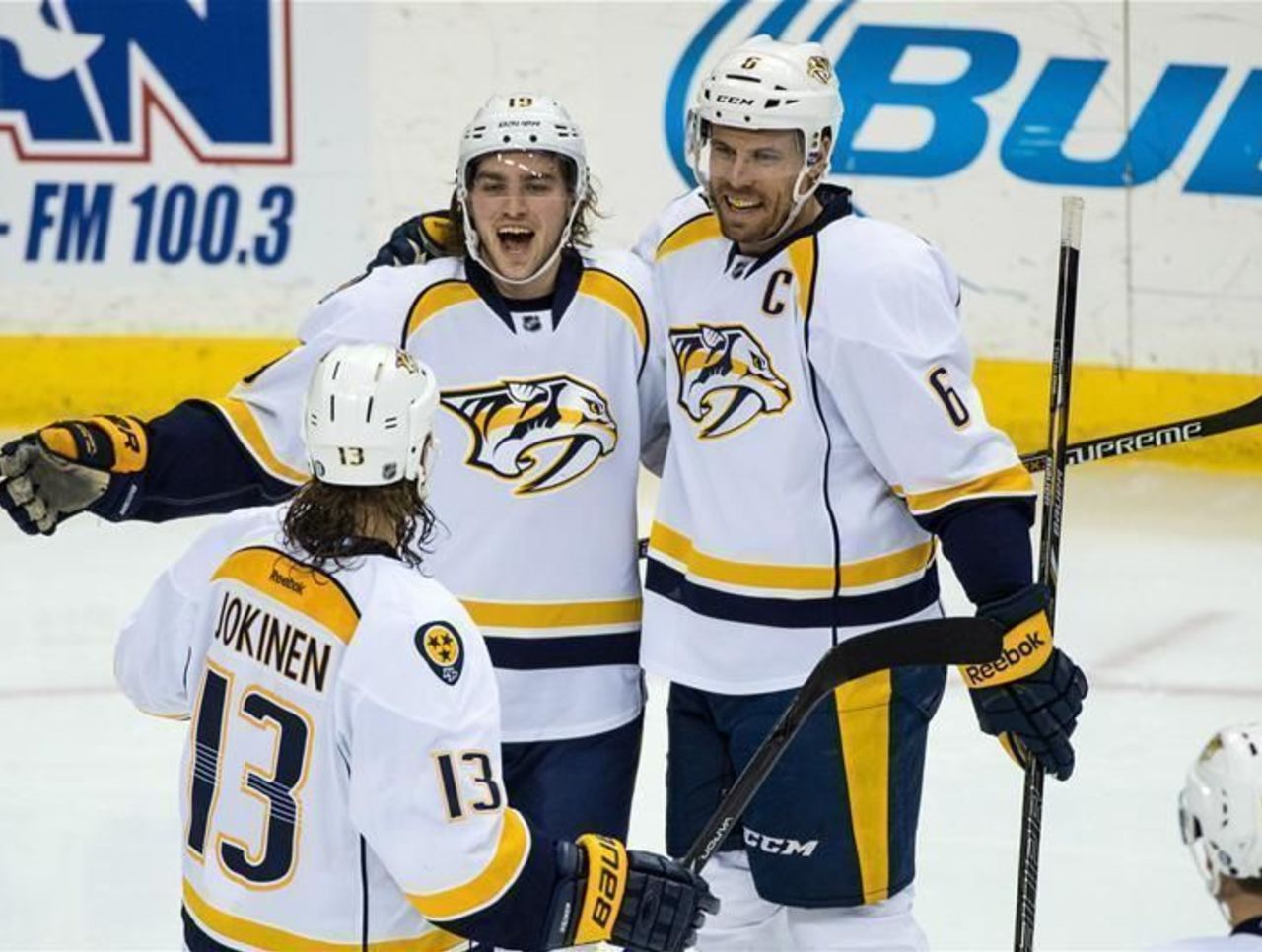 James Mirtle
Nashville's going to have a tougher second half. No doubt. They're not a 120-point team. Rinne's success, I'll buy, but this isn't one of the most dangerous offensive teams in the league and their top four scoring forwards are riding high percentages. The offense dries up a bit and they fall to third in the Central. 
Daryl Reaugh
I think the Stars are much, much better than what their standing currently is (goaltending hasn't done them many favors, and they play a style that needs that help). Calgary's spot seems a tad rich. The Predators are a little goalie-inflated. The Kings are, well, we know what the Kings are when they pull the choke and hit the ignition. In the East, Columbus is better than where they sit (11,000 man games lost to injury will do that). 
Jason Brough
Minnesota. My theory about the Wild is this: They started out playing good possession hockey, but the goaltending they were getting was so demoralizing that they lost their way. Suffice to say, it's kinda hard to stick to the process when you're giving up 20 shots a night and losing 5-4. 
Corey Masisak
The answer here should probably be the Ducks, given how out of whack that number under "DIFF" in the standings looks compared to other elite teams. I'm going with the Wild, though. Their issues in the past month or so are correctable, though it may take a trade for a new goaltender or a coaching change (or both). There is still time for them to move five or six places up the NHL standings, though that might only get them to ninth in the West.
Justin Bourne
Calgary is currently two points out of a playoff spot in the West and above .500 by four games. The three teams behind them - Dallas, Minnesota and Colorado - are all better teams. That drop is coming, which is something their fans should support with the deep draft ahead.
How does the Martin Brodeur saga play out?
James Mirtle
A .900 save percentage and a slightly tainted legacy?
Daryl Reaugh
Like every legendary player's final act. They play too long in our eyes (media and fans) and not long enough in their own. I'd say this: the one thing about goaltenders in their 11th hour is that there are no linemates or D-partners or fourth-line duties or third-pair deployments to cover for the eroding skills. You either stop the puck or you don't. Phenomenal career, but can he flash that excellence one last time? It'd be asking a lot. 
Jason Brough
Seems to me he's got a good shot at sticking with the Blues into the playoffs. Otherwise, why is he still there? Maybe the Blues aren't convinced Brian Elliott can stay healthy, or they're just not sold on Elliott period. Regardless, St. Louis really has to make a run in the playoffs. Can you believe the Blues have only won a single playoff series since 2002?
Corey Masisak
Brian Elliott is the best goaltender in St. Louis. Whether or not the Blues come to this conclusion and plan to go with him in the playoffs might be the difference in a deep run or not. It seems plausible the Blues could end up in a similar situation to the Ducks last year, when Jonas Hiller dressed as the backup to Frederik Andersen ... and then they skipped over him to John Gibson when Andersen got hurt. Doing that with one of the most decorated goaltenders of all time might not be easy, though. 
Justin Bourne
This question was posed Monday, before the curious "leave of absence," but I just can't see him on an NHL roster ... ever again. He's passed "bad by Brodeur's standards" and is now just "comparably bad." I think the Blues are starting to recognize that, too.
On a scale of 1-to-awesome, how awesome are the Islanders?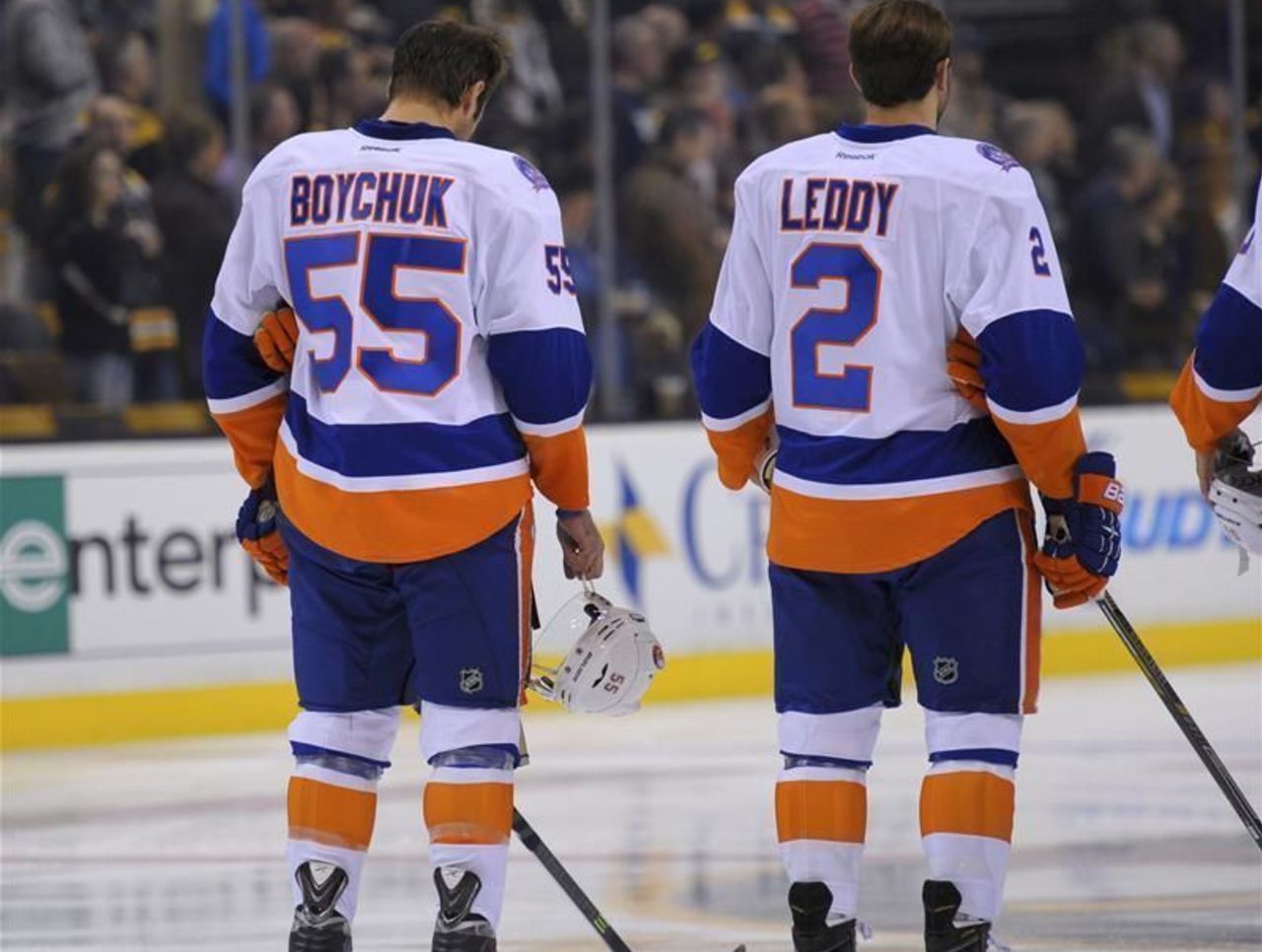 James Mirtle
Just shy of awesome. They're actually good, aside from that whole backup goalie situation. Especially by East standards. Capuano goes from most likely to be fired to Jack Adams favorite? Weird.
Daryl Reaugh
Garth Snow has to be in the running for GM of Year. He finally addressed the team's defensive needs and goaltending, and their drafting is starting to show. I love how they play, and I'd say they are about ready to do more than "scare" the big boys in the East. The guy who really does it for me there is that Frans Nielsen. 
Jason Brough
They're an 11. I mean, how can you not love the chances of a team that's 6-1 in the shootout and has an 18-3-1 record in one-goal games? No luck there. That's pure clutch. Who cares that they're 19th in goals against? When has a good defensive team ever won the Stanley Cup? 
Hello? 
Justin? 
I like your cats.
Corey Masisak
The Islanders took such a big step forward in the first half of the season, and it's crazy to think they could reasonably expect more from John Tavares in the second half (and he's started to heat up already). Their depth has been great, particularly now that some of the kids up front have moved into more important roles. Everyone has focused on Nick Leddy, Johnny Boychuk and Jaroslav Halak for good reason, but Ryan Strome and Brock Nelson have also been great. They could still use another defenseman, and figuring out the best option to play next to Tavares and Kyle Okposo remains on the to-do list, but a trip to the conference finals seems like a real possibility.  
Justin Bourne
They're the best team of all time ever and they're going to sweep their way through the playoffs. 
Obvi.