Thoughts on Thoughts: Trading Nail Yakupov and Jeff Petry, Eric Staal's future and more
Presented by

"Thoughts on Thoughts" is a feature that looks at Elliotte Friedman's terrific weekly post, "30 Thoughts." Justin Bourne selects his 10 favourite tidbits, and elaborates.
***
Friedman's column, Oct. 28th: Carlyle's not all to blame
10 Thoughts
Opening: Friedman opened this week's 30 Thoughts by explaining that Randy Carlyle's in tough. As basically everyone knows, the Leafs are eyeing other coaching candidates while he's is still employed. He goes on to point out that Bob Hartley is dealing with something similar in Calgary, and is doing more with his situation.
My thoughts: if you know you're moving on from Carlyle eventually, gas him and let your two capable assistants steer the ship. It's unfair to him (and awkward), and the players aren't benefitting from having a lame duck coach. You better be damn sure you're getting Mike Babcock if you're going to put all those people through that.
And as for Hartley doing more with the Flames, I mean, technically, so far, sure. But Friedman also says he's not sure who wins in a seven game Toronto/Calgary series, to which I say hogwash. The Flames are getting standing ovations league wide for exceeding the expectations of "really bad," which you should still expect them to be over the course of this season.
Yes, they had a nice early road trip. They have some nice pieces. That's not enough to change my mind on what they are this season, just yet.
6. Nail Yakupov scored his second of the season in that win. There've been a lot of rumours about his future, but I confess I haven't heard anything substantial. After a week of looking into it, here's my best guess: he's not untouchable, but the Oilers asked him to show more commitment in the off-season and on the ice. So far, he has delivered. It sounds like Edmonton wants to reward that. Dallas Eakins is trusting him in late-game one-goal leads, something that never would have happened a year ago.
Why would the Oilers trade a rosebud in hopes of acquiring a rose?
Not that he's that comparable to Tyler Seguin, who played alongside the dynamic duo of Patrice Bergeron and Brad Marchand en route to winning a Stanley Cup, but you can see how far Seguin came from being an 18-year-old in the NHL to the player he was at 21. He was good his third season, but he became a star that fourth season, finishing fourth in NHL scoring. This year, his fifth season, he's currently leading the league at 22.
We're looking at Nail Yakupov's third year, the first in which the Oilers might not be awful. He just turned 21 this October. If he gets some confidence and starts to figure out things, look the hell out. You would have to be so, so sure he's going to be a bust to justify moving him before finding out if he can truly bloom.
8. Nugent-Hopkins had an obvious goal for 2014-15: make the playoffs. His personal desire, however, is to become a 50-50 face-off man. Career numbers are 37.5 percent (2011-12), 41 percent (2012-13), 42.4 (2013-14) and 47.4 so far this season.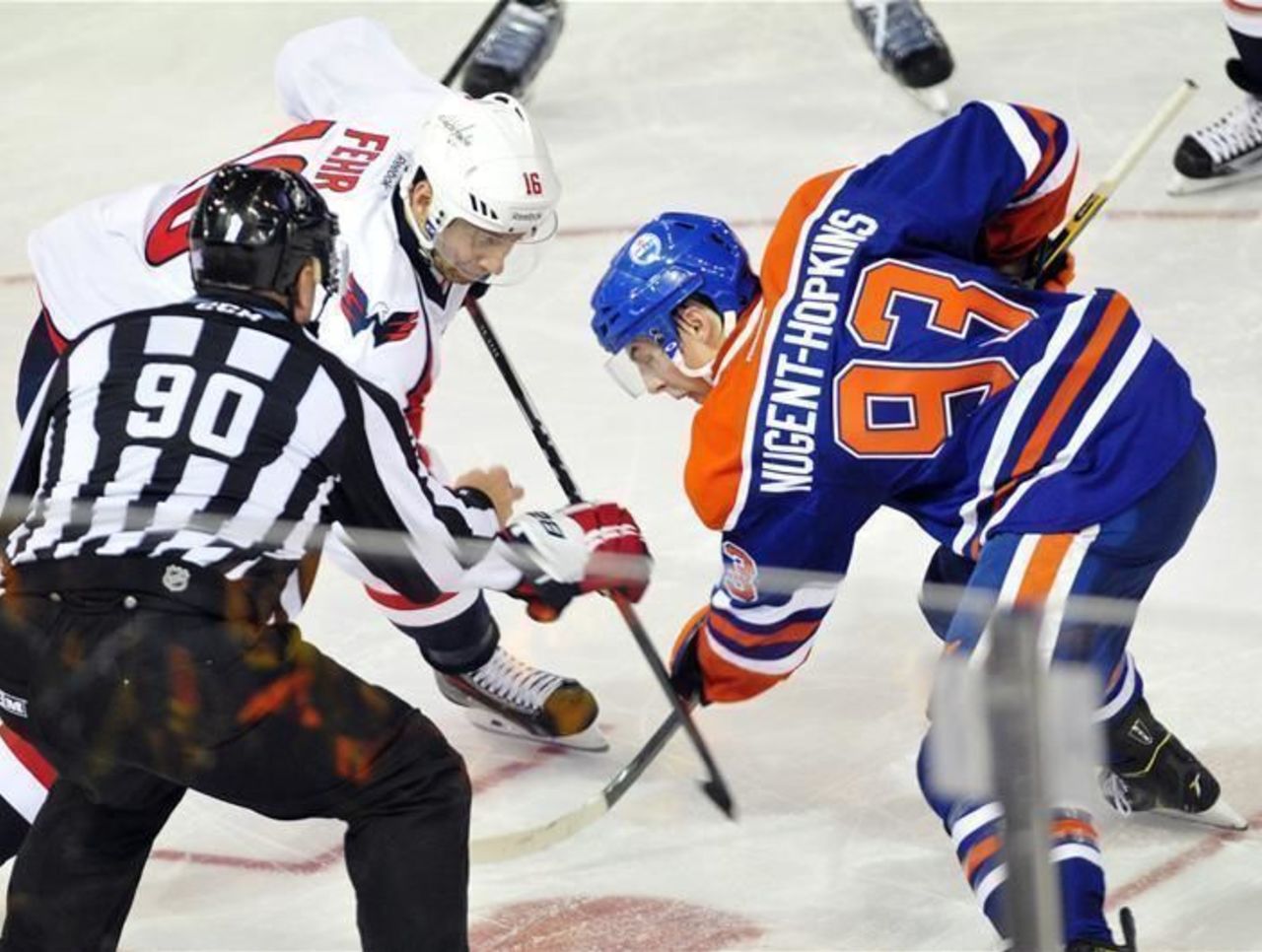 Before the Oilers hired Official Stat Dude Tyler Dellow, there was a post of his on the interwebz that showed faceoff winning percentage by age which showed success is greatly, greatly affected by age. Young players just can't hang with the strength of real men, old players can't hang with the speed of youth, and those right in the middle win the lion's share.
Nuge's developing man-strength will help him here, as will his experience at the NHL level. The guy is only getting more valuable.
9. Finally, [RNH] had a good line about the Kings, who he called the toughest to play against: "You get past one, and it always seems like another guy is on top of you."
The Kings are one of those teams that layers defensively, but they're also just generally responsible. Teams that win learn to trust one another, which means players don't run out of position, which means they win even more. L.A's belief in what they do shows why success breeds success. (More on this below, when we talk Hurricanes.)
10. When Mark Letestu scored at 19:04 of the second period Sunday, it was the first time this season any member of That 70s Line (Jeff Carter, Tanner Pearson, Tyler Toffoli) was on the ice for a goal against (eight games). Carter's total is 17 for, one against. Toffoli is 16-1. Pearson is the real slacker of this group at 14-1.
I just wanted to share this "thought," on which my thought is "wow." Big, fast and talented. I suppose that's an okay start.
12. Edmonton's Jeff Petry's comes a little more than $1M lower, and the Flyers can't do that right now for cap reasons, even though they like him. Between the Flyers, Red Wings, possibly the Ducks and anyone else I'm missing, there seems to be a nice little market for him.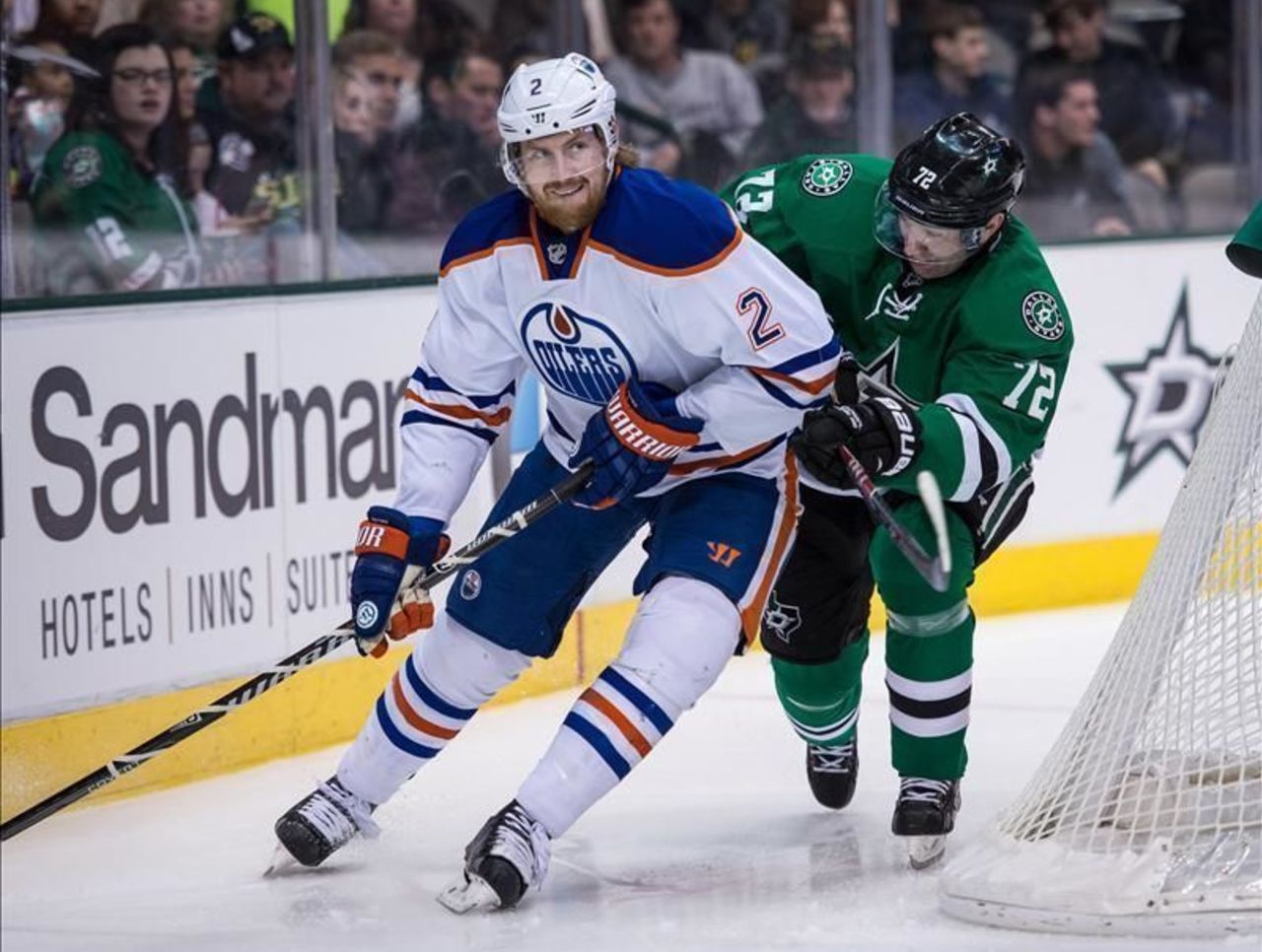 In trying to make sense of why a team scrapping its way out of the league basement would be willing to move a pretty decent, fairly affordable 26-year-old instead of working to re-sign him, a random theory: there's a pretty damn good crop of UFA defensemen next summer.
Maybe some of these guys get signed in season, but it's a long list, and if you tape a couple million to the three-plus you're paying Petry, you could possibly end up with one of Paul Martin (33), Zbynek Michalek (31), Marc Staal (27), Johnny Oduya (33), Johnny Boychuk (30), Cody Franson (27), Andrej Sekera (28), Alec Martinez (27), or Matt Bartkowski (26), all of whom could be upgrades, plus whatever Petry fetches you.
The other option is to flip Petry (to a team with cap issues?) for an upgrade at D in-season, even if you have to package him with a pick or two.
It really comes down to a simple truth: the Oilers need better players at a lot of positions, D being one of them. Whether they extend Petry (unlikely), trade him (more likely) or let him walk in free agency (least likely), the Oilers have a hole in this spot.
14. The toughest thing for Carolina is there are guys on the roster who will be players, but aren't ready yet. After the Hurricanes lost 5-0 in Calgary, Staal said Bill Peters made sure to show video of them doing good things in previous games to try and keep their confidence up. "Our foundation needs to be better," the captain added. "Trust in your teammates, worry about your ability to do your job. Once you start doing other people's jobs, you're looking disorganized. Stay where you are supposed to be."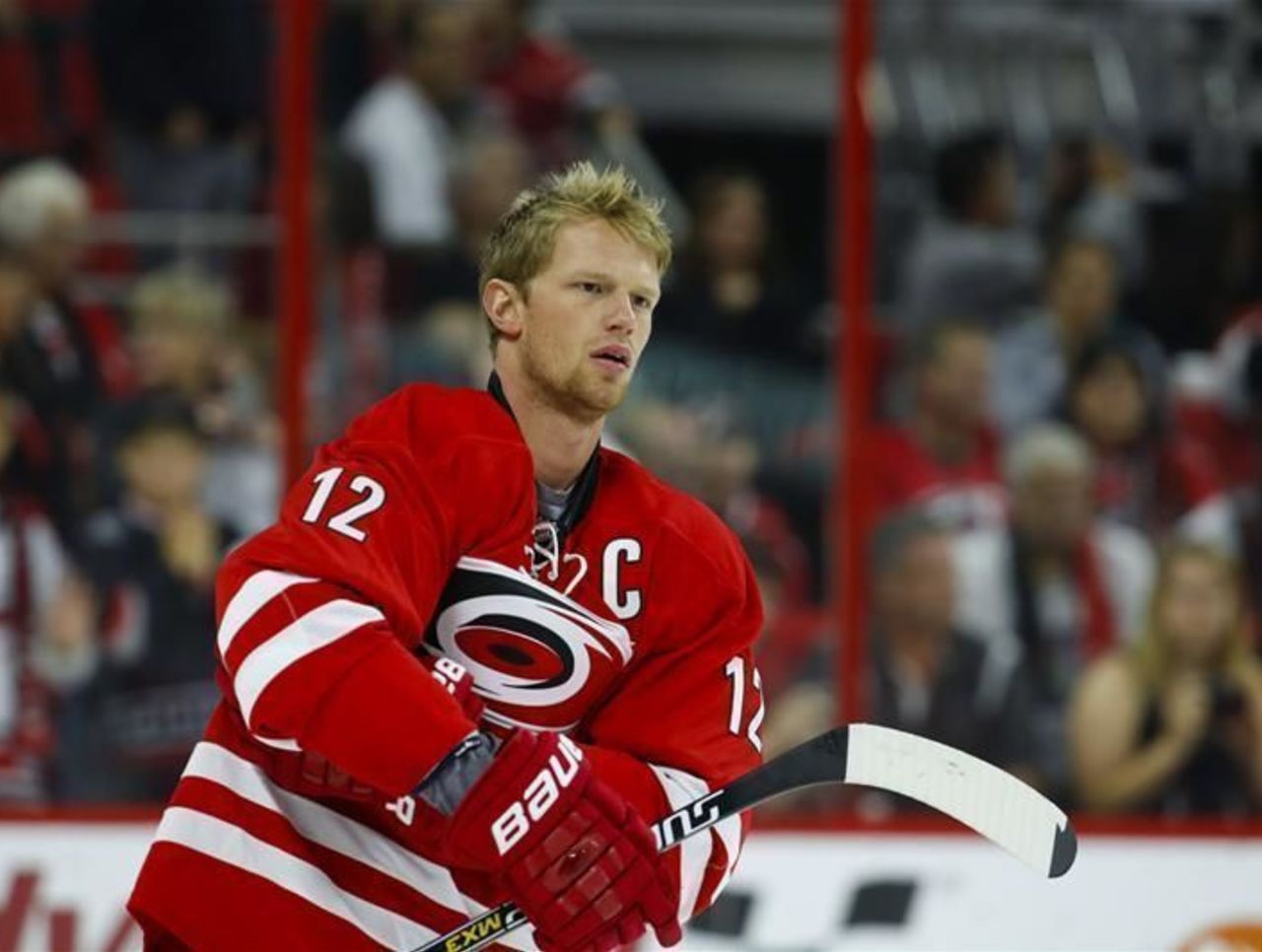 This is part of what makes the Kings so good.
It happens: you're the right winger, the puck is in the left corner, so you've sagged down into the slot. You glance at the opposing team's high forward, and dammit, your D-man isn't pay attention to him once again. Suddenly you think he's going to get a pass, you cheat over to help, and WHOOPS, the pass is going to your guy who was up at the point, but is now back door.
You have to trust that your teammates are responsible for watching their own bobbers, or all the fish end up getting away.
15. As for his future, Staal made it very clear his preference is to stay. "I had a good meeting with Ronnie (Francis) in the summer…Ron's going to be a very good GM. We all know this is a business and things can change at any time. For me, as a player, I want to be where I am…I believe in this team and this organization. I want to see it turn around and believe it will. We're not throwing in the towel after seven games."
If he's telling the truth, Ron Francis must've sold him some fine stories about all the unicorns he's bringing in really soon to fix the team's issues.
If he's not, he did allow the "things can change at any time" caveat, so good for him for covering his bases.
How do you answer a question like that without causing trouble (Staal wants out!) or becoming a villain (he said he'd never leave!)?
Juuust like that.
18. Predators assistant coach Kevin McCarthy on Shea Weber: "It is amazing how the best can adapt. He knows everyone else's position. A great resource." Nashville plays a 1-3-1 under Peter Laviolette. "The right D gaps up a lot more than traditional defencemen…He nodded and said, 'We did that in the Olympics.' We can explain why we are doing something and he just understands."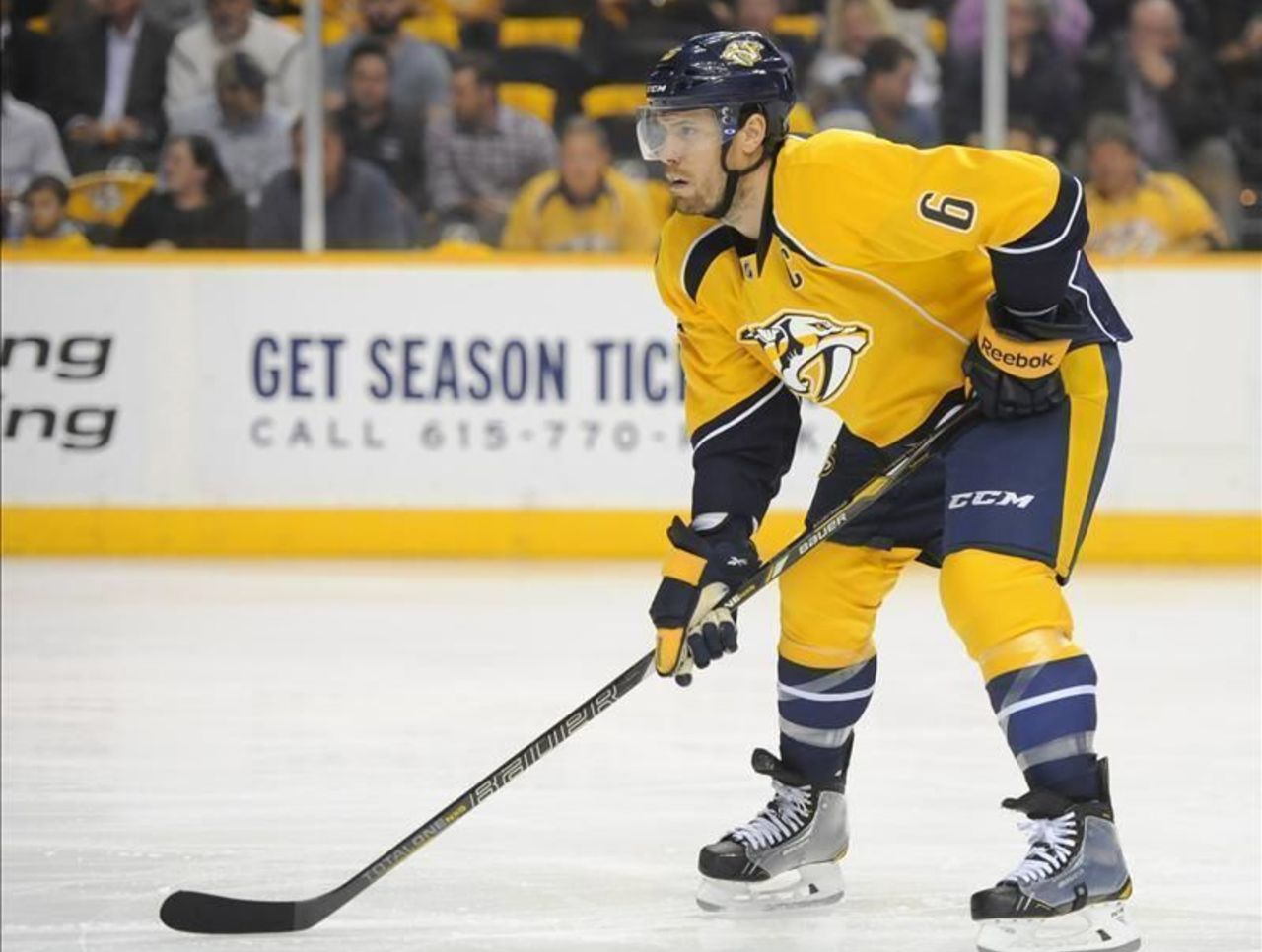 This is really interesting, I'll try to get a Systems Analyst done on this at some point.
Weber is a really smart dude, and that's valuable in a captain. A lot of players have the innate ability to just "do," but it's nice when you've got someone who can explain things on the bench and in the room too.
24. The early reviews are positive. One scout: "Green is trying. He (used to be) sloppy in coverage, bad stick, not finishing checks. Now, he's staying on the right side of the puck." MacLellan sees a difference, too. "When other teams played us, the plan was to hit him— finish your checks. It took its toll. Now, we have other options. It eases the pressure on him."
Two things: "Green is trying" is a hilarious quote. I often point out that some players are just so damn skilled they don't have to try as hard, and Green is probably one of them. But he's trying now! So that's dangerous.
The other: it makes sense that having other options would go miles for Green. Players who aren't necessarily the most driven can thrive when other options are the focus. But when they become the target, it's tough to get them to push through and have the same success. It's just another reason depth is so important.
Which, incidentally, is another reason to praise Sidney Crosby. He's always the target.
28. As Johnny Gaudreau works to establish himself in the NHL, there is a bit of a clone working his way up through the NCAA. He is Petawawa, ON's Matthew Peca, playing at Quinnipiac. Listed as 5-foot-9, 165 pounds, he has 35 goals and 107 points in 118 games entering his senior season. Peca was taken 201st overall in 2011 by Tampa Bay, and the Lightning are being patient with him. His numbers are not as gaudy as Gaudreau's were, but Peca's seen as more of a north-south player. Something to watch for.
A) Let's be honest, Friedman just wanted to call Gaudreau's numbers gaudy. Should've gone capital Gaudy, Friedge.
B) Oh good, Tampa needed more young talent in the system.
Comments
✕
Thoughts on Thoughts: Trading Nail Yakupov and Jeff Petry, Eric Staal's future and more
  Got something to say? Leave a comment below!