The NHL Redux: Johnny Gaudreau poised to upstage 'Hockey' moniker
Bruce Fedyck / USA TODAY Sports
Presented by

Each week, theScore's Justin Cuthbert will dive into the happenings of the NHL and preview the upcoming weekend's action.
When Johnny Gaudreau was chosen 104th overall in the 2011 NHL Draft, he didn't tilt his head with a self-satisfied smile and elicit applause from a throng of manic fans by flashing his trademark money sign. 
There were no green rooms, entourages, after-parties or champagne to be popped - Gaudreau was playing pick-up with friends. That's right. Johnny Hockey was playing hockey on draft day.
Three years later, Gaudreau left Boston College and is quickly becoming a household name with the Calgary Flames. His rise was a product of his on-ice wizardry at the NCAA level, but the momentum was aided by his catchy moniker, and the celebrity achieved by Cleveland Browns quarterback Johnny Manziel. 
The pair are wildly gifted and equally slight athletes who dazzled to collegiate acclaim, earning the highest individual honors at their craft. But despite their obvious commonalities, Manziel and Gaudreau couldn't be more dissimilar.
Manziel notoriously rubs shoulders with rap star Drake. Gaudreau pays face value to see the next country act roll their tour bus through town. That humble, down-home attitude ingrained in the reigning Hobey Baker Award winner has him commanding the admiration of his Calgary Flames teammates - even if he is the most reserved guy in the locker room. 
"Johnny's Johnny," Flames assistant coach Martin Gelinas told theScore. "He's a quiet kid whose personality shines on the ice."
"He goes about his business and is very professional for a young man," Gelinas added, "the boys just love him." 
The skill Gaudreau uses as a crutch for his (generously-listed) 5-foot-7, 150-pound frame was on display Tuesday against the Tampa Bay Lightning: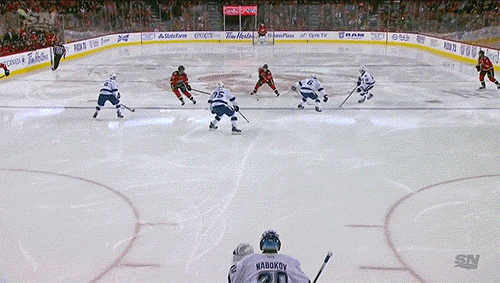 Gaudreau crashed into the boards heavily after the gorgeous dish, and received taps from just about everyone on the bench, in appreciation of his effort, as he worked his way toward the training staff.
His impact, however, and the ability to make plays similar to the one above, weren't immediate. He was without a point through the first five games of the season and saw his ice time decrease by nearly five minutes over that span before being scratched ahead of a loss to the Columbus Blue Jackets. 
Many young players often meet these decisions with recoil (look roughly 185 miles north), but as Gelinas explained, the Flames' coaching staff had no such worry. 
"When he's not playing, he's the type of player that's going to learn by watching and finding out what he has to do in the next game to make both himself and the team better," Gelinas said. 
"He knows it's a process. He took it well. He took it as, 'I'm going to watch and come back hungrier.'"
With three points in as many games upon his return, Gaudreau hasn't feasted since earning his way back into the lineup, but it's clear in the coach's office that he's developing an understanding of what he needs to do to succeed.
"This is just another chapter," Gelinas explained. "Everywhere he's been, he's found a way, and everywhere he's been they have told him he's too small and that he wasn't going to make it. But he's going to rise above it because of his skill and because he's determined."
Whether its dancing out of a collapsing pocket or wielding a hockey stick through traffic (Gelinas is utterly mystified by how small Gaudreau's is, by the way), we tend to pull for undersized athletes who defy the odds. Yet hockey players can only keep the praise thrust upon them by continuing to prove their merit on and off the ice. 
Manziel knows how to act like a pretentious star quarterback, but he's holding the clipboard in Cleveland. His counterpart is learning how to become a pro athlete in every sense of the word - and he's doing it on the job.
Unfortunately, flaunting "invaluable learning experience" is nearly impossible through hand gesture. 
The Next 48
New York Rangers vs. Montreal Canadiens - Saturday, 7 p.m. ET 
The goaltending battle that was the Sochi Olympic final - and what should have been in last season's Eastern Conference final - headlines Saturday's slate of games with the Rangers returning to Montreal to take on the Canadiens.  
With a combined 9-3 record, Carey Price and Henrik Lundqvist appear to be picking up right where they left off following another banner season, but are both still trying to find their game. 
Price has allowed 17 goals in his six starts, while Lundqvist features a rather substandard 3.15 goals against average and .894 save percentage despite four wins.   
What hasn't lacked for both these clubs is third-period scoring. They have combined to score 45 percent of their goals in the final frame this season - so expect some late fireworks.
San Jose Sharks vs. Anaheim Ducks - Sunday, 8 p.m. ET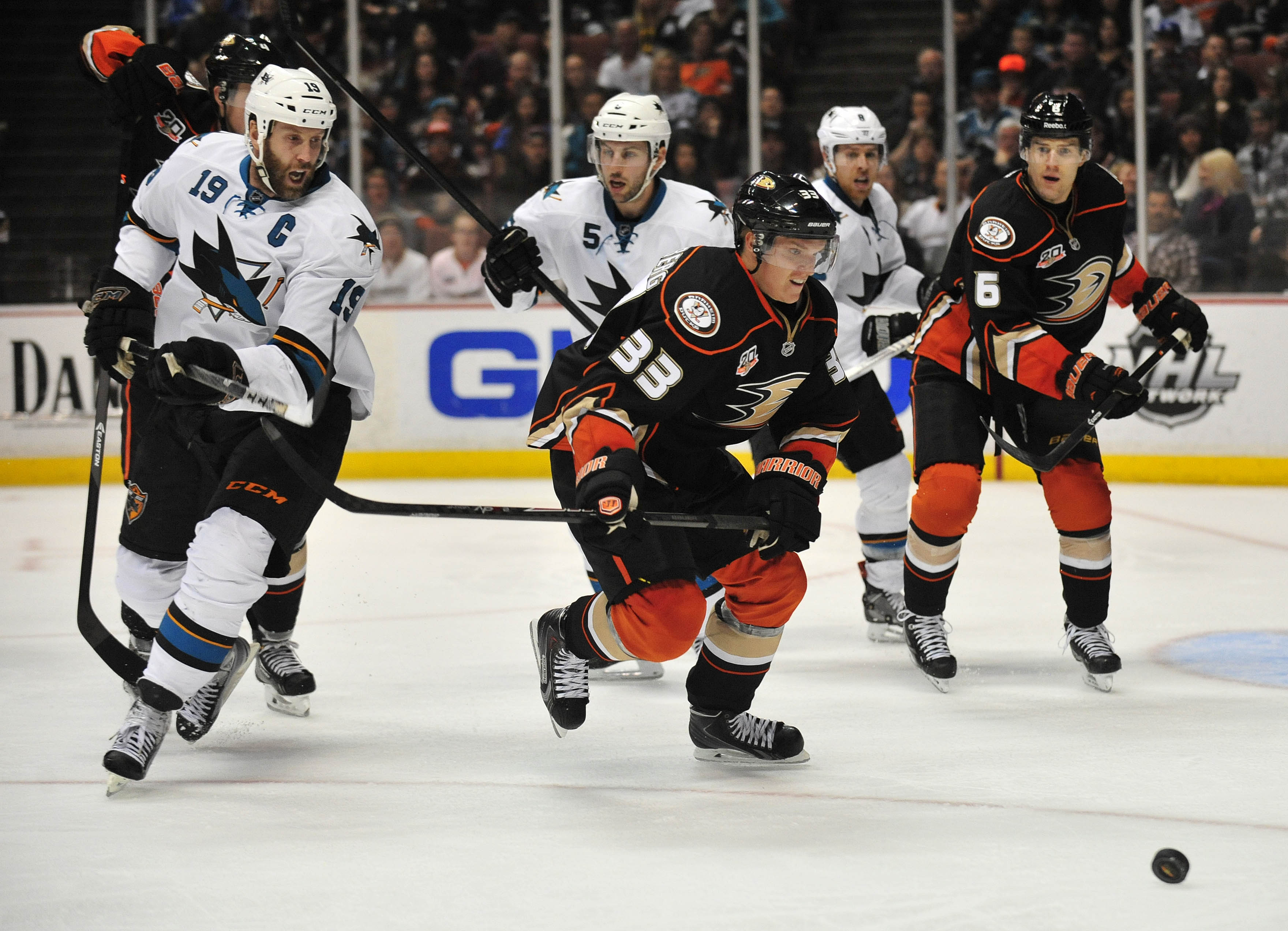 The Cali-on-Cali crime resumes Sunday night in Anaheim with the Ducks hosting the San Jose Sharks. 
After each starting their season picking on inferior Eastern Conference opponents, both teams have returned to their home state for a step up in competition against each other, and the other Western powers to follow. 
The Sharks have lost some bite, dropping three in a row, but will get the proper medicine before Sunday's game with the Buffalo Sabres in town. Meanwhile, Corey Perry's league-leading eight goals and the sterling play of Frederik Andersen (with John Gibson breathing down his neck) has kept the Ducks atop the West. 
Anaheim and San Jose rank first and second, respectively, in goal-scoring this season - so expect fireworks throughout. 
The Pylon
Ah, Ryan Kesler. So talented, so valuable, and in the words of Zach Parise, so stupid. 
With a win over Parise's Wild locked up with the final seconds winding down, Kesler's superiority complex kicked in as he took a run at Minnesota's smallest player, Mikael Granlund. 
(Courtesy: SomeHockeyVideos)
The hit was late, dirty, unnecessary, and one the NHL should have looked into. 
Parting shots
1) It didn't take long for Jonathan Drouin to make an impact opposite Steven Stamkos. The clever backhand sauce that helped the Lightning steal two points against the Flames will likely ensure the rookie star will start on the top line this weekend. 
2) Jonathan Quick has allowed two goals over the last four games. 
3) Taylor Hall's gesture to the home crowd before coolly converting on his penalty shot attempt can't be the turning point for the Oilers this season, can it?
4) The Flames' rope-a-dope style is working - for now. Calgary owns four defenseman in the top-15 of defensive zone starts this season. That includes T.J. Brodie and Mark Giordano, who lead the NHL with 148 combined in nine games.
5) Connor McDavid set up more goals in one period than the Buffalo Sabres have scored at the First Niagara Center all season.
6) John Tavares sacrificed himself for the safety of the league by getting walloped by Zdeno Chara, who will miss four-to-six weeks with an injury. Kudos, John. 
7) Who's the defensive equivalent of Simon Gagne? Ryan Whitney? Francis Bouillon? Tomas Kaberle!?
8) With a shooting percentage of 3.87, the St. Louis Blues have totaled five points in six games despite leading the league in possession. 
9) Paul Maurice could make us cry. Easily. 
10) The Nashville Predators aren't this good; the Colorado Avalanche aren't this bad.
Comments
✕
The NHL Redux: Johnny Gaudreau poised to upstage 'Hockey' moniker
  Got something to say? Leave a comment below!