Why Sidney Crosby and Patric Hornqvist are a perfect match
Charles LeClaire / USA TODAY Sports
Presented by

Pittsburgh Penguins center Sidney Crosby is the best hockey player on the planet and has already racked up nine points in four games this season, a total that leads all NHL players.
Crosby possesses any number of attributes that make him special, but his ability to drive shooting percentage is his most unique trait. With some combination of his playmaking ability, his deceptive shot, and his otherworldly coordination around the net; Crosby's complete offensive game allows the Penguins to turns shots on goal into goals scored at an unrivaled rate. 
Whatever else Crosby might be, he's definitely the NHL's single most efficient offensive player.
Nearly all NHL-level players and most NHL goaltenders perform at such a high level that only a select few - the truly great - are able to legitimately and sustainably cause their teams to score on a higher rate of even-strength shots. For the vast majority of NHL players the percentages are fixed, and over a large enough sample only the super-elite will sustain an on-ice shooting percentage north of 8.5 percent at even-strength. 
Over the past seven years only nine players have managed an on-ice shooting percentage above 10, and those nine players are pretty much a whose-who of the league's best snipers (Bobby Ryan, Marian Gaborik, Martin St. Louis, Steven Stamkos, Ryan Getzlaf etc.). During that same time frame, the Penguins have scored on 11.24 percent of their even-strength shots with Crosby on the ice. No one else is in the same stratosphere.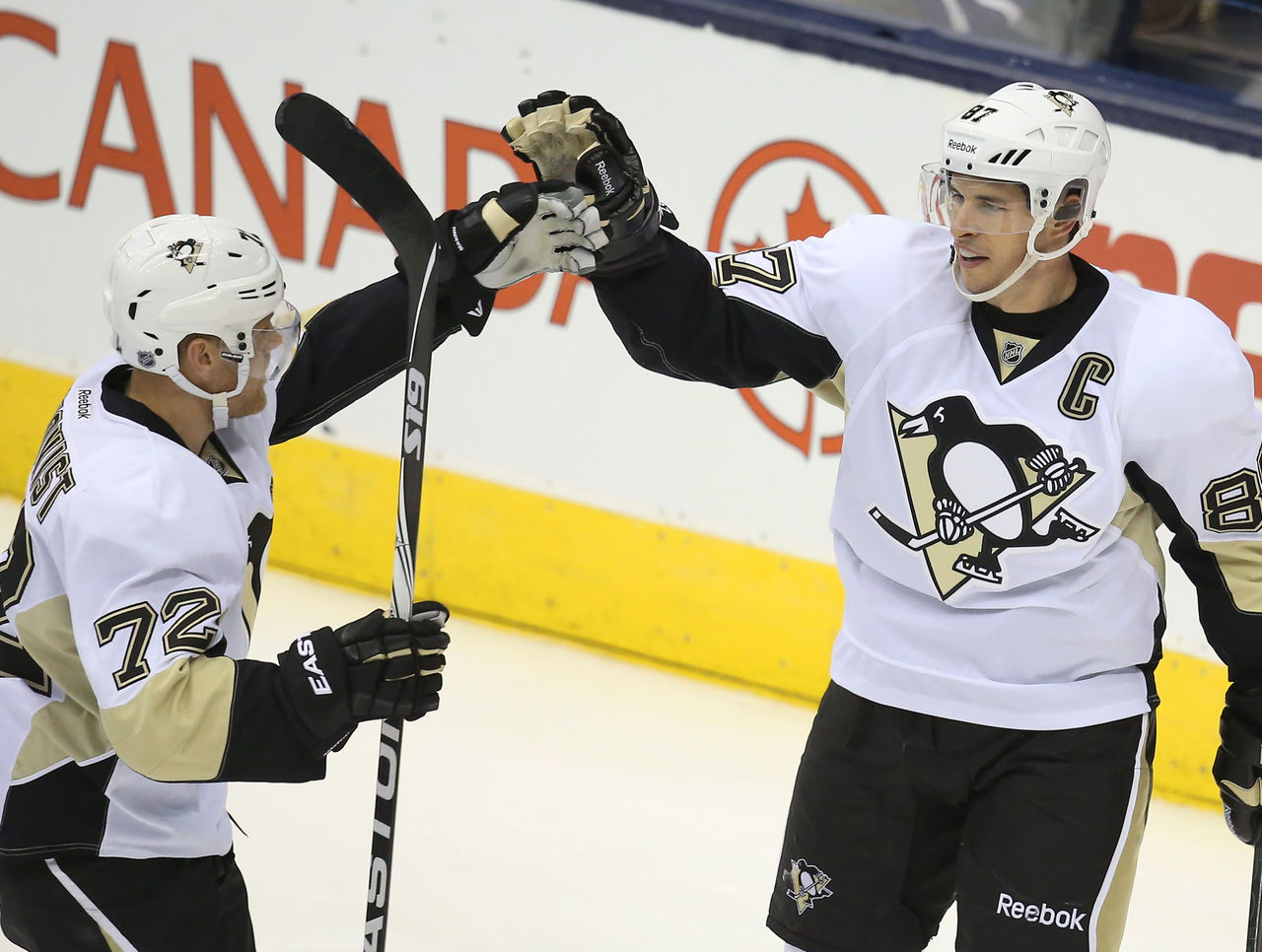 This season Crosby has a new line-mate in Patric Hornqvist, and the early results have been nothing short of spectacular.
Unlike Crosby, Hornqvist is not a player who drives percentages. There's nothing smooth or efficient about his game. Hornqvist doesn't have a sweet wrist shot or a tricky arsenal of dekes, and he's never been a particularly dangerous playmaker. What Hornqvist does is make life miserable for goaltenders and defenseman at the net front, while craftily throwing everything on net.
Since the 2007-08 NHL season 238 NHL forwards have logged at least 4,000 minutes at five-on-five. Among those 238 forwards only one forward - some guy named Alex Ovechkin - has generated shot volume at a better clip than Hornqvist has.
With the Hornvqist acquisition, the Penguins have essentially combined Crosby's unnatural efficiency with Hornvist's raw ability to generate shot volume. The results have been extraordinary. 
It's early, but Hornqvist is taking an NHL best seven shots per game. He's second in the league in even-strength shot rate, and he's first in the league in power-play shot rate. When Hornqvist is on the ice, Crosby is finding him, and goaltenders are seeing an extraordinary amount of rubber. They're also seeing an awful lot of that flashing red light.
What's amazing about what Hornqvist and Crosby have managed so far is that it doesn't appear to be unsustainable. By PDO - a metric that combines on-ice shooting percentage and on-ice save percentage, and is generally used as a short-hand way of gauging puck luck - Hornqvist is at a very sustainable 101.1, while Crosby is actually below 100.
That suggests that Crosby has actually been unlucky offensively in the early going. Unlucky! And he's generating better than two points per game!
So far Crosby and Hornqvist have been exceedingly productive, but they've been doing it on Hornqvist's terms - by overwhelming their opponents with volume. When Crosby's trademark hyper-efficiency kicks in, and it probably will, look out. 
(Stats in this piece sourced from hockeyanalysis.com)
Comments
✕
Why Sidney Crosby and Patric Hornqvist are a perfect match
  Got something to say? Leave a comment below!