Systems Analyst: John Scott did a goal
The Washington Post / Getty
Presented by

So let's get the lede out of the way: John Scott scored a hockey goal with his hockey stick by shooting the hockey puck past an unscreened goaltender - a good goaltender, no less - into the hockey net.
It was his third NHL goal (the second one involved the type of crazy bounce you'd expect) after six in the AHL and seven in 126 NCAA games, so y'know ... this is noteworthy.
So how does a 6-foot-8 pure fighter with almost twice as many penalty minutes as games played come to score a goal, let alone one against a pretty decent Washington Capitals team with some pretty decent defensemen on the ice?
Well, there are a few reasons, including the fact he played some legitimately good hockey.
****
The NHL.com video at the bottom of this post has a few more angles if you can't believe this really happened, and need more proof.
The puck starts from the bench-side boards, with Joel Ward passing the puck through a forechecker to Brooks Orpik in front of the Caps net. It's a bit of a broken play, as his partner John Carlson is nowhere to be found. But that shouldn't be an issue.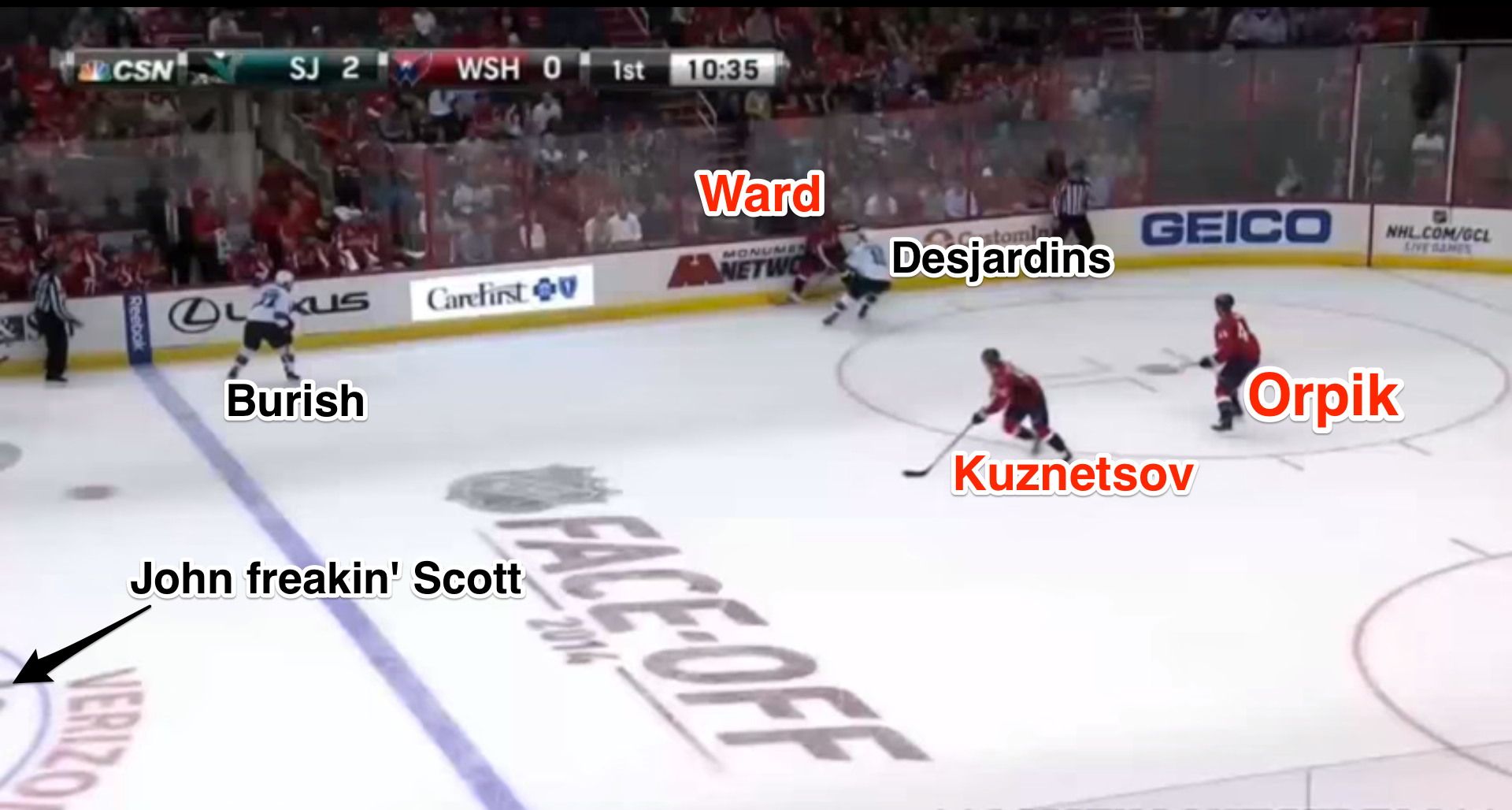 The puck is moved to Orpik.
Evgeny Kuznetsov sees this, and fans out to take the pass. The Sharks' Adam Burish starts to read that, and wants to stay overtop of him while Andrew Desjardins backchecks.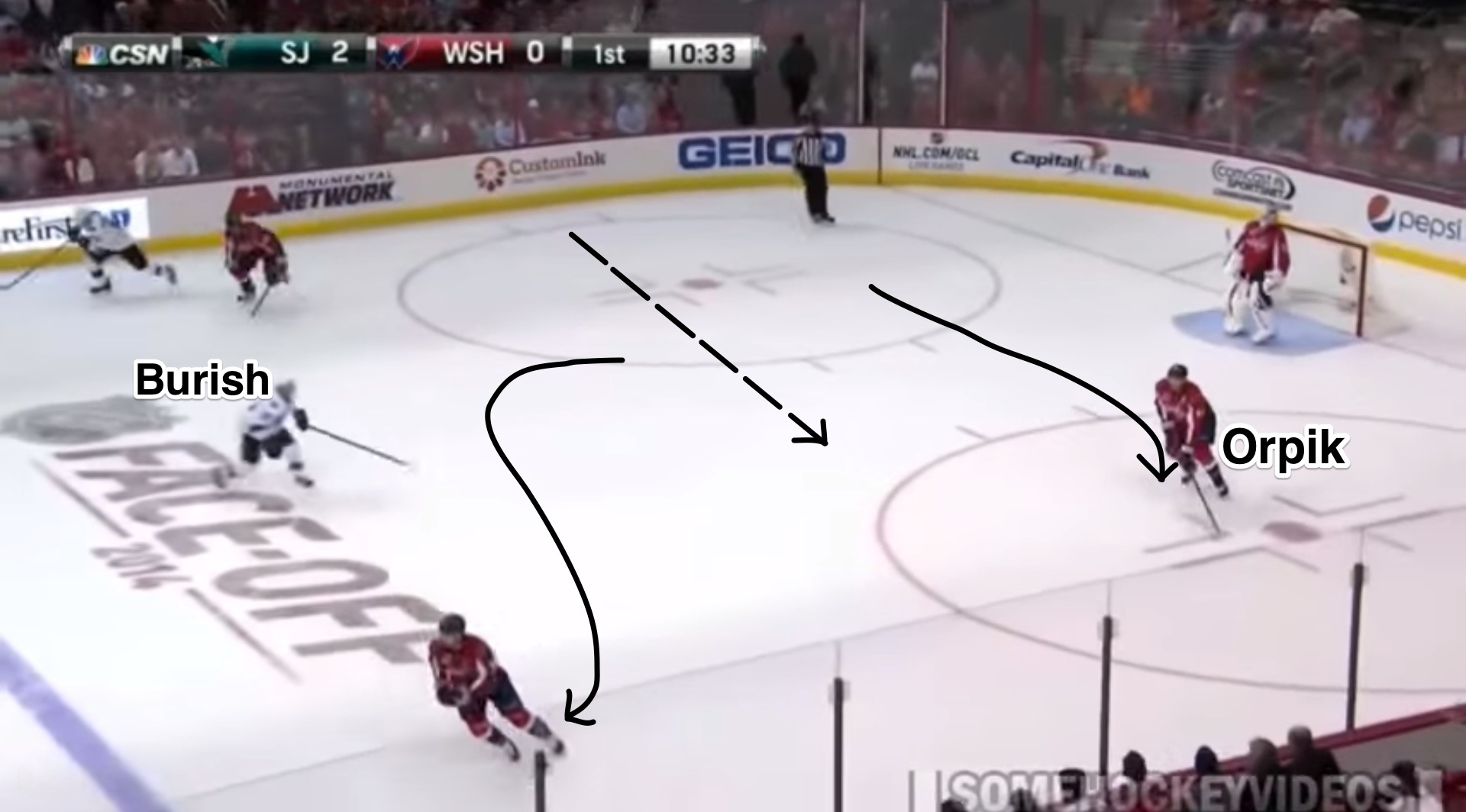 But as you can see, he's more than a step behind, so Kuznetsov opens up for the pass, and receives it.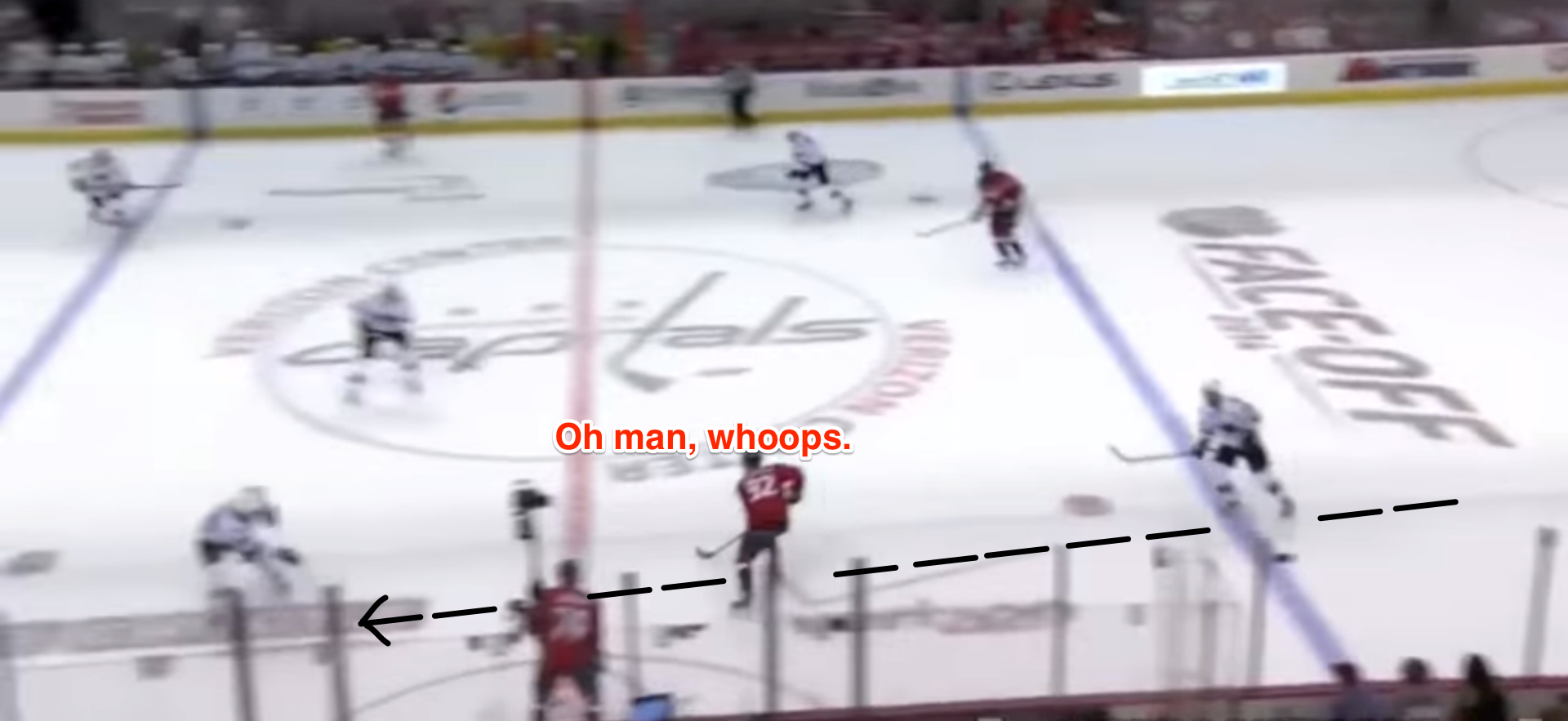 Or more accurately, tries to receive it. Instead it's an "Oh man, whoops" from Kuznetsov. I don't know if the puck bounces or not, but either way, it goes on through to Sharks defenseman Brent Burns, who wastes 0.0 seconds getting the puck up to Burish. Seriously, he one-times it.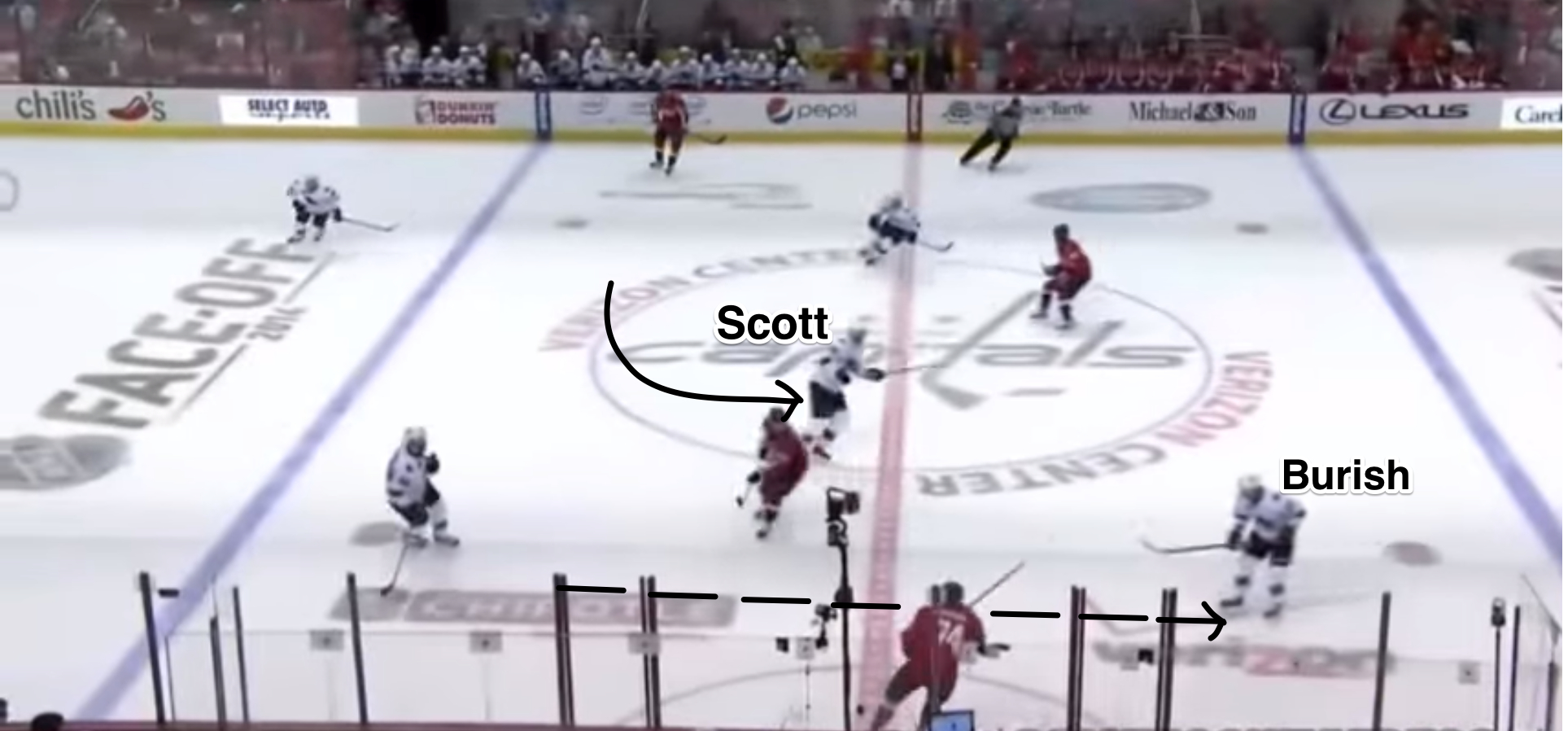 This systems post isn't really even about a system as much as it is about the play Burish made to make this incredible goal happen.
Look at Burish see Scott in the middle and angle the puck with his skate into his linemate's lane. I believe a soccer announcer would call this a "cheeky touch."
(Courtesy: Comcast Sportsnet)
And there goes John Scott, sort of.
Orpik's biggest problem (at the top of the GIF below) is that once the pass is missed and returned to Burish, he sees that, and pivots to face an attack from the near side, thinking Burish may corral it. It was a completely fine thought to have, but look at the terrible position his unfortunate pivot puts him in to defend.
(Courtesy: Comcast Sportsnet)
Burish's clever skate pass left Scott with the puck and "speed," while Orpik is just stopping and just starting to back up.
Here's the thing: it's really, really weird he doesn't just get into Scott, and influence his shot, no?
Well, no. It looks weird at first glance, but if you can see, just as he pivots, Desjardins (No. 10) is filling in the lane on the other side of him, and it seems like his body angle limits him from seeing Carlson coming to help him and make it a 2-on-2.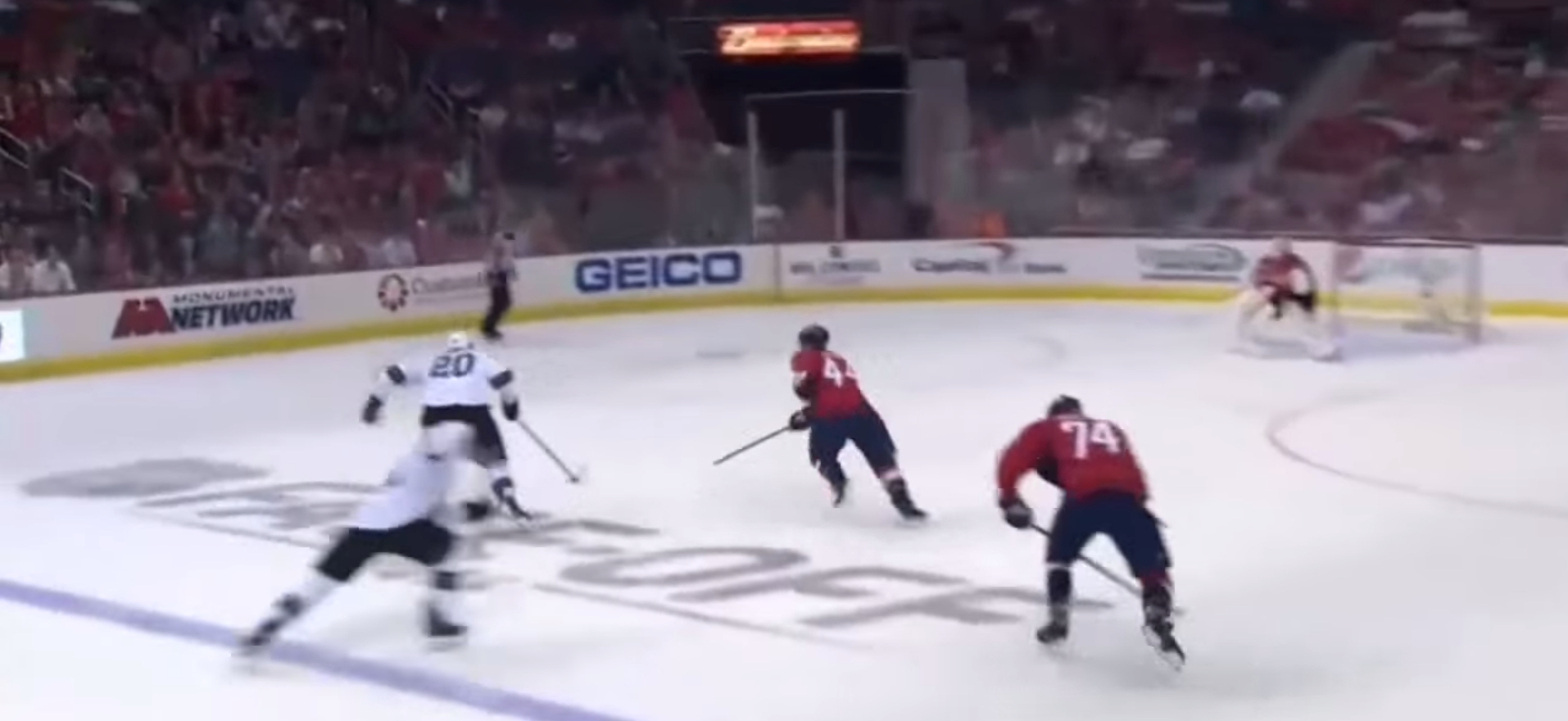 I think it's possible that he saw Carlson, but he definitely didn't know if he was defending an even-man rush or a 2-on-1.
That thought process would explain why he seems to be taking the cross-crease pass away. I mean, with all due respect, it's John Scott, so he's probably more worried about giving up some back-door tap-in than the clean shot on Braden Holtby.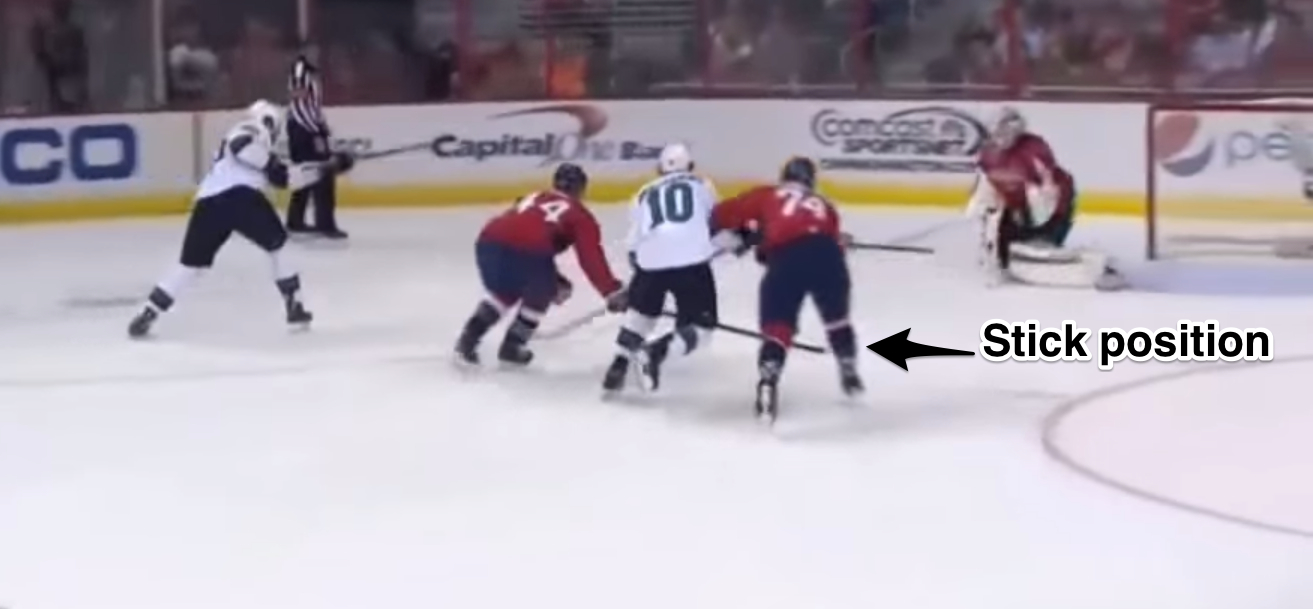 In the end, Scott was on the defensive side of the puck, picked it up with speed through the neutral zone, and made a great shot to score. A lot had to go right for it to happen, but hey, sometimes NFL linebackers score touchdowns. This stuff happens.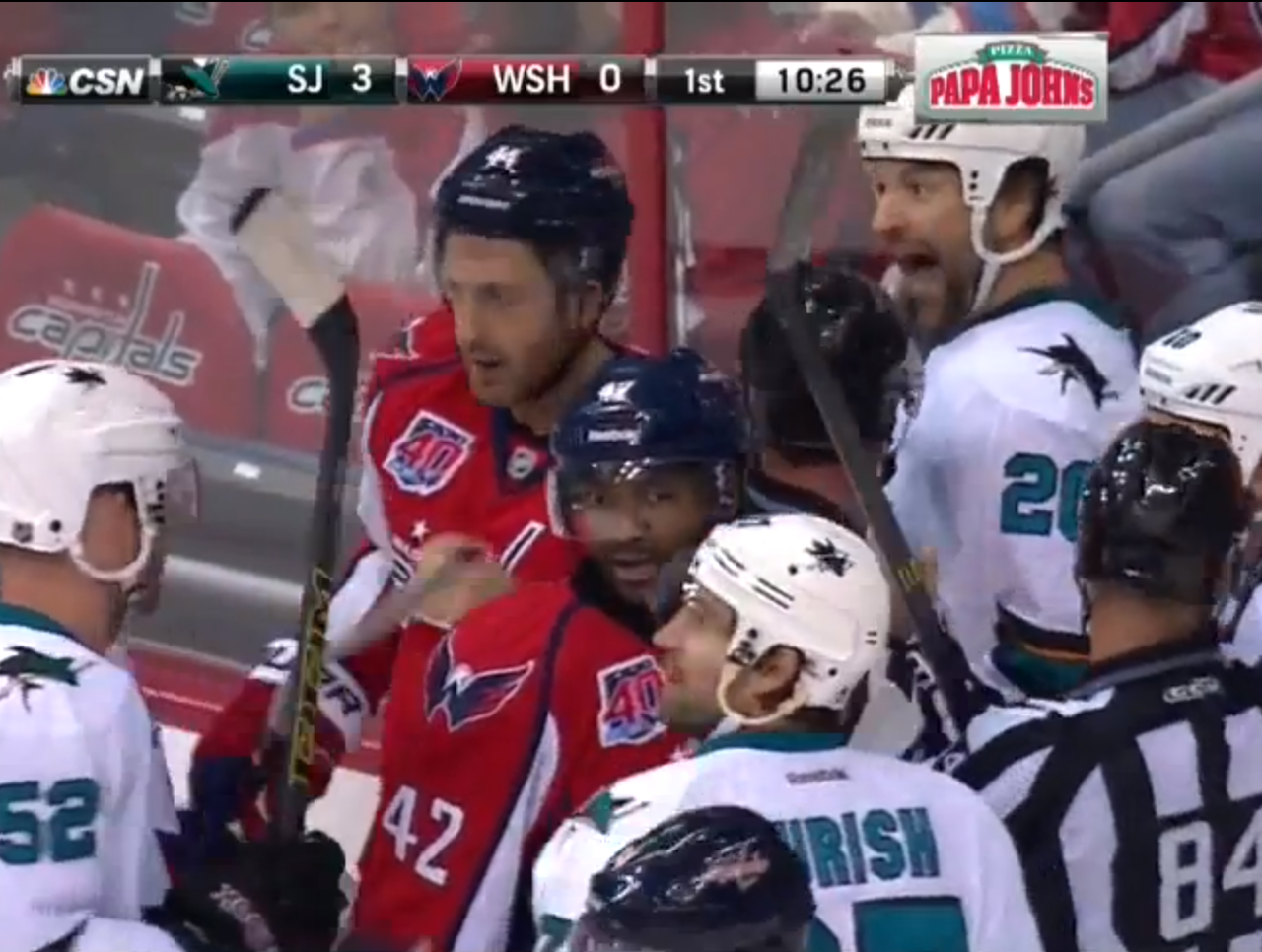 If you can't believe it ever did (even the goal scorer himself looks surprised above), have one last look. It's a great play by Burish, and a nice snipe from Scott.
(Courtesy: NHL.com)
Comments
✕
Systems Analyst: John Scott did a goal
  Got something to say? Leave a comment below!