Everything you need to know about the weekend in the NHL
Each Monday, we take a look back at games from the weekend, and get you caught up on the all the news, goals, and quotes you may have missed.
The Scores
Saturday                                                   
WSH 4, BOS 0                                                  
PIT 5, TOR 2                                                      
ANA 3, DET 2
OTT 3, TB 2 (SO)
NJ 5, FLA 1
CAR 3, NYI 4
MTL 4, PHI 3 (SO)
NYR 2, CBJ 5
CGY 1, STL 4
DAL 1, NSH 4
BUF 2, CHI 6
MIN 3, COL 0
LAK 2, ARZ 3 (OT)
EDM 4, VAN 5 (SO)
WPG 0, SJ 3
Sunday
TOR 6, NYR 3
WPG 1, LAK 4
3 things you need to know
Canadiens stay perfect
Beginning their season on a four-game road trip, the Montreal Canadiens were an unlikely candidate to sit atop the NHL standings through the first weekend of action. But here we are.
After a signature comeback win, in which they erased a three-goal deficit in the third period Saturday against the Philadelphia Flyers, Montreal has started its season 3-0-0 for the first time in nine years. 
By no means has it been a flawless stretch, but their promising start was topped quite fittingly after an offseason in transition. Newcomer P.A. Parenteau, who was arguably the best player on the ice in his debut with the club, clinched Montreal's sixth point Saturday night with the shootout winner.
Avalanche remain goal-less
That sound you're hearing? It's those snickering geeks.
The Colorado Avalanche, following a season in which they defied their analytic naysayers and won the Central Division with 112 points, were forced to take their medicine from the Minnesota Wild again Saturday. Coach Mike Yeo's club used a staggering 69 percent of the possession to total eight goals and shut out the Avalanche across two games to start the season. 
The Avalanche played 14 games before suffering their first two losses last season, and weren't blanked on the scoresheet until game No. 71. 
Yeesh.
A jester dethrones the Kings
Arizona Coyotes goaltender Devan Dubnyk was set up for sacrifice Saturday night against the defending Stanley Cup champions, but came away with his first win in 10 months.
The game followed the script early, as Dubnyk, making the surprise start for Mike Smith, spotted the Los Angeles Kings a 2-0 lead in less than seven minutes on just eight shots. But the cast-off goaltender dug in, turning aside the next 18 pucks into overtime before Oliver Ekman-Larsson's game-winner. 
Los Angeles wouldn't exit the weekend without claiming their first victory of the season, however. The Kings took out their frustration on the Winnipeg Jets on Sunday night. 
Highlight Reel
Tyler Myers punches Andrew Shaw after getting speared in the groin
Buffalo Sabres defenseman Tyler Myers didn't take too kindly to receiving an Andrew Shaw stick to the nether regions. Here's how he retaliated against the Chicago Blackhawks forward.
Don Cherry's suit
Hockey Night in Canada's Don Cherry gave his first Saturday night sermon of the season, and his first suit was ... certainly patriotic.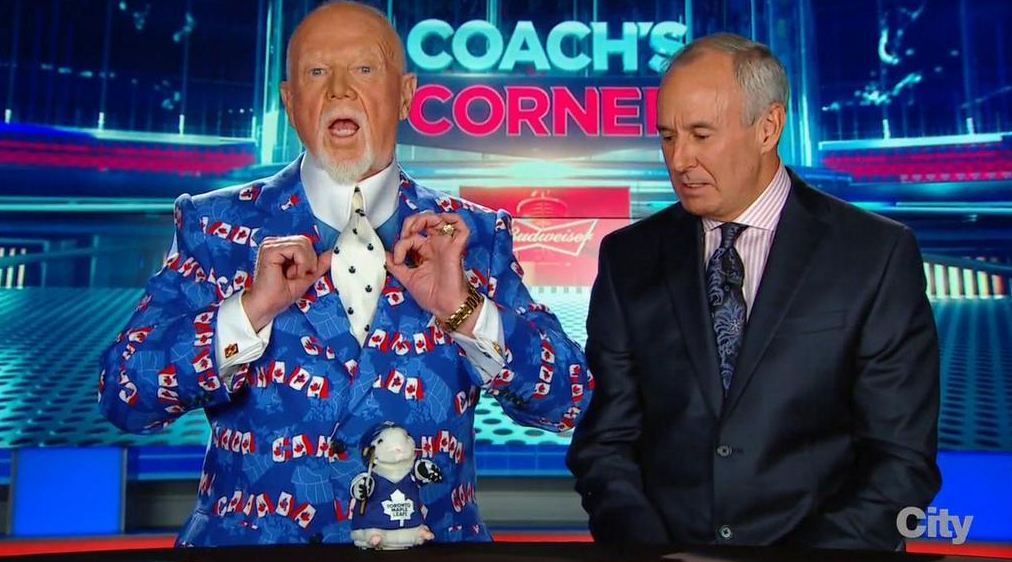 (Courtesy: CityTV)
Ryan Nugent-Hopkins drops the gloves in his first career fight
The Edmonton Oilers forward held his own in an unexpected tilt with Vancouver Canucks defenseman Dan Hamhuis.
Say What?
Maple Leafs winger Phil Kessel didn't hold back when asked about his team's performance in a 5-2 loss to the Pittsburgh Penguins on Saturday night, as TSN's Jonas Siegel reported.
Hard to argue with that.
Boston Bruins defenseman Zdeno Chara wasn't proud of his team's shutout loss to the Washington Capitals.
According to CSNNE's Joe Haggerty, here's what Chara said:
We knew we didn't have our best game against Detroit, and we didn't even follow up being better for tonight's game. We just got embarrassed, and I think we all have to really look at what we can start doing better, and really take pride in that. A game like tonight is not acceptable. For sure it's something that we have to correct really fast.
Top Fantasy Lines 
F Sidney Crosby - Penguins
After winning the scoring title by 17 points last season, Crosby has already ascended to the top of this year's class. His goal and two assists against the Toronto Maple Leafs give him six points through two games to start the season.
G Alex Stalock - Sharks
Stalock stopped all 30 shots en route to a victory over the Winnipeg Jets. After two games, San Jose has yet to allow a goal, with Antti Niemi earning the shutout on opening night. Keep your eye on Stalock on the wire this week. 
G Darcy Kuemper - Wild
Kuemper is already continuing his mastery against Colorado this season, recording his second straight shutout over the Avalanche with a 30 save effort Saturday night. 
F Jiri Tlusty - Hurricanes
Benefited by a myriad of injuries in Carolina, Tlusty is averaging five additional minutes on the ice over last season, and has four points through two games after notching his second career hat trick against the New York Islanders.
F Daniel Sedin - Canucks
Daniel recorded three assists in the win over the Oilers, and now has four power-play points on the season.
F Phil Kessel - Maple Leafs
Kessel wasn't happy with his play Saturday, but he responded Sunday with a goal and two assists against the New York Rangers.
Injury Ward
The Carolina Hurricanes lost center Eric Staal to an upper-body injury vs. the Islanders.
Toronto Maple Leafs goalie James Reimer was forced to leave the game Sunday vs. the Rangers with a head injury, but said after the game he felt fine.
New York Rangers forward Rick Nash left the game in the third period Sunday so he could be with his wife for the birth of their child.
Philadelphia Flyers forward Vincent Lecavalier left Saturday's game vs. the Canadiens with an apparent foot injury.
Comments
✕
Everything you need to know about the weekend in the NHL
  Got something to say? Leave a comment below!