Unique Team Traits: The Avalanche benefitted from Patrick Roy's aggressive goalie-pulling strategy
theScore's multi-part team previews include a look at something that separates each team from the pack. From specific breakouts to power-play formations and beyond, Justin Bourne and Thomas Drance hope to highlight something you haven't noticed in the past.
What we noticed
Patrick Roy had a propensity for pulling his goaltender with a lot of time left on the clock, which greatly benefitted the Avs
Patrick Roy has given us more than enough reasons to think he's a bit crazy, which is probably why other teams didn't immediately adopt his strategy of pulling his goalie with tons of hockey left and his team down. It looks a bit strange, not having a goalie in the net with six minutes to go in the third.
Roy's late game player usage is more likely to be looked at as revolutionary than to earn him a room with white-padded walls. It doesn't matter if you lose a hockey game 3-1 or 46-1. You don't get points for losing either way, and goal differential is the fourth tiebreaker, so the incentives are structured to encourage coaches to go for it. Fortune favors the bold, and all that.
Goals aren't easy to come by, and it only gets more difficult late in games when leading teams collapse into their defensive shells. You might as well yank your goaltender and give yourself a man advantage to try to climb back into the game.
While this is currently a unique coaching tactic, there's reason to believe it could become the norm. Let's get into it.
The numbers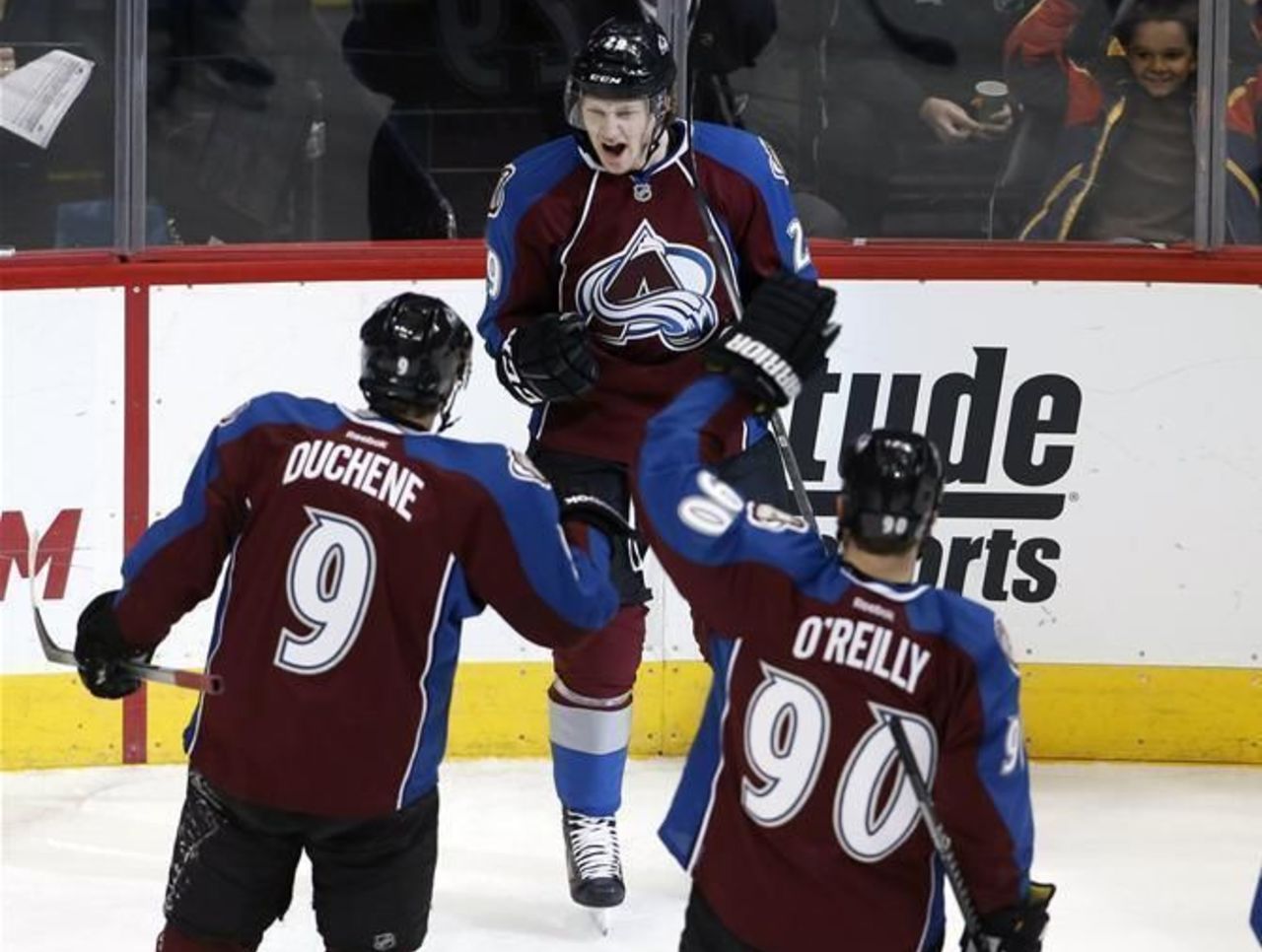 In terms of Roy's behavior, the club pulled the goalie 23 times in endgame situations last season - 12 times when the club was trailing by one goal, eight times when the club was trailing by two goals, and three times when the club was trailing by three.
When trailing by three Roy pulled his goalie with five minutes (or more) left in the contest in each occasion. This is not normal: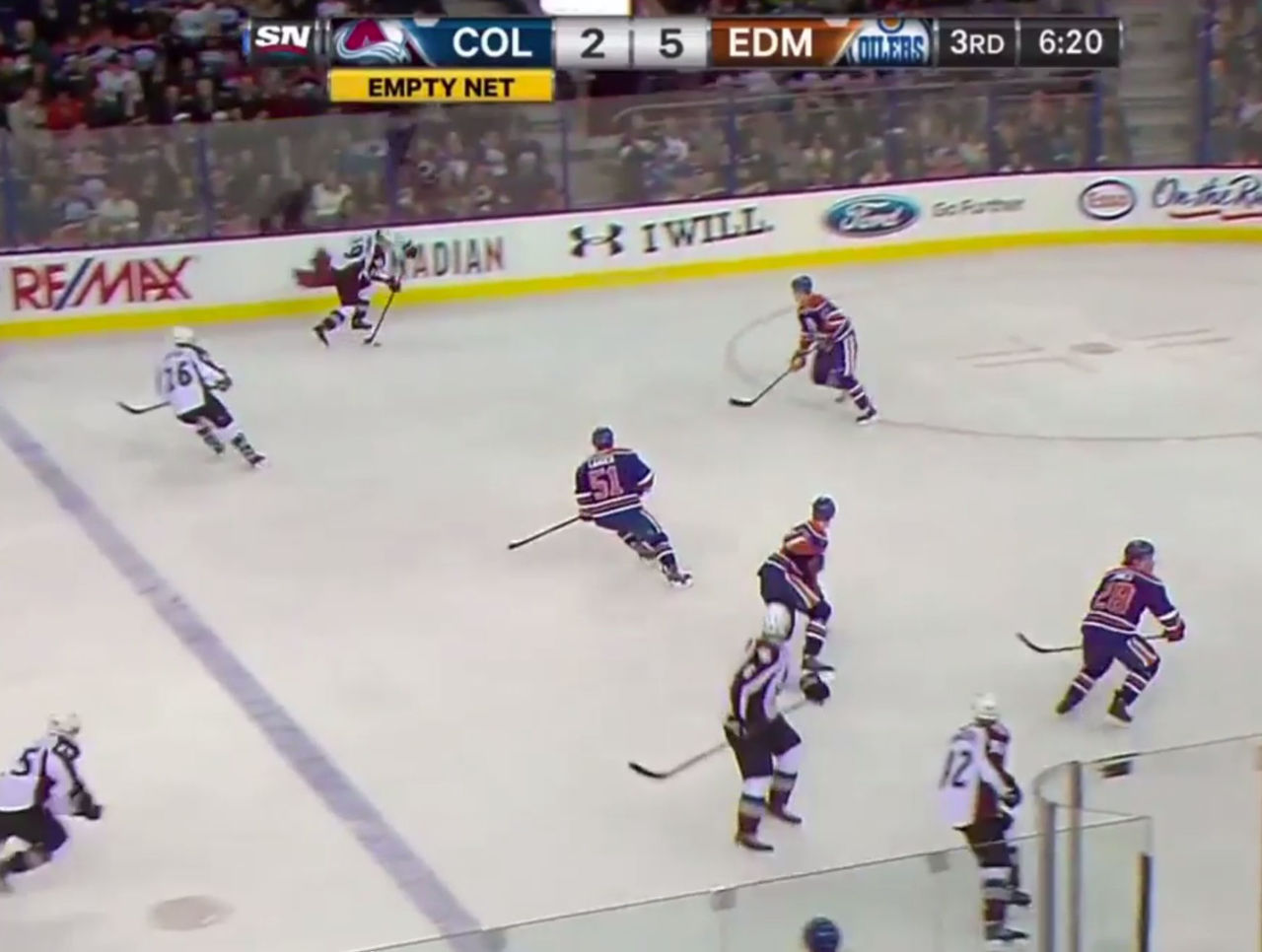 When trailing by two, Roy regularly pulled the goalie with two minutes (or marginally more) remaining in the game, although on four occasions he pulled the goalie with three or more minutes remaining (and on one occasion pulled the goalie with five minutes to play).
When trailing by one goal, Roy generally pulled his goalie with more than 2:30 remaining in the contest and on one occasion - during a comeback win in Game 1 of his club's Stanley Cup Playoff series against the Minnesota Wild - pulled his goaltender with three minutes remaining on the clock while trailing by just a single goal.
Roy's Colorado Avalanche scored a goal for every 7:43 of 6-on-5 endgame situation, which is significantly better than the rate of 6-on-5 goals scored by all NHL teams during the 2008-09 NHL season (those clubs scored a goal every 8:30 per David Beaudoin and Tim B. Swartz 's research).
The club was also difficult to score against with the net open, allowing just one goal against for every 4:17 of ice-time against  - a significantly better rate than that managed by every NHL team playing at 6-on-5 with an empty net during that 2008-09 campaign.
What this meant, is that Roy's Avalanche managed two improbable comeback victories in end-game situations with the goalie pulled in 2013-14, and won two additional playoff games. Those four extra regular season points allowed the Avalanche to win their division, and the two additional playoff wins led the club to host an additional home playoff date - so this mattered in a major way for the club's bottom line.
The breakdown
No doubt part of the Avs success was personnel based, but we'll start with systems first.
In 6-on-5 situations, an extra body allows teams to position themselves in an overload with an added umbrella-esque option, which is how Colorado set up. I can't recall many teams setting up much differently than this.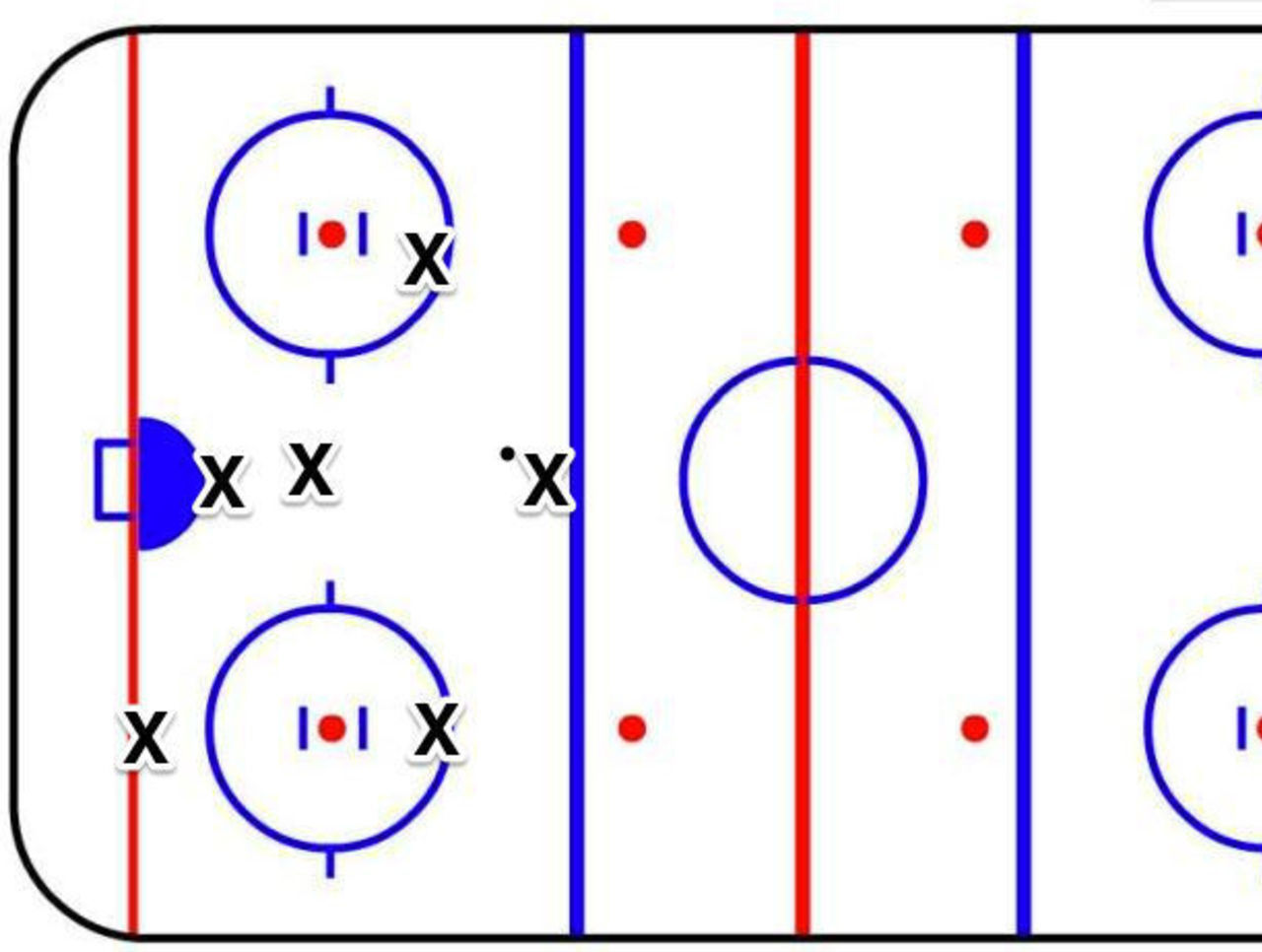 From there, the two low forwards can shift depending on which side of the ice the puck is on.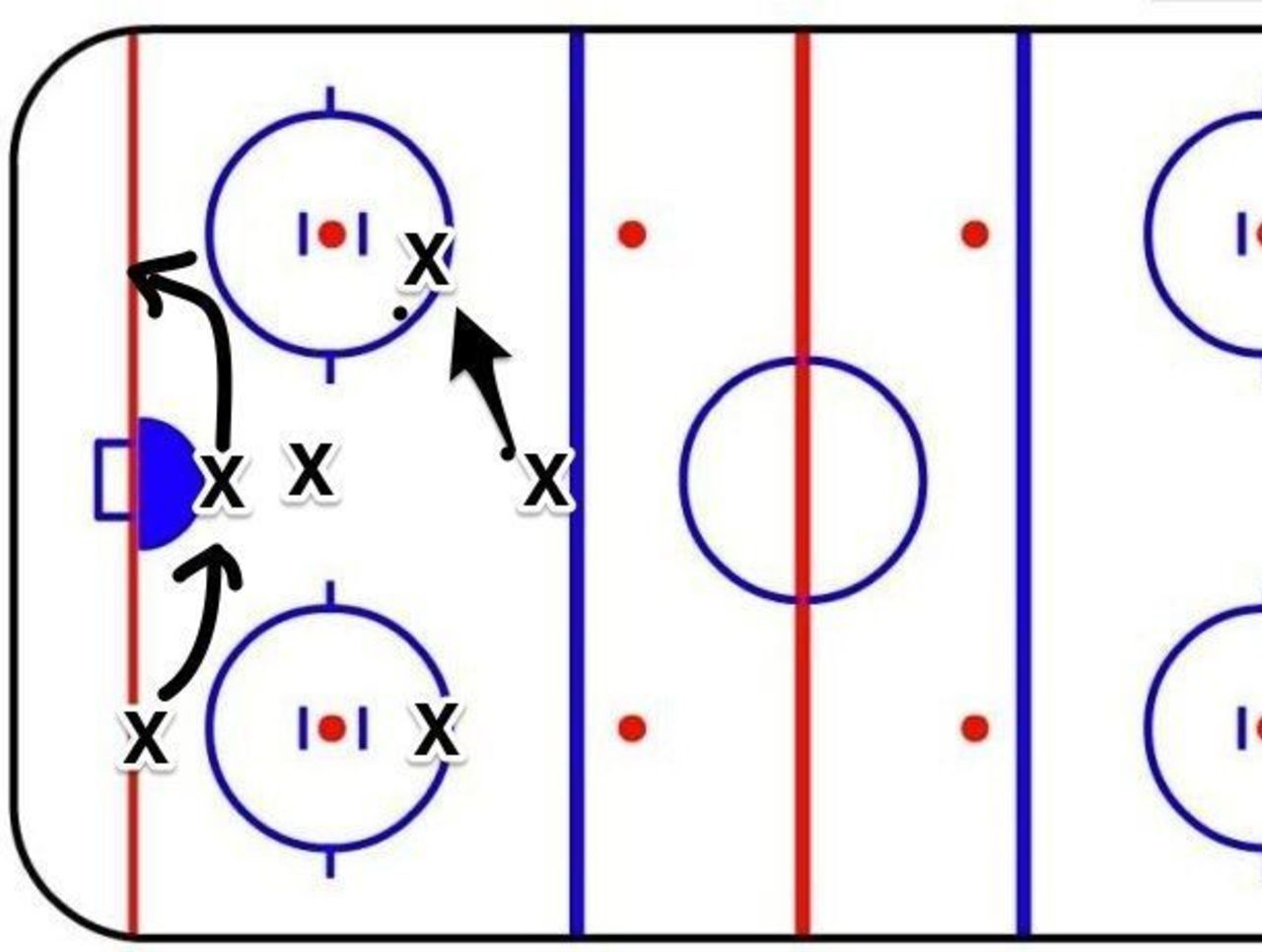 As those players shift, the guy who would be the high screen on a point shot can pop up to provide a one-timer option, which gives the guy on the half-wall a stupid amount of places to go with the puck.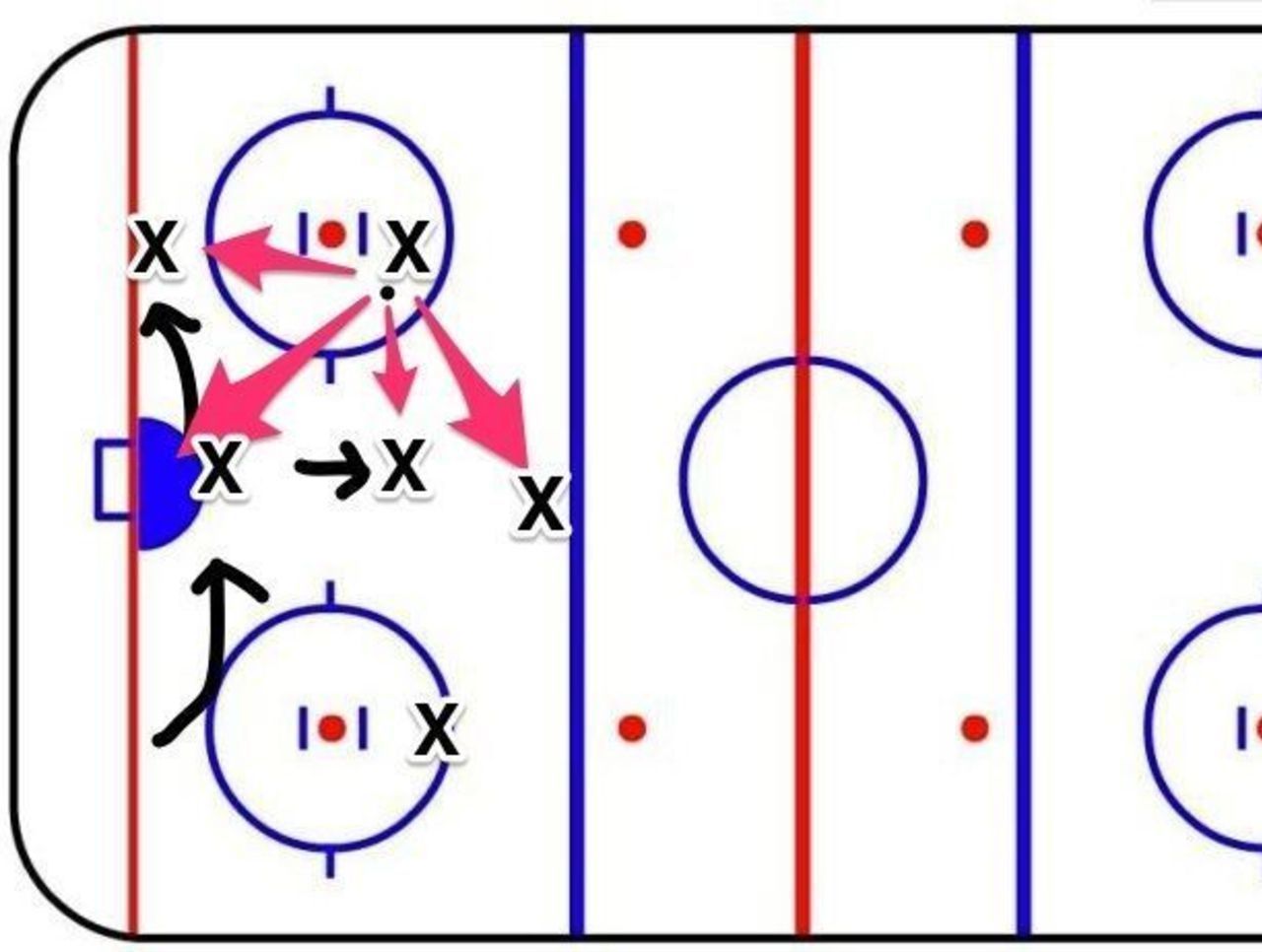 As the puck switches sides, the weak-side high player from the umbrella is able to sneak down the back door, which can lead to some tough decisions for low players on defense.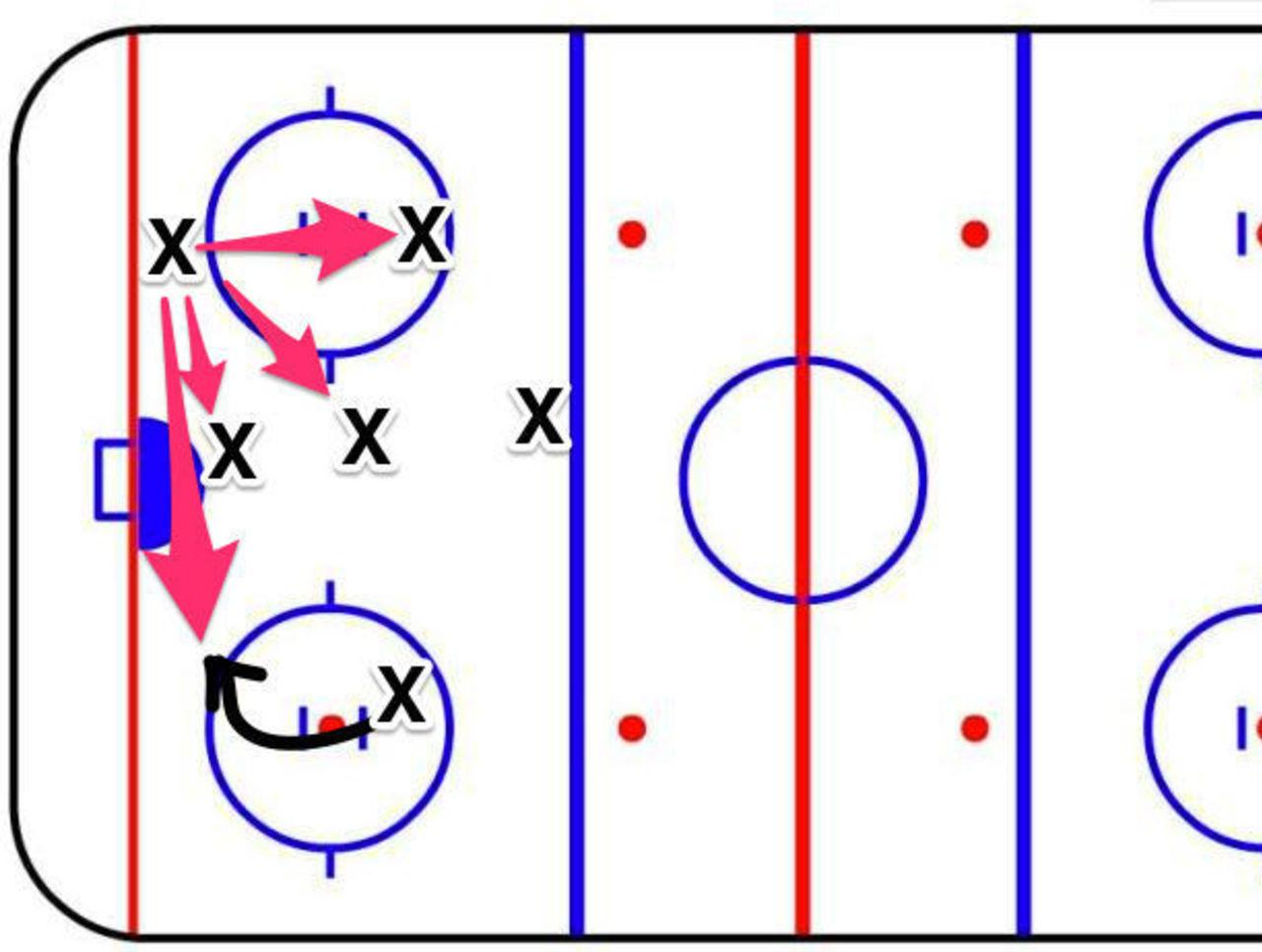 It's because of that option that teams sit four defensive players low when opposing teams pull the goalie, so there isn't anyone just chilling around the net uncovered. A single high forward basically acts like a puppy racing back and forth while two people play catch, trying to get his stick on passes and his body in front of shots from the point.
The best offensive option when you've got your opponent outnumbered, of course, is simply taking advantage of the mass of humanity by firing pucks on net. You've got a low screen, a high screen, and rebound hawks at nearly every angle. When there's a loose puck around the net, it's an absolute frenzy for defenders trying to figure out whose guy is whose.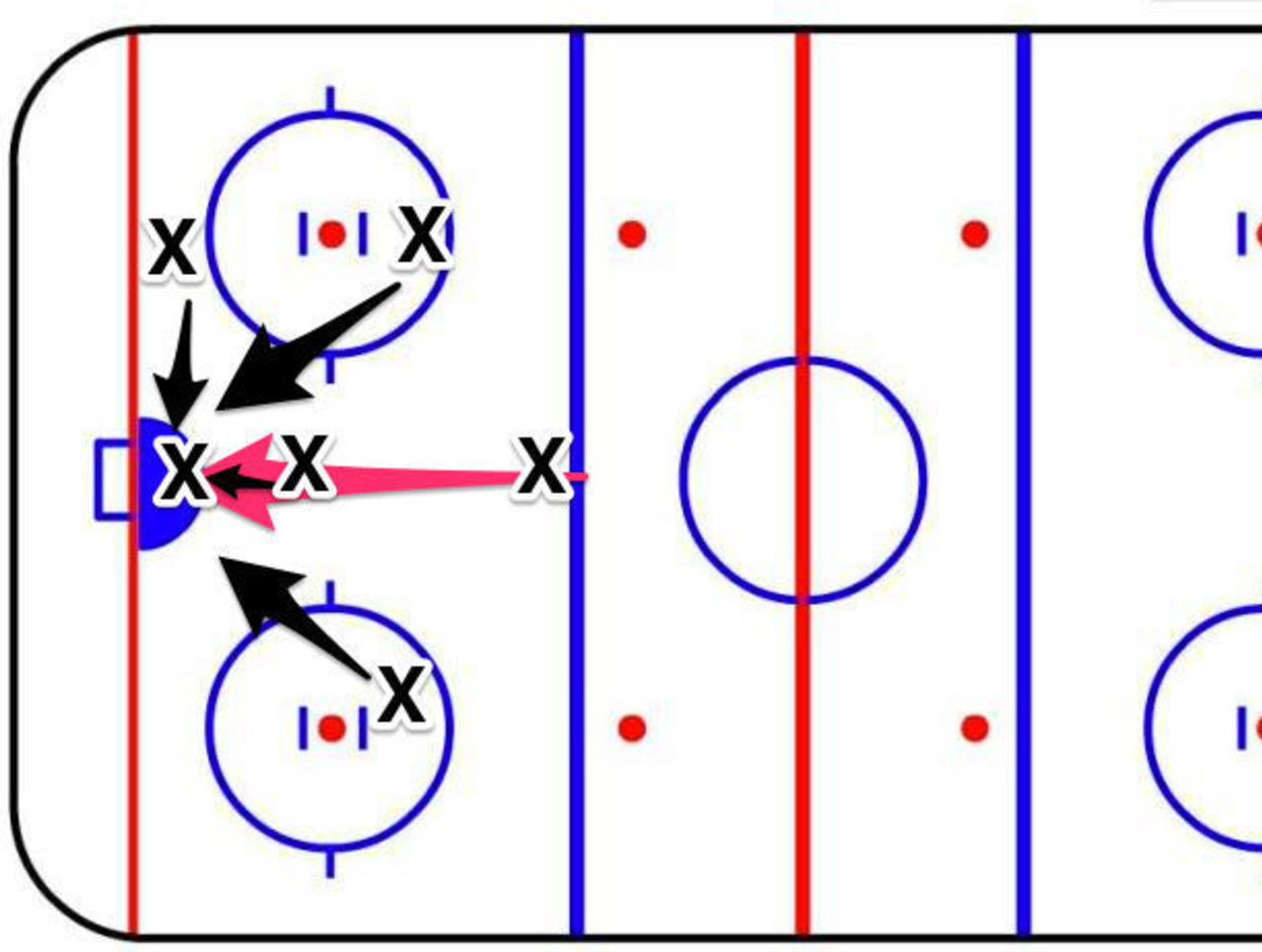 As the Avs showed us in playoffs, when you've got that many bodies around the net, shots can lead to some awfully great results.
As I mentioned earlier, Colorado's personnel was perfectly tailored for late game desperation. One of the biggest issues with all power plays is getting set up. The Avs of 2013-14 were blessed with beautiful players when it came to zone entries, particularly Nate MacKinnon and Matt Duchene, the latter of whom was NHL's best at gaining the zone with the puck (he succeeded at doing that 86 percent of the time).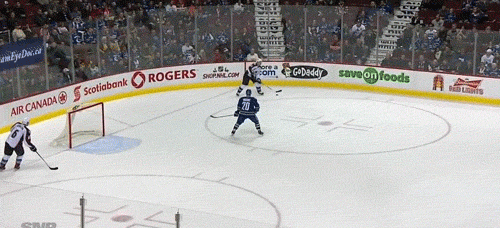 You'd probably prefer to see him hang on to the puck there, but you get the idea. He was like Erik Karlsson - a one-man breakout.
To go with that, you could trust PA Parenteau to make good decisions through the middle, and when there were loose pucks (off a dump-in or shot), guys like Gabriel Landeskog and Ryan O'Reilly were basically designed in a lab for the purpose of reacquiring them.
Once the Avs got set up, you can see how they use that overload-brella to make defending tough. Watch Parenteau in the middle, and how he rotates depending on where the puck is around the outside.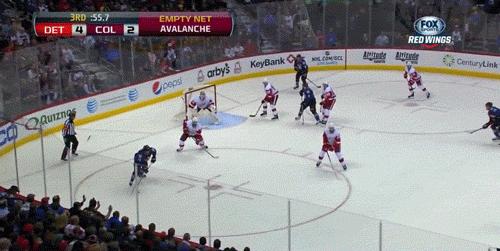 Once more teams realize the value of pulling their goaltender early when they're behind in games, you can expect to see more of it. That means that while the Avs have an advantage now, they may not have many more years of it. 
As the study we reference earlier - which we might mention was inspired by Roy's habit of extreme aggression when pulling his goalie when he was a coach in the QMJHL - pointed out:
"This is the evolutionary process of sport; an innovation is introduced, success is observed, and the innovation is copied. Upon full adoption of the innovation, an advantage is no longer conferred."
In the meantime, the Avs are one of the few teams cashing in thanks to Roy's progressive idea, and their very specific set of talents.
Comments
✕
Unique Team Traits: The Avalanche benefitted from Patrick Roy's aggressive goalie-pulling strategy
  Got something to say? Leave a comment below!