Unique Team Traits: The Bruins' Brad Marchand and Patrice Bergeron prove on-ice chemistry is real
Presented by

theScore's multi-part team previews include a look at something that separates each team from the pack. From specific breakouts to power-play formations and beyond, Justin Bourne and Thomas Drance hope to highlight something you haven't noticed in the past.
What we noticed
While Patrice Bergeron and Brad Marchand are valuable forwards in any circumstance, they're even better when they play together
Brad Marchand and Patrice Bergeron would be fine without one another. They would be top-six forwards on almost any team in the NHL, and they would still be smart, talented, and gritty, and all those things that make them great.
But together they form a machine-like, do-it-all duo who can play it anyway you want. They make each other better, and provide us with a legitimate example where "chemistry" is visible to the naked eye, and has the numbers to back it up.
A glance at "chemistry"
"Chemistry" is a funny thing. It's a nebulous, subjective concept, yet it can shape a player's career. Tyler Bozak "has it" with Phil Kessel, so he gets a dollar-sign emblazoned sack of cash and first-line minutes in hockey's biggest market. Chris Kunitz "has it" with Sidney Crosby, so he made Team Canada.
Would other players have had the success of those two given the same minutes? Almost certainly, but teams don't like to mess with success.
So, what is chemistry? 
A couple thoughts: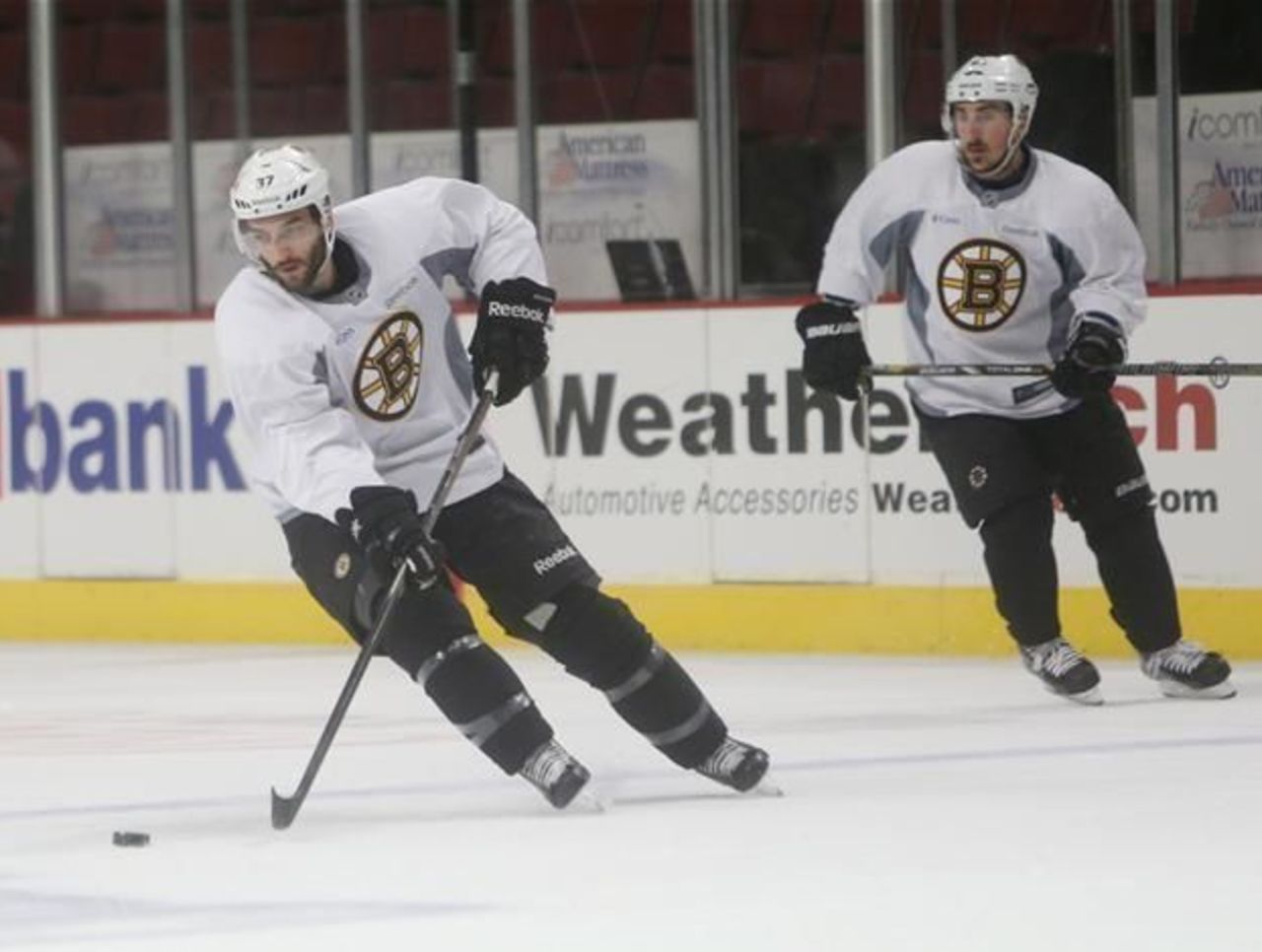 Hockey is as fast and violent as a sport can be, which means you're left to make a lot of split-second decisions. There are places where players are supposed to be, but guys have tendencies. If you throw the puck to where someone should be and they're elsewhere, you're in trouble. The more you play with someone, the less those glaring gaffes occur.
That said, some guys never get on the same page. While some players simply click (maybe a mucker works with a skill guy because he can get him the puck), others may never work (two cherry pickers and no passers).
It's a combination of familiarity and styles meshing naturally. While your average line simply exists, those with great and terrible chemistry - the two extremes - can greatly affect individual and team statistics.
Bergeron and Marchand are both cerebral, hard-nosed guys with touch who have more success when they play together than when they're apart, for whatever reason. Their "chemistry" acts as a mushroom to Mario, in that it expands both of their games and makes them better than they normally would be.
For opponents, that's bad news.
The numbers
Marchand has been Bergeron's most common linemate at even strength over the past three seasons (by more than 1,000 minutes), and has been on the Selke winner's right wing for 82.5 percent of Bergeron's total even-strength ice time. They even kill penalties together.
Apart:
Bergeron has played nearly 2,000 minutes over the past five seasons without Marchand on his wing, and to the surprise of no one he's performed at an elite level.
The Bruins have still outscored their opposition by a good margin when Bergeron is without his shadow, controlling 54.3 percent of on-ice goal events, and have dominated the flow of play to the tune of a 55.3 percent shot-attempt differential.
So yeah, he's been good.
Marchand has played just a hair more than 1,000 even-strength minutes without Bergeron during this time frame, and though the Bruins have outscored their opponents in those minutes, they've only controlled 48.1 percent of Corsi events.
Together: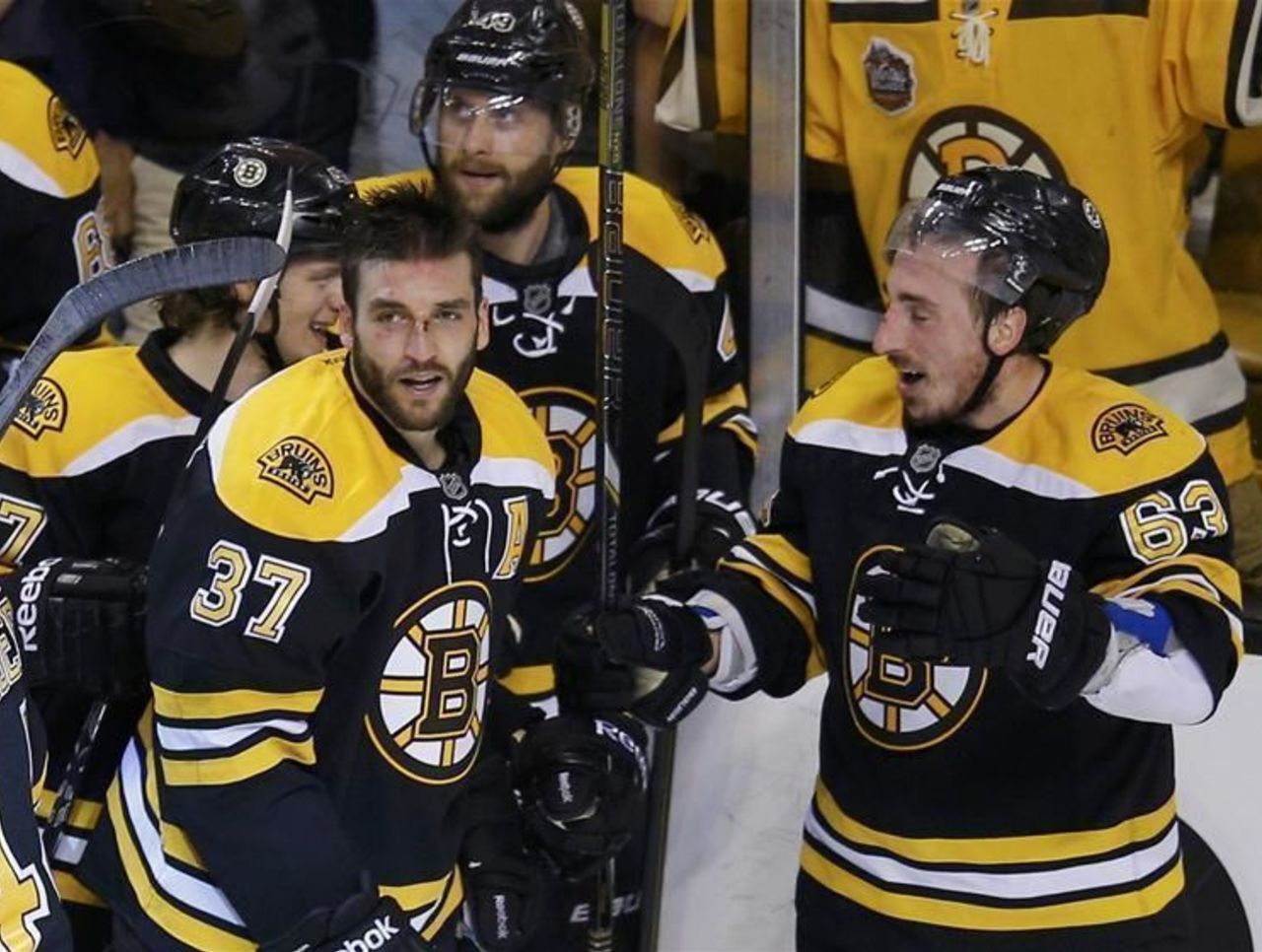 Combined, Bergeron and Marchand are a world-beating force. The two gritty forwards have logged 2,768 minutes together per stats.hockeyanalysis.com and have pummeled the opposition mercilessly. With Bergeron and Marchand on the ice together at even strength the Bruins have outscored opponents by a better than two-to-one margin and have controlled 60.3 percent of all shot attempts.
So yeah, they've been great.
Marchand appears to help Bergeron at both ends of the rink, as the Bruins score an additional even-strength goal per 60 minutes when he skates with Bergeron, as opposed to when Bergeron has other linemates. Boston is also almost seven shot attempts better per 60 minutes when Marchand and Bergeron are together then when Bergeron is without Marchand.
Those WOWY numbers ("With Or Without You," to the layman) might lead you to conclude that Marchand is something of a passenger on Bergeron's line, but the zone entry numbers paint a different story.
Through half of the 2013-14 season, Marchand led all Bruins skaters in controlled entries and appears to bear a hefty dose of his line's neutral zone burden. Two hundred of Marchand's 280 offensive zone entries through Jan. 19 occurred with control of the puck, so 71 percent of his entries were "controlled entries" - a mark matched by only 15 other regular NHLers last season (including Pavel Datsyuk, Alexander Ovechkin, Steven Stamkos, Taylor Hall, Matt Duchene, Patrick Kane, and eight other players whose names wouldn't surprise you).
The breakdown
Bergeron and Marchand have found chemistry through reliability and repetition, which speaks to their discipline. Watching Bergeron's positioning as a center is like listening to a virtuoso violinist. You're almost never, ever going to catch a mistake.
Part of the reason they drive play so well is that Bergeron is always coming from a position of defensive strength - low - and Marchand knows it.
The Bruins center is always presenting his blade to the passer while being in the perfect position to be an option if his winger gets the puck.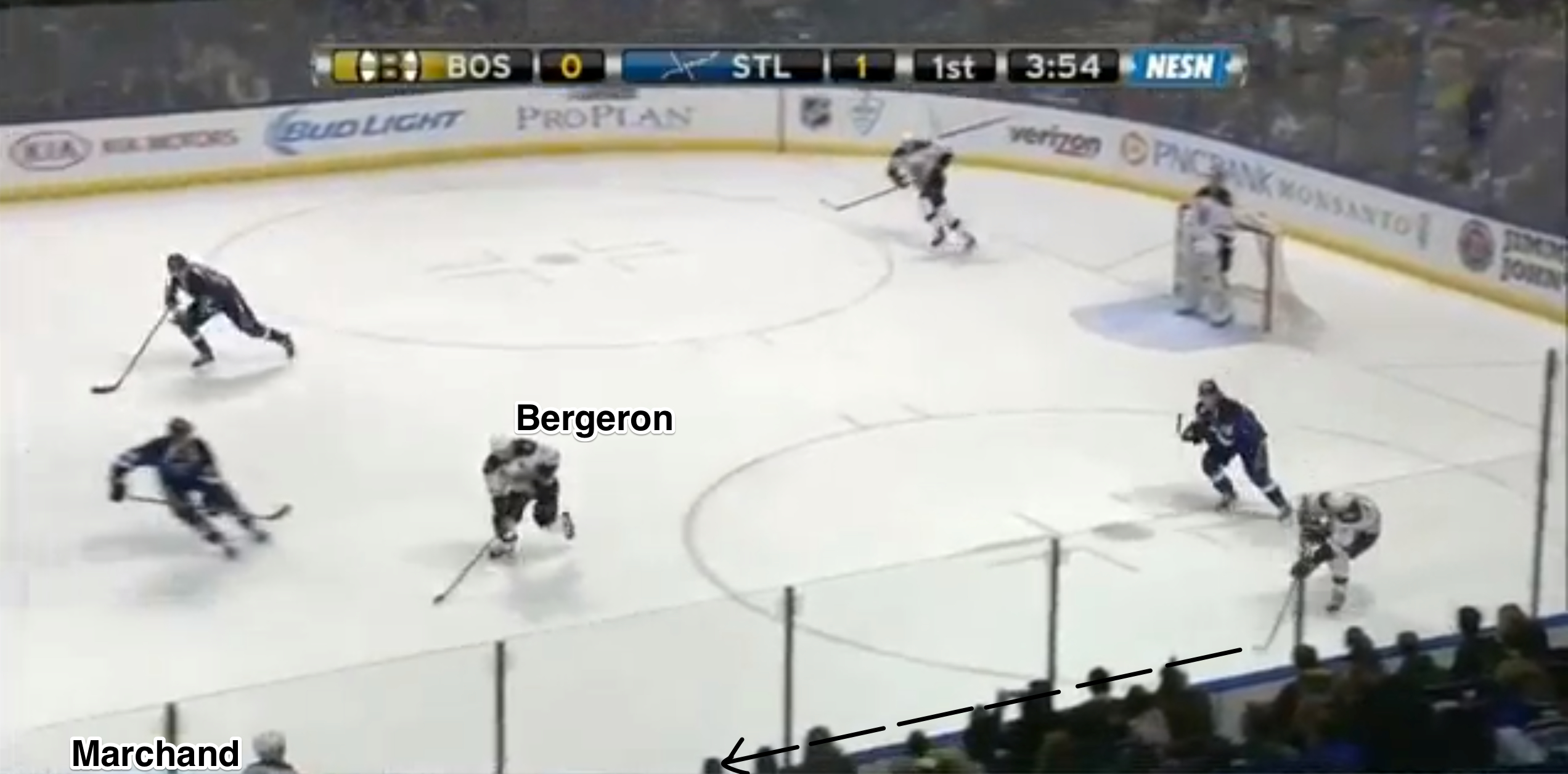 As you can see below, that reliability allows his winger Marchand to kick the puck to the middle, knowing he's going to be there.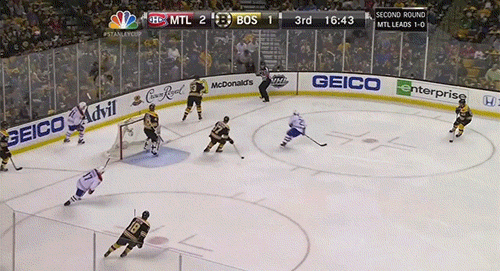 (Courtesy: NBC)
That can easily translate into shots at the other end for the two players who know each other so well.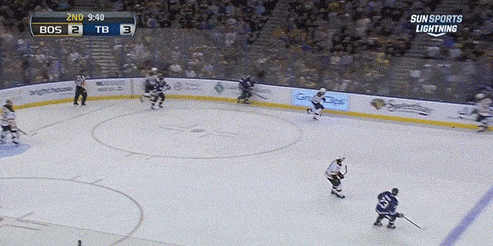 (Courtesy: SunSports)
It's that trust you build after months and years of knowing that your linemate is always going to be in the same spot. They play like they're in perfect bubble hockey tracks.
It's the same thing in the offensive zone.
The reliability of these two in keeping a high forward (F3) is remarkable. Where other players puck stare and struggle with the discipline of staying out of chasing the stupid black thing, these guys know that when they're in on the puck, they can go aggressive, because their linemate is going to be in a good defensive position, and in a soft spot for a shot.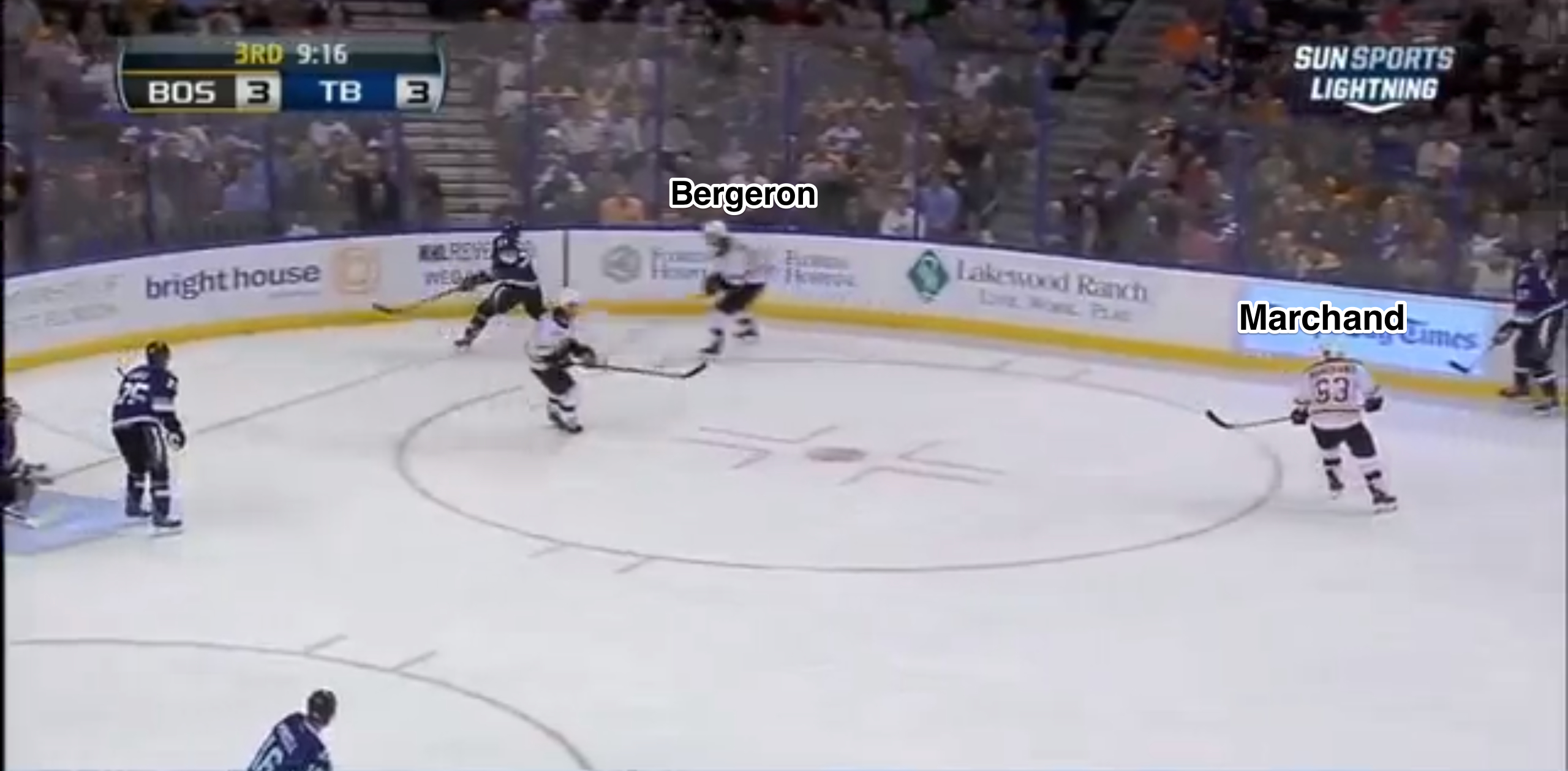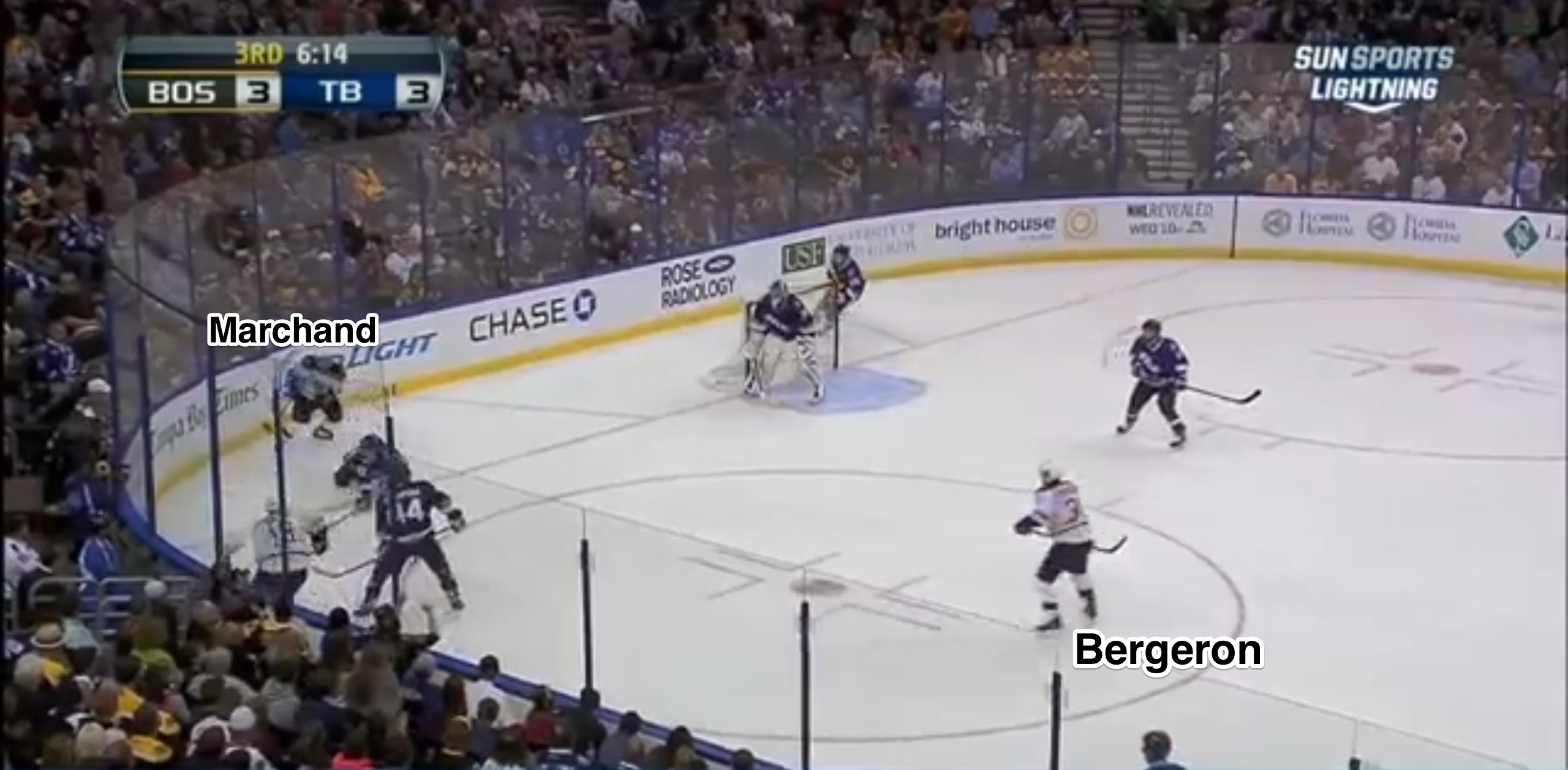 That trigger is always waiting.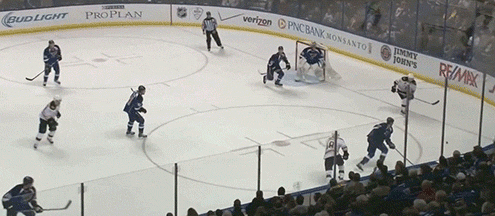 (Courtesy: NESN)
And finally, a bit of speculation: Bergeron is undeniably one of hockey's best faceoff men, but I'd be willing to wager Marchand is one of hockey's best faceoff wingers. One of his real strengths is winning puck battles, which allows Bergeron to slap pucks over to him (easier than trying to win it back clean), and still win a big share of those "ties."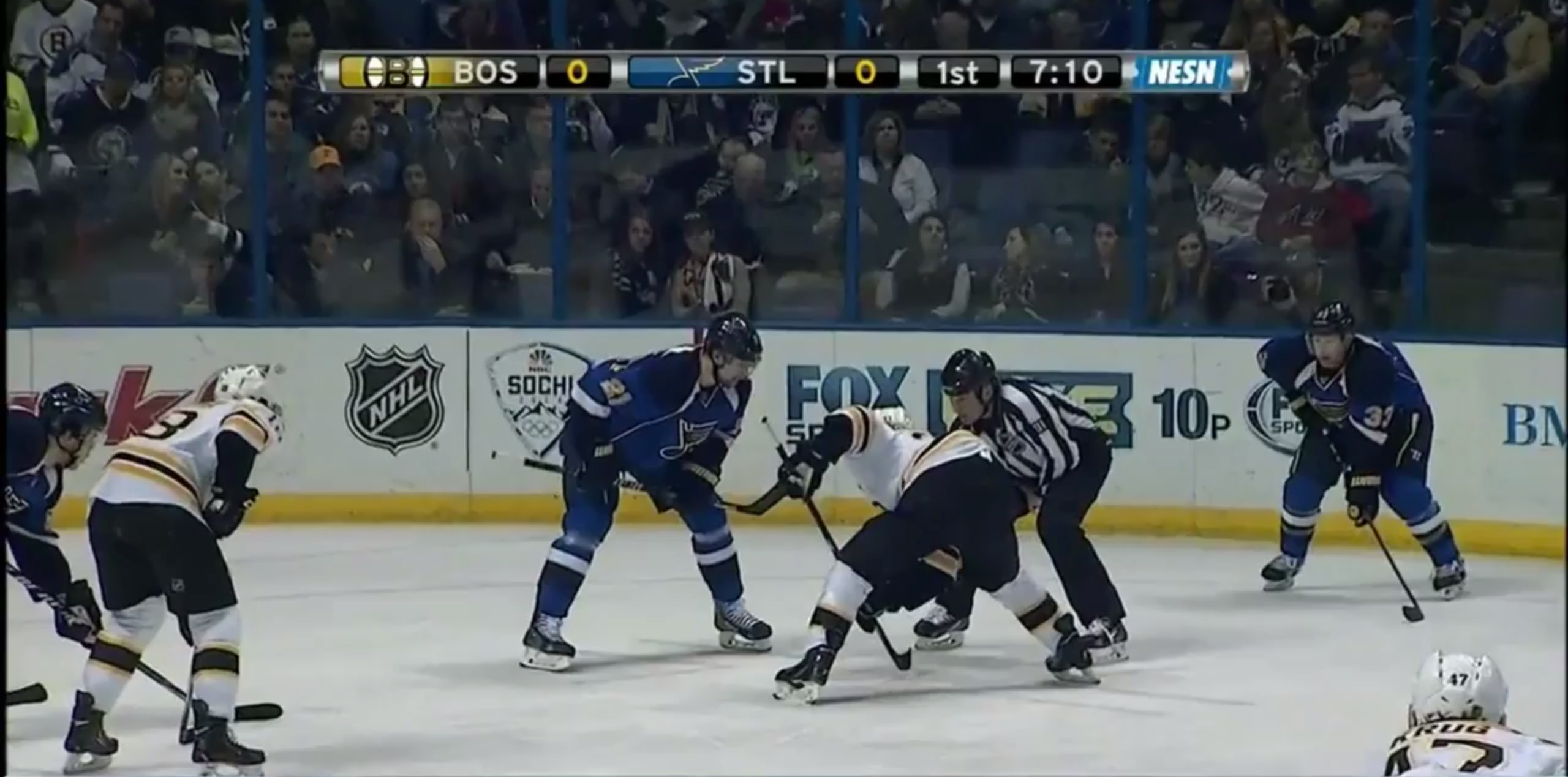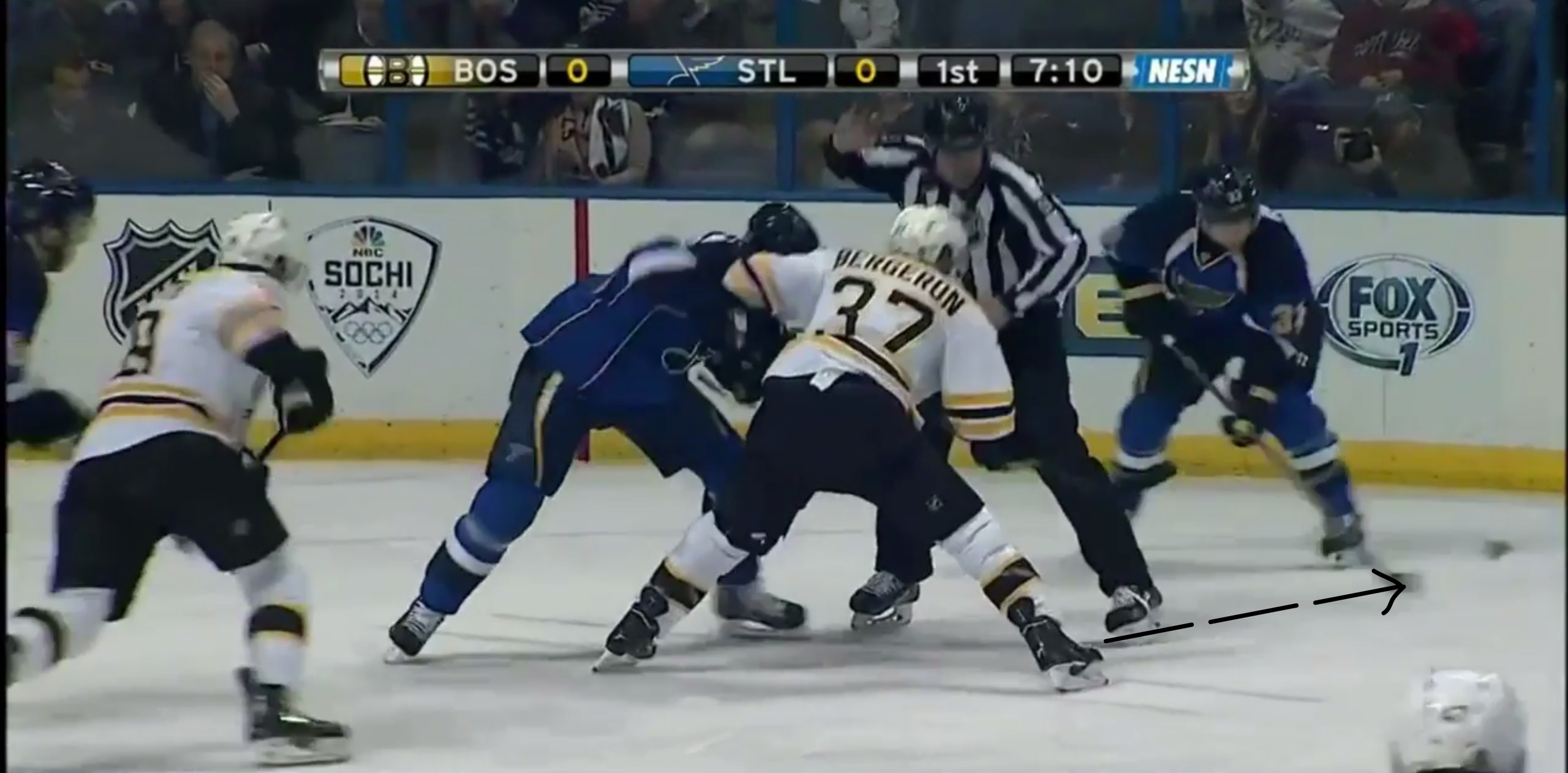 Bergeron is ready for it …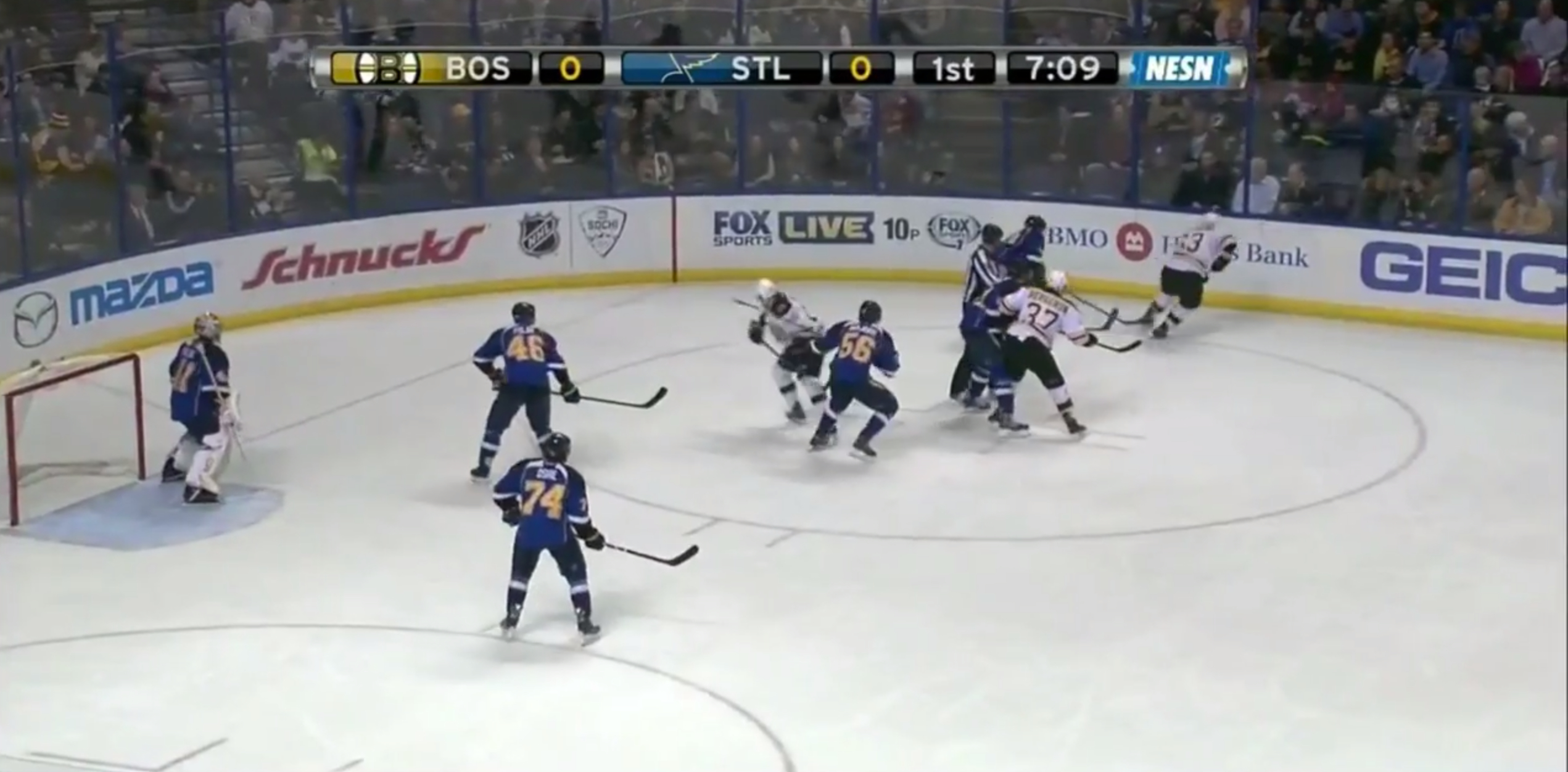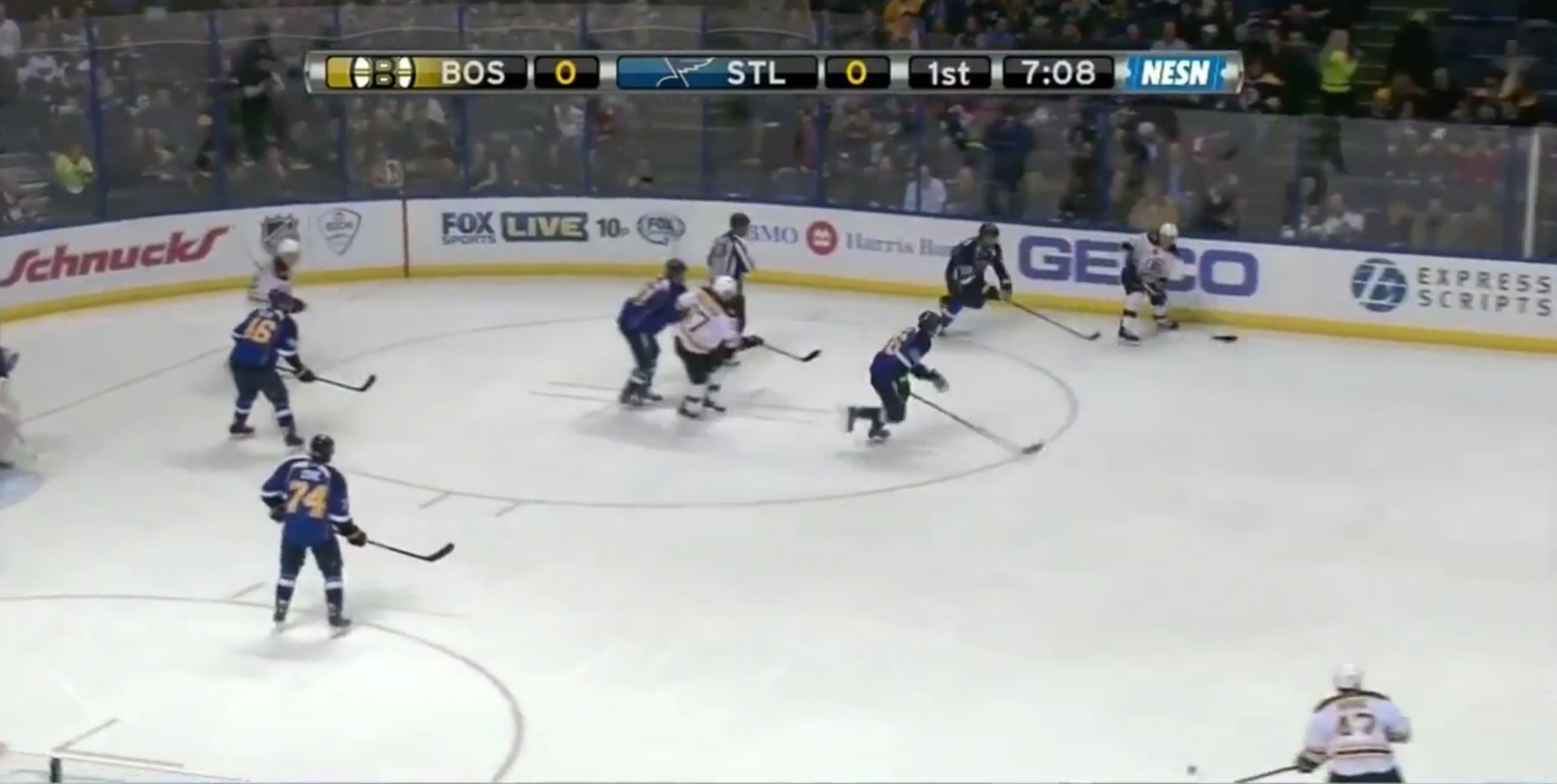 It's just another way they win possessions.
A disciplined player is an asset to a team because they can trust that one part of the plan is always in place. He becomes the rock, the guy to lean on, the default place to go with the puck under pressure because you know where he's going to be.
Marchand and Bergeron are that for each other and whoever is lucky enough to play with them.
Margeron, you're one heck of a couple.
Comments
✕
Unique Team Traits: The Bruins' Brad Marchand and Patrice Bergeron prove on-ice chemistry is real
  Got something to say? Leave a comment below!