Unique Team Traits: The Coyotes' power play used heavy rotation to keep penalty kills spinning
theScore's multi-part team previews include a look at something that separates each team from the pack. From specific breakouts to power-play formations and beyond, Justin Bourne and Thomas Drance hope to highlight something you haven't noticed in the past.
What we noticed
The Phoenix Arizona Coyotes had an issue. They weren't exactly knee deep in pure talent, and the talent they had didn't fit perfectly into the power play "handedness" mold - You know, the one the Philadelphia Flyers were poured out of, where everyone who touches the puck is set up to take a one-timer. As a result, they had to get creative.
When Ryan Kesler got hurt and the Canucks' power play went in the tank (22 percent when he played, 15 when he didn't), Vancouver let special teams coach Newell Brown go. Their loss was the Coyotes' gain.
The numbers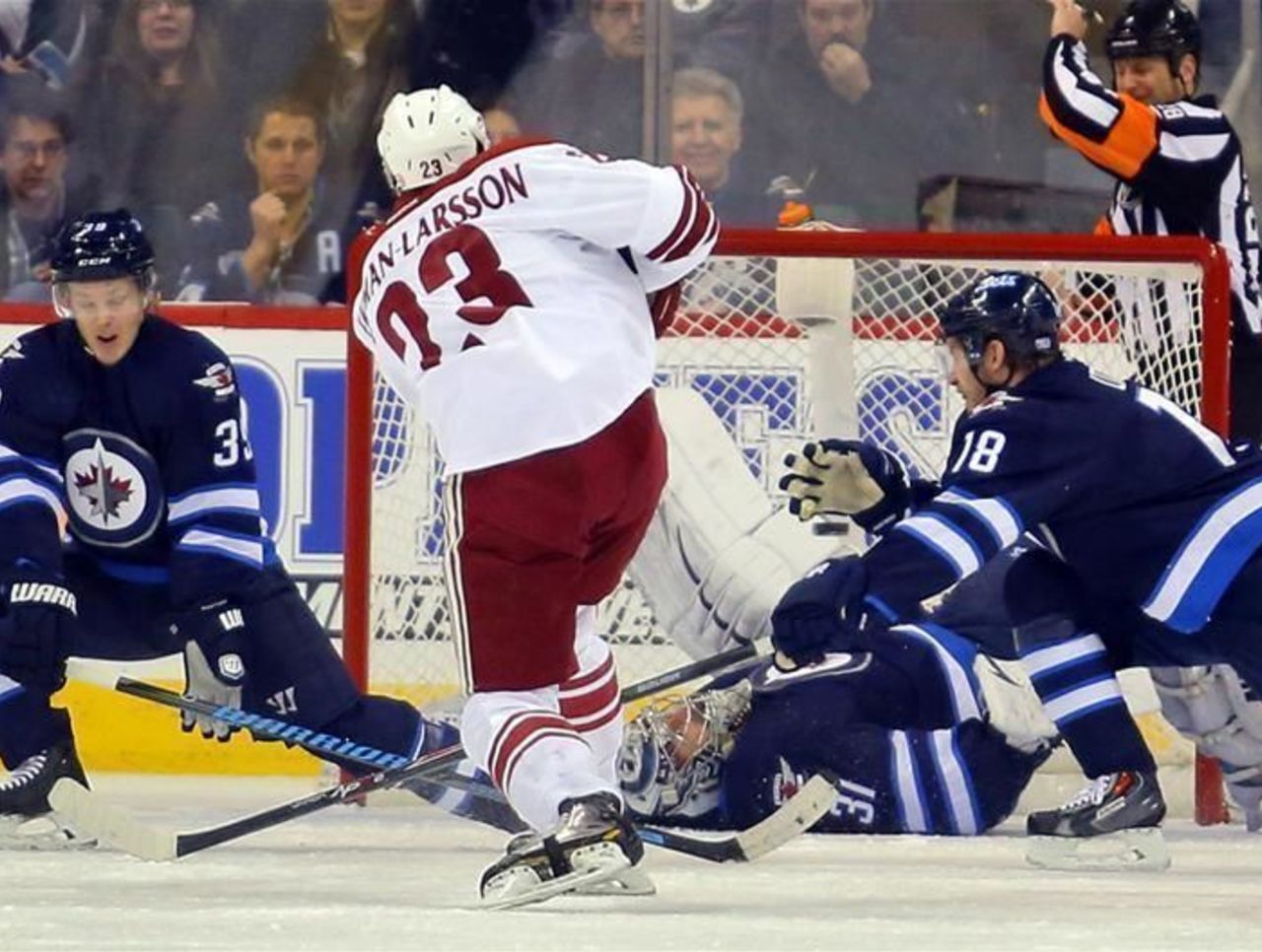 In his first season with the Coyotes, Brown improved their power play substantially. The club went from a sub-15 percent conversion rate during the lockout-abbreviated campaign to a near 20 percent conversion rate last season. Volume was a key improvement for the Coyotes, who improved by more than 10 shots per 60 minutes.
Shane Doan led the way among Coyotes forwards, and was actually the fourth most efficient 5-on-4 point producer (at least 150 minutes of 5-on-4 TOI) in the NHL last season behind only Nicklas Backstrom, Claude Giroux and Jussi Jokinen. He was also the fifth most efficient goal scorer on the power play (minimum 100 minutes of 5-on-4 TOI) behind only Zach Parise, Alex Ovechkin, Steven Stamkos and Joe Pavelski. That's heady company.
The Coyotes' defenders - primarily Oliver Ekman-Larsson and Keith Yandle - were obvious drivers from the back. Ekman-Larsson was 7th among NHL defenders who logged at least 150 5-on-4 minutes last season in goals-per-60, while Yandle was fourth in primary assist rate (behind only Mike Green, Kimmo Timonen and James Wisniewski).
The breakdown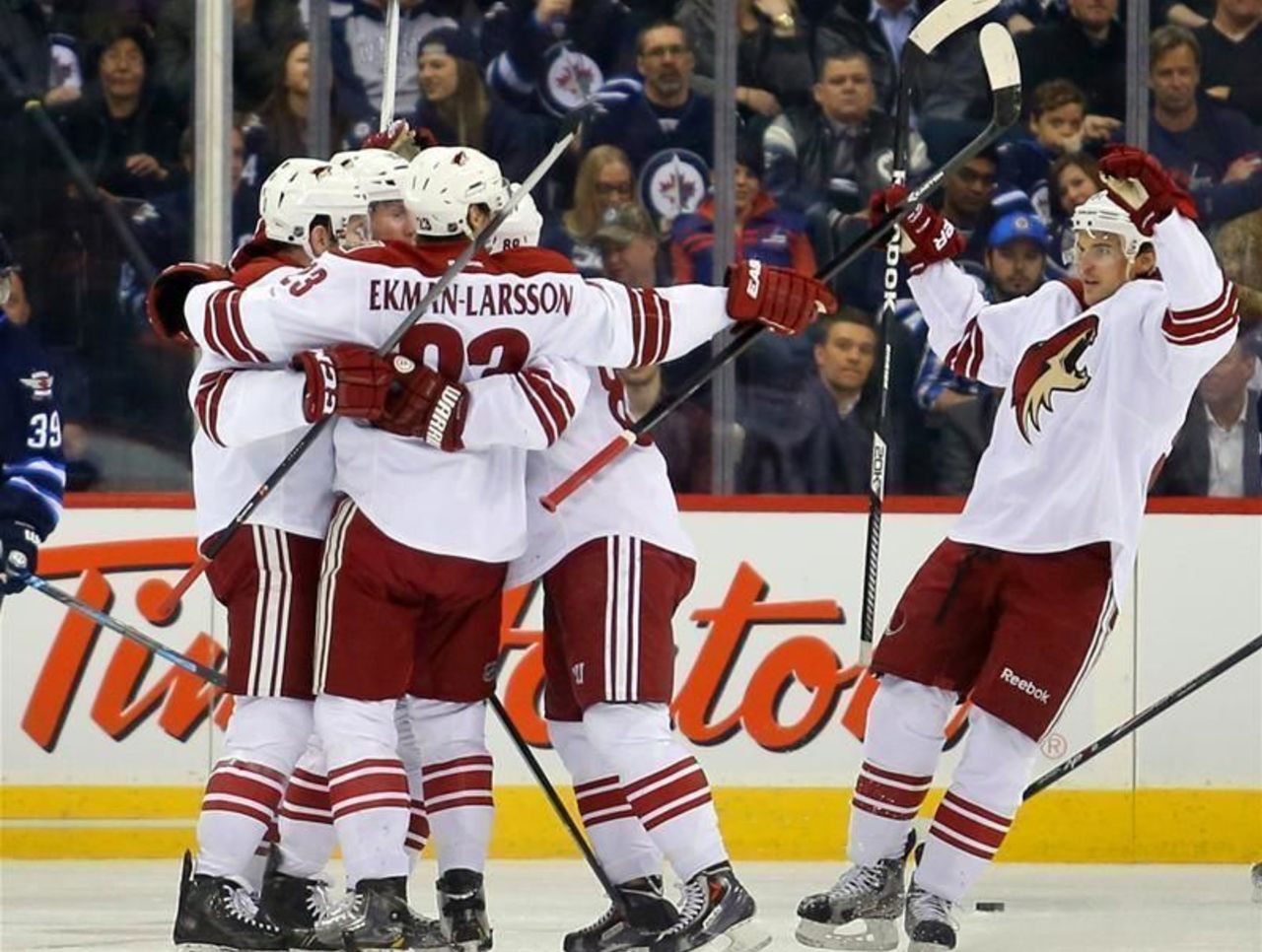 While their setup has been seen before - they appear to set up in a 1-3-1 of sorts - they use it fairly differently. Everyone's roles are expanded by a heavy amount of rotation. The "1" in front of the net doesn't just screen and tip, he also drops to the goal line on both sides to provide an option. The middle guy isn't just a shooter, he's also a distributor, and a high screen, and a rebound monger, and it won't always be the same guy for the whole power play.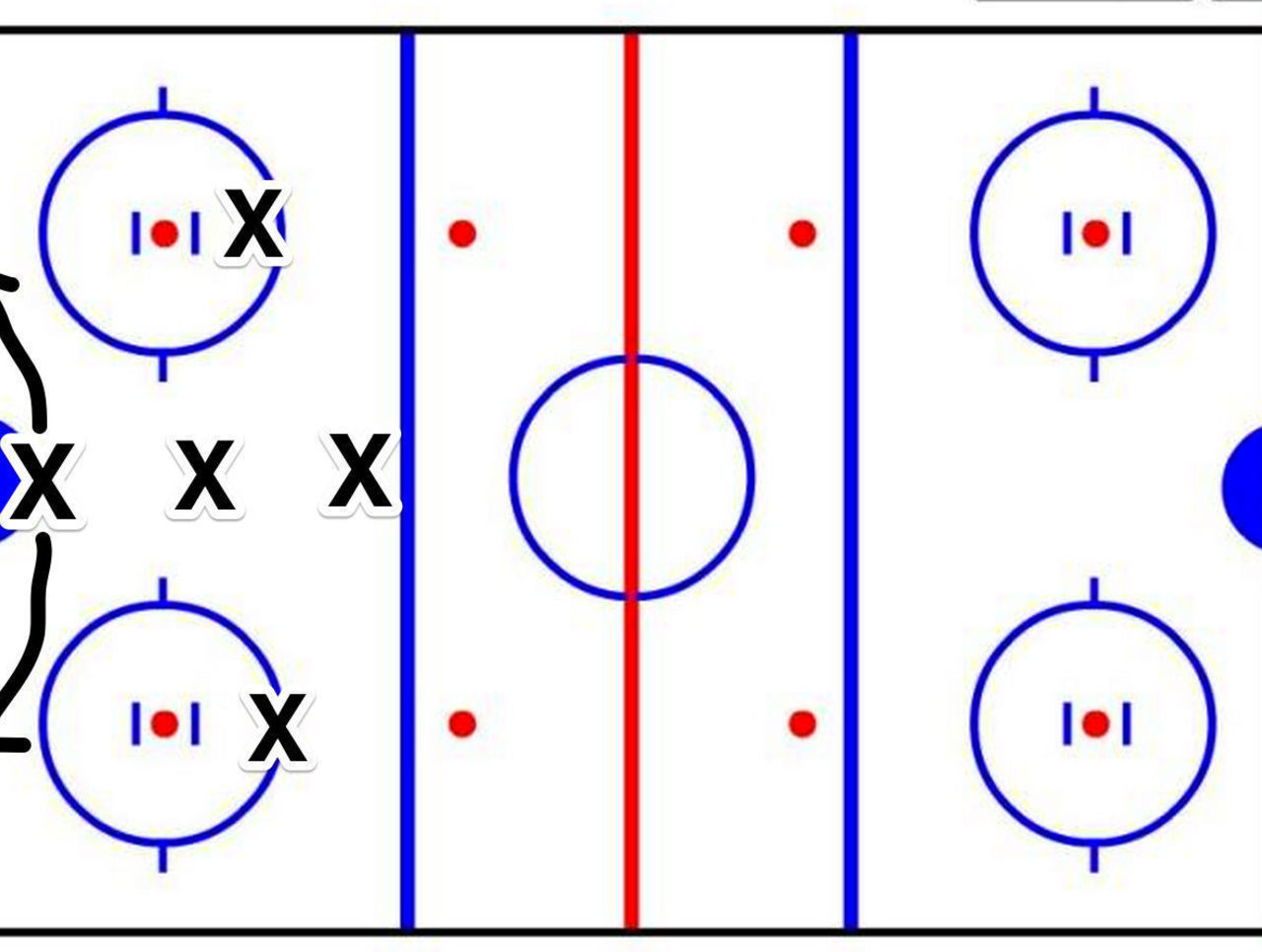 What's really cool is they use the middle forward as a pressure-release valve. The Sedins used to do this in Vancouver, you'll recall. No coincidence there.
He basically directs traffic by either moving the puck, or by skating at a teammate to signal a rotation. He may not be the right hand (given that they run it off both sides), but from where he's parked, he can move the puck out of trouble.
(Courtesy: Root Sports)
What's so interesting is Keith Yandle, above (No. 3), will play the QB up top, but they have him rotating so heavily that sometimes he'll be the shooter on either side, and sometimes they'll roll Radim Vrbata up and have him slot in as the middle guy. Check out this neat rotation: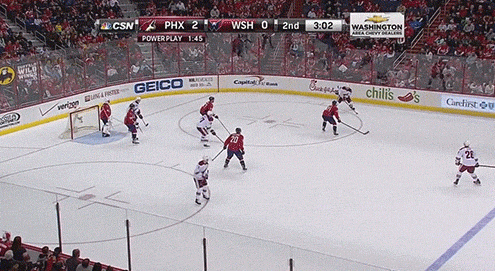 (Courtesy: CSN)
From there, Vrbata can give it to Yandle for a one-timer, shoot it or move it back up top. The above was well defended, but it's easy to confuse penalty kills by swapping out spots. The more times you can make people wonder "who's got who, here?" the better.
That player in the middle, as well as being a distributor, can (and will) drop down for screens and tips, which opens up the middle lane.
(Courtesy: Root Sports)
The Philadelphia Flyers run a power play that's based on having the perfect parts for the system.
The Coyotes weren't so fortunate, but they were always going to play Keith Yandle and Oliver Ekman-Larsson together, so they had to get creative. As you can see, they did, and in 2013-14 it worked out wonderfully.
Comments
✕
Unique Team Traits: The Coyotes' power play used heavy rotation to keep penalty kills spinning
  Got something to say? Leave a comment below!