Unique Team Traits: The Hurricanes powerplay was so bad it was offensive, which is ironic
theScore's multi-part team previews include a look at something that separates each team from the pack. From specific breakouts to powerplay formations and beyond, Justin Bourne and Thomas Drance hope to highlight something you haven't noticed in the past.
What we noticed
Carolina's powerplay was remarkably toothless, and coaching was to blame
It would be easy to pick on Kirk Muller and the Carolina Hurricanes power play … and I intend to. Good lord was it a trainwreck.
The Canes' powerplay finished 28th overall in 2013-14, scoring on a whopping 14.6 percent of their opportunities. At 5-on-4, they scored as many goals as the Buffalo Sabres. I mean, sometimes you just don't have the talent - that's Buffalo - and sometimes you're rolling Eric Staal, Alex Semin, Jeff Skinner, Justin Faulk, Andrej Sekera, and Ryan Murphy over the boards. Even a guy like Jordan Staal would be PP1 on the Sabres, who basically rolled out some combination of Tyler Ennis, Cody Hodgson, Drew Stafford, Gil from Simpsons, a shopping cart with a wonky wheel and Tyler Myers.
So, what was the problem?
Pretty simple answer here: head coach Kirk Muller.
De-optimizing your talent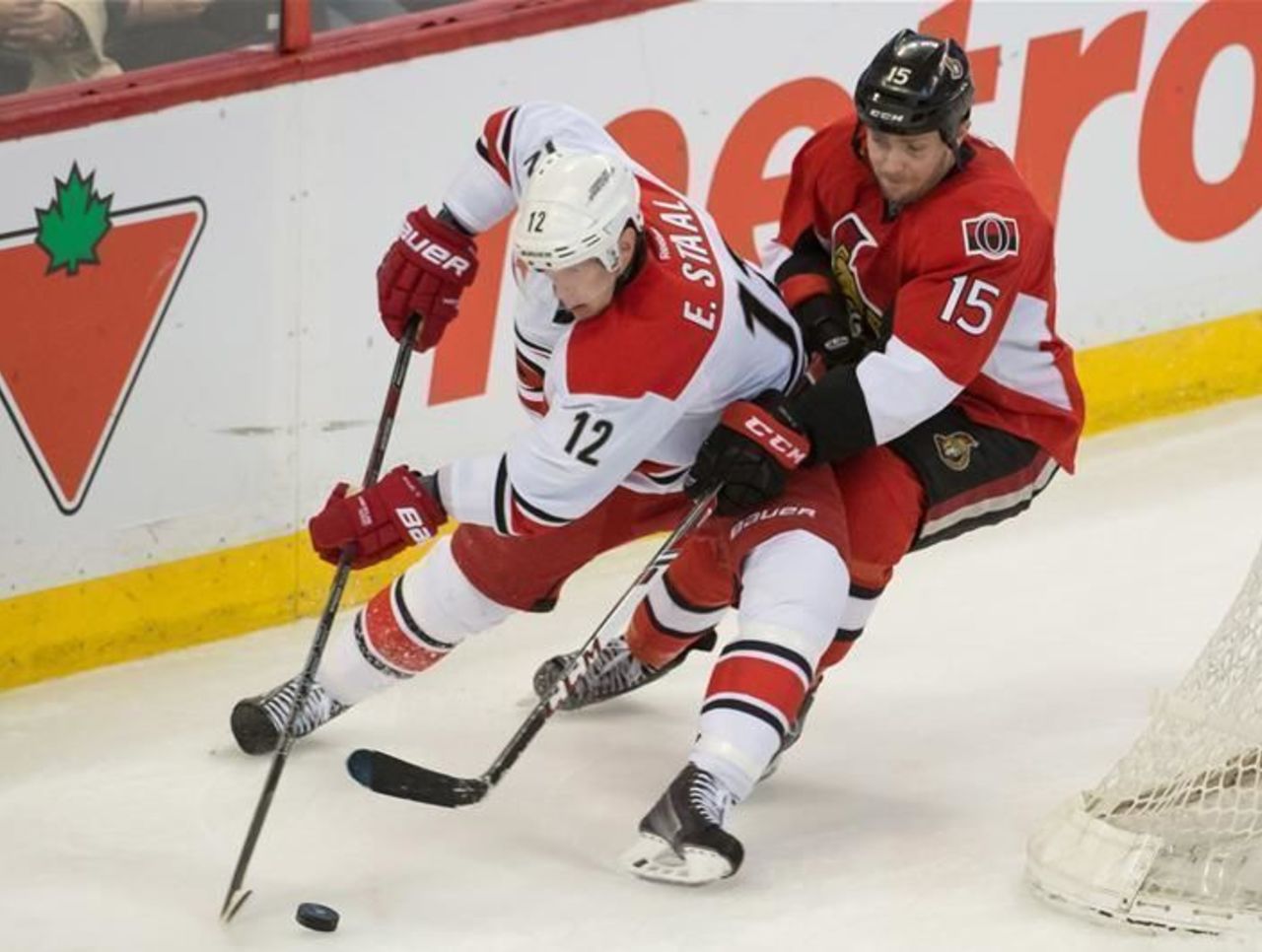 At 29-years-old and on the first powerplay unit with some real skill around him, Eric Staal scored one powerplay goal last season in 79 games. ONE. You, person reading this, could've matched that total given those minutes and that situation. And quite frankly, whether he even scored that goal or not is up for debate.
Fine, maybe it hit him. If anything, that's a powerplay goal only technically.
Here's Staal's powerplay goal output by year for his career. Kirk Muller took over in 2011-12:
| Season | GP | PP |
| --- | --- | --- |
| 4/1/2003 | 81 | 2 |
| 6/1/2005 | 82 | 19 |
| 7/1/2006 | 82 | 12 |
| 8/1/2007 | 82 | 14 |
| 9/1/2008 | 82 | 14 |
| 10/1/2009 | 70 | 13 |
| 11/1/2010 | 81 | 12 |
| 12/1/2011 | 82 | 7 |
| 2012-13 | 48 | 3 |
| 2013-14 | 79 | 1 |
So, you know, things have fallen off considerably for their team's 8.25 million dollar team captain, and that situation needs to be rectified.
Let's look at the problems.
The breakdown
The Hurricanes badly struggled to get in the zone and get set-up this season (a penchant for dumping the puck in while up a man might have something to do with that), but today we'll focus on the worst powerplay set-up in the NHL. I believe if you chucked five talented players on the ice against four with no structure, they'd be better off than standing around in this formation.
The Hurricanes run an overload without a trigger, which is sort of like having a gun without one.
Instead of your standard overload...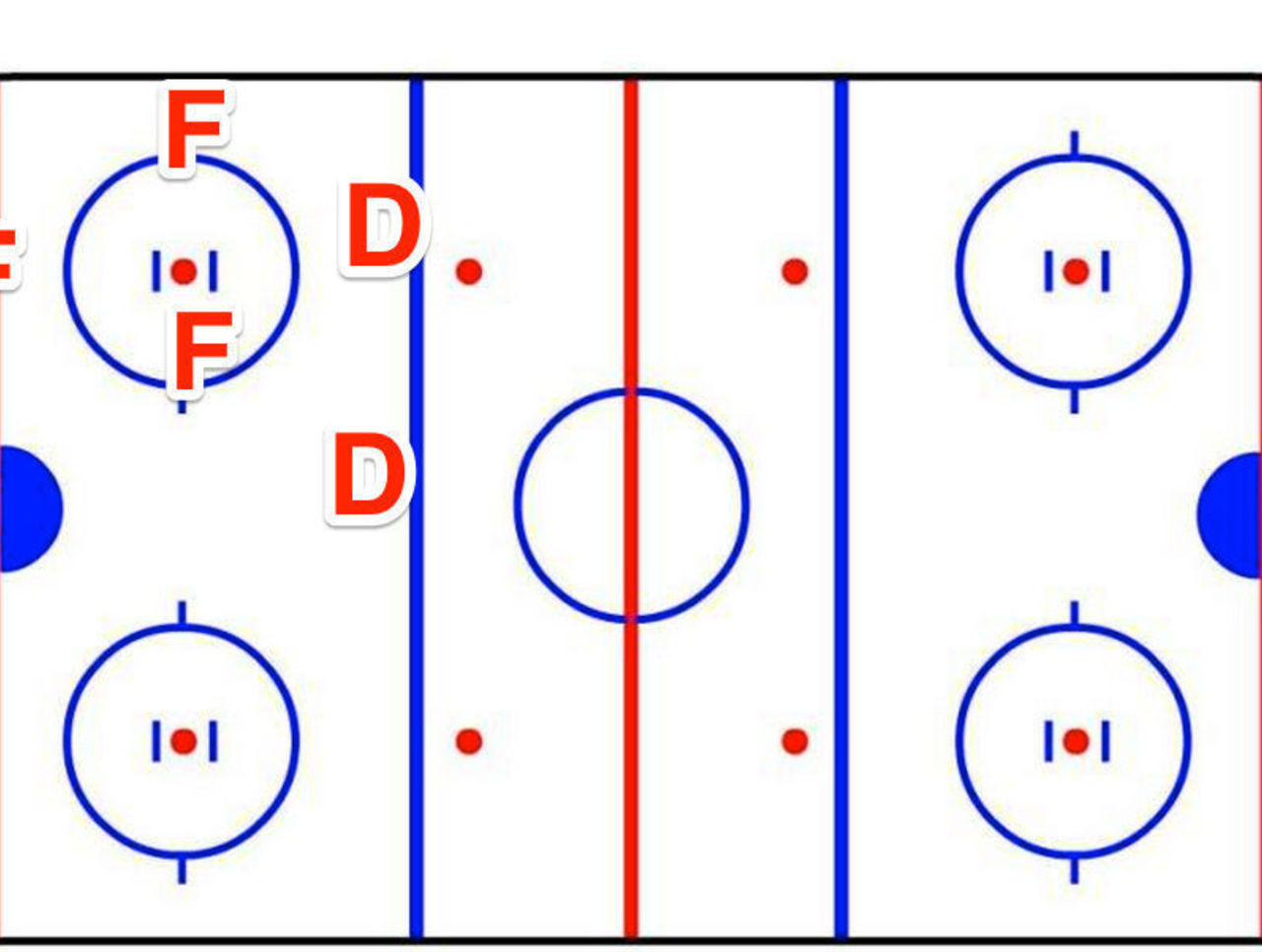 ...They set-up like this: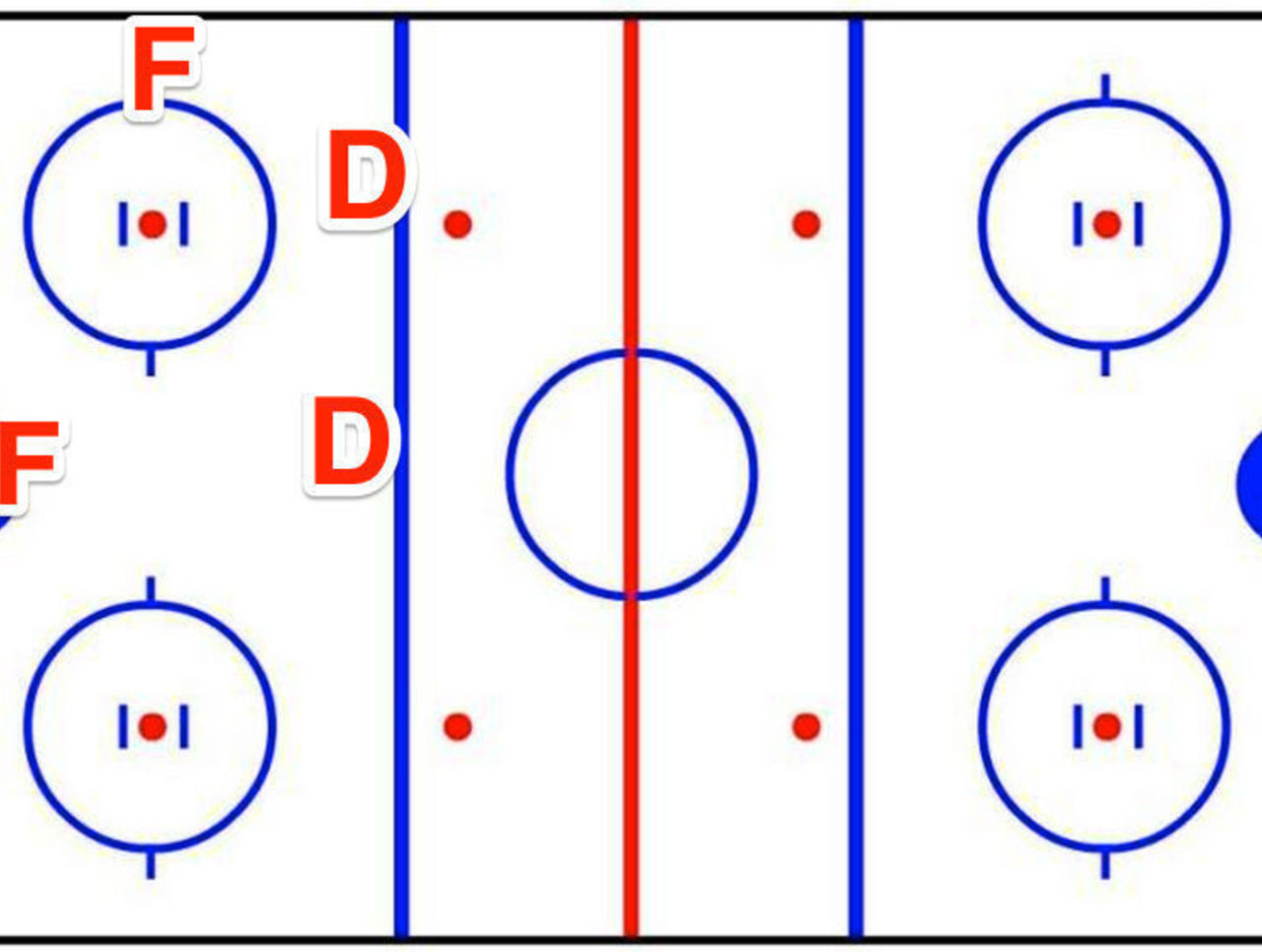 This eliminates two pretty significant options - the wall to slot pass, and the goal line to slot pass, both of which pull defenders out of position - and allows the team killing to play in man-on-man coverage, as Carolina has willingly tucked a guy in the corner who needn't be covered.
As we've seen in the case of the Philadelphia Flyers and their beautiful PP, having a player in the slot - a trigger - doesn't limit you from also having a man screen the goalie (which seems to be what Carolina's after), and in fact, it often provides a double screen.
What the Canes have done is stuck Eric Staal - a left shot, who would be a really really great Scott Hartnell-esque trigger if they ran this set up off the other side, by the way - either in front of the net or in the corner.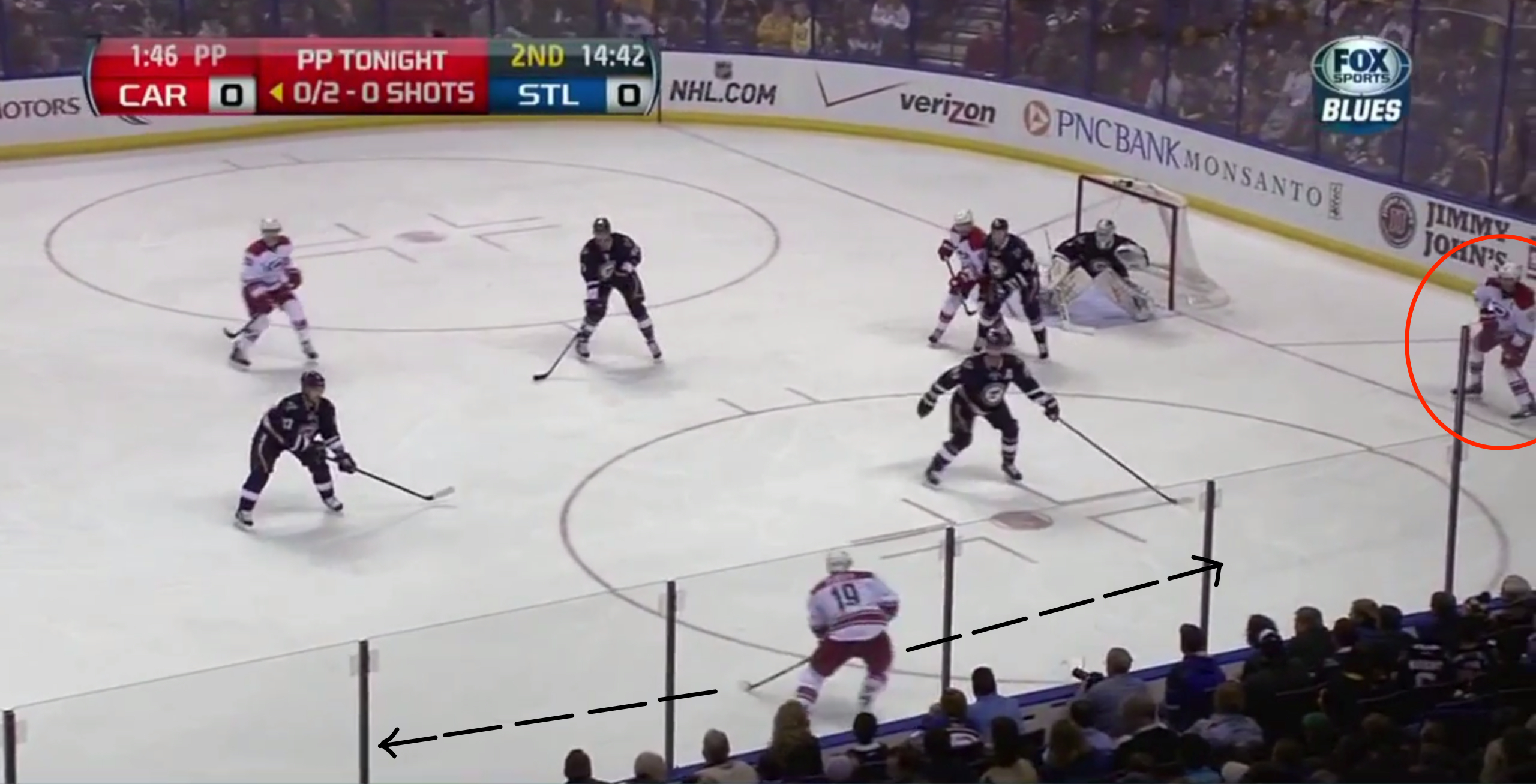 The idea here, is that they'll have the off-side defenseman drift in and out of the slot depending on who has the puck, but with the Canes stashing that guy in the corner who's not a threat until he gets the puck and tries to take it to the house (which will just see the killing winger collapse on him anyway), the Blues have the numbers to defend him.
What that means is, the winger on the wall has three options - give it to the guy in the corner, who's a minimal threat at best and has no passing options but a give back - he can shoot through a screen, but his lane is being fronted, or he can move it up top.
Here's what ends up happening.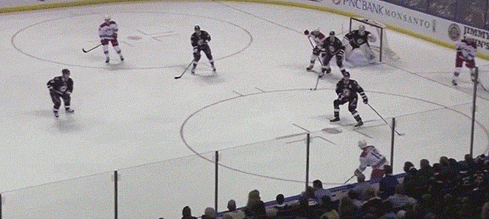 (Courtesy: Fox Sports)
Basically they run out the clock until someone decides to force a play towards the net.
As I mentioned earlier, their top unit rarely got set up - partially thanks to Alex Semin's strategy with the puck when he crossed the blue line on the PP…
...and partially thanks to a formation that forces two forwards to nearly stop before the puck crosses the blue, which kills their momentum. But even when everything went their way and they did get established with possession, it all sort of looked the same. Minimal movement, few options, and zero creativity.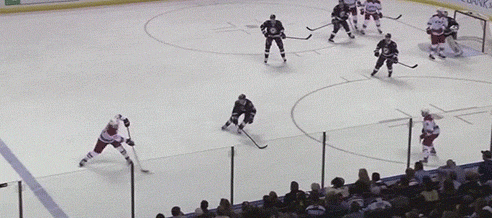 (Courtesy: Fox Sports)
It's an utterly toothless setup.
They abandoned it partway through the year in favor of a 1-3-1 that also proved ineffective, then curiously came back to the same hopeless look.
The solution
Kirk Muller was let go following his third season with the Canes, after seeing his powerplay finish 20th, 27th and 28th. With that move came Bill Peters, who immediately identified the issue and highlighted it.
The Canes' beat writer passed the message along after an interview with the team's new coach:
It's safe to say the power play will see a major overhaul this season.
Carolina has really nice tools at their disposal. They boast Semin's shot, Staal's size and skill, some talented D-men, and a creator/finisher in Jeff Skinner. There's no reason this team should be so feeble on the powerplay going forward. I expect they won't be.
Comments
✕
Unique Team Traits: The Hurricanes powerplay was so bad it was offensive, which is ironic
  Got something to say? Leave a comment below!
BOS
Bruins
5-12-0, 6th Central
STL
Blues
13-4-0, 2nd Atlantic
MTL
Canadiens
5-7-0, 2nd Central
TOR
Maple Lefs
10-6-0, 2nd Atlantic
MTLTEST
Canadiens
5-7-0, 2nd Central
TORTEST
Maple Lefs
10-6-0, 2nd Atlantic