Winnipeg Jets: 3 storylines to watch this season
theScore's NHL editors take a look at three storylines to watch for each NHL team heading into the regular season.
Evander Kane: heel or hero?
Evander Kane is by far the most polarizing member of the Winnipeg Jets. It's impossible to deny his talents on the ice, but it seems like everything he does off the ice leads to questions about his attitude and commitment.
Selected fourth overall in 2009, Kane has 99 goals and 200 points in 324 career games. He turned 23 in August and his best seasons are likely ahead of him, but the seemingly ceaseless storm of controversy that follows him made him the subject of trade rumors on more than one occasion, including the most recent offseason.
There was the time Kane was publicly accused of pulling a dine-and-dash at a local restaurant. Or the time Kane tweeted a photo of himself holding stacks of money in Las Vegas and fans responded by calling it "disgusting," among other things. He had to apologize for using homophobic language in a tweet during a basketball game, and a joking public exchange with teammate Blake Wheeler turned into a mini fiasco.
Kane regressed last season, missing 19 games and scoring 19 goals to match the total from his sophomore season in 2010-11. Regardless of what fuels the negativity surrounding his image, the best way he can overcome it is by being productive on the ice. 2014-15 could be a defining season in Kane's career.
Pavelec has plenty to prove
As the Jets have reiterated time and time again, Ondrej Pavelec is their starting goaltender, but it's becoming increasingly difficult for them to justify that decision.
Pavelec has spent his entire career with the franchise, appearing in 288 career contests and posting a save percentage of .906. He has more losses (125) than wins (113) and has recorded one shutout since the end of the 2011-12 season.
Here is how Pavelec's even-strength save percentage compares against other starting goaltenders who played at least 2,400 minutes last season: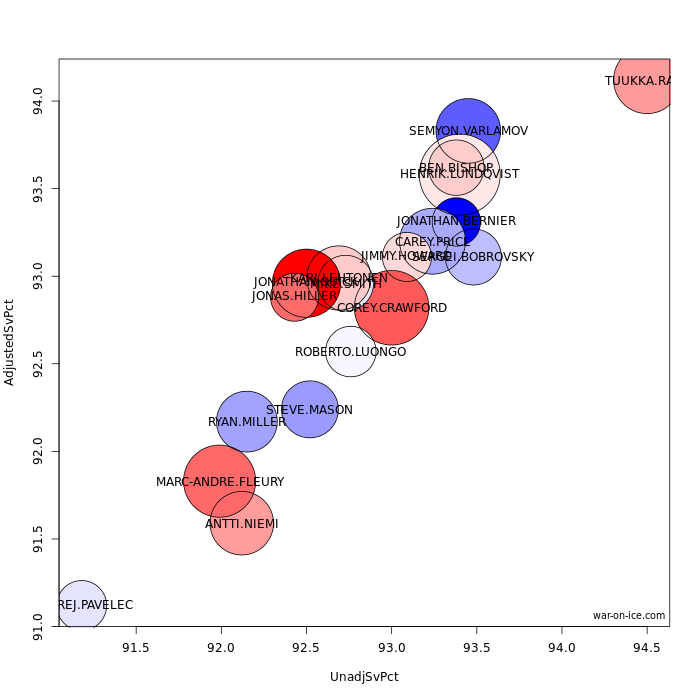 [Courtesy: war-on-ice.com]
Pavelec was outperformed by Winnipeg backup goaltender Al Montoya in 2013-14. Montoya signed a deal with the Florida Panthers in the offseason, while the Jets hung onto backup Michael Hutchinson, who will make $575,000. Pavelec is under contract for the next three seasons at a cap hit of $3.9-million.
Simply put: the numbers are not pretty for Pavelec. And it's not as though the sample size is too small to judge his body of work. At 27-years-old, Pavelec is running out of time to turn into the starting goaltender Winnipeg keeps insisting he is.
Staying afloat in a tough Central Division
The biggest obstacle to a successful Winnipeg season is completely beyond the team's control.
The Jets complained about their travel schedule when the franchise was still in the Southeast Division after relocating from Atlanta, but last season's realignment landed them in arguably the toughest division in the NHL.
Along with Winnipeg, the Central Division contains the 2010 and 2013 Stanley Cup champion Chicago Blackhawks, a St. Louis Blues team that set a franchise record for wins last season, a young Colorado Avalanche team coming off a division title, a rebuilt and dangerous Dallas Stars squad, a Minnesota Wild team riding a streak of two straight playoff berths, and a Nashville Predators team ready to rebound with a new coach after a season lost to injuries.
It's difficult to make a case for the Jets being better than any of those other six franchises. Nashville is the only team that comes close, but they have a decisive edge if Vezina candidate goaltender Pekka Rinne is healthy. 
Winnipeg will play more than a third of its season (29 games) within the division, which could be enough to eliminate the Jets from realistic playoff contention regardless of how they fare against the rest of the league,
Comments
✕
Winnipeg Jets: 3 storylines to watch this season
  Got something to say? Leave a comment below!