Unique Team Traits: The New York Islanders were far too permissive at their own blue line
theScore's multi-part team previews include a look at something that separates each team from the pack. From specific breakouts to powerplay formations and beyond, Justin Bourne and Thomas Drance hope to highlight something you haven't noticed in the past.
What we noticed
The Islanders allowed opposing teams to gain their blue line too easily
When your goaltending is as shaky as the 2013-14 New York Islanders - the club's three tenders posted save percentages of .891 (Kevin Poulin), .896 (Anders Nilsson), and .905 (Evgeni Nabokov), all well below average - you'd like to play in your zone as little as possible.
Obviously that means you'd like to control the puck, so when you don't have it, you'd like to get into opponents immediately and nip their possession time in the bud. You'd like to keep them out of your zone entirely, actually.
Only, the Islanders were terrible at that last year.
Bad combo.
How on-ice decision-making leads to numbers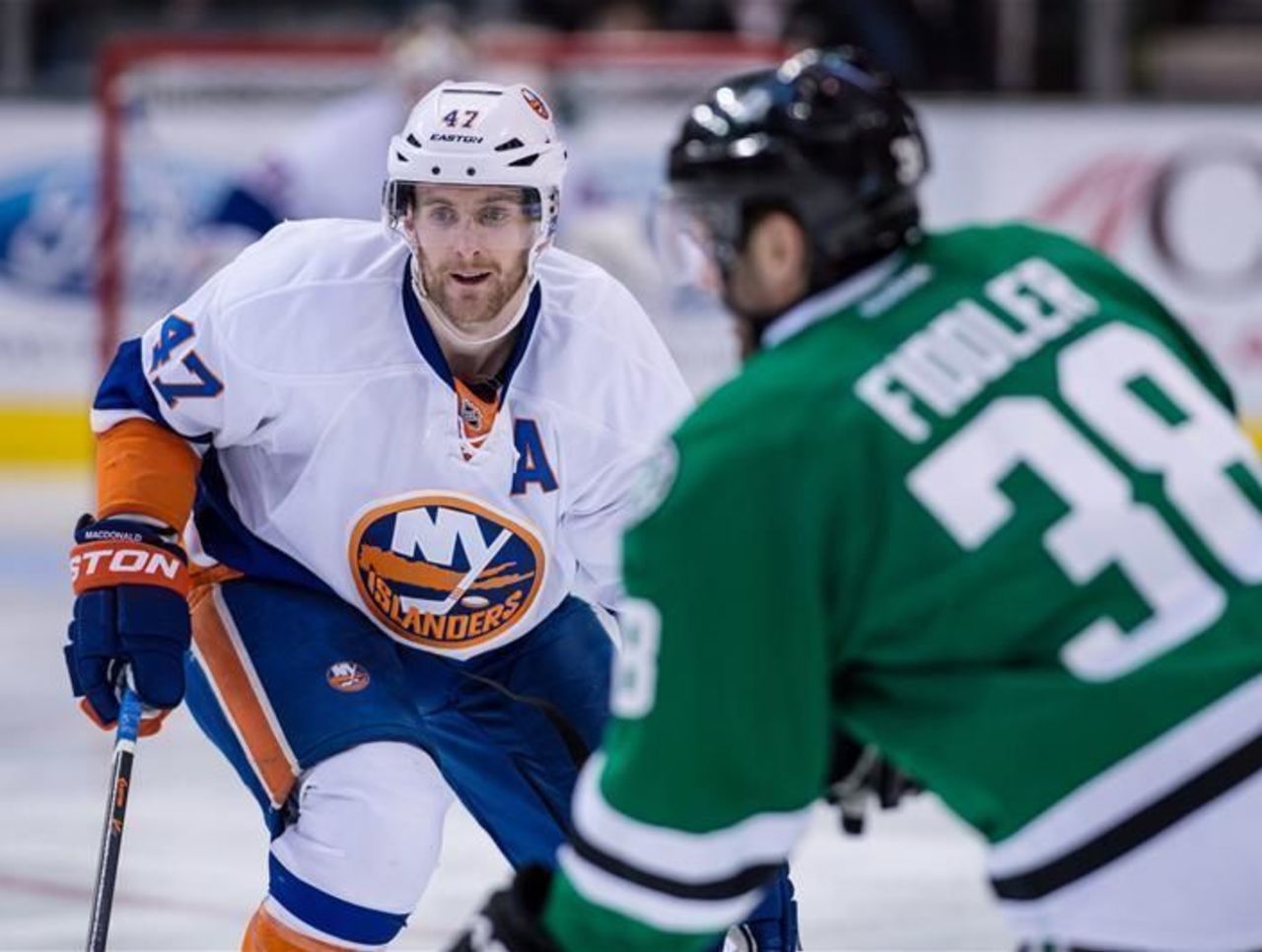 When skating through the neutral zone with the puck and trying to gain the opposing blue, most forwards will take what they're given. That means if one D-man is backed farther off, they'll generally head towards him. If both are, they'll carry the puck in. If they're pressured, they'll look for a pass, and if they don't have one, they'll dump it deep.
That's why zone entry data is so interesting. The numbers give us neat context for how defenders play. We know players are going to go at Zdeno Chara less than his partner (call that fear-based offense), but before we had the numbers we didn't know that Thomas Hickey only allowed opposing players to carry the puck in 51.3 percent of the time, while teammate Andrew MacDonald allowed carry-ins at a rate of 70.6 percent.
That may be partly defending (gap control?) and partly playing style (attacking versus a preference for fronting shots?), but the numbers help us pick up interesting tidbits about players we might have otherwise missed.
(We have this info thanks to Corey Sznajder, who embarked on the massive project of tracking every zone entry and exit from every game last season. A big thanks to him for the help; you can donate to his project here.)
Coaching, with Jack Capuano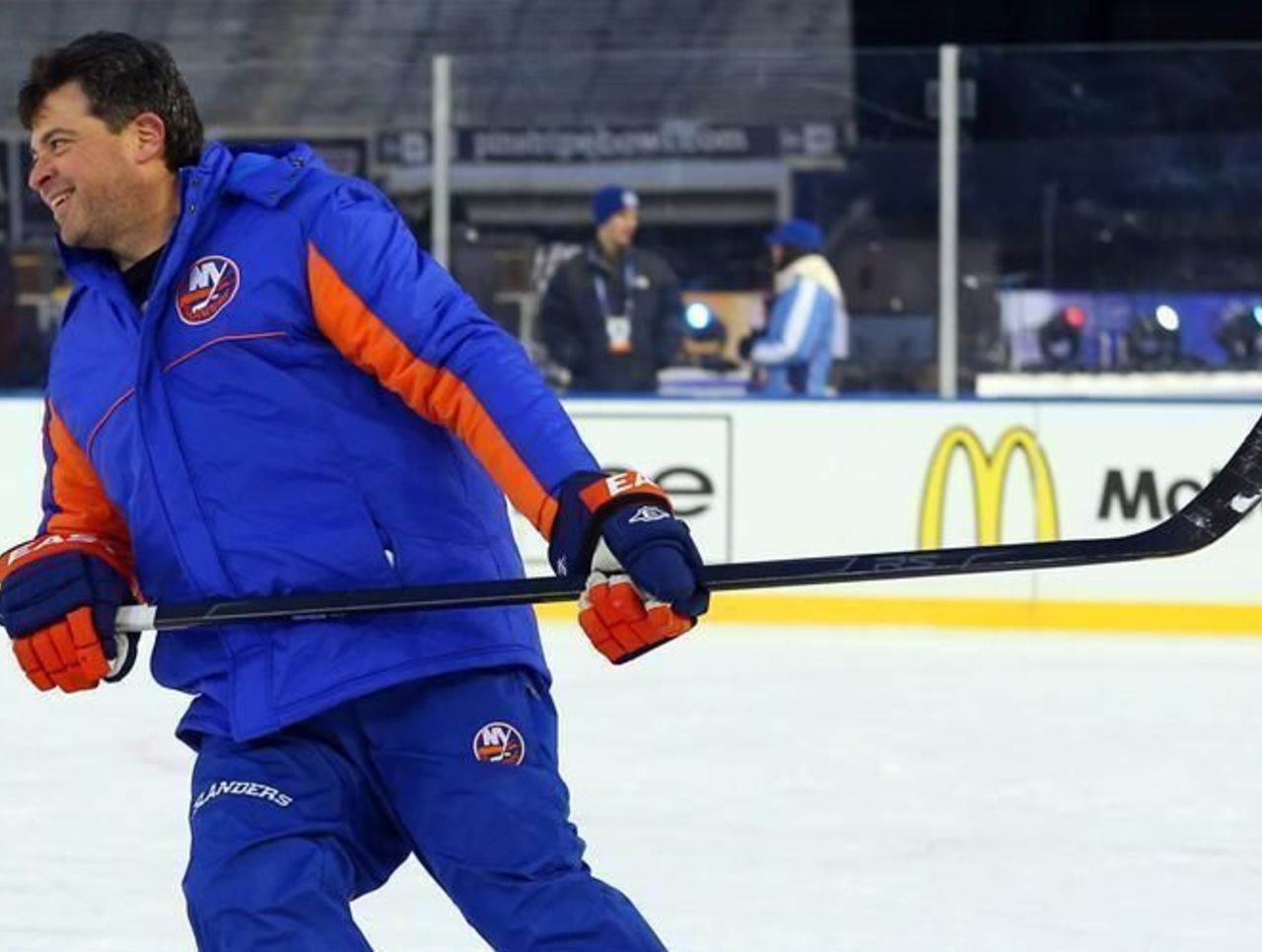 I spent a few months playing under now-Islanders coach Jack Capuano (and even got in 16 whole games!), and that's left me certain that his preference wasn't to play a passive defensive style that would leave his team 27th in the NHL in "carry-in against percentage" off rushes.
Cappy is old school. He wants you to get into guys and hit them early, and hit them often. The Islanders finished fourth in road hits (again, we use road hits to factor out home scorer bias) partially thanks to this directive.
You're seeing the growing roles for players like Calvin de Haan and Travis Hamonic on the back-end; its no coincidence that those guys are 1-2 among Isles defensemen in hits.
On the backcheck, Cappy wants the first forward back pressuring the puck carrier if possible (or at least he did in 2008), which should provide some distraction and limitation for that player, and should allow the Isles defensemen to be aggressive, stand up at the blue line, and cause some turnovers (or at least dump ins).
Check below. Good puck pressure by Kyle Okposo, and the D-man has his outside shoulder lined up with the forward's inside shoulder, so he's in a good position to close him off and make him unload it. (The rush below ended in a dump in.)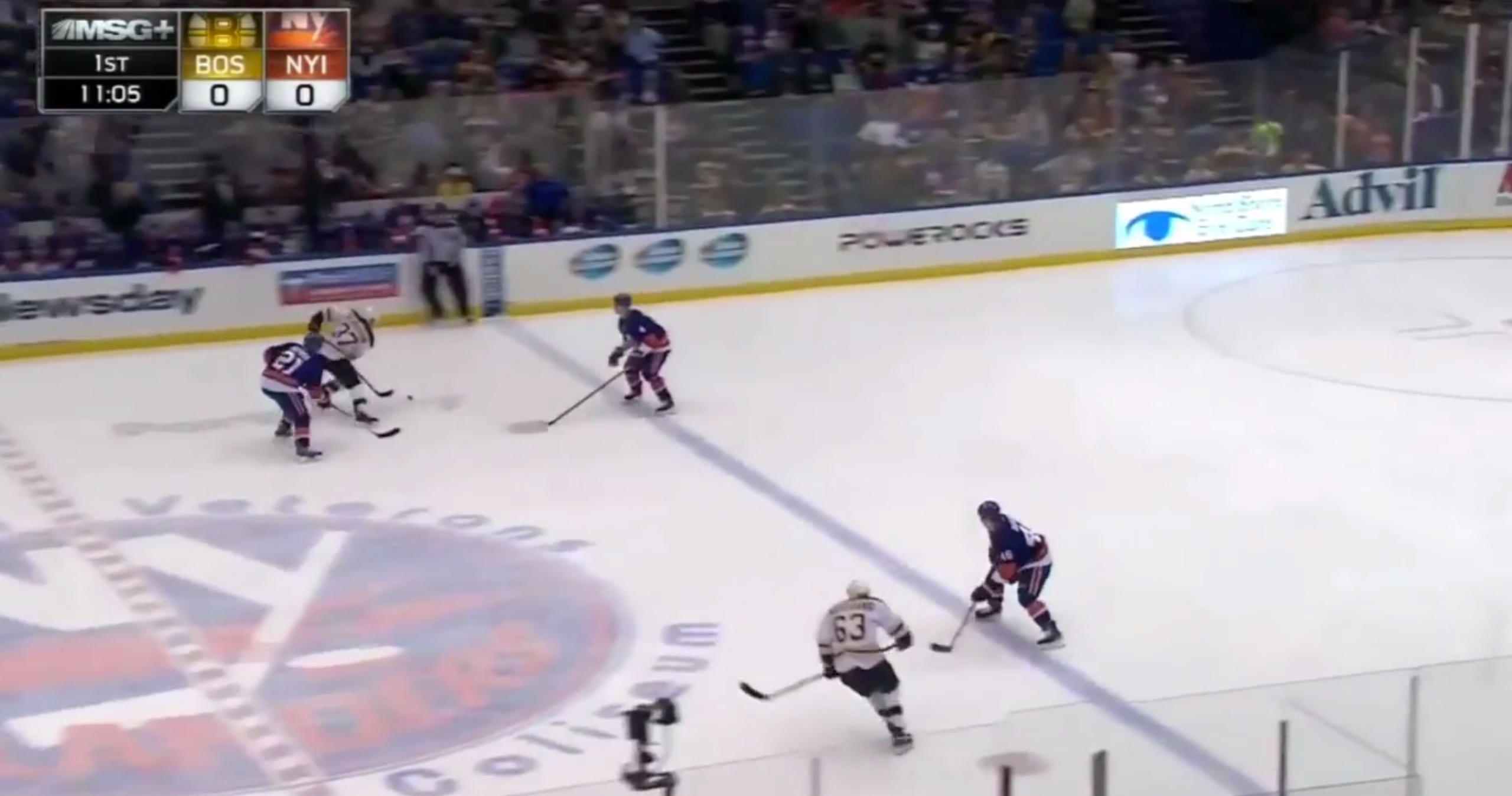 Now watch how Thomas Hickey bites off a Red Wings rush before it starts along the near boards by using tight gap control in the neutral zone.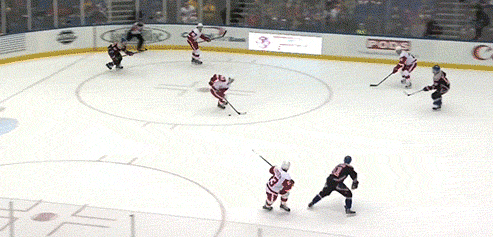 The reality? The Islanders just didn't have the personnel to make it work consistently last season.
The breakdown
A few examples of the Isles being lax at their own line below.
The puck squirts free in the neutral zone, and Shawn Thornton - again, that's fourth line face-knuckler Shawn Thornton - chases it down. The Isles have numbers back, and the Bruins are changing. The Isles No. 1 D-man (ninth in total ice time in the NHL last season) Andrew MacDonald sizes him up.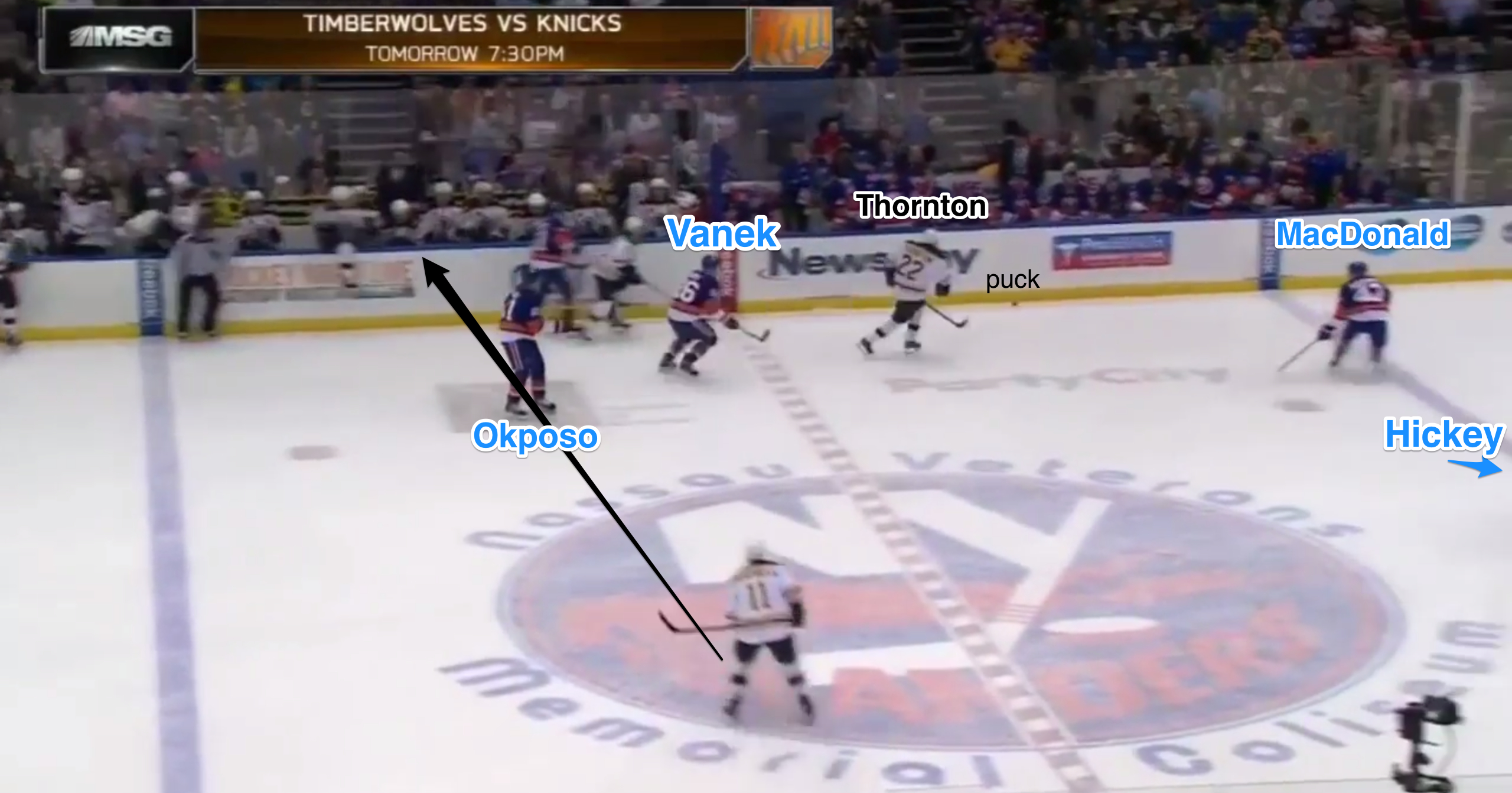 Curiously, he backs off.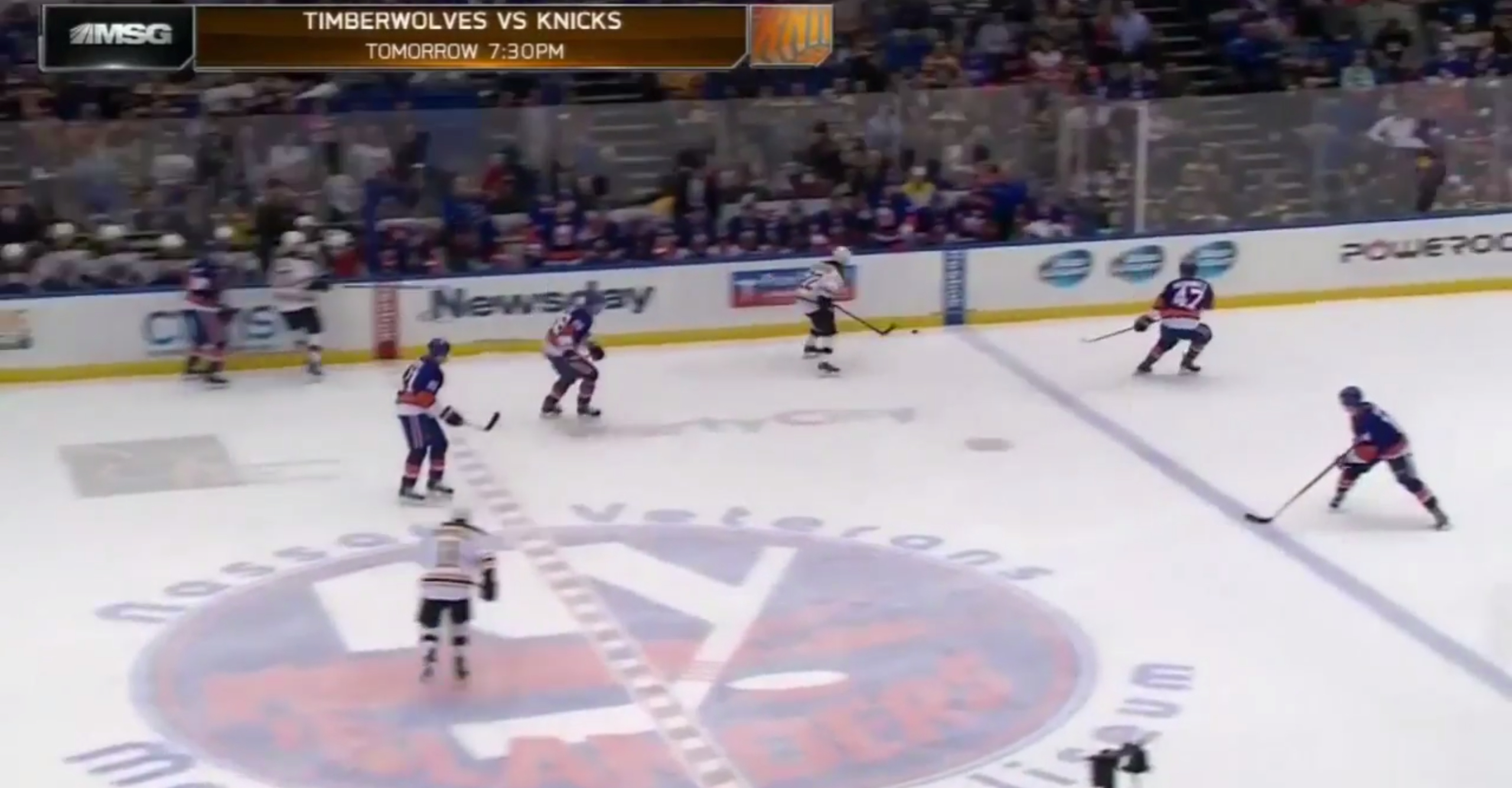 He backs way off, showing Thornton a lot of respect 1-on-4.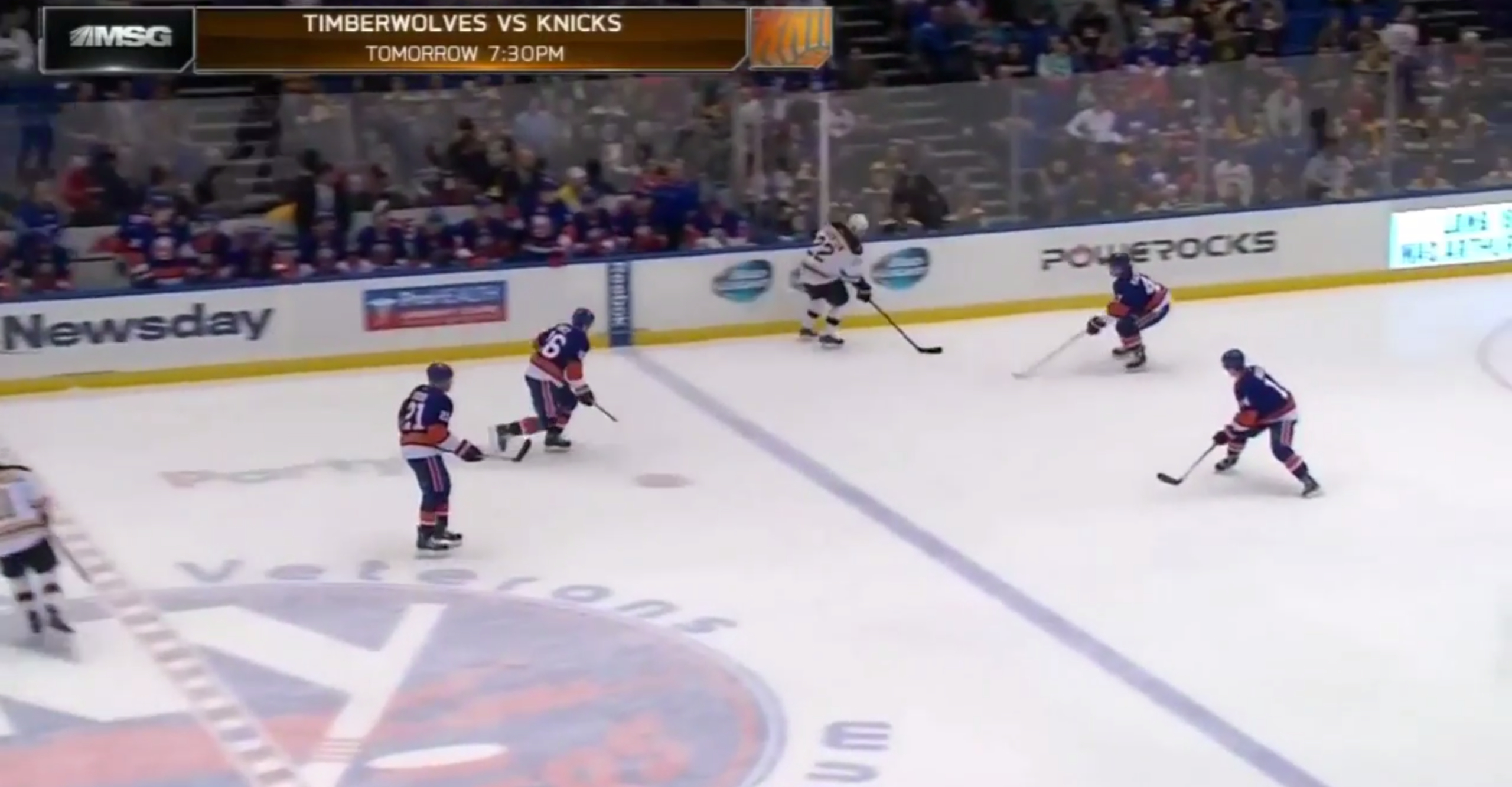 Thornton is allowed to awkwardly stick-handle the puck down the wall.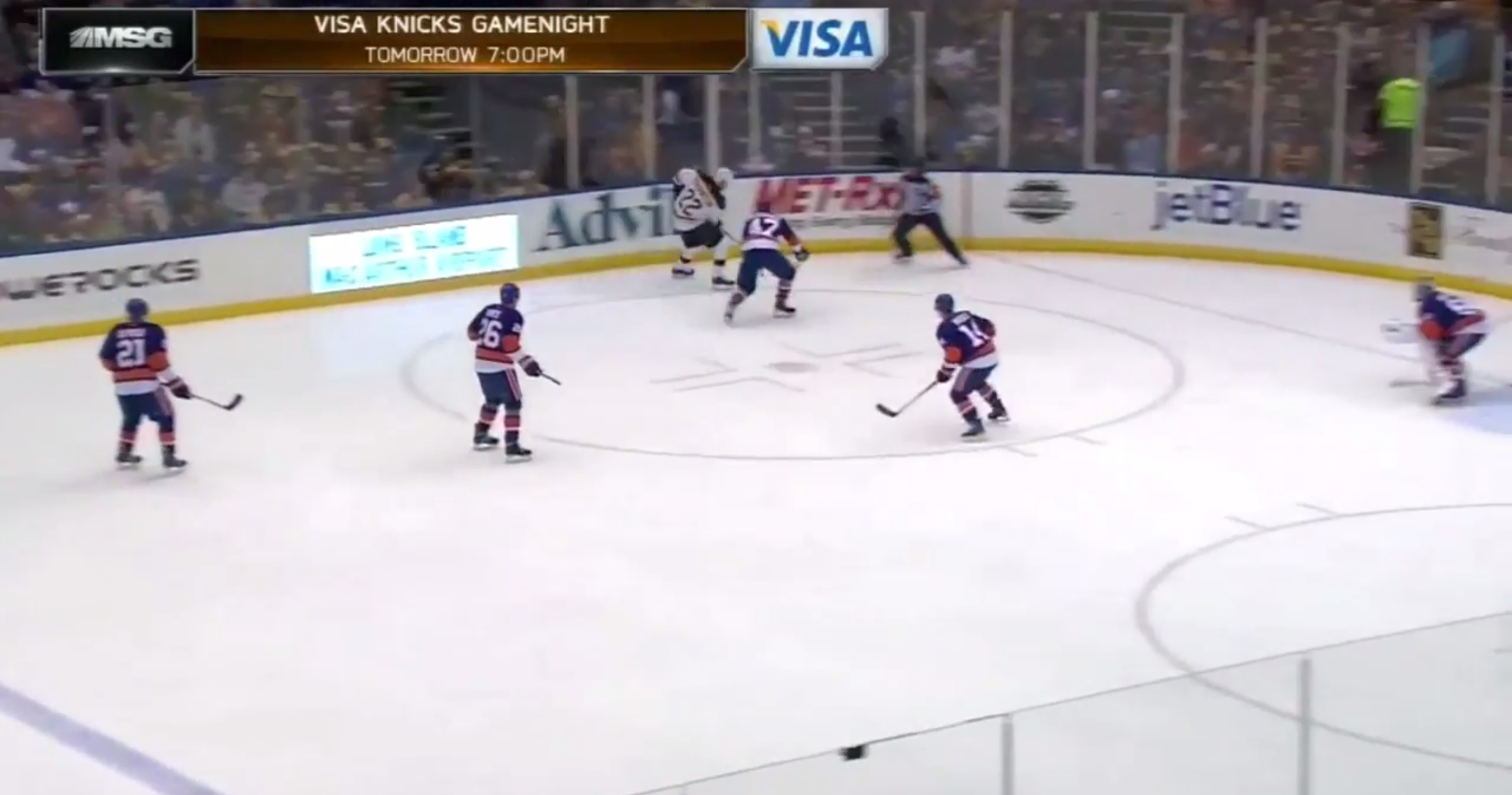 Below you'll see AMac finally step into him, but it's too late. Two-thirds of the Patrice Bergeron line has come on fresh...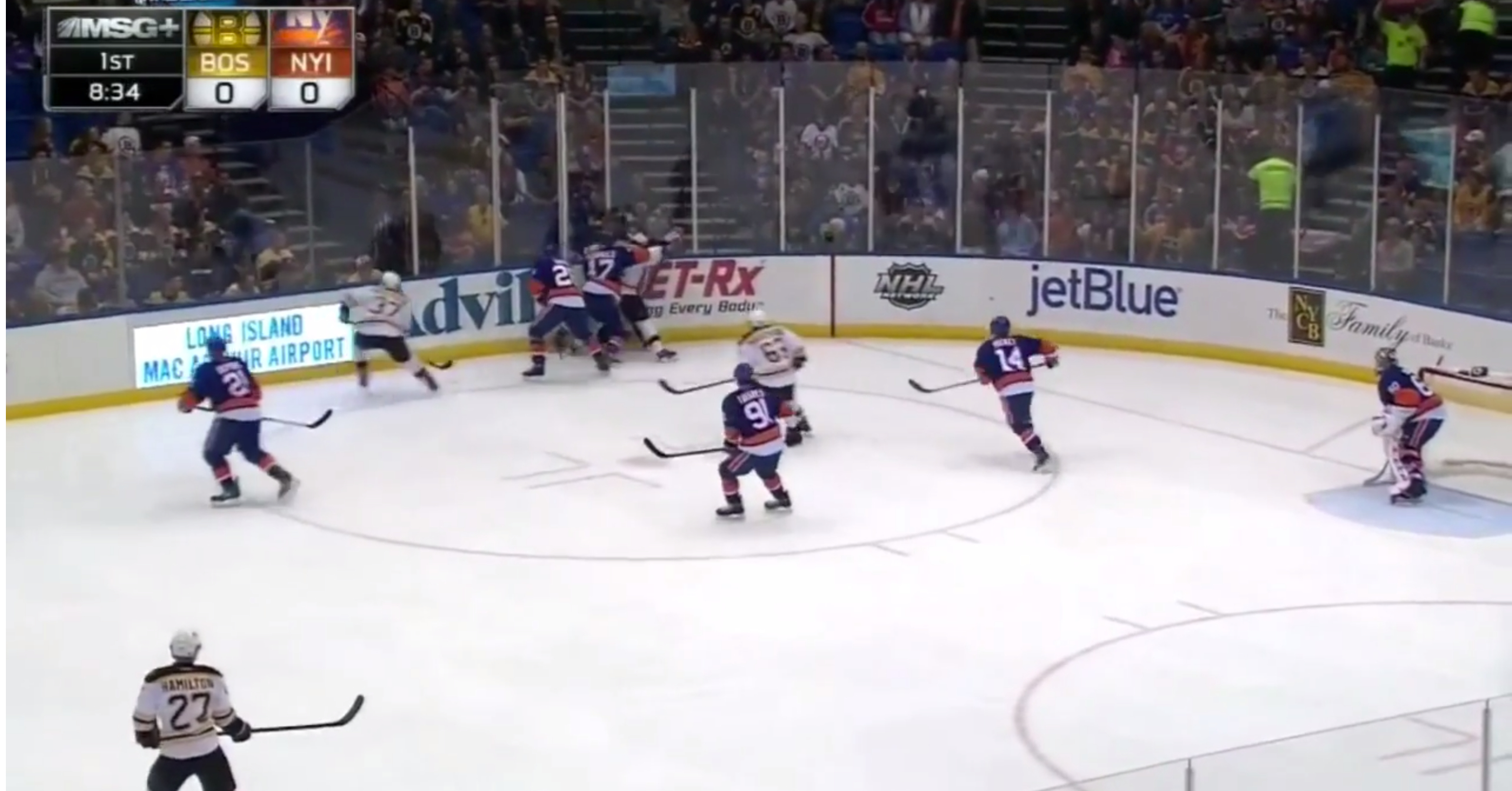 ...and the Bruins get a shift in the O-zone, instead of the Islanders shutting this down before their own blue line and heading the other way.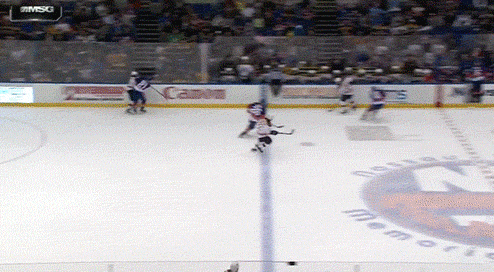 (Courtesy: MSG)
An early challenge at the blue there tilts the ice the other direction.
Sometimes it makes sense - on a rush like the one below, you don't want to get too aggressive and get burned, which guarantees a great scoring chance.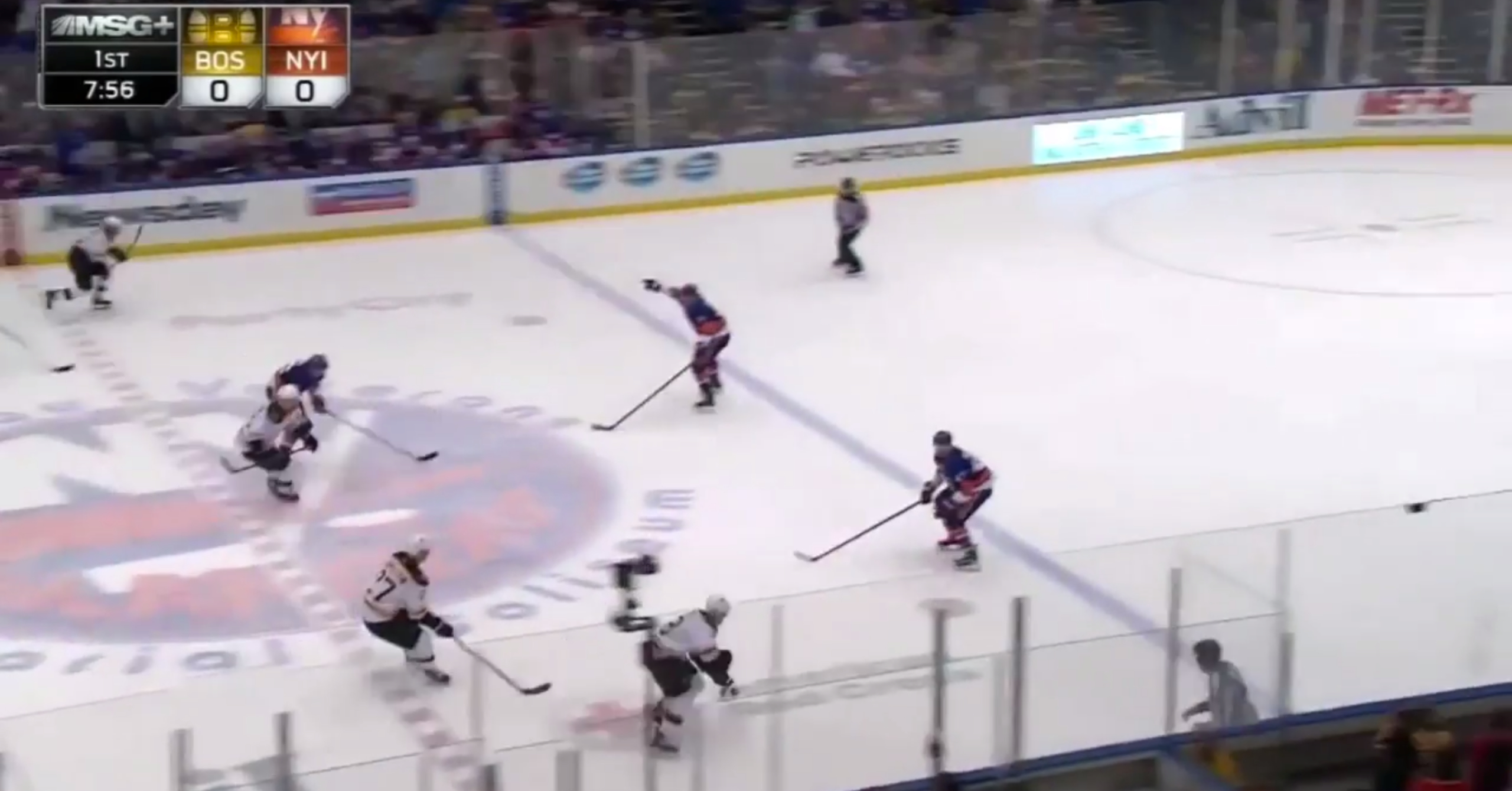 But even then you'd like to see a bit more pressure than is being applied below. Nobody deserves six feet of uninhabited ice without making a move inside the zone.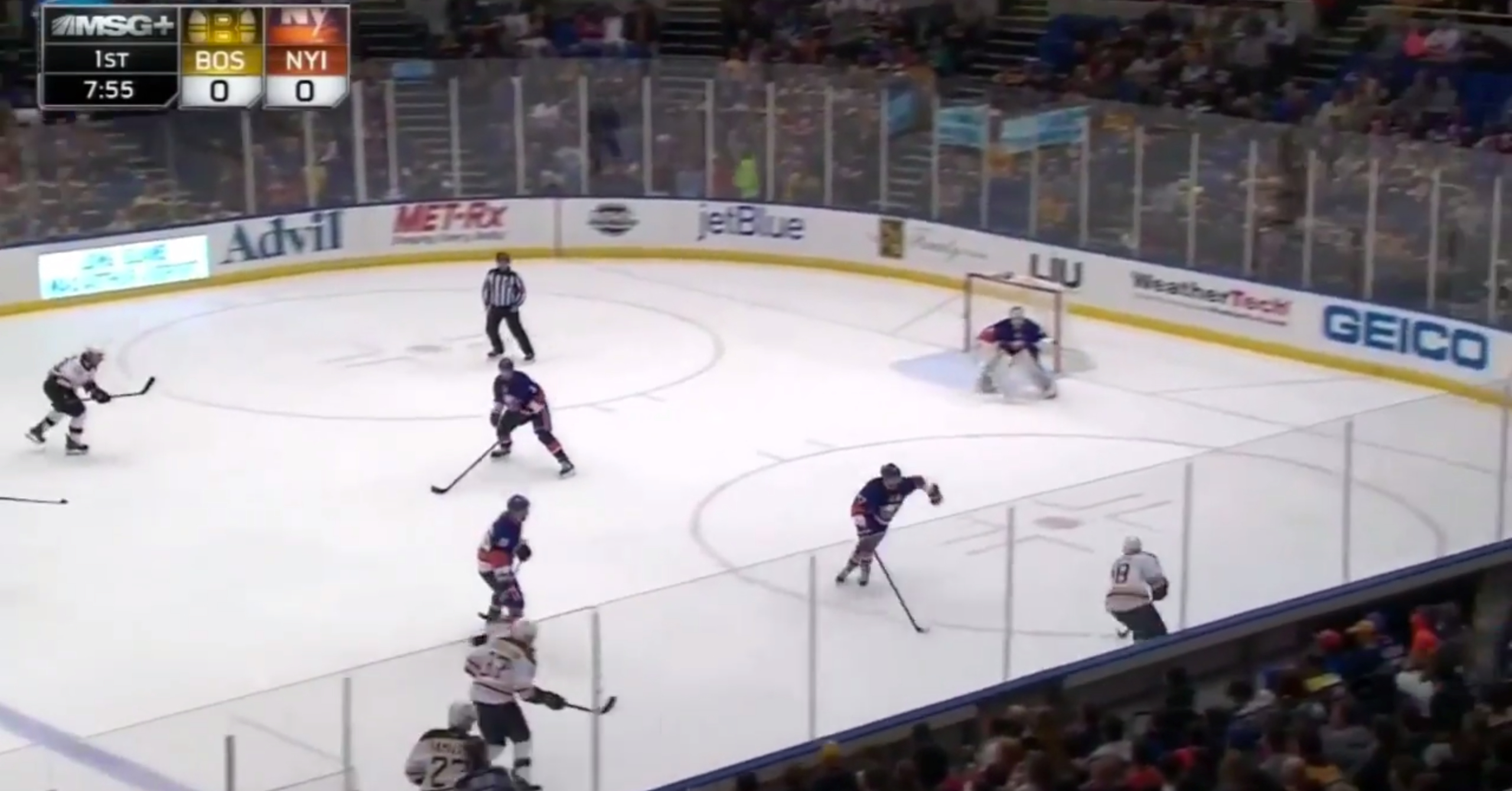 It happened all too often for New York last season.
A defenseman's "gap" is the distance between him and the on-rushing forward. If it's too tight, he's susceptible to getting beat wide. If it's too loose, as shown below, you allow players east-west play, where they can start to get creative.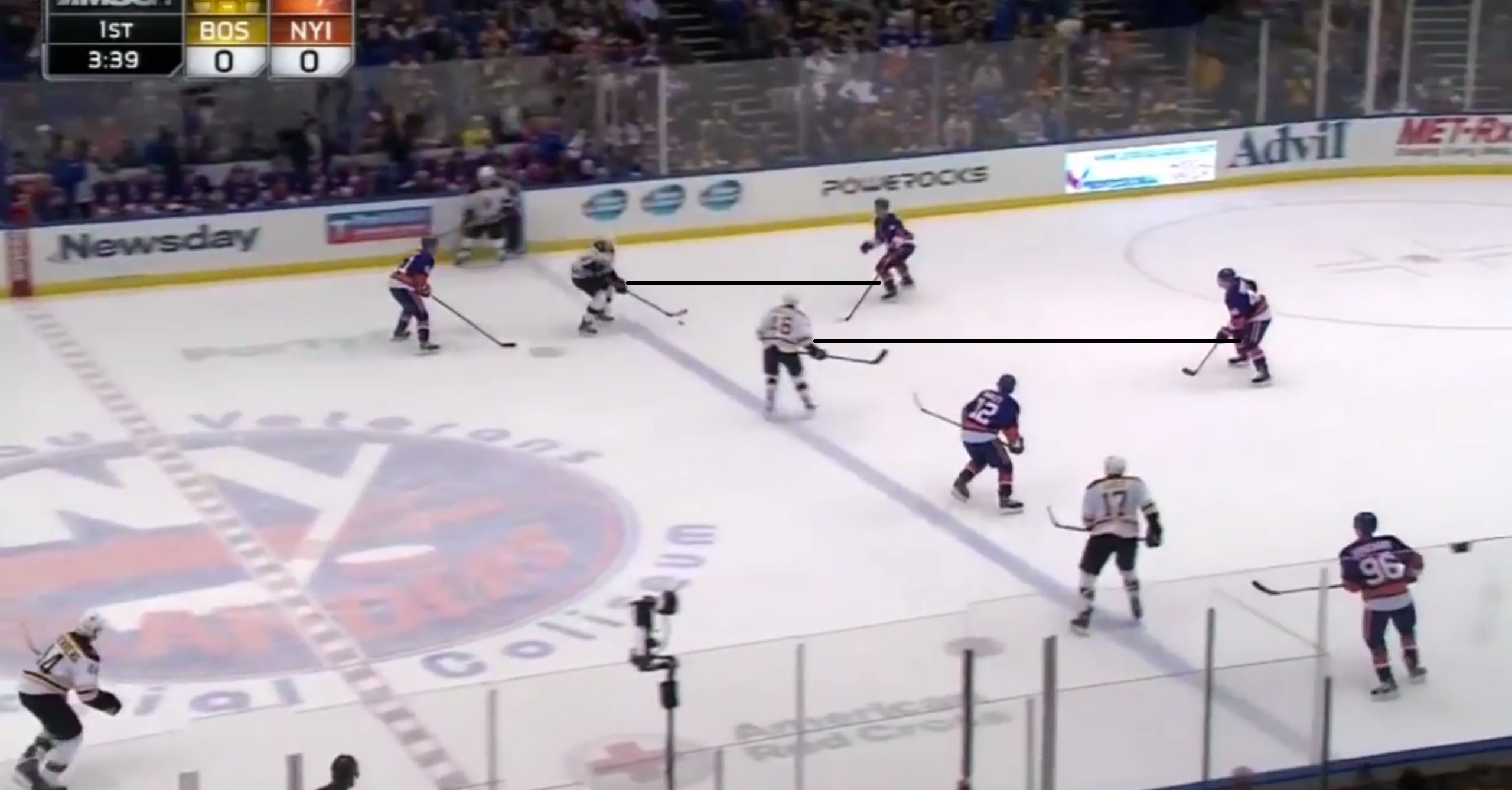 Remember the Hickey GIF earlier on, where Johan Franzen got a pass, and Hickey's great gap control nipped the rush in the bud? Yeah, this didn't go as well off a Red Wings' regroup.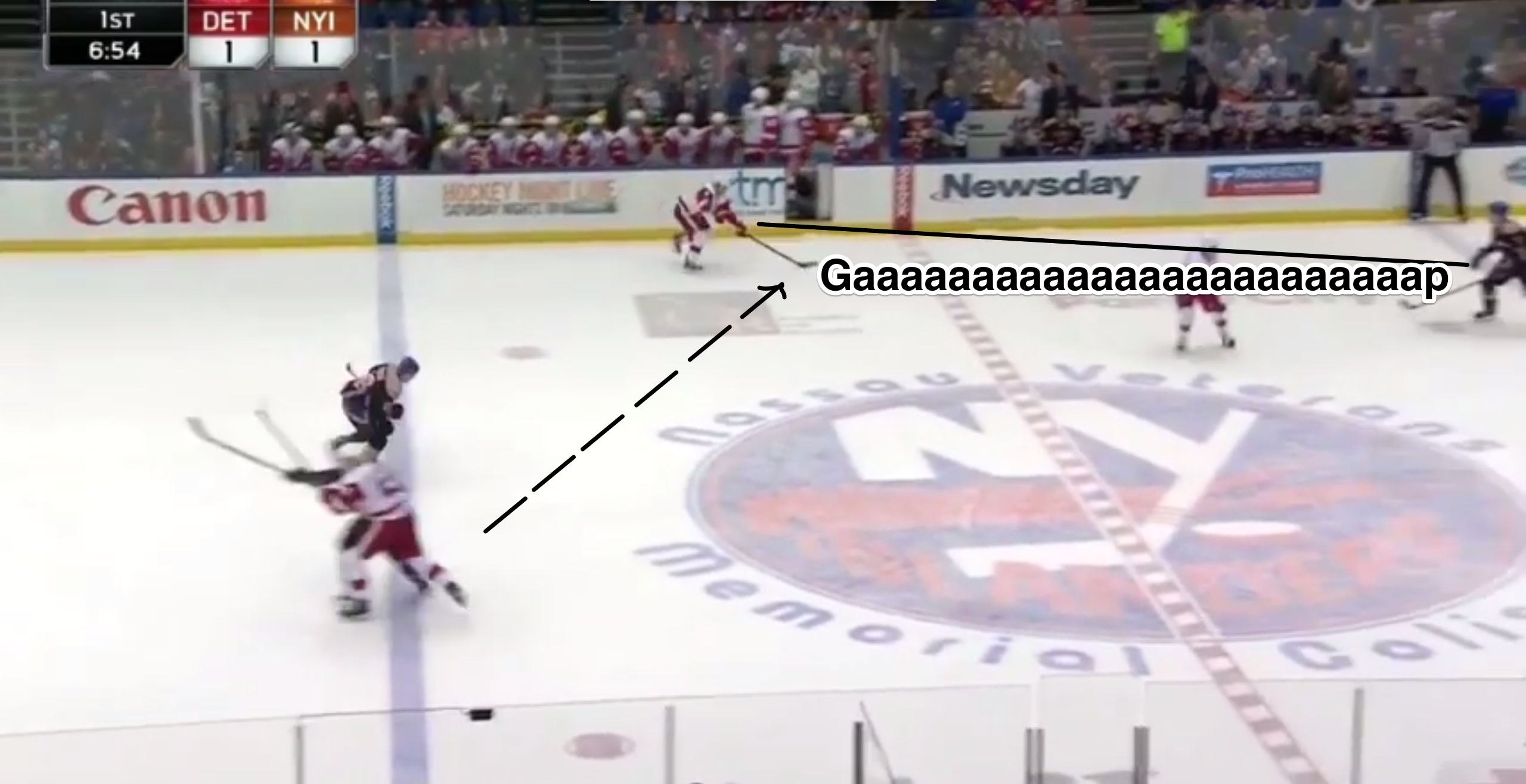 You can point at guys all you like (as you'll see below) to declare your guy, but when you give them that much room, you aren't really defending them all that well.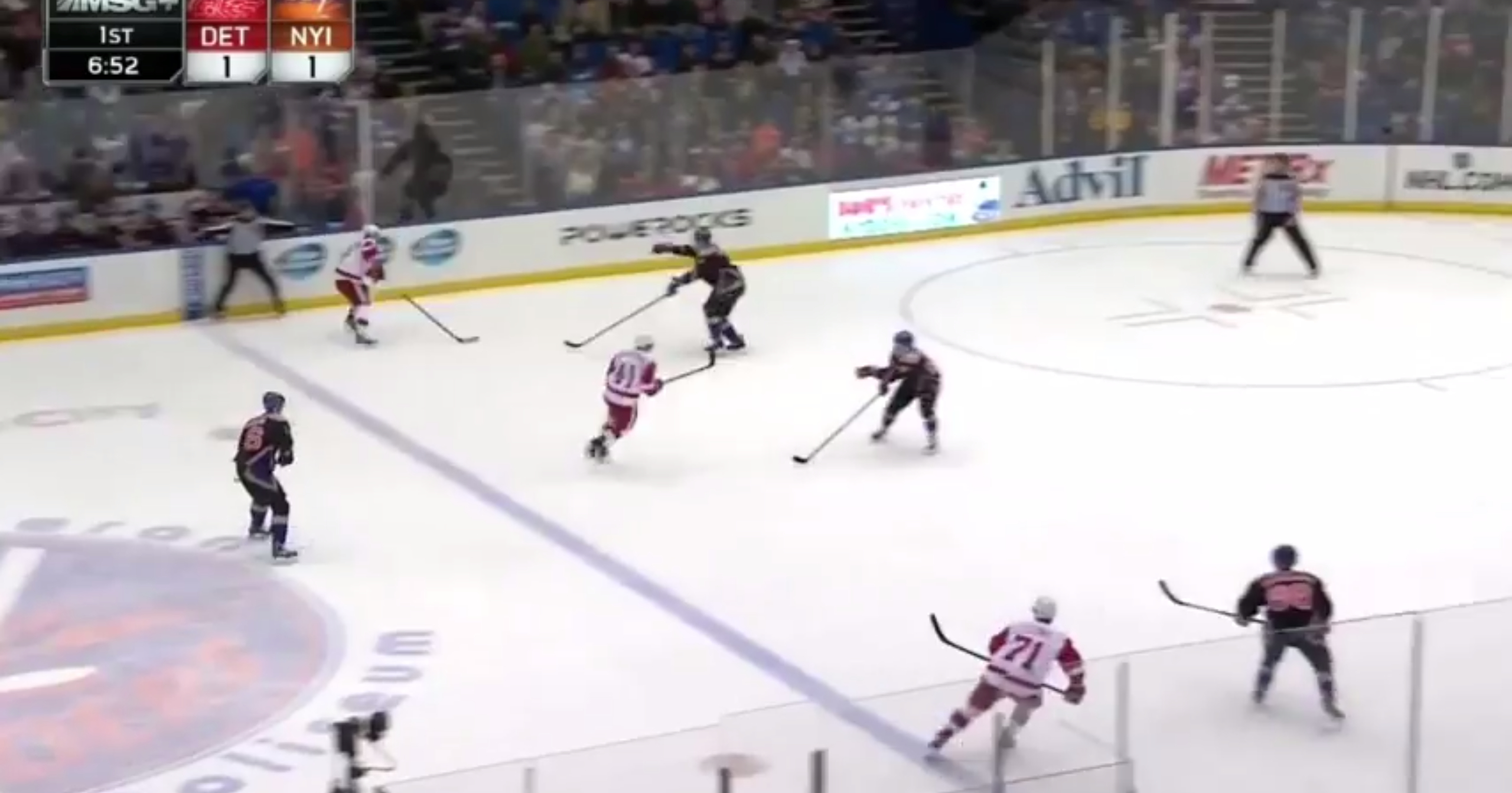 Worse, by starting that far removed from the puck carrier, D-men are forced to slow down to tighten up the gap, while the forward is still gaining speed. That makes containment following the zone entry more difficult.
It's pretty simple. When you have defensive numbers back, there are few legit reasons to let the opposing team waltz across your blue line without forcing the offensive player to do something that isn't just "skate directly in without having to make a play."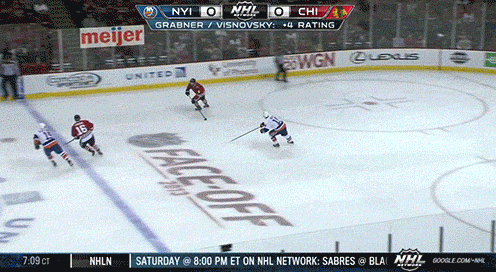 With Hamonic (24 years old, and arguably the best zone defender on the Isles), de Haan (23), and Hickey (25) all another year older, the Islanders zone defense should be improved. Combine that with a healthy Lubomir Visnovsky, and Andrew MacDonald heading to Philadelphia, and you assume the Islanders will start putting up a better fight when the opposition tries to take their zone.
For your offensive talent to thrive, you have to limit the time they spend in your own zone. If the Islanders intend to take a step, they need better gap control at their own blue.