Unique Team Traits: The Columbus Blue Jackets are cheaters (and that's a good thing)
theScore's multi-part team previews includes a look at something that separates each team from the pack. From specific breakouts to powerplay formations and beyond, Justin Bourne and Thomas Drance hope to highlight something you haven't noticed in the past.
What we noticed
The Blue Jackets excel at an underrated defensive skill - running interference without getting caught - and Fedor Tyutin is their leader
"Cheating" sounds like a harsh word, but in a way, athletes "cheat" strategically all the time. Baseball pitchers sneak goop onto the ball, basketball players shove under the hoop, and football defenders quietly tug jerseys to slow receivers down. If it doesn't get called, well, it didn't happen, and they gain an advantage.
In hockey, interference is our go-to cheat of choice. It got to a point where they had to untangle the knotted mess of sticks and bodies the game had become prior to the 2004 lockout, and boy, did they ever take that task seriously. You could barely touch anyone that next season.
Since then the game has been descending back to its Derian Hatcher-esque ways, and the players who've been willing to push it with the refs have benefitted most. Aside from a renewed push to limit obstruction during the 2012-13 lockout shortened season, penalties have fallen steadily since 2005-06.
These two charts (through 2012-13) highlight that below.
Total PIMs by year: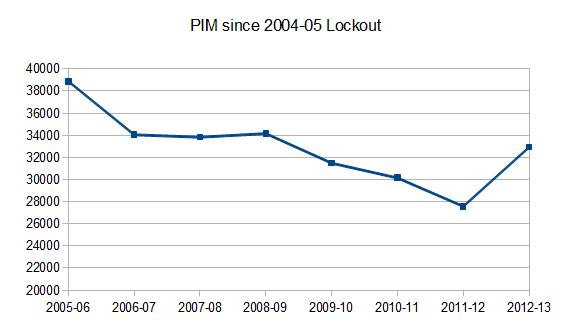 And the more obvious sign of the decline in calls...
Total minor penalties by year: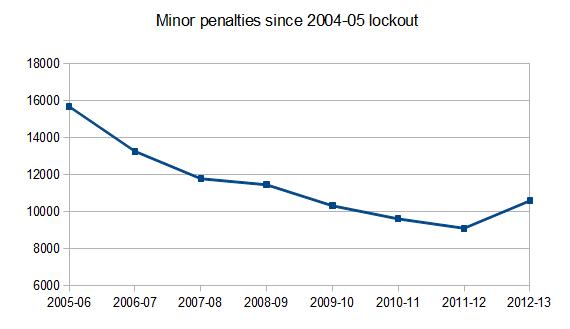 (More on these charts by Daniel Wagner here)
Despite the bounce back in 2012-13, numbers fell again last season to less than 27,000 total PIMs and just over 9,000 minors.
It's gettin' sticky again out there.
Okay, so what?
The Columbus Blue Jackets cheat, and they cheat well. And if Nationwide Arena is the Church of Cheat, Fedor Tyutin is their high priest.
Systematically, the Blue Jackets live on being a meat and potatoes team. They play fast and hard, they pitch the puck in, and they roll four lines. Save for Ryan Johansen, they're not a team that creates a ton of offense without getting into the muck and going to work. They just aren't Jeff Carter and Marian Gaborik. Last year they were Brandon Dubinsky and Nick Foligno and R.J. Umberger and Jack Johnson, and, of course, Fedor Tyutin.
For a top half puck possession team, their physical numbers were astounding. They tied for the NHL lead in hits with LA, and lead the NHL in road hits - which factors out scorer bias in home rinks - by miles, racking up a full 107 more than the next closest team. This damage came from a group that managed to end up outside the NHL's 10 most penalized teams.
It's tough to get into bodies that much and not wind up in the box. Their particular roster just happens to be good at it.
When your game is to be hockey's version of beef stew, you need every inch. And if a few extra inches are provided by the savvy-if-questionable efforts of a Russian defeseman who's been around the league for a decade, then so be it.
The master of the art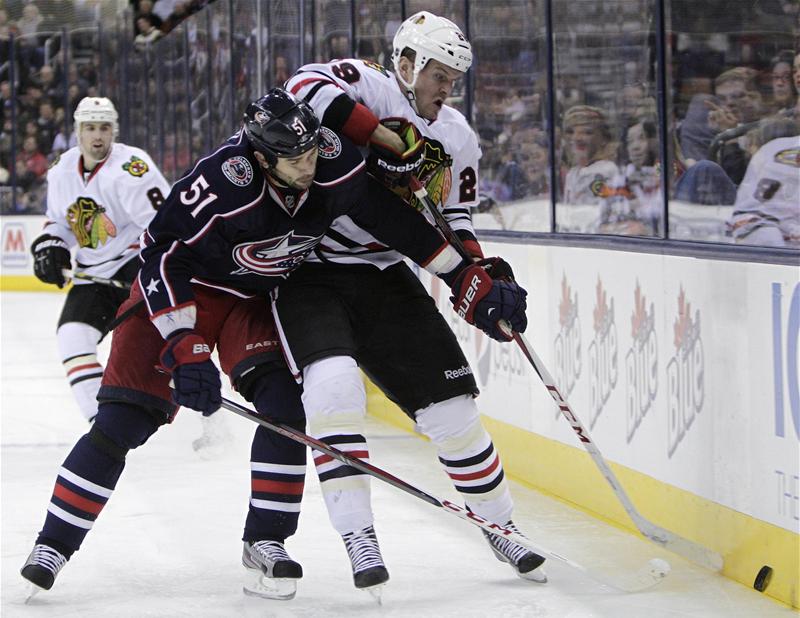 Last season Fedor Tyutin played 21:24 per game over 69 contests, finishing the season with 44 penalty minutes, tied for 197th most in the NHL. His 22 minors (tied for 90th most league-wide) show he does get caught occasionally, but considering how often he's in the way, those are impressively low totals.
He pulls this off largely by claiming soon-to-be used chunks of ice to force opponents to take the long way to the puck or net. Also, he's a fan of straight hooking people around the waist, which apparently doesn't get called much anymore.
The breakdown
Below are screenshots of a random example before we get to the GIFs.
When the puck goes corner to corner, the offensive support forward is supposed to skate in front of the net before coming across to avoid getting trapped in the event of a turnover. So, Jannik Hansen plans to.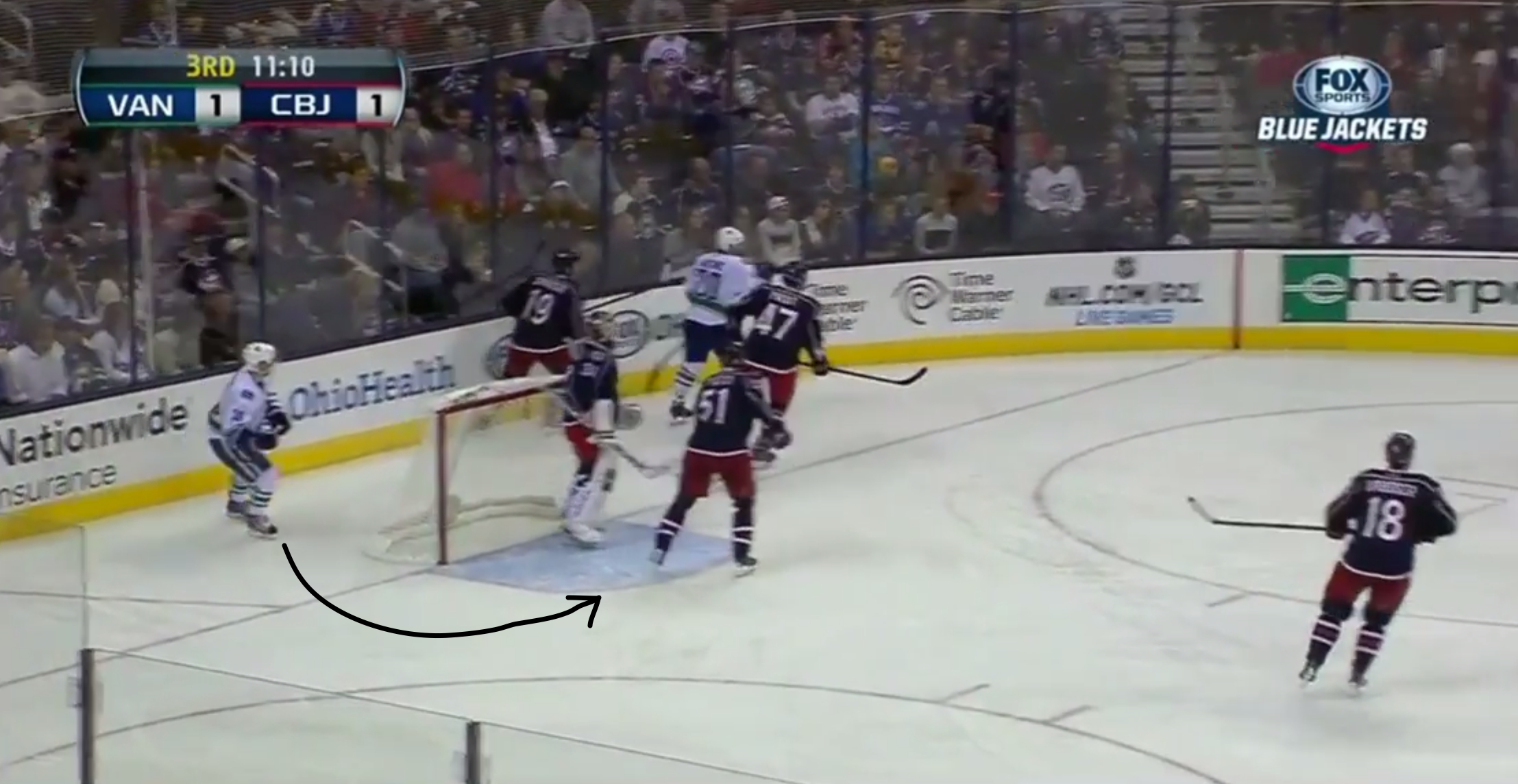 I'd like to get through, sir.
Tyutin takes a step in.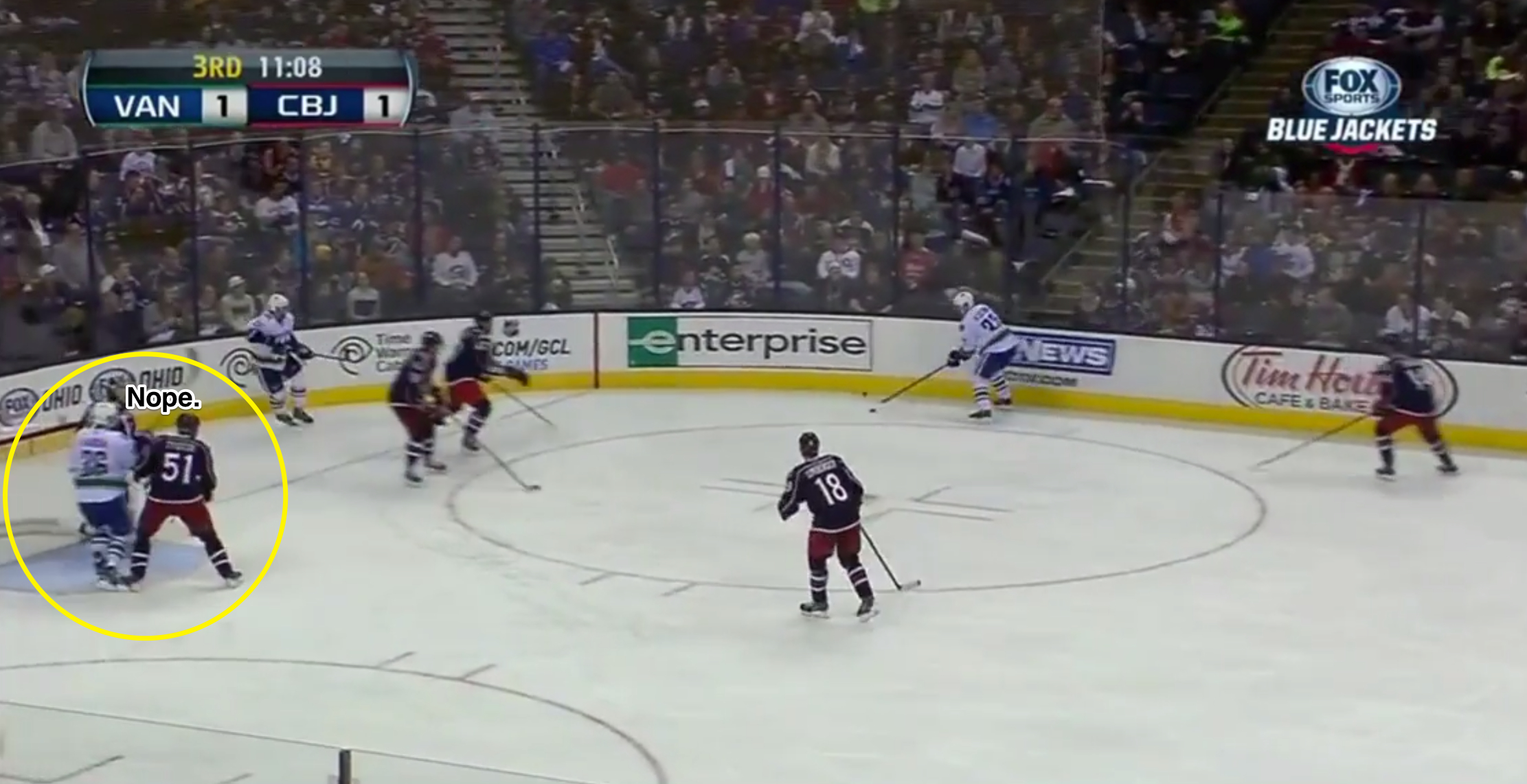 Please?
Only if I can put my stick horizontally across your gut.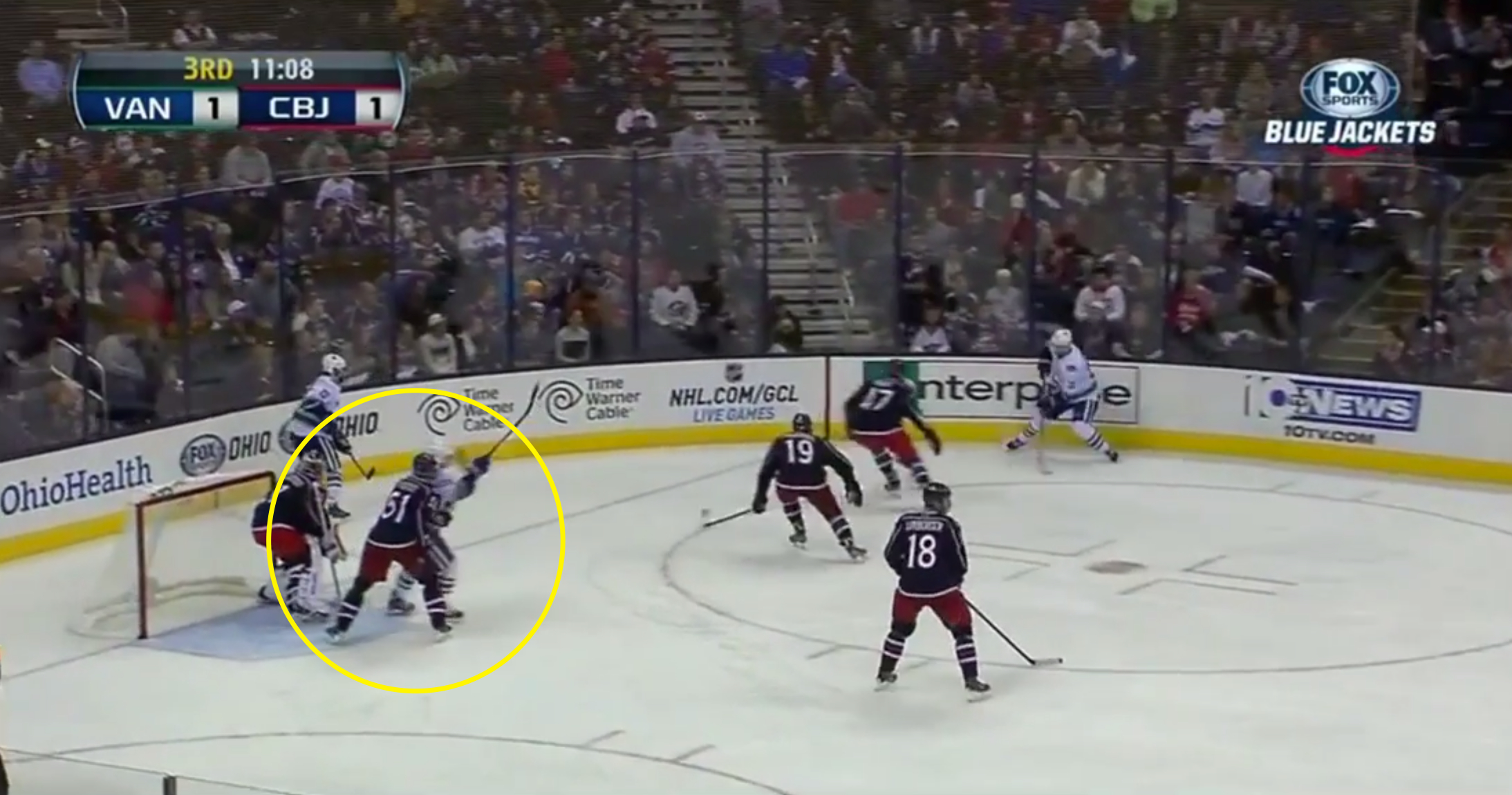 The puck is about to go up top, so Hansen starts to try to get in tipping position, but still, he's being herded.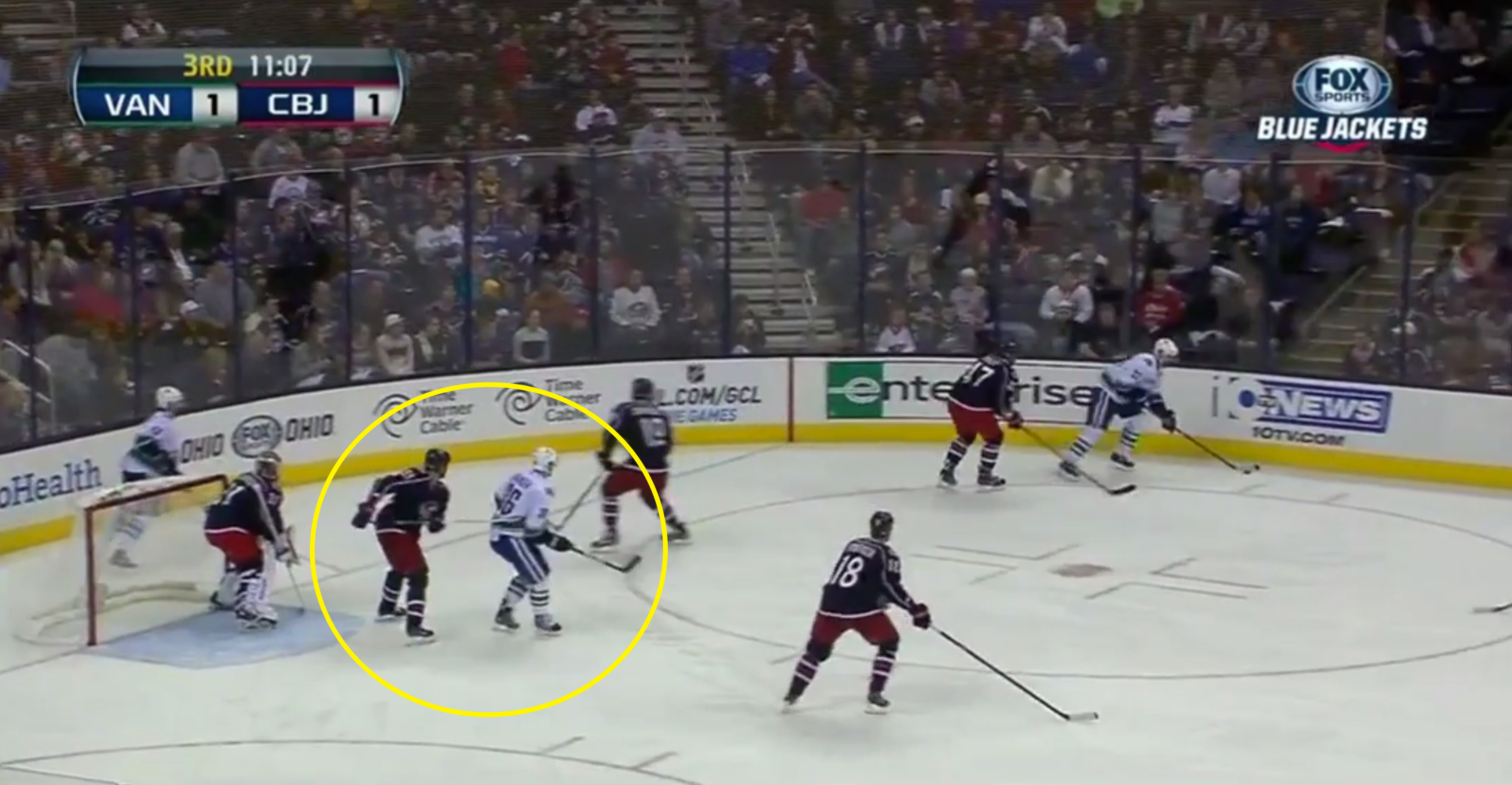 ...And one final tug for good measure.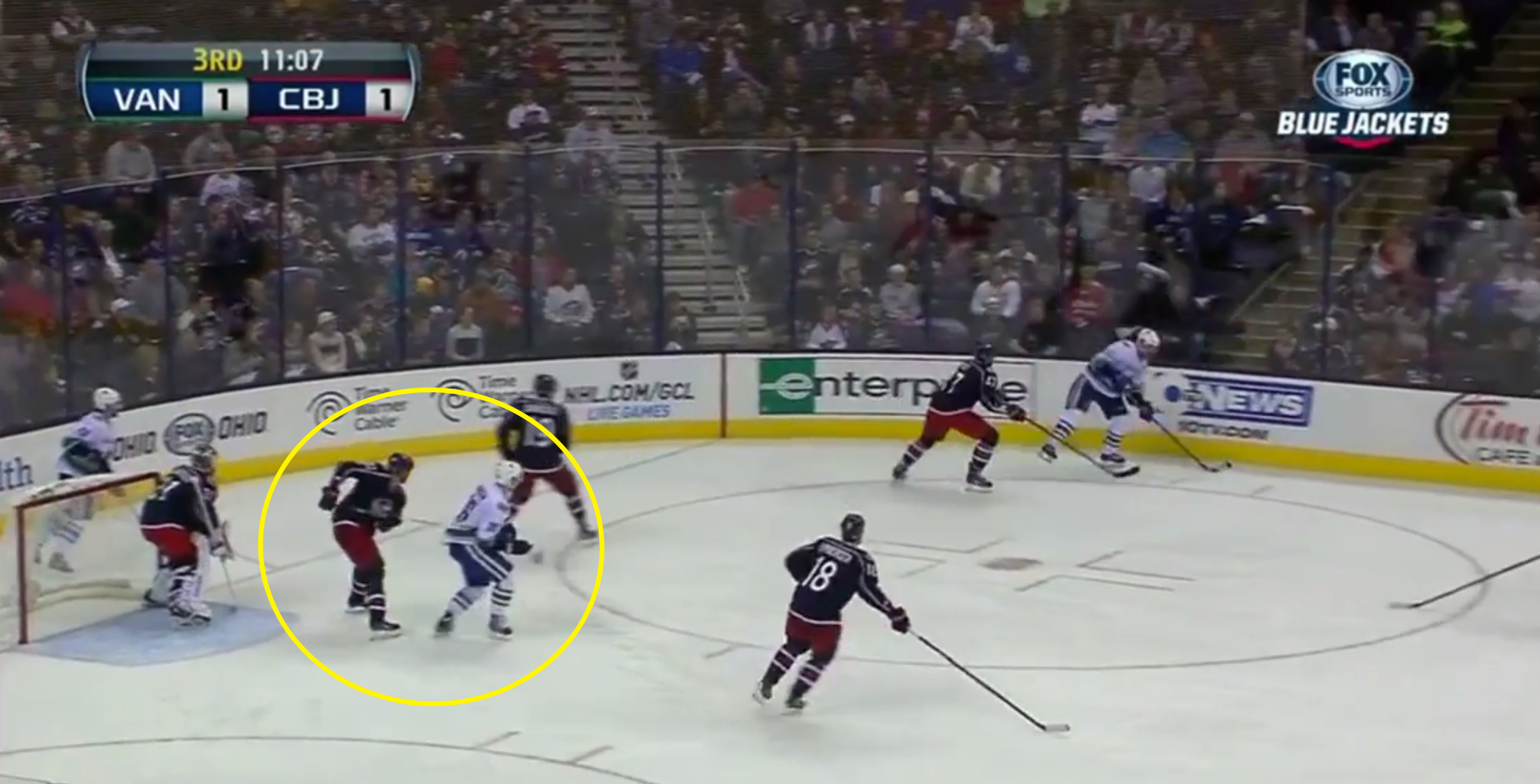 No penalty was called.
You don't have to watch many games to note that Tyutin makes it his personal mission to make it hard for opposing players to get where they want to go. He's involved with a few bigger names in the GIFs below.
Here, Tyutin is in the weeds a bit. The solution? A quick shot to Henrik Sedin, followed by using that space to take ice Sedin wants en route to the puck. He gets low and inside, which allows him body position, and the Blue Jackets come out of the battle with the puck.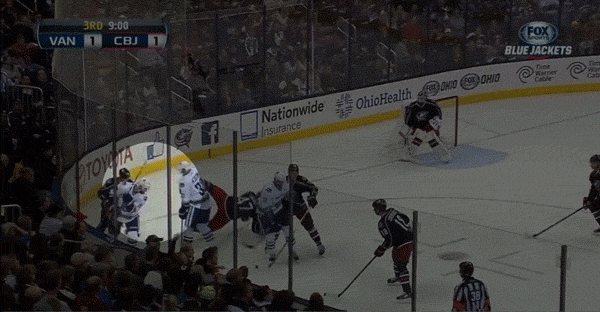 Next, Evgeni Malkin is trying to shake him with a lap around the net. Tyutin, a step behind, goes full dead puck era, wraps his stick around his stomach and corrals him.
Below, Ryan Kesler is chasing a dump-in. Tyutin's options are to beat him to it and get hit (unlikely given their respective speeds), let Kesler get to it first and hit him (he may not be fast enough to get a hit on him), or … take the ice in front of Kesler and draw a penalty.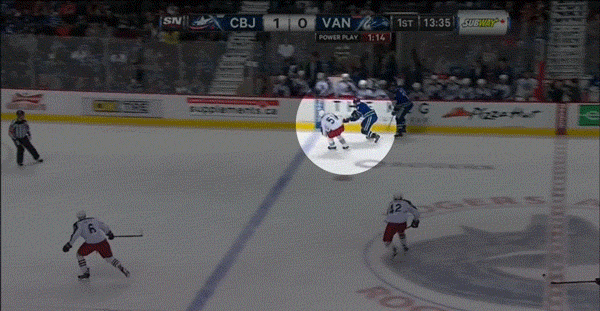 Neither Fedor Tyutin nor the Blue Jackets are doing anything all that wrong. By comparison, the NFL's Seattle Seahawks were so physical in their secondary last season the league was all but forced to crack down on the amount of holding to limit their dominance, but ... what do they care? They won the Super Bowl playing that way.
Penalties are subjective, and if you're a crash-bang team that spends a lot of time getting into bodies and making your opponents' lives difficult, you're forcing the refs to make a lot of decisions each shift, and they can't call everything.
Penalty calls have been going down, and the physical Blue Jackets have been cashing in.
Tap here to read a roundup of the Blue Jackets' offseason moves.
Tap here to read about 5 Blue Jackets players worth targeting in fantasy
Tap here to read 3 Blue Jackets storylines worth keeping an eye on this season.
Comments
✕
Unique Team Traits: The Columbus Blue Jackets are cheaters (and that's a good thing)
  Got something to say? Leave a comment below!