Unique Team Traits: The Dallas Stars and their success up the left side
theScore's multi-part team previews include a look at something that separates each team from the pack. From specific breakouts to powerplay formations and beyond, Justin Bourne and Thomas Drance hope to highlight something you haven't noticed in the past.
What we noticed
Dallas has success breaking out by posting a left winger high, and providing him with support
While every player trying to move the puck out of his own zone will take the best option he's given, all teams start with a general plan.
From what we noticed watching shifts in close games at even strength, the Dallas Stars were far more successful when they went up the left side. This makes some sense roster-wise, as left wingers Jamie Benn, Eric Cole, Ray Whitney, and Antoine Roussel offered superior options to Alex Chiasson, Ryan Garbutt, Rich Peverly and rookie Valeri Nichushkin.
The Stars default escape from the D-zone was to post their left winger quite high (as opposed to having him come low to receive a breakout pass with speed), then get him the puck and provide him with immediate support from his streaking linemates. The stationary winger then gets on his horse, and becomes the high option on the rush.
Through the 48 games we checked out (big thanks to Cory Sznajder for providing us with that data), the Stars right wingers broke out of their own zone with possession 38.8% of the time. 7.8% of those attempts resulted in direct turnovers. Going up the left side over that same period resulted in a better success rate of 46.1%, with 6.5% of those tries resulting in turnovers.
The breakdown
The Dallas D-men simply trust that their left wingers will get where they need to be, and that they'll be able to figure it out from there. It won't always go perfectly, as in the example below, but it's important to focus on the process, not the result. They usually nail it (as in further examples below).
Here you have an in-zone face-off, where Stars' center Dustin Jeffrey pulls the puck back to the middle rather than the corner (usually good to give your tendy a heads up when you're doing that), where Kevin Connauton goes back to get it.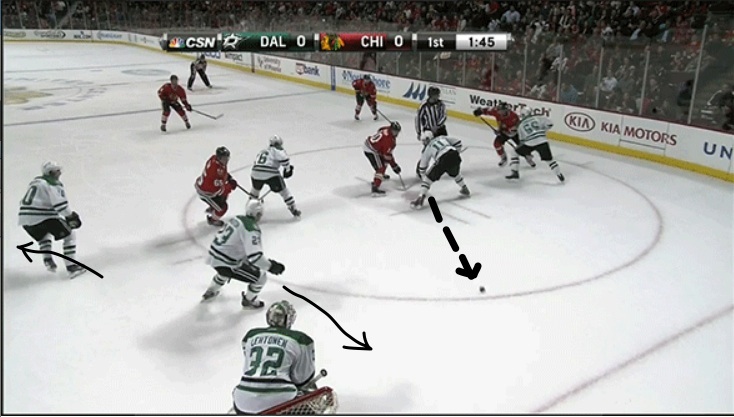 His job is oh-so-clear - he's to immediately rim the puck up the left side, where Shawn Horcoff (whose job is also oh-so-clear) is to bust directly to the wall on the blueline.
Connauton beats the Blackhawks forechecker (who has been left unimpeded so he'll get deep and end up trapped), then rims it.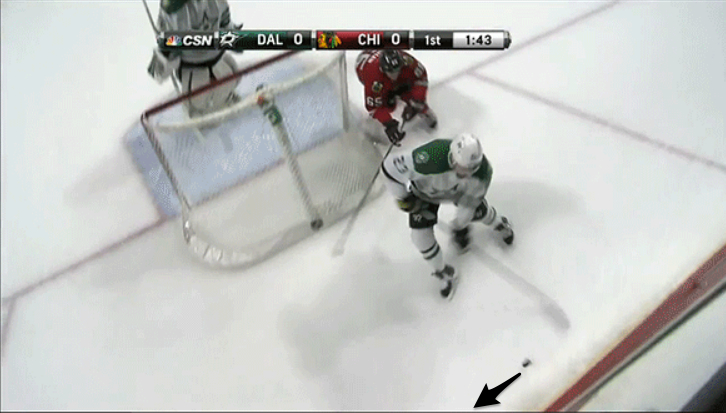 The puck then heads up to Horcoff. If the Blackhawks D-man pinches down on him, he's to chip it past his opponent. If he doesn't, he can receive the puck and make a play to his support.
Best case scenario: Blackhawks D-man pinches, Horcoff bangs it off the wall past him, and the Stars forwards, Garbutt and Jeffrey, pick up the puck and have a 2-on-1, with one rim beating the Hawks whole O-zone forecheck.
Worst-case: Horcoff is in a puck battle at the blueline (which you'll take off a D-zone draw).
What happens?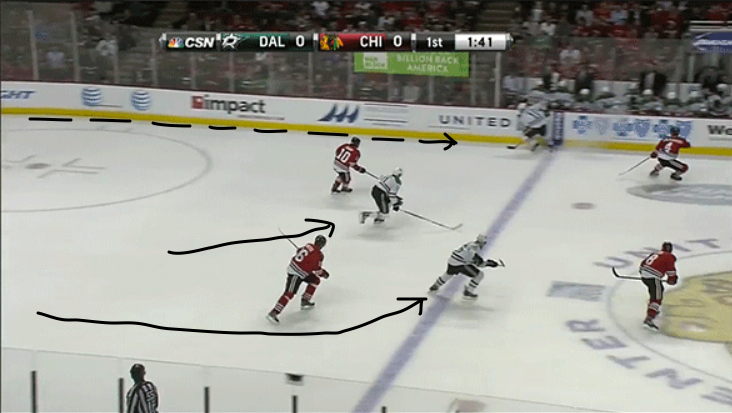 Horcoff guesses he's going to be receiving pressure but doesn't, so he still chips it off the wall. Now the puck is in the neutral zone, and while Dallas doesn't have it, it's also out of the D-zone. You can clearly see what they're trying to do.
Here's the GIF.
The Stars want any and all puck battles to take place higher than lower, and they want to overload one side of the ice with a ton of support. That consistency allows the Dallas D-corps - a weakness of theirs last year - an easy, no-brainer option to get out of the zone.
It's as I wrote here. Support, short passes and speed are the key.
Below are some screenshots without commentary just to highlight how their left wingers immediately report to a higher stationary position on the wall when they sense the play coming their way.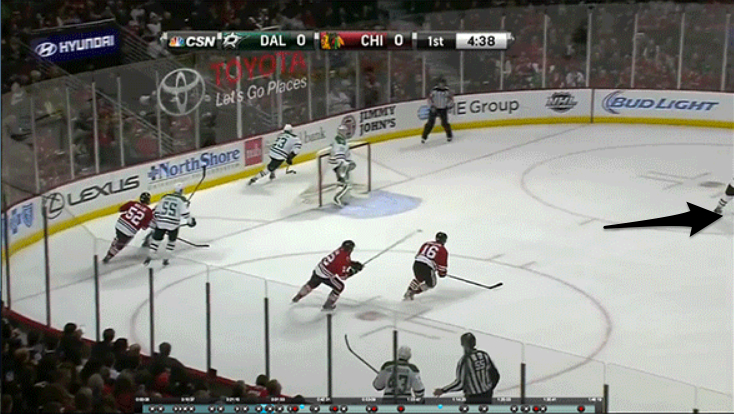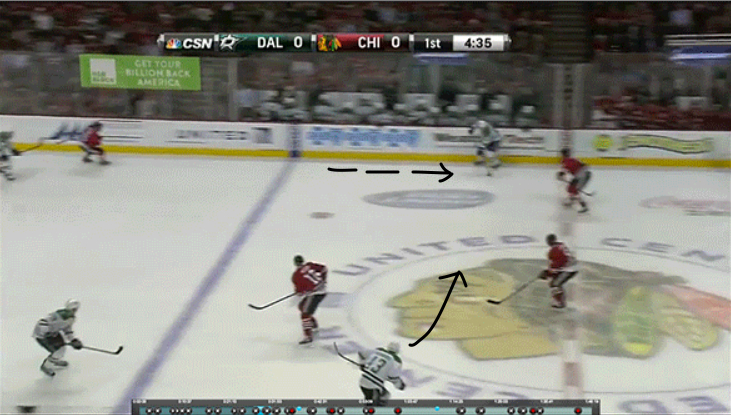 And…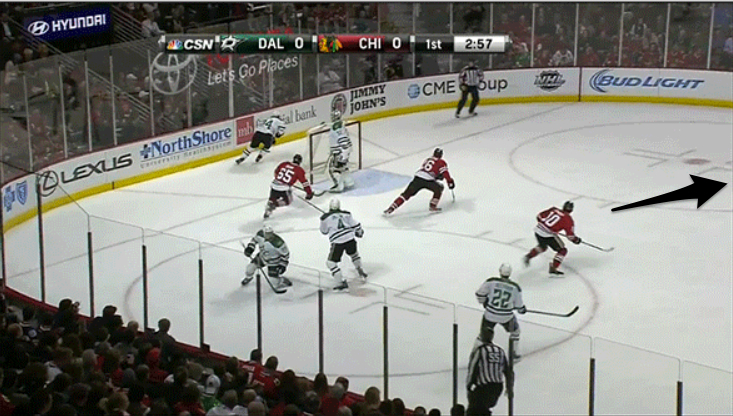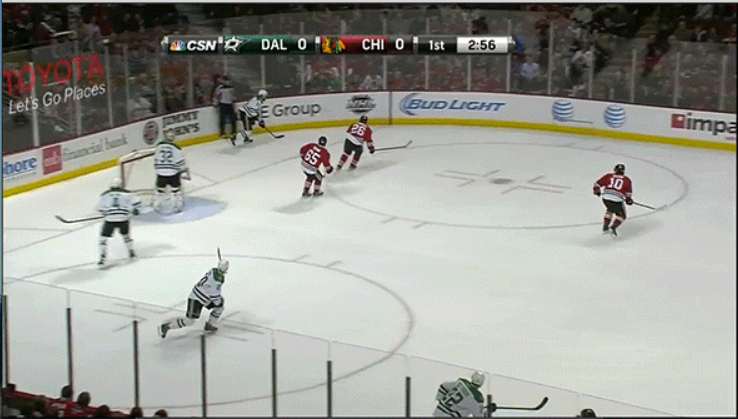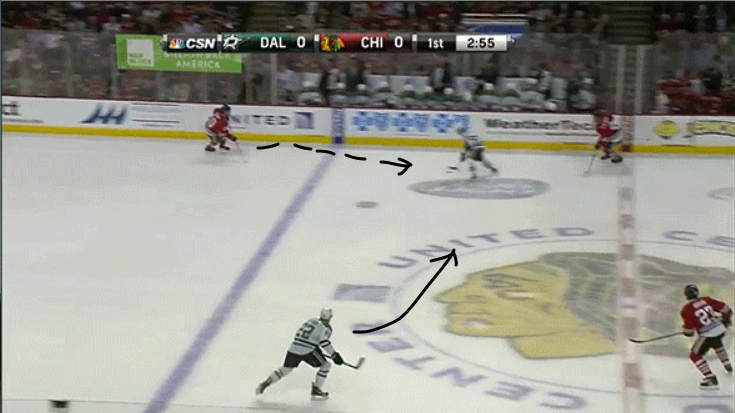 And finally, a couple GIFs:
[Courtesy: CSN]
[Courtesy: Fox Sports]
Dallas beats multiple forecheckers by playing a bit of "long ball," to use a soccer term. From there they rely on strong winger support to maintain possession of the puck and to pick up speed as a team.
Next up: Detroit Red Wings
Tap here for a thorough round up of the Stars' offseason moves.
Tap here to read about 5 Dallas Stars players you should target in fantasy this season.
Tap here to read about 3 Dallas Stars Storylines worth following this upcoming hockey season